Pumpkin week is a sponsored event that includes gifts to me from the participating brands. All thoughts and opinions are my own, but I think you'll enjoy this pumpkin soup as much as I do. Thank you for supporting the brands that make Food Above Gold happen.
If you like loaded potato soup, then you will fall head over heels for this loaded pumpkin soup recipe. Top it with bacon, sour cream, green onions and more.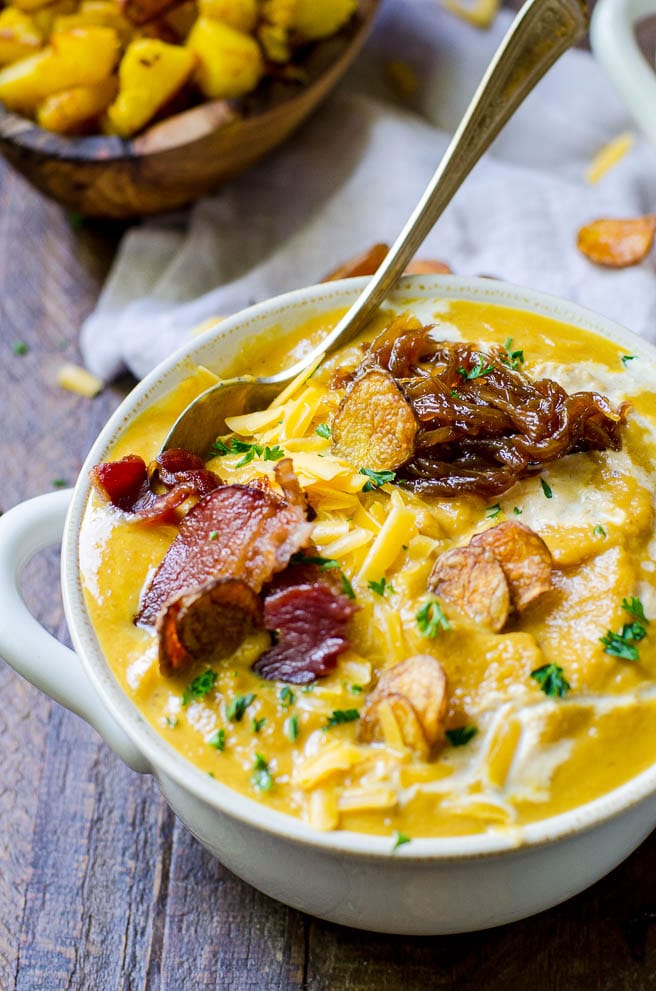 If you love are a squash soup lover, then this recipe for pumpkin soup will become your new favorite. The soup is thick, lightly creamy, and filled with autumnal flavor.

What Kind Of Pumpkin Should I Buy?
Let me start by recommending you avoid jack-o-lantern pumpkins. They are bred to be large and decorative, so the flavor tends to be watery and bland. For a delicious and sweet pumpkin soup, you want to use a sugar pumpkin. (Also called a pie pumpkin.)
Sugar pumpkins are small, about 3-5 pounds tops, and have a lower water content allowing them to have a sweet flavor. As the love of pumpkin has increased in recent years, more common grocery stores have started carrying sugar pumpkins. It may be a bit harder to find them at a large store like Wal-Mart. However, most specialty grocery have them in stock from September through November.
If you struggle to find a good sugar pumpkin to use for this soup, you can use butternut squash. It is the closest in flavor (and often used to make canned "pumpkin") so it will provide a similar taste. Plus, as a bonus, it is easier to peel.

How To Cook Pumpkin For Soup
There are two ways you can cook pumpkin for this soup recipe. One is to sauté chopped pieces of pumpkin, then puréei them with chicken stock, spices, and other ingredients. The other is to use an already prepared pumpkin purée. (Homemade or store bought.)
My favorite way to cook pumpkin for this soup recipe is to sauté the chopped pieces of sugar pumpkins. By doing this method, you get a lot of control over how caramelized your pumpkin becomes. This lets you get a deeper, richer flavor. Or you can cook it until just steamed and keep the flavor light and mild.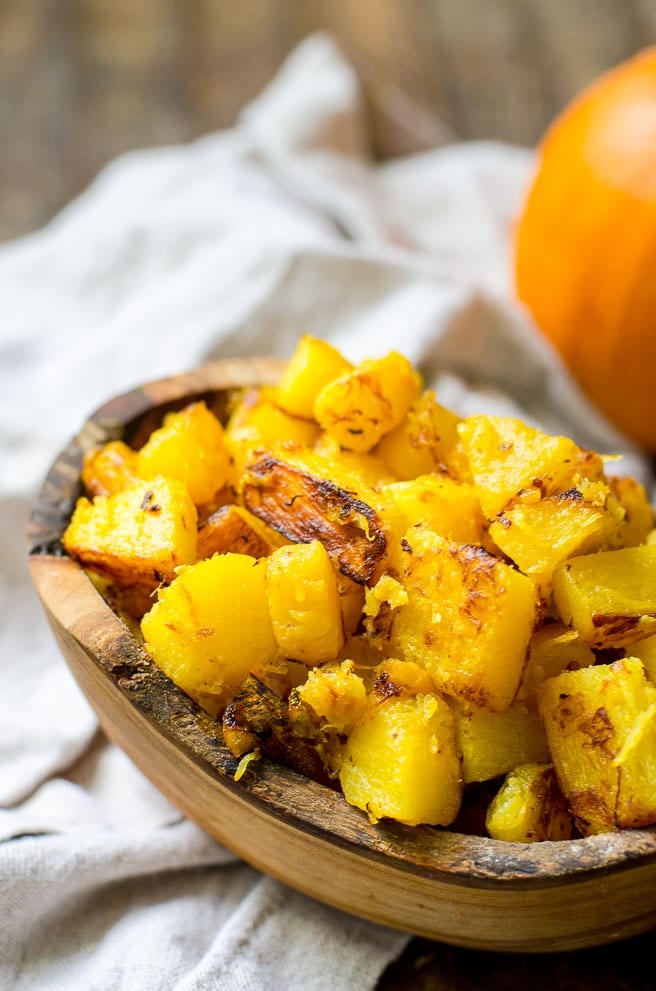 How To Peel A Pumpkin
Peeling a sugar pumpkin can seem like a daunting task because it is not a smooth vegetable, like a carrot. Plus, the peel of a pumpkin is much thicker. If you want to use a vegetable peeler for pumpkin, ensure it is very sharp and always peel away from you. The peeler is likely to get hung up on on the peel's bumps, causing it to get stuck or jump.
My preferred way to peel a pumpkin is to cut the pumpkin into one inch wedges. After that I shave off the peel with the tip of my knife. (Kinda like peeling a pineapple.) Once each wedge is peeled, it's then easy to dice each wedge.

How Long Does Homemade Pumpkin Soup Last?
This pumpkin soup recipe will stay fresh for up to five days in the refrigerator. If you've made toppings for the loaded soup, store them separately so they don't get soggy.

If you're stocking up for the year and want to freeze this soup, I recommend omitting the heavy cream. Dairy has the tendency to distort textures when frozen and thawed back out. You can preserve the quality of the soup by adding the cream after you reheat it.
This soup will be good in the freezer for up to six months.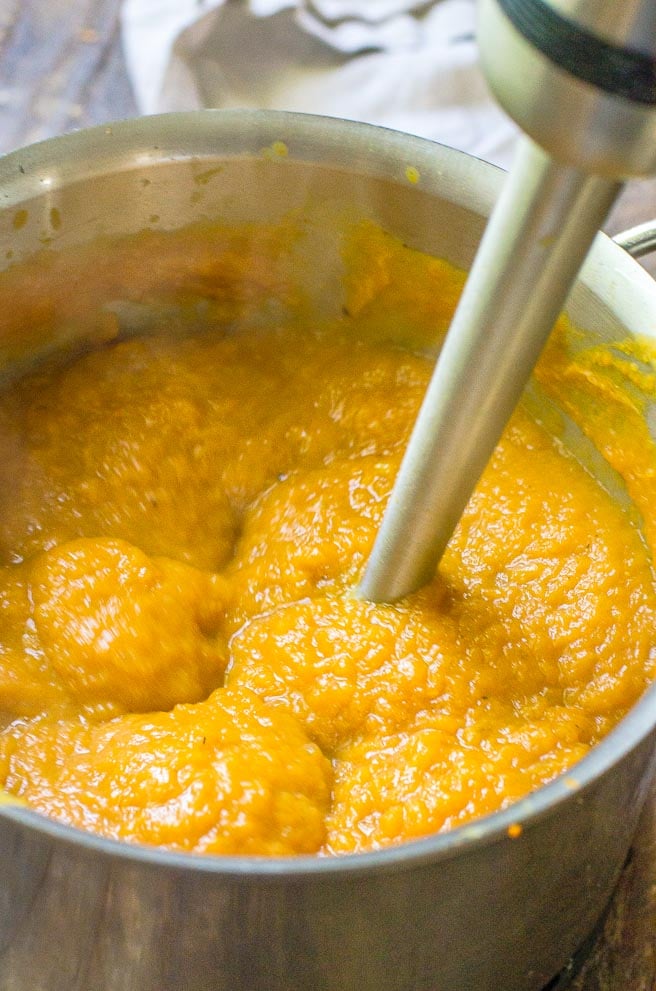 What Can I Add To Pumpkin Soup?
Similar to loaded potato soup, this recipe can be topped with many traditional flavors like: cheddar, sour cream, green onions, and bacon.
Or, if you want to change the flavor profile you can use alternative toppings, like:
Feta, roasted chickpeas, and roasted red bell peppers with lemon
Caramelized onions, sage, and pepitas
Balsamic drizzle, olive oil, rosemary, fried garlic and smoked gouda
Ginger, thai basil, lime, coconut milk, and cilantro
Brown sugar, creme fraiche, cinnamon, and spicy roasted apples (made with cayenne pepper)
Ricotta cheese, roasted garlic, wilted spinach and roasted mushrooms
There are so many delicious ways to make this roasted pumpkin soup recipe unique.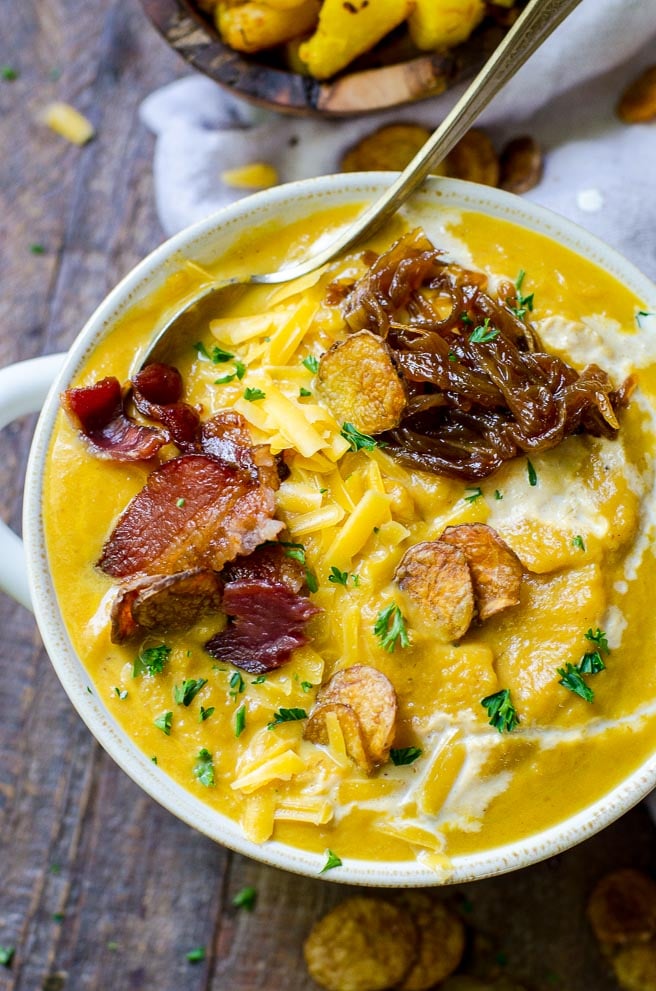 #PumpkinWeek
Enjoy these #PumpkinWeek recipes from our bloggers:

Pumpkin Breakfasts & Baked Goods:
Chocolate Pumpkin Swirl Quick Bread from The Crumby Kitchen
Chorizo Cheddar Pumpkin Cornbread Muffins from A Kitchen Hoor's Adventures
Fresh Pumpkin Quiche with Bacon and Sage from Palatable Pastime
Pumpkin Pancakes from Karen's Kitchen Stories
Pumpkin Spice Cinnamon Roll from Seduction In The Kitchen
Pumpkin Spice Waffles from 4 Sons R Us

Savory & Snack Pumpkin Recipes:
Loaded Pumpkin Soup from Food Above Gold
Pumpkin Mac and Cheese from For the Love of Food
Pumpkin Pie Chex Mix from Seduction In The Kitchen

Pumpkin Desserts:
Butterscotch Pumpkin Pudding from Daily Dish Recipes
Easy Pumpkin Bundt Cake from The Bitter Side of Sweet
Pumpkin Brownies from Cindy's Recipes and Writings
Pumpkin Cheesecake with Marshmallow Creme from Red Cottage Cottage
Pumpkin Chocolate Chip Oat Bars from Sweet Beginnings
Pumpkin Creme Brûlée from Jen Around the World
Pumpkin Cupcakes from Caroline's Cooking
Pumpkin Pie Dipped Oreos from The Mandatory Mooch
Pumpkin Snickerdoodle Cookies from Kelly Lynns Sweets and Treats
Pumpkin White Chocolate Mocha Sauce from The Redhead Baker
Vegan Pumpkin Chocolate Chip Layer Cake from The Baking Fairy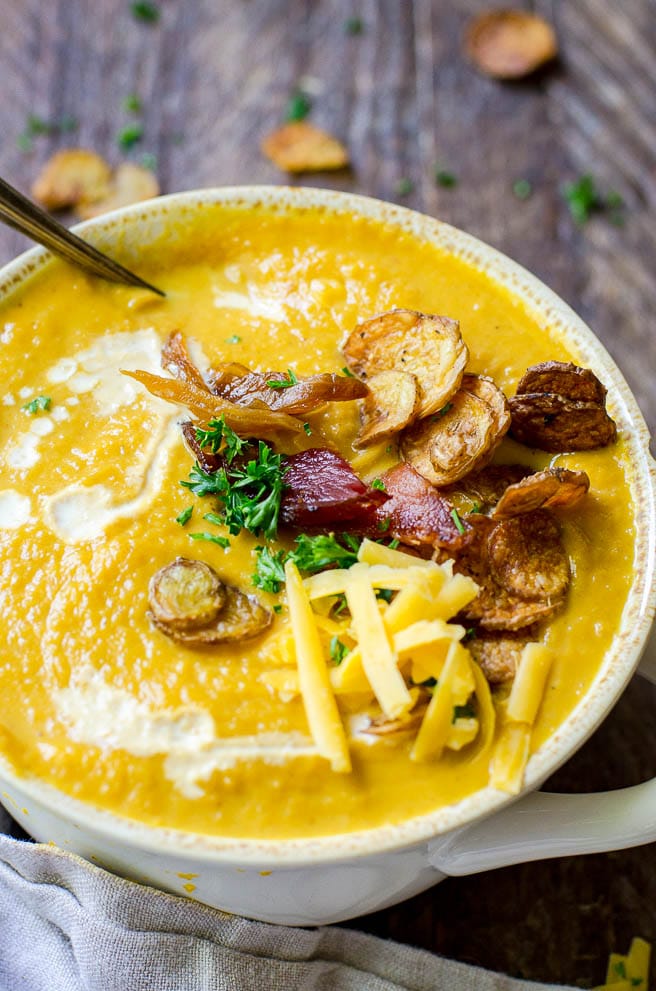 Tips For The Best Pumpkin Soup
Keep it chunky for texture. If you want a texture like loaded potato soup, strain out half of the pumpkin chunks before pureeing. Once the soup is smooth, stir the diced pumpkin pieces back in.
Use sour cream instead of heavy cream. If pumpkin soup tends to be too sweet for you, then swapping it for sour cream is just the trick. It will give the soup a tangier flavor that pairs well with toppings like bacon or extra sharp cheese.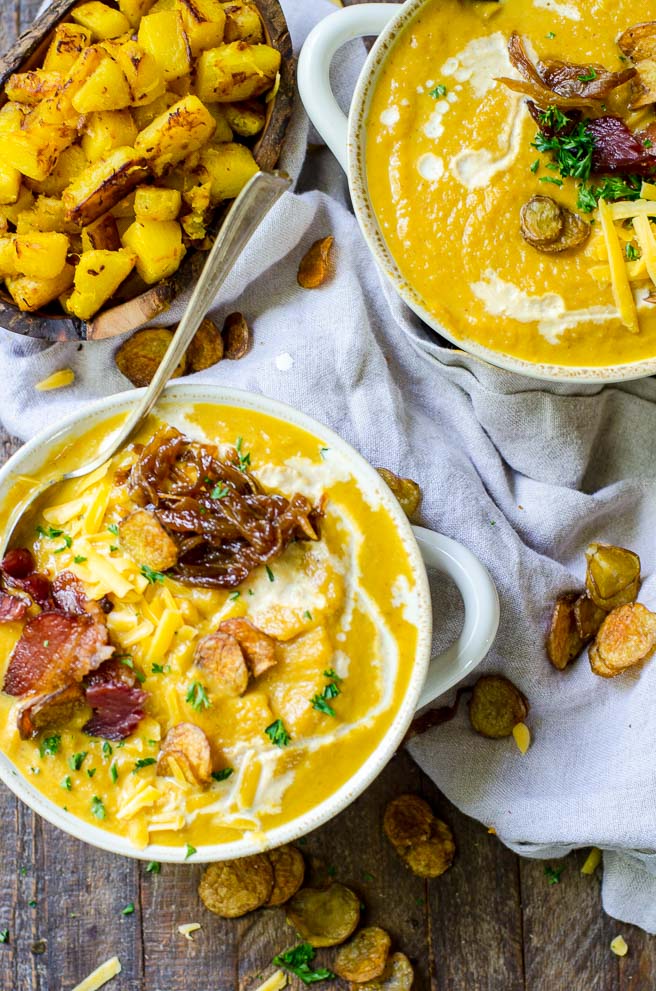 Loaded Pumpkin Soup Recipe
Don't let the combination of nutmeg and cumin scare you off. Trust me on it. They both bring a savory aspect to this pumpkin soup recipe that rounds it out nicely. They are only there as a hint of flavor, not to overwhelm the delicious pumpkin.

---
Want a free printable grocery list for this loaded pumpkin soup recipe?  Get it here. Everything is listed in standard grocery store amounts. If no size is specified, even the smallest package will provide more than enough.
Happy Cooking! 🙂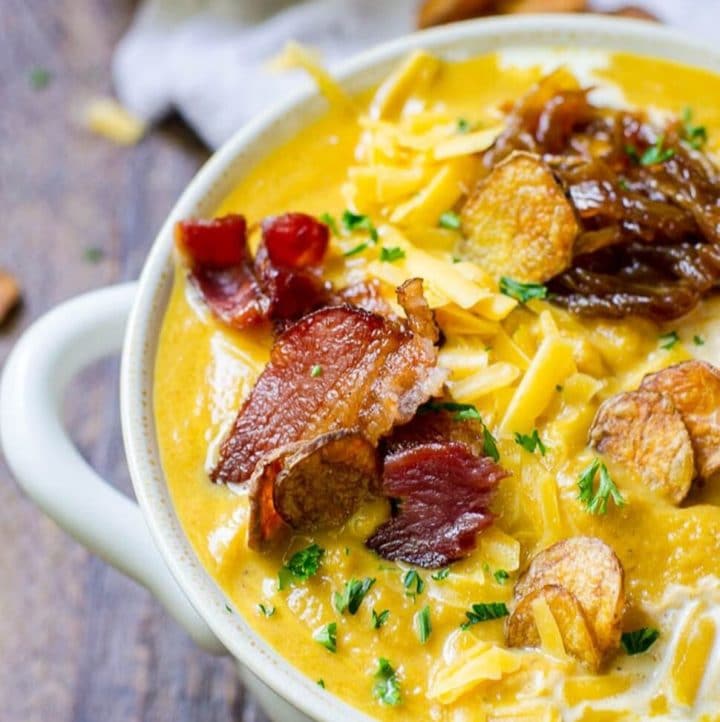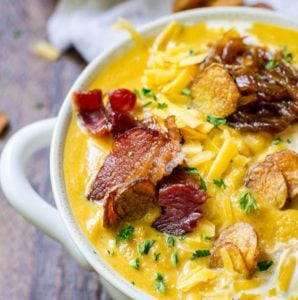 Loaded Pumpkin Soup
Use fresh pumpkins to make this smooth and creamy pumpkin soup. Load it with a smatterings of toppings for a comforting dish perfect for the season.
Pin it for later?
Ingredients
2

Tablespoon

avocado oil

,

plus more as needed

2*

sugar pumpkins

,

peeled and cut into 1" pieces

1

yellow onion

,

peeled and sliced

6

garlic cloves

,

sliced

3

cups

vegetable stock

¼

teaspoon

ground nutmeg

¾

teaspoon

ground cumin

⅓

cup

heavy cream

salt and black pepper

,

to taste
Instructions
In a pot over medium heat, sauté the diced sugar pumpkin in the oil until it caramelizes.  About

10 minutes

. Add in the onions and garlic and cook until translucent.

Stir in the spices and chicken stock and bring to a boil.  Reduce the heat and simmer until the pumpkin is soft enough to puree.

Using an immersion blender, puree the soup until completely smooth, adding extra vegetable stock if needed.  

Stir in the cream, season with salt and pepper and serve with loaded toppings. (think: Cabot cheese, bacon, green onions, potato chips, sour cream, tomatoes, etc…)
Notes
If you want chunks of pumpkin, cut up an additional sugar pumpkin and caramelize it.  Set aside ⅓ of the pieces before moving on to step two.
If you use pumpkin purée, substitute the pumpkins with 4 cups of puree.  
Nutrition
Serving:
1
serving
|
Calories:
336
kcal
|
Carbohydrates:
51
g
|
Protein:
8
g
|
Fat:
15
g
|
Saturated Fat:
6
g
|
Cholesterol:
27
mg
|
Sodium:
722
mg
|
Potassium:
2385
mg
|
Fiber:
4
g
|
Sugar:
22
g
|
Vitamin A:
58555
IU
|
Vitamin C:
65
mg
|
Calcium:
174
mg
|
Iron:
6
mg
Tell me how much you love this recipe
and show off how you made it!