Brown butter is the caramelized golden brown remnants of melted butter. The process is simple, but the nutty aroma and flavor are abundant.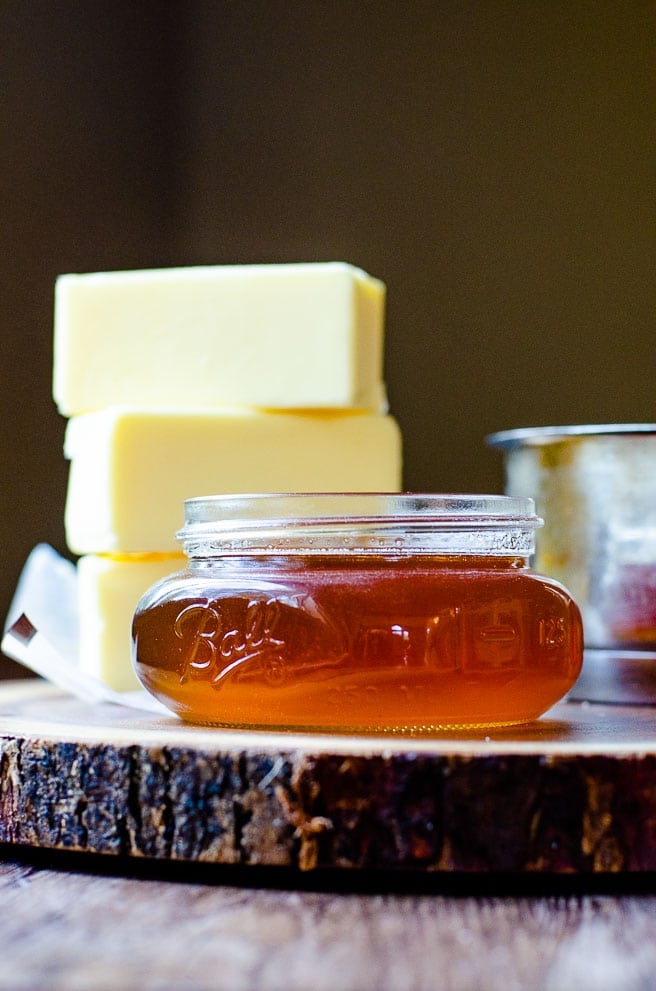 Also known as beurre noisette, brown butter is made by simmering out the water in regular butter and cooking the milk solids until they become lightly browned. This gives the butter a nutty aroma and flavor that is a wonderful complement in many dishes, especially during autumn and winter.
Can Brown Butter Be Made Ahead?
Yes! Since the milk fats are strained out and only the pure caramelized butterfat is left behind, there isn't anything to go rancid. This means that the butter can be left out at room temperature for up to two weeks. This only works IF you strain out the milk solids, however.
If you choose, you may leave the browned milk solids in for additional flavor. If you do, your browned butter should be refrigerated. It will stay fresh like this for up to a month. The butter will solidify, but you can reheat it in the microwave or on the stovetop at a low temperature.
What Temperature Does Butter Brown At?
Once the milk solids begin to caramelize, they darken pretty quickly. For this reason, I recommend using a medium low temperature. This only adds a few minutes extra, but you'll have much better control.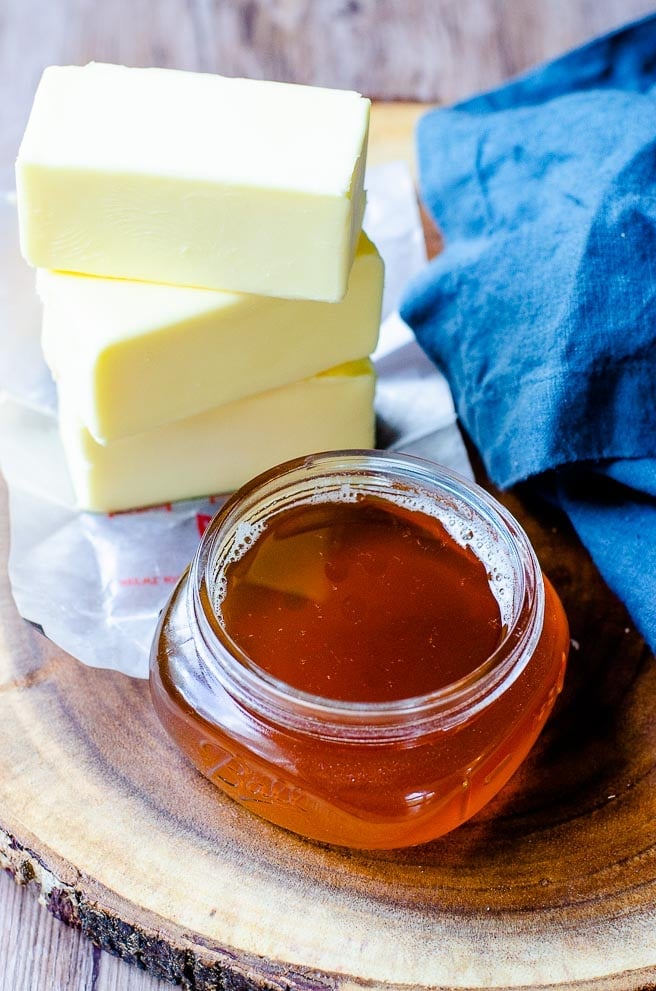 What Is Brown Butter For?
Browned butter can be used almost anywhere regular butter is, and it works well in both sweet and savory dishes. If you want to bake with it, it tastes delicious in cookies, as a glaze, or in frosting. For cooking it is commonly used in pasta, as a sauce for veggies, or a complement to fresh sage.
If you're looking for some recipe inspiration, I recommend:
Beurre Noisette Shortbread Cookies with Toffee
How Much Brown Butter Do I Need?
Since the water content gets cooked out of the butter, the butter will reduce by about one-third during the browning process.
If you are making a recipe that includes making beurre noisette, then it will most likely give you the amount you need before browning. If however, you are swapping out regular butter for browned, then you need to accommodate for that. Here is a quick cheat guide to help you figure out how much you need.
If a recipe calls for:

One stick of butter (½ cup), brown 1 stick, plus three tablespoons.

Two sticks of butter (1 cup), brown three sticks

One-Third Cup, brown 7 Tablespoons

Four Tablespoons of butter (¼ cup), brown five and a half tablespoons.

One Tablespoon of butter, brown one and a half tablespoons.
Browning isn't an exact science. Some butters have more water than others, so how much it leaves behind varies. These numbers are guidelines, not exact measurements. However, they should be fairly accurate.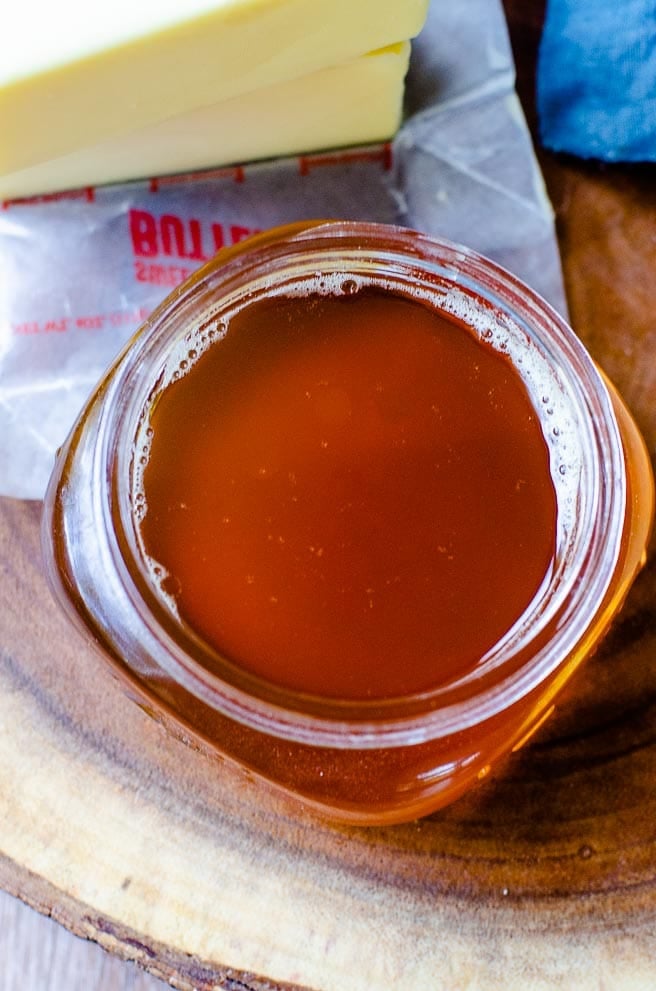 How To Make Brown Butter
Making beurre noisette is a simple process that takes about ten minutes. The important thing is that you carefully watch the milk solids to make sure they aren't burning. If you skim the foam as it rises to the top, it will allow you to better see how browned the milk solids are.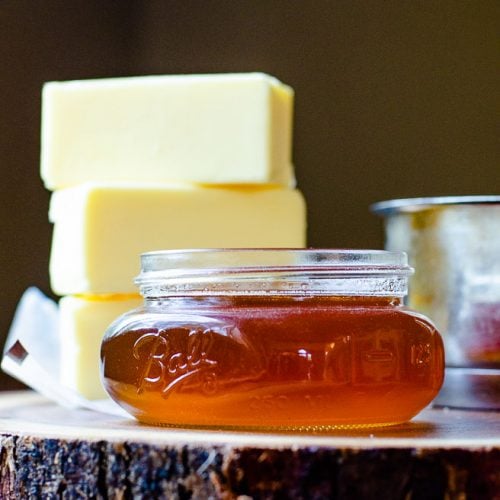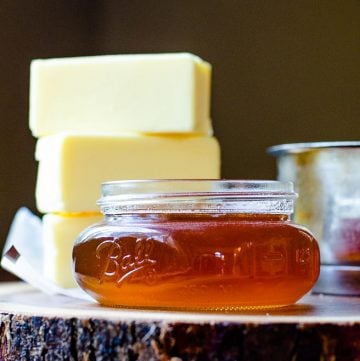 Brown Butter (Beurre Noisette)
With a strong depth of flavor and mild nuttiness, use this butter anywhere regular butter is used.
Pin it for later?
Ingredients
24

Tablespoons

(3 sticks) salted butter
Instructions
In a small, deep saucepan melt the butter over medium-low to medium heat until the butter starts popping and producing foam. Turn heat down to low and let the butter caramelized to a deep golden brown.

Take the pan off the heat and skim any extra foam off. Transfer the browned butter into a heatproof bowl or container and store in the refrigerator.

(Optional) If you would like to keep your butter at room temperature, strain it through a mesh sieve lined with cheesecloth. This will give you clarified brown butter.
Nutrition
Serving:
16
g
|
Calories:
150
kcal
|
Fat:
17
g
|
Saturated Fat:
10
g
|
Cholesterol:
45
mg
|
Sodium:
149
mg
|
Potassium:
5
mg
|
Vitamin A:
525
IU
|
Calcium:
5
mg
Tell me how much you love this recipe
and show off how you made it!