These honey corn muffins are just sweet enough to eat with savory food or enjoy as a treat. Top them with the strawberry basil butter for a seasonal boost of flavor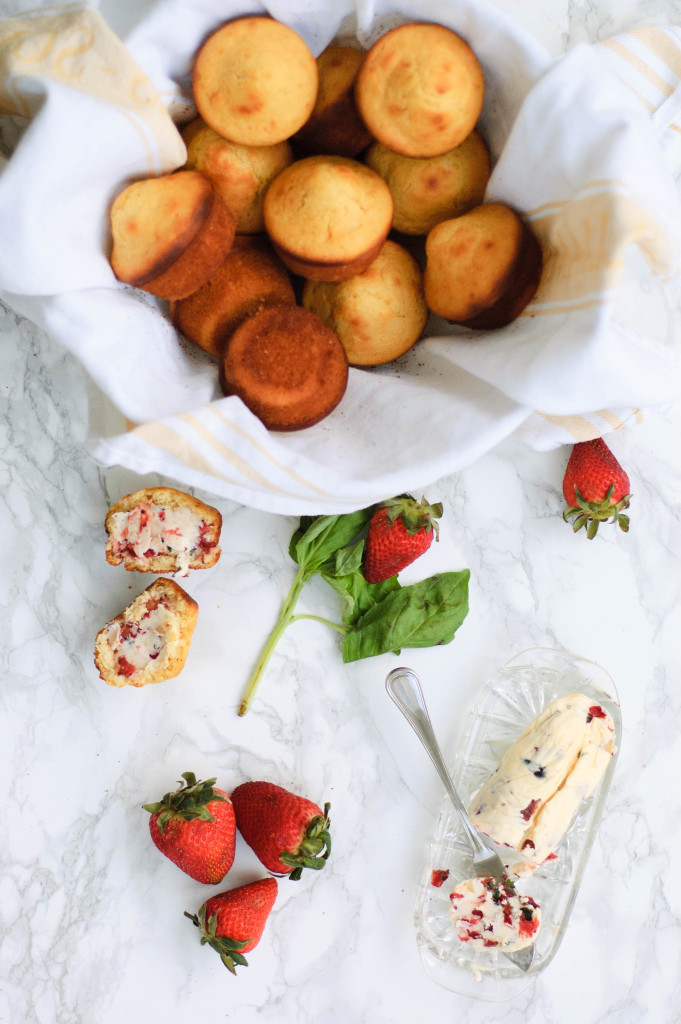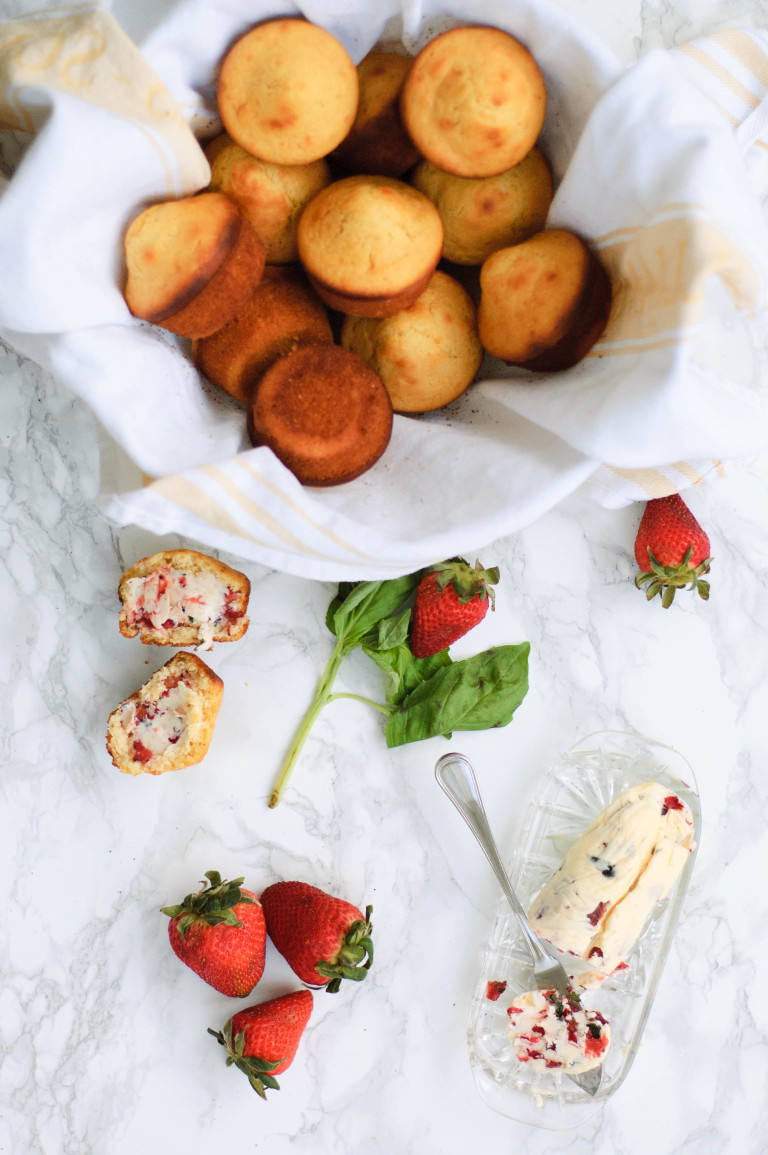 Are Corn Muffins the Same as Cornbread?
Depending on where you live, the two terms get used interchangeably. This is especially true because both are made with the same ingredients: cornmeal, butter, milk/water, baking soda, etc....
However, the thing that distinguishes the two is usually sugar. Corn muffins tend to be sweeter and made with some type of sugar. (Or in this case, honey.) Cornbread muffin recipes tend to be savory.
If you are familiar with sweet cornbread and barbecue, this honey corn muffin recipe is not as sweet.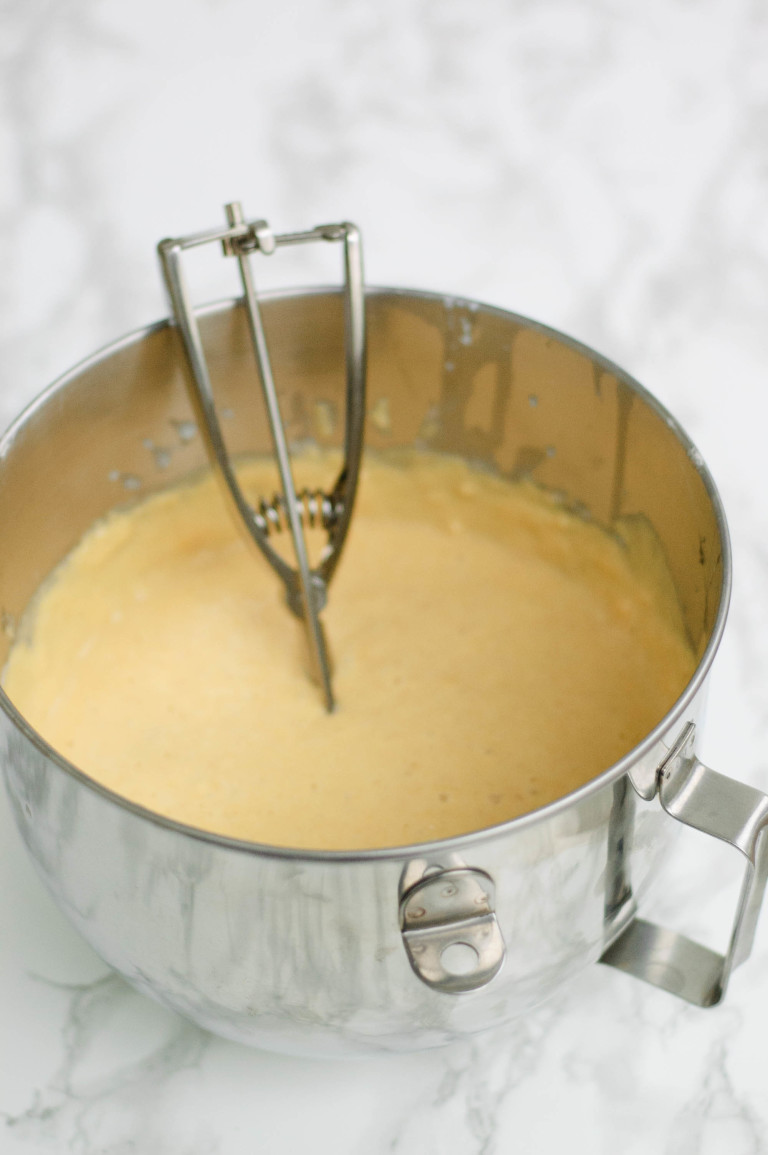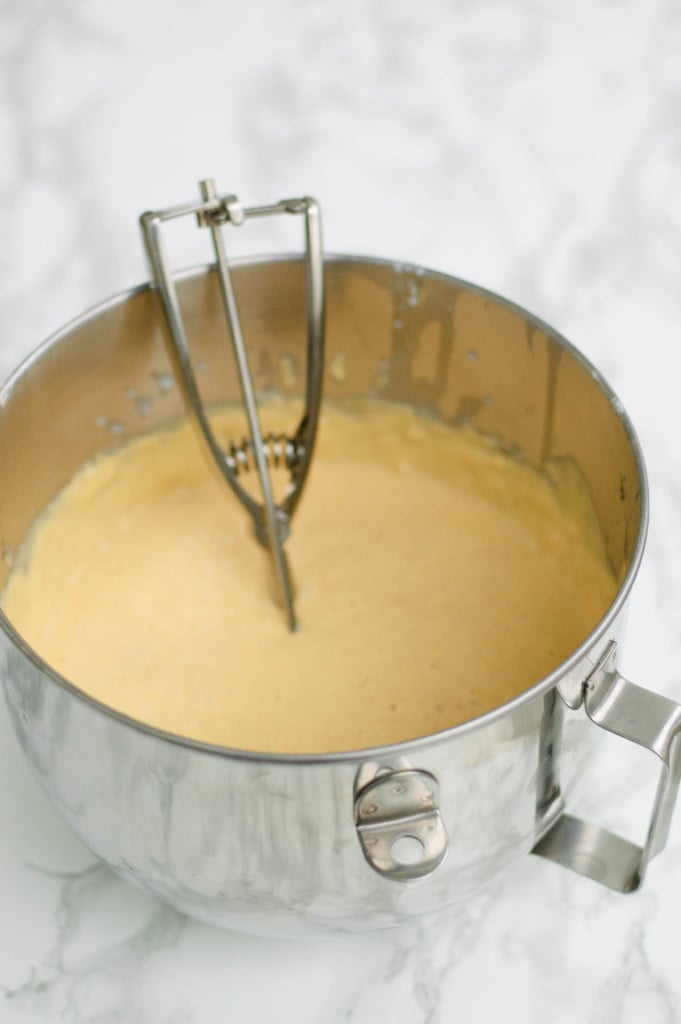 How to Bake with Honey
A lot of people have a hard time substituting honey for sugar. Usually the recipe comes out too dense and spongey, or even too sweet. Baking is chemistry and any time you alter the equation the end product is going to change.
Even though it makes sense to just substitute one form of sugar for another, the chemical makeups are different. As a result, you have to adjust parts of your recipe to get the final product to turn out the same.
If you haven't already done so already, check out these guidelines for how to bake with honey. It makes substituting sugar for honey much much easier.
I do want to point out one quirk of this recipe really quickly. Because of the way honey cooks you may find that you get a dark ring around the edge. It most likely isn't burnt, just a quirk of honey. 🙂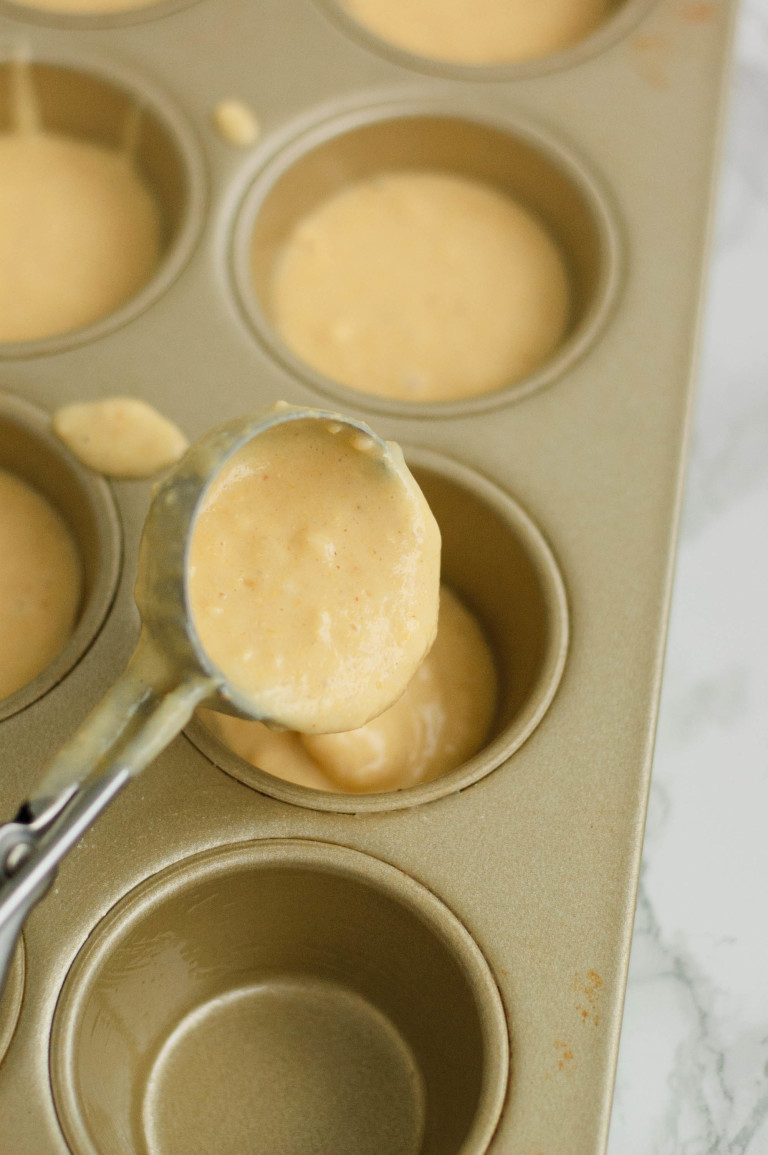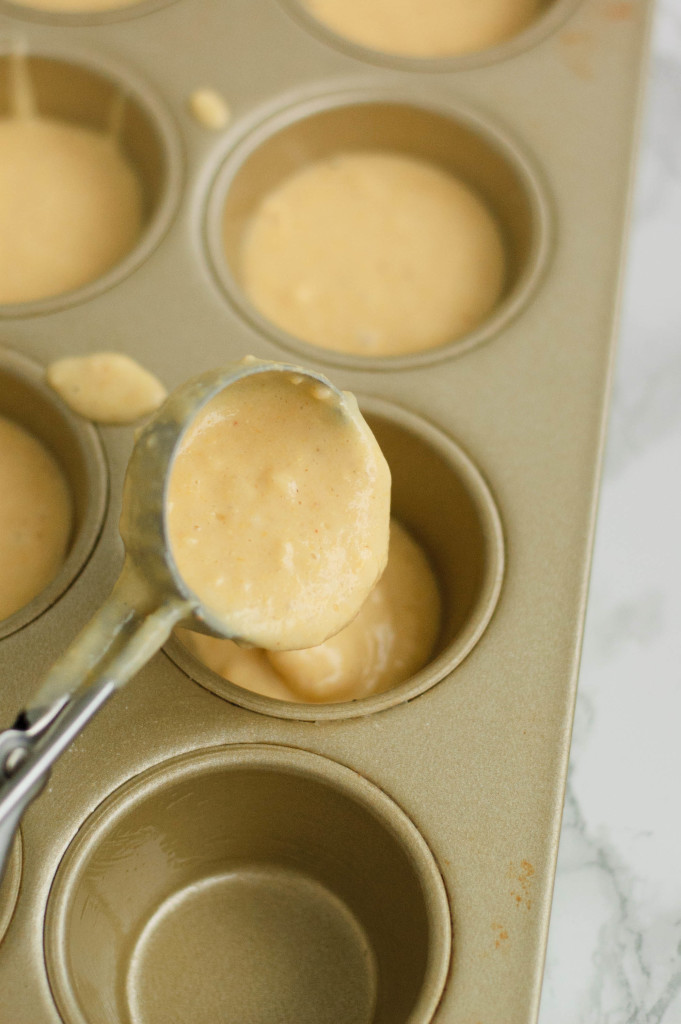 What Type Of Cornmeal To Use
There are many different kinds of cornmeal out there, and it is easy to get overwhelmed at the store.
For these honey corn muffins, I recommend using a yellow corn meal. It gives the attraction associated with honey, as well as just what most people expect when they see them. (Although, these work super well with blue cornmeal, too!)
I also recommend choosing a medium steel-grind for them. This is a more rustic grind that gives a lot of texture to the muffins. It also means that you can't skimp on the liquid because coarser textures need more liquid.
Choosing a steel-ground cornmeal also means that it won't spoil super quickly. This is important if you don't think you'll make these honey cornbread muffins very often. Water ground cornmeal (aka stone ground) leaves the germ and hull in tact which can go rancid, so steel-ground is better long-term.
Top Recipe Tips
Move fairly quickly when putting together your batter. The acid in the buttermilk reacts with baking soda and causes expansion. This is what makes the honey corn muffins fluffy and helps them rise. But if you dither dishing the batter into the muffin cups it can deflate.
Don't use cooking spray or paper liners for your muffin tin, instead use a neutral oil or room temperature butter. Just rub it around the bottom and inside of each muffin cup with a paper towel. It does the trick better.
Make this recipe gluten-free by substituting the all-purpose flour with almond flour.
Room temperature ingredients are best. It cuts down the baking time and makes sure that the melted butter doesn't seize up from the temperature differences. This can cause uneven cooking.
Use a cupcake scoop to get muffins an even size. This also helps you work faster dishing the batter into the muffin pan. A standard scoop holds slightly less than ¼ cup of batter.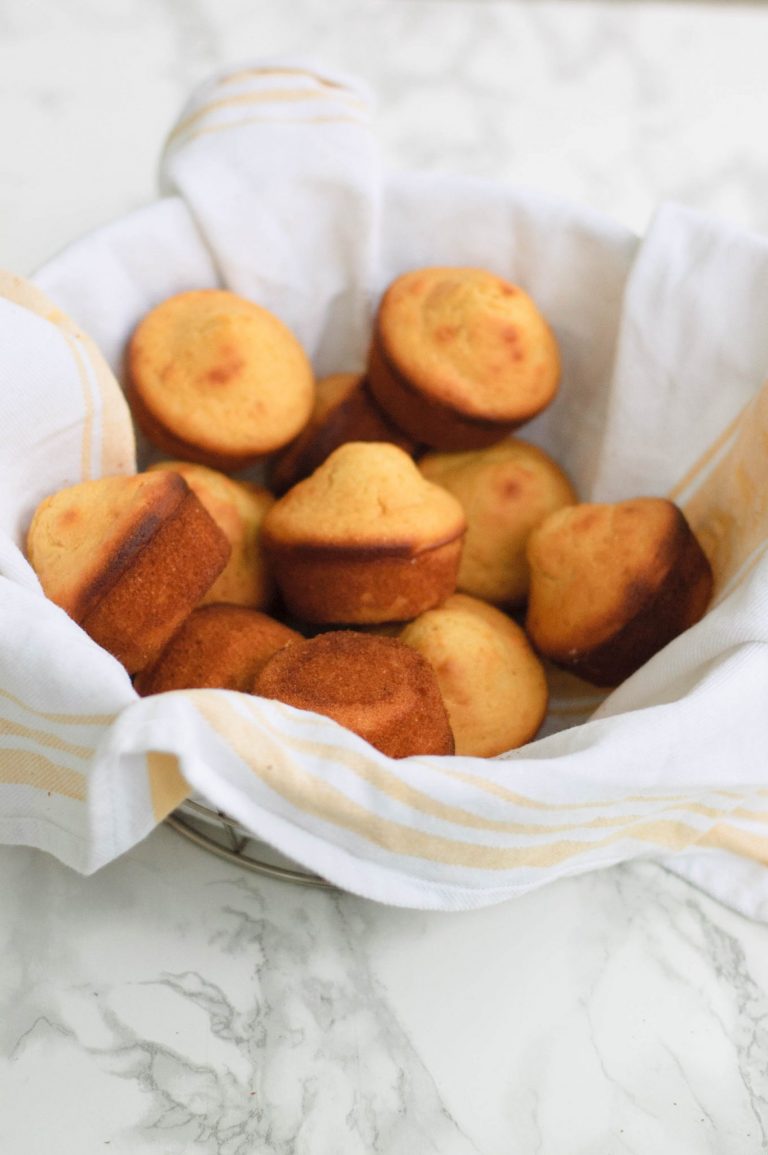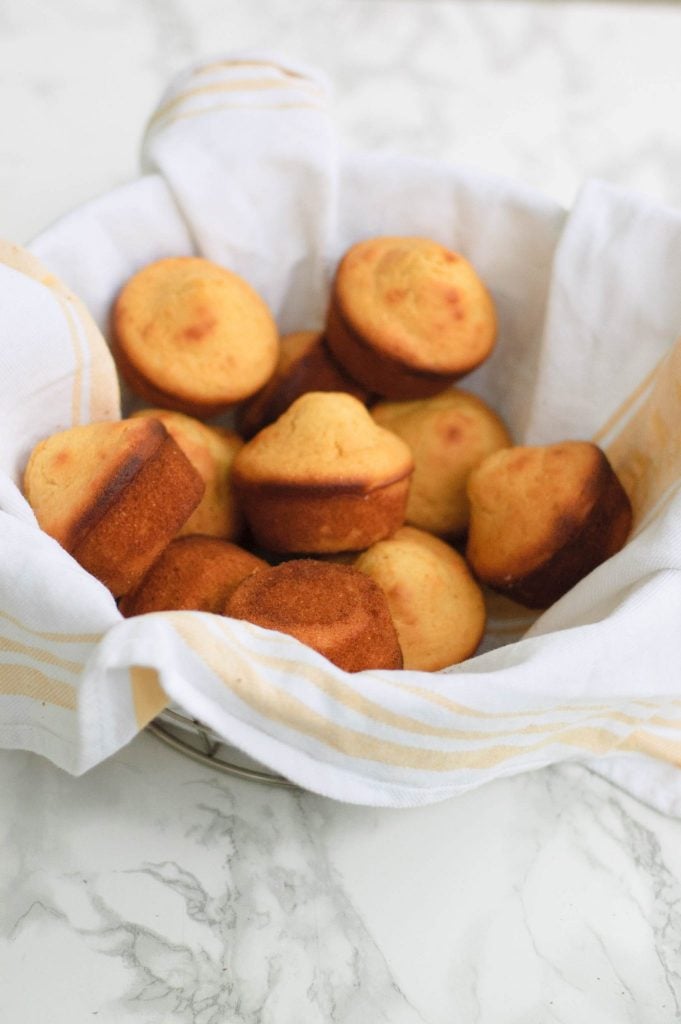 Making The Compound Butter
To make the strawberry basil butter, you need salted butter at room temperature. Simply mix together the minced strawberry pieces and basil until evenly combined. Then wrap it in plastic wrap and refrigerate until ready to use. It will stay fresh up to a week in the fridge.
I like to let the butter soften for about 30 minutes before serving. It will melt nicely on warm muffins, but it makes it more spreadable if they are not.
Honey Corn Muffins Recipe
Since these honey corn muffins aren't overly sweet, they pair well with sweet and savory meals. For example, you could serve them plain with barbecue or chicken chili. Or, you can enjoy these with breakfast with fruit and butter. (This is my favorite way.)
---
Thanks so much for stopping by!
Happy Cooking! 🙂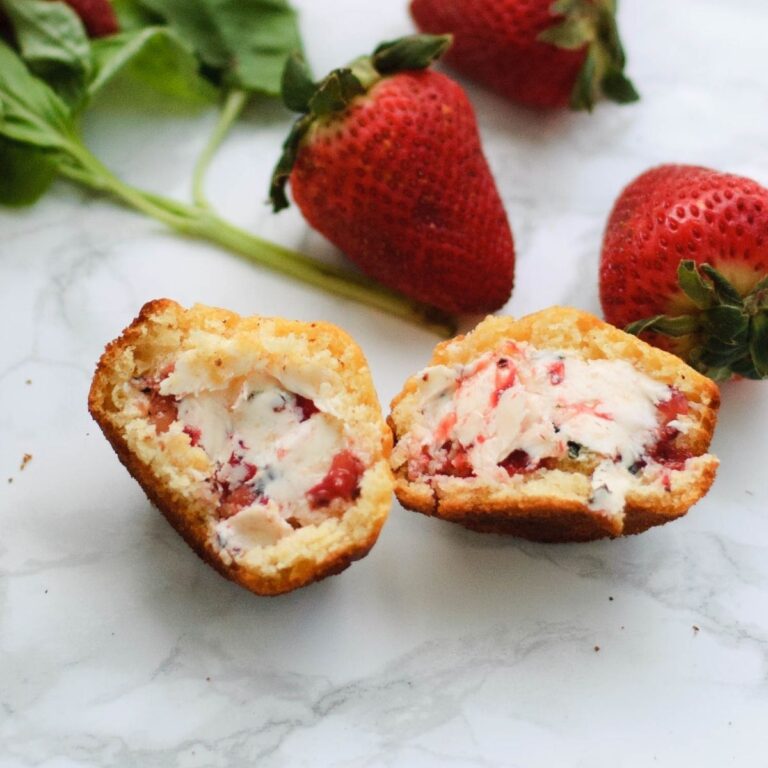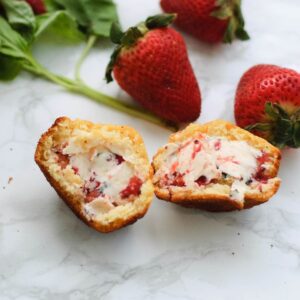 Honey Corn Muffins with Strawberry Basil Butter
These honeyed buttermilk corn muffins will make you want to move to the midwest. The only place on earth where you can enjoy them while laying on golden beaches of corn.
Pin it for later?
Ingredients
Strawberry + Basil Butter
1

stick of salted butter

,

room temperature

½

cup

strawberries

,

cut small

1

Tablespoon

fresh basil

,

minced
Honey Corn Muffins
2

cups

all-purpose flour

2

cups

yellow cornmeal

2

Tablespoons

baking powder

1

teaspoon

salt

1

cup

honey

2

cup

buttermilk

,

room temperature

4

eggs

,

room temperature

½

cup

butter

,

melted and cooled slightly

Additional canola oil or butter for greasing
Instructions
Using a wooden spoon or rubber spatula, fold the strawberries and basil into butter until completely combined.

Cut a large piece of plastic wrap and place compound butter in the center. Fold the plastic wrap all the way over the butter until the two ends meet. Shape the butter into a brick. Grabbing both ends, roll the compound butter in the plastic wrap until the butter has been shaped into a log. Place log in the refrigerator for up to 5 days.

Preheat oven to 450°F

Sift together flour, cornmeal, baking powder, and salt. Set aside.

In the bowl of an electric mixer, combine honey, buttermilk, eggs, and slightly cooled butter. Mix until eggs are broken up and everything is loosely combined.

Add dry ingredients into wet ingredients and put mixer on medium speed. Mix until fully incorporated. Scrape down sides as needed.

Lightly grease each cupcake/muffin tin with canola oil or butter. Remove excess with paper towel. Using a cupcake/muffin scoop (size 24), drop one scoop of batter into each lightly greased muffin tin.

Place in preheated oven and bake for 14 minutes, or until a toothpick inserted into the center comes out dry and clean. Remove from oven and let cool. Turn out of muffin tin and serve.
Notes
If you want to make mini-muffins bake for only 10 Minutes.
Store cooked corn muffins in an airtight container for 24 hours.  I recommend only baking off what you will eat to prevent leftovers from going stale before they are enjoyed.
Nutrition
Serving:
1
g
|
Calories:
113
kcal
|
Fat:
5.2
g
Tell me how much you love this recipe
and show off how you made it!