This lavender simple syrup is great for making iced tea, cocktails, or a flavoring for cakes. Plus, tips on how to make it not bitter.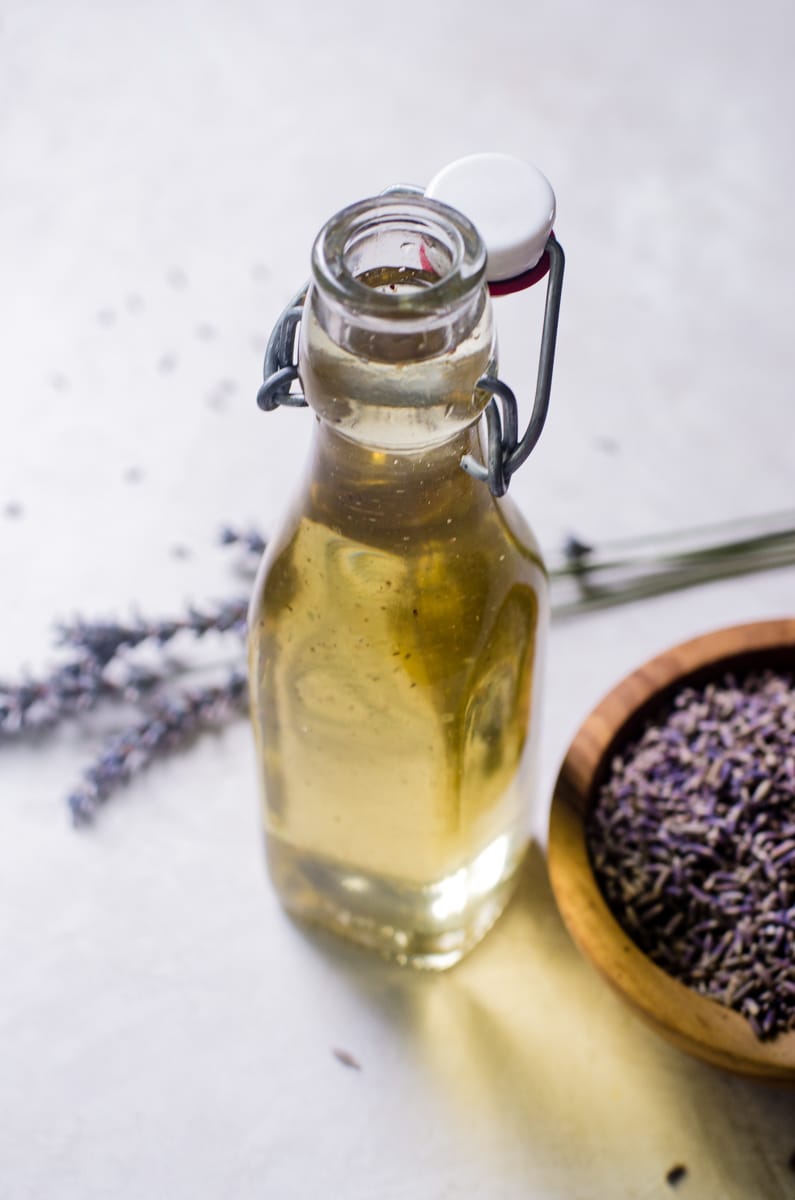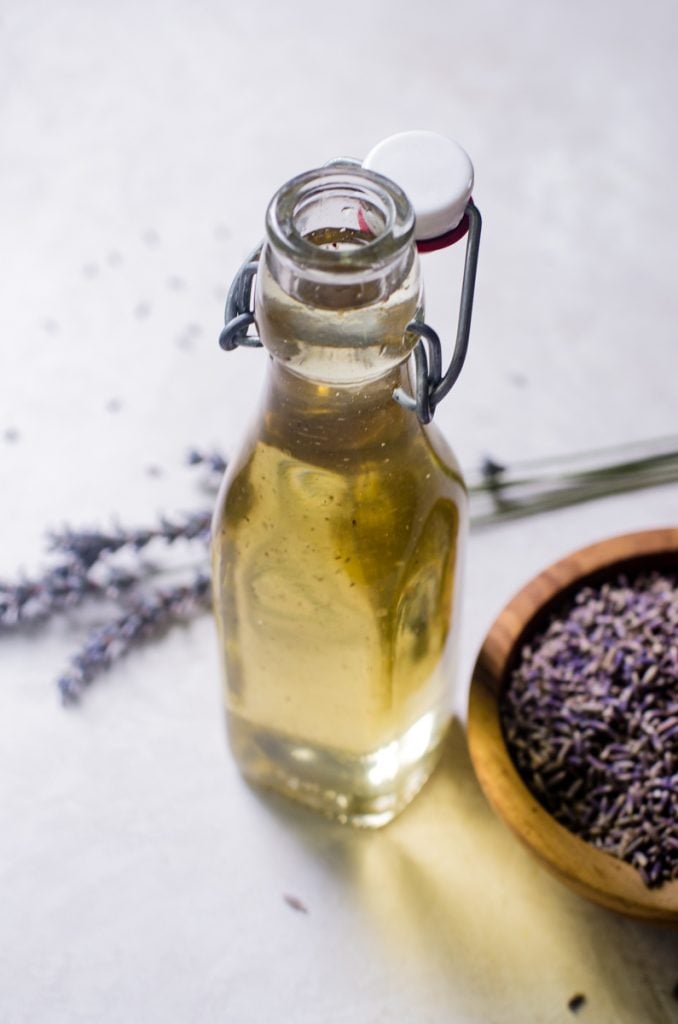 Lavender simple syrup is a versatile condiment that works for so many things. From drinks like lemonade, cocktails, and lattes. Or even keeping cakes moist.
What Does Lavender Syrup Taste Like?
This lavender simple syrup has just a hint of floral flavor that makes you feel like you walked into a meadow of lavender flowers. The taste is not so strong that you feel like it smacks you in the face though. It is mild and nuanced and not like someone trying to sell you essential oils.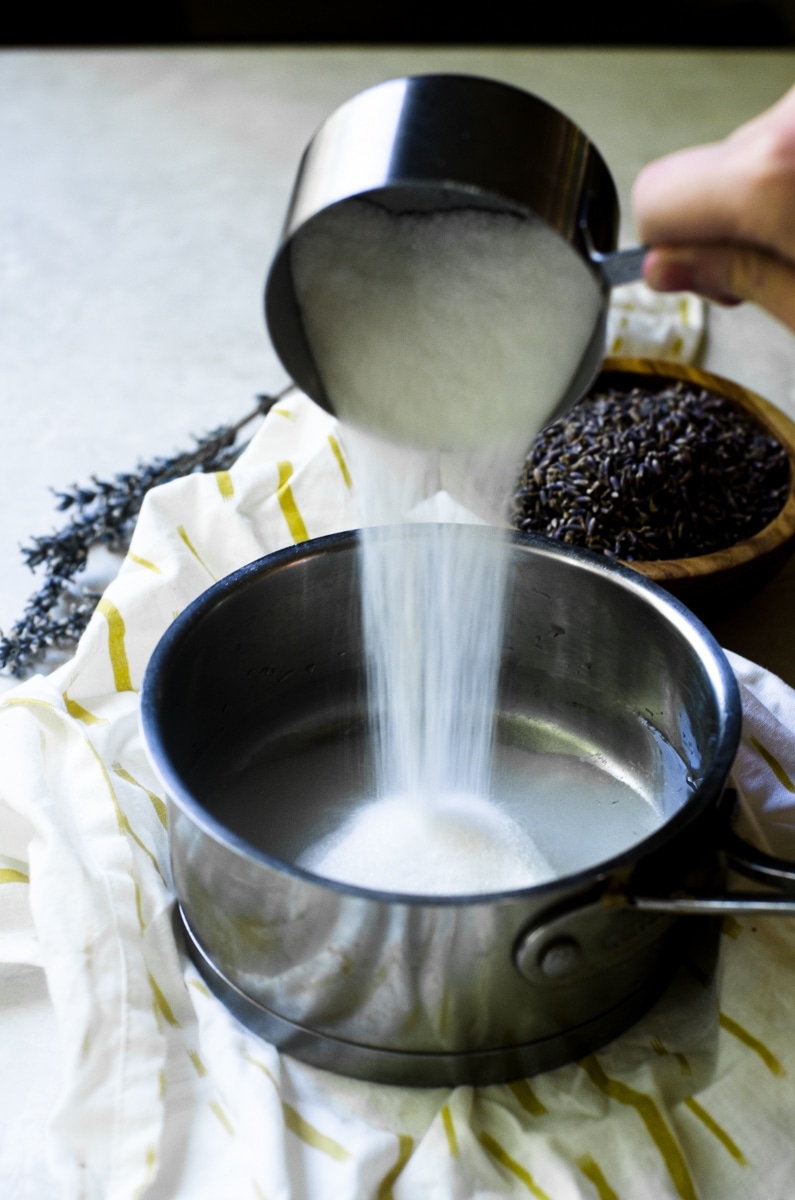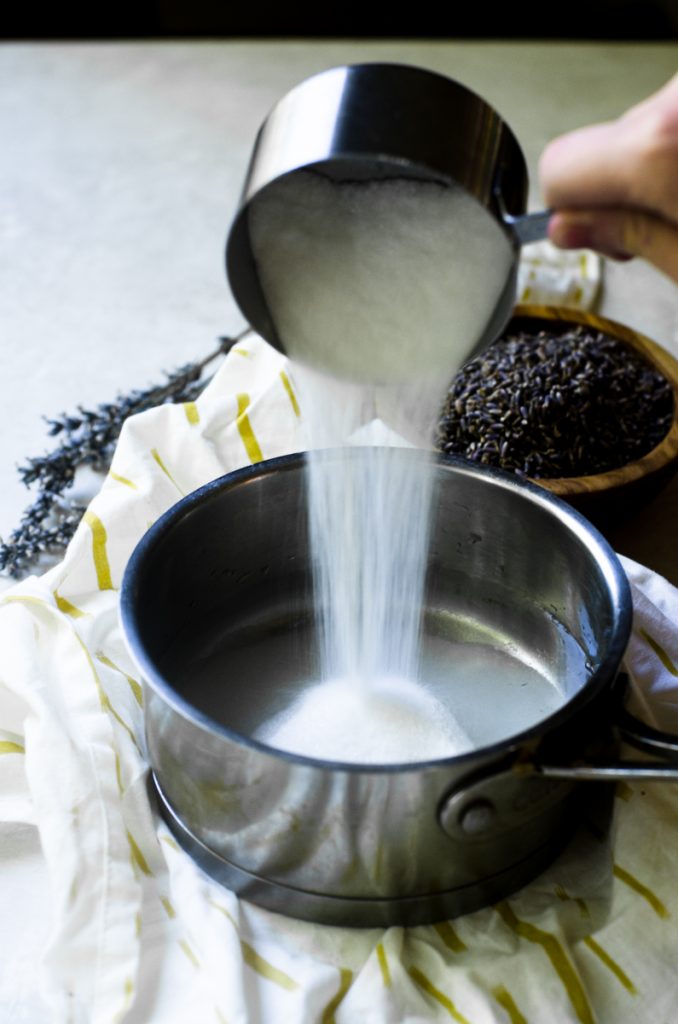 What Kind Of Lavender?
This may not be a question you even knew to ask, but not all lavender is the same.
When it comes to making lavender simple syrup, it is best to get culinary lavender. This comes varieties that have been treated with chemicals less and usually taste a little better when cooked.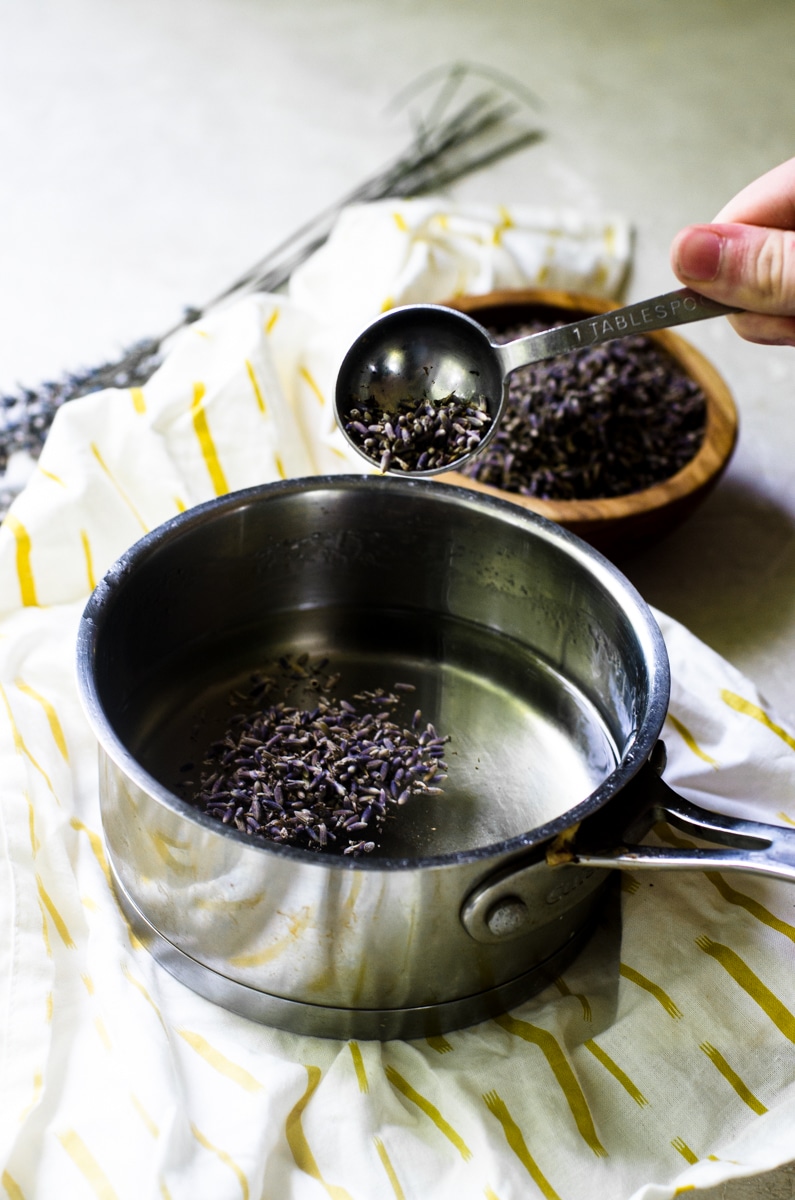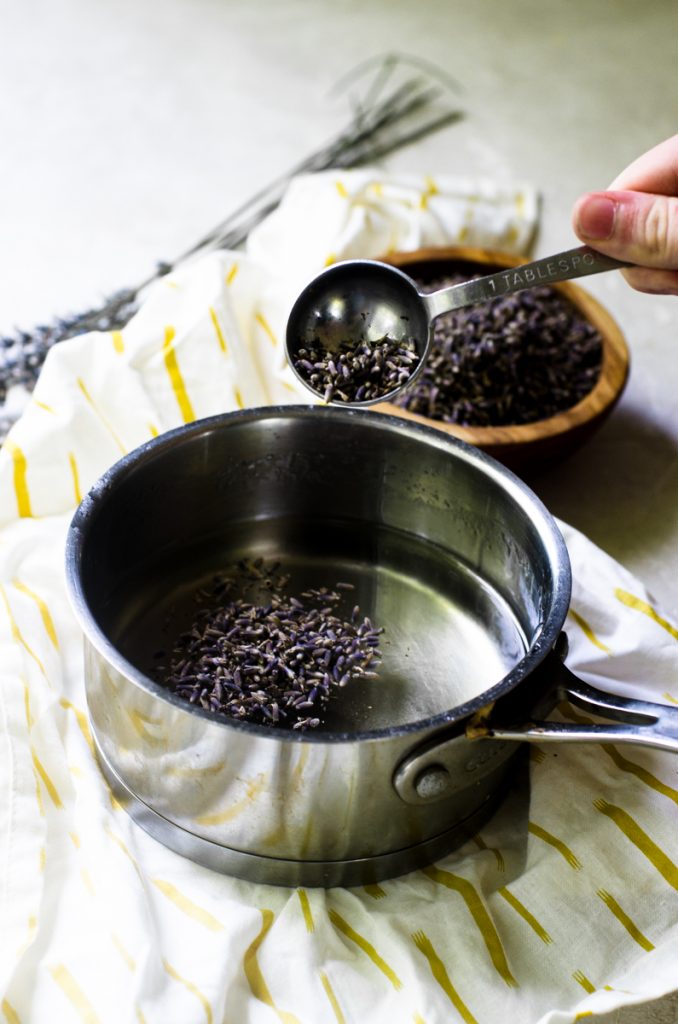 What Part Of The Lavender?
When making lavender simple syrup, you have two choices. Fresh lavender or dried.
If you choose fresh lavender, you can use the leaves and flowers. These both give excellent flavor and aroma to the syrup.
If you buy it from the store, you'll get dried lavender, which is made of the dried lavender buds. This takes the guesswork out of knowing which part to use, but gives you less control.
Usually when using dried lavender, it is best to rinse then dry roast the buds a bit to keep it from overpowering the dish. If you buy it from a store, see if it has any notes about this being done, since dried lavender is much more potent.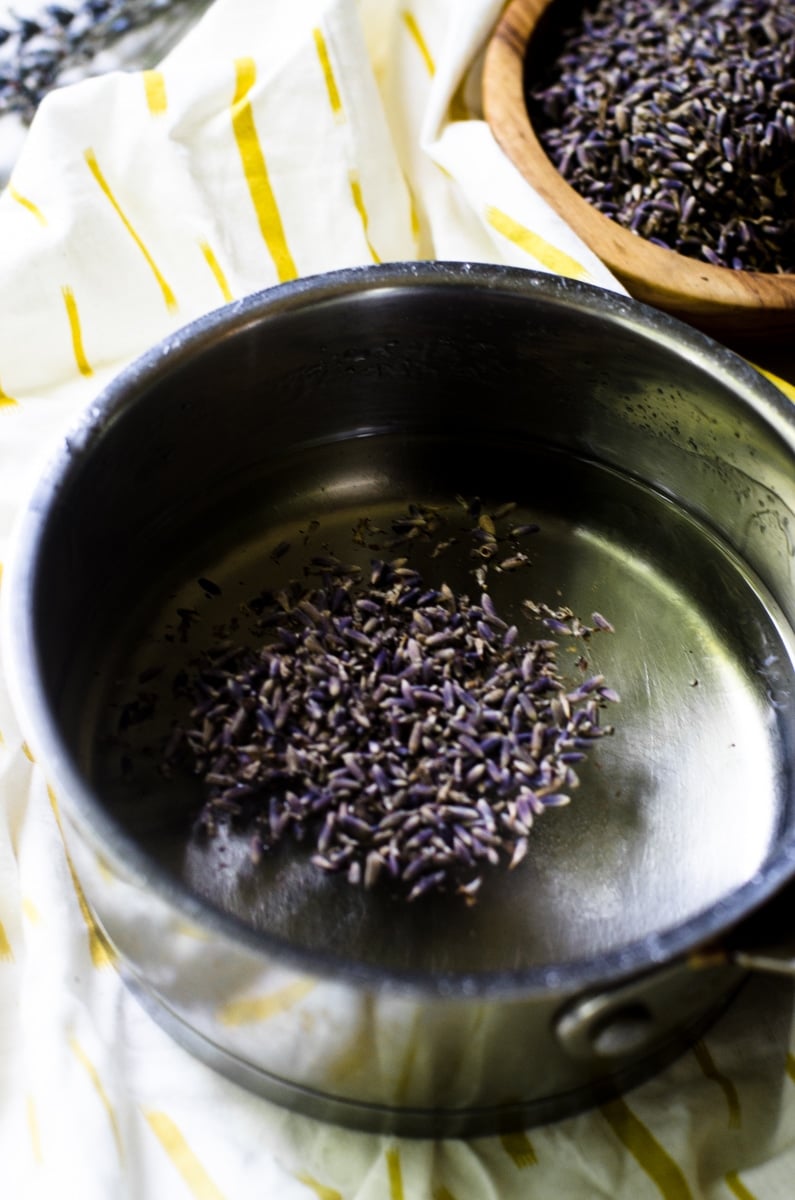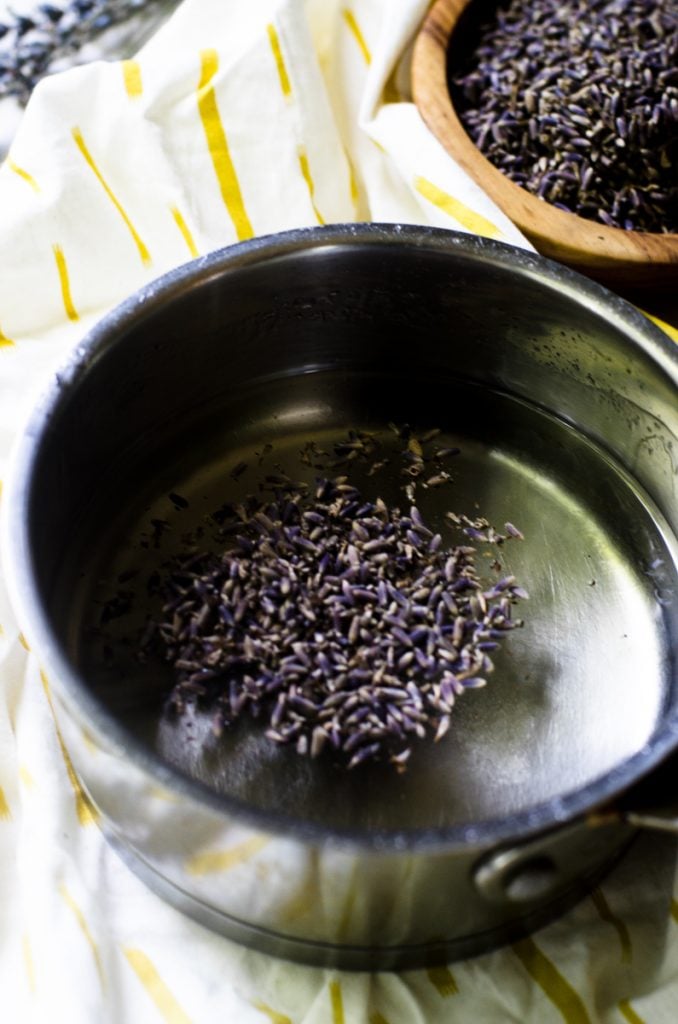 Why Is It Bitter?
When making flavored simple syrup, the flavorings themselves should never be boiled. The simple syrup is supposed to have a hint of lavender. Not lavender with a hint of sugar.
The most common mistake is that the water, sugar, and lavender are all added together at the beginning. This results in over boiling it and making it bitter.
If you follow the instructions correctly and it still is bitter, either you used ornamental lavender or it wasn't washed well.
How To Make It
The process of making lavender simple syrup is just like standard simple syrup. All of the extra work is done at the end.
Put the water and sugar in a small saucepan and bring to a boil. You don't need to stir until dissolved because this pushes the sugar on the side of the pan where it can crystalize. Let the heat do the work for you.
Remove from the heat and put in the lavender. It will seem like a lot of lavender, but remember, this is how we're avoiding making this lavender simple syrup recipe bitter.
Let the lavender sit for at least 30 minutes to extract the flavor. Use a fine mesh strainer to remove the cooked lavender and put the simple syrup into a sealable glass container.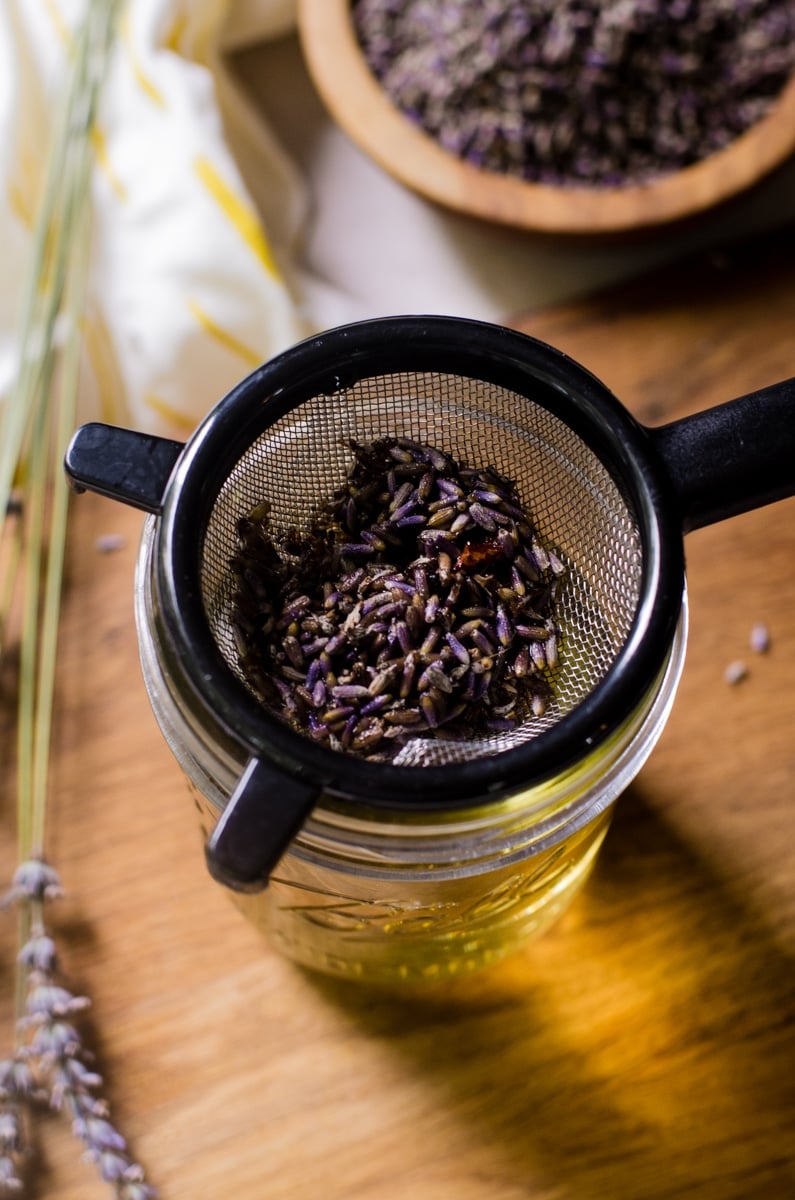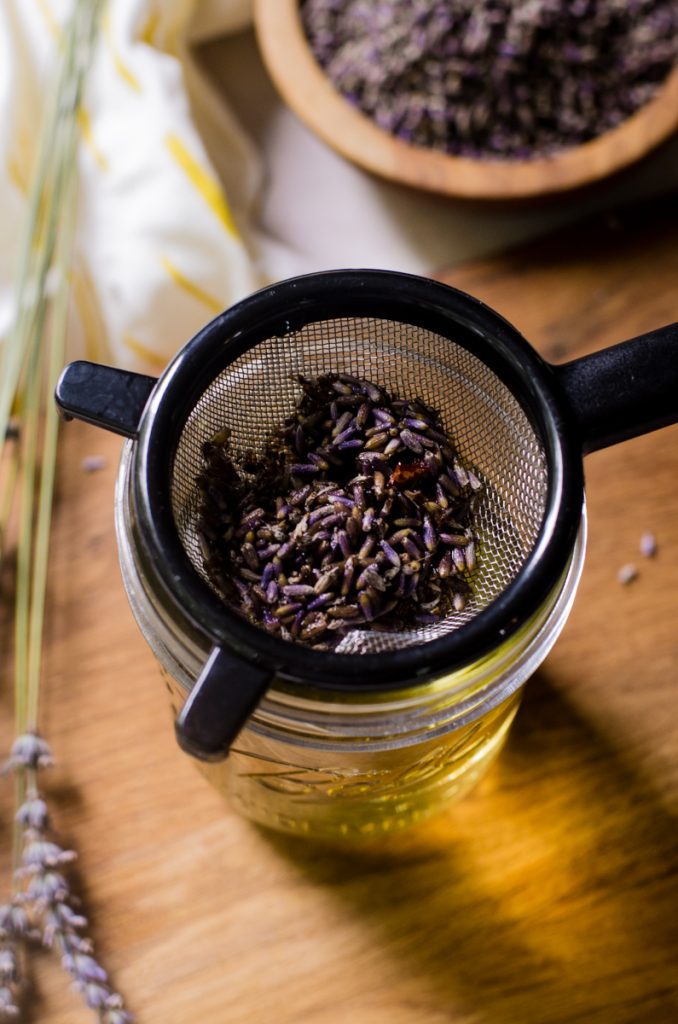 How Long is it Good For?
The finished lavender simple syrup should be stored in an airtight container for up to two weeks.
Despite the fact that sugar is a preserver, it still molds. Look for a thin white film on the top of the lavender syrup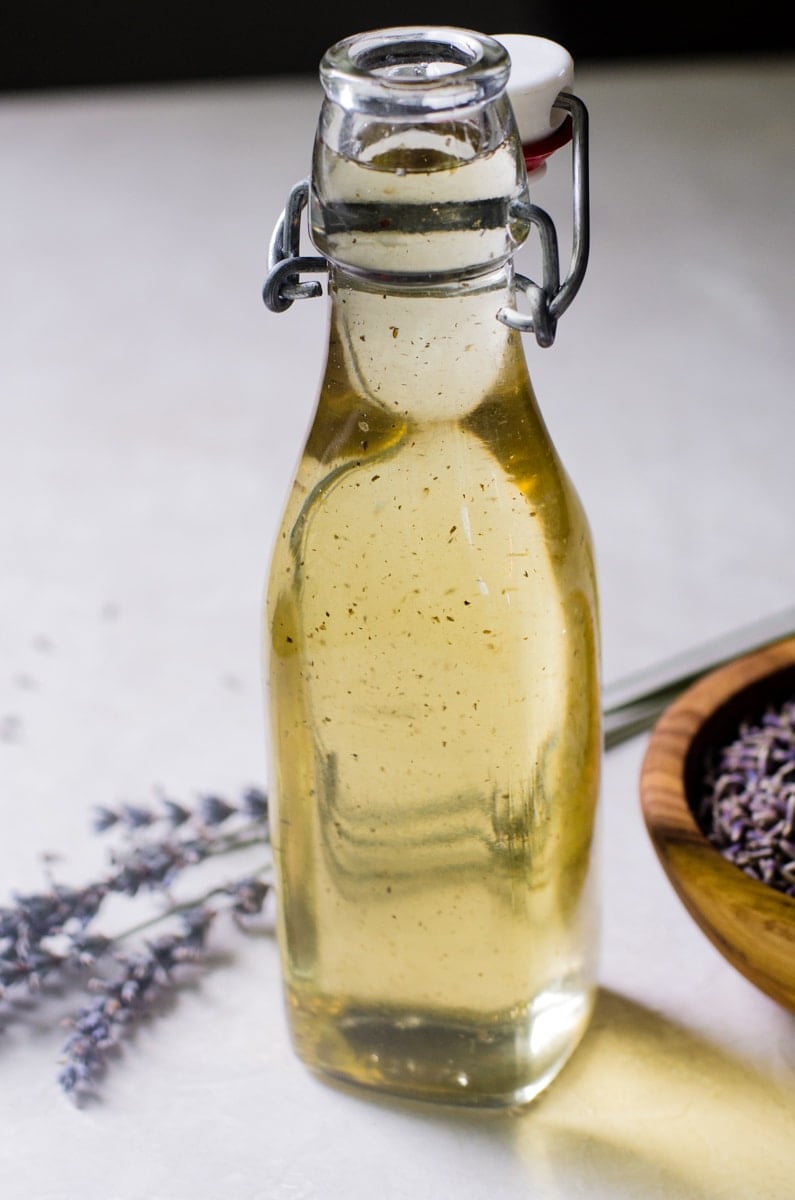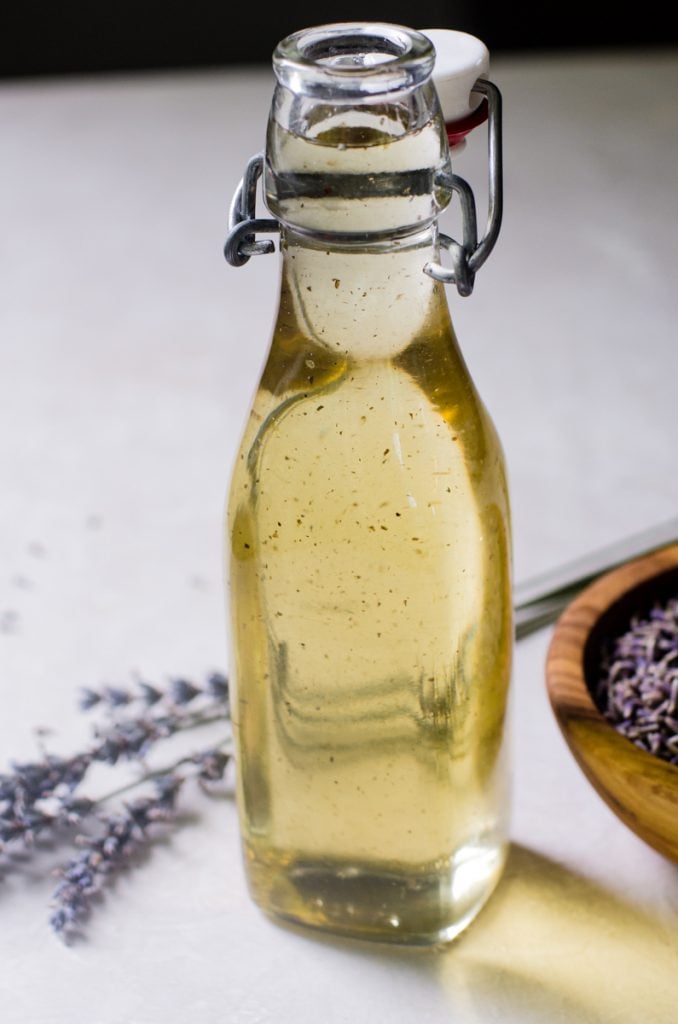 Lavender Simple Syrup Recipe
Use lavender simple syrup to sweeten drinks like cocktails or tea. It also works well to moisten cake and provide a little extra flavor.
There are so many uses for this lavender syrup, ranging from a lavender latte to a lavender martini. No matter how you choose to use it, it will become a new favorite staple in your kitchen.
As an alternative, you can also use a lavender honey simple syrup for a small change in flavor.
Happy Cooking! 🙂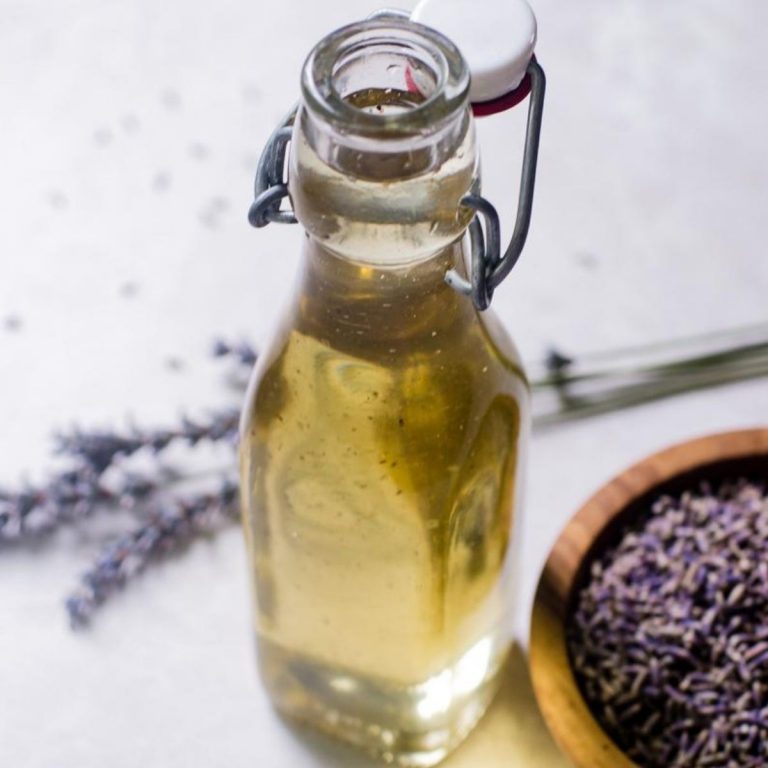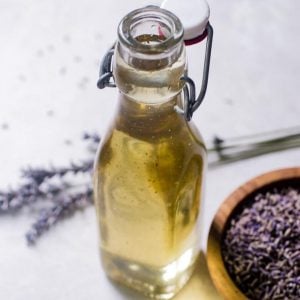 Lavender Syrup
This simple lavender simple syrup is great for enjoying in cocktails, coffee, tea, or even lemonade!
Pin it for later?
Ingredients
1

cup

water

1

cup

granulated sugar

pinch

salt

2

Tablespoons

dried lavender
Instructions
In a small saucepan over medium heat, combine the water, granulated sugar, and pinch of salt. Bring to a boil then remove from the heat. Stir in the lavender and let steep for 30 minutes.

Using a fine mesh strainer lined with cheesecloth* strain out the dried lavender and pour the simple syrup into a glass jar. Seal the jar and refrigerate for up to two weeks.
Notes
If you don't use cheesecloth, you'll get small floaters in the simple syrup.  This doesn't impact the texture, just the appearance.
Nutrition
Serving:
1
serving
|
Calories:
49
kcal
|
Carbohydrates:
13
g
|
Protein:
1
g
|
Fat:
1
g
|
Sodium:
1
mg
|
Sugar:
12
g
|
Vitamin A:
6
IU
|
Vitamin C:
1
mg
|
Calcium:
4
mg
|
Iron:
1
mg
Tell me how much you love this recipe
and show off how you made it!