This honey lavender latte is a great hot or cold homemade coffee shop drink. With its floral flavor it tastes like summer without being as overpowering.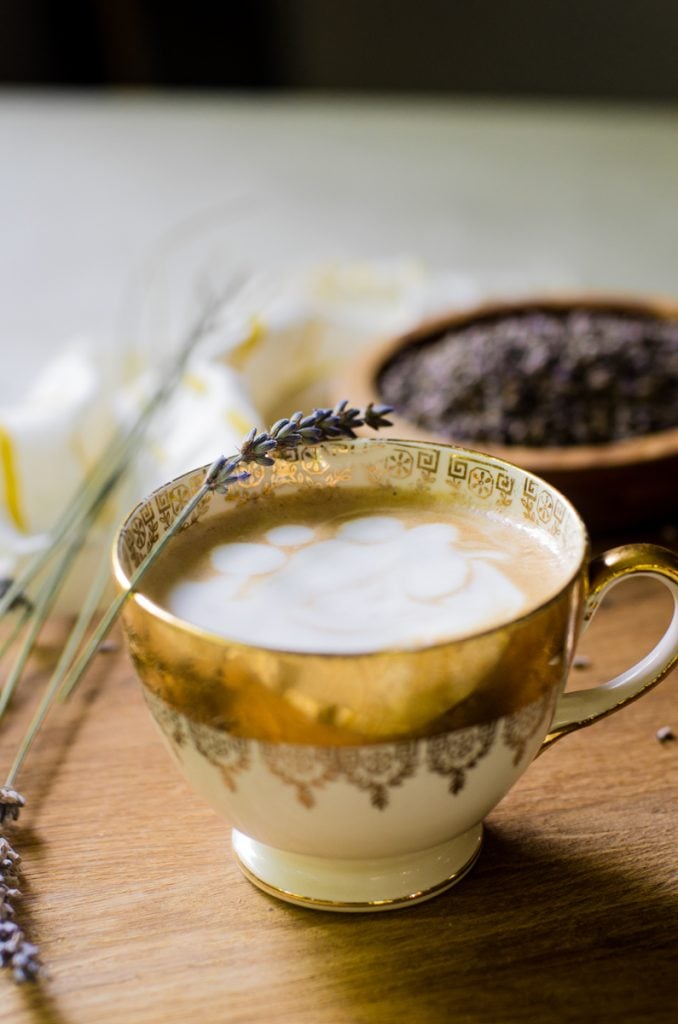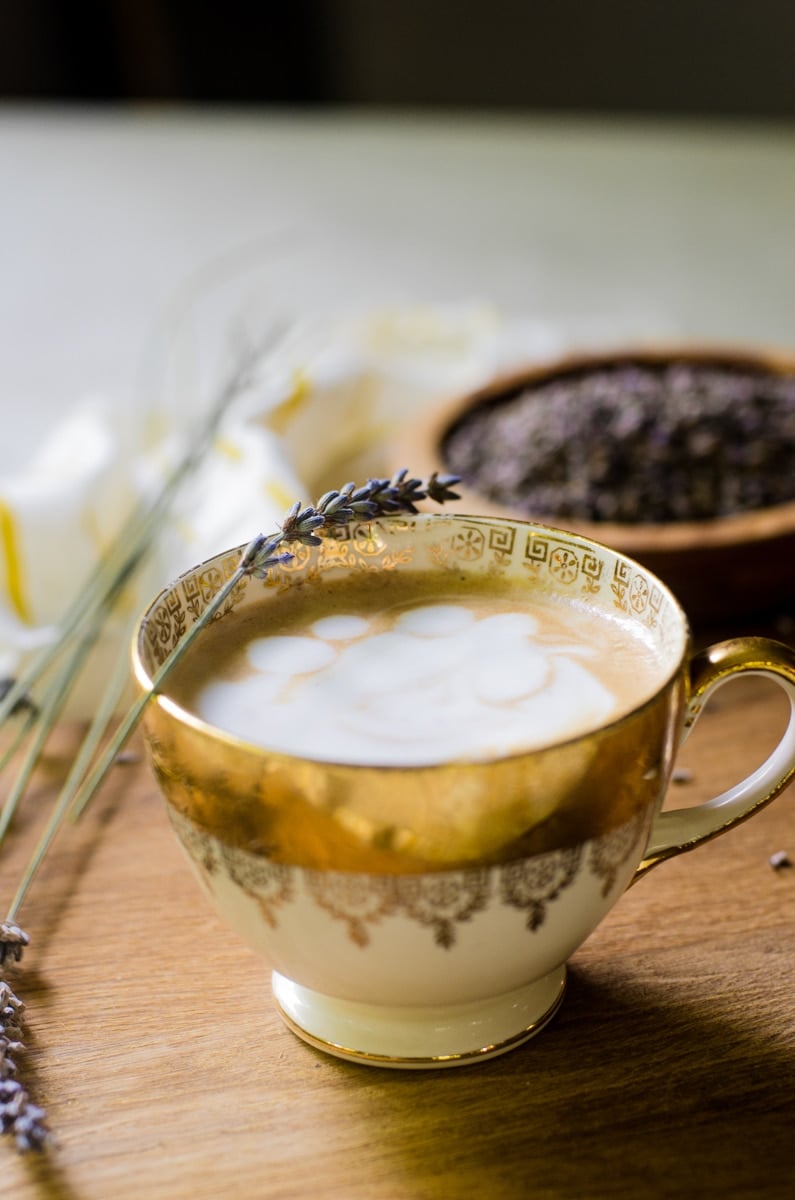 This unique coffee shop drink used to only be available at Starbucks in Canada. Now, make it in your home for a fraction of the cost. Plus, it tastes amazing both hot or iced.
What Does a It Taste Like?
If you've had a lavender latte from Starbucks or your favorite coffee shop, this is a similar recipe.
With floral hint, this honey lavender latte coffee drink tastes like walking through a summer meadow. Not like sniffing a bottle of essential oils. The flavor is subtle, not overpowering.
Known for its calming effects, lavender is an aromatic herb that helps start a stressful morning. It helps keep the mood mellow despite difficult circumstances.
How To Get Lavender Flavor
This honey lavender latte gets its flavor from a lavender syrup made of culinary lavender, honey, and sugar. This simple syrup packs a lot of punch with little to no work.
Plus, a single bottle of this lavender simple syrup gives you enough to make eight honey lavender lattes.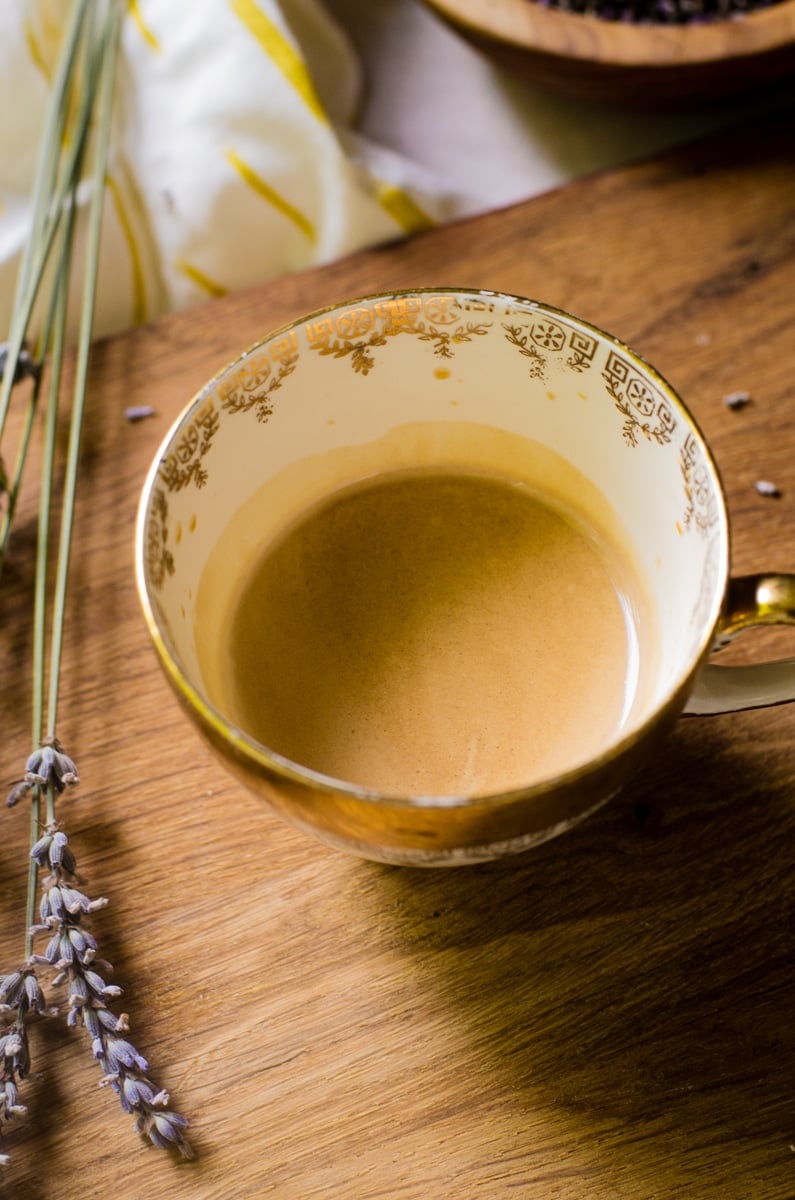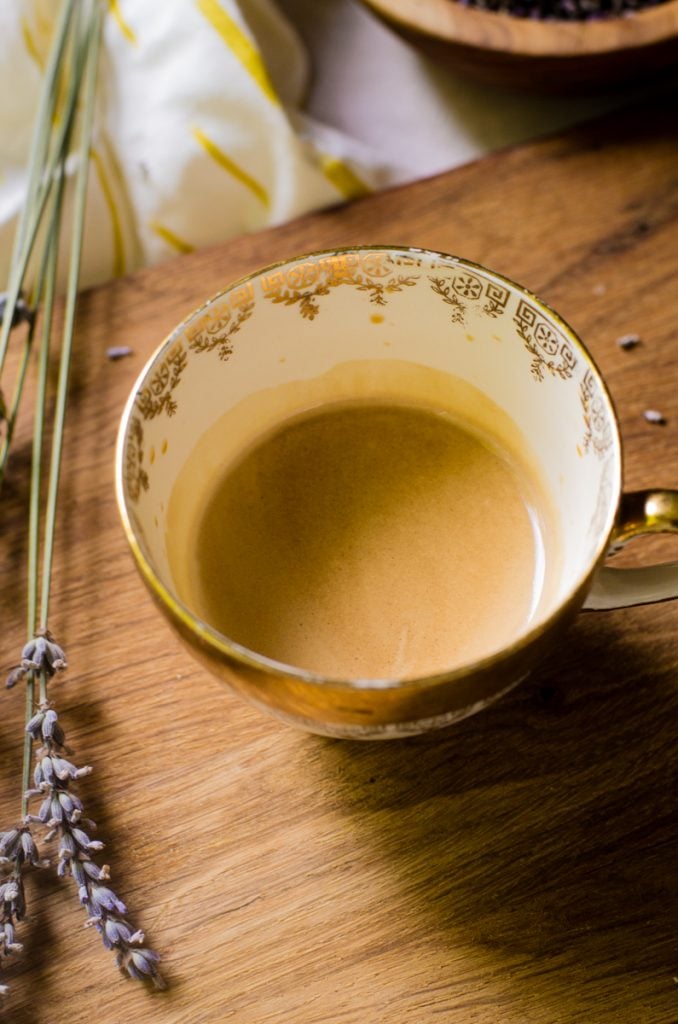 How To Make The Honey Lavender Syrup
Make the honey lavender syrup by boiling water in a small saucepan. Remove it from the heat and add the dried lavender and honey to infuse.
After the syrup is room temperature and steeped for at least 30 minutes, remove the dried lavender with a fine mesh strainer. Now your lavender syrup is ready to go.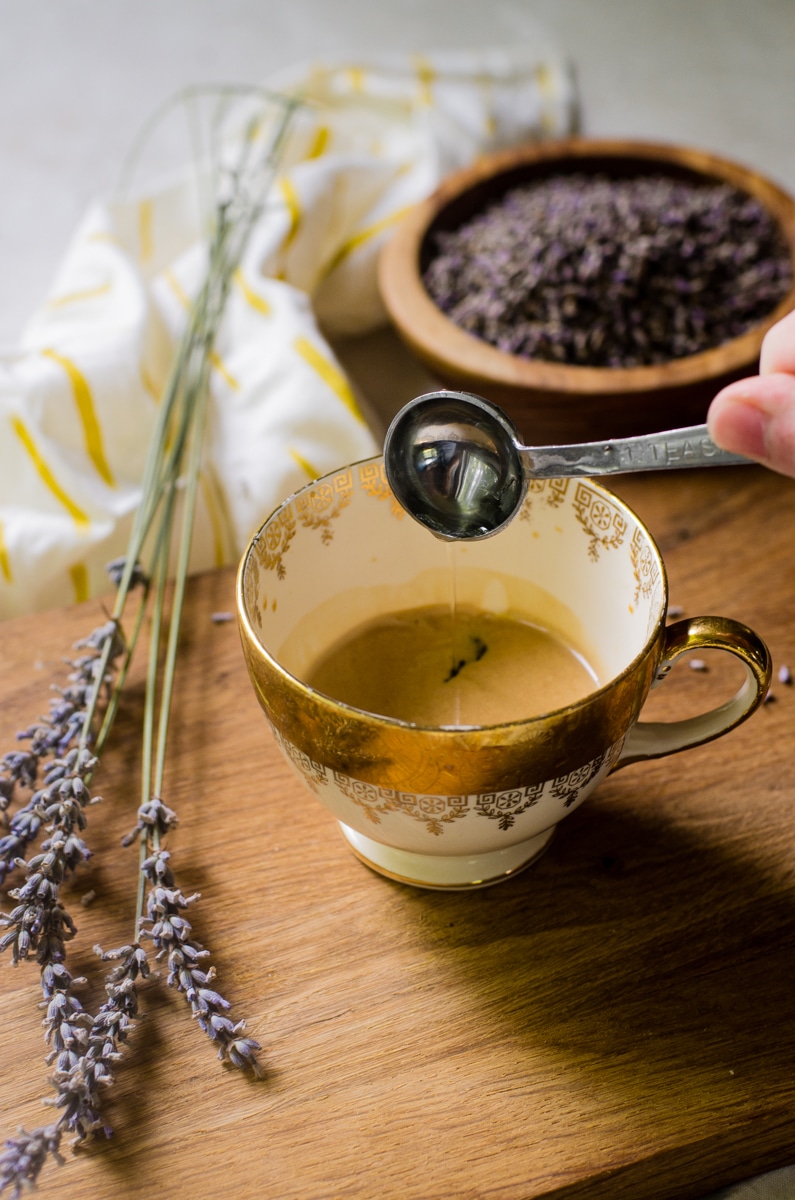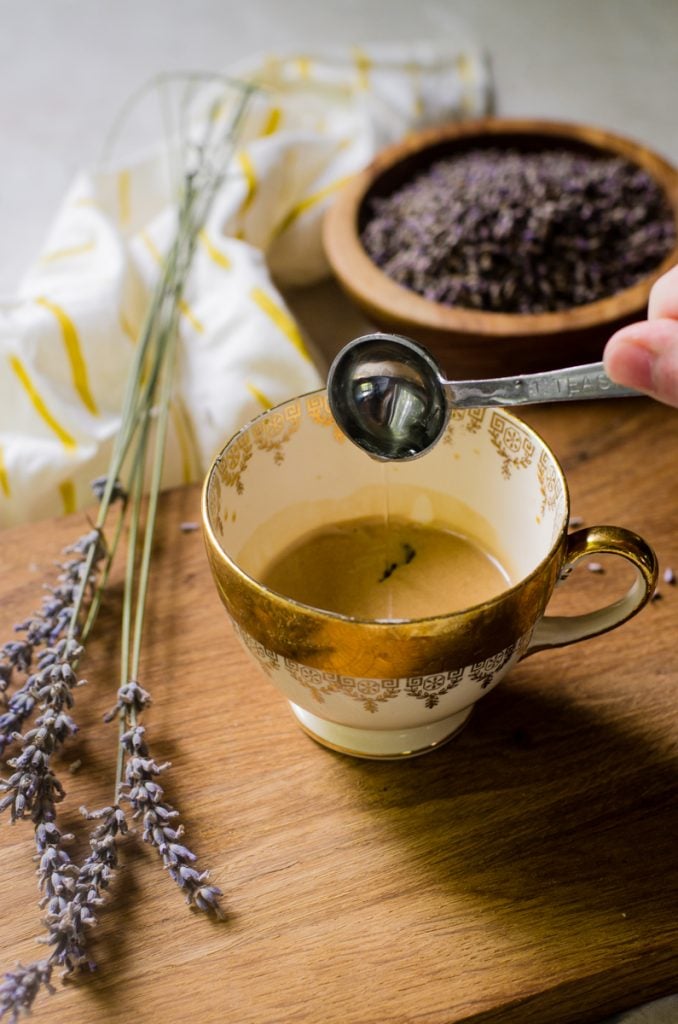 What If I Don't Want Honey?
This if you want a plain lavender latte that doesn't have honey, you can use a lavender simple syrup. It is made the same way as the honey, only that sugar is boiled with the water.
This creates a wonderful flavor that isn't bitter, as long as the lavender is not boiled into the water. Add it at the end it keep it light, floral, and not overpowering.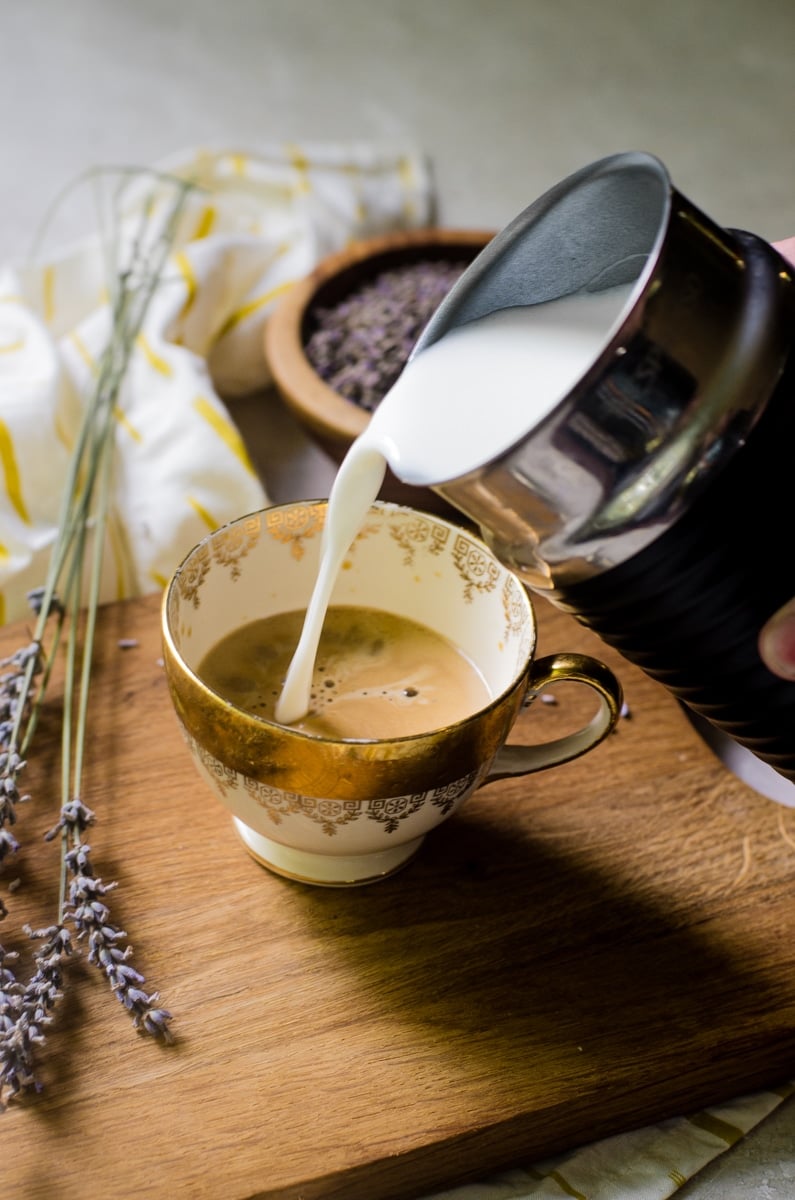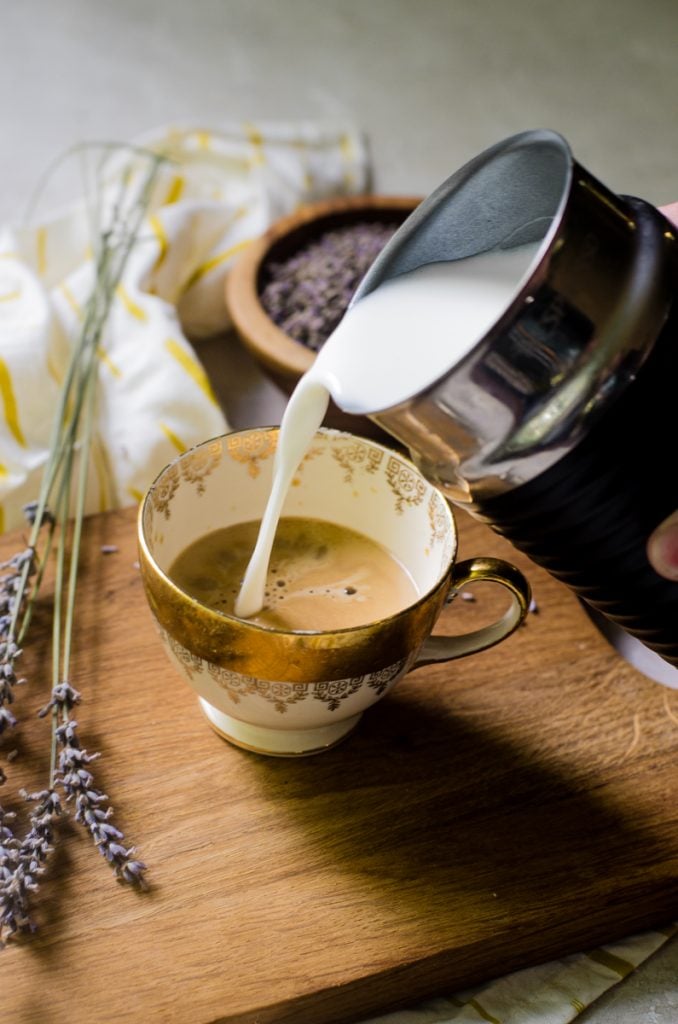 How To Make It For Iced Coffee
It is super simple to make this an iced honey lavender latte. Just pour the shots over ice and use a cold foam and milk in place of the frothed milk.
To make it an iced coffee drink, follow the recipe as written for the lavender latte. However, use 1 ½ cups of coffee poured over ice in place of the shots of espresso. Then topped with the frothed milk or cream to your liking.
If you don't have a fancy milk frother, don't worry. It is easily made using a tightly sealed jar and a little bit of cream. Just add the milk and cream into a jar and shake for up to a minute. This infuses air into the milk like making whipped cream.
The cream isn't absolutely necessary, it just helps hold the air for a longer period of time. You only need about a tablespoon for every cup of milk.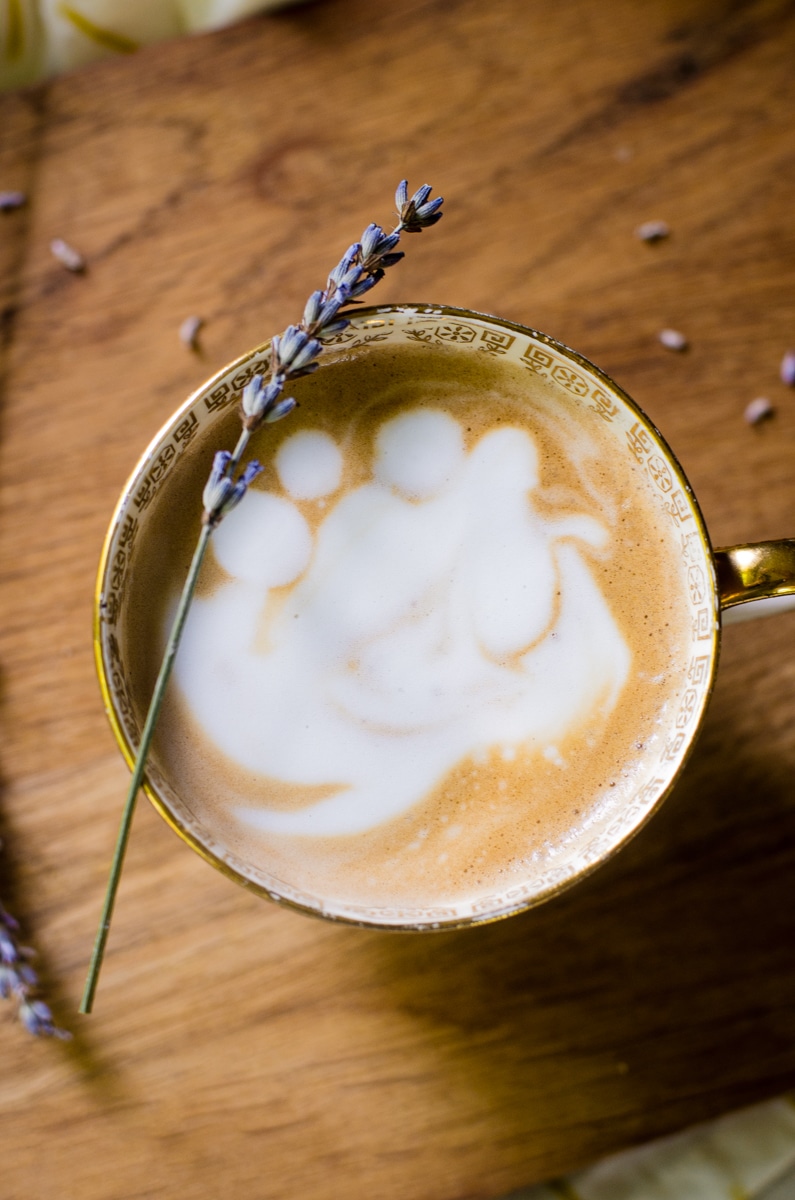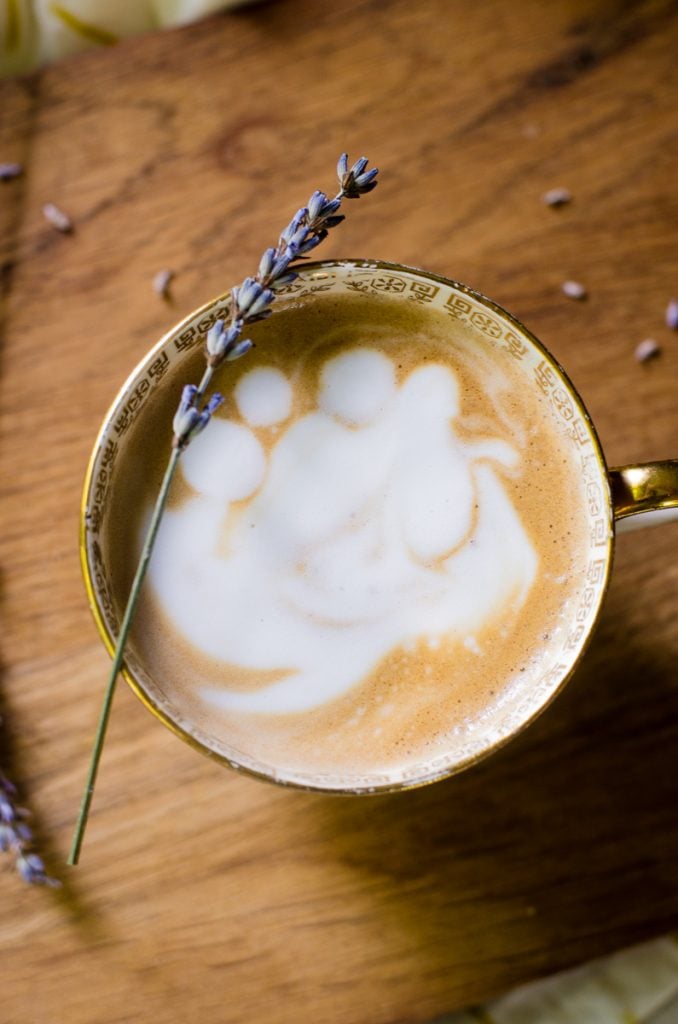 Top Recipe Tips
If you are sensitive to the floral flavor of lavender, start slow with the simple syrup. It is really easy for the lavender to overpower the coffee flavor.
Use a milk frother to get the right texture for this lavender latte. Depending on the type you get, it can even do cold foam for an iced latte.
You can use lavender buds to garnish your latte, but few people will want to drink or eat them. I recommend garnishing with a stem of lavender instead.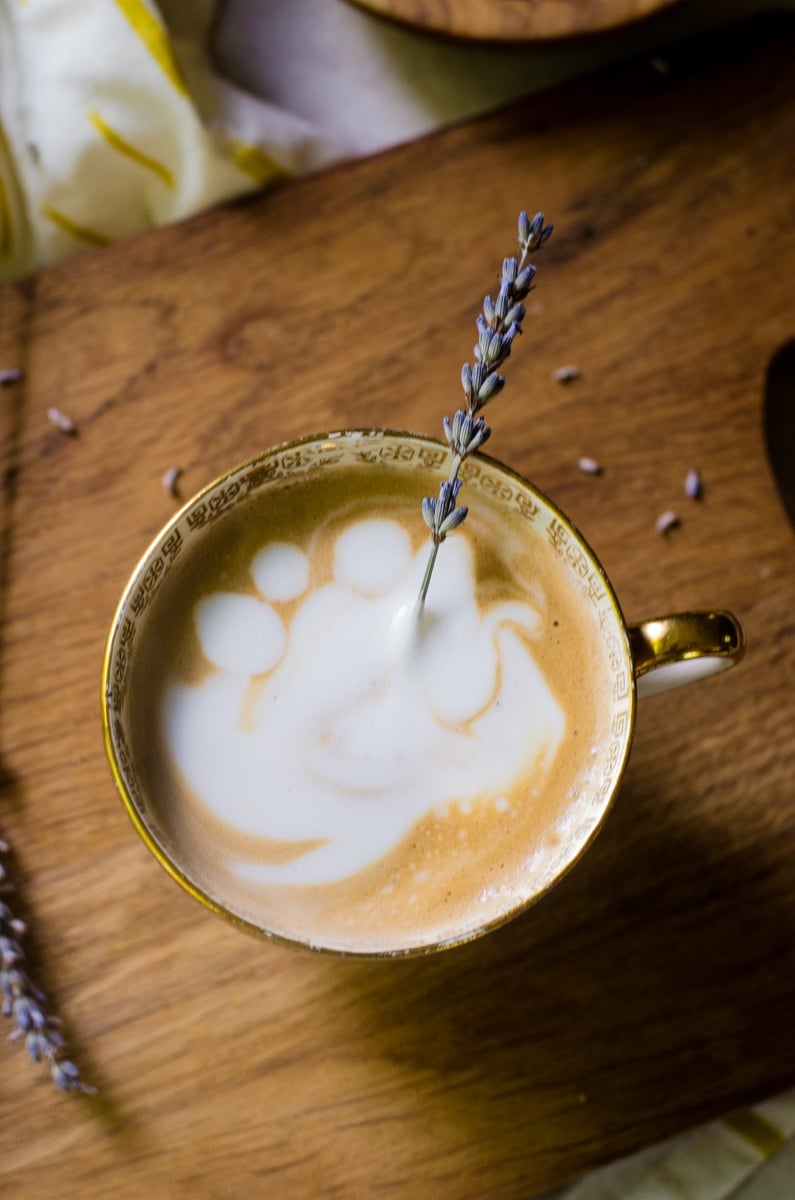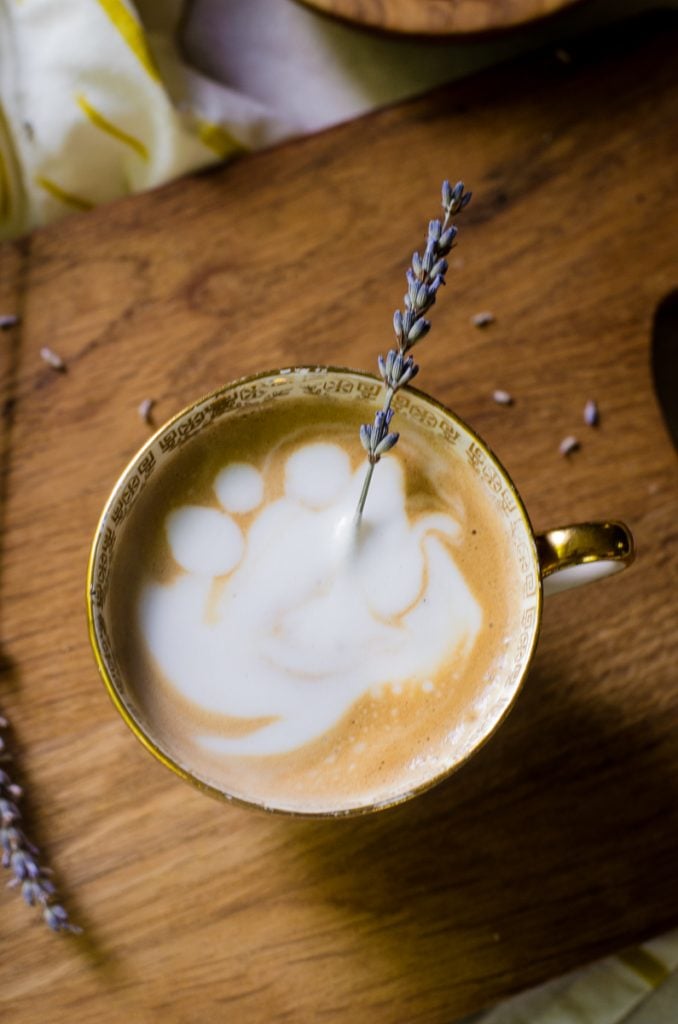 Lavender Latte Recipe
While this Starbucks coffee drink recipe has only been available in Canada previously, you can now enjoy it from home.
---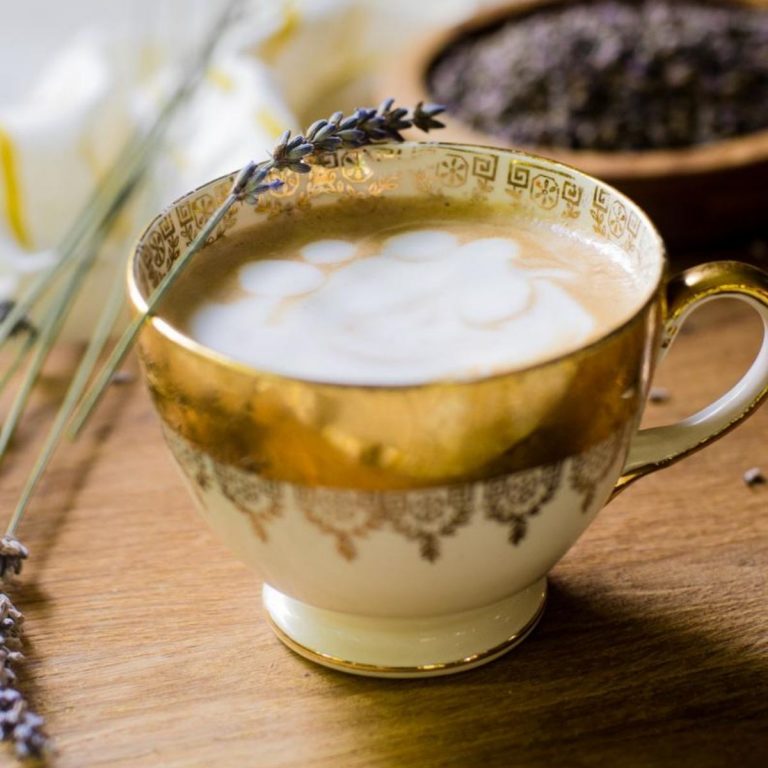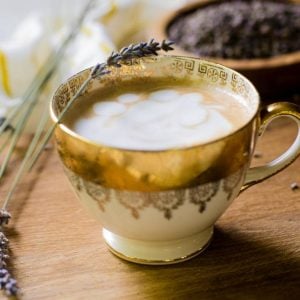 Honeycomb Lavender Latte
This amazing coffee shop drink can now be enjoyed right at home.
Pin it for later?
Instructions
Pull two shots espresso into the bottom of a glass. Add in the lavender honey simple syrup and set aside.

In a milk frother or a glass jar*, froth the milk until it is 155°F - 160°F. Gently pour it into the espresso and add the foam on top. Garnish with a fresh stem of lavender for stirring.
Notes
See note in the iced coffee section about using a glass jar to make frothed milk
Nutrition
Serving:
1
serving
|
Calories:
227
kcal
|
Carbohydrates:
22
g
|
Protein:
10
g
|
Fat:
11
g
|
Saturated Fat:
7
g
|
Cholesterol:
43
mg
|
Sodium:
144
mg
|
Potassium:
440
mg
|
Sugar:
20
g
|
Vitamin A:
510
IU
|
Calcium:
340
mg
Tell me how much you love this recipe
and show off how you made it!