Learn how to make white stock to perfection with these 8 little-known tips! Get the recipe & see the difference between a white stock and a brown stock.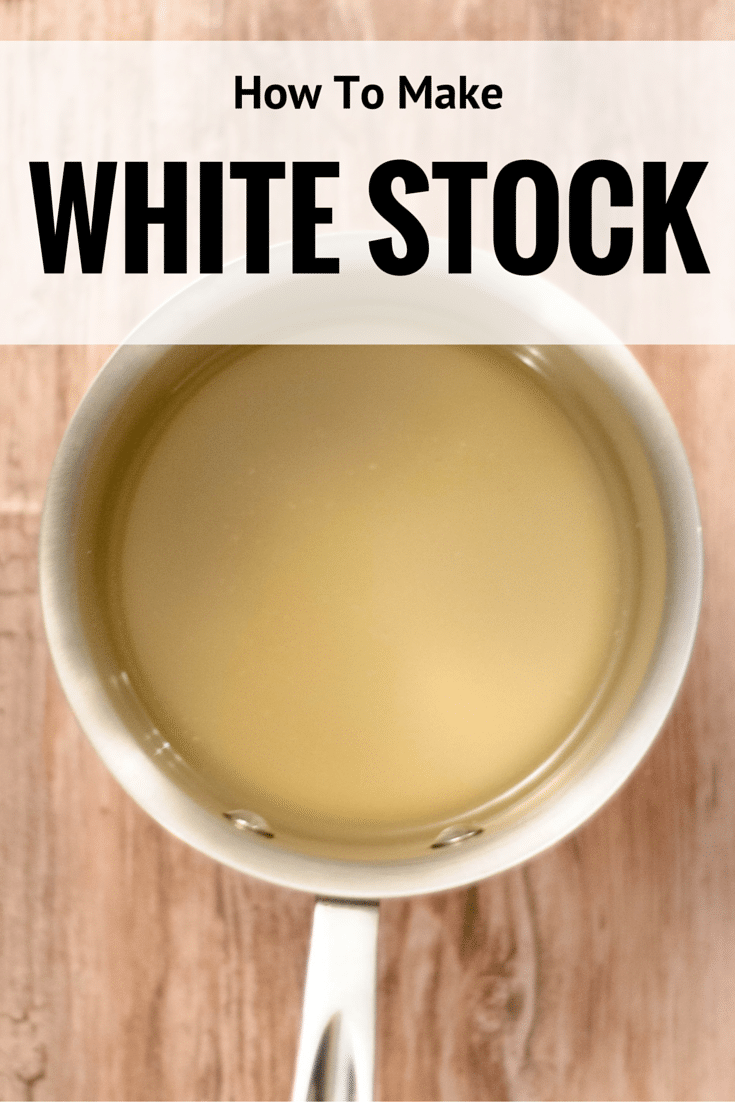 If you're wanting to learn how to make white stock, then you've come to the right place! Chances are probably pretty slim that you've made a white stock in the past (unless you've dabbled in Mother Sauces before), so we're most likely covering a lot new territory!  Let's begin!
What Is A White Stock?
A white stock is a stock made of bones, vegetables, and aromatics that is almost perfectly clear and light in flavor.  A white stock, unlike a brown stock, uses the process of blanching bones to remove impurities (instead of roasting them), which prevents the caramelization on the bones that develops the darker color of a brown stock.
Why Should I Blanch the Bones?
Learning how to blanch bones and learning how to make white stock go hand-in-hand.  The general idea is the same as blanching vegetables, but the process has a few important nuances that need to be pointed out to ensure that you get a perfect end product that is clear, flavorful, and free of imperfections.
Whenever you get bones from the butcher, or remove them from the meat yourself, it is extremely hard to remove all of the blood and other nasty bits that hide in the different nooks and crannies of the bones.  These impurities can cause cloudiness when making stock, and when you make white stock that you want to be practically translucent, you want to rid the bones of any of these impurities before you begin.
---
Did You Know?  Young animals, like veal or chicken, have the highest amount of blood and impurities in their bones.
---
Some people feel that blanching bones causes an unnecessary loss of flavor that could contribute greatly to the stock. So that leaves you with two potential options: blanch the bones before making the stock, or skim the impurities while making your stock.  I personally prefer to blanch & drain my bones beforehand because once I've started my stock, it can be difficult to get around the vegetables and sachet when skimming (come back on Friday for a tip that will help).  Plus, keeping up with skimming can get exhausting!  Whichever way you choose for how to make white stock though is completely up to you – both are great options!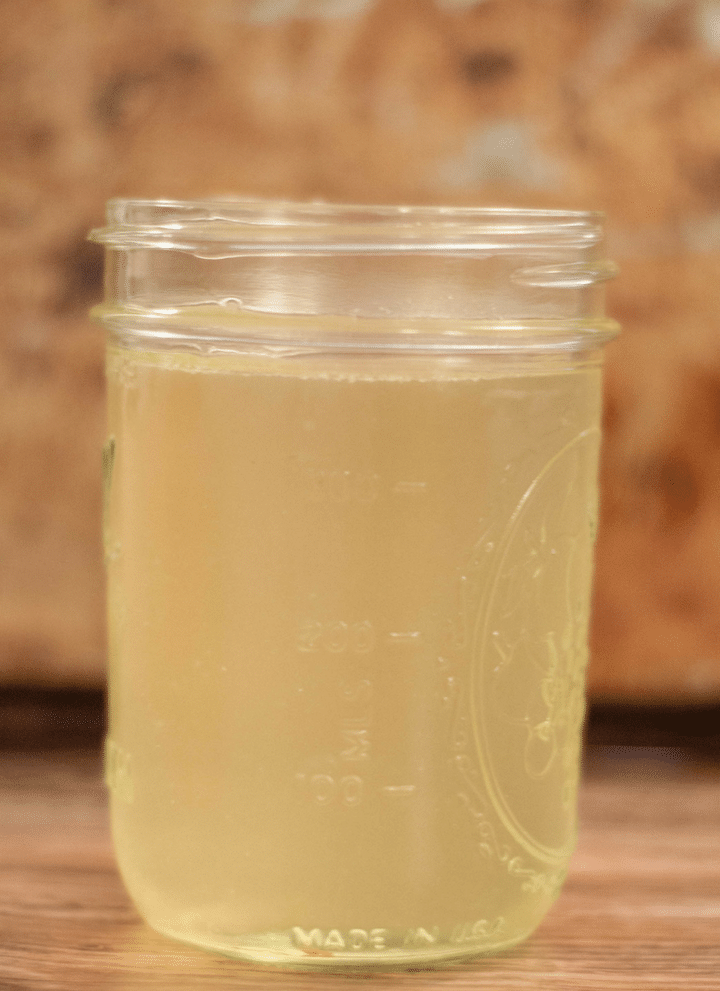 Tips For An Excellent White Stock
White stocks are significantly less common and mostly only used for very specific recipes, not for day-to-day use.  In order achieve excellence in learning how to make white stock, a few main things need to be focused on:
Mirepoix.  Instead of the basic carrot, celery, and onion mixture, a white stock uses a "white mirepoix", or, a mirepoix without carrots.  Sometimes mushroom trimmings or leeks may be added to boost flavor.
Cut Impurities.  To help in the removal of impurities, cut the bones into pieces that are 2-4 inches in size.  If you don't have the equipment available to do this, your butcher will – usually they will help you out if you ask.
Bones.  Since you are not roasting the impurities off of the bones, you have to clean them another way – blanching.  The process of blanching bones is very similar to blanching vegetables, with just a little bit of extra attention paid to getting them cleaned up.  If you want to make it even easier on yourself, rinse the bones in cold water first to remove anything from the surface before blanching.
Simmer, don't boil.  The rapid speed of boiling water is likely to make the ingredients in your stock break apart and release small particles into the stock.  Since we are going for clarity, we want to keep our stock at a simmer to prevent this breakdown.
Skimming.  Regardless of whether or not you blanch your bones first, during the process of stock-making, fat and coagulated proteins will rise to the surface as a type of dingy foam.  If you're not careful, you can push these back down into the liquid, which will redistribute them and cause cloudiness.  Make sure to carefully skim off any of this foam as it rises to prevent redistribution.
Water Level.  To prevent any caramelization, we want to keep the bones constantly submerged.  Once they are exposed to air they are likely to darken, which will discolor your stock and stop the release of their flavor into the water.  If needed, skim your water first, then carefully add in more to keep the bones immersed.
Straining.  With a white stock, a little extra attention needs paid to straining.  In order to keep every unnecessary chunk or particle out of the final product, strain your stock through a sieve that is lined with many layers of cheesecloth.  Still not sure you got it all?  Re-line it with fresh cheesecloth and strain it a second time.  If you put forth the right amount of effort in your skimming, a second run-through shouldn't be necessary.
---
Tip:  When you are ready to strain your stock, turn off the heat and gently add some cold water to the pot and let it stand for 10 minutes or so.  This will help stop the cooking and will help encourage any remaining fat or impurities to come to the surface for a final skimming.
---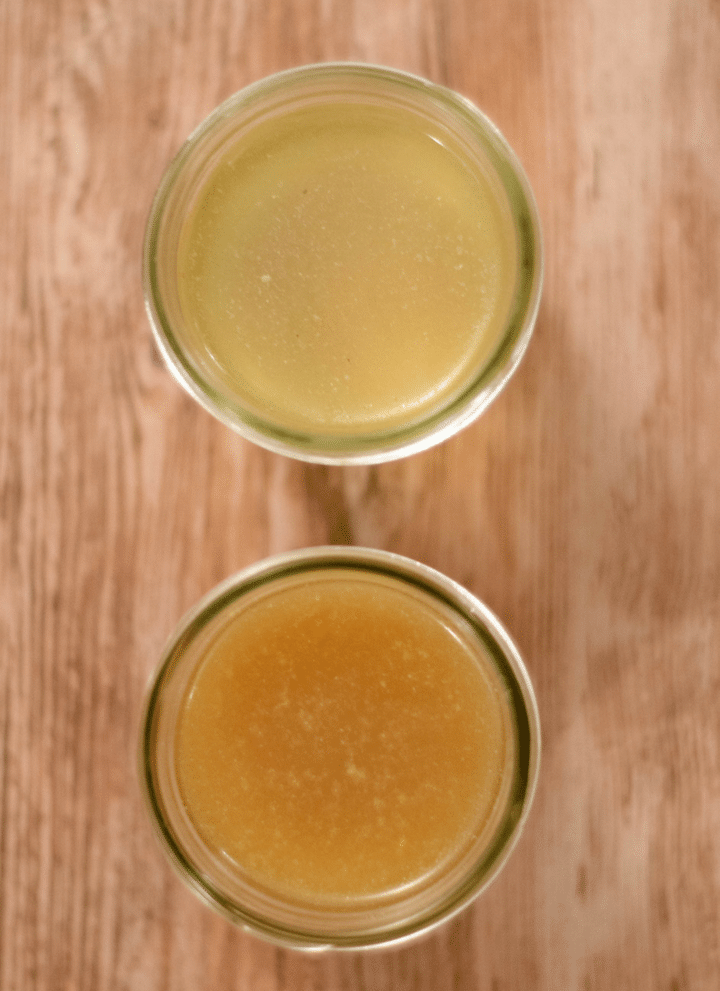 See the difference in color and clarity between the white stock and the brown stock? Can you tell which is which?
How To Make Stock : The Series
If you've been following along in our week-long series on stock-making, then you know that today is day 3.  If you haven't already done so, make sure to read up on the super information-packed articles from the last two days, and then come back tomorrow and Friday for even more.  PLUS – Friday brings with it my #1 best tip for making an excellent stock – it is so easy to implement, you'll be wondering why you haven't been doing it all along!
How To Make White Stock
Now that you've learned all my tips for how to make white stock, are you ready to dive in and put it into action? Below you'll find a grocery list with everything you need to make this recipe to perfections!
---
Get your free printable grocery list for this Perfect White Stock recipe HERE.
---
If you've never used one of our grocery lists before, everything is listed in easy-to-find grocery store amounts.  If there isn't an amount listed, you can buy whichever sized package suits you and still have plenty leftover for another use, whether you decide to use it for another recipe, or make white stock again.
Happy Cooking! 🙂
How To Make A White Stock
Learn how to make an excellent, impurity-free white stock. Perfect for light soups and being fancy.
Cook Time:
4
hours
30
minutes
Pin it for later?
Ingredients
Stock
3

lbs

bones

3

quarts

cold water

,

(+ more for blanching)

4

oz

onion

,

(roughly one cup), chopped

2

oz

celery

,

(roughly 1/4 cup), chopped
Sachet
1/2

bay leaf

1/4

tsp

fresh thyme

1/4

whole black peppercorns

2-3

parsley stems

1/2

whole clove
Instructions
Blanch The Bones
Rinse the bones and place them in a large stock pot. Cover them with cold water and bring to a boil; roughly

30 Minutes

. Carefully drain the bones and rinse them under running water. If you're reusing the same stock pot, quickly wash it out to remove any scum.
Stock
Place the bones back in the stock pot and cover them with the 3 quarts of cold water. Bring to a boil then reduce to a simmer. Gently skim the scum off the top.

Slowly and cautiously, trying not to aggravate the stock, add in the onions, celery, and sachet. Simmer as needed for the type of bones you've chosen. Add water as needed to keep the bones submerged. Chicken, Turkey, Ham: 2-3 Hours. // Beef, Veal, & Lamb: 3-4 Hours.
Strain
Remove the stock from the heat, skim away any scum, and gently add up to 2 cups of cold water. Let sit for

10 Minutes

. Skim away any additional scum that rises to the top.

Carefully strain the stock through a sieve lined with several layers of cheesecloth and cool the stock in a food-safe way, like in a cold-water bath.
Notes
If you don't want to lose the flavor that the bones let out when blanching, just skim the scum from the top after the water comes to a boil, and add water as necessary to keep the bones covered. While this may make a more flavorful stock, it most likely will leave behind some imperfections.
Nutrition
Serving:
1
cup
|
Calories:
10
kcal
Tell me how much you love this recipe
and join fellow foodie friends @foodabovegold
10