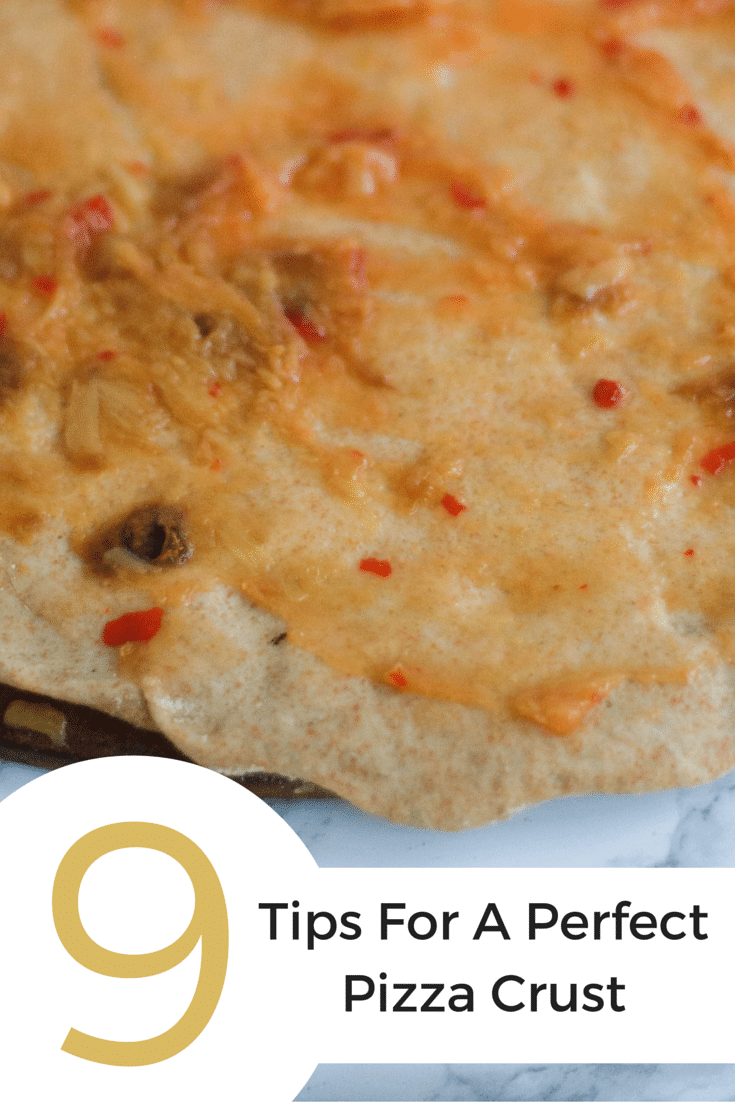 The number one thing that makes people nervous about making a homemade pizza is the crust. Either they are uncomfortable with making dough, it doesn't get crispy enough, or the toppings fall off the pizza. If you're new at making pizza crust by hand, or just want to get better, then these 9 tips will help you master the perfect pizza crust!
9 Tips For A Perfect Pizza Crust
#1. Flour
Different kinds of flour will produce different types of crust; and the way you scoop your flour can even yield different end results. In most cases, recipes understand that you will most likely be scooping your flour right out of the bag with your measuring cup. This however, can give you an overly dense dough, giving you one of two options. You can either:

A.) Spoon the flour into your measuring cup, being careful not to shake it and condense the flour.
B.) Use a recipe that measures by weight, not volume.

This is really only a step that someone looking to make the world's most perfect pizza crust will need want to do, but it does make a surprising difference in the quality and texture of your dough.

If you would like to learn more about the different kinds of flour so you can choose which one is best for you - make sure to check out my article on Understanding the Different Types of Flour. Additionally, if you are trying to create your own recipe, or are planning to substitute for whole-grain flours, make sure to read up on baker's percentages, which is your ratio of water to flour. It involves a little bit of math, but keeps you from getting a chewy and difficult crust.
#2. Yeast & Rise Time
To get a perfect pizza crust, I recommend using a recipe that has some type of sugar in it. It doesn't need to be a lot, just enough to give the yeast something to feed on, causing the reaction that makes yeast activate. Once you've gotten a reaction (known as "proofing" - when the yeast becomes foamy), make sure to let your dough rise for at least one hour. This helps your dough expand to the amount necessary to create enough mass for your pizza, and allows time for the gluten to develop. For more information on understanding yeast and making stellar dough, make sure to check out my article here.
#3 Tossing & Stretching - How to Deal With Gluten
Everyone loves to watch someone toss a pizza crust - it's so fun! If you are comfortable tossing your dough, great! If not, don't fear, there is an alternative for you.

The reason we toss pizza dough is to get it to stretch out the dough without activating the gluten that causes it to shrink or get tough. Another way to do this is to let gravity help you by holding the dough sideways with two hands (like a steering wheel) and allowing the dough to slowly stretch down towards the floor. Every 5-10 seconds, turn the dough a little so you don't end up with thin spots (or a wonky shape). Repeat this process until the dough reaches the desired size.

If your dough develops thin spots or breaks apart in any places, lay it down on a floured countertop, patch the holes, and continue on. If your dough starts to shrink back after you've spread it out, the gluten is probably be overworked and it needs time to rest. Let your dough rest 20-30 minutes and come back and try again.
#4. Par-baking the Crust
If your toppings are very wet, or you know that your pizza is going to be a bit overloaded, you can make a perfect pizza crust by partially cooking your dough before topping it. To do this, stretch out your dough and load it on your stone, or sheet pan like usual, then lightly brush the top with olive oil and bake for 5-7 minutes or until the crust begins to get bubbly and starts to brown. Top it as usual and continue the baking process like normal.
#5. Pizza Stone or Sheet Pan?
A well loved pizza stone is an excellent addition to your kitchen. We got ours for our wedding, and it might be our most regularly used gift. Stones are wonderful because they evenly distribute the heat making sure that all of your crust gets as crispy as you want it. Plus, you can preheat the stone, which means that once you transfer your dough to the stone, it starts cooking right away, giving you an excellently crisp pizza crust.

Don't have a pizza stone? Don't let that stop you! You can still make a perfect pizza crust in the oven by building your pizza on a piece of parchment paper. One of the great things about this, is that as you build your dough out it stays stuck to the paper, but as it cooks it releases, making it easy to cut and serve afterwards.
#6. Cornmeal
This is really important if you are using a pizza stone. . .you want to put down cornmeal on your stone before you put down your dough. The cornmeal keeps the dough from sticking to the stone, and allows for you to easily remove the pizza. Check out this post if you are wondering which kind of cornmeal to purchase.
#7. Toppings
If you're trying to get a perfect pizza crust, toppings can play an important part. As a rule of thumb, try not to exceed 5 toppings (not including sauce or cheese). This helps keep the moisture content down by leaving space for evaporation, thus yielding a crust that is crisp all the way through, not crisp on the bottom and soggy on top. Still having problems with it getting t0o soggy on top? Try implementing tip #3.
#8. Peel
If you like thin and crispy pizzas, a pizza peel (which is just a pizza paddle) is very helpful, serving as a safe way to transfer your pizza to and from something hot. Just build your pizza on the peel, slide it onto the preheated hot stone and you are good to go. I highly recommend investing in a pizza peel, especially if you are cooking your pizza on the grill.
#9. Heat
This one is my biggest recommendation. . .go as hot as your oven will let you. Industrial pizza ovens go well above 500°F, which is as hot as most home ovens go - so crank it up. The chances of doing any damage to your oven by having it on that high is very small, so don't worry, just make sure that whatever you are using to bake your pizza on is designed to handle the high temperatures that pizza-making requires.
Practice Makes Perfect
Want to put your perfect pizza crust skills into action? Try one of my favorite recipes:
My Favorite Hand Tossed Pizza Dough Recipe : Simple, yet tasty. A great standard go-to crust.
Thai Curry Pizza : This one is a sweet & spicy vegetarian pizza that is wildly delicious!
Pumpkin Pizza : topped with pumpkin, bacon, and green apples, this pizza is sure to impress!
I want to hear all about your experiences and tips for making a perfect pizza crust!
Tell me in the comments below, or show me on social media!
Happy Cooking!