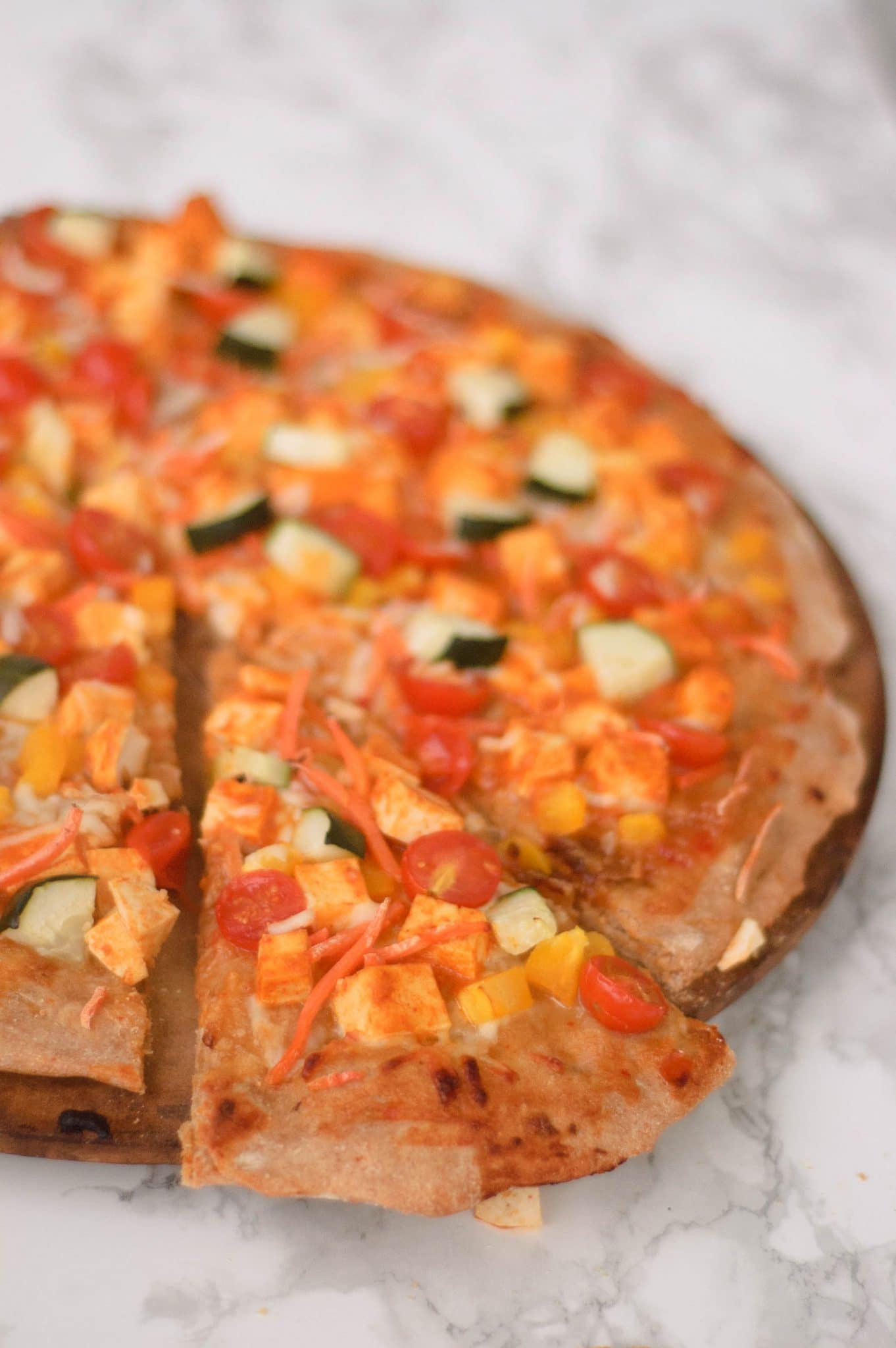 I enjoy pizza, but my husband, Trever, LOVES pizza!!!  We have a family tradition of Pizza Friday's and we practice it almost religiously.
It started the year we moved to Virginia when our niece and nephew came to live with us for the summer.  These kids were in tummy shock – they went from living off of McDonald's to eating eggplant, bell peppers, tofu, and bleu cheese!  Pizza was one of the only familiar things that we made, so to help engage them in the process of cooking, and remind them that we weren't too crazy with what we ate, we would make one every Friday.  Each week that they were here, we would increase the excitement of the pizza – starting with pepperoni the first week, then pepperoni and green bell pepper the next week, then pepperoni, green bell pepper, and banana peppers the next, and on and on.  By the time that they left at the end of the summer, they had surprisingly developed palates.
We love finding new ways to eat pizza, and this thai curry pizza packs a lot of sweet and spicy flavor.

Skills & Techniques
If you want to cross off a few more skills on your checklist, then here are some related articles that may help you become even more rock-awesome at pizza-making!
Also, click the recipe card below to go check out my favorite hand-tossed pizza crust recipe.  It is simple, yet delicious!
[cooked-recipe-card id=876 style="horizontal"]
Leftovers
If your household is anything like mine, you probably won't have leftovers of pizza (unless you're making more than one), but just in case, you can keep this pizza in an air-tight container in the refrigerator for up to 5 days.
If you would like to reheat the pizza, I recommend:
Preheat the oven to 400°F.
Place the pizza on a sheet pan with parchment paper, or onto a clean pizza stone.  Put in the oven and bake for 10 minutes or until pizza is heated through.
Carefully remove from the oven and serve hot.
The sauce on this pizza helps keep it from drying out. The crust however, since it is the whole wheat, can get a little parched.  Try brushing it with some olive oil to help replenish the moisture if you think it may have gotten a bit sad.
Thai Curry Pizza
In the process of developing this thai curry pizza recipe, we had a lot of duds.  We had one pizza that tasted SO MUCH like curry, that our minds and our mouths could not get on the same page – making us not even want to eat it.  We would have just rather eaten actual curry.  We ended up adding some sweet thai curry sauce to distract from the curry flavor and that helped round it out very nicely.
This is a vegetarian pizza, but if you would like to substitute chicken for the tofu, about 6 ounces of meat cut up should do the trick!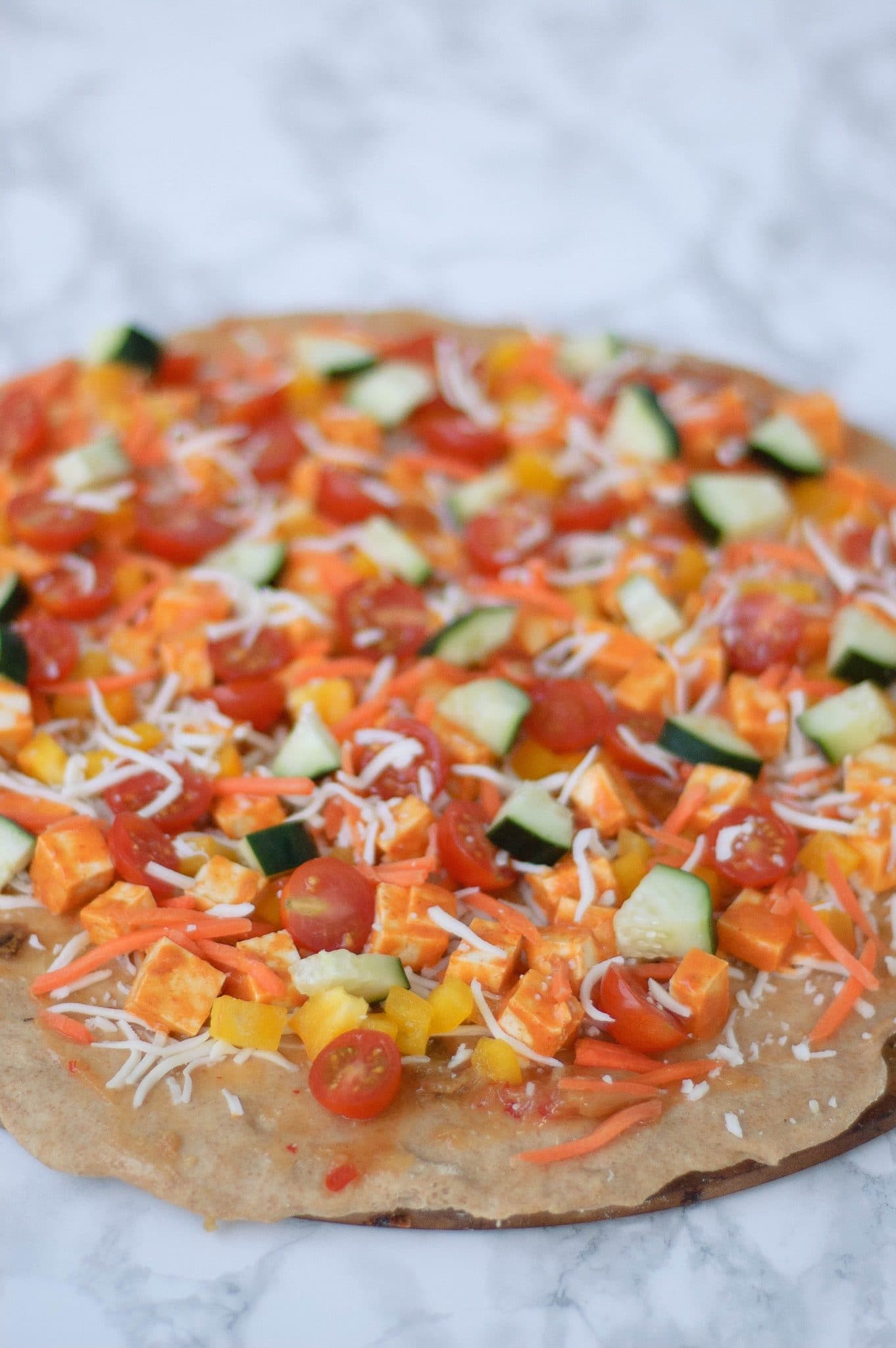 The great thing about this thai curry pizza recipe is that you can always change the toppings to be like the type of curry you like.  If you like it less spicy, use a yellow curry sauce, or if you like to eat massaman curry you could use chicken, potatoes, and peanuts.  Mix it up and make it your own version.
Happy Cooking! 🙂
Thai Curry Pizza
This thai chili curry pizza has a mix of both sweet and spicy! Enjoy all the classic flavors of curry - but on a pizza!
Pin it for later?
Ingredients
Sauce
2

heads garlic,

, roasted, cloves removed, and smashed

5

tbsp

sweet thai chile sauce
Toppings
1/3

block firm tofu

,

, patted dry and diced

1/2

cup

red curry sauce

2/3

cup

mozzarella cheese

1/2

cup

shredded carrots

1/2

cup

yellow bell pepper

,

, diced small

1

cup

grape tomatoes

,

, halved

1

cup

cucumbers

,

, quartered and diced
Instructions
Preheat
Preheat oven to it's highest setting. Around 500°F
Crust
Spread out cornmeal on pizza stone, then toss or spread out pizza crust until it covers the entire stone.
Sauce
In a bowl, mix together sweet thai chili sauce and the roasted cloves of garlic until well combined. Spread out on the pizza dough.
Tofu
In a bowl, mix together the curry sauce and the tofu. Set aside.
Toppings
Top the pizza with the mozzarella cheese, yellow bell pepper, grape tomatoes (cut side up), curried tofu, shredded carrots, and cucumbers.
Bake
Place the pizza stone with pizza on top in the center of the oven and bake for

15 Minutes

or until crust is browned, cheese is melted, and toppings cooked. Remove from oven and let cool for

5 Minutes

before cutting with a pizza cutter.
Notes
If you want your pizza to taste a little more "fresh" put the cucumbers on the pizza after it has come out of the oven. The steam from the pizza will heat it up.
Nutrition
Serving:
1
g
|
Calories:
236
kcal
|
Fat:
2.4
g
Tell me how much you love this recipe
and join fellow foodie friends @foodabovegold
1