Learn the method and tips for how to cook fried and scrambled eggs in stainless steel cookware. Say goodbye to sticking, burnt-on eggs. Hello deliciousness!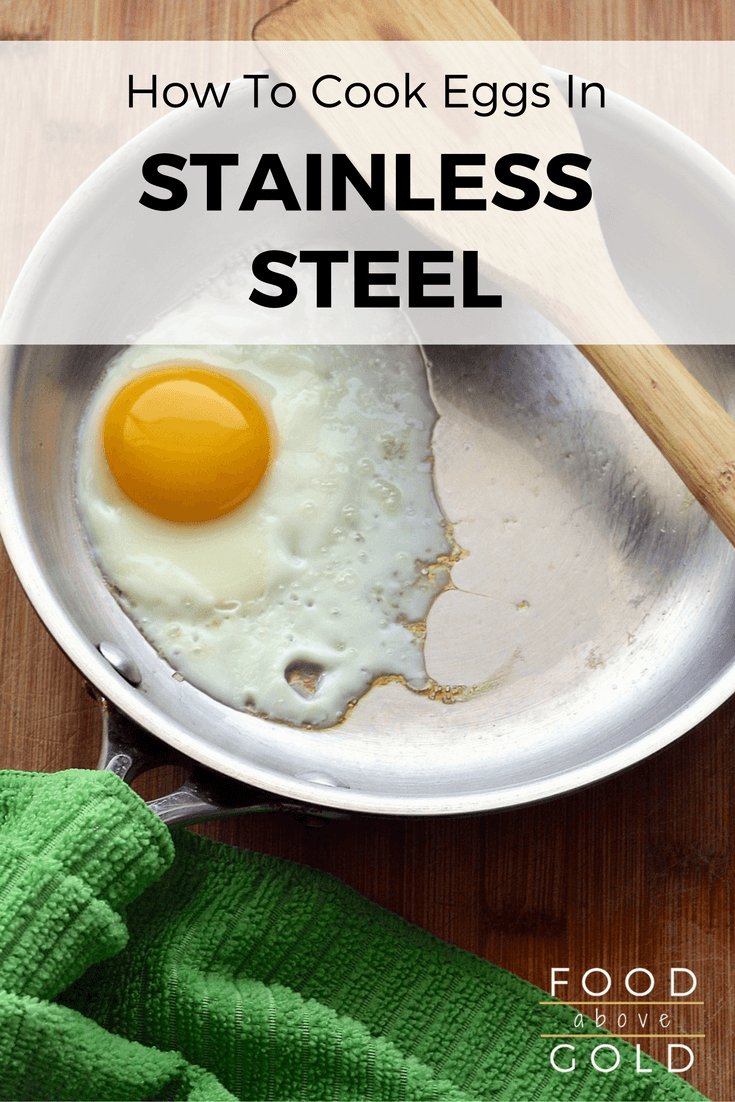 So we're going to be honest and up front about this. Cooking eggs in stainless steel is difficult. Like, REALLY difficult. It feels like a task incapable of surmounting, but those darn t.v. shows and breakfast restaurants make it look so easy! So what's the trick? Really, it comes down to mostly fat and temperature control, but we're going to look deeper at what it takes to cook scrambled (you can use the same method for omelettes) and fried eggs in stainless steel cookware.
Why Do Eggs Stick to Stainless Steel?
Believe it or not, stainless steel pans are designed for your food to stick to the pan. The sticking creates fond, which is the yummy goodness in your pan that is deglazed to form a sauce. Technically, the translation of fond is "base" or "crux" of your dish. The fond is part of what makes so many of the dishes (like our pan-fried pork chops with nectarine-basil relish) that we cook in stainless steel so good!
Non-stick pans were created to prevent fond - so they naturally are an easier fit for making eggs easily. As an alternative, if you don't have success with cooking eggs in stainless steel, but don't want to use non-stick, you can use enameled cookware or cast iron instead.
How To Cook Scrambled Eggs In Stainless Steel
There are two major things to know about cooking scrambled eggs in stainless steel; the temperature of your pan matters and you can't escape fat! If you're looking for a low-fat stainless steel egg-making solution, this is not the one for you. If you want to get away from fat when you're making eggs in stainless steel, the only real option is a non-stick pan.
Let's talk method & tips! If you want to cook scrambled eggs in stainless steel, I recommend:
Eggs. Crack your eggs into a container that can easily be poured from. Add in milk, seasonings, etc and vigorously scramble using a fork or whisk.
Pan. Pick a pan that is not too much larger than your burner. The smallest you are comfortably willing to use is best. For 3 or less eggs, you can do an 8" fry pan. For 4+ eggs, move up to the 12".
Temperature. Place the pan over medium-low heat until it is piping hot. You can test this by splashing a little bit of water on it. It's perfect when the water beads and runs around your pan. If the water immediately evaporates, your pan is too hot.
Fat. Next you need to add your fat. Usually ½ - 1 Tablespoon will do the trick. Right after you add your fat to your pan, add in the eggs. If your fat is solid, like butter or coconut oil, add your eggs when it has just melted.
Cook. Let your eggs cook without moving them until you start to notice the eggs at the edges of the pan change color and solidify. Use a wooden spoon (or other utensil) to carefully peel the eggs from the side of the pan. Stir the eggs and allow them to cook, continuing to stir every 30 seconds or so until they are cooked but still moist.
---
TIP: If you won't be immediately moving your eggs to a plate, undercook them slightly. Even after you turn off the heat, your eggs will continue cooking. (This is super helpful if you're melting cheese!)
---
You'll find that the fat is all that it really takes to make scrambled eggs in stainless steel work. Once you start stirring your scrambled eggs, they cook pretty quickly and without much hassle. Try to remember to scrape around the sides of your frying pan as often as possible to prevent the rogue eggs from burning.
If you decide to try making an omelette or frittata in your stainless steel, you should follow this same method! 🙂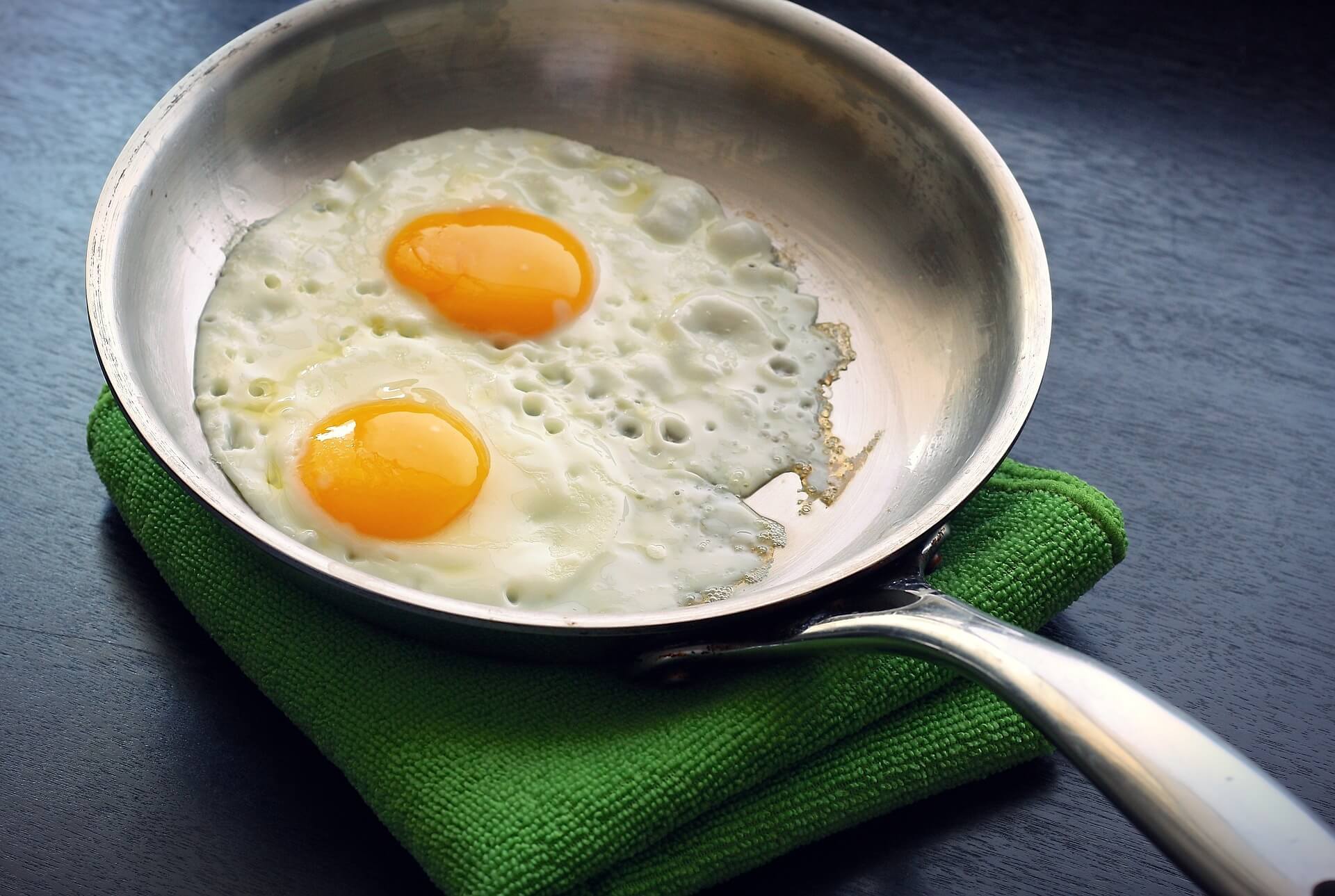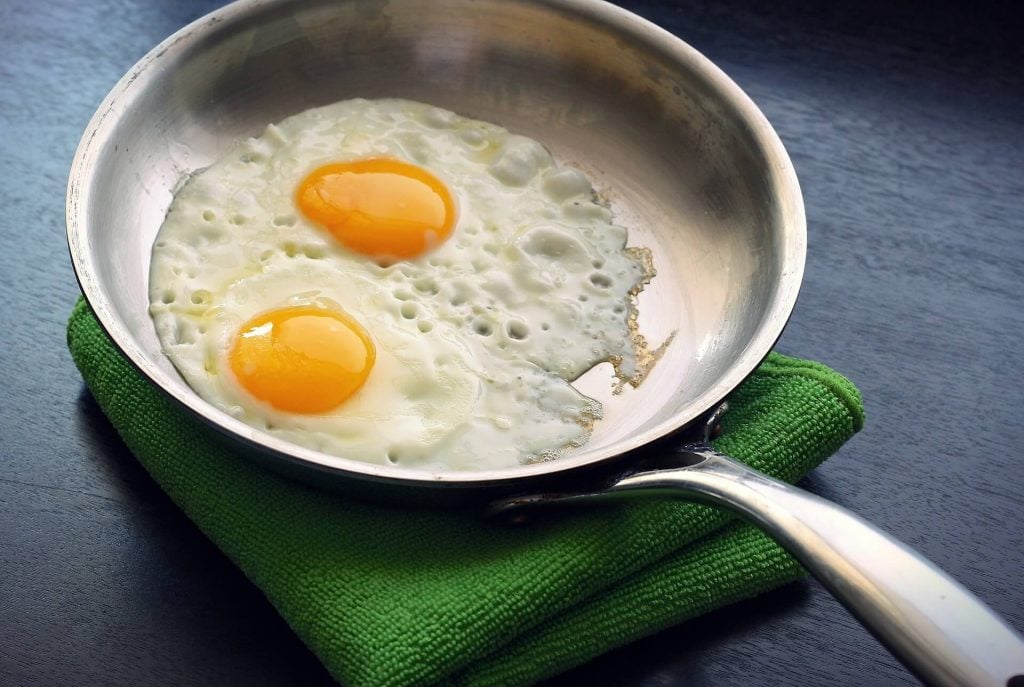 How To Cook Fried Eggs In Stainless Steel
Fried eggs are probably the most difficult things I know of to cook in stainless steel. Just like with scrambled eggs, the temperature is super important! To get a beautiful crusty and browned edge, you want to start with your pan super super hot, and them immediately drop the heat. Another tip is to use oil instead of a solid fat.
---
Similar to stir-frying, your best success will come with a hot pan + cold oil.
---
Putting your egg in before the oil has a chance to get too hot will help prevent sticking. To be clear, cold oil in this case just means oil that is not already hot in your pan - it doesn't need to be from your fridge 🙂
Let's look at the method for making fried eggs in stainless steel!
Pan. Use a pan that is the smallest size for what you need and choose a burner that is the closest in size to the pan you've chosen. If you're just making one egg, and 8" will work like a dream. If you're making more than 2 though, I'd move up to the 12".
Heat. Heat up the pan on medium until it is super super hot. If you splash water on it it should dance around the pan. If it immediately evaporates, your pan is too hot. Add in your oil: about ½ - 1 Tablespoon should do it.
Eggs. Crack your eggs one by one into the pan (to prevent weird shapes, crack it into a measuring cup first then slowly pour it into the pan. Or you can use an egg ring). Once your eggs are in the pan, immediately lower the heat to medium-low and let cook until the egg white are mostly solidified (about 3-5 minutes). Season the eggs as desired.
Flip. Use a spatula or egg turner to flip the egg and cook until your desired level of doneness is reached. If you want a runny egg, only leave it there for 30 seconds or so. You can test the yolk by giving it a gentle poke every now and then to discover when it has reached your likeness.
Serve. Remove and serve hot and fresh.
---
Cover your pan 1 minute into cooking to get your egg whites to solidify faster.
---
I've been playing with this tip that I got once from a short order cook. She recommended deglazing your pan with a tablespoon or two of hot water before flipping the egg to help it release better. I've only had minimal success with this, so I haven't figured out the trick yet (maybe you just need a griddle). If you've ever had luck with this one - share your tips in the comments so I can try it out!
The most common problem I hear about cooking fried eggs in stainless steel is that when they go to flip the eggs they leave behind half of the egg. That's a temperature problem! Make sure your pan isn't too hot and add the egg while the oil is cooler than the pan - it serves as a better barrier that way.
Practice Makes Perfect
If you would like to put your new skills of cooking eggs in stainless steel to use, here are some recipes I recommend:
Pimento Cheese, Bacon & Fried Egg Sandwiches (coming soon!)
Thanks so much for stopping by!
Do you have any tips or tricks for cooking eggs in stainless steel? Have you ever tried the water trick before? Tell me about it in the comments or show me on social media - @foodabovegold. If you used this post to help you master cooking eggs in stainless steel, make sure to tag it with #CallMeMichelin so everyone can see your success!
Happy Cooking! 🙂