Too hot to cook inside? Craving cheeseburgers first thing in the morning? This Boursin Stuffed Breakfast Burger covers all the best breakfast food groups and is sure start your day off right!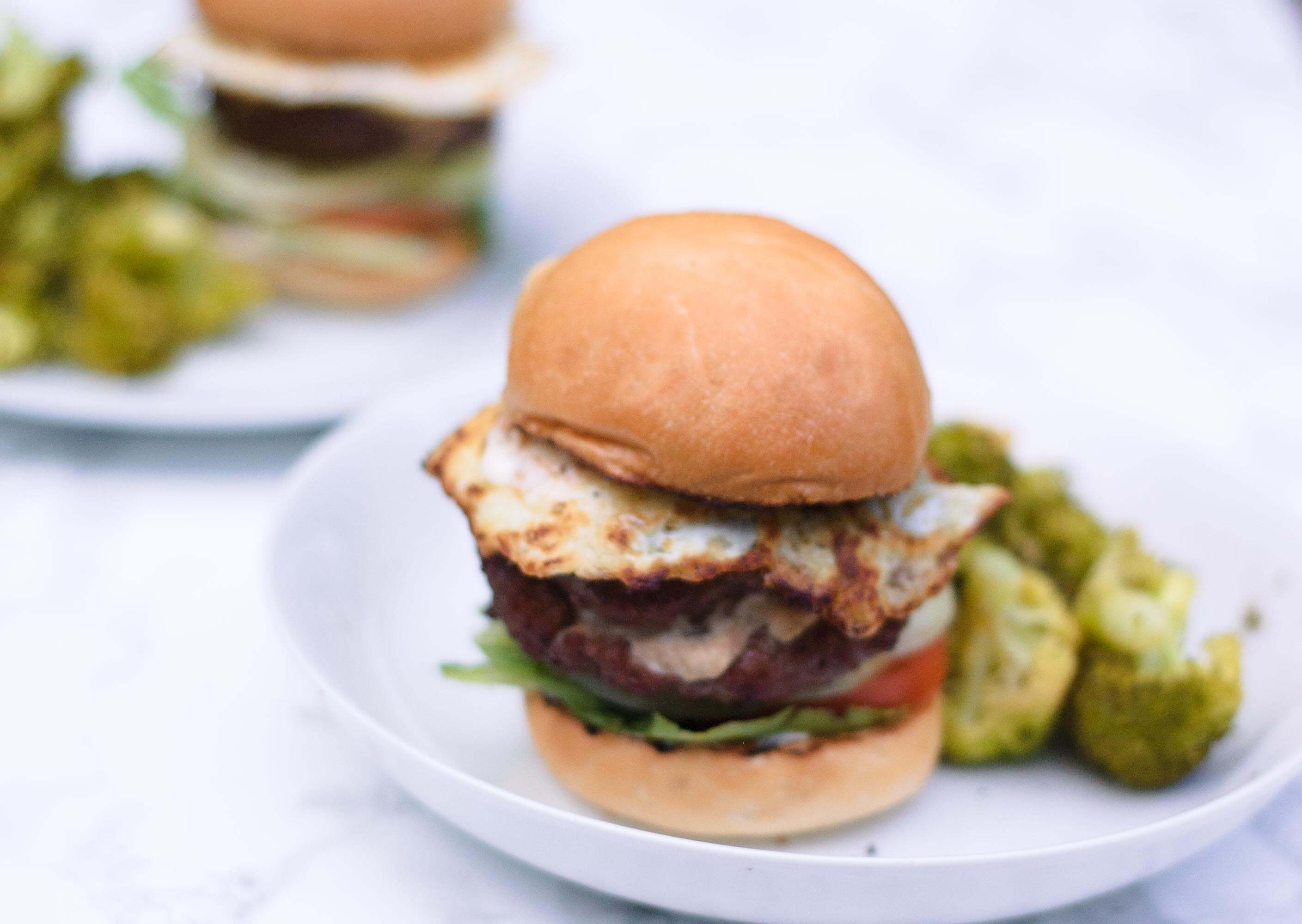 I know what you're thinking. "A burger! For breakfast?!?!" Yes, you read that correctly. Your mornings are about to change forever! This Boursin Stuffed Breakfast Burger is a great way to kick off a fun-filled summer weekend of grilling and sunshine and will fill you up before a big day! "What makes it a breakfast burger?", you ask. Outside of the fried egg - which is pretty normal to see on a menu these days, it's mixed with just a little bit of sausage. To make it not too crazy, I've put it on a brioche bun for a touch of sweetness. If you're feeling extra breakfast-y though, you could use an english muffin or fried hashbrowns for your buns!
Skills & Techniques
To execute this Boursin Stuffed Breakfast Burger to perfection, master these other skills and techniques first.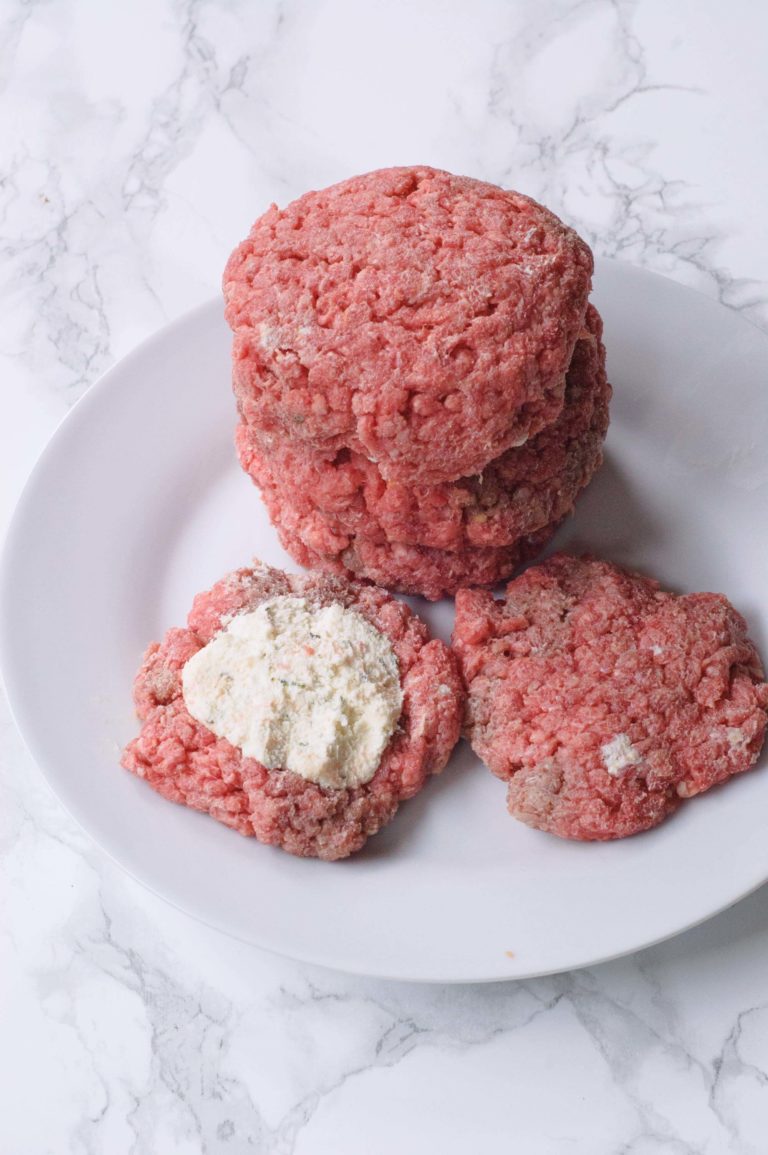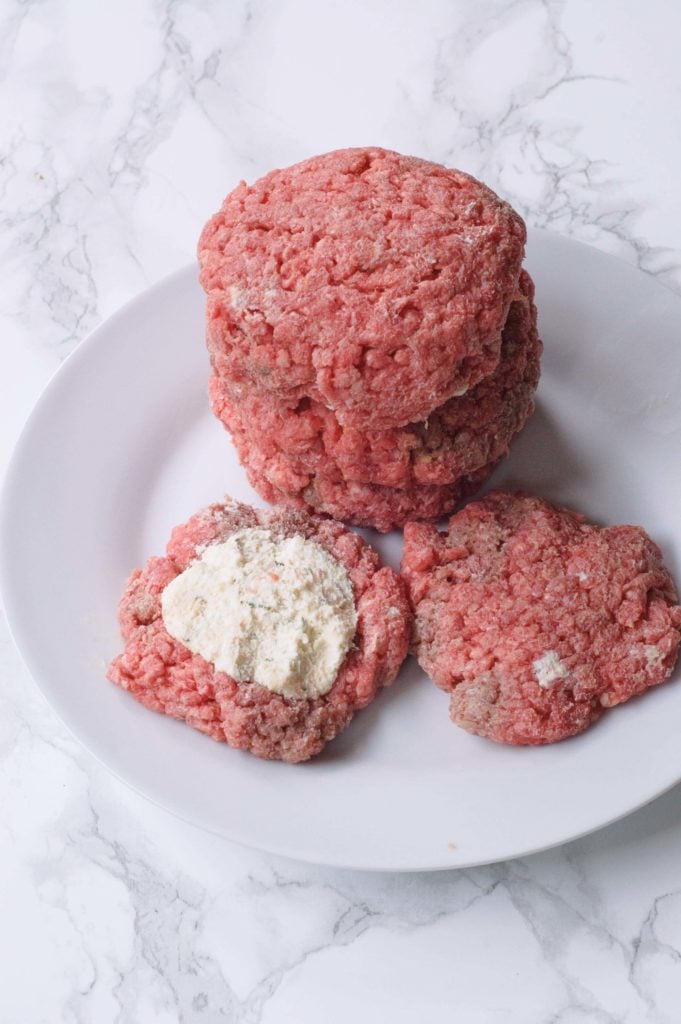 Leftovers?
Your burgers will taste better another day if you keep all of your parts separate. Store your toppings, fried eggs, and buns each in their own container. You can keep any leftover patties from your Boursin Stuffed Breakfast Burger in the refrigerator for up to 5 days. I recommend keeping them in an airtight container in a single layer, especially if any of your Boursin leaked out the sides. Doing this keeps any leaking Boursin from landing on another burger patty and scorching during reheating.
NOTE: If you cooked your burgers to less than the 160°F internal temperature recommended by the USDA, your Boursin Stuffed Breakfast Burger runs a risk of bacterial growth during refrigeration. If this concerns you, you can always crumble your leftovers and add turn them into this pumpkin egg casserole, lasagna, or spaghetti. Reheating them this way will help ensure they are completely cooked through.
If you decide to reheat your Boursin Stuffed Breakfast Burgers as they are, I recommend:
Place a rack in the top third of your oven and preheat your oven's broiler to high.
Put the burgers in a single layer on a baking rack inside of a sheet pan lined with aluminum foil. The foil helps with easy cleanup.
Place the burgers in the oven near the broiler and cook for 2 minutes. Remove the sheet pan, flip the burgers, return them to the oven and cook for another 2 minutes.
Remove the burgers from the broiler, place on your buns with fresh toppings and serve.
I recommend using the broiler because, like grilling, the quick cooking of the outside help keep the inside juicy. Just a warning, consuming raw or undercooked meat may have consequences. The USDA recommended internal temperature for ground beef is 160°F for killing of any potentially harmful bacteria.
*Note, I don't recommend reheating fried eggs, as they can get rubbery. Personal preference, though.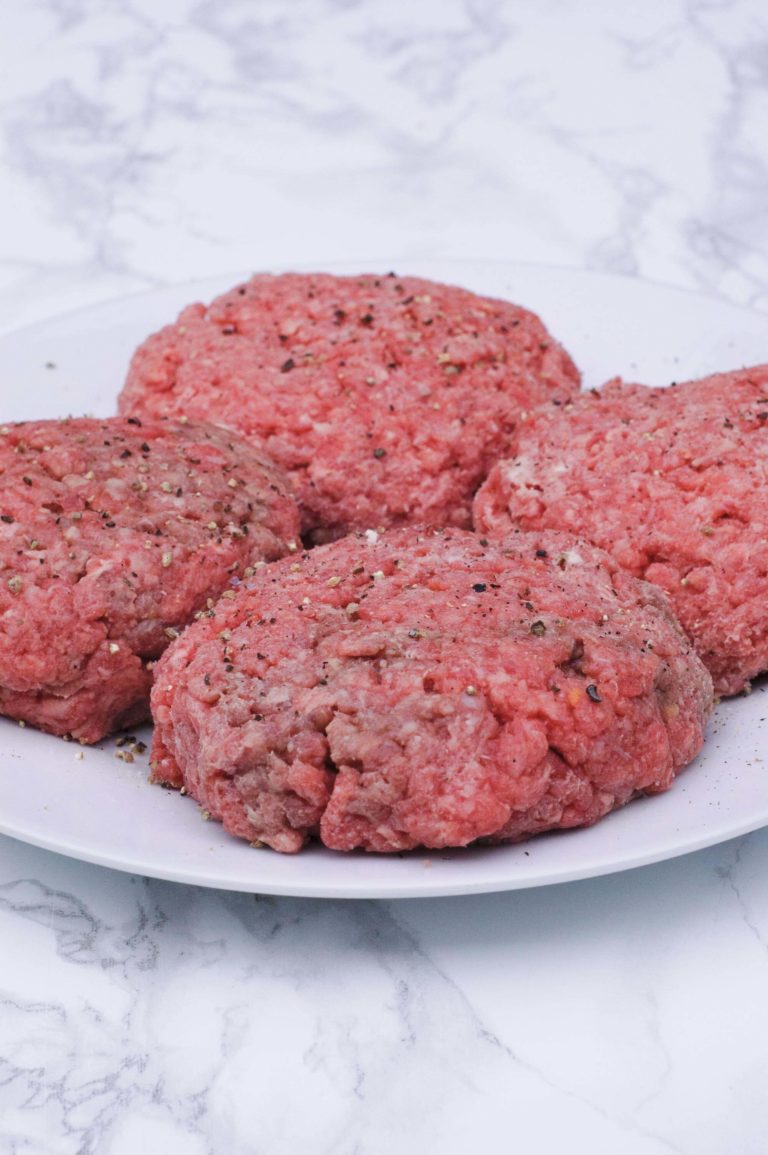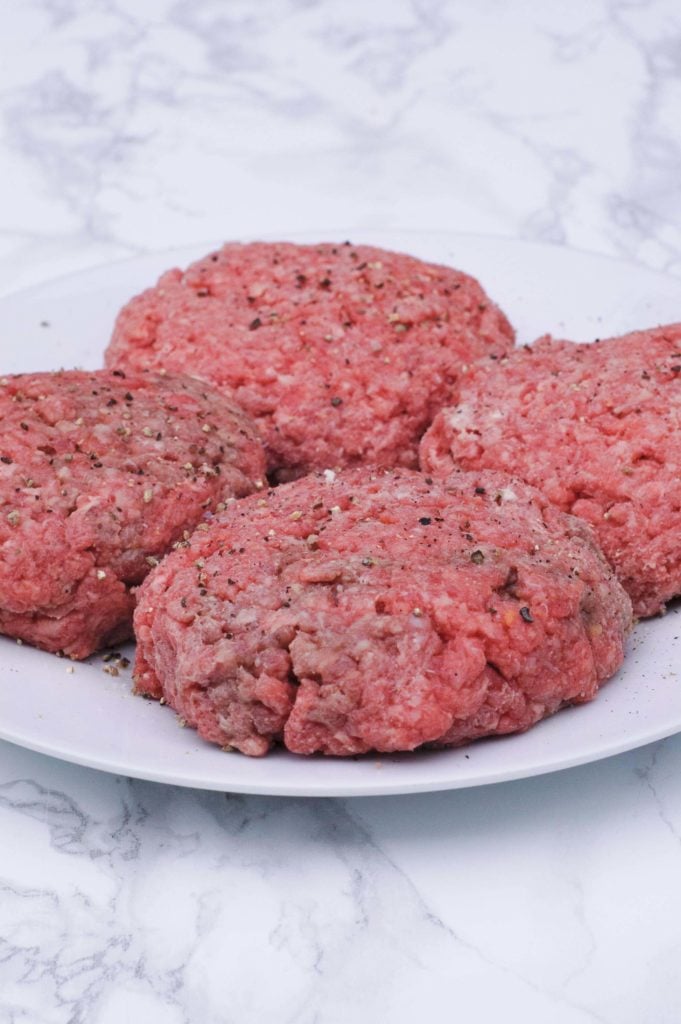 Boursin Stuffed Breakfast Burger
If you want to change up the type of Boursin you use in this burger you absolutely can; all of the variations will taste delightful and unique! If you decide to change the sausage though, proceed at your own risk. Especially if you choose to try a maple sausage. Maple sausage will make the Boursin Stuffed Breakfast Burger even more breakfast-y, but doesn't pair as well with the garlic & fine herbs Boursin we're using today. (Hint: If you want a maple kick, put it in your mayo 🙂 ) However, spicy sausage is a fun alternative!
---
Get your free printable grocery list for this Boursin Stuffed Breakfast Burger recipe HERE.
---
This grocery list has everything that you'll need to make this Boursin Stuffed Breakfast Burger recipe. To help in making grocery shopping simple, each ingredient is listed in easy-to-find grocery store amounts. If there is no amount specified, that means that you can buy the smallest (or largest) container available and still have plenty left over.
Thank you so much for stopping by!
If you want to try some other delicious burger recipes, here are some I recommend:
Happy Cooking! 🙂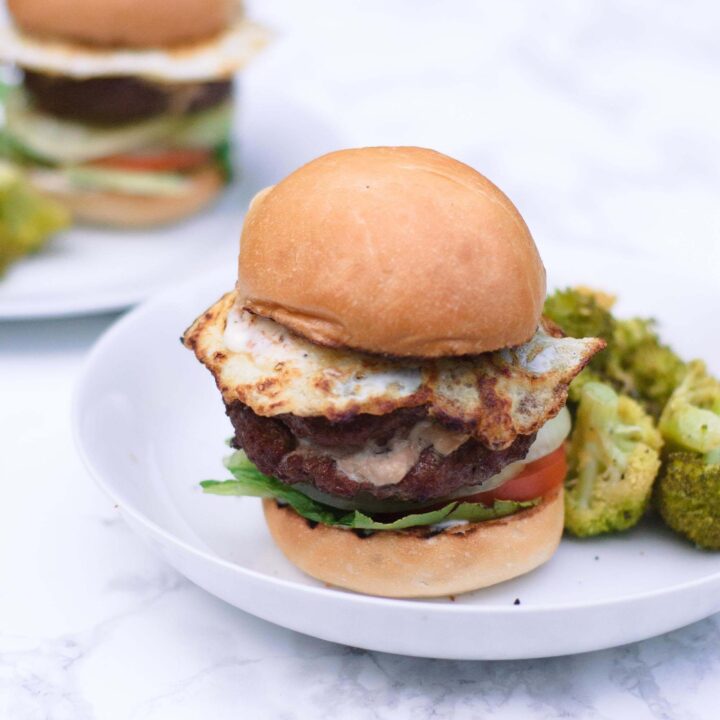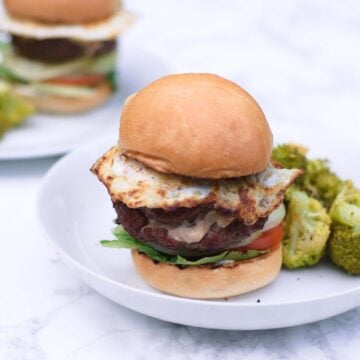 Boursin Stuffed Breakfast Burger
These ½ lb. Boursin Stuffed Breakfast Burgers are a great way to start the day! Made with sausage and a fried egg, it's the king of breakfast sandwiches!
Pin it for later?
Ingredients
Burger Patties
1

lb

country pork sausage

1

lb

80/20 ground beef

1 5.2

oz

package of Boursin: Garlic & Fine Herbs

,

, cut into 4 pieces and rolled into discs

salt and pepper

,

, to taste
Toppings
4

Brioche Burger Buns

mayonnaise to taste

,

(spike it with some maple syrup for an extra breakfast kick!)

4

fried eggs

2

tomatoes

,

, sliced

1

small red onion

,

, sliced thin

2

cups

lettuce

,

, torn into pieces about the size of your palm
Instructions
Burger Patties
Combine the sausage and ground beef and weigh it out into four ½ pound pieces.

Roll each section into a ball then smash it down flat into your palm so the burger spreads out onto your fingers and thumb (about ½" thick). Place one of the discs of Boursin in the center, then use your fingers and thumb to bring the ground beef and sausage up around and over the Boursin. Pinch together the seam and flatten into the shape you need for grilling. Salt and pepper as desired.

Grill, turning at least once until desired doneness is reached. Remove from heat and let rest 2 Minutes.
Toppings
Toast the buns on the grill while the burgers rest and brush them with the mayonnaise. Top your burger with the lettuce, tomato, onion and fried egg. Serve hot.
Notes
Your Boursin will be likely to spill out of the burger if you just try to seal together two discs of burger with the cheese in the middle. Avoid this by using the technique described in directions. 
Nutrition
Serving:
1
serving
|
Calories:
1613
kcal
|
Fat:
264.1
g
Tell me how much you love this recipe
and show off how you made it!