Looking for a new flavor profile for your Thanksgiving turkey? Try this pumpkin beer turkey brine recipe for a tender and juicy turkey bursting with autumnal flavor.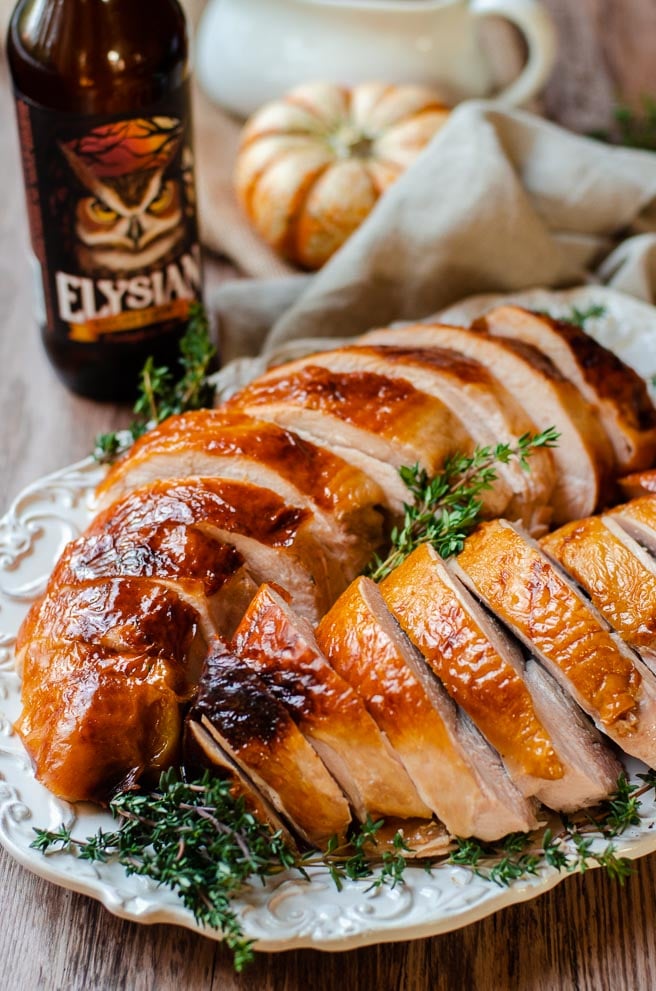 What's The Best Kind Of Salt for a Turkey Brine Recipe?
This isn't really the question. When it comes to brining, any salt will work. (Although there isn't any benefit for splurging on a super fancy one. Fleur de sel turkey brine isn't any better than one made with Kosher salt.) The important thing is how you measure your salt.
If you have experience working with different salts, you know that each one has it's own unique size and texture. Some are large crystals while others are small flakes. This means that each type of salt will measure differently based on how it sets in your measuring cup. Instead of measuring by volume, the salt in your turkey brine recipe should be measured by weight. This will ensure that no matter what type of salt you choose, you have enough salt to get a perfectly seasoned and juicy turkey.
What Kind Of Pumpkin Beer Should I Use?
The amazing thing about this turkey brine recipe is that the turkey genuinely tastes like the craft beer you choose. If you go for a darker brown ale, the malts will shine through. If you go for a lighter pumpkin beer, the pumpkin spice flavor will be more prominent. Personally, I love to use any of the pumpkin beers from Elysian, especially the Night Owl. The nutmeg and cinnamon permeate into the flesh of the turkey so well, without leaving behind any of the sweetness that is associated with pumpkin spice. It beautifully balances the beer flavor with the pumpkin pie spices. Plus, it doesn't just rely on the pumpkin pie spices for its flavor, it is actually brewed with real, fresh pumpkins. I tell you, this pumpkin beer turkey brine is the best way to get a deliciously autumnal turkey.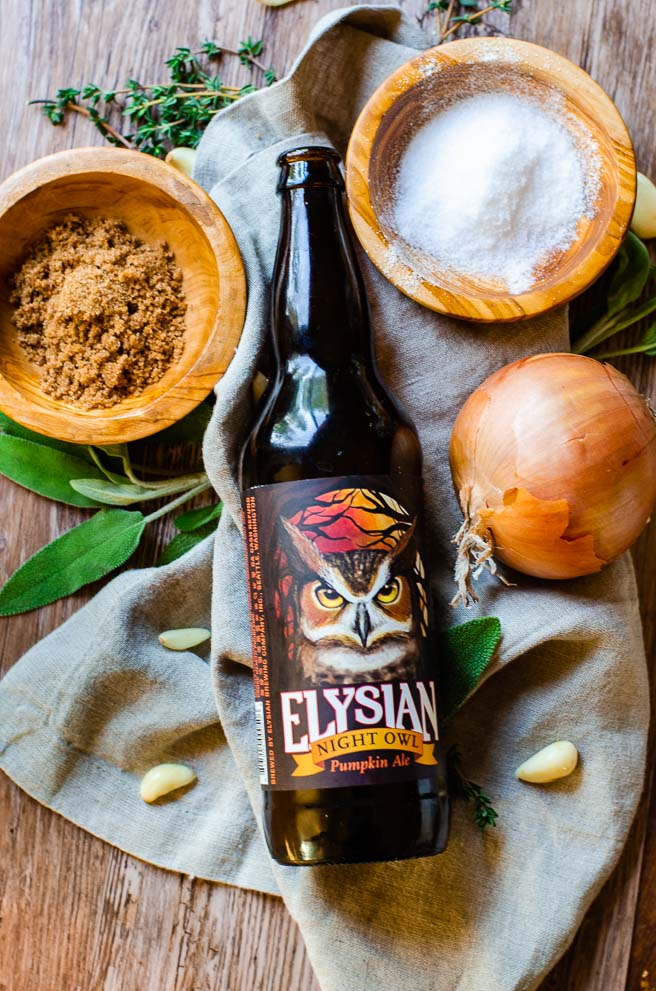 How To Cook Your Pumpkin Beer Turkey After Brining
This recipe works super well for anything EXCEPT deep frying. In fact, a word to the wise, if you're deep frying your turkey, avoid brining all together. We all remember the middle school experiment of how oil and water don't mix, right? That's what brining does. It floods the meat with salt water so that it doesn't dry out while cooking. Mix that with the hot oil of the deep fryer and you have a potential disaster on your hands.
Other than that though, this pumpkin beer turkey brine recipe works well no matter what your favorite method is for cooking your Thanksgiving turkey.
Tips For Making The Best Turkey Brine
If you really want to knock this pumpkin beer turkey brine recipe out of the park, I recommend reading some of these simple tips. Proper skills and techniques are the foundation to a successful meal, and with an important one like Thanksgiving on the line, the last thing you want to do is screw up your turkey.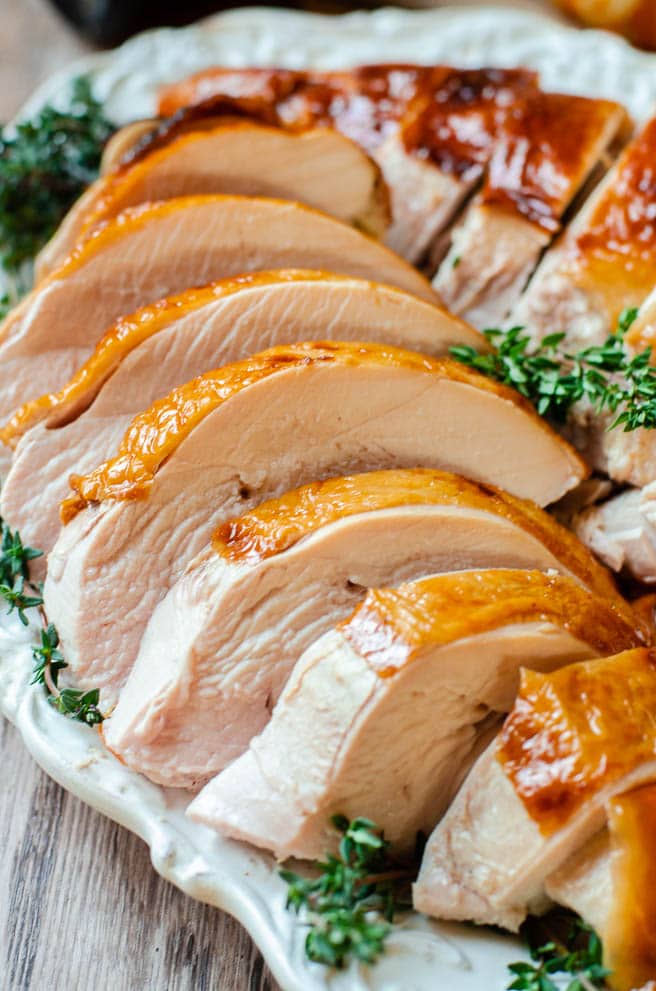 What Is The Best Way To Brine a Turkey?
The best way to brine a turkey varies based on your skills, needs, and space; but my absolute favorite way to brine a turkey is to use a brining bag. These bags are just extra-large ziploc style bags that can fit a 30+ pound turkey.
Once you remove the turkey from the packaging, remove the neck and organs. Rinse the turkey with cold water and place it into the brining bag. Pour the brine into the bag and submerge the turkey. Zip it closed and remove as much air as possible. This keeps the turkey brine concentrated around the turkey. It also helps save space in your refrigerator. Once sealed, refrigerate your turkey for roughly one hour per pound.
The important thing to remember with brining is that you always keep your turkey at a safe temperature. If you choose to brine outside of your refrigerator (in a cooler, stock pot, etc…) make sure that you can ABSOLUTELY POSITIVELY GUARANTEE that your turkey will stay below 40°F. Anything above that and you run the chance of bacteria growth.
What To Serve With This Pumpkin Beer Brined Turkey
Since this easy pumpkin beer turkey brine recipe gives you your main course, here are some of my favorite Thanksgiving side dishes. If you want to see my entire collection of Thanksgiving recipes, follow me HERE.
Easy Roasted Parsnips with Thyme

Haricots Verts with Tarragon and Orange

Creamy Macaroni and Cheese with Butternut Squash

Overnight Slow Cooker Turkey Stock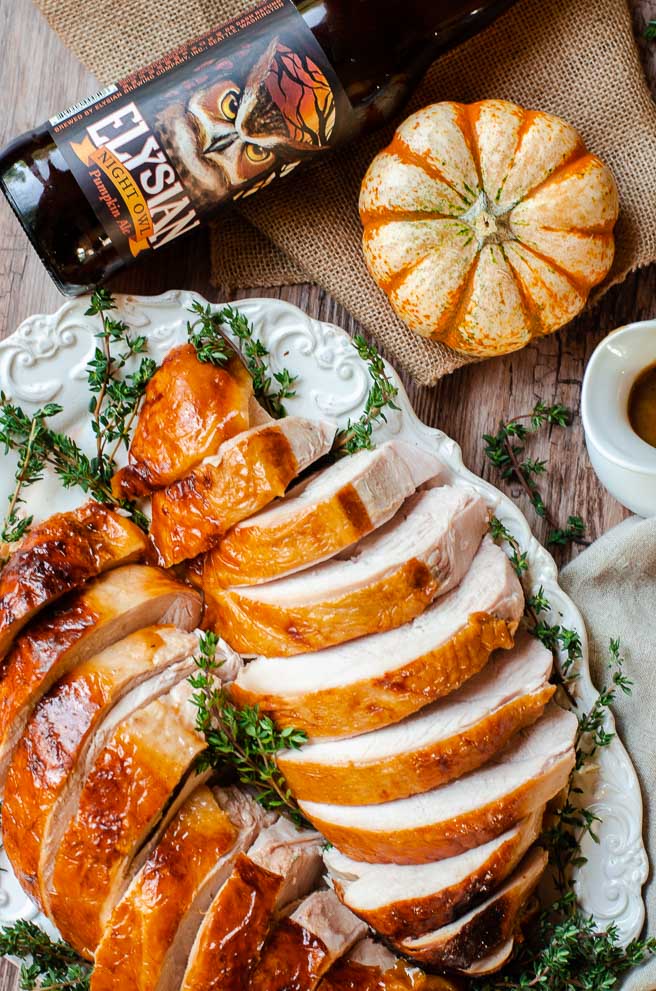 Pumpkin Beer Turkey Brine Recipe
To really bring out the flavor of the herbs in this turkey brine recipe, I recommend adding them to the hot brine water. You don't need to boil them, you just need to open them up. As your brine cools down, the flavor will impart itself into the water and have slightly more oomph than just adding it to the bag.
---
Want a free printable grocery list for this easy pumpkin beer turkey brine recipe? Get it HERE. Everything is listed in standard grocery store amounts. If no size is specified, even the smallest package will provide more than enough.
Happy Cooking! 🙂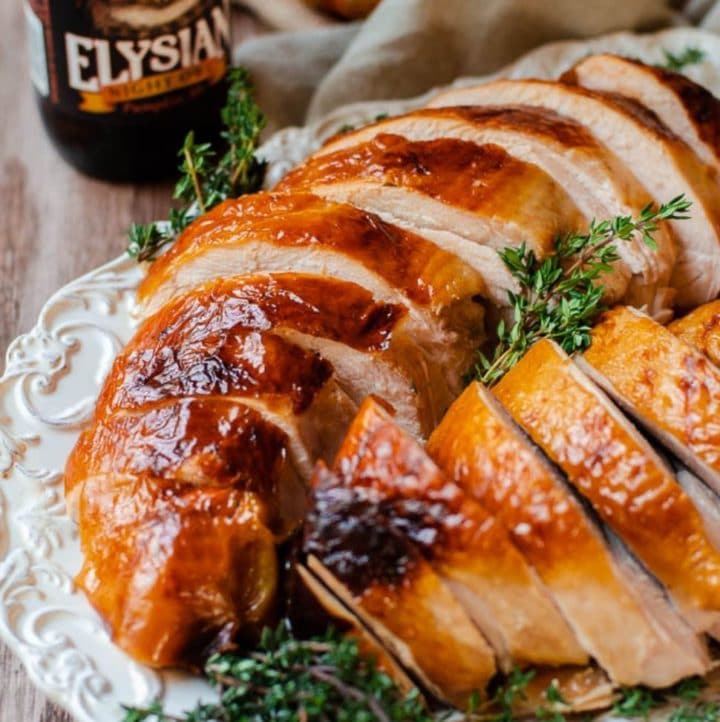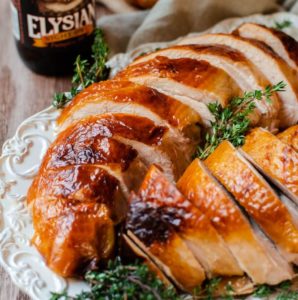 Pumpkin Beer Turkey Brine
Get a juicy and moist turkey with this simple turkey brine recipe that floods the turkey with delicious autumn flavor.
Pin it for later?
Ingredients
10

cups

water

1 ⅓

cups

salt

½

cup

dark brown sugar

,

packed

3

onions

,

peeled and quartered

2

head of garlic

,

peeled

2

bay leaves

8

bottles of pumpkin ale
Instructions
Bring 2 cups of water, the salt and dark brown sugar to a boil. Cook until the salt and sugar are dissolved. Turn off the heat and add in the onions, garlic, and bay leaves. Let cool to room temperature.

Stir in the rest of the water and pumpkin beer, then submerge the turkey in the brine for 12 hours.

When you're ready to cook your turkey, remove it from the brine and lightly rinse the turkey, including the cavity. Blot it dry with a paper towel and cook according to your favorite method.
Nutrition
Serving:
1
serving
|
Calories:
47
kcal
|
Carbohydrates:
12
g
|
Protein:
1
g
|
Fat:
1
g
|
Saturated Fat:
1
g
|
Sodium:
12589
mg
|
Potassium:
52
mg
|
Fiber:
1
g
|
Sugar:
10
g
|
Vitamin C:
2
mg
|
Calcium:
29
mg
|
Iron:
1
mg
Tell me how much you love this recipe
and show off how you made it!