Brining turkey is a great way to get a juicy, tender, and flavorful show stopping centerpiece. It doesn't have to be restricted to Thanksgiving or major holidays either. Knowing how to brine a turkey can elevate an everyday meat into an exceptional one. And the work is minimal!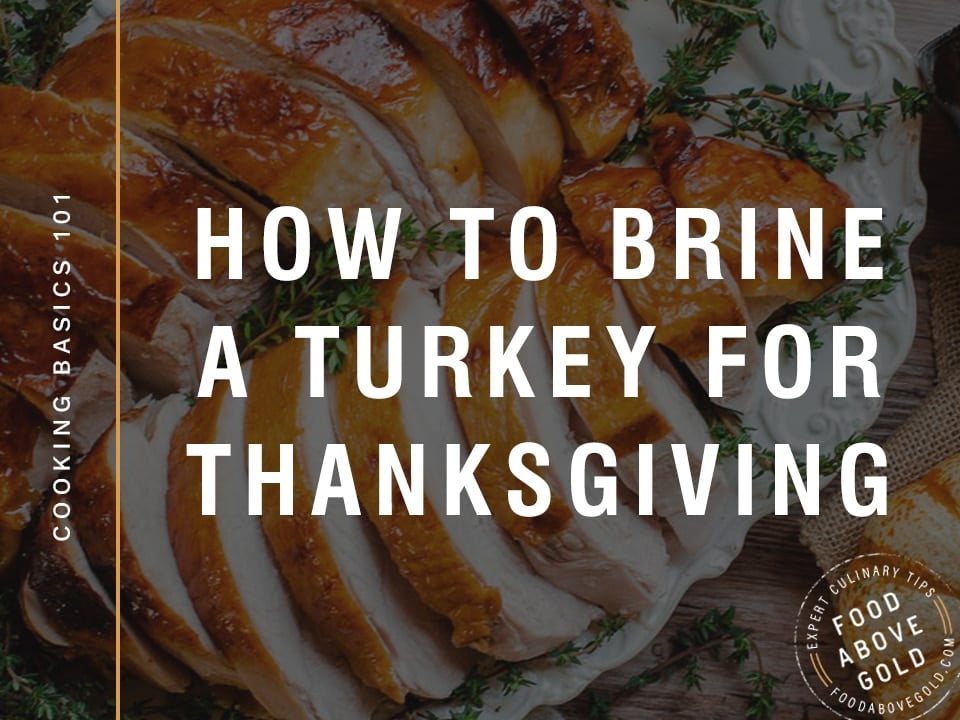 What Is Brining?
Brining is when you submerge the turkey into a heavily salted, and often flavored, liquid. This helps the turkey improve and retain moistness during cooking. Knowing the correct way to brine is incredibly important for a tender, juicy Thanksgiving turkey. For example, the amount of time spent in the brine varies greatly based on how large it is.
Dry Brines Versus Wet Brines
There are two types of turkey brine you can use: a wet brine or a dry brine. Both are useful in their own ways, it usually just comes down to personal preference.
Wet brines use a salt solution to force the food to absorb the liquid. This liquid then gives the meat something extra to evaporate during cooking so that it's original juices remain at the end. This is the most common way to brine a turkey.
Dry brining however uses a dry flavored salt rub to absorb the natural juices of what you're cooking. During cooking, the heat makes the salt redistribute the juices back into the meat instead of cooking it off.

The Best Turkeys for Brining
Simply put, the best turkey for brining is one that is not already brined. While that may seem straightforward, most people don't realize that store bought frozen turkeys are often pre-brined. Turkeys that are already brined will have a hard time absorbing the brine you put it in. This is extra important if you're planning to infuse flavor with your brine.
Avoid buying one that has salt solution or calls itself "self-basting" on the packaging.
Any other turkey though, will work wonderfully for brining. Everything from a kosher turkey to turkey breasts. You can even brine a previously frozen turkey, just thaw it out first.

What Container Should I Brine My Turkey In?
This is always the big hangup for people. Turkeys are often large and during Thanksgiving space in the fridge is already reduced. You have a few different options.
Brining Bags. Brining bags are like giant giant Ziploc bags, and the easiest way to brine a turkey. You just put the turkey inside, cover it with room temperature brine and zip it closed. You can then fit it almost anywhere because the bag will mold to its surroundings.
Pot. To avoid any interactions between the material of your pot and the brine, use stainless steel. If your pot is aluminum it may react to any acid in your brine (tomatoes, citrus, etc…). It may also leach the aluminum into the brine.
How To Brine A Turkey In A Cooler
Brining a turkey in a cooler is a great way to save yourself refrigerator space, but does require the use of a second sealed container. This is primarily because you need an easy way to remove the turkey from the cooler and drain the melted ice.
I personally prefer to use brining bags because they allow the ice to go all around the turkey. However, a sealable plastic container works fine, too. Plus, keeping it in a second container keeps the turkey free of any potential harmful bacteria.
To brine your turkey in a cooler, put the turkey-filled secondary container into the cooler and cover it with ice. Your cooler needs to maintain a temperature of 40°F or lower. In order to achieve this, you will probably be adding ice every 6-8 hours depending on the quality of your cooler. If you have a super awesome yeti cooler, you may only need to add ice every 24 hours.
What To Do When Your Turkey Is Done Brining
Once your turkey has brined for at least 12 hours (no more than 24), it is ready to prepare for cooking. The most common cooking method after brining is to roast the turkey in a roasting pan. This is my favorite because it is easier to control the temperature to make sure it doesn't overcook.
Once you remove the turkey from the brine, rinse the turkey (including the cavity) and pat it dry with paper towels. Let it come to room temperature for a crispier skin, and pat it dry with paper towels once more before you place the turkey in the oven. Don't forget to season the skin with pepper and a tiny bit of kosher salt before following your favorite Thanksgiving turkey recipe for roasting.

How To Cook Your Brined Turkey
If you plan to brine your turkey, a dry heat cooking method like baking, roasting, smoking, or grilling is best. Since brining adds extra liquid to the meat, it isn't safe to brine turkey before deep frying. It will react with the oil and cause dangerous popping and splattering. Make sure you have enough time.
What To Serve with Thanksgiving Turkey
While everybody gets excited for turkey, the side dishes are what round out the meal. These recipes are some of my favorite. They're great for breaking away from the usual green bean casserole or marshmallow topped sweet potatoes. Plus, they're ridiculously tasty!
Thanks so much for stopping by. If you want to try one of my favorite turkey brine recipes, I recommend this Pumpkin Beer Turkey Brine.
Happy Cooking! 🙂