Try one of these 4 unique ways to cook a turkey without using the oven this Thanksgiving. Your guests will be impressed & delighted at the change!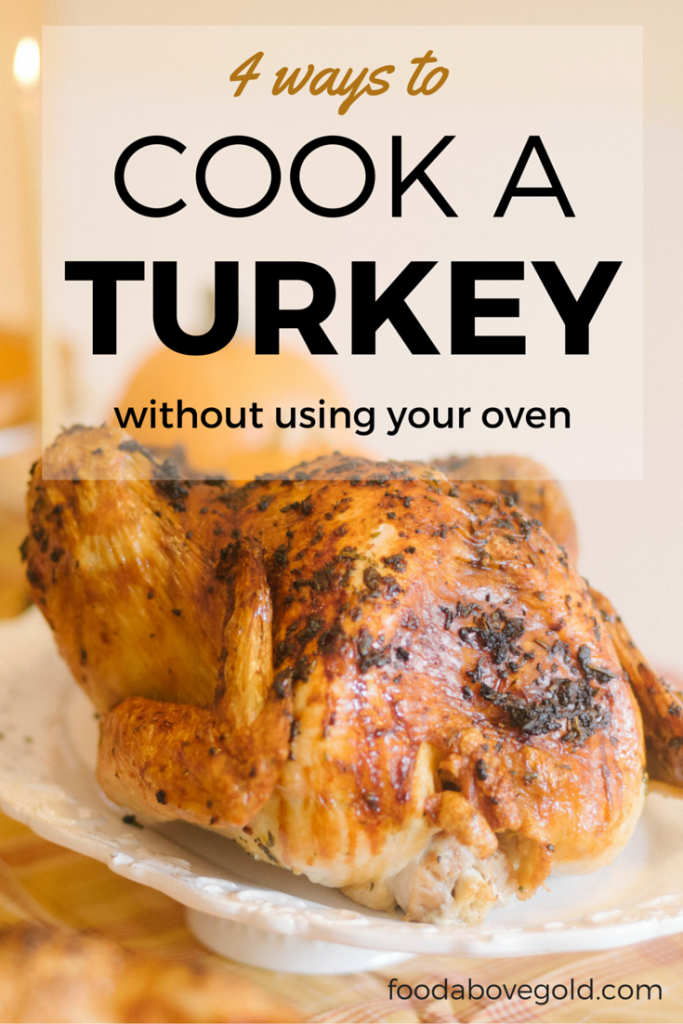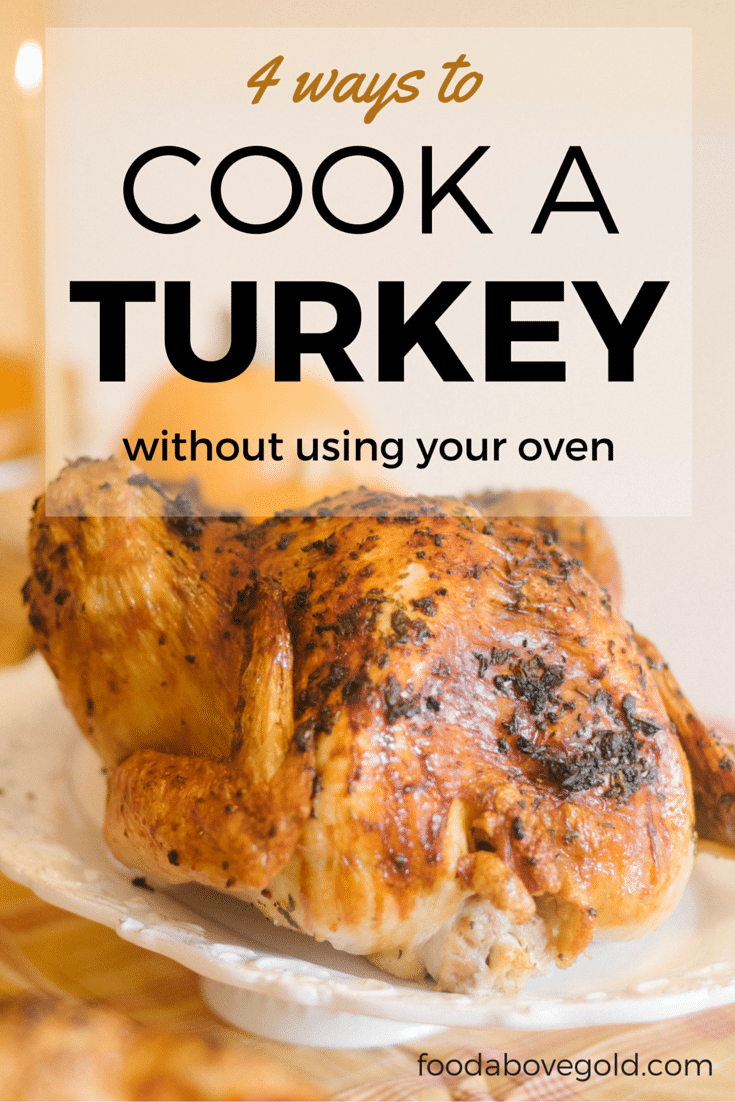 Unique Ways To Cook A Turkey
The turkey is the king of Thanksgiving, but roasting a turkey year after year can get boring. I mean, sure. . .it's safe. . .it's comfortable. . .but is it fun?
Today, we're going to go over some ways to change it up and try some unique ways to cook a turkey. I mean, this blog is all about gaining kitchen confidence, right. So, let's work on your methods for deep-frying, smoking, grilling, and slow-cooking a turkey! (Psst...to make any of these tasks easier, make sure to read my post about Thanksgiving Tools & Equipment.)
Before I begin, a couple quick things I would like to remind you about cooking a turkey:
Always rinse, pat dry, and season your turkey inside and out. Rub the skin with oil or butter (unless you're deep-frying) to help the skin get crispy.
A thermometer is your best friend; don't trust the pop-up timers. By the time they pop up, your turkey is overcooked. Remember, the happy temperature for a turkey is 180°F in the thigh and 165°F in the breast. The turkey will continue to cook even after it's been pulled away from the heat, so a nice 165°F in the thickest part of the thigh is a great spot to aim for! Always let your turkey rest for at least 15 minutes after cooking it before you start carving it.
Safety first. Any time you are trying something new, take every precaution. Better safe than sorry.
Make sure your turkey is completely thawed out before cooking. A good rule of thumb is 4 days in the refrigerator for a turkey that is between 12-20 pounds.
I'm a believe in trussing your turkey. Keeping the legs and wings close to the body will help it cook more evenly.
Now, to start you off with something familiar. . .
How To Deep-Fry Your Turkey
When it comes to unique ways to cook a turkey, Deep-frying a turkey isn't too out there; it has become extremely popular in the past few years, and for a good reason. A perfectly fried turkey has crispy delicious skin while maintaining perfectly moist meat. It's extremely delicious, and there are lots of ways you can make it your own: you can rub the skin with seasonings, you can batter it, you can fry it whole, or you can fry it in pieces. There is a very large range of things to do with a turkey when you deep-fry it. It has become so popular, in fact, that now there are all sorts of electrics out there that you can use when deep-frying. Let's look at the two ways
Outdoor. Outdoor deep frying can cost you a lot less in equipment than indoor, but there are very few safety precautions built in. When you're deep-frying outside, make sure to:

Always Wear Safety Gear. Heavy duty gloves and safety eyewear are an absolute must. Don't attempt deep-frying a turkey without these, please. Also, keep a fire extinguisher nearby as a precaution, as well.
Never Fry A Frozen Turkey. In fact, you shouldn't even fry one that has been excessively brined. Remember, water and oil don't mix, so when you try to put water into the oil, it is an equation that can yield dangerous results - like lots of popping and splattering - which, if it startles you as you lower your turkey in, can lead to the next thing. . .
Control. Always make sure that you have a safe way to lower and lift your turkey in and out of the oil. If you accidentally get startled (or even get too close to the oil) and drop the turkey in - when that oil displaces, it's not going to end well and someone will be injured.
Oil. Make sure that the pot you are using is tall and narrow. You want the bird to be able to move around, but you also want plenty of room at the top. A lot of people will make the mistake of filling a tall and narrow pot with too much oil - which can end in the exact same situation as if you drop the bird in - oil will spill out and someone will be hurt.
Temperature. Make sure that you keep your temperature controlled at all times. When oil gets too hot is can reach "flash-point" and this is when oil can explode into a giant fury of fiery torment. You want to keep your oil around 350°F.
Distance. Speaking of great balls of fire. . .make sure to have the fryer a good distance from the house. There are actually quite a few house fires every year from people frying too close to their home. Also, when you pick your location, make sure the ground is even and flat.

Indoor. There are actually a lot of really awesome turkey fryers out there these days that are made to be used right on your countertop. I've tried a couple in the last few years and have been surprisingly impressed. These can take much of the stress out of frying a turkey because they usually have safety precautions built into them, like: oil thermometer, quick shut off, indicator lights, and temperature control. The downside to these are that they are usually ENORMOUS, and sometimes finding storage for something that large just isn't worth it.
How To Smoke Your Turkey
Smoking a turkey is an excellent way to keep your oven free and provide an unusual turkey experience for your guests, if you have an electric or traditional smoker. "But Mackenzie, I don't own a smoker, I can't smoke a turkey, can I?", you say. Well, yes, and no. You can ABSOLUTELY still smoke a turkey, but you may have to get creative. There are these super handy-dandy smoker bags out there that you can get that will do the job. The fun thing about them, too, is that you can pick your flavor: mesquite, applewood, hickory, etc... With these smoker bags, you can still experience one of these unique ways to cook a turkey. It can be done in the oven, or, the way I prefer, is on the grill. No matter which way you choose, some tips to remember when smoking at turkey are:
Start Hot. If you are using smoker bags, in order to activate the smoke flavoring in the lining, you want to start everything really hot for about 20-30 minutes. You can do this by just cooking the bag in the oven at 400°F and then (carefully) remove it to add in the turkey, or you can start with everything on a super high temperature. Only do this with the smoker bags though!
Low and Slow. Keep the temperature low. You want to take your time smoking your turkey to infuse the best flavor. Try to keep the temperature around 225°F. I know that when you're cooking on a grill, that's not the easiest thing to do - but if you have an excellent grill thermometer, you can keep an eye on the temperature and adjust the airflow vents to get it where you need it.
Don't Stuff. Don't stuff the inside of your turkey with anything. Stuffing your turkey can mess with the temperature readings, as well as provide unnecessary stress.
Cut. Everyone is going to be so impressed with your smoked turkey, you don't need to use a whole turkey. You'll find that (especially if you're using the smoker bags) that it cooks evenly and easily when cut into quarters.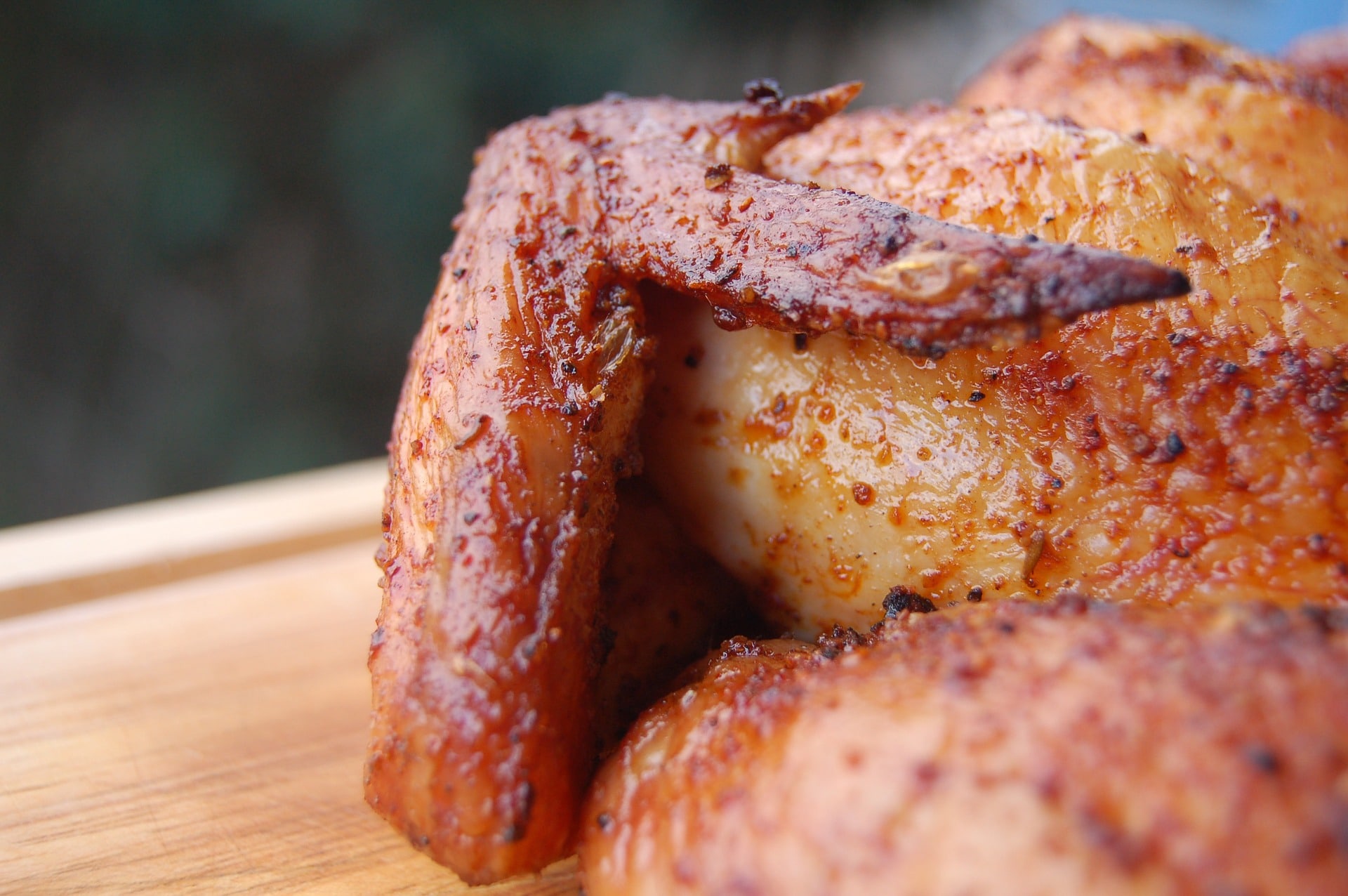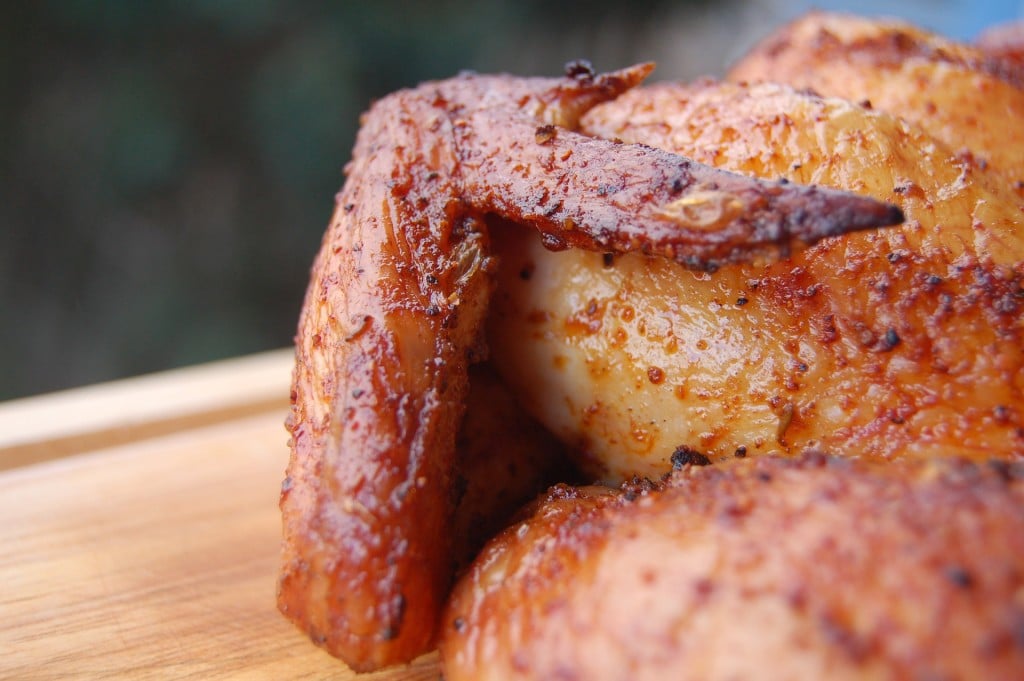 How To Grill Your Turkey
Grilling a turkey can be an excellent way to keep the turkey out of your way and produce excellent results. Whether you do it traditionally, or do something like beer-can turkey, grilling is certainly one of the most unique ways to cook a turkey - and it only takes about 2-3 hours for a 12-16 pound bird!
Briquettes. If you're grilling a turkey on a charcoal grill, use briquettes instead of loose charcoal. The briquettes burn longer and more evenly, which will help you control temperature better. You will most likely have to add briquettes throughout the cooking process - so make sure you have an easy way to do that before comitting to grilling your turkey. Note: Please don't use lighter fluid infused briquettes for safety purposes.
Drip pan. Use a drip pan to keep the liquid from the turkey from dampening the ash or putting out the flames.
Turn. If you're cooking on a gas grill, you may have to turn or rotate your turkey depending on where the burners are located. Make sure to check the progress of your turkey regularly. Also, when it comes time to check temperatures, check it on both sides (both thighs) before removing it, just in case the temperature was uneven.
Temperature. Make sure you have an excellent thermometer that is designed for high temperatures. You can absolutely use an instant read thermometer, but if you would like to leave your thermometer in your turkey, you want one designed to withstand high heat.
---
Many grill thermometers are designed to withstand high-heat temperatures for only 30 minutes - 1 hour. Make sure to double check the temperature guidelines for your thermometer before starting!
---
How To Cook A Turkey In A Slow Cooker
Slow cooking a turkey is a great hands-off alternative to roasting a turkey. For most people, the biggest downside for this method is that it doesn't produce golden-brown and crisp skin - but it does produce melt-in-your-mouth moist meat that will have people coming back for more. Most large slow-cookers can only hold a 10-12 pound complete turkey, but you can choose to purchase only the breast if you want to complement your roasted turkey with additional meat (or if you have guests who primarily eat white meat) or to save space. Slow-cooking a turkey usually takes about 6-8 hours to cook fully.
Shape. An oval slow-cooker will be easier to fit a turkey into than a round one. If you have a round one and don't want to make the investment in a new one - go for just the breast, or buy a quartered turkey.
Aromatics. Flavor your turkey by stuffing the cavity with different aromatics - such as carrots, celery, garlic, herbs, lemon, etc...
Liquid. You don't need a lot of liquid for slow-cooking a turkey. Add about 1-2 cups of turkey/chicken stock, apple cider, water, or wine. Make sure the lid is on tight, and if the turkey pushes the lid up anywhere, stuff that area with aluminum foil to plug it up.
Gravy. Out of all the unique ways to cook a turkey that we've talked about today, one of the great things about this method versus some of the others is that it produces drippings for making gravy. If you have a stone slow-cooker, make sure to carefully transfer the drippings to another pan for making the gravy, but if your slow-cooker is cooktop safe, you can make it right there!
Thanks for stopping by!
What are some fun and unique ways to cook a turkey that you've tried?
Let's talk about it in the comments, or show me on social media - @foodabovegold. Make sure to tag it #CallMeMichelin so everyone can see how you're mastering the Thanksgiving and using some unique ways to cook a turkey!
Happy Cooking! 🙂