Let me help you navigate your drawers, cabinets, and kitchen stores to find out what basic thanksgiving tools and equipment you need - and what you don't!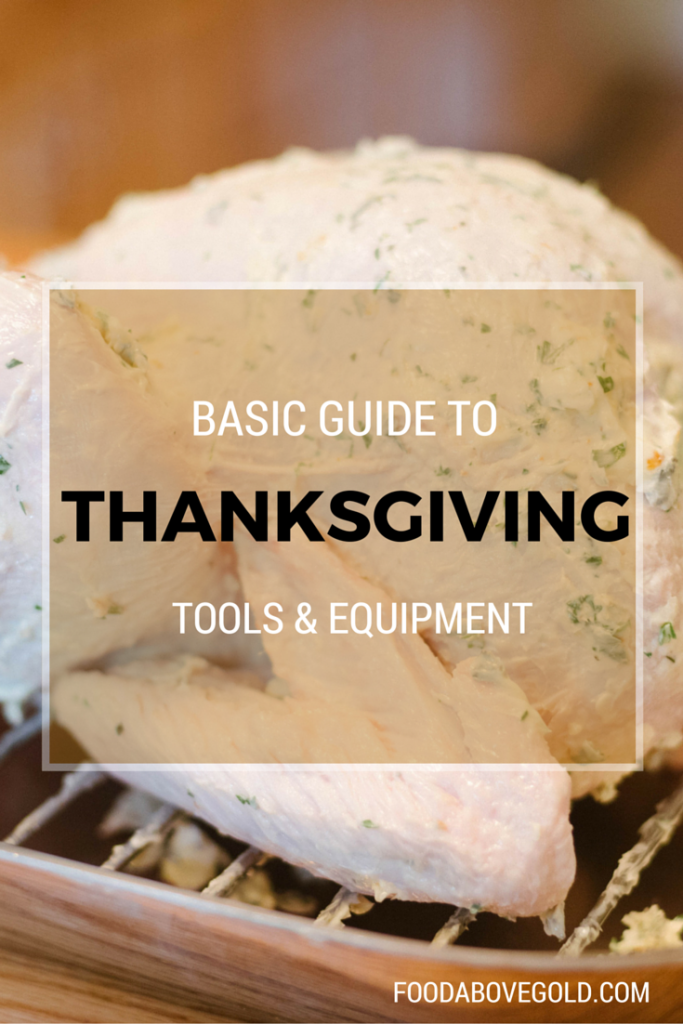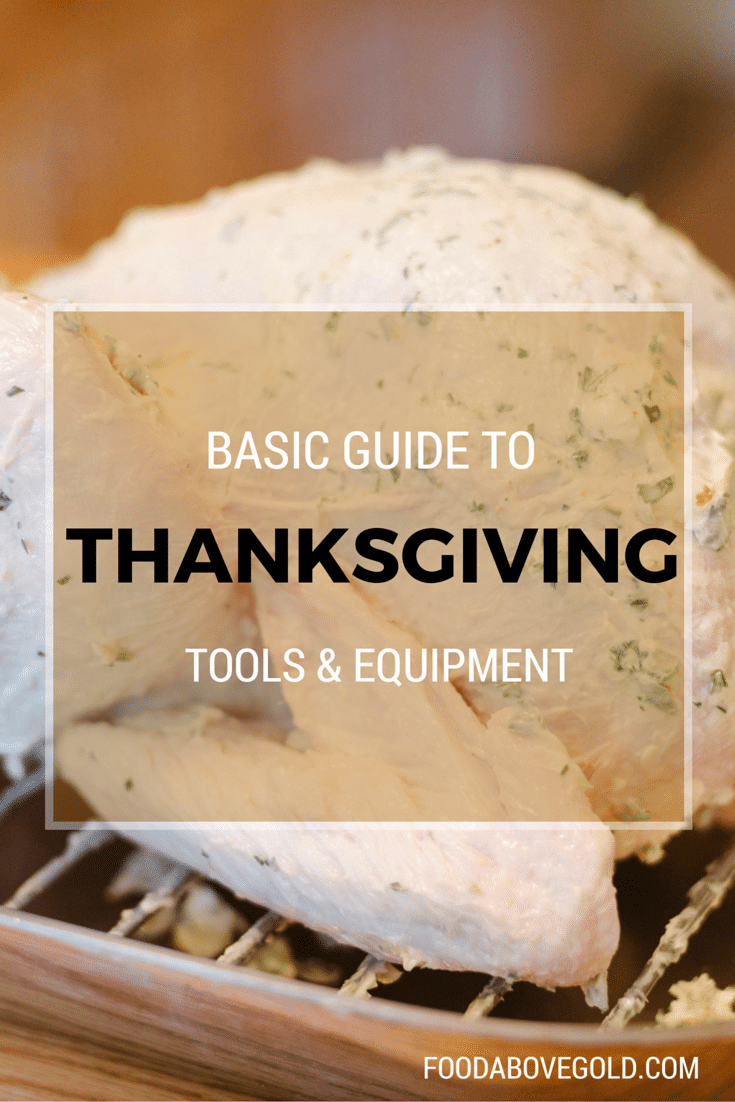 Thanksgiving Tools and Equipment
I hate it when I go to make something, and the tool that I need for it isn't there. Whether I've loaned it out to someone, lost it, broken it, or just plain misplaced it, it is enough to completely ruin my day. Usually, this happens to me at 7:30 at night and I have to weigh the pros and cons of going to the store to get what I need versus saying "screw it". Usually, I just give up - and that all becomes a waste of my time, energy, and consumables. It's frustrating. If for some reason I decide it is worth it to go to the store (usually because I'm making something for someone else) then I end up staying up until midnight finishing the project.
I want to help you with that this year, so I'm going to talk you through some of the "necessary" Thanksgiving tools and equipment.
Ready. . .Go!
Do I Really Need A Roasting Pan?
YES!!! Yes, yes, yes, yes, yes, yes, yes! This is one investment you will not regret, and often, during the month of November, stores like Williams-Sonoma will run awesome deals (usually up to 50% off) on really really nice brands, like All-Clad.
A roasting pan is a necessity for your kitchen if you plan to host Thanksgiving, or large holiday meals. One of the blessings of a good roasting pan is that it is (usually) cooktop safe, as well as oven safe - so, after you remove your turkey/roast/rack of lamb/ham/whatever from the rack, you can make the gravy right in pan. I don't know about you, but I love having one less dish to wash!
The real reason it is so important to have an excellent roasting pan, however, is safety.
---
When you use a flimsy, cheap, disposable roasting pan, you run the risk of it collapsing under the weight of the food and splattering everywhere!
---
This could easily mean that you (or worse, a guest) gets splattered with hot grease, that your kitchen is a mess, your food is ruined, and there is nothing to eat. It's a nightmare, and the quick cleanup just isn't worth the risk. Remember, with a good roasting pan, you are already saving yourself one less dish to wash, and you would still have to dirty one dish to make the gravy, anyway, since the disposable pan isn't cooktop safe. It's just not worth it, friend.
Turkey Tools
Since the star of the show for Thanksgiving is the turkey, usually that means you need to have a few special tools around, just for it. Some of these tools may include:
Turkey lifter (for getting the turkey out of the roasting pan without burning yourself)
Twine (for trussing the turkey - or more simply put, holding the legs and wings close to the body)
Trussing Needle (for sewing down the flap of skin to enclose the cavity)
Baster (for periodically squirting down the turkey with it's own juices. This helps in keeping it moist)
Carving Board (it usually has a juice groove for catching the runoff juices and helps hold the turkey while you carve)
Brining Bags (a moldable bag that you brine your turkey in)
Flavor Injector (for pushing liquid into the flesh of the turkey)
Now, let's be honest - what do you really need (besides a high quality roasting pan - is there an echo?) in the world of Thanksgiving tools.? Really, this depends on what you are doing with your turkey. I'll be doing an entire post on the different ways to cook a turkey next week, and the way you choose to cook it definitely determines your equipment.
For example, if you're roasting your turkey, you may benefit from everything on the list (but do you really need it? Keep reading). However, if you choose to deep-fry your turkey, brining is definitely off that list (10 points to the person who can tell me why!).
No matter what way I've done it in the past (and I've done every. single. way), I find that the most useful Thanksgiving tools to have are around are the carving board (I love me that juice groove), twine, and, if I'm doing a really large turkey, the turkey lifters (get a recommendation for these, you want really really sturdy ones, if they are flimsy you could have the same problem at the disposable roasting pan).
---
Make sure that when you buy cooking twine, that it is 100% cotton. Other twines can burn, or even melt to your food at high temperatures!
---
If you are looking to do a specific type of turkey this year, and have questions on the types of Thanksgiving tools and equipment to get, send me an email, or ask it in the comments, and I'll make sure to get back to you.
It's All Gravy!
Everyone has different opinions on gravy - and a lot of those opinions are formed by diet specifications; or, how much fat they want in their gravy. Gravy isn't the easiest thing, I totally get it, and there are tools out there to help - like a gravy separator. But is it worth the $40 investment? That's totally your call. You can do the same thing with a large measuring cup, a spoon, and a mesh sieve, but the ease of having one single thing that you don't have to worry about can be relieving for some.
I don't use a gravy separator, myself. "Why", you ask? Because, with enough turkey stock (which hopefully you get to make with the neck and giblets), you can end up with around a quart of gravy, pretty easily, without it being too greasy. You just have to be willing to take the time. A roux is made to thicken the gravy, and if you measure out your dripping:fat, you'll know how much flour to add (remember, it's a 1:1 ratio). After you have cooked in the flour, it's just a matter of time taken to ladle in the stock. Voila!
Again, the separator, is totally your call. I've used one before, and it has been super super useful - especially if I'm looking for a smooth gravy. It's just not something I want taking up precious real estate in my cabinets.
Cutlery
I don't care what type of knife you use, as long as it is sharp! One of my favorite ladies, Joyce, can expertly carve an entire turkey with a paring knife. In culinary school, I learned how to do it with a carving knife. You may choose a chef knife, or even a santoku, it doesn't really matter, as long as it's sharp! Don't get fooled into believing that you have to do it one way or another. Do what you are comfortable with - not what's conventional! No matter which knife you choose, I would always recommend the investment in a carving fork because it helps hold the turkey still while you cut away at it. The last thing you want it for it to go flying off of the carving board and onto the floor because you didn't have a good enough grip on it.
Thermometer
If I had to choose a most important thing to highlight when it comes to Thanksgiving tools and equipment, it would be either this or the roasting pan.
There are a lot of different thermometers out there. Some are really simple, others are fancy and connect to devices like an Ipad. What is worth it? Let's look at the different kinds.
Instant Read. An instant read thermometer, is just that; a thermometer that you stick in the turkey and it quickly gives you a temperature. You can get these in digital or analog, depending on your preferences and price point, but these are the most basic thermometers out there and are a good all-around tool.
Meat Thermometer. The benefit of choosing this one is that on the side of the temperature reading, it usually tells you what is ideal temperature range for what you are making. For example, the turkey section may read 160°F-185°F. This is really helpful for the kitchen novice, or someone who is in a rush, but knowing the ideal temperature to cook your turkey to will usually save you about $20 bucks with an instant read over a meat thermometer.
Probe. This is my favorite. It usually runs a little more expensive, but is oven-safe up to high temperatures so you can leave it in the meat while it roasts. This keeps you from having to heave-ho the turkey out of the oven (dropping the oven temperature as you do) to take a temperature. It works by placing the probe in the meat, then you smash the wire cord into the groove of your oven door and keep the temperature reader on your counter. With this one, you can see the temperature changing without touching the turkey!
Smart. These ones are designed to go with a device. I've used some in the past, and they are super useful (but cost you a lot of moolah!) because the app they are connected to will yell at you when the desired temperature is reached. To a certain extent, it is fool-proof . . . as long as you are tech-savvy.
Want Help Planning Your Thanksgiving?
If you're looking to learn new ways to make prepping and cooking your Thanksgiving feast simpler this year, then look no further. For 5 days, you'll receive one information-packed email in your inbox, (with the occasional free planning worksheet!), plus we'll be doing a live Q&A at the end of the week, Periscopes on different tips, tricks, and hacks, and there will even be a giveaway (or two) where you can win some goodies to help your Thanksgiving be even more excellent! Don't miss out, this course starts next Monday.
Check out the full itinerary and sign up for the course HERE.
Thanks for stopping by!
Are you joining the Free Step-By-Step Guide to a Flawless Thanksgiving?
What Thanksgiving tools and equipment are necessary for your ultimate epicness in the kitchen?
Tell me in the comments or show me on social media - @foodabovegold. Make sure to tag it #CallMeMichelin so everyone can see your Thanksgiving tools and equipment!
Happy Cooking! 🙂