This post about how to to dispose of grease is sponsored by Toss-It Brand. As always, all opinions are my own.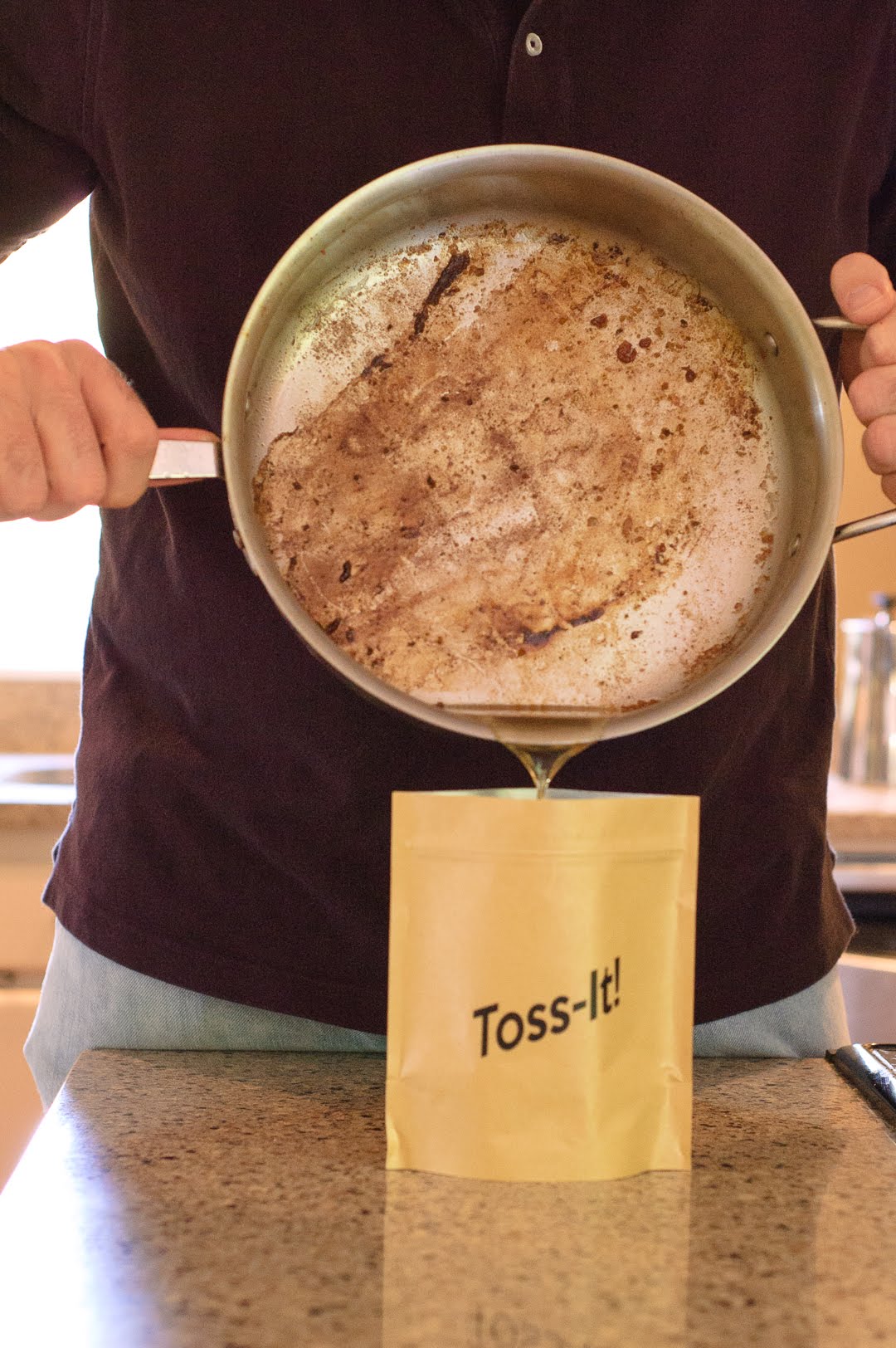 Do you dispose of cooking grease and oil down the drain followed by hot water? Maybe you throw away small amounts in an old can but don't worry about the liquids.
Have you ever wondered if you are truly disposing of all the grease properly?
With this guide, you'll understand the different methods and learn how to save yourself money and sanity, as well as protect the environment.
What Is Cooking Grease?
Cooking fat is the grease, oil, and fats that come from cooking in your home. These are known as FOG's - Fat's, Oils, and Grease.
The most common ones come from things like hamburger grease, deep frying onion rings, or bacon grease.
However, the list of FOG's extend even further to include:
dairy products
batters
sauces
dressings
sandwich spreads
icing
gravies
marinades
shortening, lard, butter and margarine.
If you don't dispose of this grease properly it can clog pipes, interfere with sewer systems, and cause increased maintenance costs. In fact, the EPA reports that 47% of reported blockages are from home, restaurant, and industrial grease.
Grease Disposal Containers
I don't know about you, but I'm terrible about disposing of grease like mayonnaise or vinaigrettes correctly. I tend to just put them down the drain and not think about it. They are liquid after all.
It's taken some time to change the habit because even just rinsing out the bottle in a no-no, but I've become much better.
My secret: Toss-It bags.
These bags provide a safe way to dispose of cooking grease into the trash with some great features like:
Zippered Closure. This makes sure the fat stays inside of the bag.
Expandable Bottom. This helps the bag stand upright while you are pouring in the fat.
Leak-Proof Edges. Not only will the grease not come out of the zippered top, but the sides have also been designed to not leak as well.
Heat-Proof Lining. While you can pour hot fresh-from-the-pan grease into these bags safely, please be careful handling it so you don't burn yourself.
Not to mention, by using a proper disposal receptacle you don't have to clean up a spill after the fat leaks out of your garbage bag. I don't know about you, but I much prefer having a sealed container rather than an open tin can.
Can You Reuse Oil?
You don't always have to dispose of cooking oil as soon as you use it.
Oil breaks down and becomes unusable when it absorbs too much water. Until then, it is safe to reuse, especially if cooking at low temperatures or with foods that are low in moisture.
The telltale signs that it is time to dispose of the grease is when it gets foamy on the surface, smells rancid or fishy, looks dark and dirty, or starts to smoke before it reaches its maximum temperature.
TIP: To extend the life of your oil, mix a small amount of used oil with fresh oil when heating it up.
What Is Oil Recycling?
You can also dispose of grease through many garbage and recycling centers that let you recycle oil. You deposit the filtered oil from home for free, then take the container back home to collect more.
Most of the time they are restricted to standard liquids like vegetable oil. They don't want fats that solidify because they can't be used for recycling. They also want to avoid anything with seasonings or ingredients that spoil for the same reason.
How To Strain Oil
To strain and clean the oil of any bones or food particles, start by skimming out anything large. This is more important if you've been deep-frying; especially with batter.
Next, place a strainer on top of a safe receptical. Line the strainer with a paper towel, coffee filter, or cheesecloth and slowly pour the oil through.
Once done, transfer the oily paper into your garbage or compost and put a lid on the oil container. This keeps any dust or debris from falling into the container.
Keep it in a dark, cool place for up to six months or until ready to reuse or recycle.
How To Dispose of Grease at Home
Now that you understand the basics, this is a really great way to dispose of grease from these recipes: