This zingy blueberry spinach smoothie recipe is packed with goodies. It makes a healthy breakfast or snack filled with amazing fruits, veggies, and protein.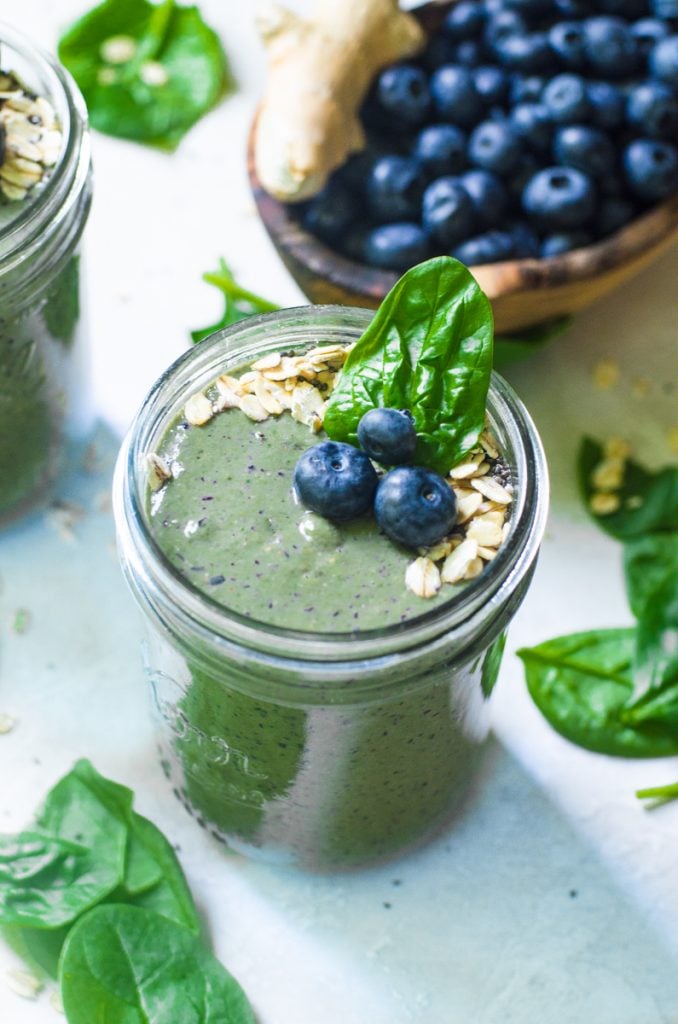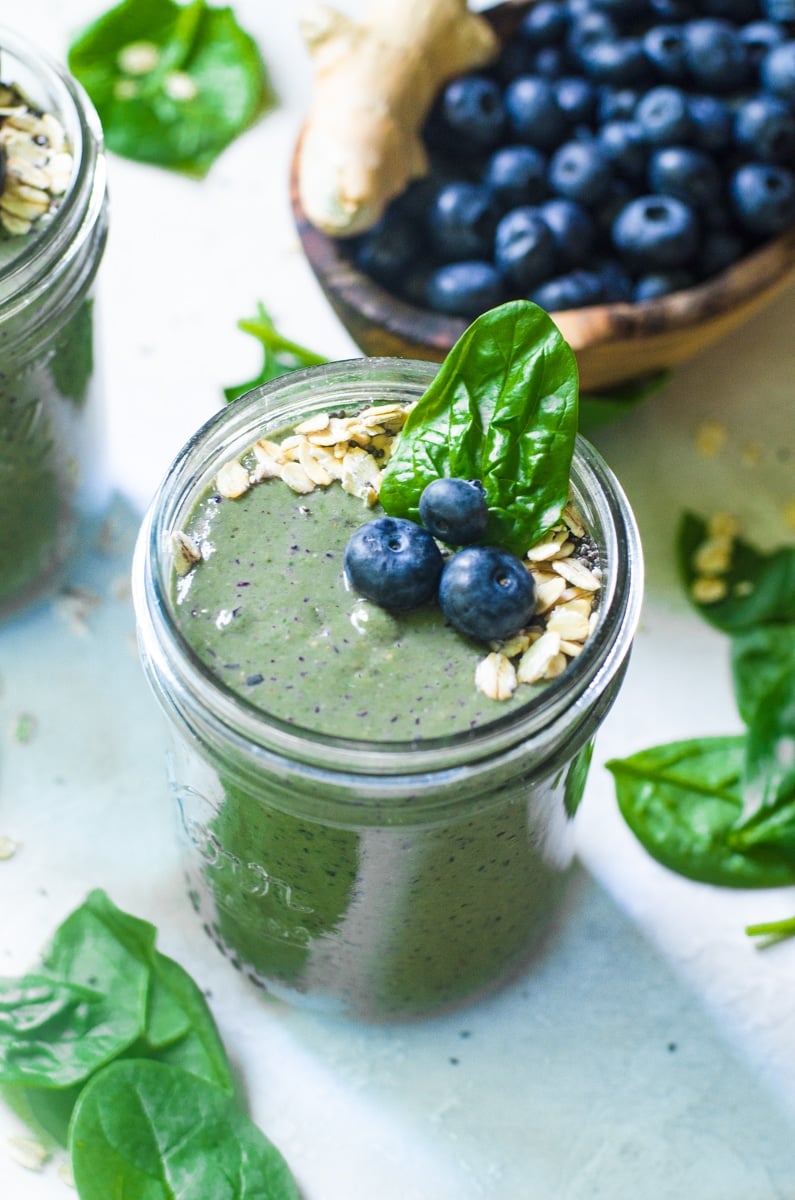 Unlike many blueberry spinach smoothie recipes, this one balances out with a little bit of carbs from oats and protein from chia seeds. This makes it a little thicker, but also more delicious!
Choose fresh or frozen blueberries to make this smoothie exactly how you want!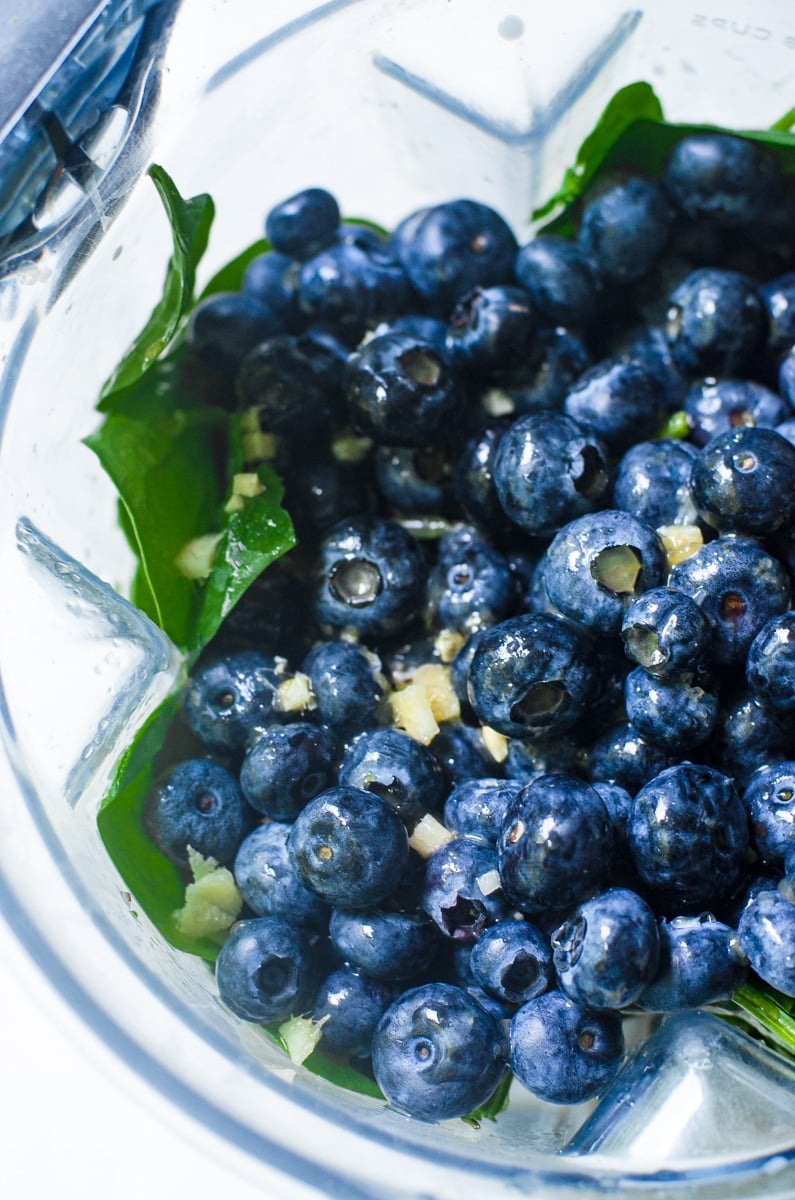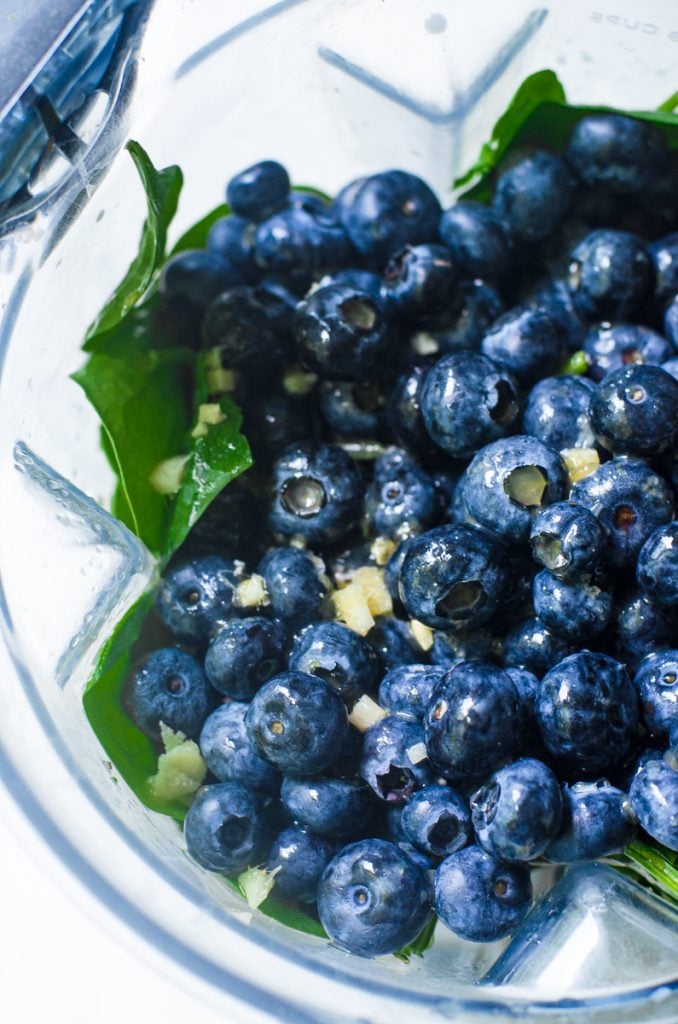 Why Add Spinach?
For many people, the bonus of adding spinach is all about healthy.
Sure there are many ways that spinach is healthy, like in fiber, calcium and vitamins A, C, and K. However, that's not why I added it.
Instead of focusing on how to get the healthiest blueberry smoothie possible, this is about eating the rainbow. Or trying to get the most color variety into the smoothie as possible.
Back when people didn't know all the health benefits of different foods, they would try to eat the rainbow, knowing that each natural color had different natural benefits. So this blueberry spinach smoothie adds in blue, green, and yellow. Along with some bonus goodies.
Plus, I rarely ever hear someone say that they DON'T need more veggies in their life. So BONUS!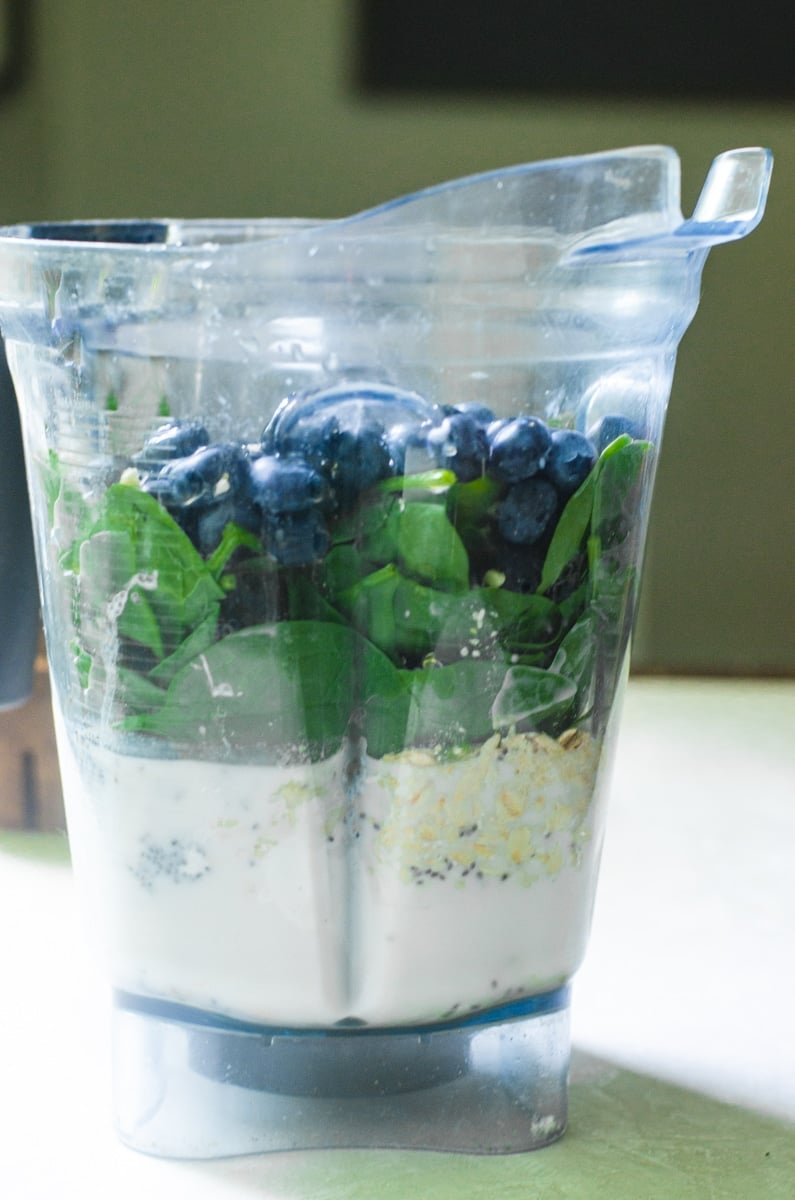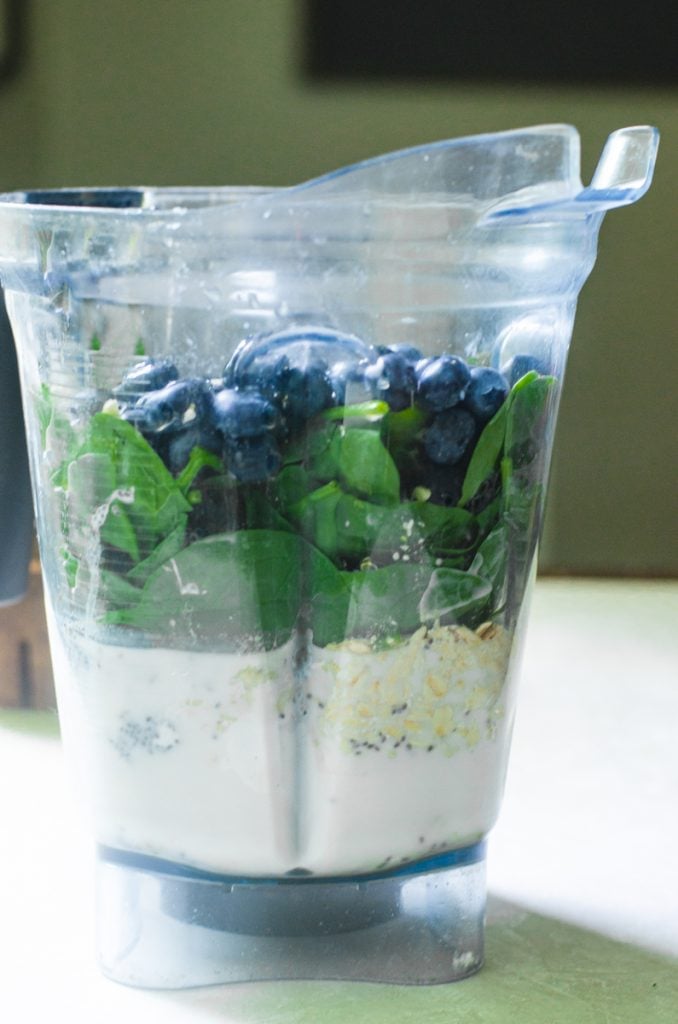 What Extra Goodies are In It?
The extra goodies in this blueberry spinach smoothie are:
almond milk for a liquid
greek yogurt for protein and texture
chia seeds for protein and thickening
old fashioned oats for a few carbs
and ginger, to give the smoothie a flavor boost and zing
Each of these extra ingredients serves a different purpose in the smoothie, but not all of them have to be used.
For example, you can leave out the oats if you don't like the texture or are cutting down on carbs. You can trade the greek yogurt for a banana which spinach pairs nicely with. Or you can use a protein powder instead of chia seeds.
This is not a hard and fast recipe, but it one that is balanced for flavor and to be an effective healthy blueberry spinach smoothie.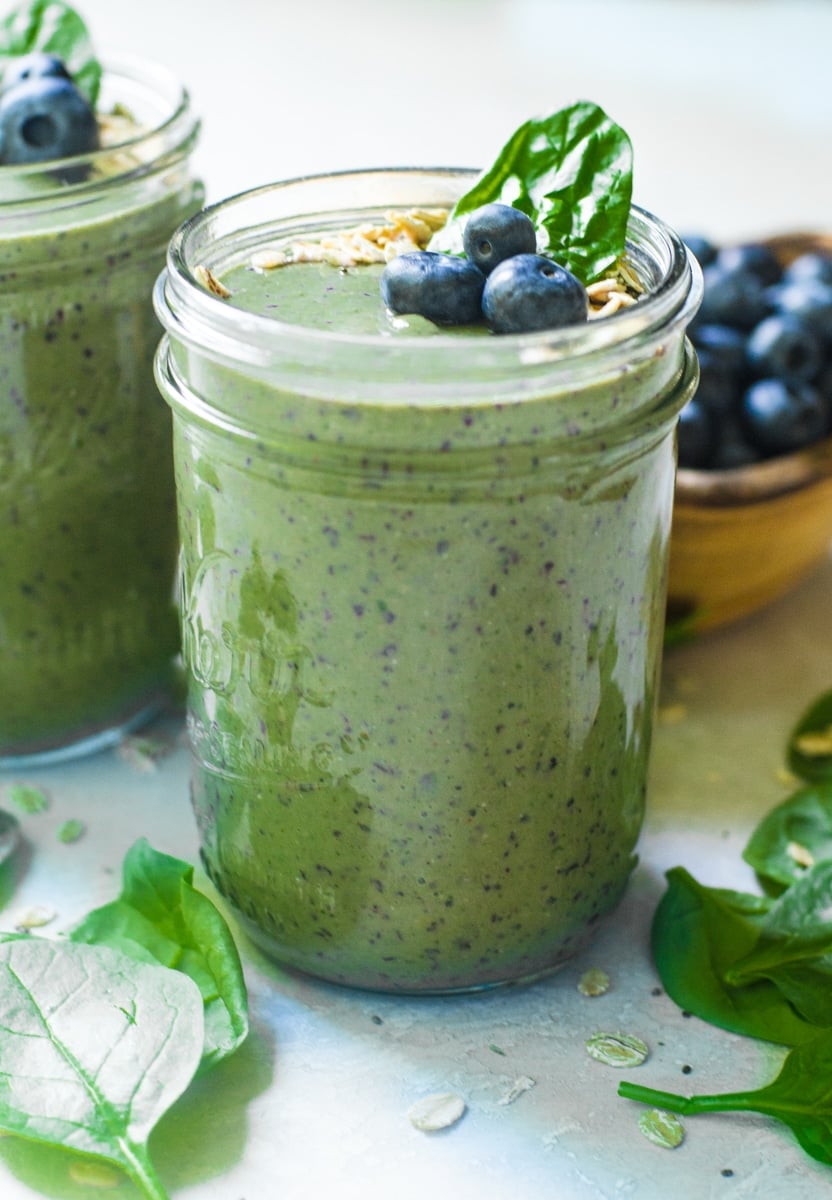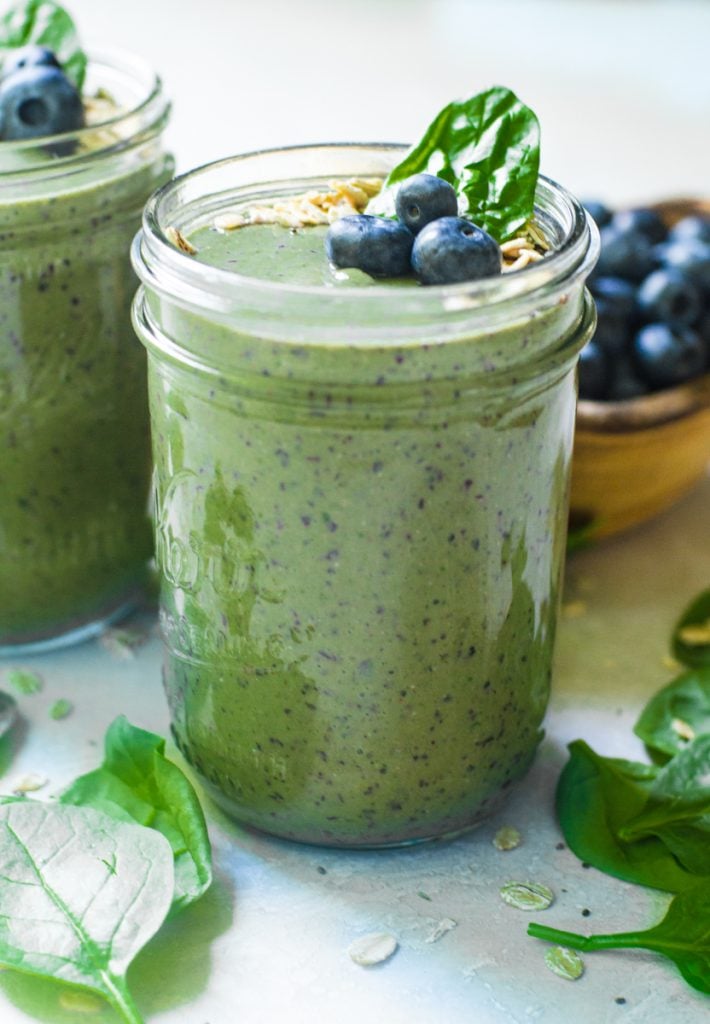 Can I Use Frozen Spinach?
If it is a question of having one on hand and not the other, sure you can. However, fresh baby spinach leaves are much better at blending in with this healthy smoothie.
Frozen spinach often becomes bitter and is sold in large 10 ounce blocks. If you have the time to break it into smaller pieces, treat it like ice cubes in the top of the blender.
If you thaw it out, you can measure out roughly ½ cup of it to replace with the baby spinach.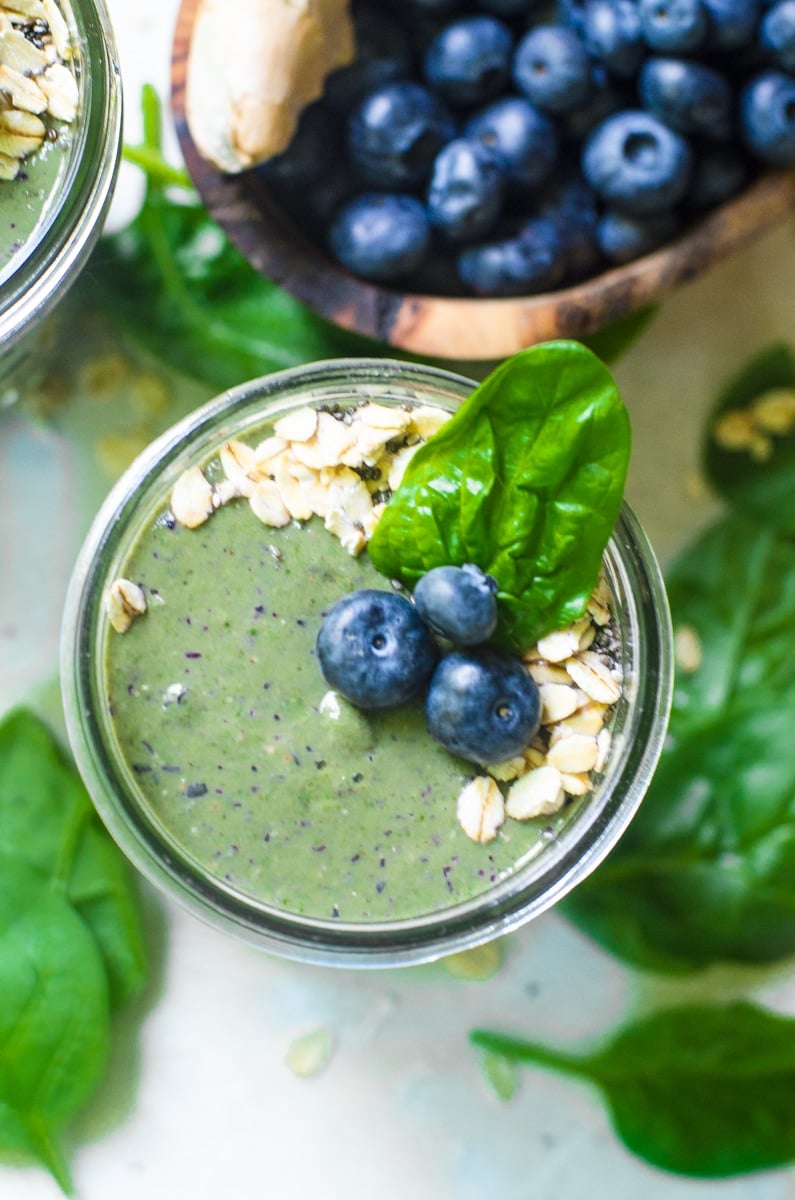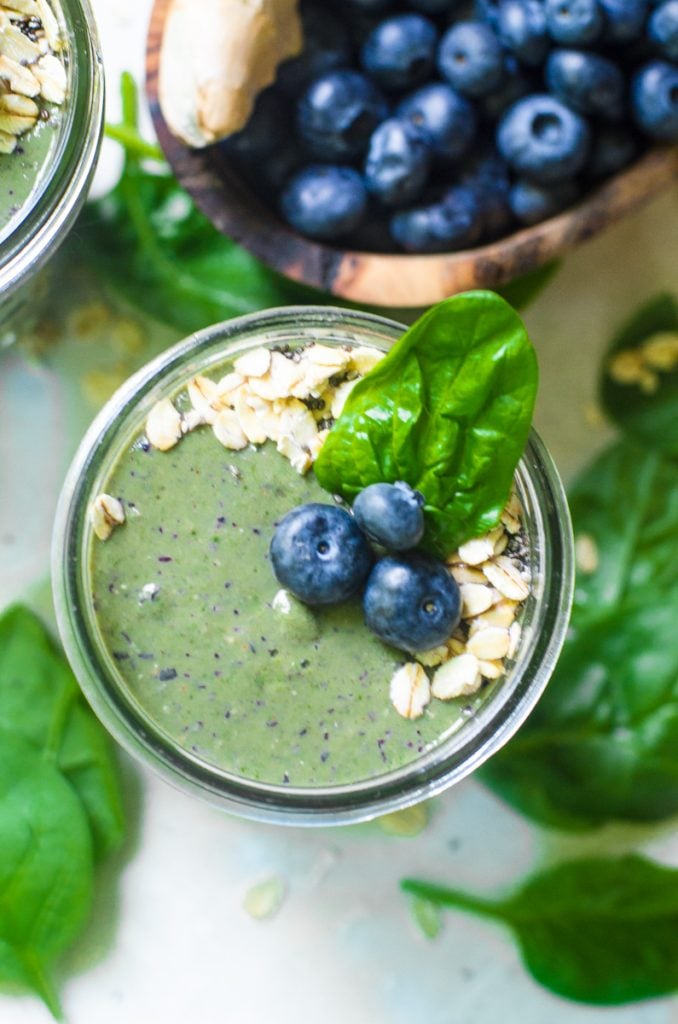 Can I Make It Dairy Free?
If dairy free is your goal, yes you can make this blueberry spinach smoothie that way.
It's easy to to trade the milk for almond or coconut milk, but the difficulty is in the yogurt. The bulk of the protein comes from the greek yogurt, which is not dairy free. So you need something to give the smoothie bulk. The chia helps keep the protein there.
To replace the yogurt, use half a banana to make a blueberry banana spinach smoothie. It can be frozen or fresh, whichever works for you.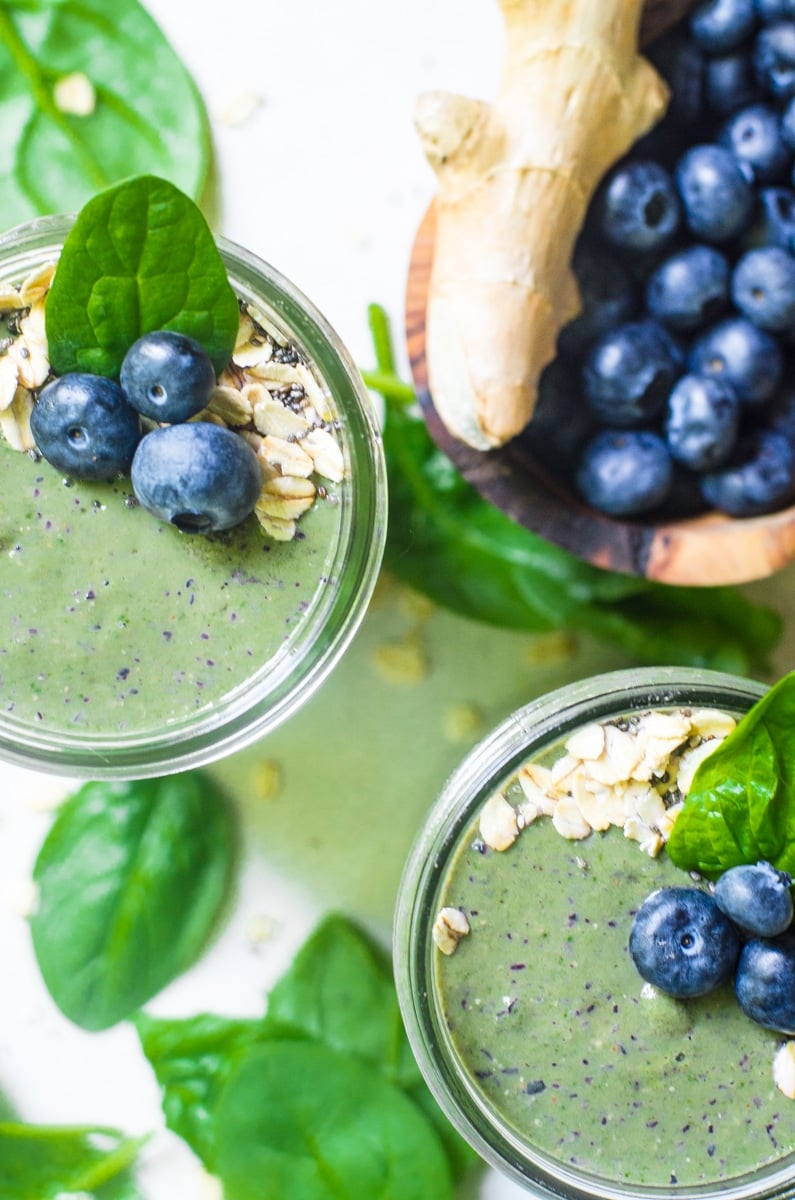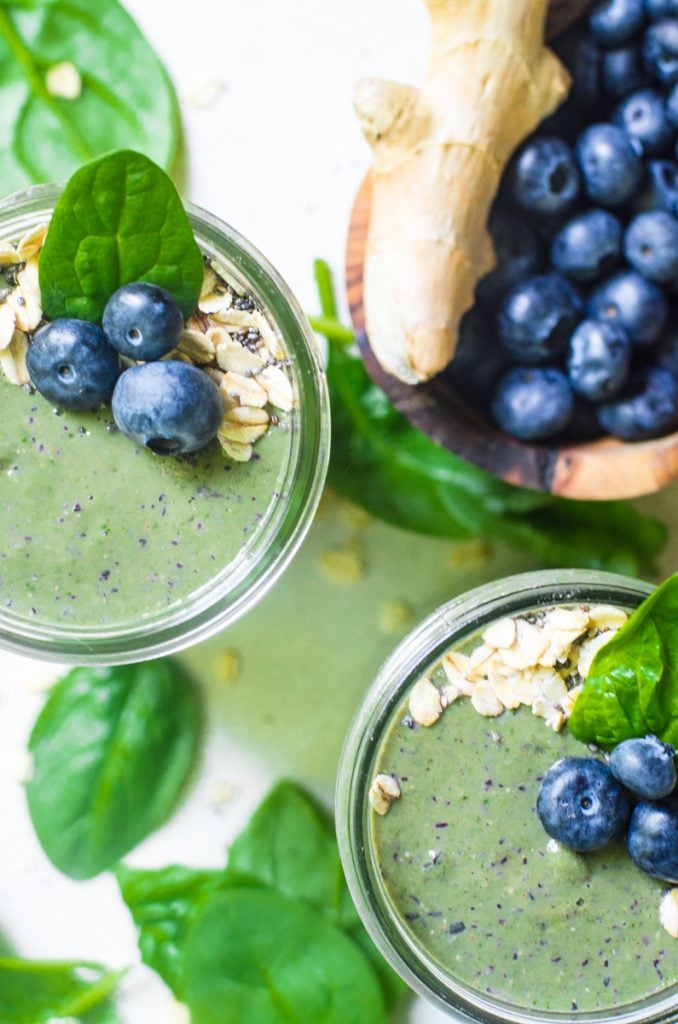 Blueberry Spinach Smoothie Recipe
If you're eating smoothies for breakfast, you want to reach for a desirable one that gives you everything you need. Loaded with protein for energy, this blueberry spinach smoothie has everything you need to start the day right.
---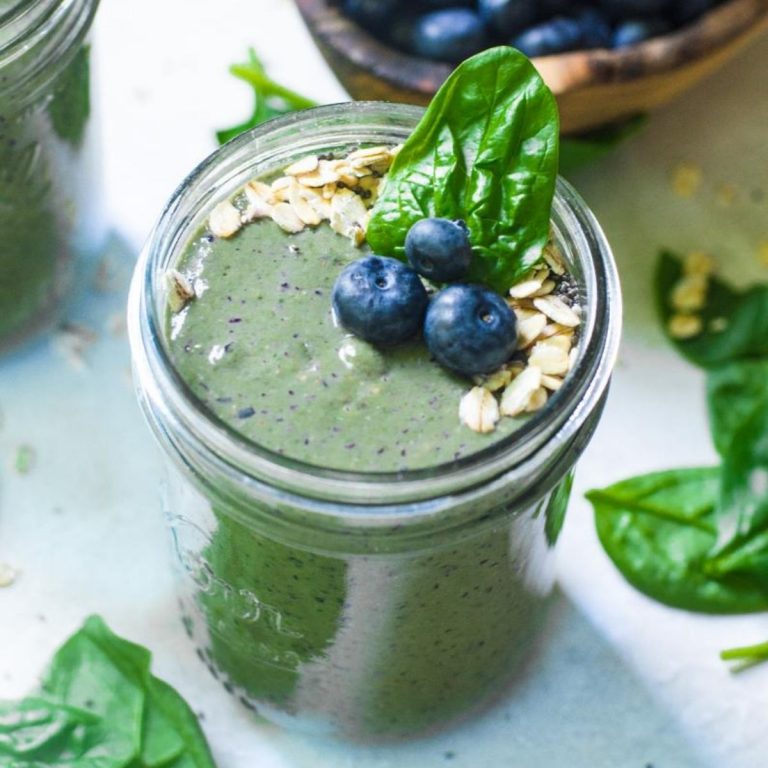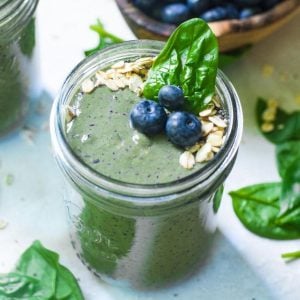 Blueberry Spinach Smoothie
Start the day with this simple green smoothie that is packed with everything you need for a healthy morning.
Pin it for later?
Ingredients
¾

cup

milk

5

ounces

greek yogurt

4

teaspoons

old fashioned oats

1

teaspoon

chia seeds

3

cups

baby spinach

,

lightly packed

1 ½

cup

blueberries

1-2

teaspoons

ginger

,

roughly chopped

1

lemon

,

juiced

1

orange

,

juiced

a pinch of salt
Instructions
In a blender, layer the ingredients exactly as listed. Blend on medium until completely smooth. About 1-2 minutes. Transfer to a mason jar and drink.
Notes
To make this colder, use frozen blueberries.
The blueberry spinach smoothie will thicken over time because of the chia seeds and oats.  Even though it jiggles like jello a bit, it is still easy to drink with a straw.
For a dairy-free smoothie see the notes in the post.
Nutrition
Serving:
1
serving
|
Calories:
254
kcal
|
Carbohydrates:
45
g
|
Protein:
15
g
|
Fat:
4
g
|
Saturated Fat:
1
g
|
Cholesterol:
11
mg
|
Sodium:
106
mg
|
Potassium:
789
mg
|
Fiber:
8
g
|
Sugar:
26
g
|
Vitamin A:
4517
IU
|
Vitamin C:
87
mg
|
Calcium:
293
mg
|
Iron:
2
mg
Tell me how much you love this recipe
and show off how you made it!