These delicious honey balsamic glazed carrots have a unique sweet and tangy flavor that keeps you coming back for more. Did I mention that they cook in 30 minutes?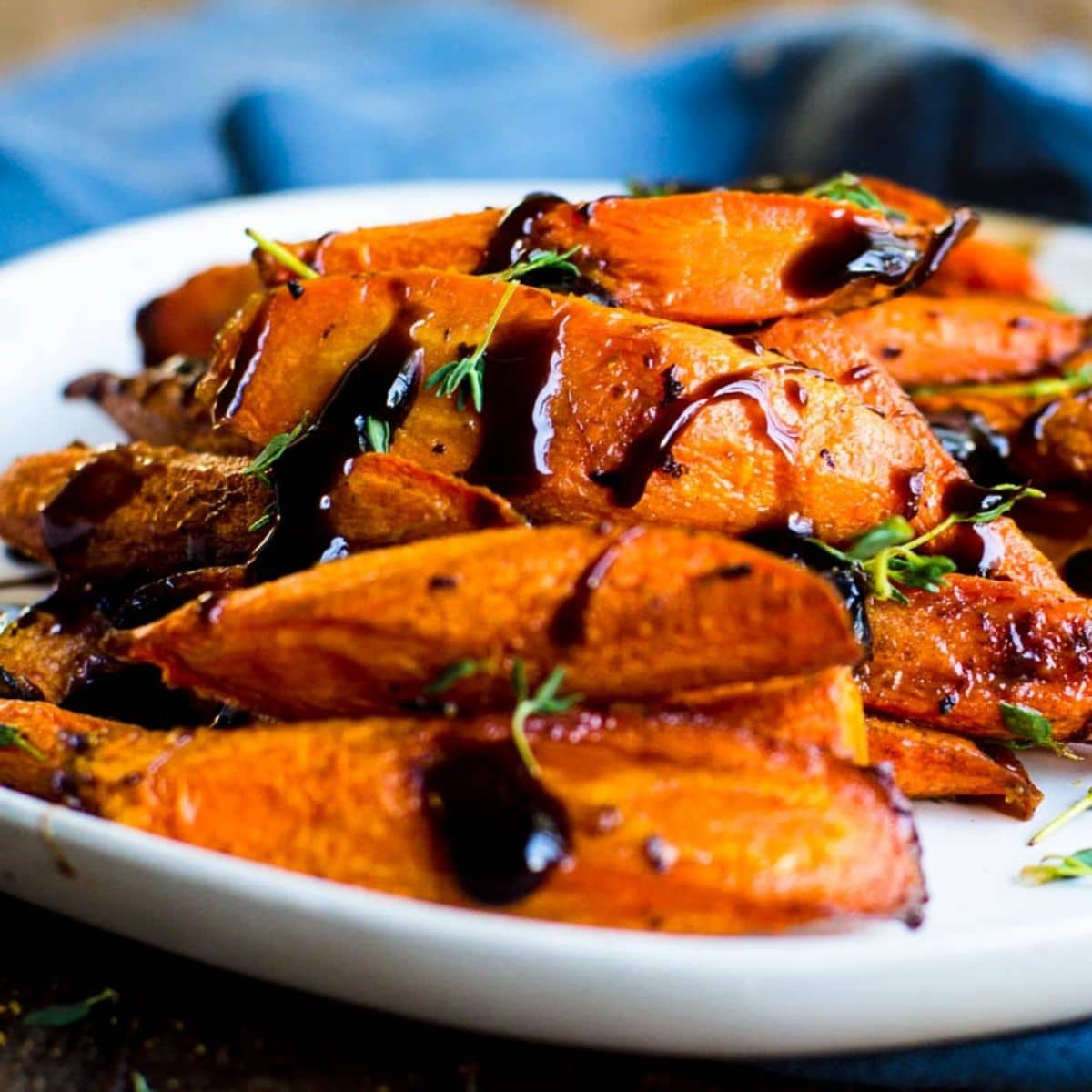 Why This Recipe Works
Roasted carrots are a tricky thing to make perfectly. Either they are too hard, too soft, or burn. They never seem to be "just right".
This honey balsamic glazed carrot recipe cooks the carrots to perfection by exposing more surface area to the heat. (Thank you extreme bias diagonal cut!)
Additionally, by adding in the fresh thyme leaves and a little orange zest to the balsamic glaze, you instantly have an elevated and awe-inspiring side dish that tastes like it took way more time than it did.
What's Goes Into the Recipe?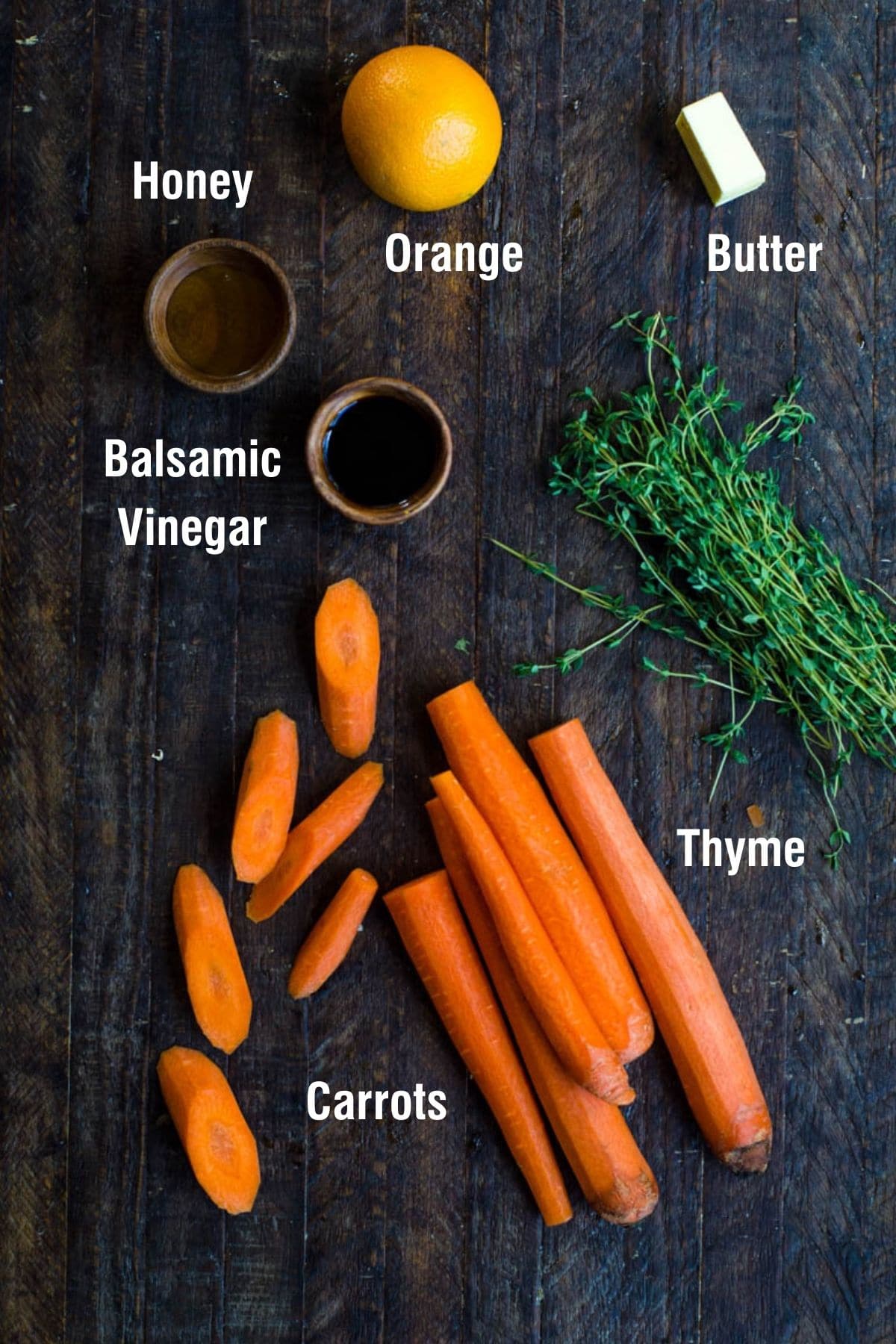 Carrots. This recipe works well with multicolored, standard orange, or even baby carrots. (Although those may take a little longer to roast.)
Butter.
Honey. Since there is orange zest in this recipe, orange blossom honey tastes exceptionally fantastic paired with it. It's not necessary to run out and get it though, any clover or wildflower honey does the trick.
Orange. You only need the zest for this recipe, so make sure it is an orange you have another purpose for or are happy to peel and eat afterward.
Thyme. Fresh is best if you can do it, but you can substitute it with 1 teaspoon dried.
Balsamic Vinegar. The vinegar is used to glaze the carrots in two ways, during cooking and for a thick reduction on top. Choose a high-quality balsamic for the glaze most flavor possible.
How To Make This Recipe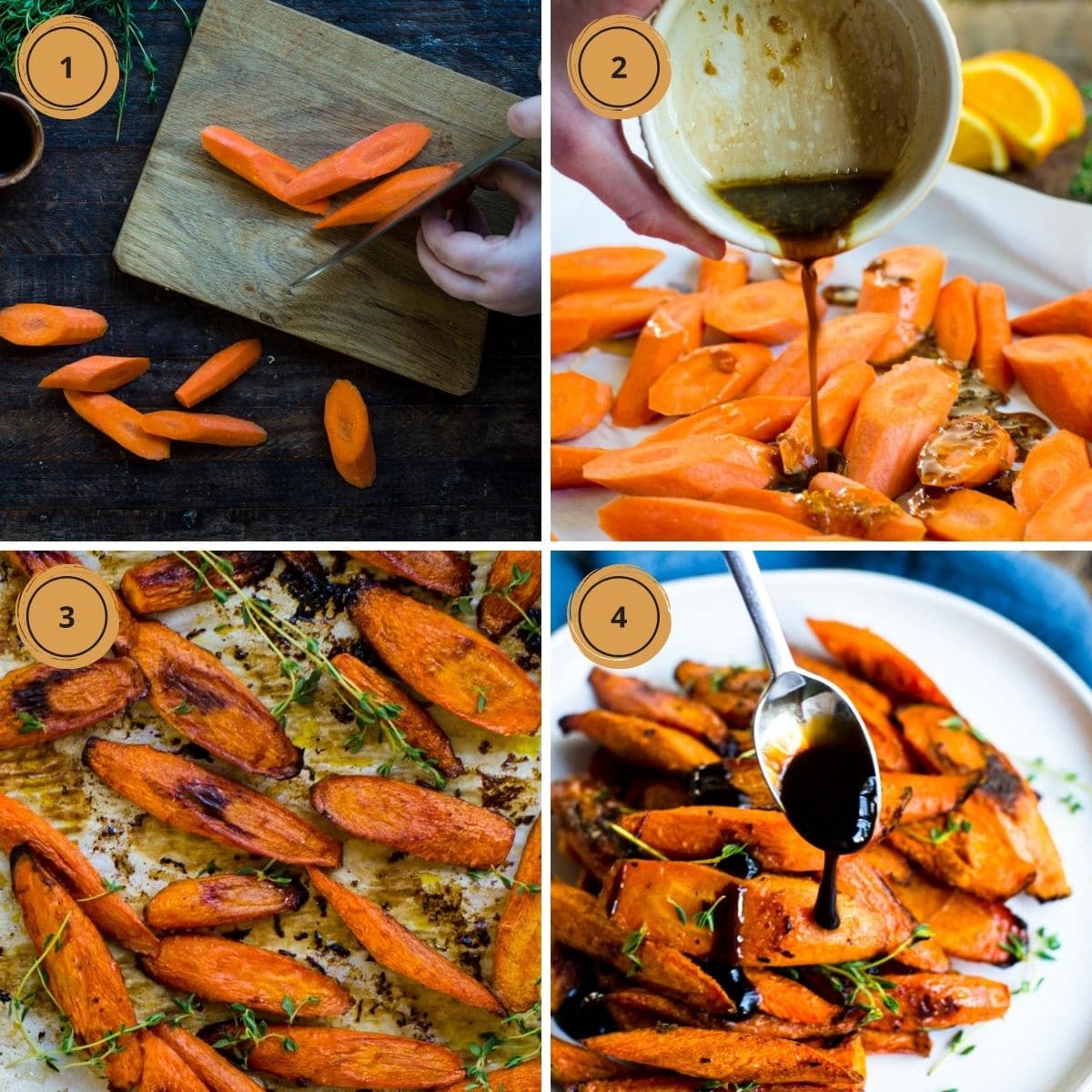 ---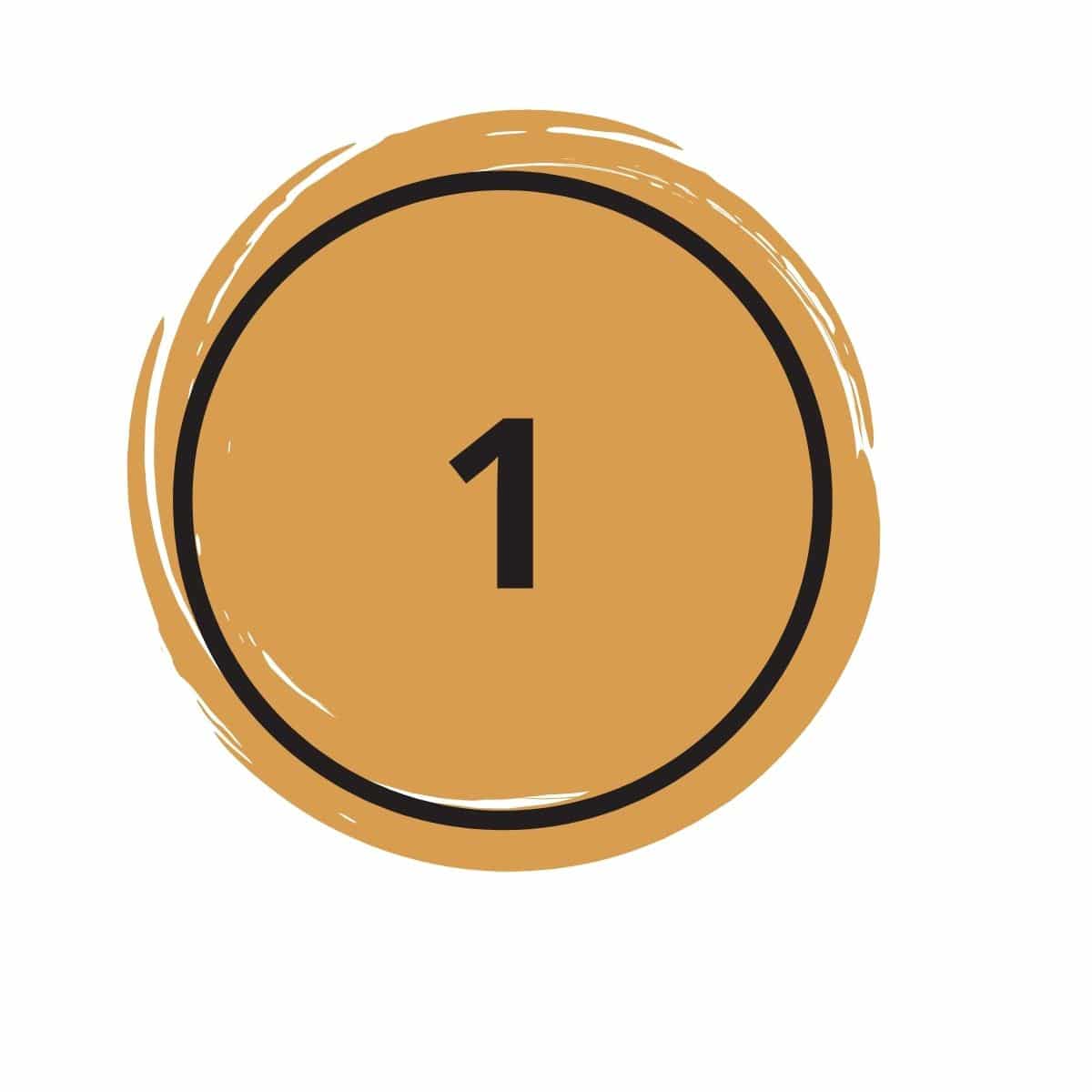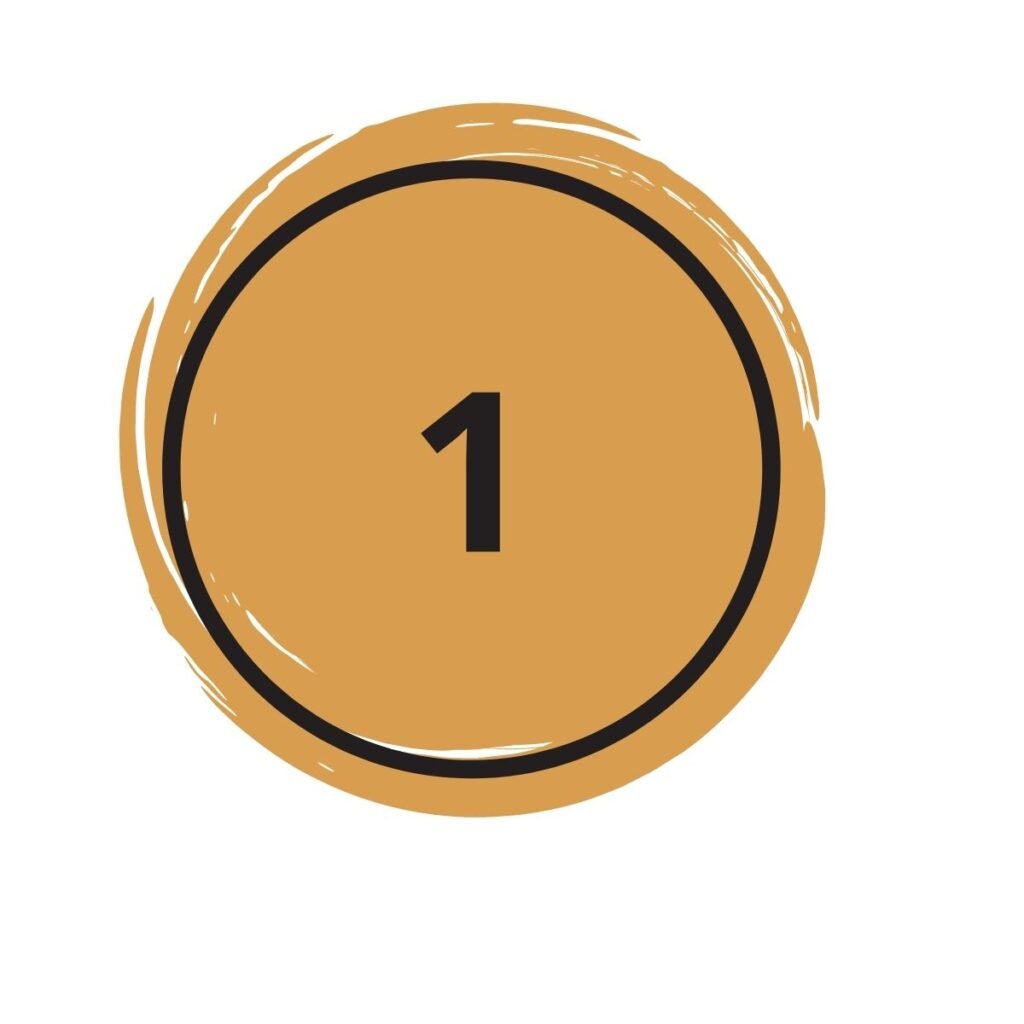 Preheat the oven to 425°F
Line a baking sheet with parchment paper and set it aside.
Peel and cut the carrots on an extreme bias (diagonal). Each cut should be about 1 inch wide, or the width of your pinky finger.
Transfer the carrots to the prepared baking sheet.
---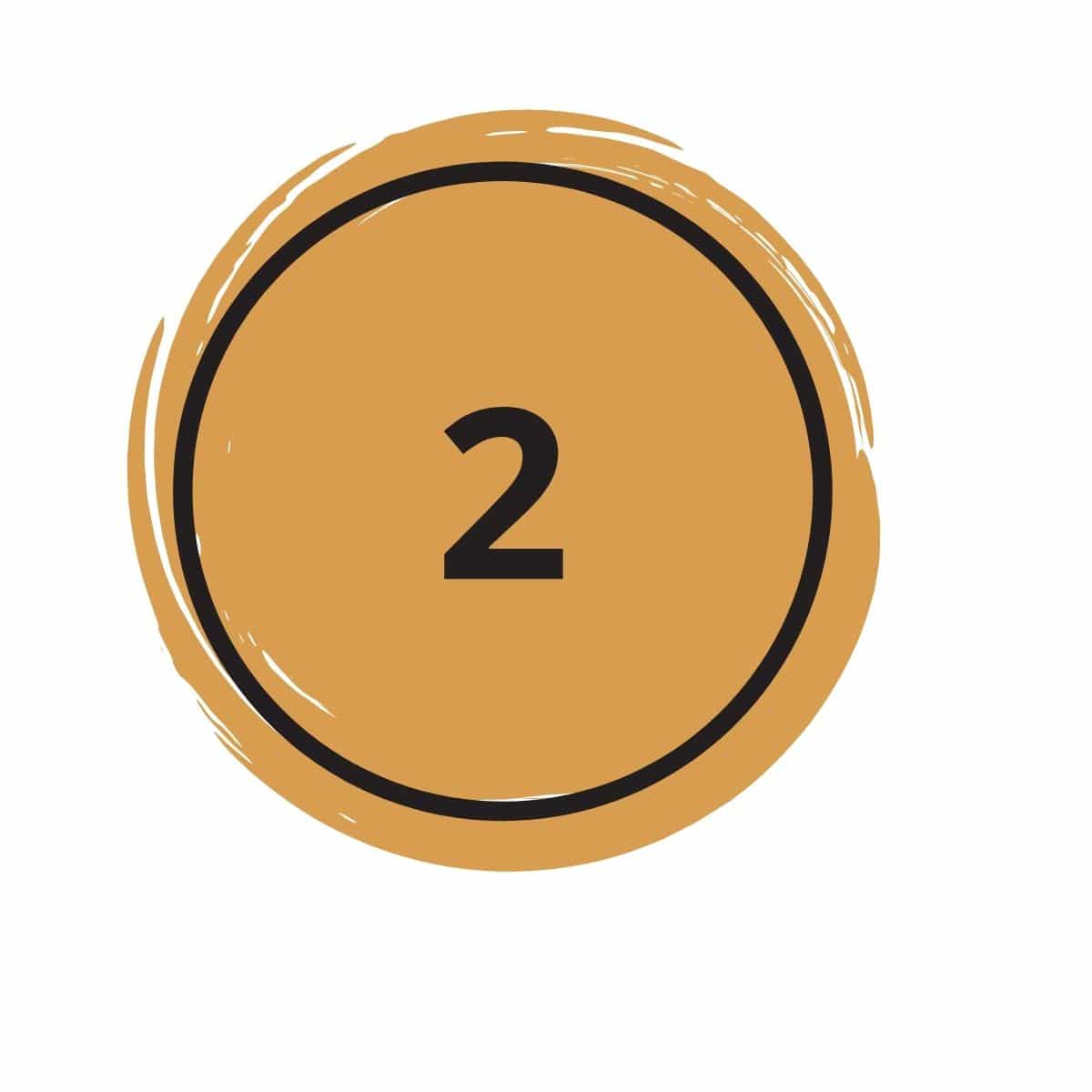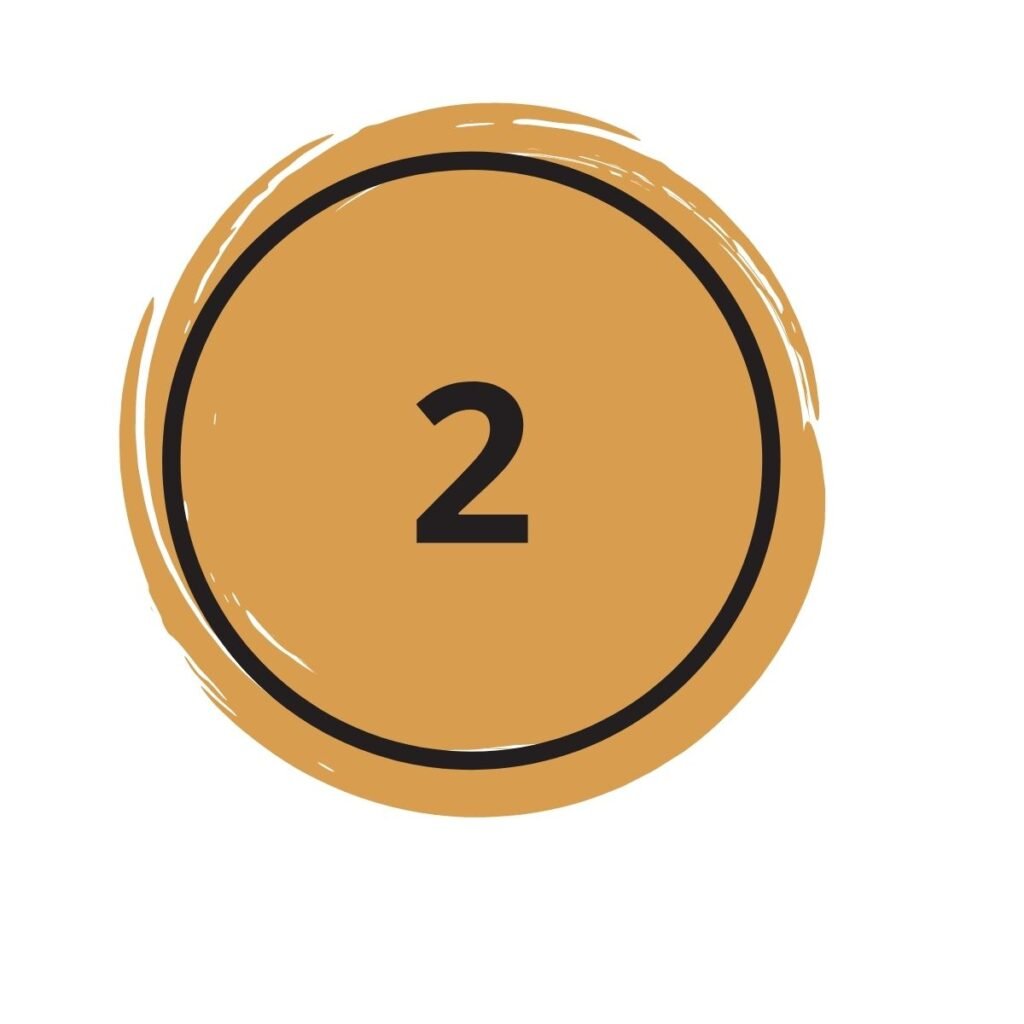 In a small bowl combine the melted butter, honey, thyme leaves, and 1 tablespoon of the balsamic vinegar.
Pour it over the carrots and gently stir the carrots around until they are all coated.
Roast the carrots for 15 minutes then flip and repeat on the other side.
---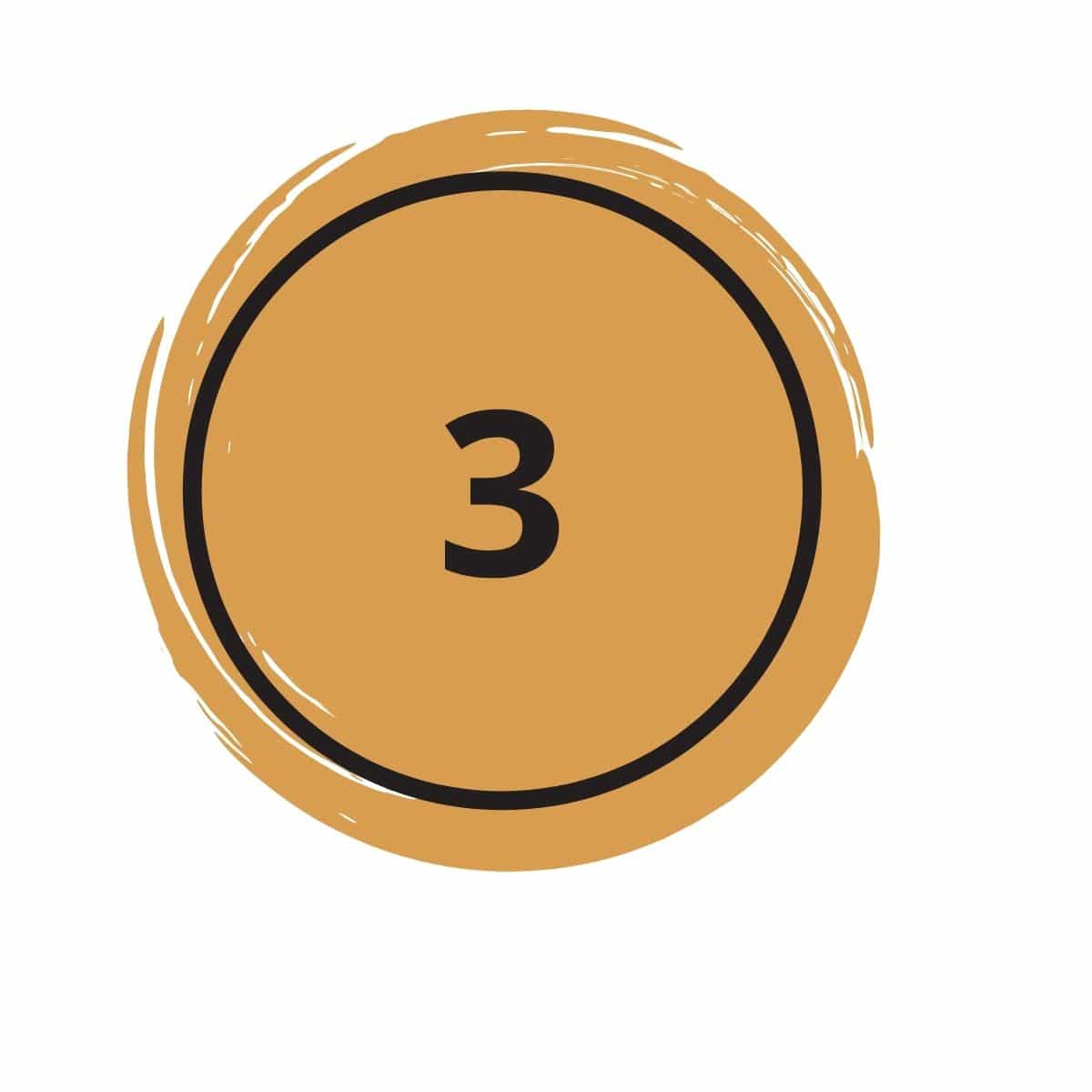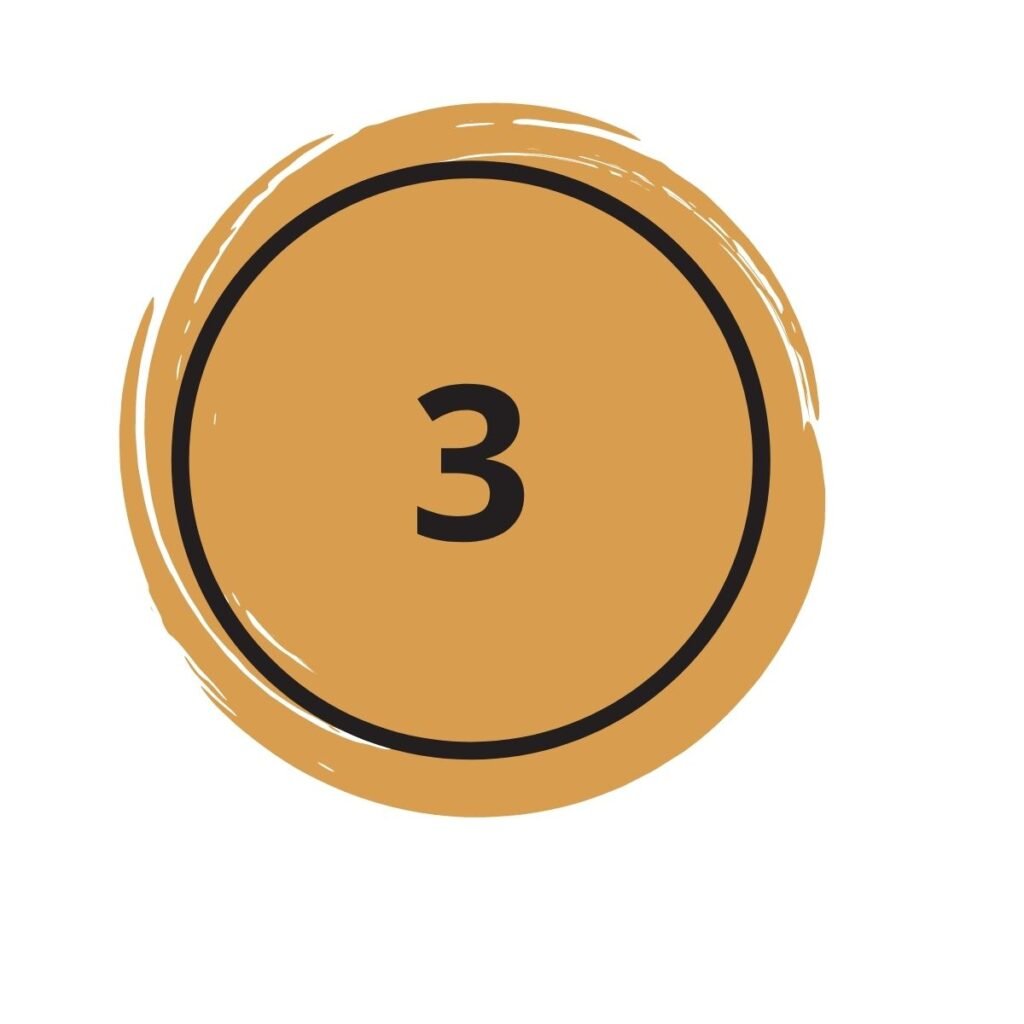 While the carrots roast for the second half you need to make the balsamic glaze.
Place the rest of the balsamic vinegar into a small, shallow pan over medium heat. Let it come to a boil then reduce to a simmer.
Let the vinegar reduce by two-thirds. Remove it from the heat and stir in the orange zest. Keep it warm until ready to serve.
---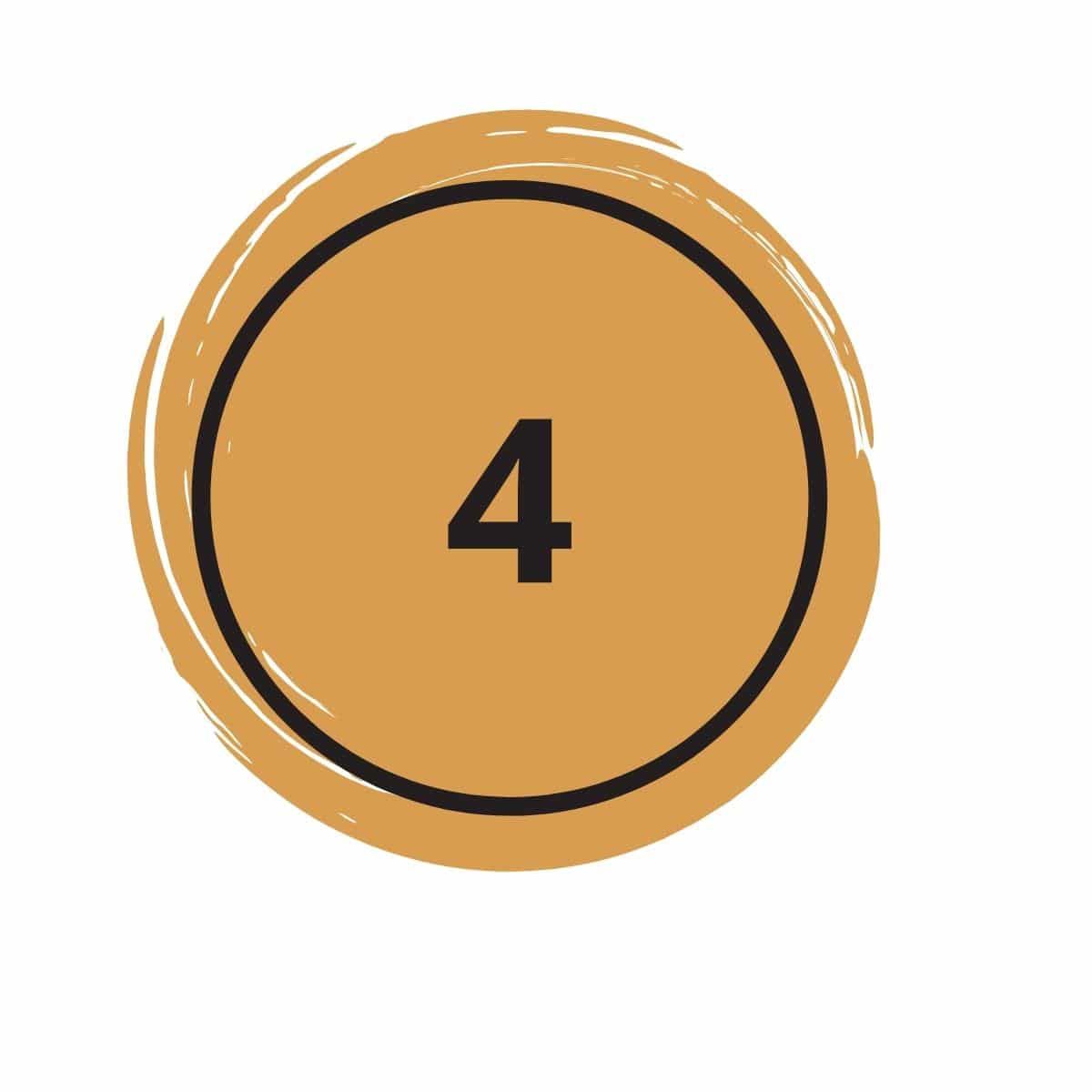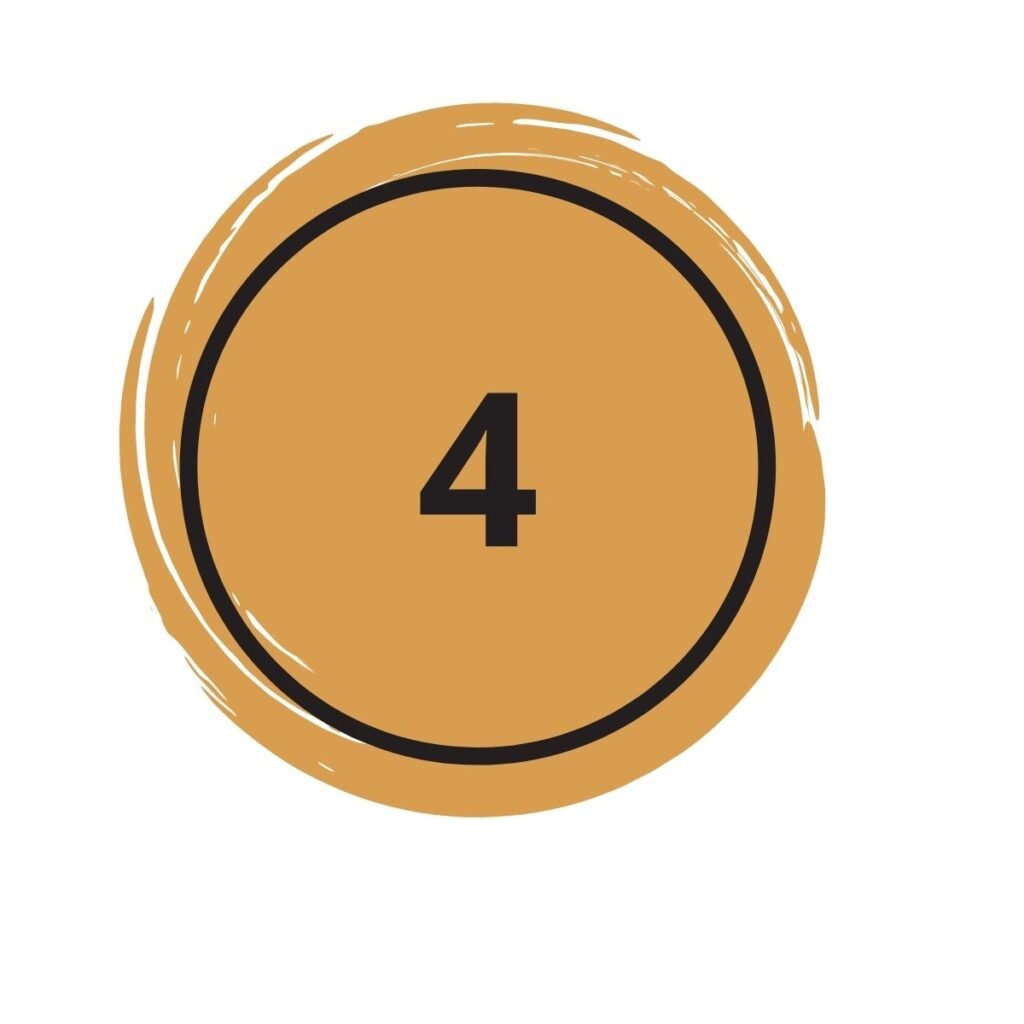 Once the honey balsamic glazed carrots are roasted, remove them from the roasting pan and drizzle them with the balsamic reduction right before serving.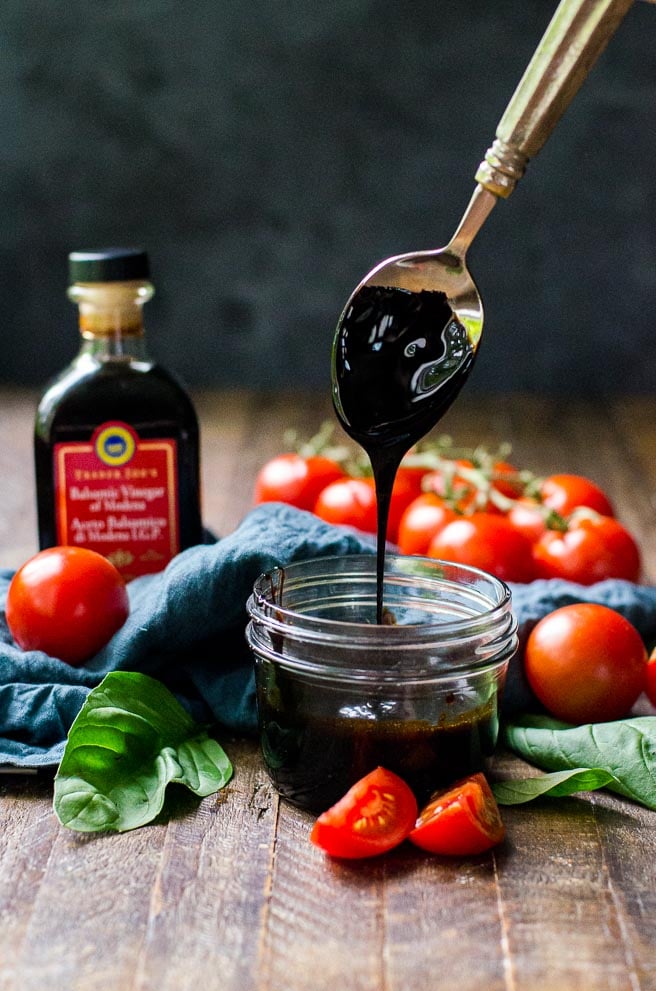 Expert Tips
The balsamic glaze doesn't look as thick as it is while still warm. Avoid the temptation to reduce it beyond the recommended two-thirds or it won't want to come out of the pan.
Putting the orange zest into the balsamic glaze right before serving helps it maintain its oomph. If you add it in at the beginning it loses some of its flavors and may also become bitter.
Substitute the fresh thyme with 1 teaspoon dried thyme if needed.
FAQ's
Is balsamic glaze the same as balsamic vinegar?
No, balsamic glaze is a reduction made by simmering out more than half of the liquid in the vinegar. This makes a surprisingly sweet and tangy glaze that is thickened to the consistency of school glue.
Can I use store-bought balsamic glaze?
You can, but it's not nearly as good. The store-bought glaze has extra ingredients added to make it shelf-stable, and these ingredients make it congeal in a way that is gloopy, off-putting, and not quite the same as homemade. Splurge for the extra dish to clean and make your own, it is SO MUCH better.
Should I peel carrots before roasting?
It's not entirely necessary to peel the carrots first because the peel is entirely edible. However, the peel can trap dirt and debris from growing, and is naturally a little bitter. If you choose to leave the peel on, make sure to scrub the carrots really well before cutting.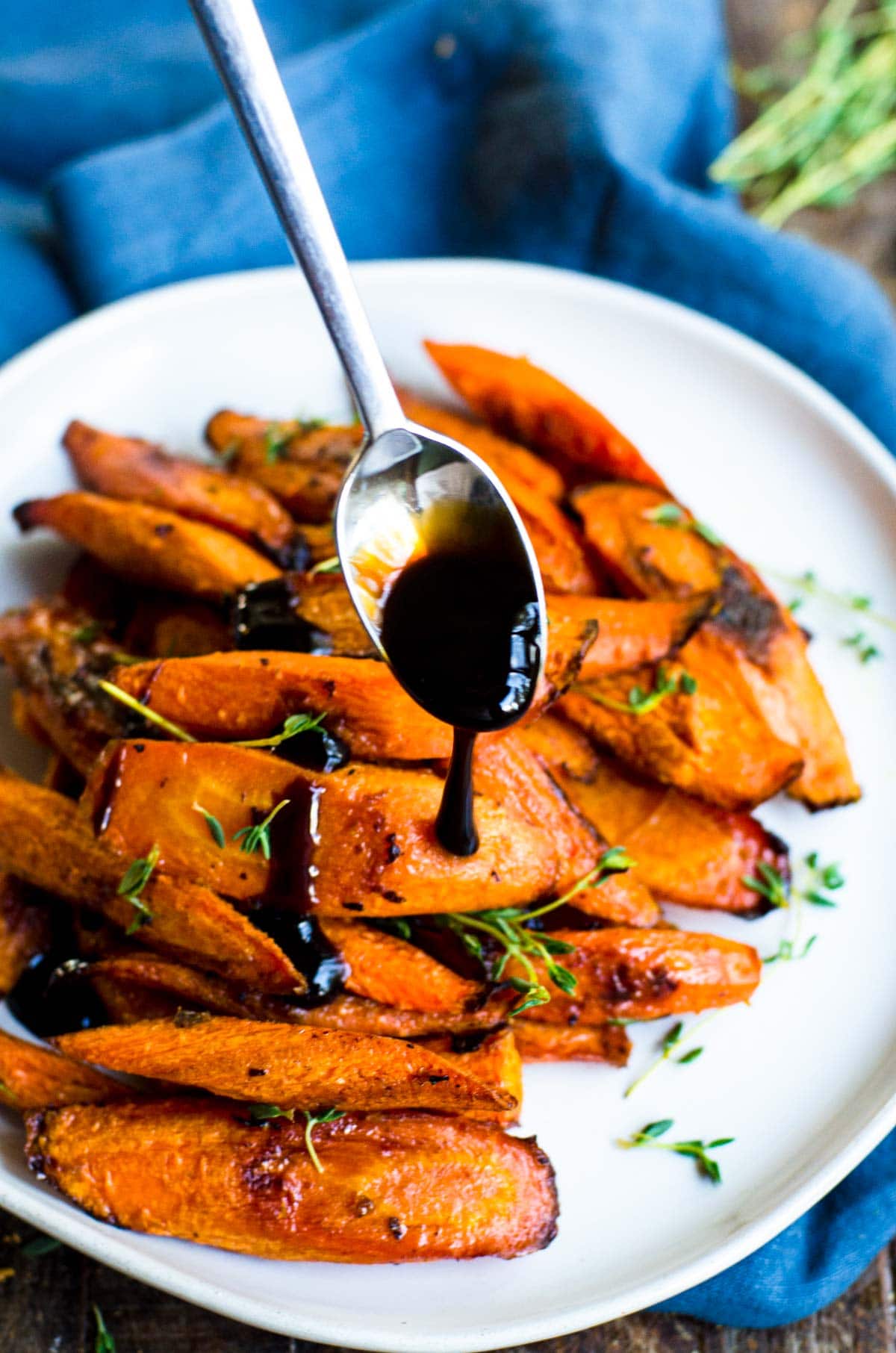 Related Recipes
These balsamic glazed carrots go exceptionally well with hearty meats, autumnal flavors, and as a side dish for Thanksgiving, Christmas, or even Easter. Some recipes I recommend to go with it are: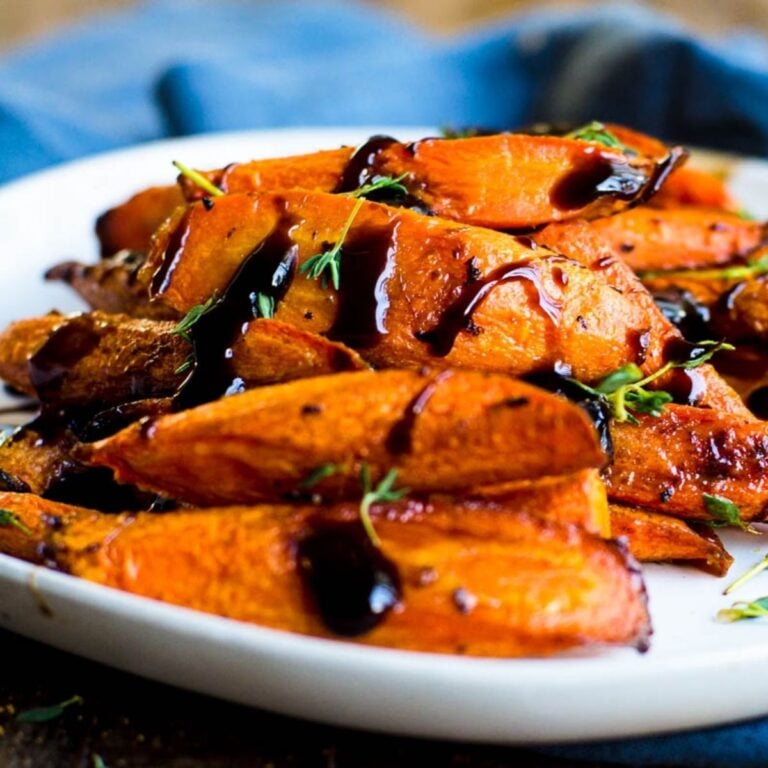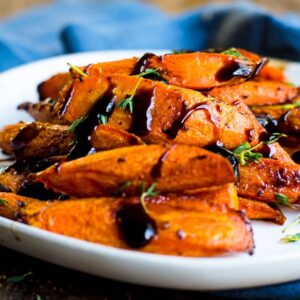 Honey Balsamic Glazed Carrots with Orange
These perfect roasted carrots have a sweet and tangy balsamic glaze added for a quick pop of flavor and extra oomph.
Pin it for later?
Ingredients
2

pounds

carrots,

peeled and cut into 1-inch pieces on an extreme bias

1

tablespoon

fresh thyme leaves

2

tablespoons

melted butter

2

tablespoons

honey

½

cup

balsamic vinegar

1

orange,

zested

salt and pepper,

to taste
Instructions
Honey Roasted Carrots
Preheat the oven to 425°F and line a baking sheet with parchment paper.

In a small bowl stir together the thyme leaves, melted butter, honey and one tablespoon of the balsamic vinegar.

Put the peeled and cut carrots onto the prepared baking sheet and toss them in the honey butter mixture. Season with salt and pepper.

Put them in the oven and bake for 15 minutes. They should be developing a golden-brown hue on bottom but not burning. Flip the carrots and roast another 15 minutes or until the carrots are al-dente.
Balsamic Glaze
While the carrots roast, put the rest of the balsamic vinegar into a small, shallow saute pan over medium heat. Bring to a boil and reduce to a simmer until the balsmic vinegar has reduce by two-thirds.

Stir in the orange zest and keep the reduction warm until the carrots are roasted. Drizzle over the carrots immediately before serving.
Nutrition
Serving:
1
serving
|
Calories:
222
kcal
|
Carbohydrates:
41
g
|
Protein:
3
g
|
Fat:
6
g
|
Saturated Fat:
4
g
|
Trans Fat:
1
g
|
Cholesterol:
15
mg
|
Sodium:
215
mg
|
Potassium:
850
mg
|
Fiber:
8
g
|
Sugar:
27
g
|
Vitamin A:
38313
IU
|
Vitamin C:
37
mg
|
Calcium:
114
mg
|
Iron:
2
mg
Tell me how much you love this recipe
and show off how you made it!