In just 30 minutes or less, you can make a balsamic reduction that is better than any glaze from the store. Enjoy it drizzled over a Caprese salad, on grilled pork chops, or even over ice cream.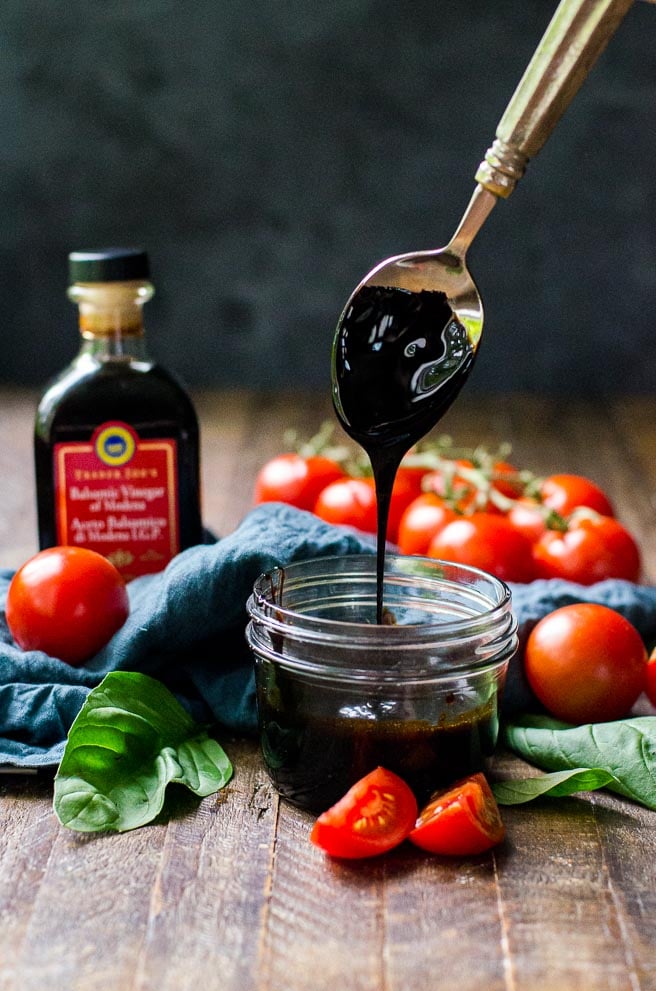 A light drizzle of balsamic glaze over a dish can elevate it to a new level of gourmet. And making a homemade balsamic reduction is so much easier than it seems.
The slightly sticky, sweet but still tangy sauce that works well on salads, cooked meats, appetizers, pizza, and even desserts. Find out how to make a balsamic reduction at home that has better flavor than anything from the store.
What Is Balsamic Reduction?
A balsamic vinegar reduction is a gluten free sauce or glaze made by simmering balsamic vinegar in a small saucepan until thick. The reduction is a sticky, sweetened liquid that pairs well with olive oil, fresh basil, brussels sprouts, ice cream and so much more.
Depending on how much you want to make and how high the heat is, this balsamic reduction recipe takes between 5 - 30 minutes to make.
What Kind Of Vinegar To Use
It can be difficult to strike a balance between buying really good quality ingredients, and affordable ones. No one wants to spend $40 on a bottle of vinegar that gets the nuances cooked out of it, am I right?
However, using a high quality balsamic vinegar means that your balsamic reduction can be sugar-free. The lower the quality, the higher the likelihood that you'll need a sweetener because it is more acidic.
Try to get a balsamic vinegar that is aged at least 6 months.
Are Balsamic Glaze and Reduction the Same?
If you make balsamic reduction at home, yes, they are the same. However, if you are buying it at the store, take a look at the ingredients. Occasionally, glaze has extra ingredients like brown sugar to help prolong shelf life or make it sweeter.
A really good balsamic glaze recipe should be made using only a high quality vinegar.
How To Thicken It
When you make a balsamic reduction at home, the best thickener is time and low heat. You can speed along the process by using a higher heat, but keeping it low maintains the quality of the balsamic vinegar.
For example, if you bring it to a boil then reduce the heat, it can ruin the flavor by giving it a toasted, burnt taste.
To thicken the balsamic vinegar, you:
Add the vinegar into a shallow, small saucepan.
Set the heat to medium low so it can continue to thicken slowly * See Note below.
Optional: Balance for sweetness by adding sugar or honey.
Transfer to a glass jar and store.
Also, keep in mind that a balsamic glaze looks very different warm than after it has cooled to room temperature. The reduction may look thin when it's in the pot, but it will thicken as it cools.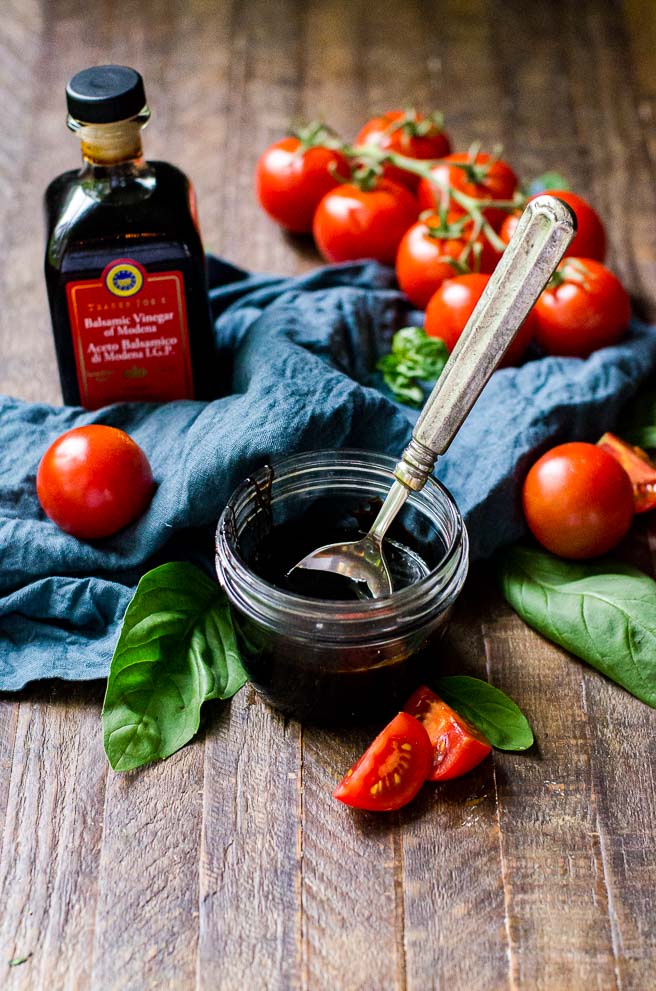 How To Thin It Out
Since it's difficult to tell how thick a balsamic reduction is while warm, it's easy to reduce it too much. The more the balsamic reduces the sweeter it gets. so you can thin it out by adding in a tablespoon of regular balsamic vinegar until the correct consistency is reached.
I recommend doing this at room temperature so you know what the thickness is going to be. If the extra vinegar is still too harsh for you, add one extra tablespoon and bring the sauce to a simmer. Turn off the heat, transfer to a container and let cool. This extra time over the heat will limit how acidic it is.
When To Stop Cooking The Glaze
The best time to stop cooking any balsamic glaze recipe is when it coats the back of a spoon without leaving spots as it drips off. Very similar to maple syrup.
This ends up reducing the vinegar by ⅓ - ½. It only takes about ten minutes to get there, depending on how high your heat is, so keep a close eye on the sauce.
Should I Sweeten It?
There are arguments about whether the flavor of a homemade balsamic glaze recipe should be sweetened. Some people use sugar, others use honey or maple syrup, but I vote neither.
When a really good balsamic vinegar is used, and the proper time taken to cook the balsamic sauce down, the natural sugars in the vinegar should do the trick on its own. Adding a sweetener should be a recovery move, not a step in the process.
How To Store It
The best way to store a homemade balsamic reduction is in an airtight container in the refrigerator. Kept this way, it will stay good for up to three months.
My favorite way to do this is in a squeeze bottle. If it doesn't have a cap, you can put a layer of plastic wrap between the bottle and the screw on top to keep it airtight. By keeping it in the squeeze bottle, it is always ready to use. Just let it sit out at room temperature for about 15 minutes before use so it flows nicely.
Ways To Use Balsamic Glaze
While the most common way to use a this sauce is with fresh basil, its uses go far beyond. Now that you know how to make a balsamic reduction, put it to use with one of these fantastic recipes.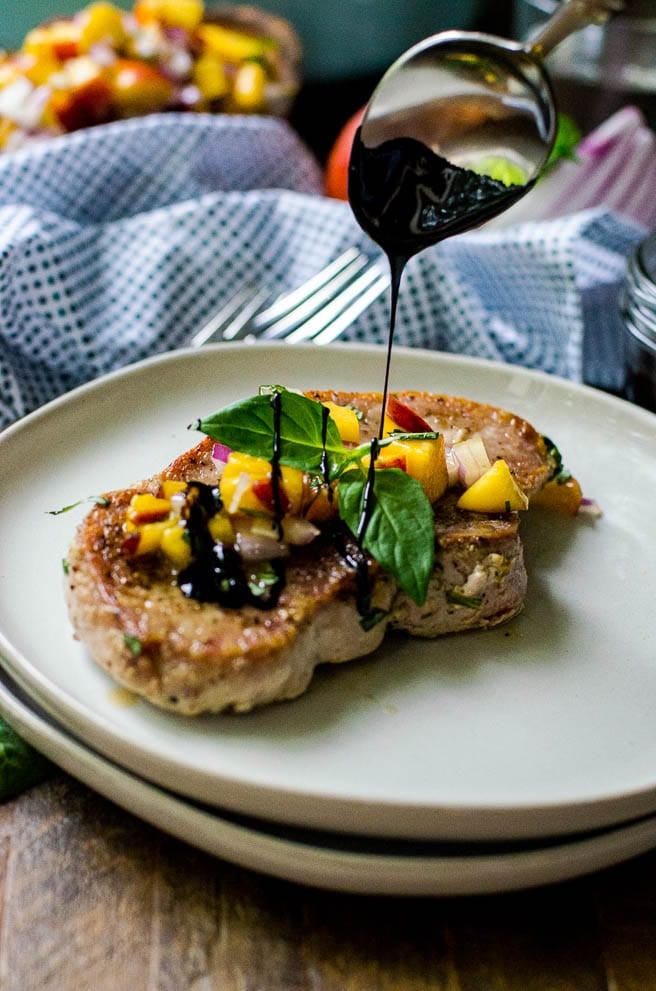 Balsamic Reduction Recipe
Since a this sauce is really just simmered balsamic vinegar, there isn't much of a recipe. If you would like to take your balsamic reduction recipe up a level, you can infuse it with other flavors by simmering in the ingredients.
Some of my favorites are fresh orange zest, grated ginger, or culinary lavender. Depending on the flavor profile of what you're infusing, you may need to balance it with a tablespoon of honey to keep it from being too acidic.
Thanks so much for stopping by!
Happy Cooking! 🙂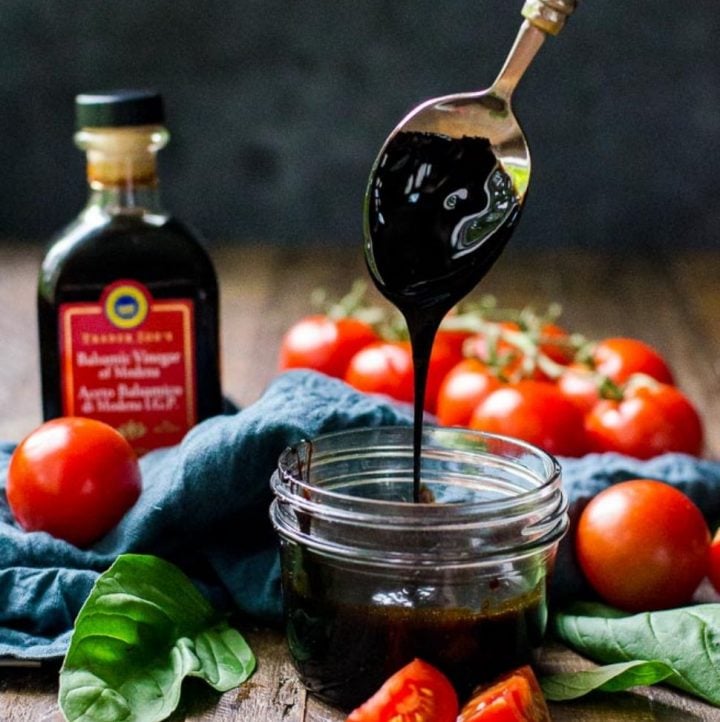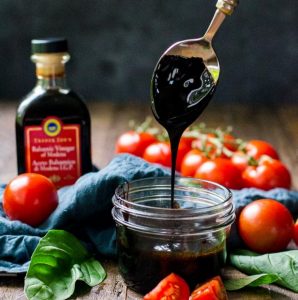 Perfect Balsamic Reduction Sauce
Drizzle this reduced balsamic vinegar glaze over salads, cooked meats, or desserts for a sweet and tangy burst of flavor.
Pin it for later?
Ingredients
2

cups

balsamic vinegar

1-2

Tablespoons

fresh herbs or spices for infusion

,

optional
Instructions
In a small sauce pot over medium low heat, bring the balsamic vinegar and optional flavors to a simmer. Let cook for 10 - 30 minutes or until reduced by at least one third. It should coat the back of a spoon and have a consitency similar to maple syrup.

Remove it from the heat transfer the balsamic glaze to a heat safe container to cool. (Strain out any solids from infusing before cooling) It will thicken significantly as it cools.
Notes
Some ideas for flavors to infuse include: orange zest, culinary lavender, crushed cumin, freshly cracked black pepper, jalapeno, Bourbon, cucumbers, etc...
Nutrition
Serving:
1
serving
|
Calories:
28
kcal
|
Carbohydrates:
5
g
|
Protein:
1
g
|
Sodium:
7
mg
|
Potassium:
36
mg
|
Sugar:
5
g
|
Calcium:
9
mg
|
Iron:
0.2
mg
Tell me how much you love this recipe
and show off how you made it!