Whether you want to use this homemade pineapple juice recipe for helping with a cough, mixing a cocktail, general health benefits, or a refreshing drink, it is incredibly easy to make. Find out how to make pineapple juice without a juicer and you'll never buy canned again.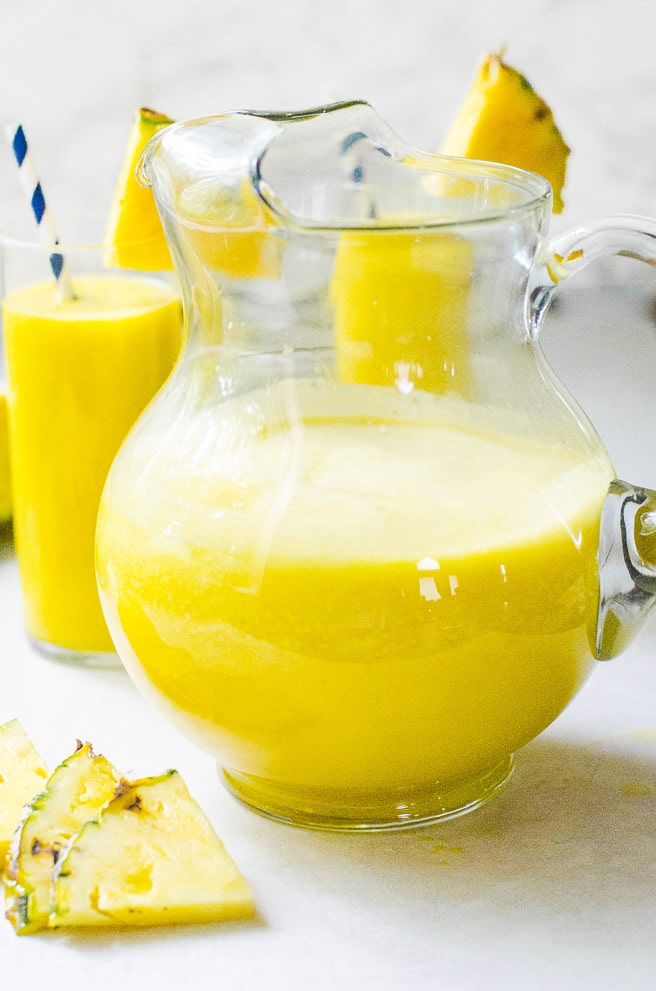 Fresh pineapple juice is infinitely better than store bought. Even the not from concentrate stuff has nothing on the homemade stuff. This homemade, fresh pineapple juice is bright, perfectly sweet, and great for drinking straight or mixing into cocktails. Plus, it only takes about 10 minutes of your time to make, and costs about the same as the processed juice.
How Much Juice Do You Get From A Pineapple?
In order to get the correct consistency for pineapple juice, you need to add water before blending. (And maybe even a little after, if your pineapple is large.) So once the process is done, a standard pineapple yields about 1 quart of pineapple juice without pulp. If you don't mind the thicker consistency of pulp, you get about 3 quarts of juice.

How Long Does Pineapple Juice Stay Fresh In The Refrigerator?
Since there are no preservatives in this homemade pineapple juice recipe, it will stay fresh for about 5-7 days. The natural acid and the hint of (optional) sugar work to help prolong the life of it, but make sure to store it in an airtight container. It does have a tendency to take on refrigerator smells pretty quickly if left exposed.
How To Make Homemade Pineapple Juice Concentrate
If you want to make your own homemade pineapple juice concentrate, the recipe is just as easy. Instead of adding 1 cup of water during blending, add only enough to get the pineapple blended.
Once strained, store your concentrate in a freezer bag for up to a year. Make sure to write the instructions on the bag so you don't forget how much water to add when you are ready to turn the concentrate into pineapple juice.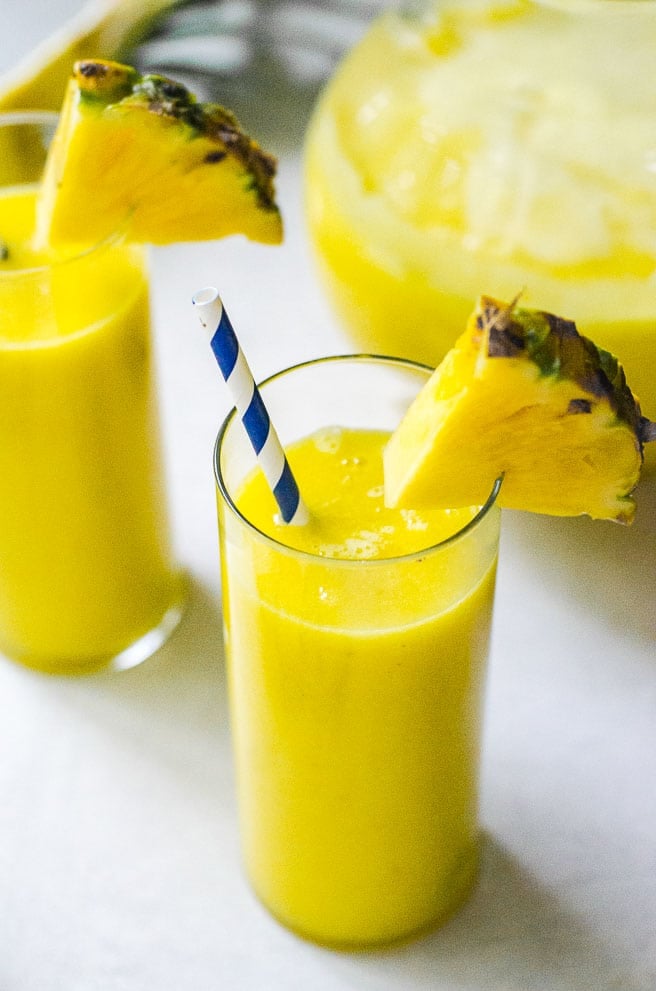 Ways To Use Fresh Pineapple Juice
This fresh pineapple juice recipe is great to drink no matter what. I love serving it as an alternative to lemonade in the summer. It takes significantly less work, but is just as refreshing.
Here are some of my favorite ways to use homemade pineapple juice:
How To Pick A Ripe Pineapple
There are two main ways to check to see if a pineapple is ripe. The first is to smell the bottom of the pineapple. It should smell fragrant and fresh. If it smells a little bit dirty or musty, the pineapple is getting old.
The second method is to tug at the fronds. A really ripe pineapple will release a frond or two when pulled on. This one isn't super reliable in my opinion, but some people prefer it to sniffing the bottom.

How To Make This Pineapple Juice Recipe
The orange zest and salt in this recipe really helps round it out and give it extra pop. For a more tropical flavor, add the orange juice as well.
A really ripe pineapple will be sweet enough of its own, but if you choose to add sugar, make sure to taste the puree before straining. It will be easier to add in extra sugar at this point rather than after straining.
---
Want a printable grocery list for this homemade pineapple juice recipe? Get it here. Everything is listed in standard grocery store amounts. If no size is specified, even the smallest package will provide more than enough.
Thanks so much for stopping by!
Happy Cooking! 🙂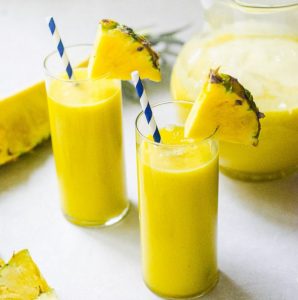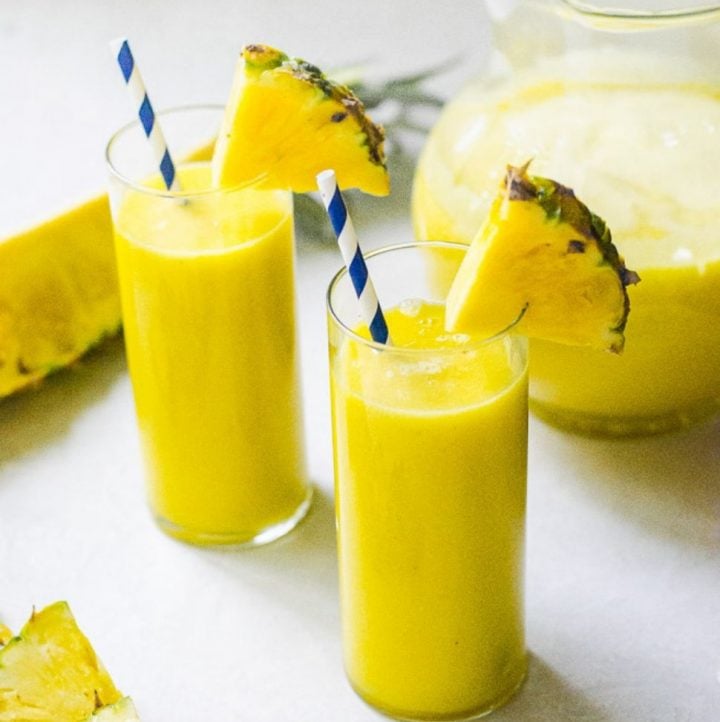 Fresh Pineapple Juice Recipe
This easy pineapple juice recipe is a great replacement for lemonade. It's just a refreshing and takes significantly less work! Plus, it tastes great in a cocktail!
Pin it for later?
Ingredients
1

ripe pineapple

1

cup

water

1

orange

,

zested

2

pinches of salt
Instructions
Use a sharp knife to peel the pineapple. Cut around the core to make pineapple wedges and discard the core. Cut the wedges into large chunks.

Add the pineapple chunks, water, and orange zest into a blender. Blend until smooth.

Place a fine mesh sieve over a bowl and strain the juice to remove any fleshy pieces. Dilute with additional water if needed.  Pour the juice into serving glasses filled with ice cubes and garnish with fresh pineapple slices or wedges.  
Nutrition
Serving:
1
cup
|
Calories:
86
kcal
|
Carbohydrates:
22
g
|
Protein:
1
g
|
Fat:
1
g
|
Saturated Fat:
1
g
|
Sodium:
133
mg
|
Potassium:
204
mg
|
Fiber:
3
g
|
Sugar:
17
g
|
Vitamin A:
135
IU
|
Vitamin C:
83.7
mg
|
Calcium:
28
mg
|
Iron:
0.4
mg
Tell me how much you love this recipe
and show off how you made it!