This Meyer lemon cheesecake with ultra creamy lemon curd is the ultimate sweet treat. Dreamy and light, the flavors are perfectly balanced.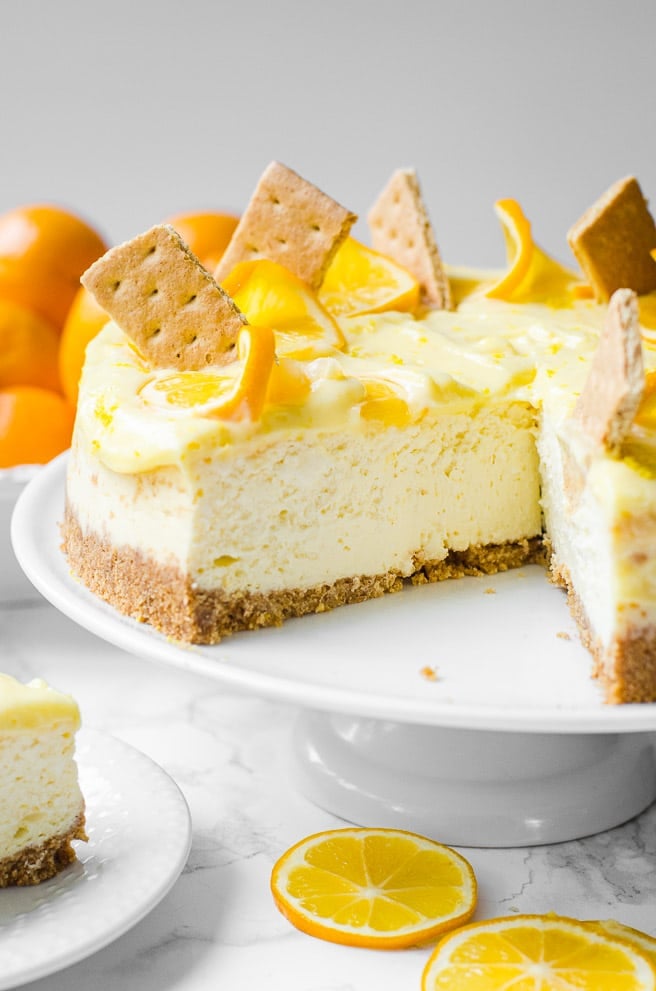 I love lemon desserts, but they often tend to be too sweet and not at all tart. This Meyer lemon cheesecake recipe makes the best combination of the two by using sweeter lemons instead of more sugar. This will quickly be your new favorite cheesecake recipe!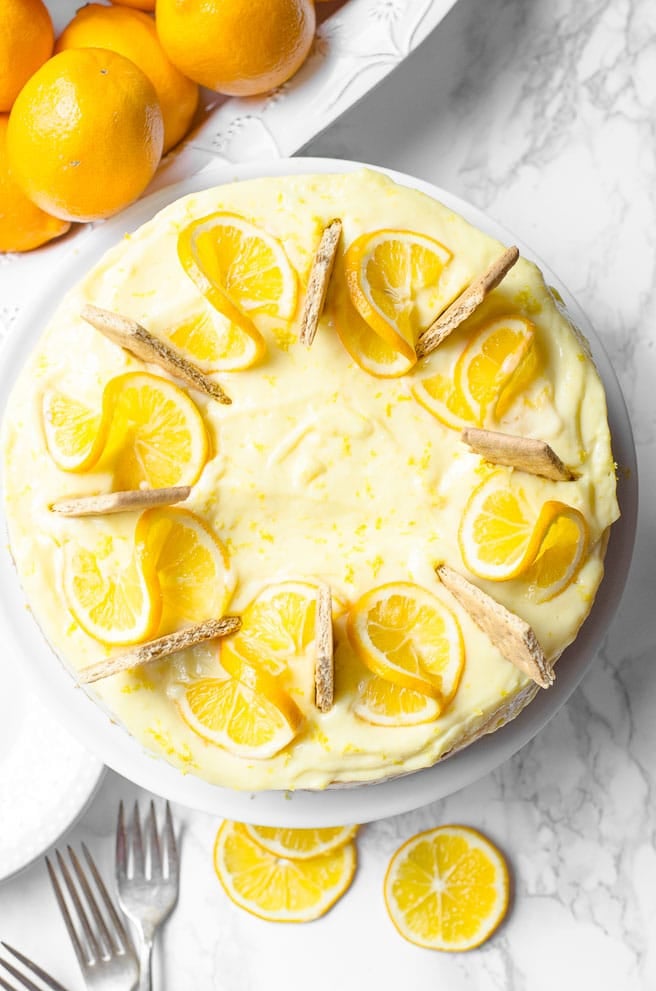 What Are Meyer Lemons?
A hybrid between tart lemons and mandarin oranges, Meyer lemons are a sweeter lemon variety. The skin is even a little sweet, so it makes a great lemon zest for garnishing because it has a lot of flavor without being tart or bitter.
Meyer lemons are in season during midwinter, so they often show up from January through March. They do tend to be slightly more expensive than traditional lemons, but they have exceptional flavor.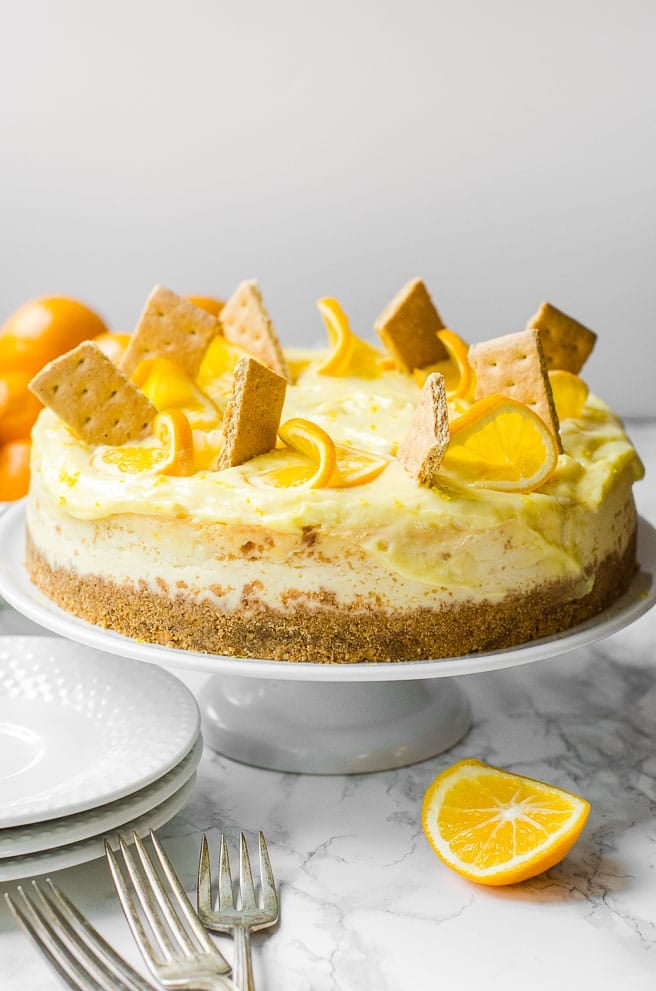 How To Make A Water Bath For Cheesecake
Cheesecakes bake best when there is a steam in the oven to provide moisture. This keeps the cheesecake from getting rubbery and cracking.
You don't need to make a super deep water bath, only a couple of inches, but before you fill up your springform pan, make sure it fits comfortably inside of dish that is at least 2 inches deep. Once you have filled the springform pan with the cheesecake filling, place it into the baking dish and add in an inch of hot tap water.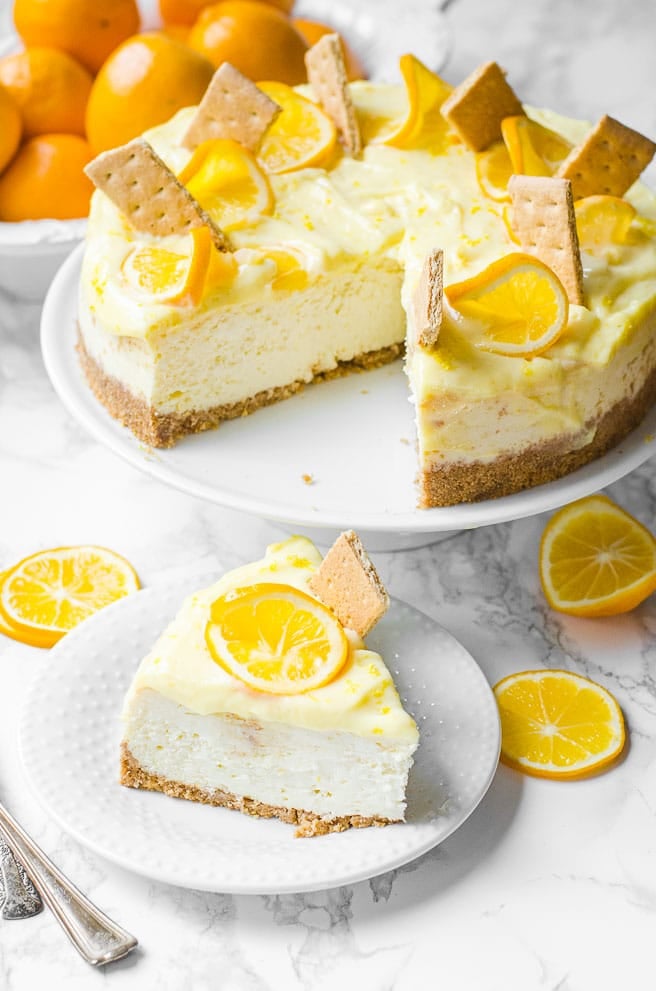 Why is the Lemon Curd So Pale?
If you've made traditional lemon curd before, this one may look a little different or like you didn't make it correctly. Don't stress! There's a reason for this.
Most traditional lemon curd recipes are made using ONLY egg yolks. This gives you that super bright yellow kinda translucent looking lemon curd. This recipe however leaves just a few egg whites in it to give it more of a frothy and light texture. This matches the texture of the cheesecake really well instead of giving it an egg heavy curd.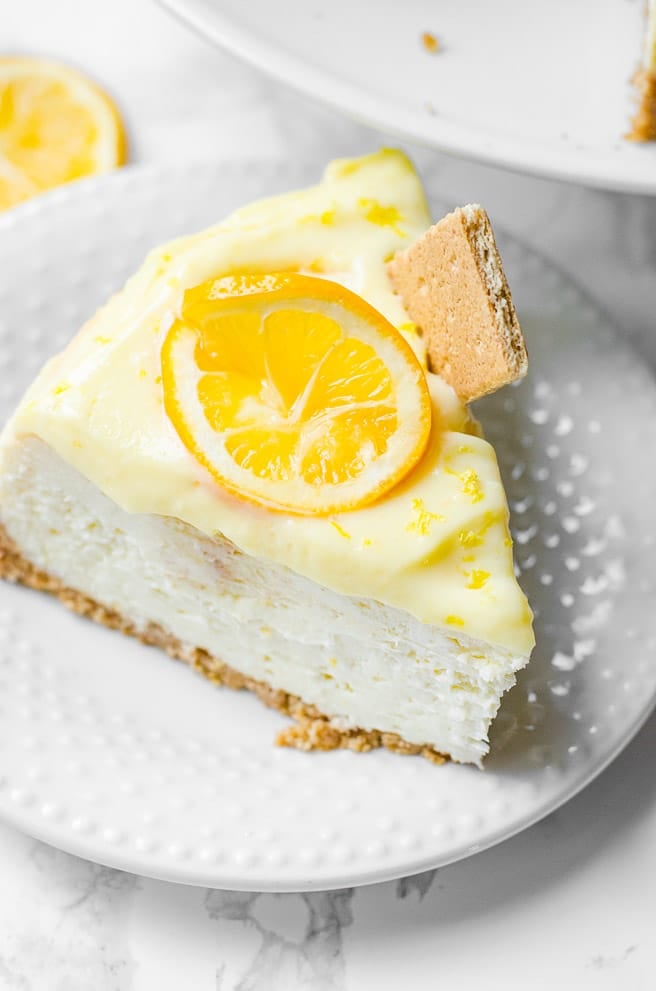 Do I Need A Springform Pan?
I highly recommend using a springform pan because it is the best way to keep the water bath  from leaking into your cheesecake. It also makes it really easy to remove the cheesecake from the pan without damaging its shape or appearance.
If you don't have a springform pan, you can line a cake pan lined with parchment paper to help remove it from the inside. You may get some folds that cause indentations in your cheesecake, but that's better than trying to remove it and getting cheesecake crumbles.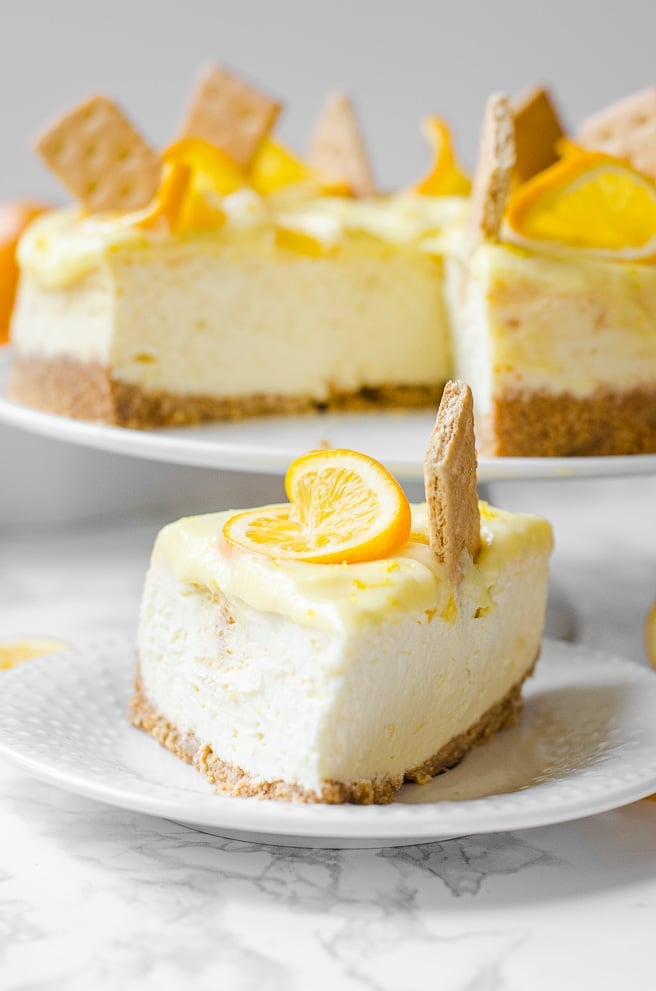 Professional Recipe Tips for Meyer Lemon Cheesecake
Use room temperature eggs for a smooth cheesecake filling. After you've gone through the effort of softening the cream cheese, you don't want it to seize up by adding in cold eggs. This can cause cracks and uneven baking. Read about why you should bake with room temperature eggs for more information.
Don't waste money on unripened lemons. The season for Meyer lemons is short, so you don't want to waste time and money on citrus that isn't ripe. Check out my guide for buying citrus for in-depth explanation on how to tell if your lemons are ripe.
Get the most Meyer lemon juice with a quality juicer. Get your money's worth out of your lemons by using a handheld juicer. If you don't have one to use, check out my citrus squeezing hack for in a pinch.
Use a low speed on a stand mixer. The higher the speed of your stand mixer, the more air beats into the cream cheese. This may seem like it will make the filling fluffy, but it actually can make the cheesecake filling fall and crack during cooling. Protect your Meyer lemon cheesecake by using the lowest speed possible for mixing.
DO NOT skip chilling. The 4 hours of chilling time is essential for the cheesecake to set up properly. Do not skip it or the texture will be completely off.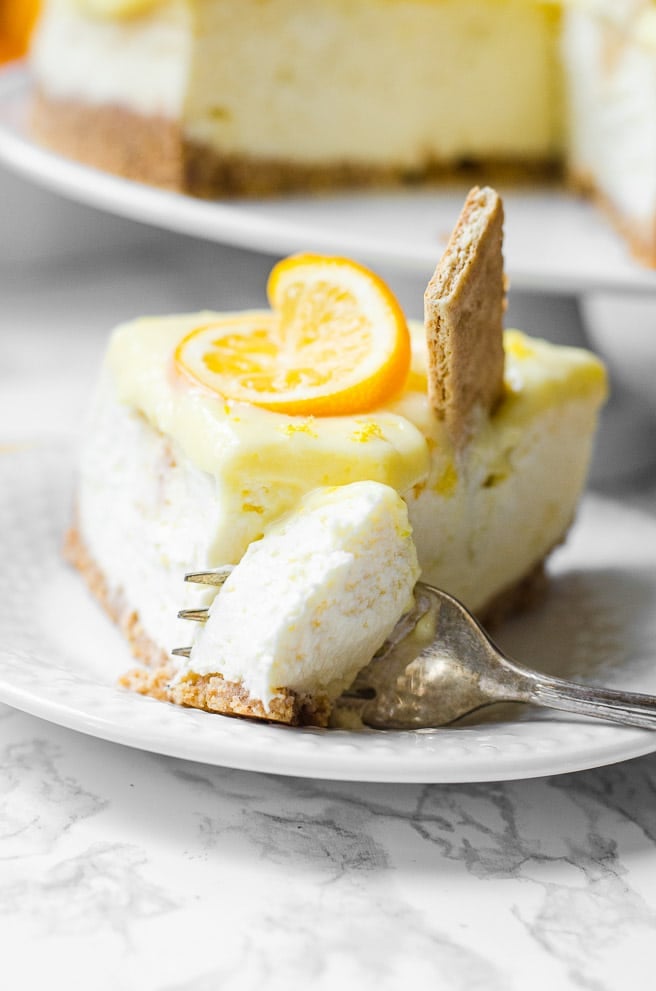 Dreamy Meyer Lemon Cheesecake Recipe
Make sure to buy one or two extra Meyer lemons for decorating the top of the Meyer lemon cheesecake. I also like to sprinkle on some extra zest for garnish because it tastes so wonderful.
Happy Cooking! 🙂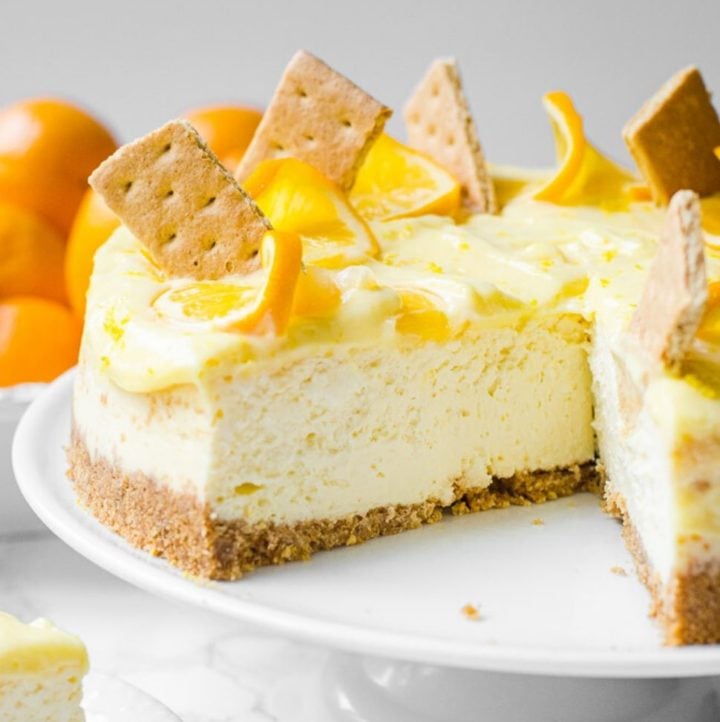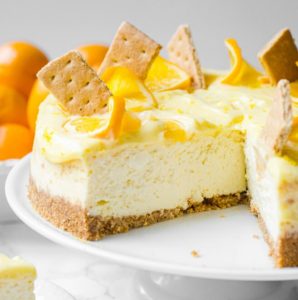 Meyer Lemon Cheesecake with Creamy Lemon Curd
This luscious New York style Meyer lemon cheesecake is topped with a creamy and froth lemon curd that isn't too sweet or too tart!
Pin it for later?
Ingredients
Cheesecake
butter,

for coating the pan

2

pounds

cream cheese,

softened

1

cup

granulated sugar

1

Tablespoon

cornstarch

¼

teaspoon

salt

½

cup

sour cream

¼

cup

lemon juice

2

lemons,

zested

1

teaspoon

pure vanilla extract

4

eggs
Lemon Curd
3

lemons,

zested

1

cup

lemon juice

½

cup

granulated sugar

4

eggs

4

egg yolks

8

Tablespoons

unsalted butter
salt,

to taste
Instructions
Lemon Curd
Zest the lemons into a medium sized glass bowl and set a fine-mesh strainer on top.

Whisk the eggs, egg yolks and sugar in a small glass bowl that fits over a pot filled with a few inches of water.  Bring it to a low simmer and place the bowl on top.

Whisk the eggs constantly, trying not to splash the mixture up onto the sides*.  Whisk until mixture has thickened, coats the tines of the whisk, and reaches about 170°F. 

Remove the lemon curd from heat and stir in butter one tablespoon at a time, stirring each time until fully incorporated.  

Stir in the lemon juice and immediately transfer the mixture to the fine-mesh strainer.  Strain into a bowl and let cool for at least 10 minutes before covering and transferring to the fridge to chill. 
Meyer Lemon Cheesecake
Rub the inside of a 9-inch springform pan with butter until lightly coated. Stir together the graham crackers and melted butter and use the bottom of a measuring cup to press it into the bottom of the pan.*  

Bake for 8-10 minutes or until fragrant and golden brown.  Let cool completely.

Change the oven temperature to 350°F and set the wire rack into the lower third of the oven.

Place two long sheets of aluminum foil in a cross shape on your work surface. Wrap the foil up around the bottom edges of the springform pan to help prevent water from getting in.

In the bowl of a stand mixer fitted with the paddle attachment, beat the cream cheese lowest speed you can until it is smooth. Add in the sugar. Beat in eggs one at a time, allowing each to fully incorporate before adding another.  

Fold in vanilla, lemon juice, cornstarch, salt and sour cream and until combined.  

Pour in the cheesecake filling into the cooled and prepared springform pan and use a rubber spatula to smooth out the top. Set inside of a baking dish and surround the pan with 1-2 inches of hot tap water.  Place into the oven and bake for 55 - 60 minutes, or until the outside edges are firm but the center still slightly jiggles like jell-o.

Turn off the oven, crack the oven door and allow to cool in the oven for one hour.

Remove the cheesecake from the oven and water bath. Gently run a thin knife around the edges to release the cheesecake from the springform pan's ring, and then transfer to a wire rack to cool completely. Chill in the refrigerator for at least 4 hours before the next step.

Just before serving, remove the cheesecake from the springform pan mold and use a small knife or offset spatula to top it with the chilled lemon curd. The cheesecake will stay good uncovered and refrigerated for up to 5 days.
Notes
If the egg mixture for the curd splashes onto the side of the bowl it can cook to the side.  If this happens, DO NOT scrape it back into your egg mixture, just leave it there.

You can make a graham cracker crust super thick if you like, or build it up the sides of the springform pan using the measuring cup.  Either works, it's personal preference.

Use a nonstick whisk if you have one because a metal whisk can react with the eggs and make them turn gray.

Adapted from The Kitchn's Perfect cheesecake
Nutrition
Serving:
1
serving
|
Calories:
743
kcal
|
Carbohydrates:
52
g
|
Protein:
13
g
|
Fat:
56
g
|
Saturated Fat:
31
g
|
Cholesterol:
357
mg
|
Sodium:
558
mg
|
Potassium:
326
mg
|
Fiber:
2
g
|
Sugar:
38
g
|
Vitamin A:
2081
IU
|
Vitamin C:
41
mg
|
Calcium:
161
mg
|
Iron:
2
mg
Tell me how much you love this recipe
and show off how you made it!