With a strong, bold flavor that is perfect for grilling, this Marinade of Many Mustards will take your meal from flat to distinctive.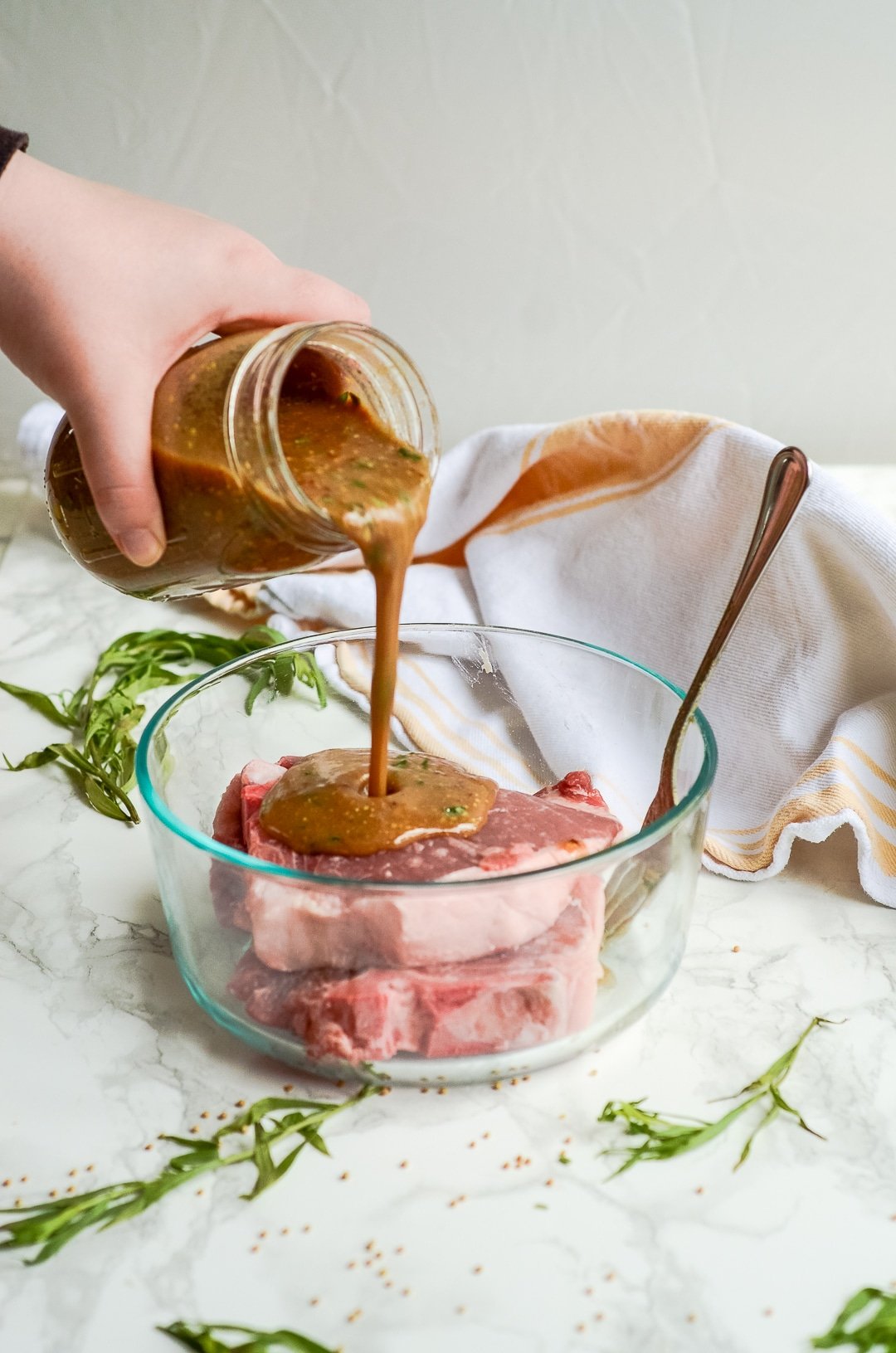 This Marinade of Many Mustards is perfect for those of you who always seem to have a large of assortment of condiments on hand.  Since each type of mustard interacts best with different types of vinegars, each mustard has been specifically paired.  Don't let the ingredient list scare you off.  The flavor from this marinade is well worth it!
Skills & Techniques
To really knock this Marinade of Many Mustards out of the park, here are some skills & techniques I recommend putting up to bat first.
How To Make Homemade Mustard.  This explains each type of mustard and what it is useful for.  Plus, how to make your own.
How To Make A Vinaigrette.  This explains the emulsification process of getting the oil in the marinade to become thick and combined.
Buying & Storing Fresh Herbs.  There are some chives and fresh tarragon in this recipe, make sure to know what to look for when you're buying them as well as how to keep them fresh when you get home.
All About Marinating.  This details everything you need to know about DIY marinating.
How Long To Marinate (coming soon).  
How To Get Rid Of Kitchen Grease.  For disposing of the used marinade without clogging your sink!

Storage & Leftovers
Since this Marinade of Many Mustards is made of pretty much everything that is shelf-stable, the only thing you have working against you are the fresh herbs.  As a result, this marinade can keep in the refrigerator completely made for about one week.  If you would like to keep a larger batch of it, you can just omit the herbs.  Then, when you're ready to use the marinade, you can just add them in.   Without the herbs, this marinade can last in the fridge up to a month!  You may find that there is some separation that occurs during storage – no worries!  Just give it a quick whisking with a fork until it recombines.  If you decide to freeze this marinade, it will keep frozen for up to 6 months.
Remember, with any marinade, do not use any leftovers that have come into contact with other foods – especially meat.  You don't want to risk any food-borne illness that may come as a result.
Marinade of Many Mustards
I'm going to let you in on a secret: this Marinade of Many Mustards doubles as a vinaigrette.  If you decide to use it that way, it works especially well on bitter greens like chard, kale, or collards.  If you're using this on a protein, I find it works well on pretty much everything but seafood and lamb.  Both of those have delicate flavors that this Marinade of Many Mustards can easily overpower.  If you're making steak, pork, or chicken though – prepare to have your mind blown!
---
Get your free printable grocery list for this Marinade of Many Mustards recipe HERE.
---
This grocery list has everything that you'll need to make this Marinade of Many Mustards recipe.  To help in making grocery shopping simple, each ingredient is listed in easy-to-find grocery store amounts.  If there is no amount specified, that means that you can buy the smallest (or largest) container available and still have plenty left over.
Thanks so much for stopping by!
If you would like to try out some of the other tasty recipes being featured for our month of marinades, you'll find them below.  Make sure to sign up for the email list (on the right side bar) to get your exclusive marinade recipe and my secret hack for marinating in one hour!
Marinade Of Many Mustards <— you are here
Happy Cooking! 🙂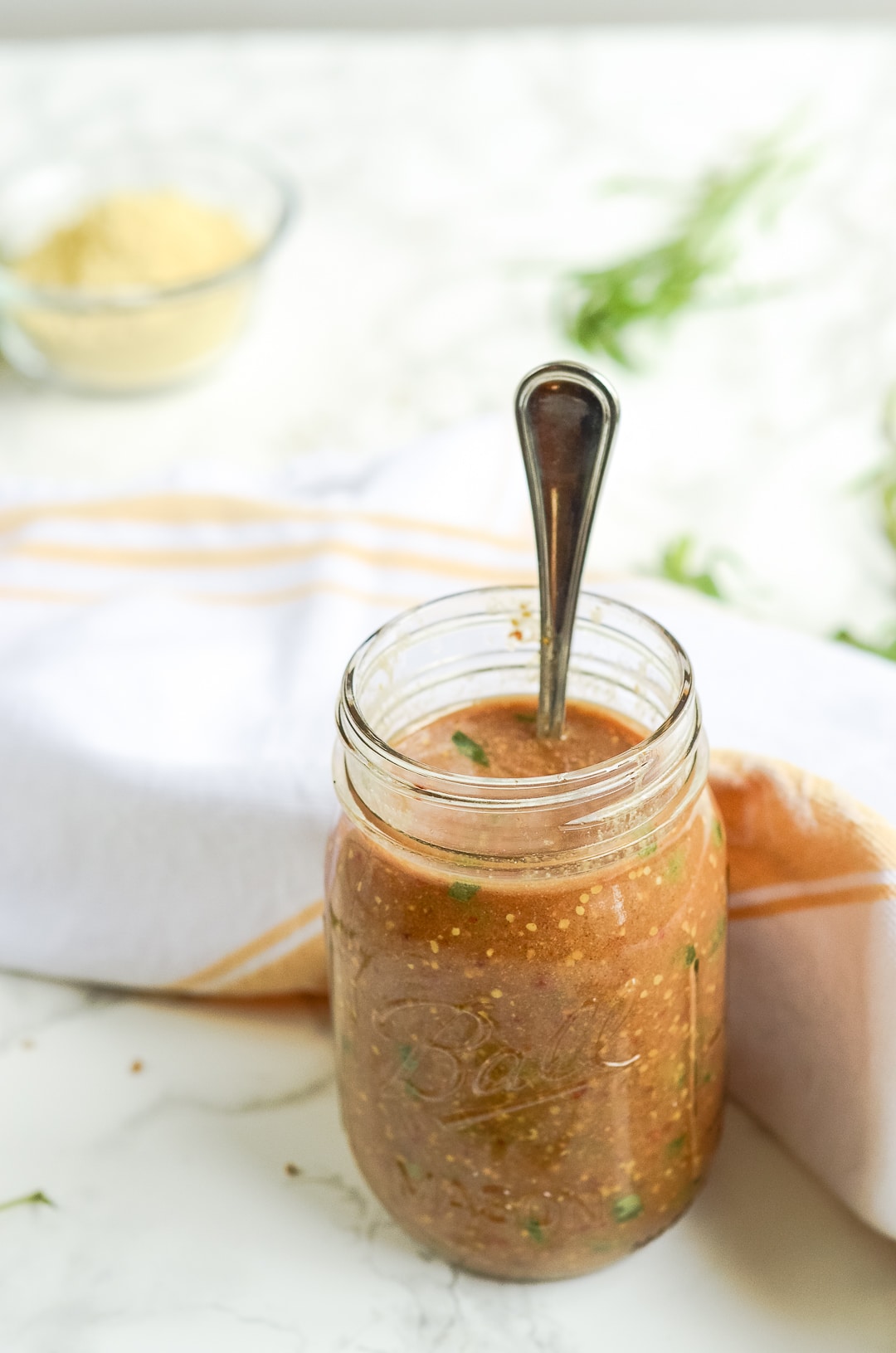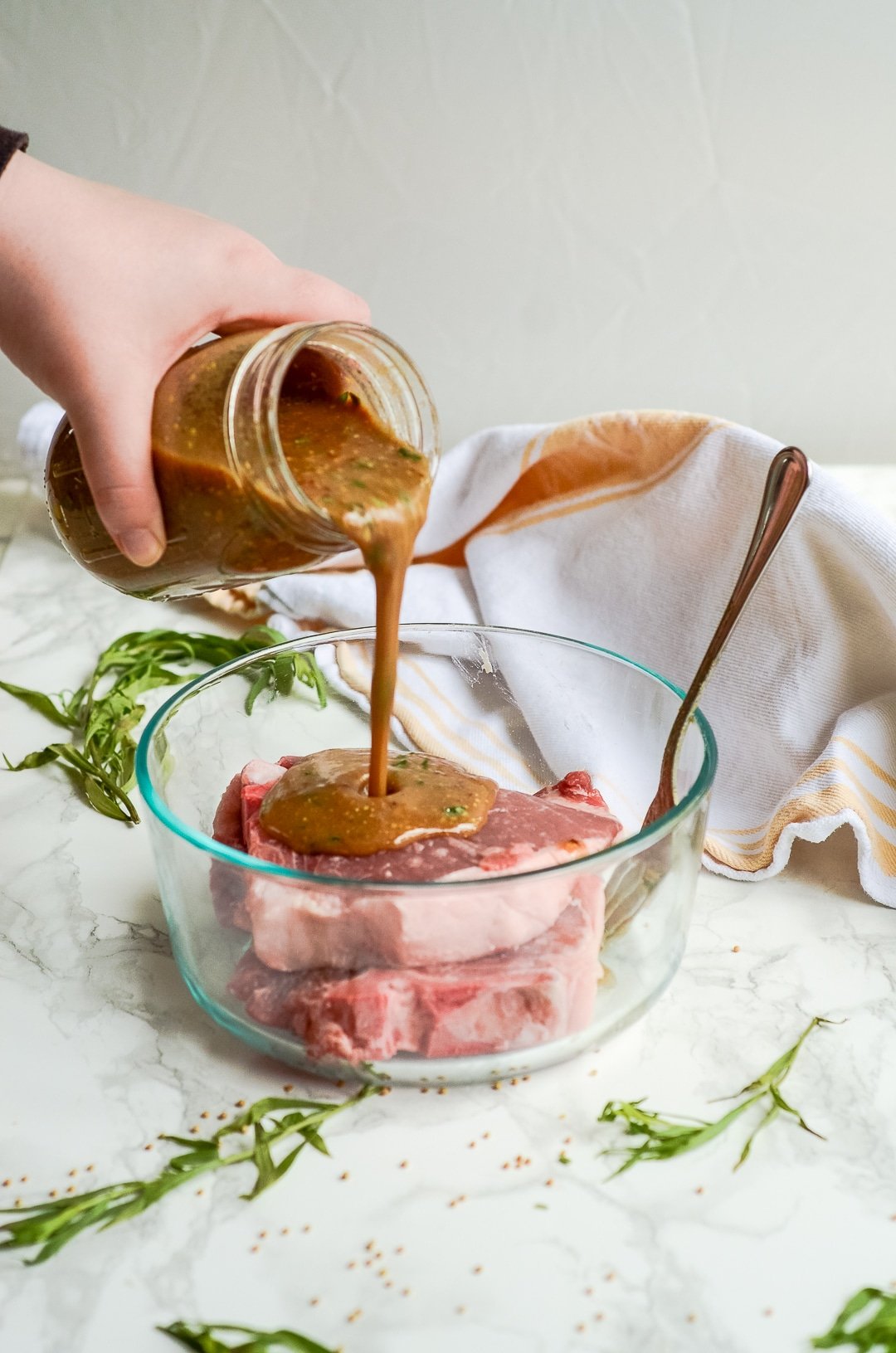 Marinade of Many Mustards
Perfect for chicken, beef, or pork, this marinade has a surprisingly sweet hint and packs a lot of flavor! Great for grilling!
Ingredients
2

tsp

dry mustard

2

tbsp

Dijon Mustard

2

tsp

whole grain mustard

2

tsp

Chinese Hot Mustard

2

tbsp

Red Wine Vinegar

2

tbsp

Cider Vinegar

2

tbsp

Balsamic Vinegar

2

tbsp

Malt Vinegar

1

tbsp

fresh chives

, chopped

2

tbsp

fresh tarragon

, chopped

1 1/4

cup

oil of your choice
Instructions
In a bowl or mason jar, combine all of the ingredients except the oil. Use a fork to stir them together until combined.

Adding only 2-3 Tablespoons at a time, use the fork to whisk in the oil vigorously until it is completely combined. Stir in the chives and tarragon.

In the smallest container what you will be marinating can fit into, pour the marinade over the product until it is completely submerged. Let marinate up to 24 hours.
Recipe Notes
Don't have Chinese hot mustard on hand? Two packets of the mustard from Chinese take out will work!