This dill pickle pizza is a salty dream. Made with ranch dressing, pickle slices, and salami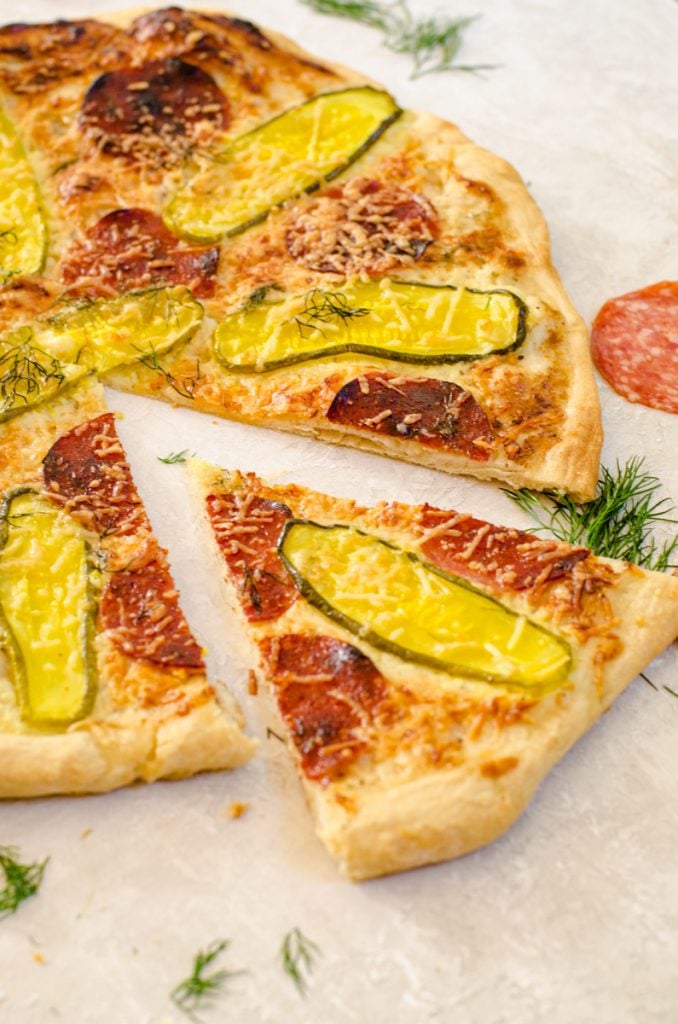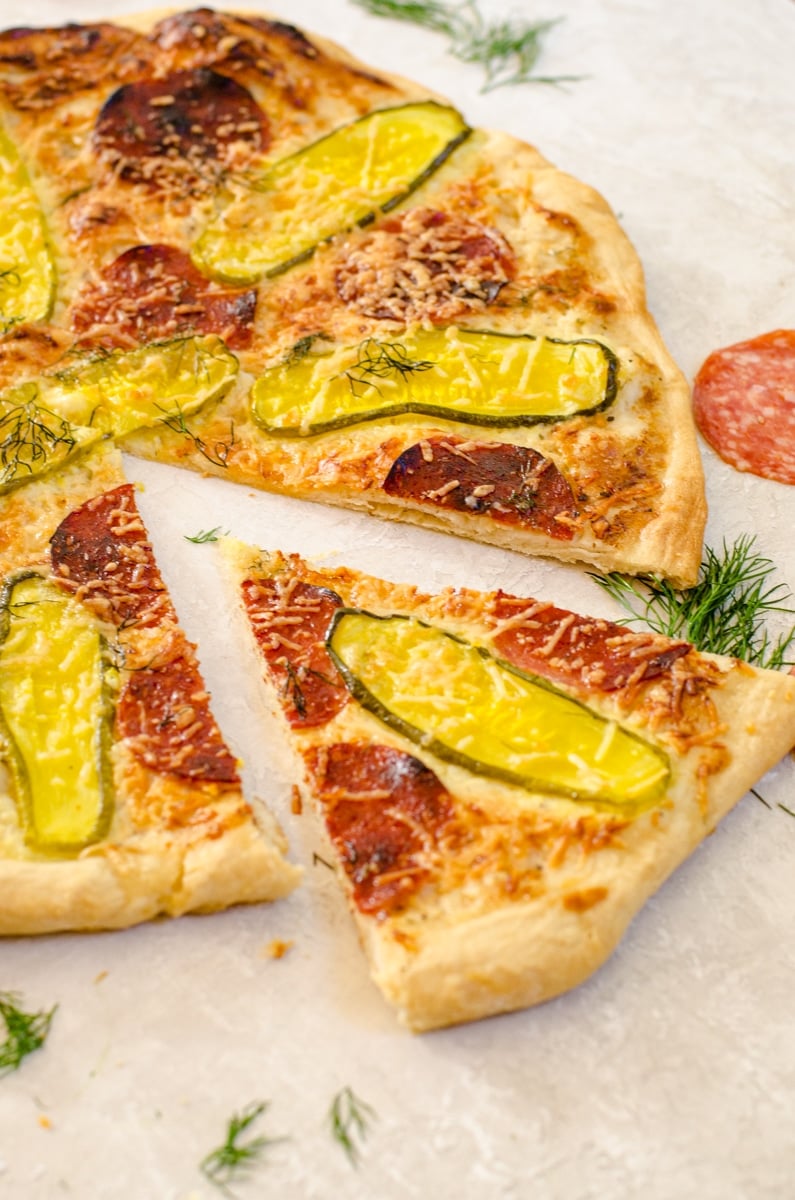 Whether you have a lot of pickles that need used, or you are just a big pickle fan, this dill pickle pizza is a dinner favorite. Yes, this pizza sounds strange, but once you eat it you'll make it again and again.
Are Pickles Good On Pizza?
This pizza sounds a little strange, but yes, pickles are amazing on pizza. Especially if you like a salty, savory meal.
The trick to making a dill pickle pizza is to pat the pickles dry using them as a topping. This not only dries them out so they don't make the crust soggy, but it removes some of the pickle brine which cuts down the saltiness.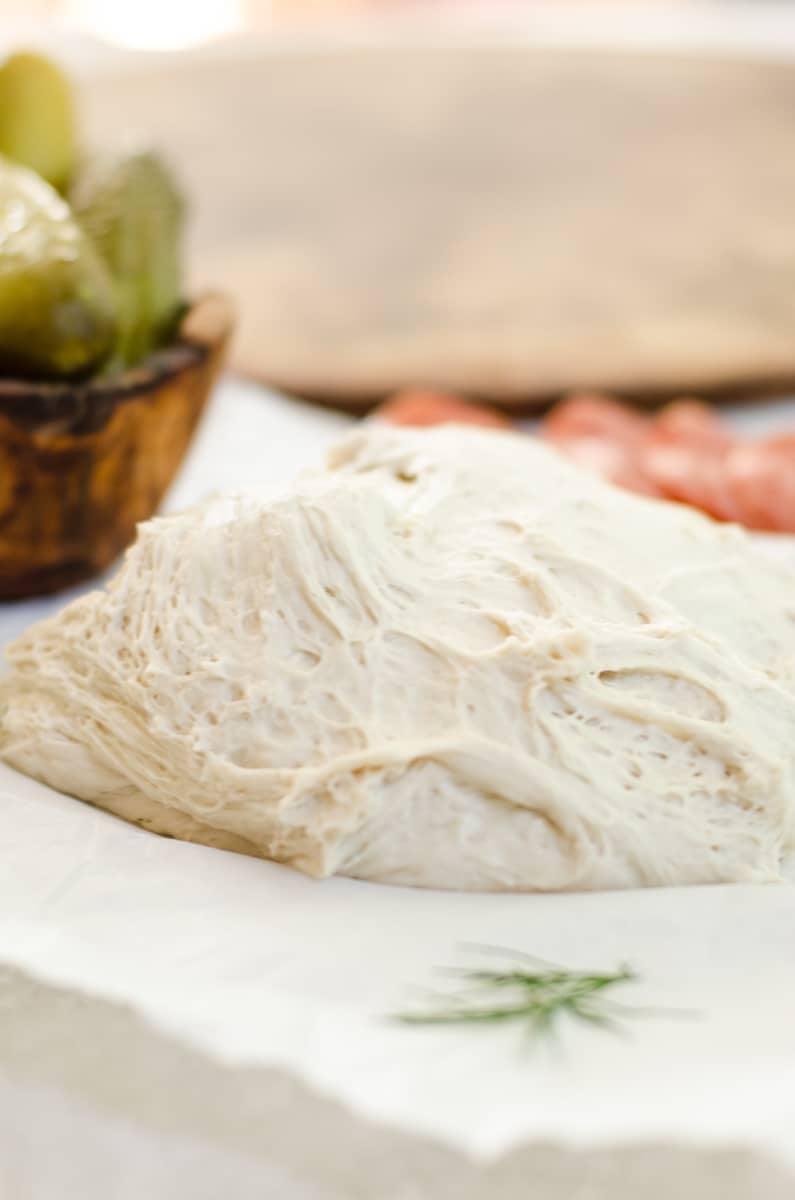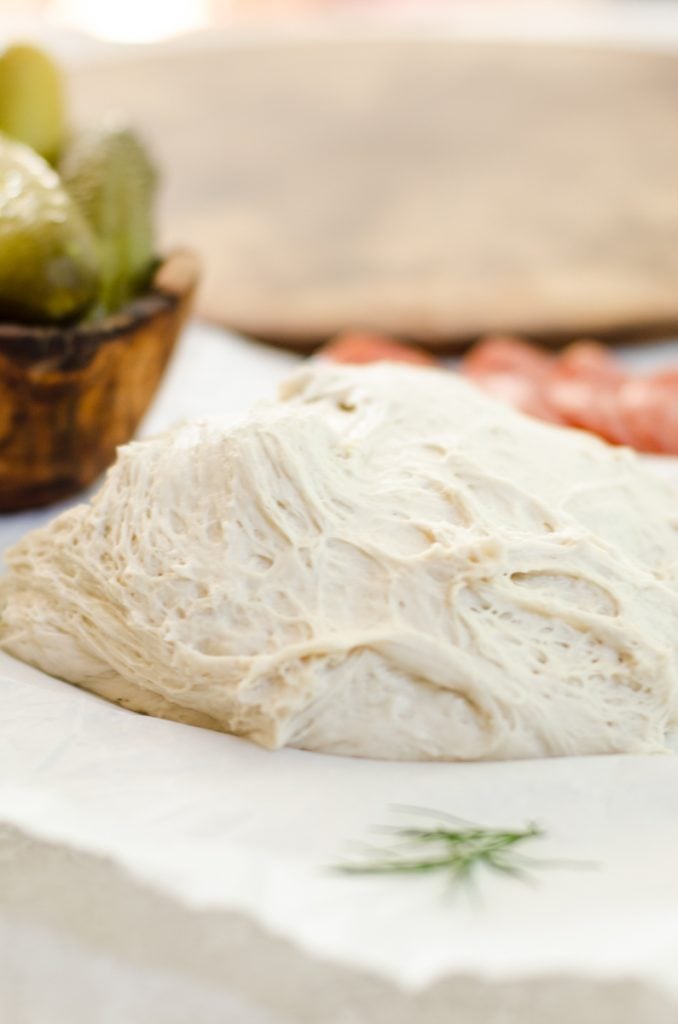 What Goes On Pickle Pizza?
Dill pickle pizza can have a range of flavors, but for this one the focus is on salty goodness.
It has:
Ranch dressing with extra dill. The extra dill really helps to make the recipe pop, but you can opt out if you made the ranch recipe yourself. Usually that brings in enough flavor. Then again, more dill doesn't hurt, right?
Parmesan and romano cheeses. These are both hard, salt heavy cheeses. This means you won't have a creamy cheese pizza, but if that is what you want you can add some mozzarella cheese.
Sliced kosher dill pickles. Kosher pickles have garlic in them, so this elimates the need to add extra garlic powder to the ranch dressing.
Genoa salami. This bright and acidic salami is flavored with red wine and garlic, so it pairs nicely with the pickles.
You might be thinking that all of this sounds strange together, but trust me, dill pickle pizza is seriously SO good. It is now a requested pizza night recipe in our house.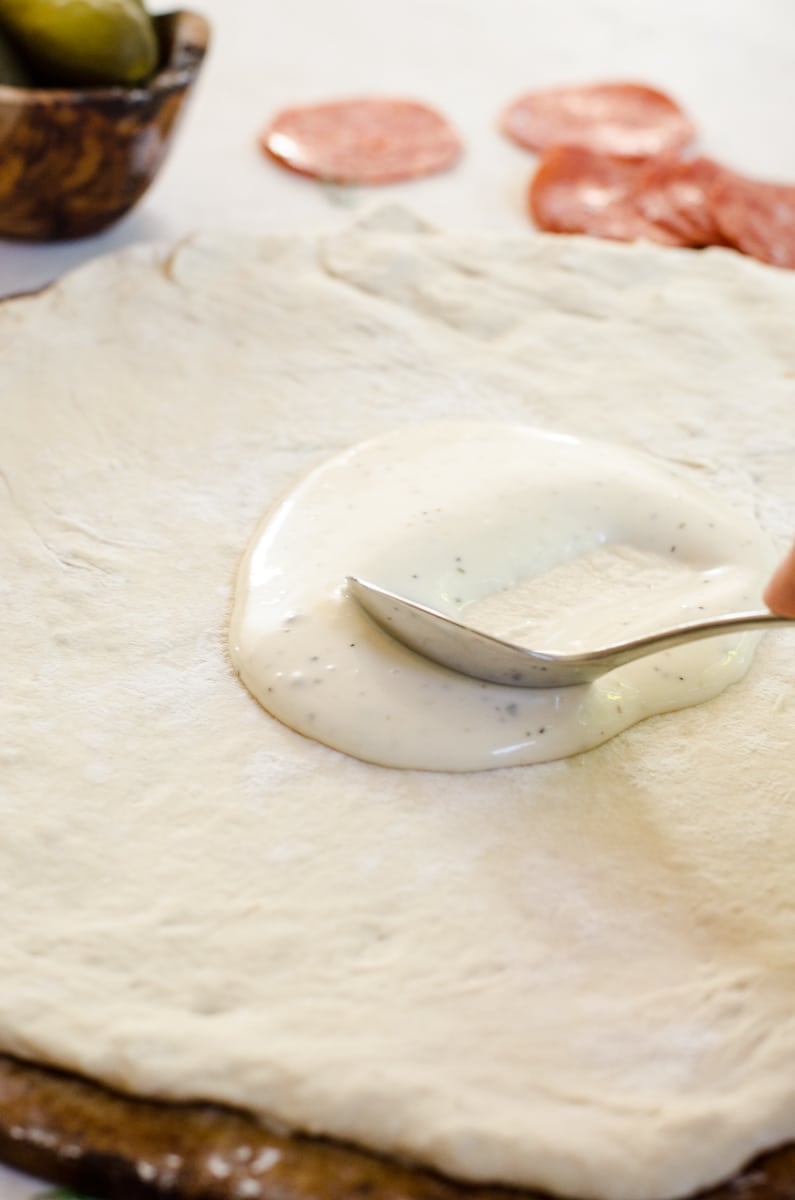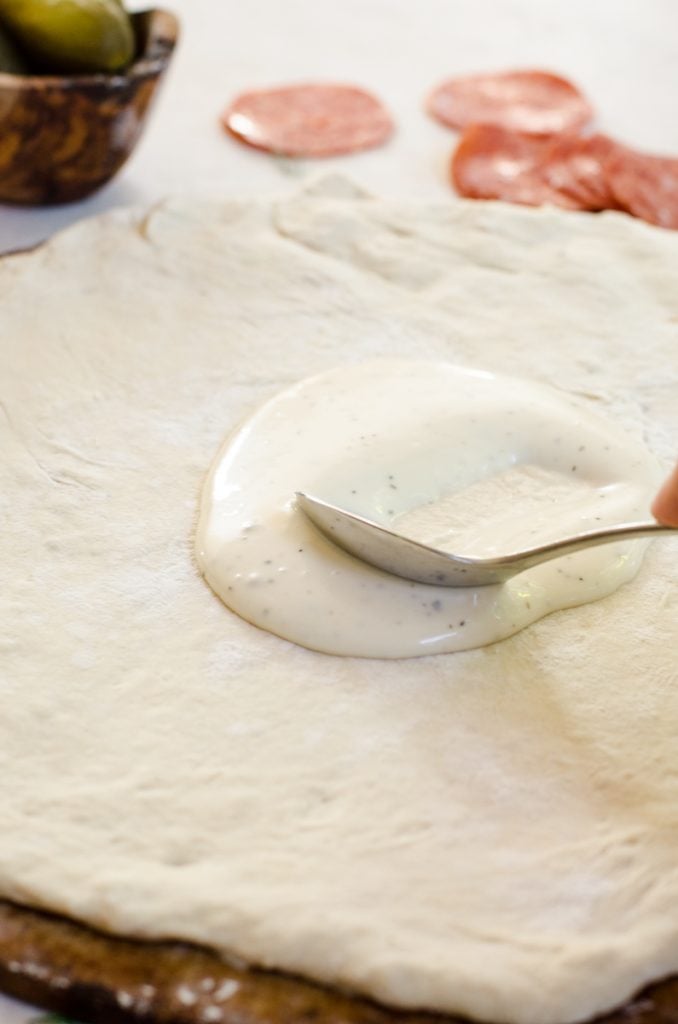 What Kind of Pickles?
To begin start by choosing you favorite dill pickle. It can be Kosher, which has a garlic dill brine. Or it can be standard dill which lacks the garlic.
Personally, I love Mt. Olive Kosher dill, but that's just me. I also recommend pickles the that are already sliced. This way they are uniform in thickness and cook evenly.
For this recipe I used the long slicers, but you can choose the sliced rounds as well. I just liked that this got more coverage with the pickles.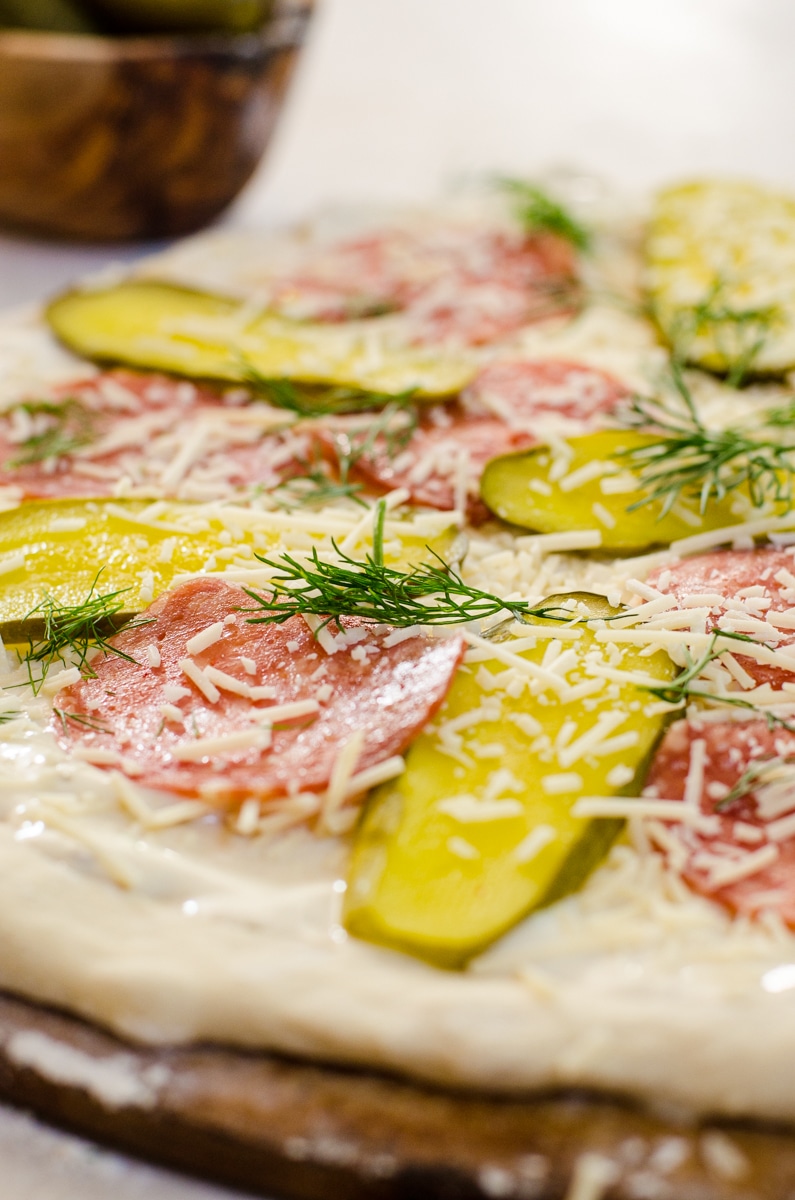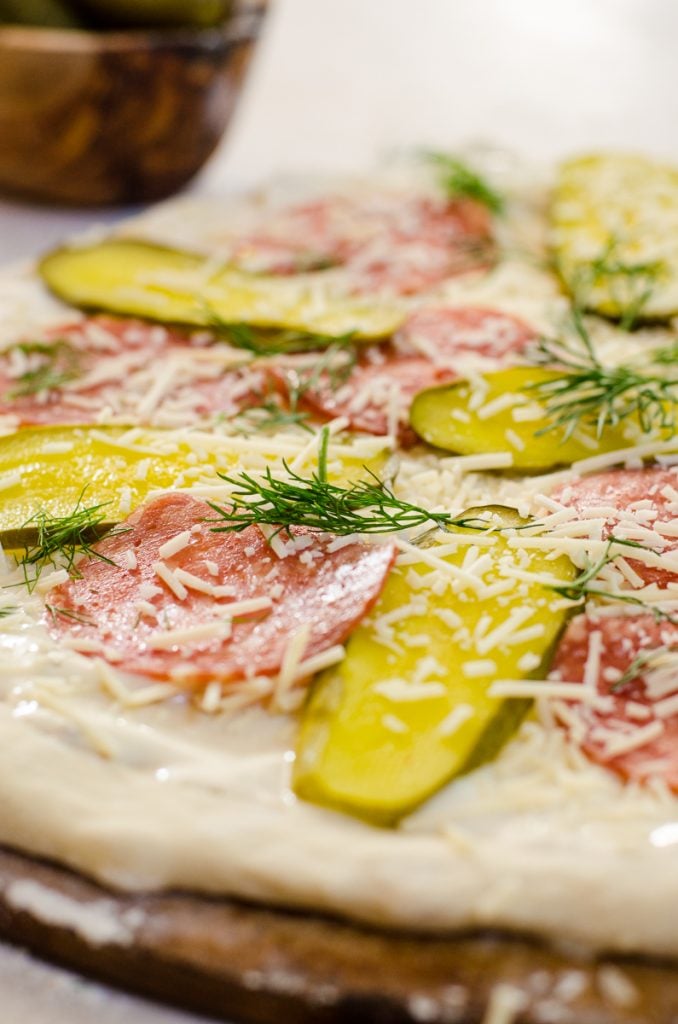 How to Make This Pizza
Start with a really good pizza dough. I personally like a crispy thin crust for this one so it doesn't drown out the toppings. Then follow it with ⅓ - ½ cup of sauce.
My favorite pizza sauce for this dill pickle pizza is buttermilk ranch because it accents the dill in the pickles well. I also love the the fat in the dairy in it absorbs some of the salt to balance it out.
If you prefer, you can opt for an Alfredo sauce or roasted garlic sauce. I would just recommend adding some fresh dill into the sauce.
Follow that up with the cheese. If you want keep with the salty theme use equal parts parmesan and romano cheeses. If you want it creamier, add in some mozzarella cheese.
Once the salami and dill pickles are on the pizza, add a bit more parmesan cheese and some extra fresh dill.
Lastly bake on the bottom rack of a 500°F preheated oven for 15 minutes. The cheese and the edges of the pizza crust should both be browned.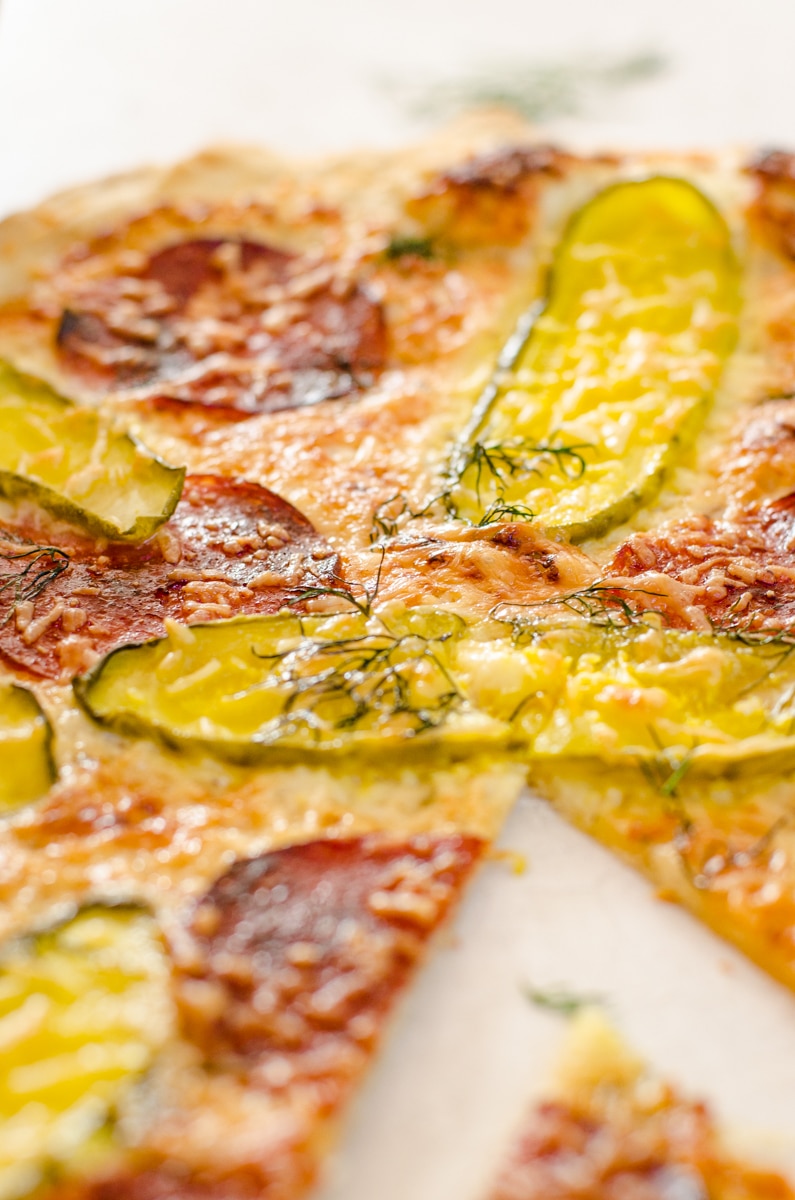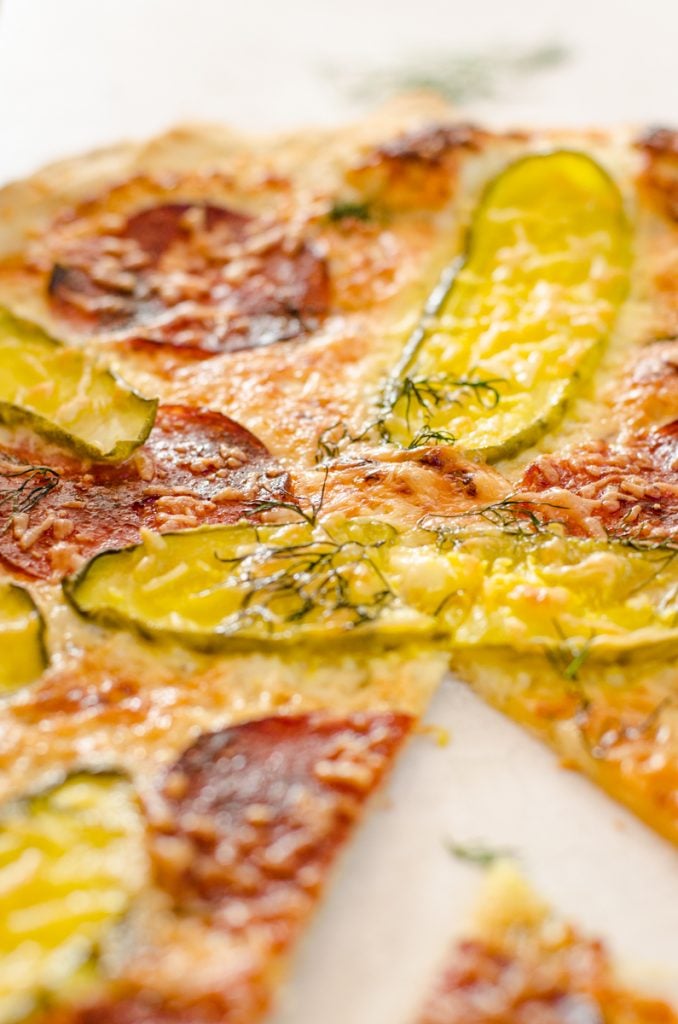 Top Recipe Tips
If you aren't a fan of of dill pickles, you can use sweet gherkins but it changes the flavor profile a lot. Err on the side of more salami and fewer pickles.
If you don't have a pizza stone, line a baking sheet with parchment paper instead. This gives you a similar result with almost no cleanup. You should still use the flour though to help roll out the dough.
If you don't have any fresh dill available, you can use a teaspoon of dried dill or italian seasoning. It is better to have some seasoning than none.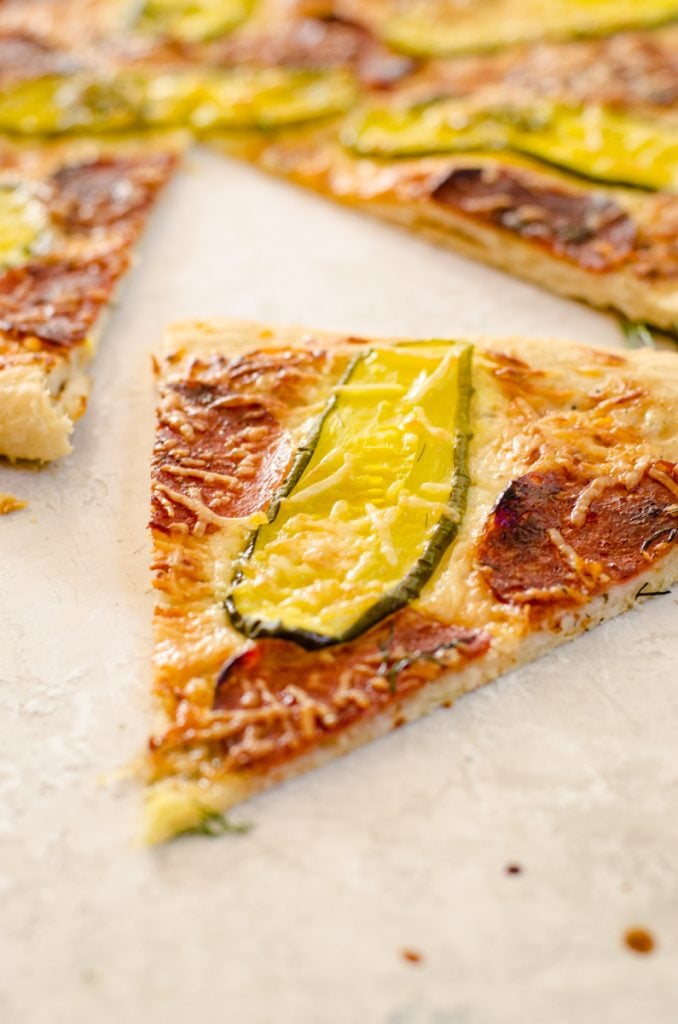 Dill Pickle Pizza Recipe
If you can, homemade ranch dressing is the way to go. The buttermilk brings a sour flavor that complements the cheeses and toppings well.
---
Make grocery shopping simpler with this printable grocery list for dill pickle pizza recipe. The list is in standard grocery store amounts. If no size is specified, even the smallest package provides more than enough.
Happy Cooking! 🙂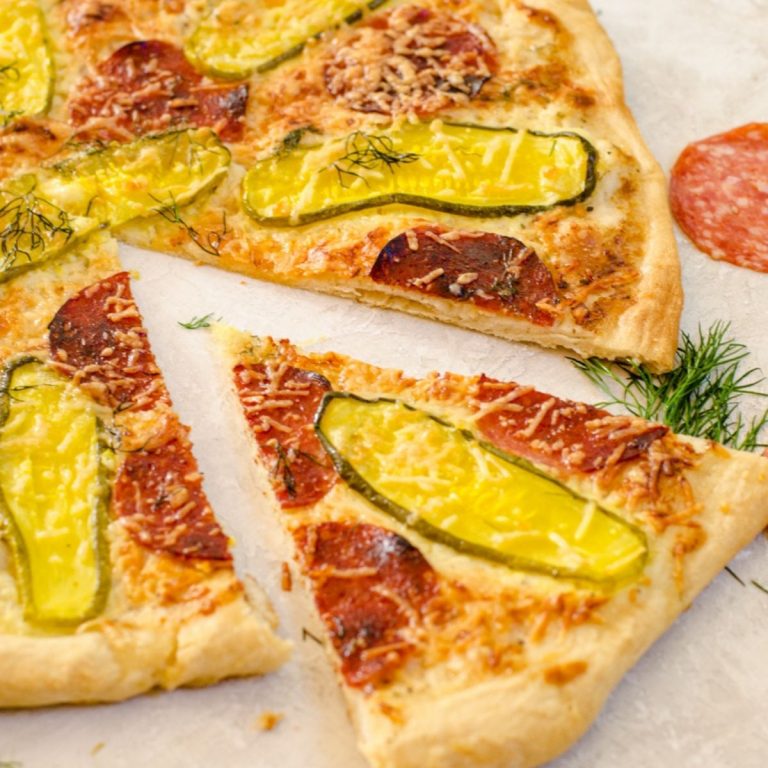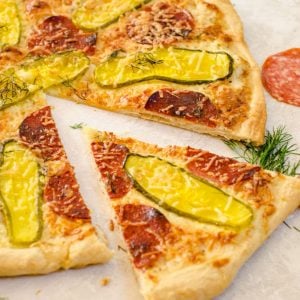 Kosher Dill Pickle Pizza
This dill pickle pizza recipe is delightfully salty and so amazing.
Pin it for later?
Ingredients
1

batch of pizza dough for a 12" pizza

flour

,

as needed

⅓

cup

ranch dressing

4

ounces

kosher dill pickles

,

sliced and pat dry

6

ounces

salami

½

cup

parmesan cheese

½

cup

romano cheese

½

cup

mozzarella cheese

,

(optional)

2

Tablespoons

fresh dill

,

plus more to taste
Instructions
Preheat the oven to 500°F. Flour a pizza stone or baking sheet lined with parchment paper then roll out the dough to the edges.

Spread out the ranch dressing and top add half of the chopped dill. Sprinkle with ⅔ of the cheese then add the pickles and salami toppings. Next, sprinkle on the rest of the cheese and the second half of the dill.

Place on the bottom rack of the preheated oven and bake for 15 minutes or until both the cheese and the edges of the crust are browned. Remove from the oven and allow to rest for 2-3 minutes before cutting.
Nutrition
Serving:
1
serving
|
Calories:
327
kcal
|
Carbohydrates:
25
g
|
Protein:
15
g
|
Fat:
19
g
|
Saturated Fat:
7
g
|
Cholesterol:
36
mg
|
Sodium:
1286
mg
|
Potassium:
116
mg
|
Fiber:
1
g
|
Sugar:
4
g
|
Vitamin A:
156
IU
|
Vitamin C:
1
mg
|
Calcium:
188
mg
|
Iron:
2
mg
Tell me how much you love this recipe
and show off how you made it!