We saved the best for last, right?
I, like most Americans, LOVE deep fried food.  Also, like most American's, my love of deep fried food intensifies with beer – which is why I try to eat my fried goods before I start drinking.  Hmmm…did that just make me sound a bit like a drunkard?… Regardless of my level of inebriation, a bad day seems to always be made better by french fries – especially if there is goat cheese nearby to dip them in!
Let's take a couple minutes to look at what deep-frying is, and how to do it safely.
What is Deep-Frying?
Deep-frying is a dry-heat method that submerges the food in hot fat.  When most people think of deep-frying either the local bar, the fair, or McDonald's french fries probably comes to mind.  It has become a staple of American dining, and as a result, there are now a LOT of electrics you can purchase.  This is always what I recommend if you choose to deep-fry at home because they have many safety precautions built into them and the chance of hitting flash point is much lower since most have temperature control knobs.  If you chose to deep-fry at home over your burner, please make sure you are using a deep-frying thermometer that goes up to (at least)  400°F, that you keep a close and constant eye on your temperature, and that you always have safety gear nearby in case of an accident.
How to Deep-Fry
Deep-frying on the whole is actually a very simple process when you are familiar with it. It is pretty much the exact same as pan-frying, only you don't have to flip the food since it is submerged in the oil.  Usually, doneness is judged by a beautiful golden-brown color and a crisp outer coating.  If you are still unsure of whether or not your food is done, you can always use a thermometer to judge internal temperature, or cut into a piece to double check.  When you are deep-frying there are still a few helpful things to keep in mind to make the process work efficiently and safely.
Oil has a shelf-life.  The oil that you are cooking with will only last for so many uses; three is the rule of thumb I go by.  There are two major things that affect its expiration.

Flavor of the food.  The stronger the flavor (like if you're making fried fish) means the quicker that flavor will absorb into the oil.  Have you ever been to a bar and your french fries taste like fish?  That's because they didn't change their oil soon enough.
Moisture levels.  Pat all your foods dry before putting them in the fryer.  The more water there is in your food, the faster it will deplete the quality of the oil.  Cooking things that are battered and breaded will accelerate this, as well.  You can usually tell when the oil is near the end of its life when it starts to look more like an amber ale and less like Bud Light.  Also, you'll notice that it may overly brown or burn the outside of you food.

Quality of oil is important.  You want to make sure that you choose an oil that has a high smoke point.  Canola oil, peanut oil, and vegetable oil are all great choices and very economical.
Overcrowding is your (waistline's) enemy.  The oil in a deep-fryer is usually held between 350°F – 375°F as its ideal temperature.  When you put something in oil, that food is going to drop the temperature of the oil (just like when you poach, simmer, and boil), so it makes sense that when you put too much of something in the oil it would drop the temperature too far.  Once you're out of that ideal range, deep-frying is not as effective of a method, and often results in excess grease on your food.  When done correctly, deep-frying doesn't absorb nearly as much fat as people think.
Temperature control is your best-friend.  It's okay, I'll still be your other bff, but for real, temperature control is crucial.  For the safety of everyone around, when you are not using the fryer always make sure to turn down the temperature to around 200°F.  When it is in use, make sure you have the temperature set or are using a deep-frying thermometer that is connected to your pot at all times.  Regularly check to see if your heat needs adjusted.
Salt after, not during.  Salt will pop and fry in the oil just like anything else, so always make sure to salt your food after you've removed it from the oil, not before, or during.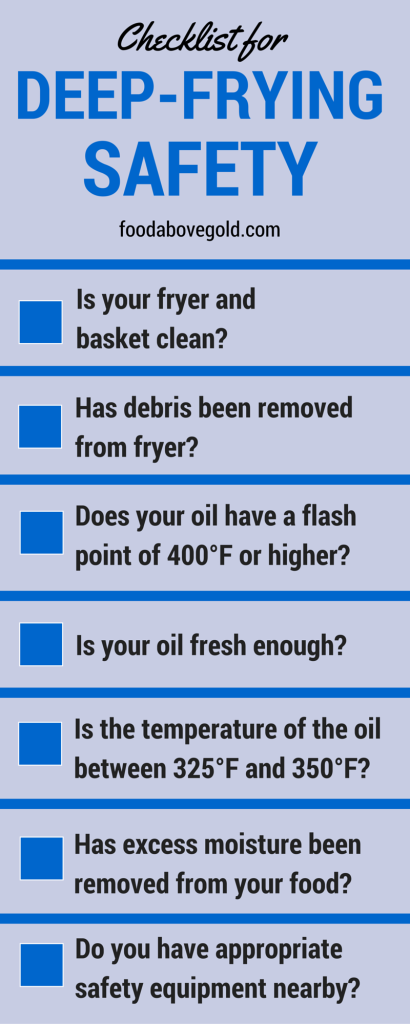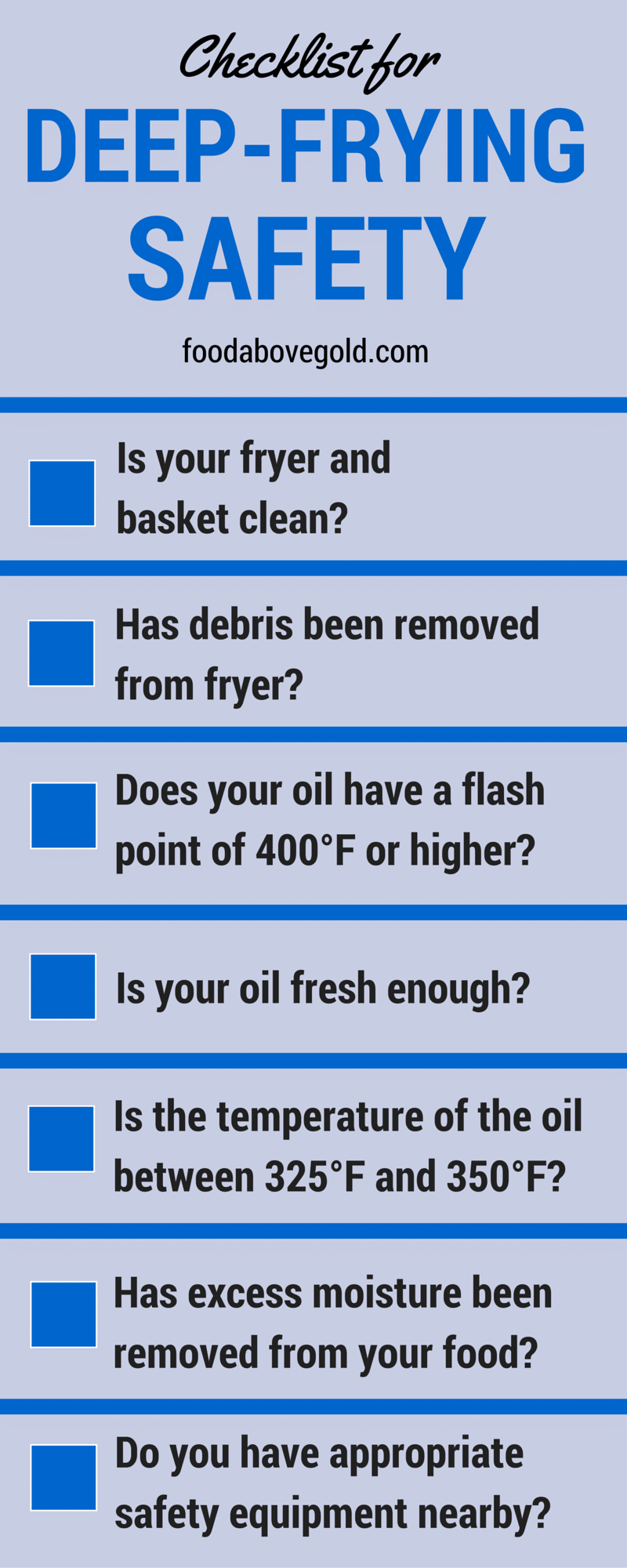 What are your favorite things for deep-frying?  How do you do it safely?
5