Does deep-frying make you think of the local bar, the fair, or McDonald's french fries? Your favorite recipes can be done at home safely once you know how to deep fry.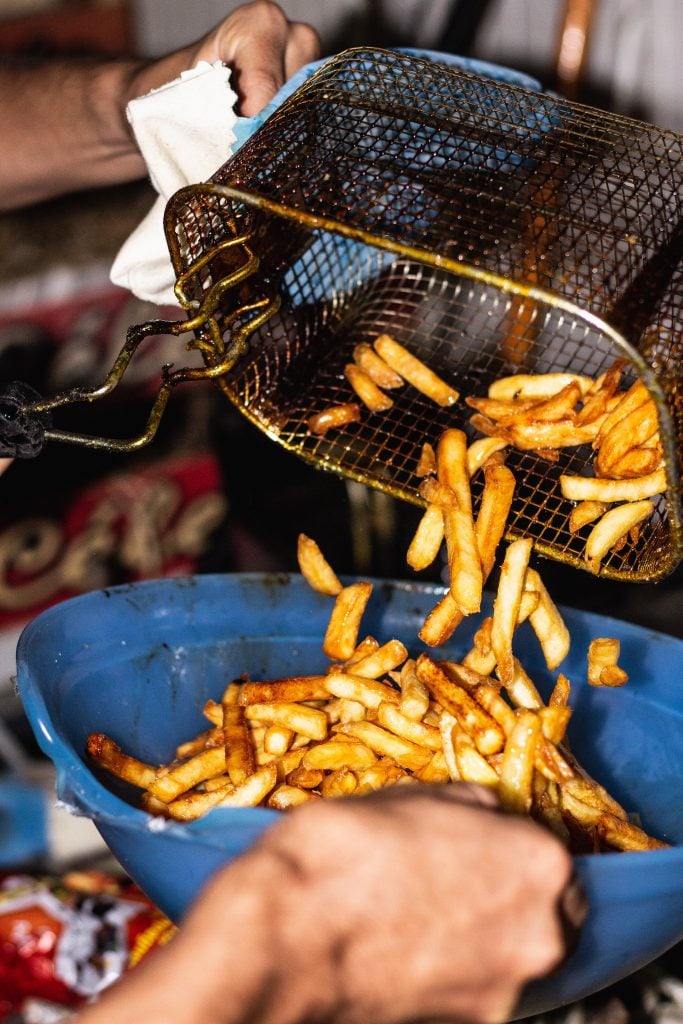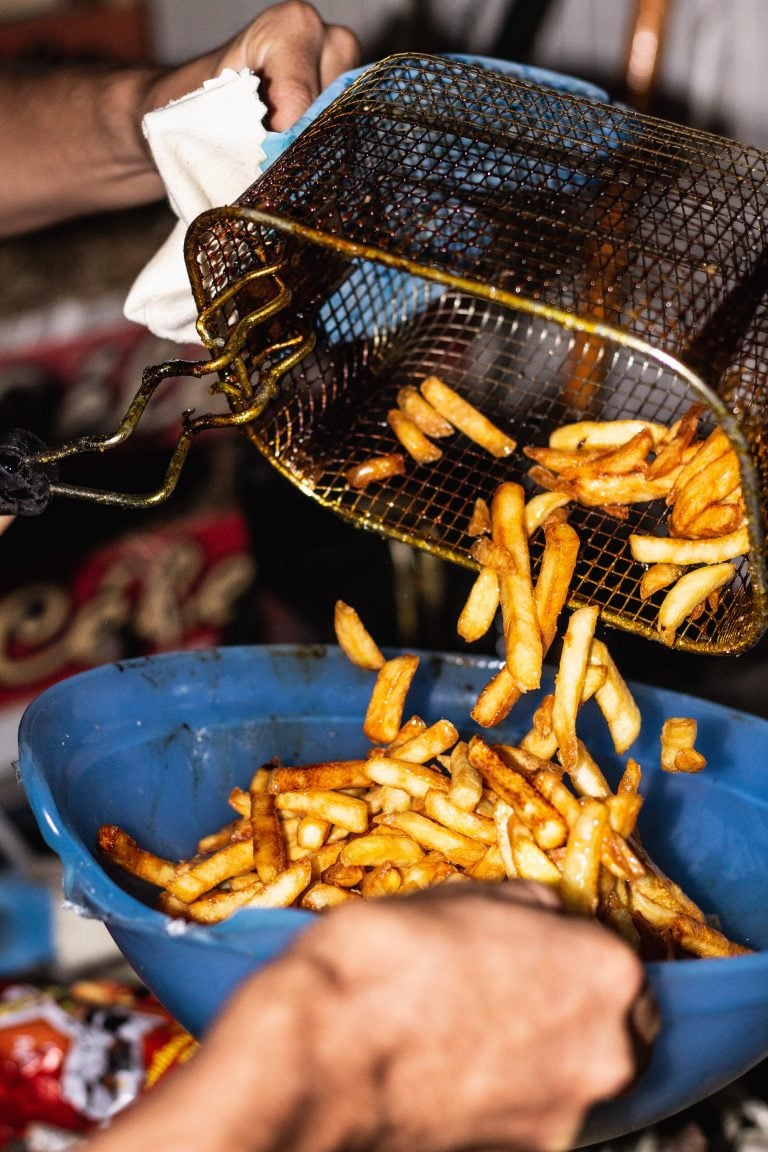 What is Deep-Frying?
Deep-frying is a dry-heat method that submerges food in hot fat. It often gets a bad reputation because it is greasier than other cooking methods, but when done correctly, deep-frying food doesn't absorb nearly as much fat as people think.
Overcrowding is your (waistline's) enemy. The oil in a deep-fryer is usually held between 350°F - 375°F as its ideal temperature. When you put something in oil, that food drops the temperature of the oil. Even if the food is room temperature.
Once you're out of that ideal range, deep-frying is not as effective of a method, and often results in excess grease on your food. To deep fry correctly, maintain a constant and proper temperature.
Should I Use A Pot Or Buy An Electric Fryer?
This is really a matter of comfort, how frequently you deep fry, and how much you fry at a time. There are many potential risks that come with both options.
Deep frying in a pot or dutch oven has been happening for centuries. How do you think fried chicken became so popular? This method is mostly safe as long as you have a reliable deep frying thermometer.
Deep frying should stay in the high temperature range of 325°-375°F. A thermometer submerged correctly in the hot oil allows you to adjust heat as needed to prevent the oil from catching fire.
Each type of oil has a different temperature where it catches fire. Choosing the right oil for deep frying also helps keep it safe. Choose an oil that has a high smoke point; like canola oil, peanut oil, or vegetable oil.
To keep deep-frying as safe as possible, a lot of electrics are now available to purchase. Their goal is to eliminate the stress of temperature control.
No matter which method you choose, make sure to have fire safety gear like an extinguisher nearby.
using a deep-frying thermometer that goes up to (at least) 400°F, that you keep a close and constant eye on your temperature, and that you always have safety gear nearby in case of an accident.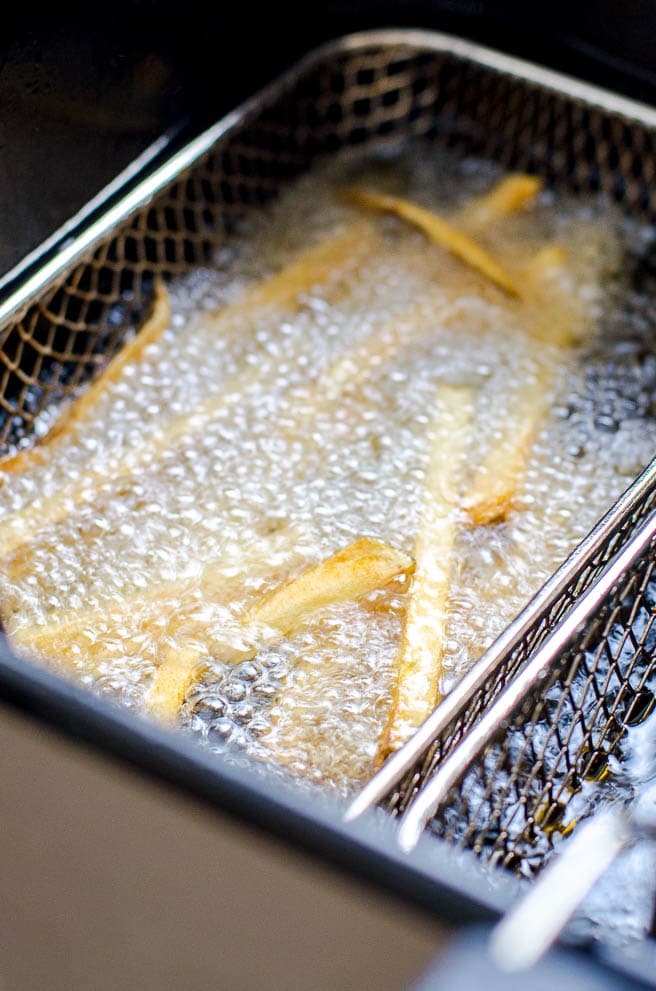 How To Know When The Food Is Done
For foods other than meat, doneness is usually judged by a beautiful golden-brown color and a crisp outer coating. This works for deep fat fried french fries, pickles, donuts, etc...
For meat, a crisp and golden brown outer coating isn't always enough.
Take chicken wings for example. Chicken wings often begin turning golden brown at four minutes of deep frying, but need at least seven to cook. Also, if the temperature is too high the outside will turn golden before the inside of the food cooks through.
If you are unsure of whether or not your food is done, you can always use a thermometer to judge internal temperature. You can also cut into a piece to double check.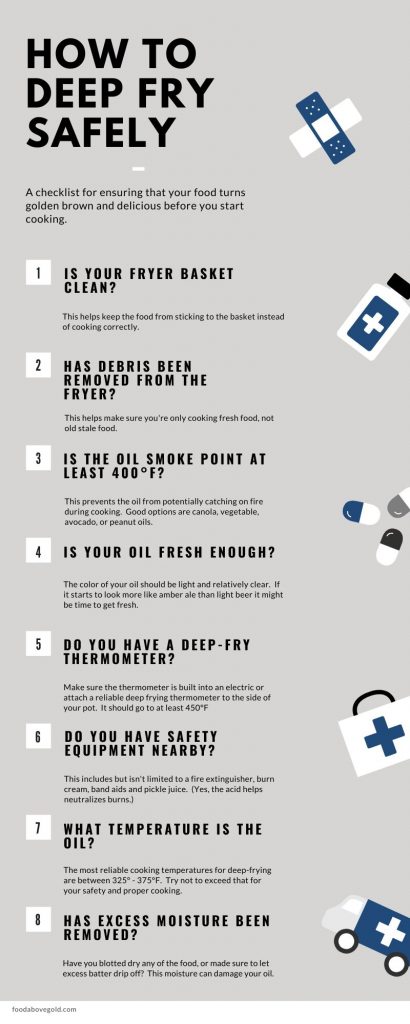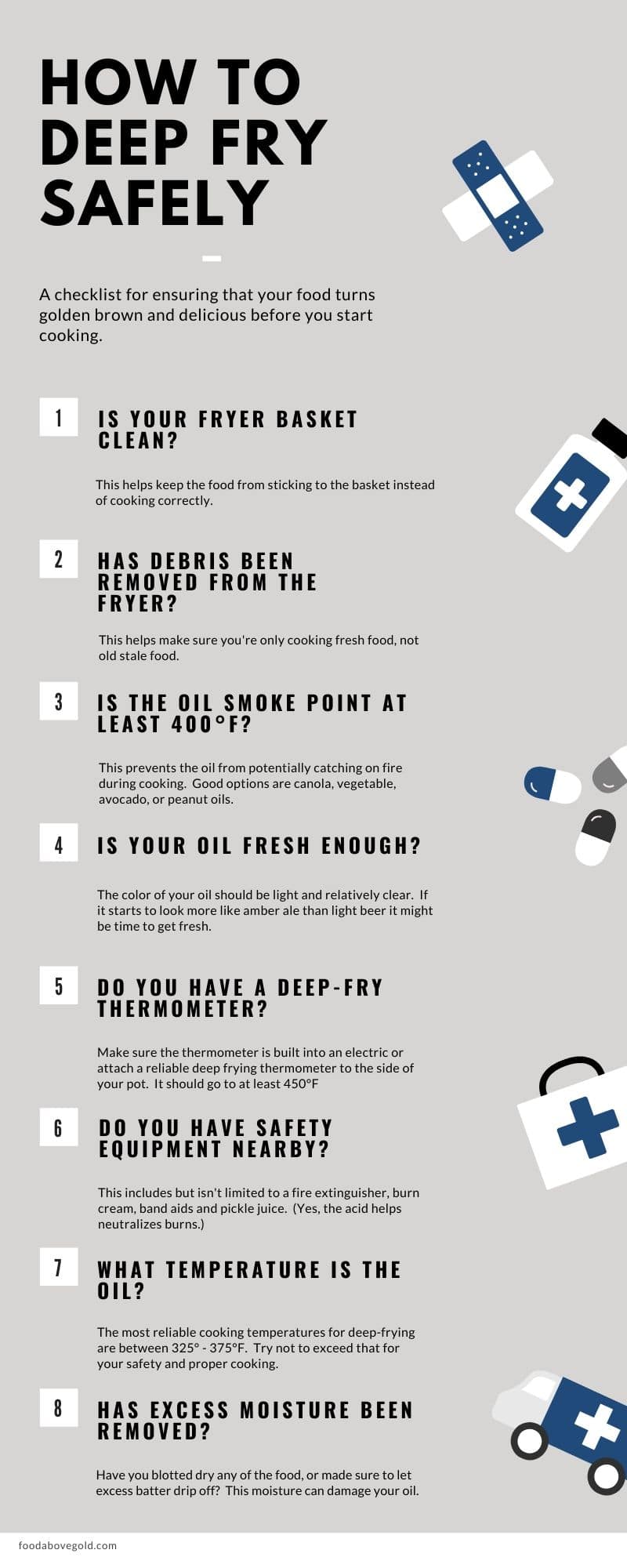 Tips For How to Deep-Fry Safely
Temperature control is your best-friend.
It's okay, I'll still be your other bff, but for real, temperature control is crucial. Don't step away from the deep fryer while it is hot. When it is in use, make sure you have the temperature set or are using a deep-frying thermometer that is connected to your pot at all times. Regularly check to see if your heat needs adjusted.
Salt after, not during or before cooking.
 Salt pops and fries in the oil just like anything else. After you've removed the food from the oil with a slotted spoon or spider, transfer it to a bowl or baking sheet with paper towel to catch the excess grease. While the food is still hot, sprinkle it with salt to season. As it cools, the salt will adhere to the food.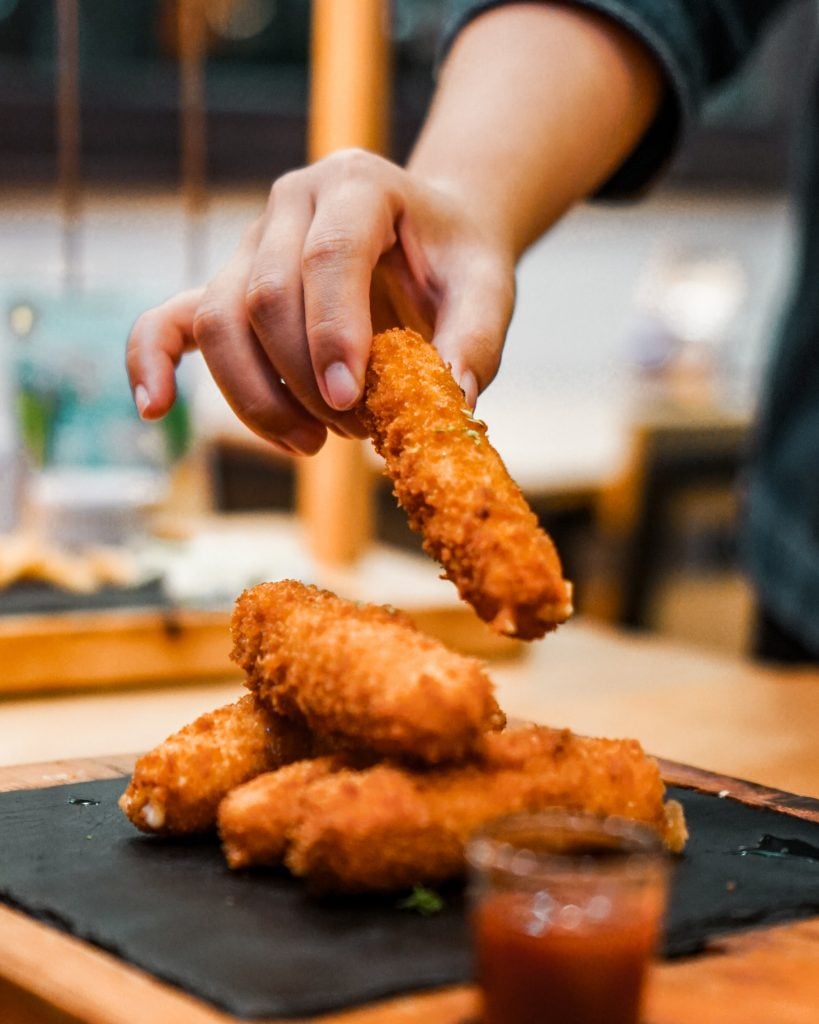 What To Do With Leftover Oil
Cooking oil only lasts for so many uses. Three tops. There are two major things that impact the expiration.
Flavor of the food. The stronger the flavor (like fried fish) means the quicker that flavor absorbs into the oil. Have you ever been to a bar and your french fries taste like fish? That's because they didn't change their oil soon enough.
Moisture levels. Pat all your foods dry before putting them in the fryer. The more water there is in your food, the faster it depletes the oil quality. Cooking battered and breaded accelerate this as well.
You can usually tell when the oil is near the end of its life because it starts to look more like an amber ale and less like Bud Light. Also, you'll notice that it may overly brown or burn the outside of you food.
Once you're done with the fryer, turn off the oil and let it cool completely before doing anything with the excess oil. Use a funnel to carefully pour the excess oil back into the container it came from. It can then be discarded in the garbage or donated to depots that use it for a gasoline alternative.
If you spill any of the oil, cover it a thick coating of flour. This soaks it up and makes it easier to wipe away with paper towels.
Favorite Deep Fried Recipes
Below are just a few of my favorite deep-fried recipes. They are a great way to practice this fantastic cooking method.
Happy Cooking! 🙂