Hot and fresh from the fryer, delicious homemade tortilla chips are the best! Use them to eat your favorite salsa, make nachos, or chilaquiles for breakfast.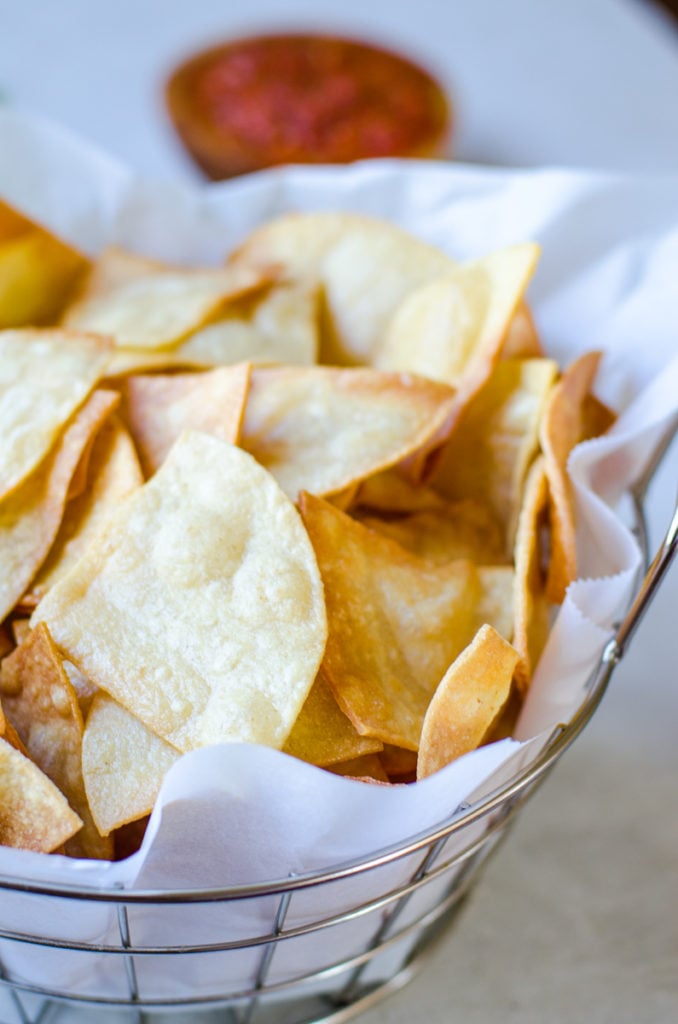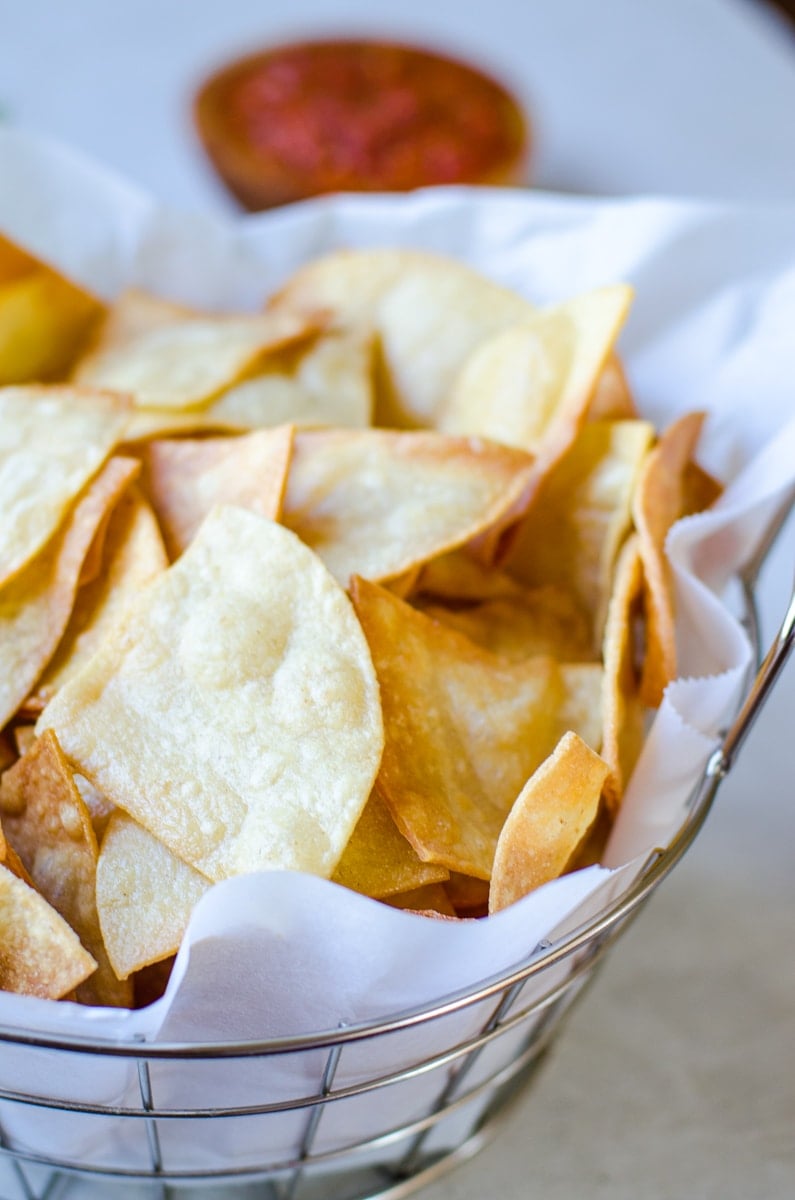 How Do You Make Tortilla Chips From Scratch?
My favorite way to make homemade tortilla chips is in a fryer. Yes, baked tortilla chips have less fat, but when you deep fry correctly there is minimal fat absorption anyway. Plus, fried tortilla chips more closely resemble what you get at a Mexican restaurant.
If you want to be as authentic as possible you can make you own homemade tortillas, but this isn't a requirement. Any corn tortillas from the store can be used as well, although the extra-thin varieties fry up fastest.
What Kind Of Tortilla Should I Use?
For a flavor resembling a Mexican restaruant, use corn tortillas. They have a smaller amount of water in them so they fry easier and get less puffy. Flour tortillas can also be used, but they end up a bit more like pita chips than tortilla chips.
After you've chosen your flavor profile, you need to choose the type of corn. Corn tortillas are made with either white or yellow masa harina, which is a type of flour made from corn. (Also called Maseca, which is the most common brand.)
The tortilla color doesn't affect the flavor of homemade chips much, but it does change the appearance. Yellow corn gives a deeper color and is more typically used in Mexican restaurants, so it seems more "authentic". White corn gets more of a natural golden brown color to it, but also is more obvious if you overcook it.
Lastly, you want to choose the size and thickness of your tortilla. The most standard size of corn tortilla is 6", or taco size. (Not street taco size, which is 4 inches.) If you go with a larger tortilla, you may need to make additional cuts to get the chips the right size.
Standard tortillas are thicker than the extra thin, which means they need longer to cook. However, they hold up better to heavy dips and sauces.
Typically, these need about 45-60 seconds per side to cook, whereas extra thin only needs 15-30. Depending on the size of your fryer or pot, there are benefits that come with cranking out the extra thin faster. Especially if you're serving a crowd.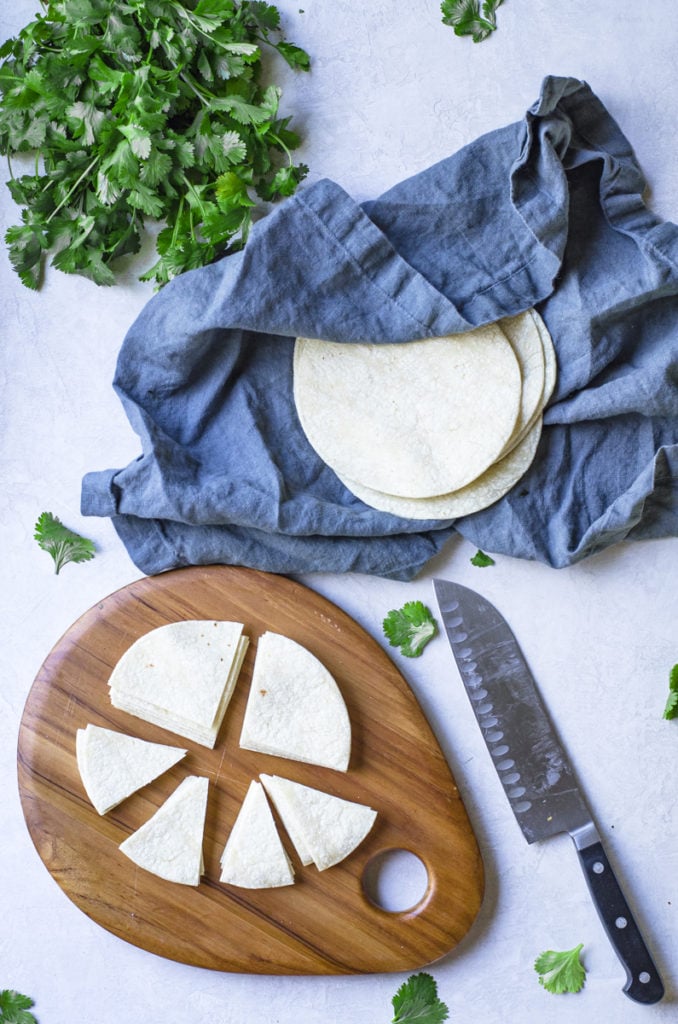 Why Are My Tortilla Chips Chewy?
This is usually caused by two major things:
You didn't have your oil at the right temperature to support deep frying. (Or the temperature dropped too much between batches of chips.)
You didn't fry them long enough. (This also encompasses not flipping them over to ensure both sides get crispy.)
For the first, this is easily solved with a temperature controlled electric deep fryer, or a really high quality thermometer. If you are frying in a pot, a quality deep frying thermometer is essential. It prevents the oil from getting to a dangerous temperature. It also provides a way to ensure the temperature doesn't drop too cold, which makes the chips chewy and absorb extra fat.
Electric deep fryers usually come with a temperature control knob. An indicator light should either turn on or off when the chosen temperature is reached.
For the second option, taking your time is key. Look for the edges to start to become just the slightest golden brown before flipping. Then use a slotted spoon or kitchen spider to gather the tortilla chips to rotate. The second side doesn't usually take as long, but standard tortillas may need a bit longer than extra-thin.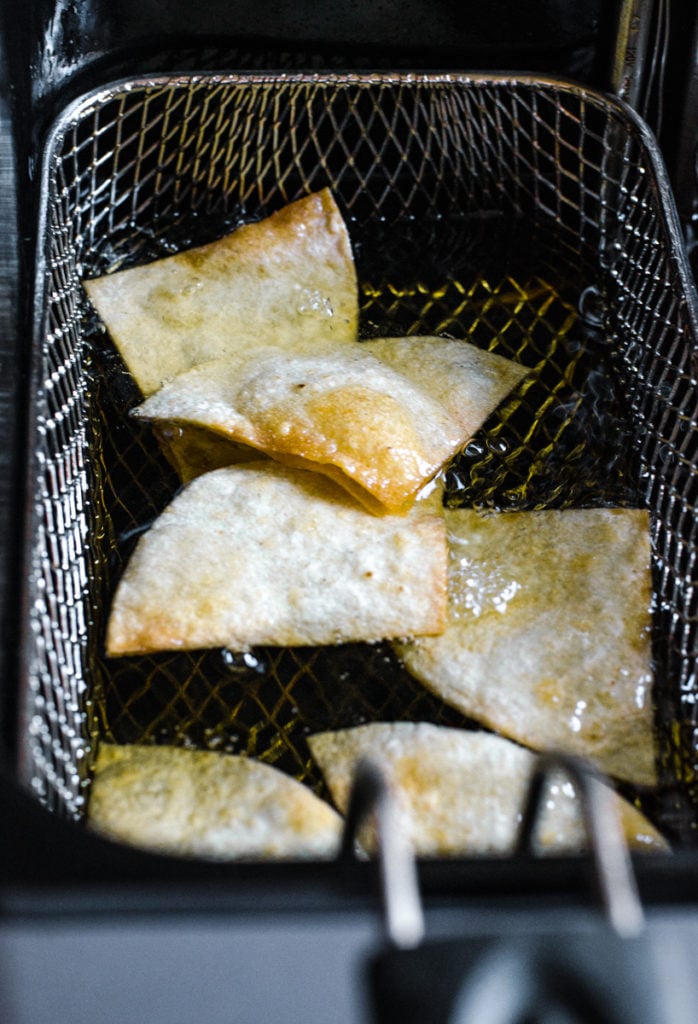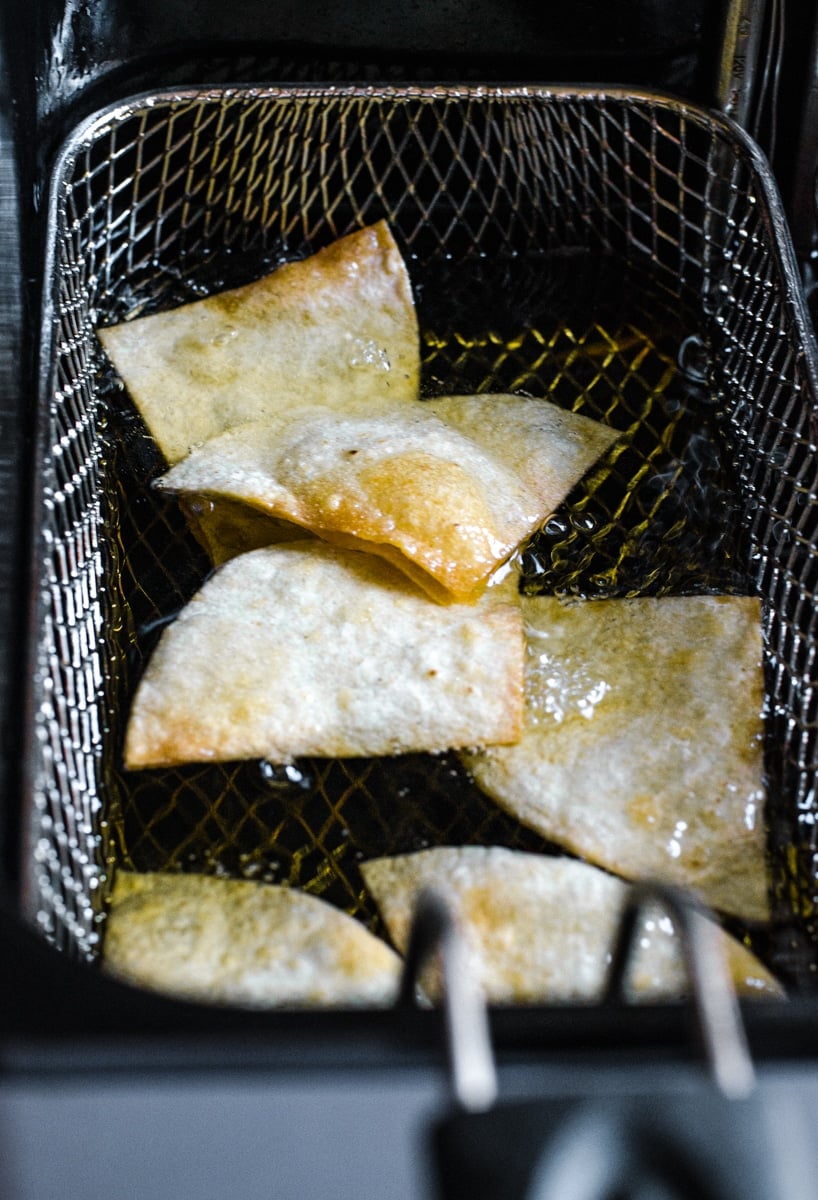 How To Keep Homemade Tortilla Chips Warm
If you're making a large batch of tortilla chips at home, you may want to keep them warm before serving. The easiest way to do this is to preheat the oven to 250 degrees.
After you have removed the homemade tortilla chips from the fryer, turn them out onto a paper towel. This helps collect any excess oil. Season them with salt and transfer them to a baking sheet. Keep the homemade tortilla chips in a single layer until ready to serve.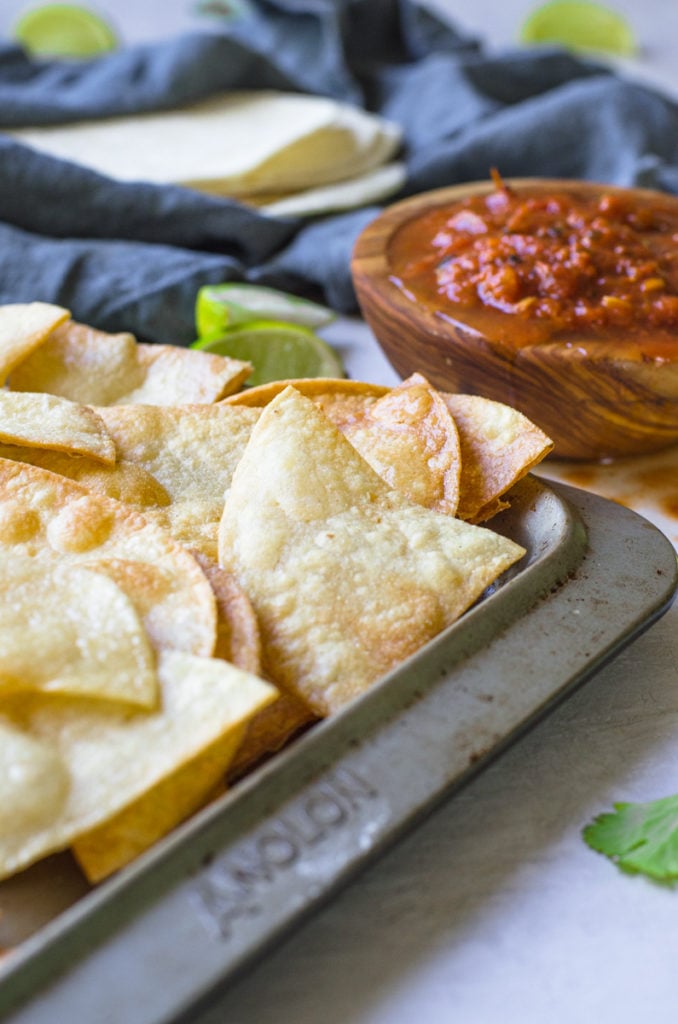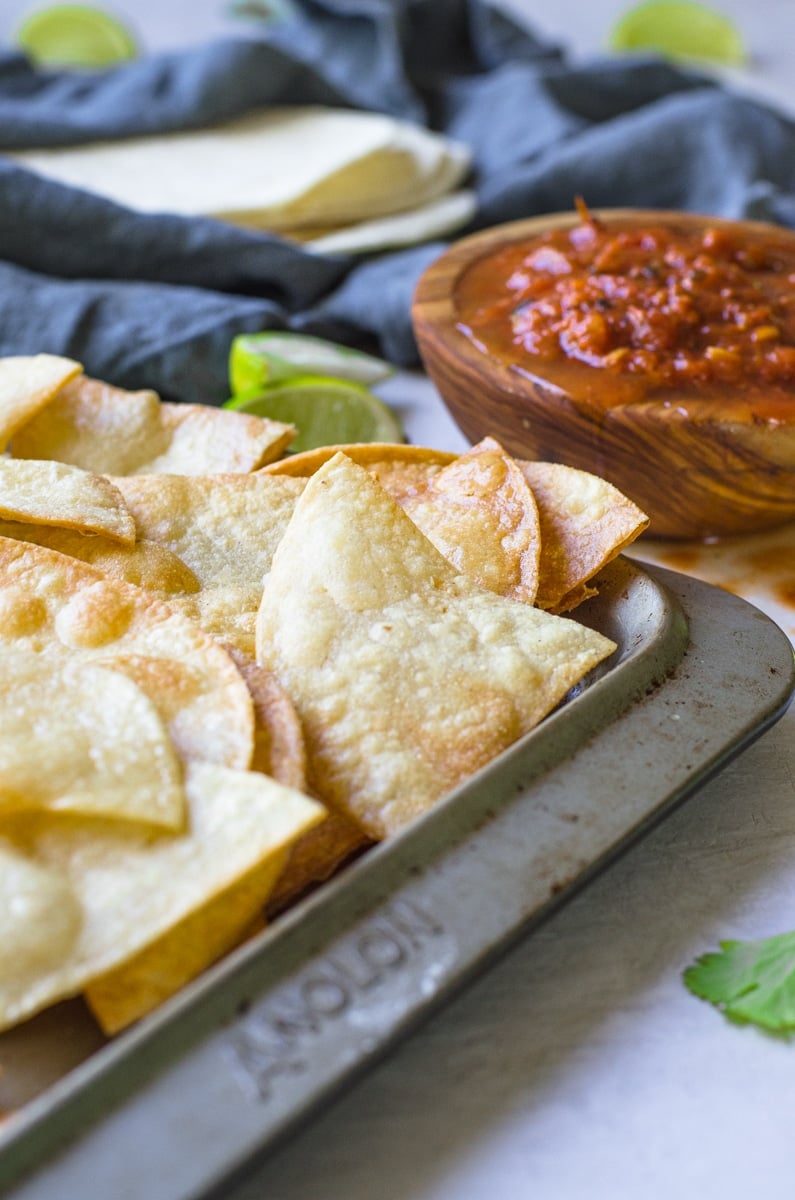 Professional Recipe Tips
Choose an oil that is safe to deep-fry with. Vegetable oil and canola oil are the two most common, but avocado, sunflower, peanut or lard all work as well. These all come to the right temperature without risk of catching fire. For your safety, please don't use olive oil.
Keep your fryer temperature around 350 degrees. This keeps the chips from cooking too quickly and leaving behind a chewy interior.
If you have a double basket fryer, you can rotate between the baskets when you flip. This helps make sure you don't get any potentially chewy chips that are missed.
Homemade tortilla chips should be salted as soon as you turn them out of the fryer, while the oil still glistens. This help the oil cement the salt to the chip as it dries. (I like to use popcorn salt or a sea salt grinder for my chips.)
At the same time as adding the salt, you squeeze fresh lime juice or zest for an extra pop of flavor. You don't need much because too much liquid makes the chips soggy.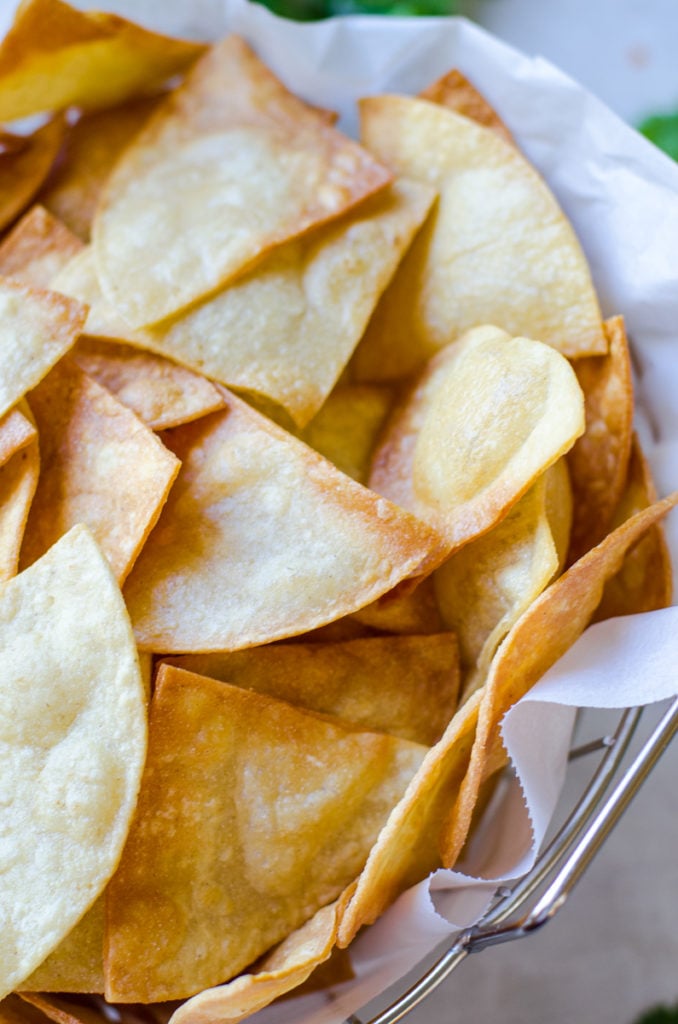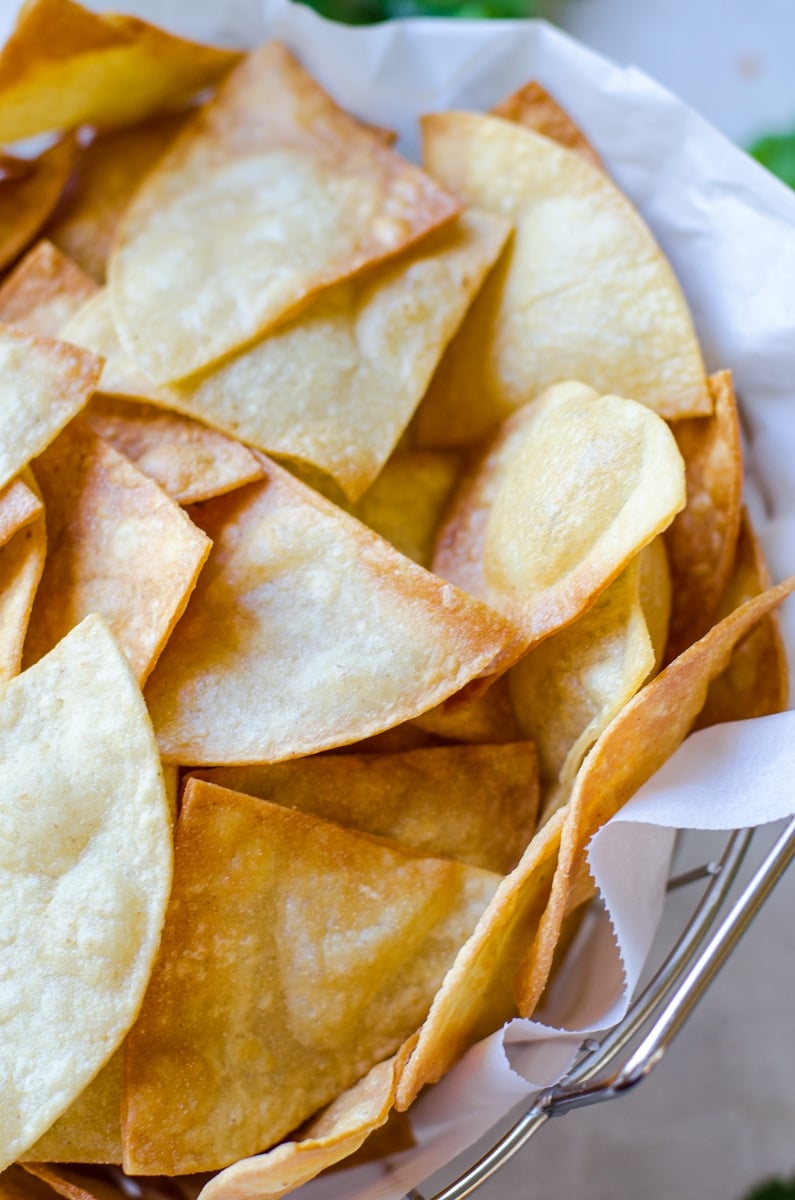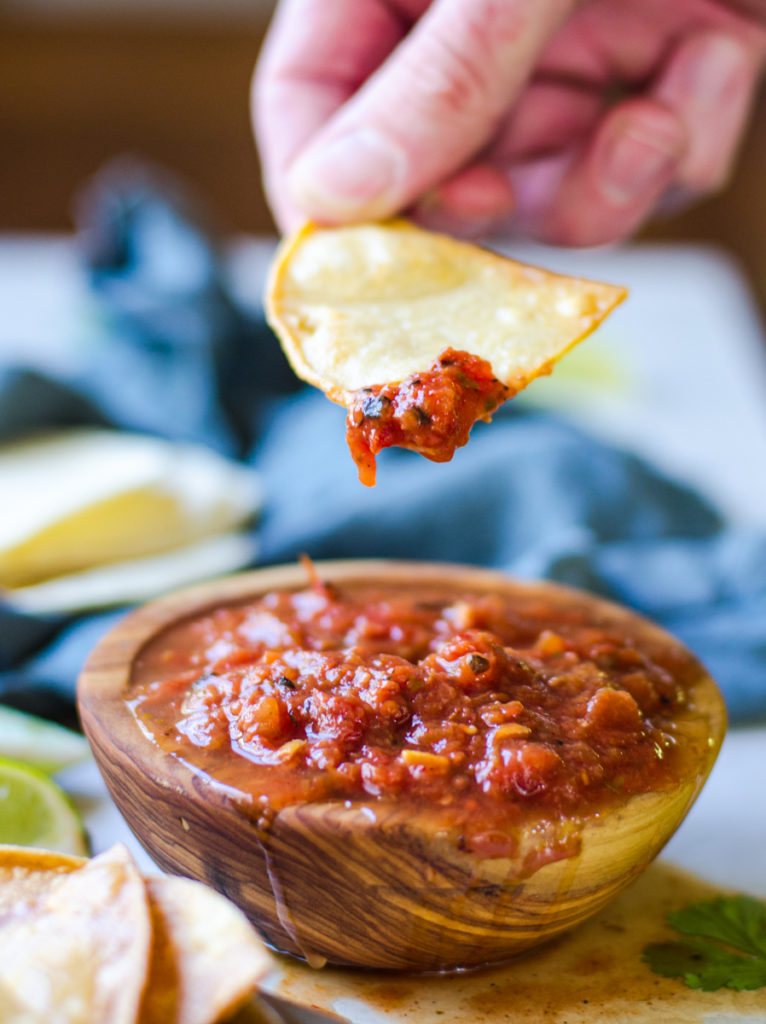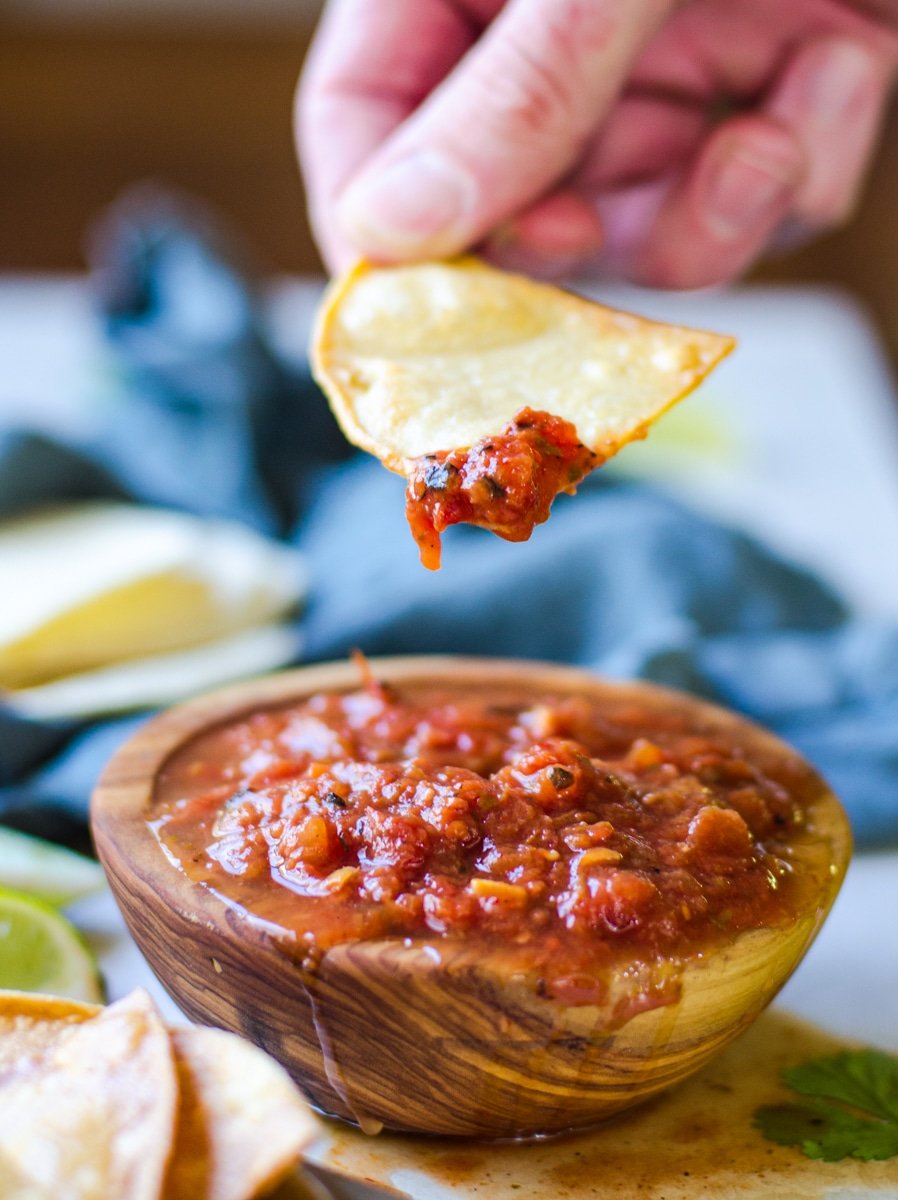 How To Make Homemade Tortilla Chips
Before frying, you need to cut the tortillas into wedges. This is usually just two slices that make quarters, but larger tortillas may require more. When you fry them, try to keep the tortilla pieces in a single layer so they don't overlap. Overlapping keeps the oil from touching the chip, leaving that area undercooked.
Happy Cooking! 🙂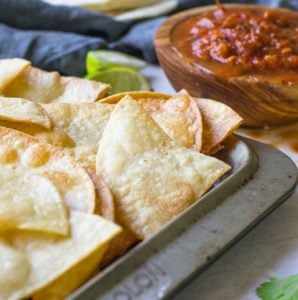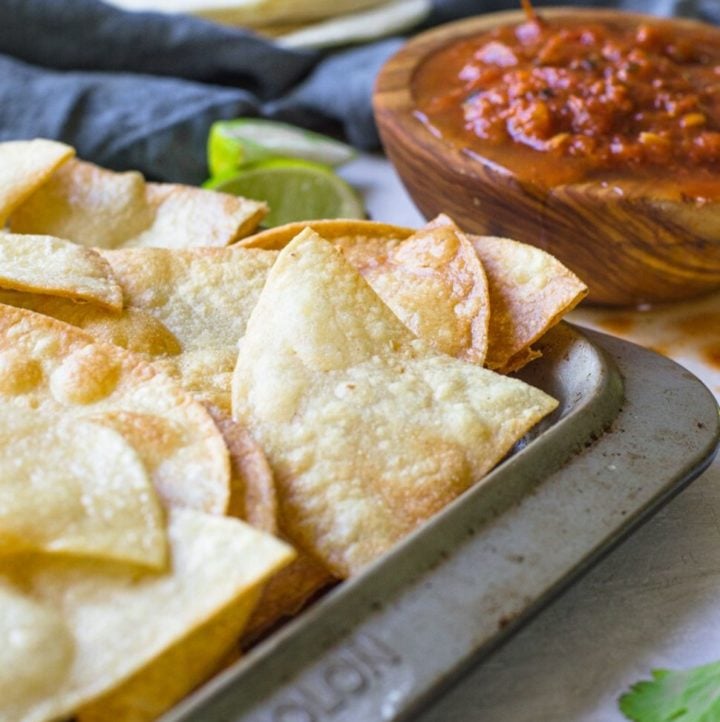 Homemade Tortilla Chips
These crispy deep fried homemade tortilla chips are perfect to serve with your favorite salsa.
Pin it for later?
Ingredients
12

6" corn tortillas,

cut into quarters

2-3

quarts

vegetable oil
salt,

to taste

lime,

optional
Instructions
Fill a deep fryer or a large heavy bottomed pot with enough oil for the chips to easily float. About 2-3 inches. Using a deep-frying thermometer, preheat the oil to 350°F.

Working in batches as needed, submerge the tortilla pieces in the oil trying to keep them from overlapping. Let them fry for 45-60 seconds or until the bottoms just start to brown on the edges. Use a metal slotted spoon or a kitchen spider to flip them. Fry an additional 45-60 seconds or until done.

Remove the homemade tortilla chips from pot and allow the excess oil to drip off. Transfer to a baking sheet lined with paper towels and immediately season with salt. Add a spritz of fresh lime or lime juice as desired.
Notes
This recipe makes about 12 tortilla chips per person.  
Homemade tortilla chips stay fresh up to three days when stored at room temperature.  Keep them in air tight container for best success.
If you need to keep the chips warm, place a baking sheet in the oven heated to the lowest possible setting.  Make sure to NOT have the paper towel on the baking sheet, and try not to keep them in there for more than 15 minutes or they might start to overcook.
Nutrition
Serving:
1
serving
|
Calories:
287
kcal
|
Carbohydrates:
35
g
|
Protein:
4
g
|
Fat:
16
g
|
Saturated Fat:
11
g
|
Sodium:
35
mg
|
Potassium:
145
mg
|
Fiber:
5
g
|
Sugar:
1
g
|
Calcium:
63
mg
|
Iron:
1
mg
Tell me how much you love this recipe
and show off how you made it!