You don't have to save fried pickles for trips to the bar anymore. Make your own homemade deep fried pickles and dip them in this creamy sriracha ranch for perfect football food at home.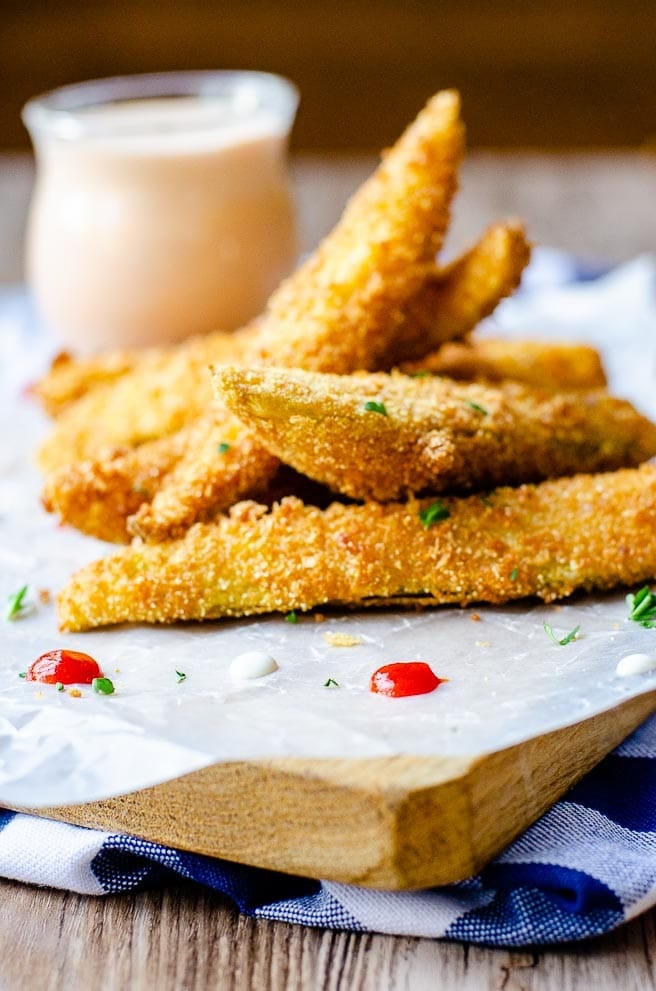 I love fried pickles, but I don't like the fried pickle slices that most bars and restaurants serve. There ends up being too much breading and not enough pickle. When I eat deep fried pickles, I want to taste the saltiness of the pickles. These deep fried pickles subscribe to the more pickles, less breading style. It uses dill pickle spears (instead of slices) that are coated in a special seasoning and panko before being deep fried. Served with sriracha ranch dipping sauce that has a slow burn, you'll never want to eat restaurant fried dill pickles again.
How To Make Deep Fried Pickles Without A Deep Fryer
If you don't have a deep fryer, don't stress, you don't need one. The important thing is that you use enough oil to completely submerge the pickle spears. As long as there is enough room for the pickles to float, you can use a pot or a skillet.
Keep in mind, the wider you pot, the more oil you have to use. Conversely, the narrower your pot, the more batches you will have to make.
Tips for Making Perfect Deep Fried Pickles
Take your fried dill pickles up a notch by improving your culinary proficiencies.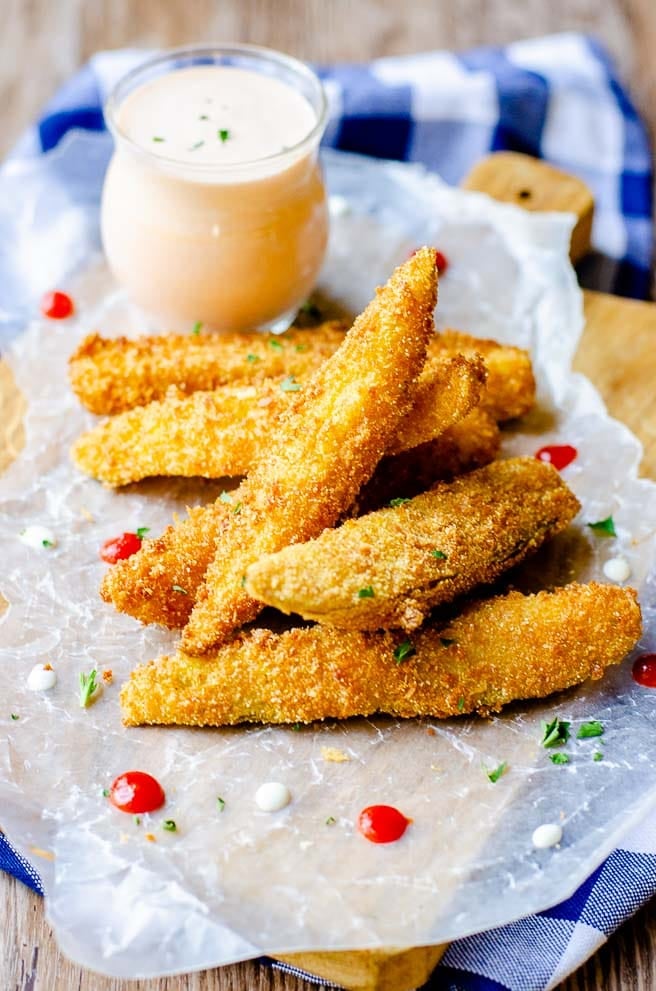 What To Dip Deep Fried Pickles In
Personally, I love a little heat to accompany my fried dill pickles, but just hot sauce doesn't quite cut it. That's why I recommend pairing these deep fried pickles with a sriracha ranch dipping sauce. It has a creamy flavor up front that tamps down some of the saltiness of the pickles, and a slow burn at the end.
Football Food
If you're a lover of tailgating and game day foods, then no wonder you ended up here. This recipe is part of a collaboration with other food bloggers focusing on game day football food. Complement these deep fried pickles with one of these other great football food recipes!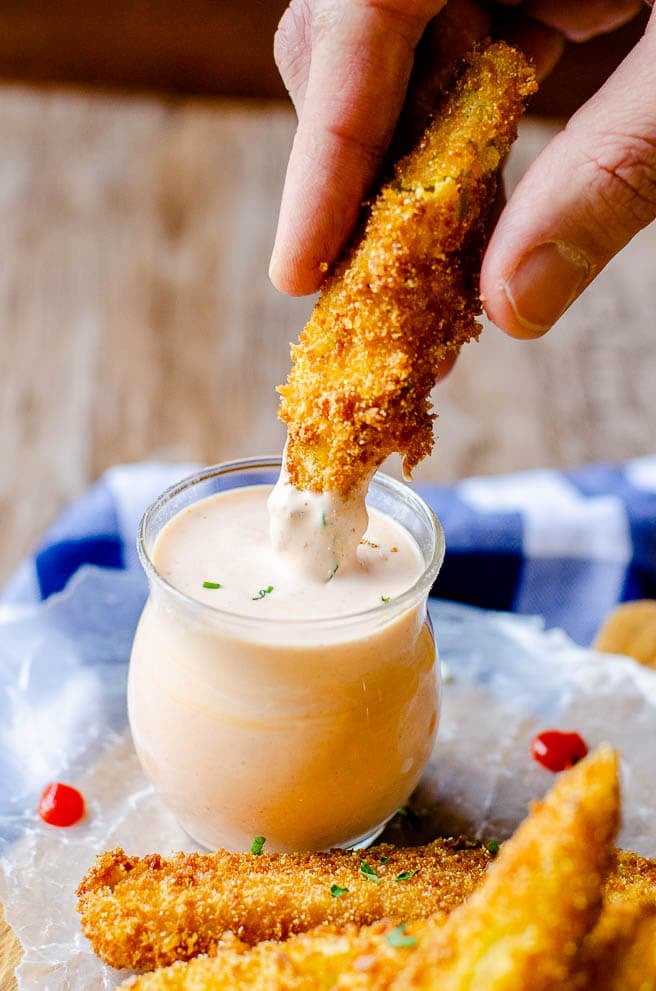 Deep Fried Pickles Recipe
These deep fried pickles are so crispy and pair perfectly with a good craft beer.
Make sure to pat your pickles as dry as you can. If they are too wet when you fry them, the breading slides off when you go to dip them.
---
Happy Cooking! 🙂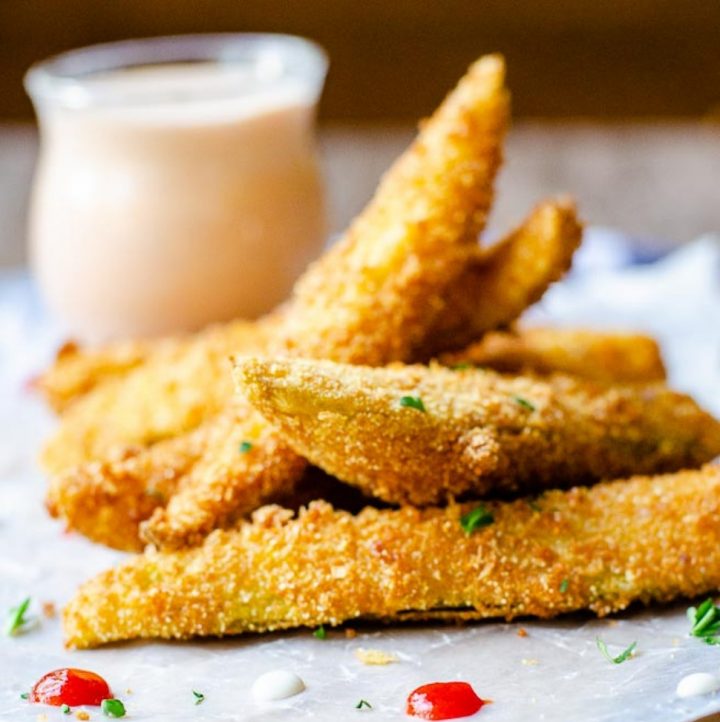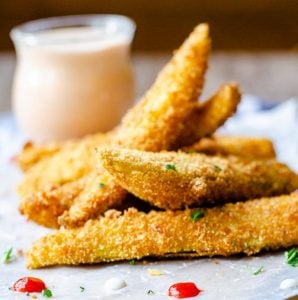 Deep Fried Pickles with Sriracha Ranch Dipping Sauce
Enjoy the restaurant quality taste and texture of the deep fried pickles at home. They have a crispy, golden brown outside and are served with a dipping sauce that starts creamy and has a slow burn.
Pin it for later?
Ingredients
2

jars of pickles (24 ounces each)

,

drained

½

cup

flour

1

teaspoon

garlic powder

1

teaspoon

cayenne pepper

2

eggs

2

Tablespoons

water

¾

cup

bread crumbs

½

cup

panko

¼

cup

cornmeal

½

cup

ranch dressing

1

Tablespoons

sriracha

4-6

cups

safe oil for frying
Instructions
Drain your pickles and pat them as dry as you can. Set them aside. Stir together the ranch dressing and sriracha and set aside.

Create your breading station. Mix together the flour, garlic, and cayenne in one flat bottomed container and set aside. Whisk together the eggs and water in a second flat bottom container and set aside. Stir together the cornmeal, bread crumbs, and panko in a third flat bottomed container.

Depending on the size of your pot*, pour 4-6 cups of a safe frying oil into the pot and bring to 375 degrees. Reduce the temperature just a bit when you achieve the temperature so it maintains and doesn't get too hot.

Take the dried pickles through the breading station. First toss them in the flour until evenly coated and shake off any excess (too much flour will cause the breading to slide off). Dip into the egg wash until evenly coated and let any excess drip off. Finally, transfer to the bread crumb mix. Push each side down into the bread crumbs making sure each side is evenly coated. Shake off any excess.

One at a time carefully place the breaded pickles into the frying oil. You can fry 4-6 pickles at a time. Cook each pickle for about

4 minutes

, or until golden brown. Using a slotted spoon, transfer the deep fried pickles from the oil to a paper towel lined plate. Let them cool for a minute, then serve with the sriracha ranch dipping sauce.
Notes
*I used a six cups of oil in a four quart pot.
*There are roughly 12 dill pickle spears per 24oz. jar.  This recipe factors calories and servings based on that estimate.
Nutrition
Serving:
1
serving
|
Calories:
73
kcal
|
Carbohydrates:
7
g
|
Protein:
1
g
|
Fat:
4
g
|
Cholesterol:
15
mg
|
Sodium:
155
mg
|
Potassium:
33
mg
|
Vitamin A:
65
IU
|
Vitamin C:
0.7
mg
|
Calcium:
14
mg
|
Iron:
0.5
mg
Tell me how much you love this recipe
and show off how you made it!