Golden brown on the outside and soft on the inside, these homemade french fries are perfectly crispy. Serve them with ketchup, dipping sauce, or freeze them for later!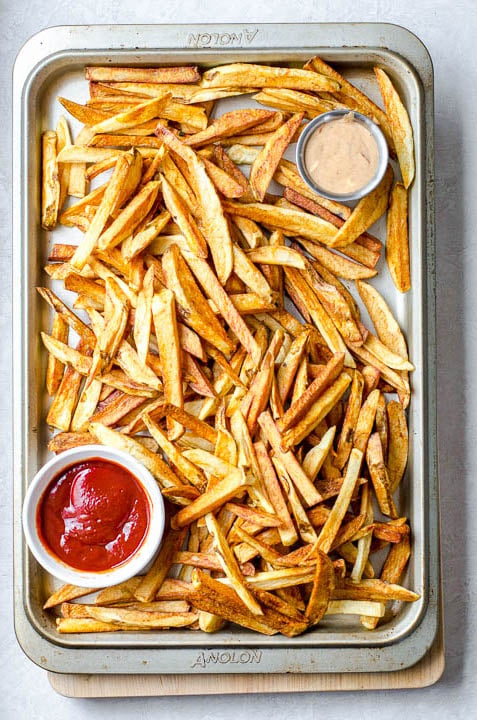 Why Do You Soak The Potatoes Before Frying?
If a cut potato is allowed to sit out it gets a white film on it. That's potato starch. This potato starch exists not just in the peels but throughout the entire potato and works almost like a glue. (In fact, it is used as a thickener in many products and recipes.)
Soaking the potatoes in water before frying allows the potatoes to release some excess starch. It also keeps them from sticking together.
If you're wondering why this is important, it has to do with achieving maximum crispiness.
If the potato starch adheres the french fries together, then they don't become crispy where they touch each other. This also means they don't get cooked as well. So while it may seem silly to soak the french fries ahead of time, it makes homemade french fries that much better.
In fact, soaking the potatoes in salted water removes some of the excess moisture from the inside to make sure that they cook correctly.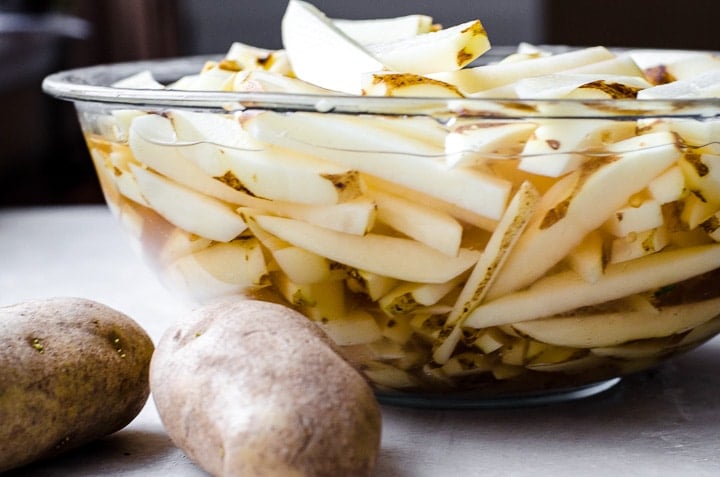 Why Aren't These Double Fried?
I'm going to be honest and straightforward with you guys. Double frying works, but it's unnecessary IF you fry them correctly. This means slicing the potatoes to the right thickness and frying them at the right temperature.
If you've read all about deep frying in my cooking methods, then you know that using the wrong temperature makes food absorb extra oil. Not only is this bad for your arteries, but it SLOWS down cooking. This causes issues with the timing because the outside becomes a stunning golden brown before the inside is cooked through.
If you follow this method exactly, double frying becomes obsolete.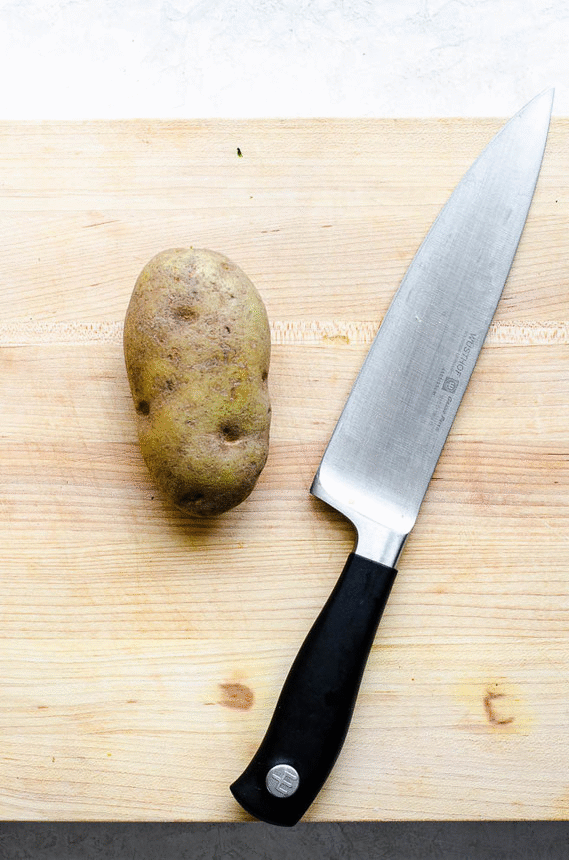 Can I Freeze My Own Homemade French Fries?
Absolutely!
In fact, I do this as often as possible because it gives me a great side dish for later on. Just follow the recipe as written and let the french fries cool completely. Then freeze them in a single layer on a baking sheet lined with parchment paper. Transfer them to a freezer safe bag and store for up to 6 months.
Once you are ready to reheat them, you can fry them again in a deep fryer. (Yes, this is technically double frying, which is also what most restaurants do.) Or you can bake them at 425°F for about 35 minutes, tossing halfway through.

What Kind Of Potatoes Are Best?
The best homemade french fries are made with starchy potatoes, not waxy ones. This means that russet potatoes and even Yukon golds are going to be your best friends.
It is completely your choice as to whether or not you peel the potatoes. For these, I went through and removed about 75% of the peel, leaving some for texture and appearance.

What Kind Of Oil Should I Use?
When it comes to choosing an oil for deep frying, any high smoke point oil is wonderful for cooking the potatoes. Peanut oil is the most classic choice because it adds a delicious flavor profile to the french fries. Beyond that, any neutral flavored cooking oil works well. This includes: canola oil, avocado oil, vegetable oil, and sunflower oil.
There are plenty of other choices, just make sure that they have a smoke point of at least 400 degrees. This prevents the oil from catching on fire and exploding in your face while you cook. Some sites may say that your oil should have a smoke point of only 350 degrees. However, that is the average temperature for deep frying, so you want your oil to go higher as a safety precaution.
As a bonus tip, if you want extremely flavorful homemade french fries, you can deep-fry them in beef fat (tallow). You can find large jugs of it at stores like Costco and Sam's club. It's delicious.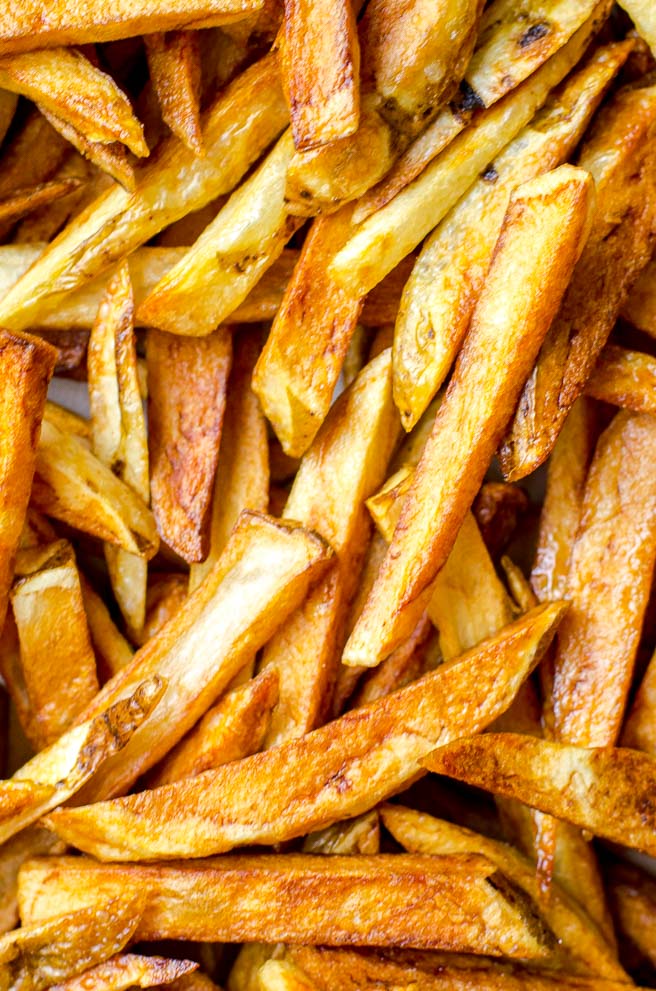 Professional Recipe Tips for Perfectly Fried French Fries
Pat the french fries as dry as possible after soaking. Excess water in your oil will cause splattering and popping, as well as make it work ineffectively.
Salt explodes in hot oil, so it's best to add it to your french fries AFTER they're cooked.
The size of your pot decides how much oil you need because french fries need to be fully submerged cook correctly. So, a pot with a larger bottom will need more oil than one that is small. Conversely, a tall and narrow pot may require cooking more batches because many fries may not fit into the pot at once.
Oil temperature drops when you add in food. This is part of why I recommend a starting temperature of 375°F. This makes sure that your oil is still in the effective deep frying range even when the temperature drops. However, you still want to be cautious of overcrowding, which can make the temperature drop even further.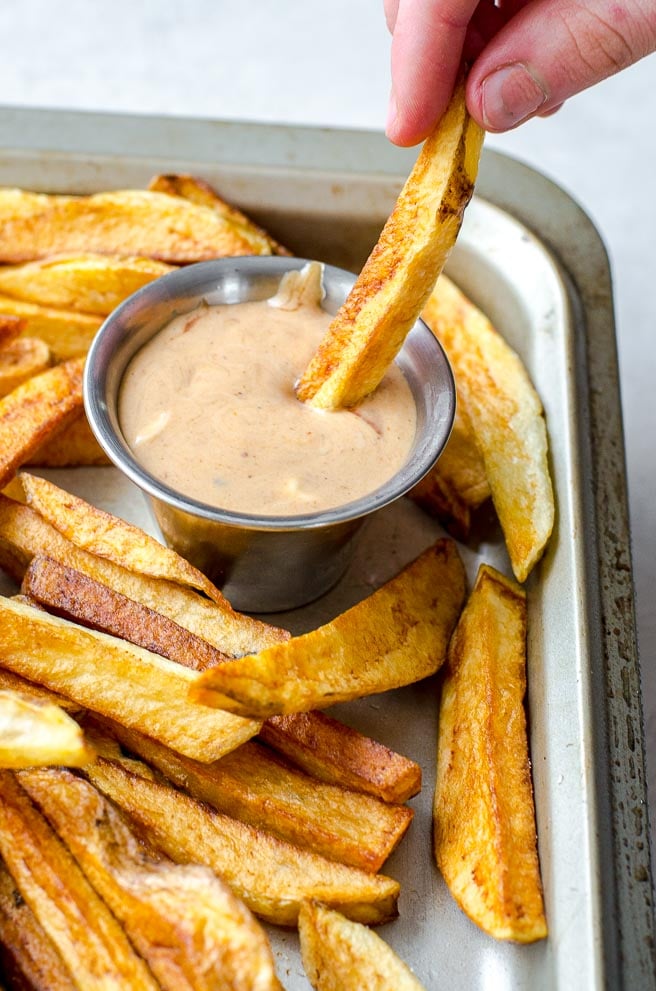 Homemade French Fries Recipe
Please, please, please make sure that you have a wonderful deep frying / candy thermometer that clips onto your pot. This will help you manage the temperature of your hot oil to keep it from changing. Make sure to get my checklist infographic about deep frying safety before beginning.
---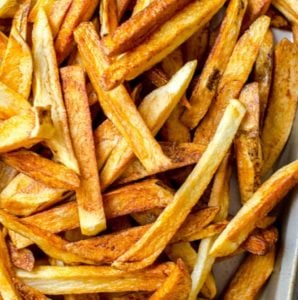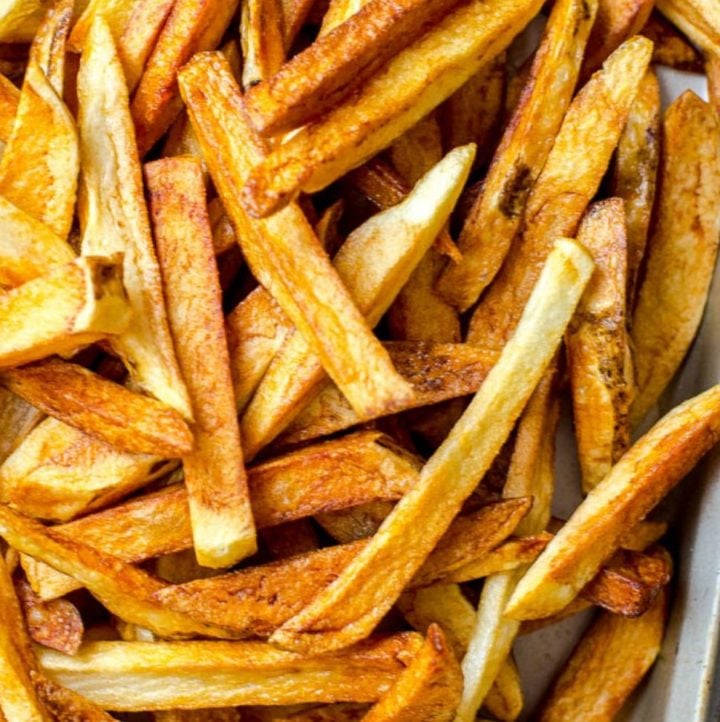 Homemade French Fries Without Double Frying
These perfectly golden brown homemade french fries are crisp on the outside and hot and tender inside.
Pin it for later?
Ingredients
5

pounds

russet potatoes ,

or Yukon Gold

3+

quarts

neutral oil
salt and pepper,

to taste

ketchup or dipping sauce for serving
Instructions
Wash and lightly peel the russet potatoes.  Cut them into ⅓" - ½" thick slices and rinse them.  Place the potatoes in a large bowl with 1 Tablespoon of salt.  Cover with water and soak for 30 minutes.  

Drain and rinse the potato slices then pat as dry as possible with a clean towel.

Add at least 4 inches of oil to a deep heavy bottomed pot.  Clip a deep-frying thermometer to the side of the pot, and bring the oil temperature up to 375 degrees.

Working in batches, carefully lower the potato slices into the hot oil.  Let them fry for 6-10* minutes, or until golden brown on the outside and soft and tender inside.  Remove them from the hot oil using a slotted spoon or spider strainer.  

Place them in a single layer on a baking sheet lined with paper towels.  Season with salt and serve with ketchup or your favorite dipping sauce.
Notes
*The range for how long to fry the french fries varies based on how many french fries you fry in each batch.  The more fries, the longer it will take.

Estimate about 2 large russet potatoes per person when making french fries.  We always eat more than we think we will. 

Spider strainers

are better when deep frying because they allow more oil to drain off during straining. You don't need to put your french fries on the paper towel if you use a spider. You can season and serve immediately.

The thinner your potatoes are, the crisper they will be when fried. 
Nutrition
Serving:
1
serving
|
Calories:
248
kcal
|
Carbohydrates:
51
g
|
Protein:
6
g
|
Fat:
3
g
|
Saturated Fat:
1
g
|
Sodium:
14
mg
|
Potassium:
1182
mg
|
Fiber:
4
g
|
Sugar:
2
g
|
Vitamin C:
16
mg
|
Calcium:
37
mg
|
Iron:
2
mg
Tell me how much you love this recipe
and show off how you made it!