Perfect for a party or tailgating, these carne asada fries are loaded with cheese, sour cream, guacamole, and thinly sliced carne asada steak.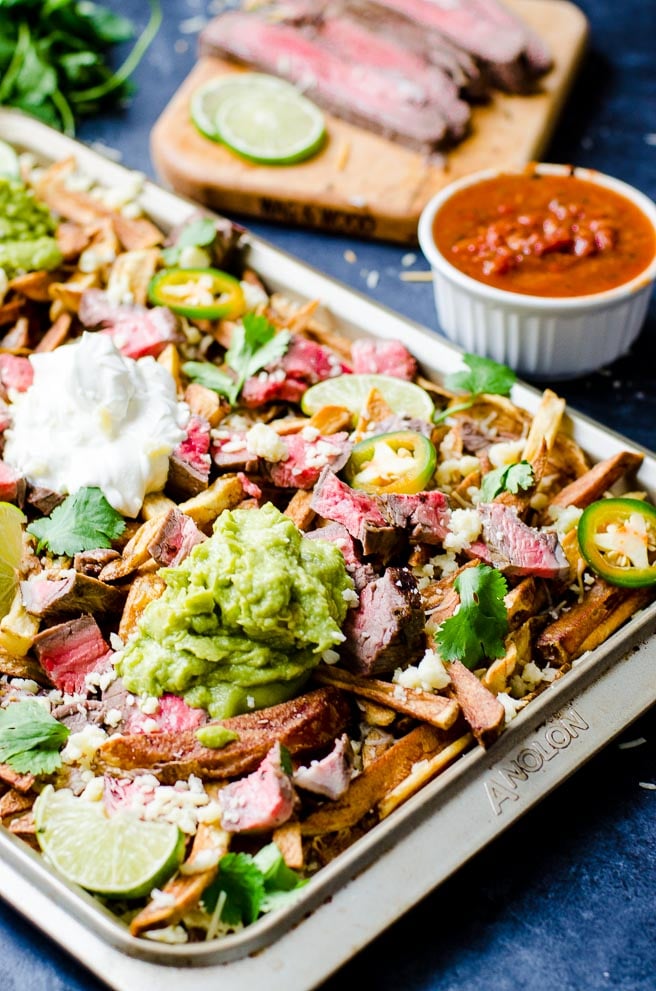 Nobody know the exact origin of carne asada fries (although San Diego seems to stake claim to it), but everyone who eats them knows how delicious they are. While not the most authentic or traditional of Mexican food, they are perfect for a fun game day treat.
What Is On Carne Asada Fries?
Similar to nachos, carne asada fries can be loaded with almost anything you decide. If you were to go to a stadium in the Southwest and order them, they would come with shredded cheese, thinly sliced carne asada, guacamole and sour cream. If you ordered them in a mexican restaurant, you might also get jalpenos, onions, cilantro, lime wedges for juice, or pico de gallo.
You can do them up however you like, but for the ease of this carne asada fries recipe, I'm keeping it traditional. Well...almost. I am doubling up the cheese by adding shredded cheese that gets melty, and cotija cheese for flavor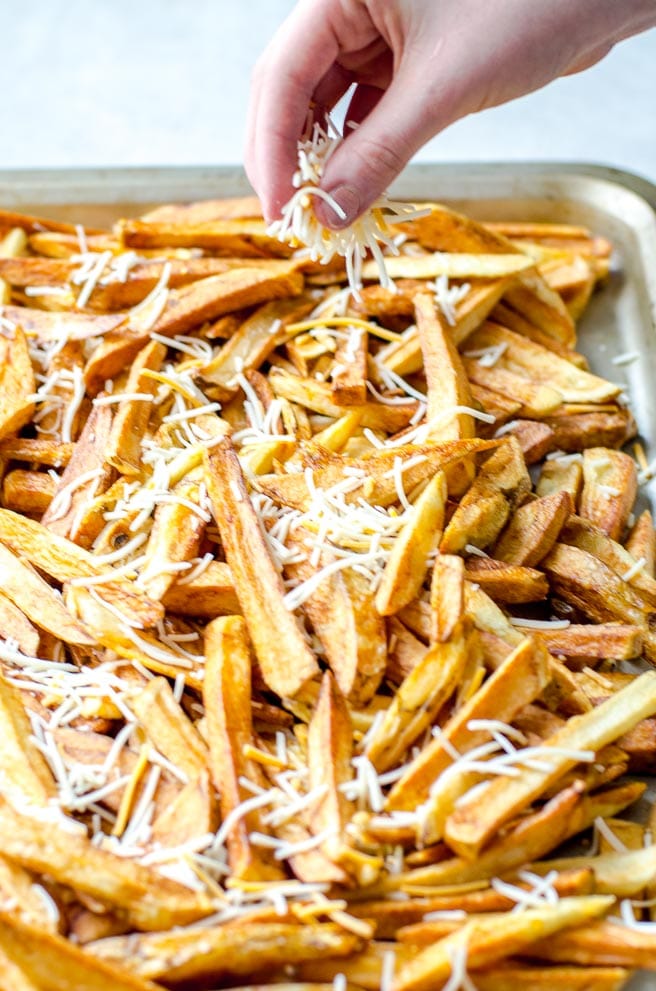 What Cut Of Meat Is Carne Asada?
Traditionally, carne asada is made of a steak that comes out of the flank or short plate of the cow. This includes skirt steak or flank steak. These are extremely flavorful cuts of beef, but not necessarily the most tender. Because of this, a flavorful marinade is used to tenderize the steak.
A really good piece of carne asada should taste primarily of great beef. After this is the smoky flavor from cooking, then finish the marinade's flavors.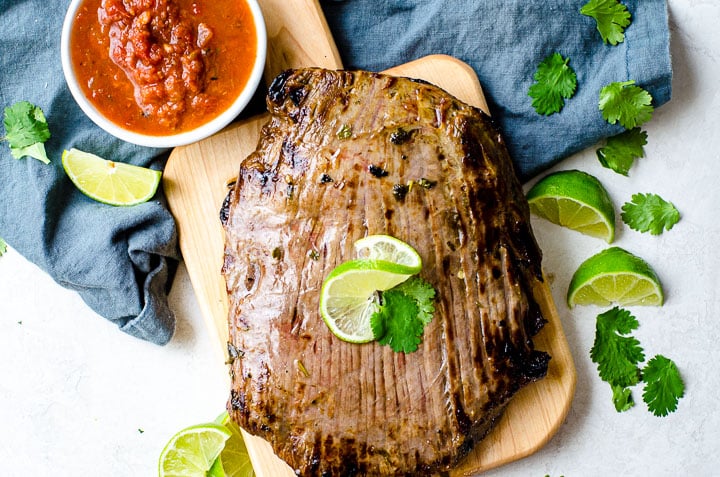 What Kind Of Fries Should I Use?
Traditionally, carne asada fries are made with a thinner shoestring style fry. This keeps them from buckling under the weight of the toppings because they get crispier. You can use whatever style of fries that you want, or whatever cooking method. This could be your favorite frozen brand (mine is Alexia), some you picked up from a fast food restaurant, or homemade.
If you go homemade (which I always recommend) you should try my recipe for french fries that aren't double fried. They are perfectly crispy and golden brown on the outside, and soft on the inside. They freeze really well, too. So you can make extra, save them for later, and make these carne asada fries whenever you're craving them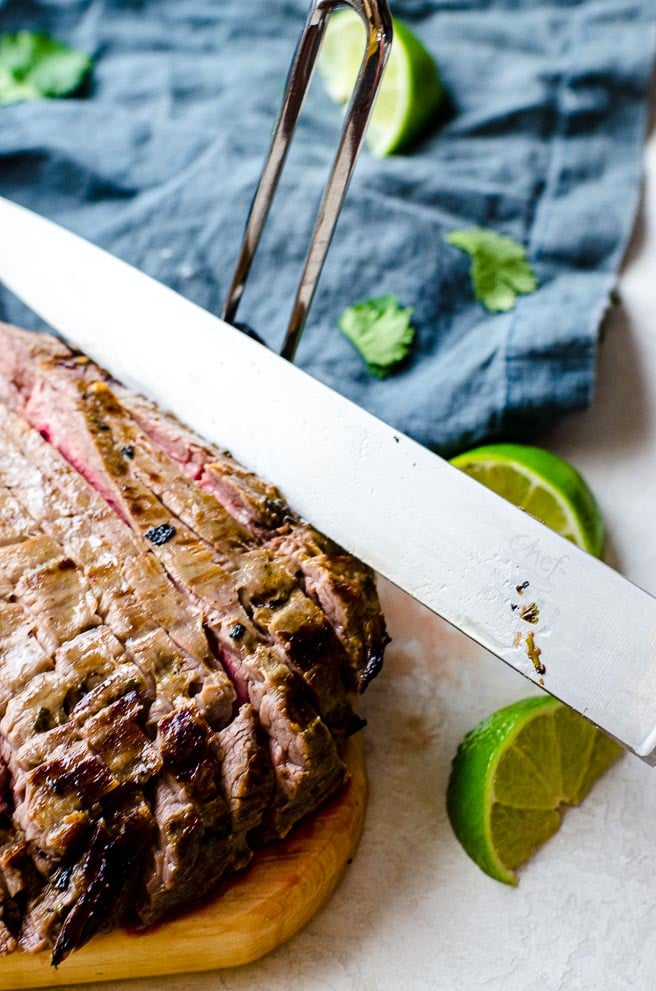 How To Cut The Steak
One of the most important things with these is that you cut the carne asada as thinly as possible. You're supposed to be able to eat these with your hands or a fork, so you don't want the meat to be too thick, unless you cut it into chunks.
To help keep it thin, use your slicing knife at a 45° angle. Not only does this help you keep your slicing thin, but the shape of the slice is more appetizing. (This is a super secret restaurant tip for you.)
Whether you choose to leave it as strips or chunks, you want to make sure to cut the carne asada AGAINST the grain for tender steak (The grain is the natural direction the meat layers.) To find the grain, look for the noticeable lines in the meat after it is cooked. Then, cut on a diagonal over them.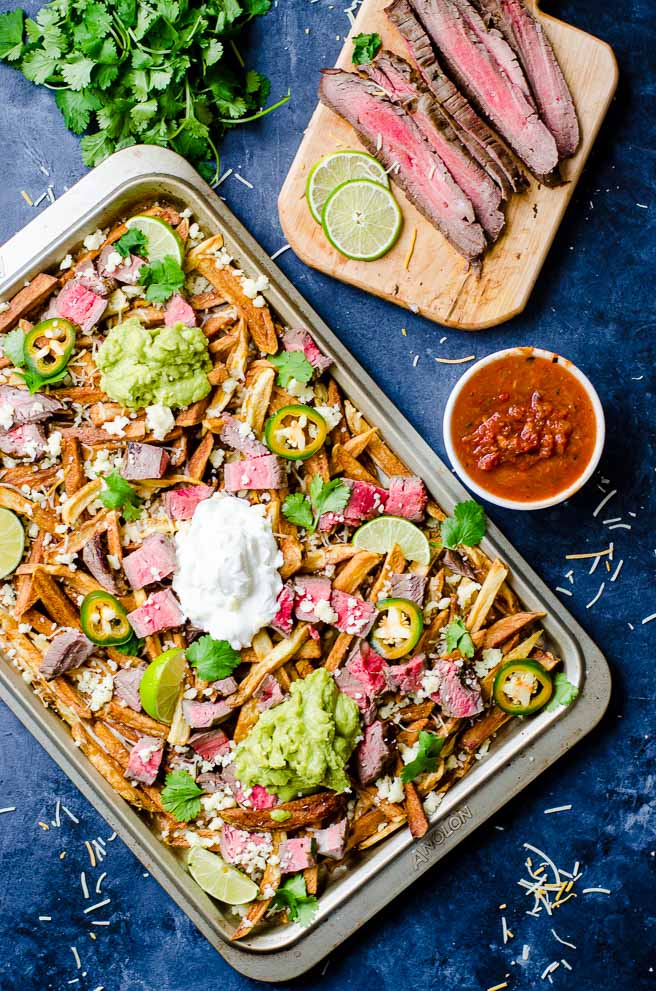 Professional Recipe Tips for Making Perfect Carne Asada Fries
Cotija cheese makes these more authentic, but Monterey jack melts better. If you want hot and fresh carne asada fries that have cheese stretching out in every bite choose the optional Monterey jack cheese. If you want to make the fries extra cheesy, use both.
Broil the carne asada to rare because it will cook a little further when you heat up the fries. By the end, the steak should end up around a medium level of doneness. If you choose to use a grill instead of a broiler, make sure to use a meat thermometer and aim for 115°-120°F as the temperature in the thickest part of the steak.
For the best smoky flavor on the carne asada, cook the steak on the highest heat you can. The "high" setting of the broiler gets to be about 550°F. You don't need a lot of time for it to achieve that smoky flavor.
Use a high smoke point oil in the marinade, not olive oil. This keeps the oil from catching on fire during cooking. I recommend avocado oil, sunflower oil, or grapeseed oil.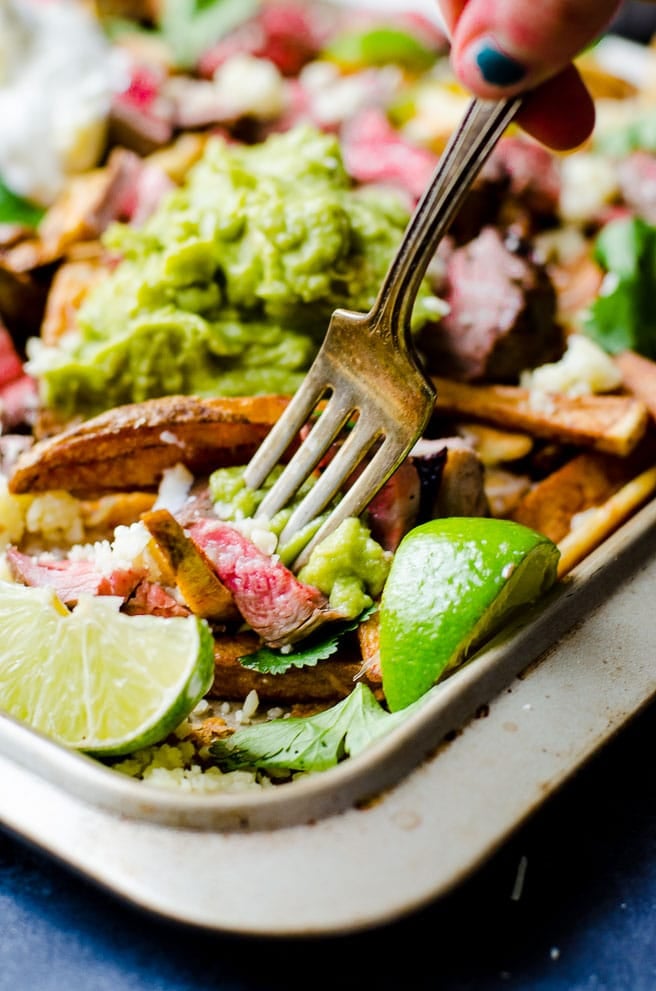 Sheet Pan Carne Asada Fries Recipe
This sheet pan carne asada recipe is great for feeding a crowd. With all the toppings and hefty serving of carne asada, you and your guests will get full quickly. It can easily serve 10-12 people per baking sheet.
If you choose to heat up frozen french fries, you may need to bake them (according to the directions) on two separate baking sheets to get them crispy. Just combine them onto one sheet pan before adding the toppings and you're golden!
---
Want a free printable grocery list for this carne asada fries recipe. Get it here.
---
Use this grocery list to help simplify shopping. Everything is listed in standard grocery store amounts. If no size is specified, even the smallest package will provide more than enough.
Happy Cooking! 🙂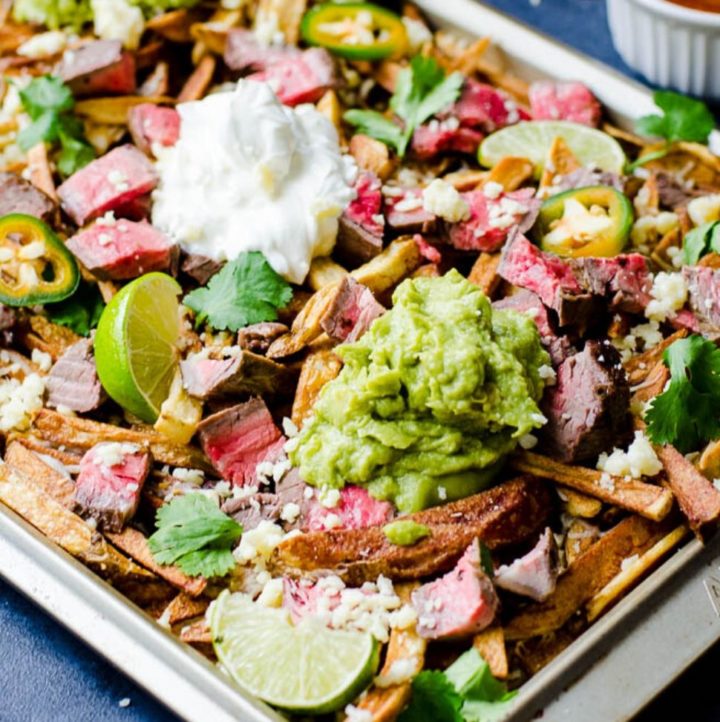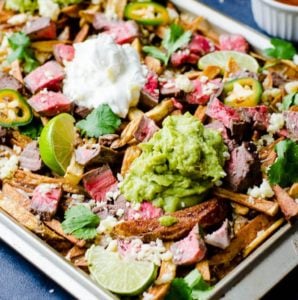 Sheet Pan Carne Asada Fries
Perfect for game day, these crispy french fries are topped with melted cheese, sour cream, guacamole, and smoky carne asada meat.
Pin it for later?
Ingredients
Carne Asada Marinade
1 ½

pounds

skirt steak or flank steak

½

cup

orange juice,

about 5 oranges

2

limes,

juiced

1-2

jalapenos,

sliced

1

bunch

cilantro,

chopped

4

garlic cloves,

smashed

½

cup

avocado oil
salt and pepper ,

to taste
Sheet Pan Carne Asada Fries
5

pounds

french fries,

Use your favorite frozen brand or homemade recipe.

1

cup

Monterey jack cheese,

(optional)

½

cup

sour cream

8

ounces

guacamole

8

ounces

cotija cheese,

reserve 2 ounces for the end

extra limes for garnish
Instructions
In a bag, combine all the ingredients for the marinade.  Add in the flank steak or skirt steak and marinate for at least 4 hours or up to overnight.

Preheat your oven broiler to high and put the rack in the upper third of the oven. Put the prepared carne asada on a baking sheet lined with aluminum foil. Season with salt and pepper, and broil for 3-4 minutes per side. Remove from the oven and set aside to rest.

While the carne asada cools, follow the instructions to cook your favorite french fries. Combine them onto a single sheet pan and adjust the oven to 450 degrees. Cut the carne asada into bite sized peices and distribute the carne asada, cotija cheese (and optional Monterey jack) and cook for 5 minutes, or until the cheese is melted. 

Remove the sheet pan from the oven, top the fries with guacamole, sour cream, and reserved cotija cheese. Garnish with wedges of lime for juicing. Serve immediately  
Notes
You can grill the carne asada meat instead of using the broiler.  Just get the internal temperature to 115°F-120°F.
 
Nutrition
Serving:
1
serving
|
Calories:
952
kcal
|
Carbohydrates:
75
g
|
Protein:
28
g
|
Fat:
62
g
|
Saturated Fat:
20
g
|
Cholesterol:
77
mg
|
Sodium:
1473
mg
|
Potassium:
1404
mg
|
Fiber:
12
g
|
Sugar:
3
g
|
Vitamin A:
388
IU
|
Vitamin C:
29
mg
|
Calcium:
254
mg
|
Iron:
5
mg
Tell me how much you love this recipe
and show off how you made it!