This creamy parsnip soup has a hint of fennel and is topped with caramelized apples. It's all the best of autumn fruits and vegetables.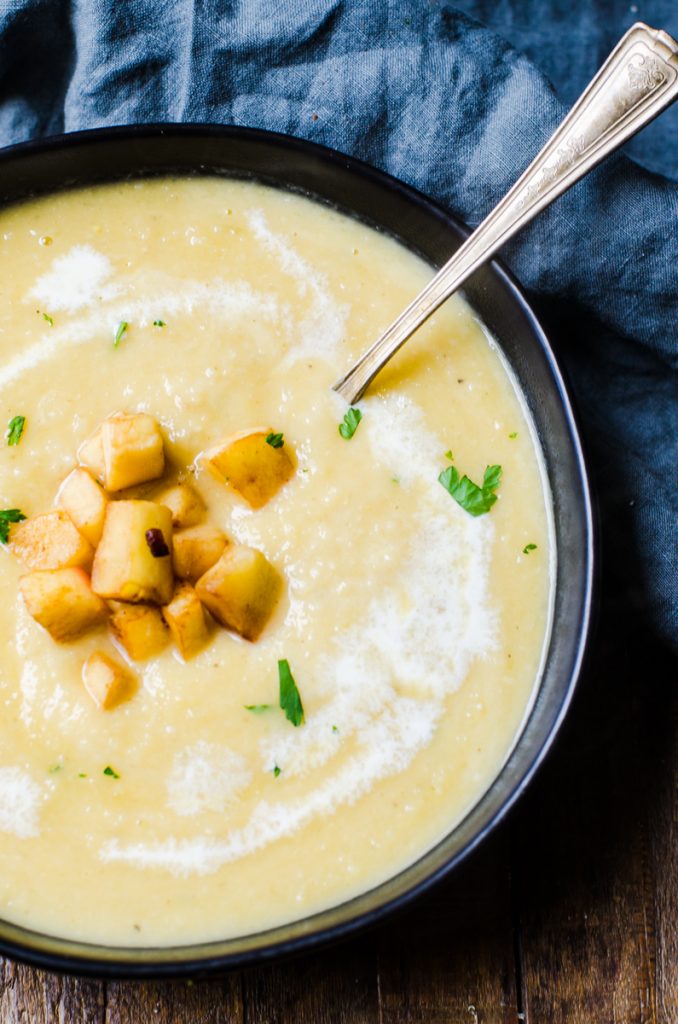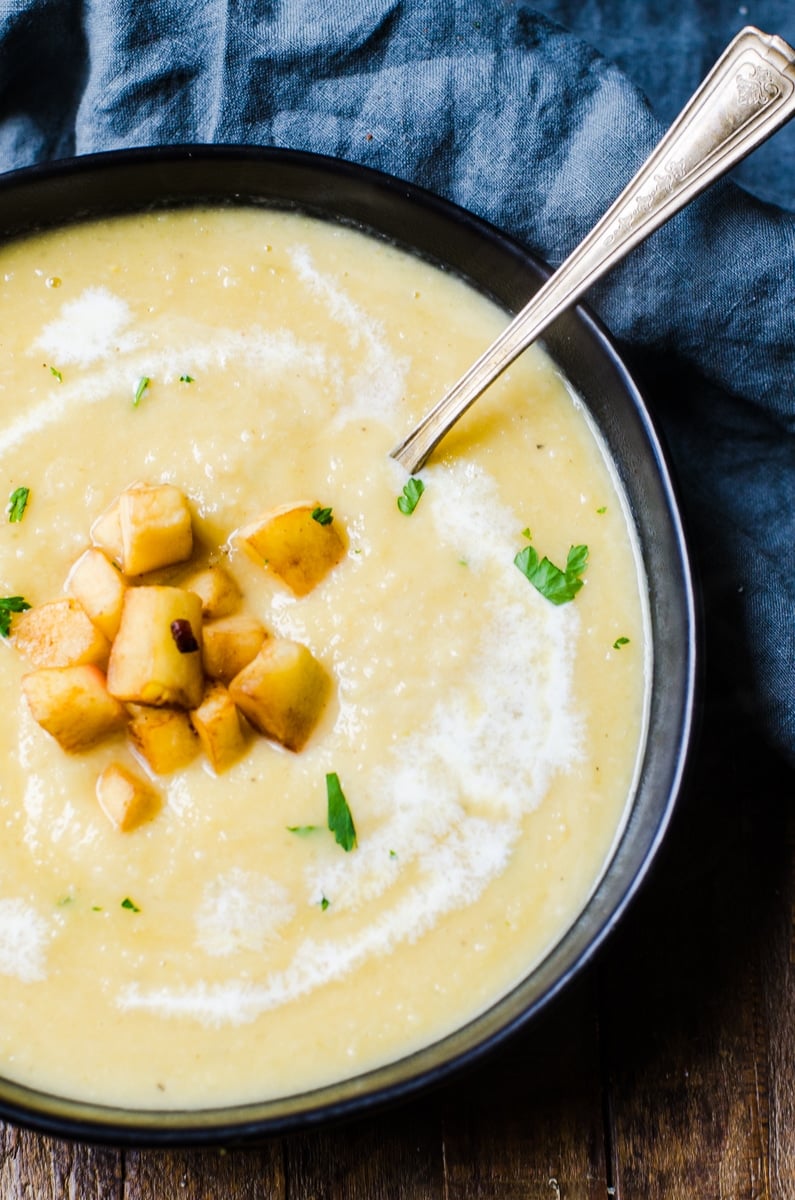 This creamy parsnip soup recipe is a great way to enjoy the best of autumn produce. Made with parsnips, leeks, and fresh fennel for the purée, then topped with bacon fat cooked apples, this gourmet soup is easy to make
What Do Parsnips Taste Like?
Parnsips are the underrated cousin of carrots. Not only do they look like them, but they are part of the same Apiaceae family. However, parsnips and white carrots are NOT the same thing. White carrots are just an heirloom variety.
Parsnips are a much sweeter and less hardy vegetable than carrots. When they are raw, they have an almost peppery bite to them. When they are cooked however, they are sweet but also a bit nutty.
Once this creamy parsnip soup is made, it has a light and slightly sweet flavor that balances nicely with the harsher fennel.
How To Cut Parsnips for Soup
To begin making this creamy parsnip soup start by washing, drying, and peeling the parsnips. The peel has little thick hairs that come off of it that can get stuck in your teeth, so peeling it is the right first step.
If you have super fresh baby parsnips, peeling isn't necessary. However, older ones definitely need it. Don't dig too deep with your peeler though, you only need to shave off a thin layer of the peel. It doesn't run deep.
Next, remove the root end of the parsnip just like with a carrot. Sometimes the flavor of parsnips gets more bitter towards the end, especially if is much thicker than the rest of the vegetable. Just cut it to a point where you can easily peel it and remove the stem.
Finally, the best way to cut parsnips for soup is as evenly as possible. Since it is pureed, none of the cuts need to be fancy, just functional.
The goal is more about getting the all to finish cooking around the same time. For you, that may be that they are all large you don't mind taking time. Or you may prefer them to cook quickly by cutting them small.
Either way, to prevent this creamy parsnip soup from being bitter they need to all finish cooking together.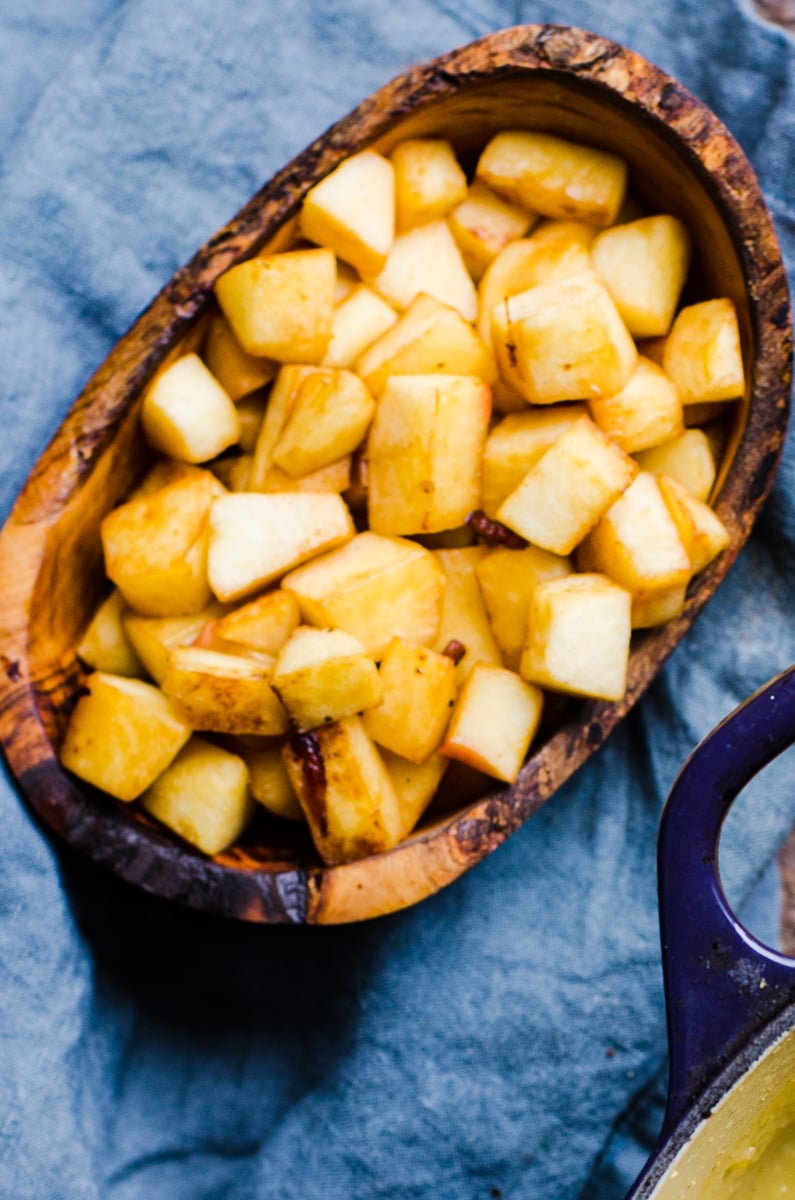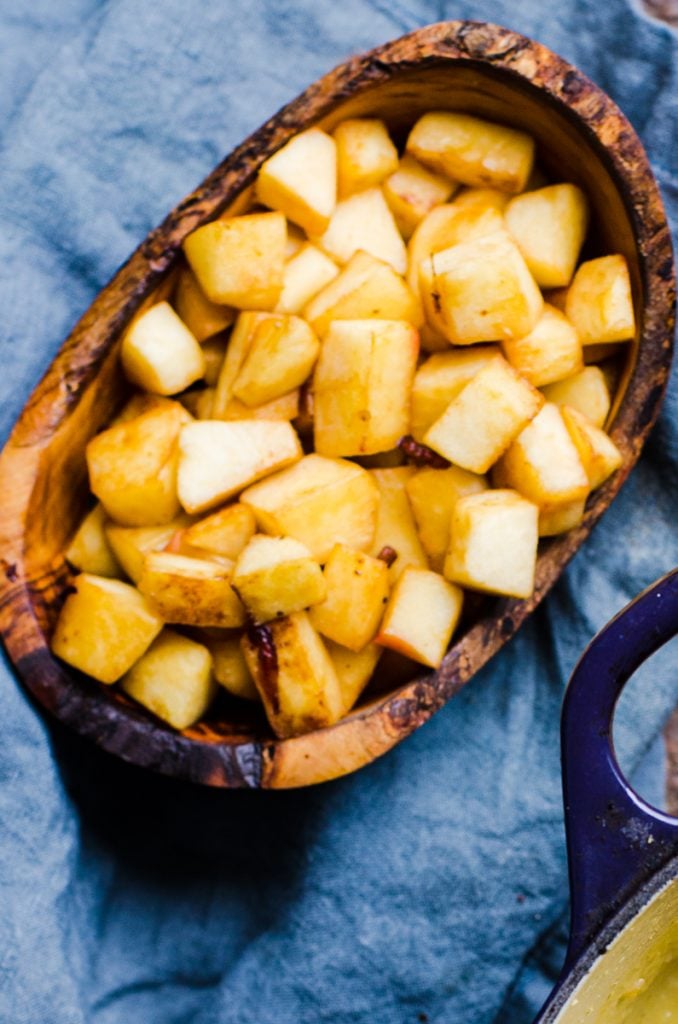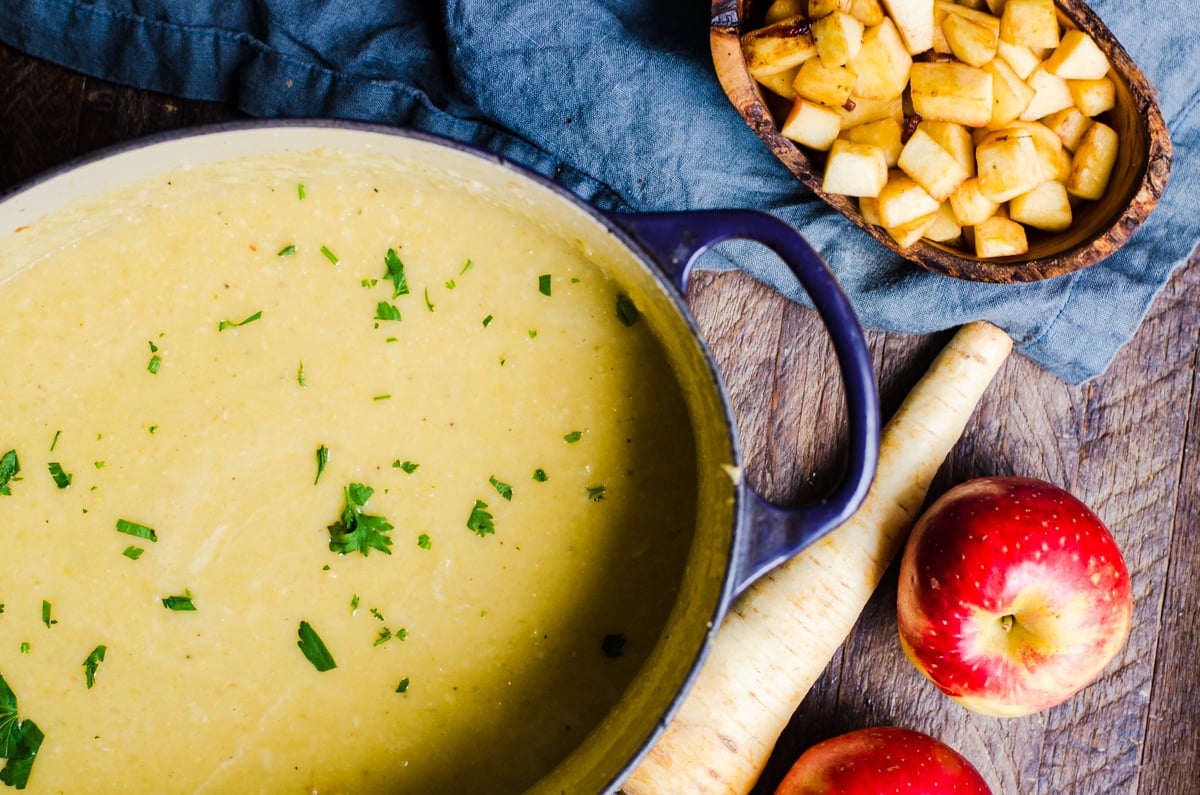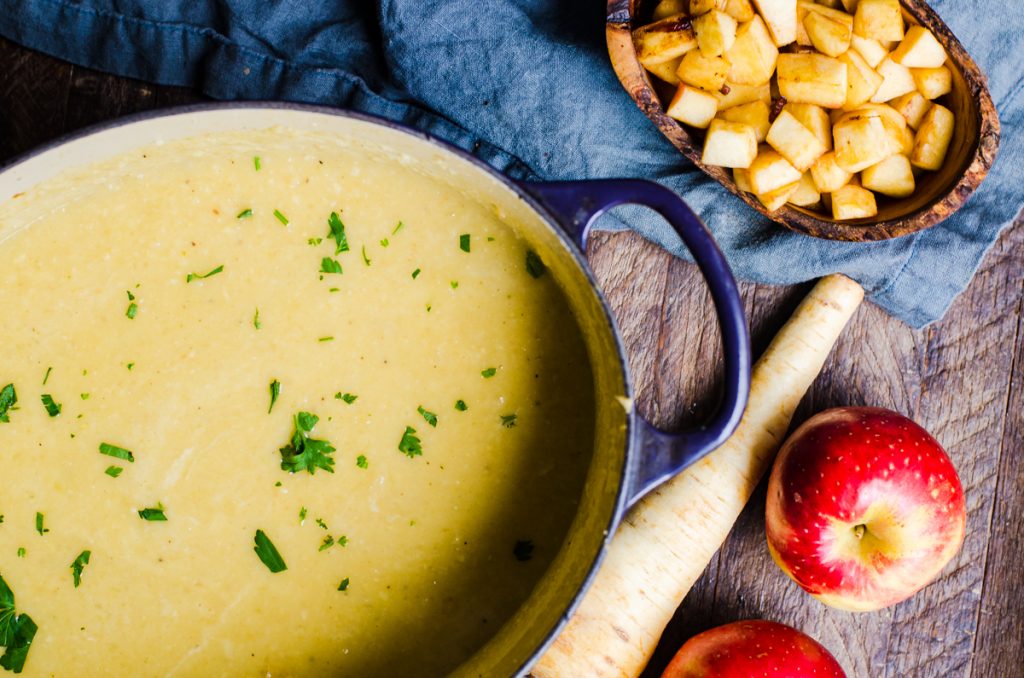 How To Make This Soup
Start by putting a heavy bottomed pot over medium heat. Add some olive oil and sauté the garlic until it begins to get golden brown. Stir in the chopped leeks and continue cooking until they become translucent.
Next, add in the chopped fennel. Remember, fennel has a strong flavor, so if you aren't a fan of licorice, go light on the fennel and add extra leek instead.
Finally, add in the peeled and cut parsnips and cook until they begin to caramelize. The darker the caramelization the deeper the flavor.
Once caramelized, stir in the vegetable stock and bring it to a boil. Continue to cook, stirring occasionally until the parsnips are soft.
Use a blender to purée the creamy parsnip soup until smooth. If it isn't as thick as you like, return it to the heat and continue to simmer until it is what you like.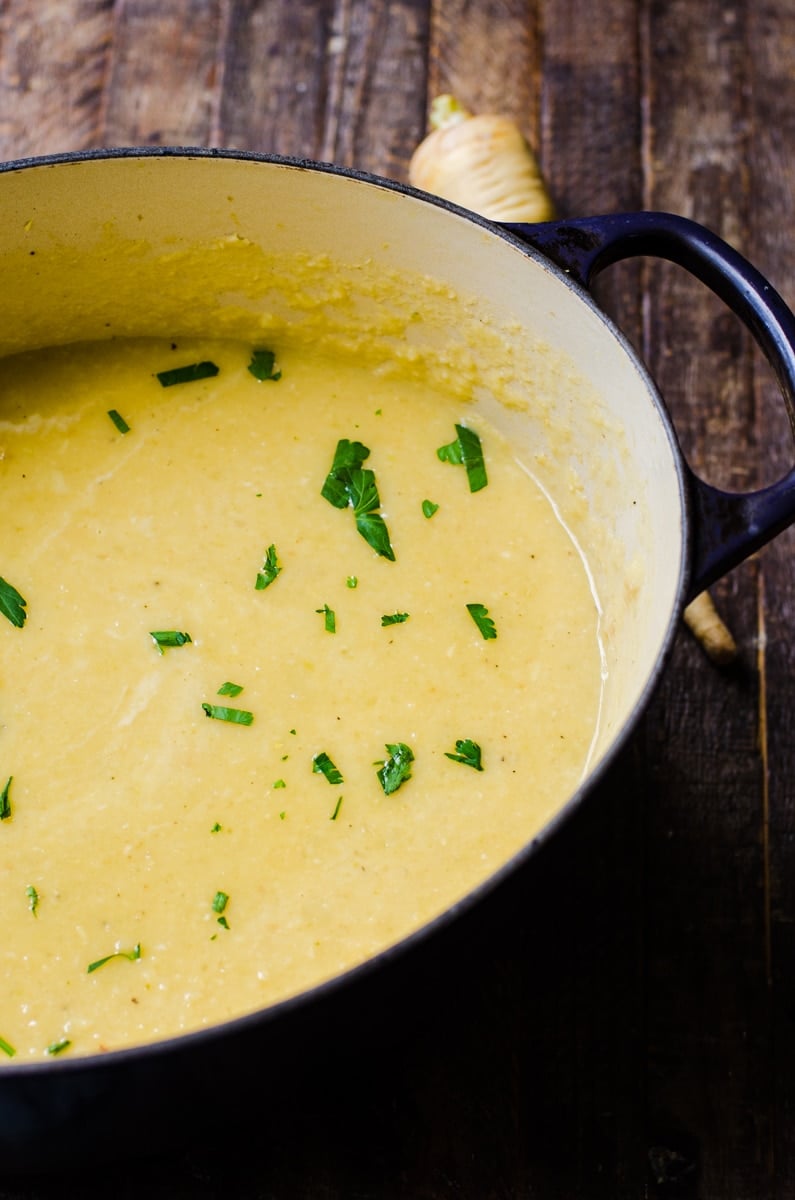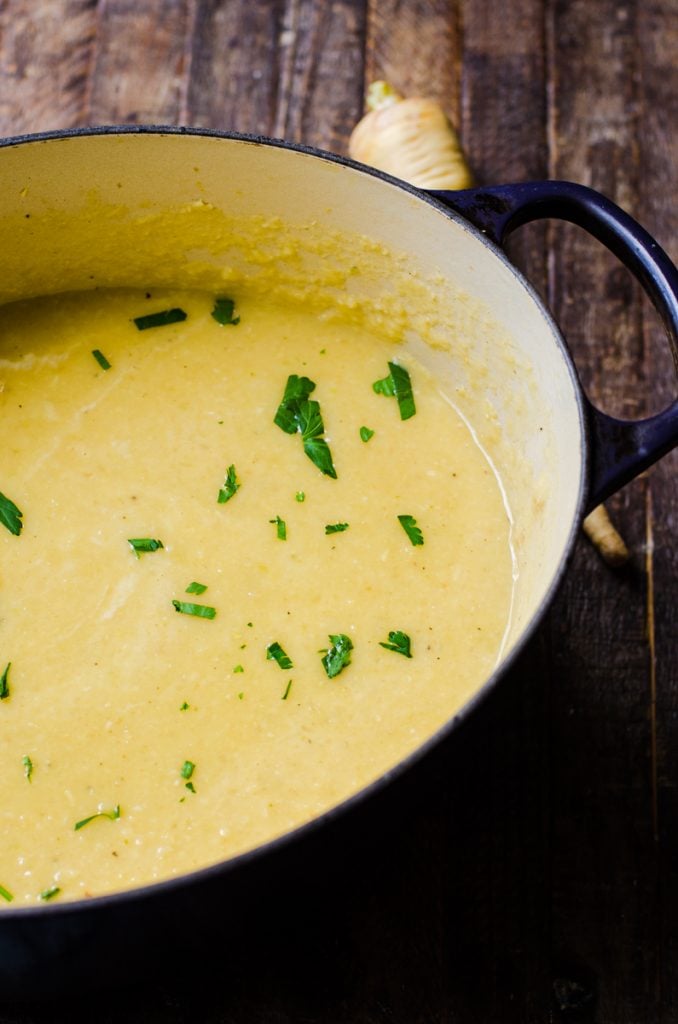 Preparing the Apples
While your creamy parsnip soup cooks, use a small sauté pan to cook the apples.
Start by heating bacon fat until it is liquid. Add in the peeled and cut apples and cook until they are soft and ever so slightly caramelized. Stir it occasionally to try to get all the sides caramelized then add it to the soup right before serving.
The apples serve as both texture and garnish for the soup, so enjoy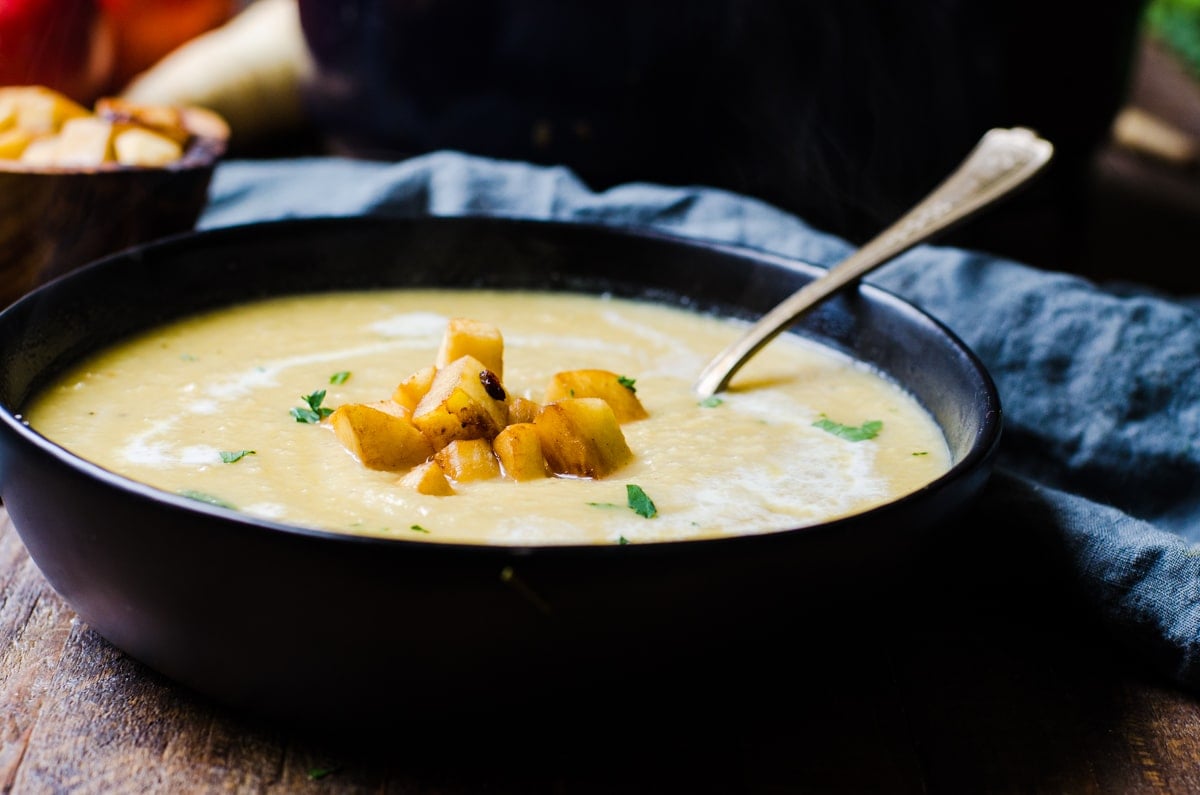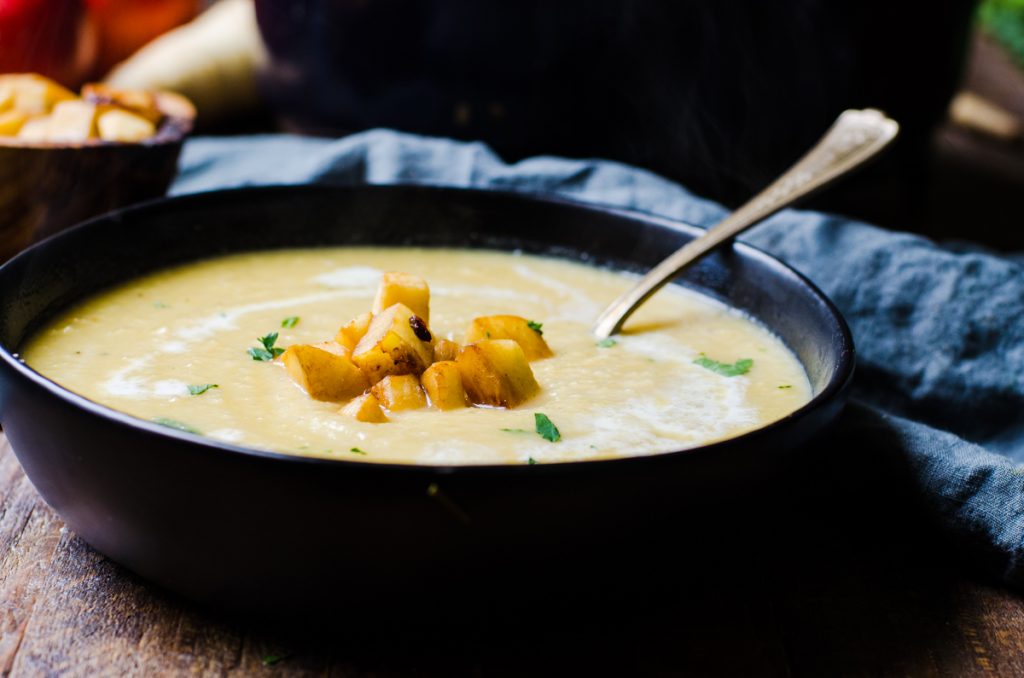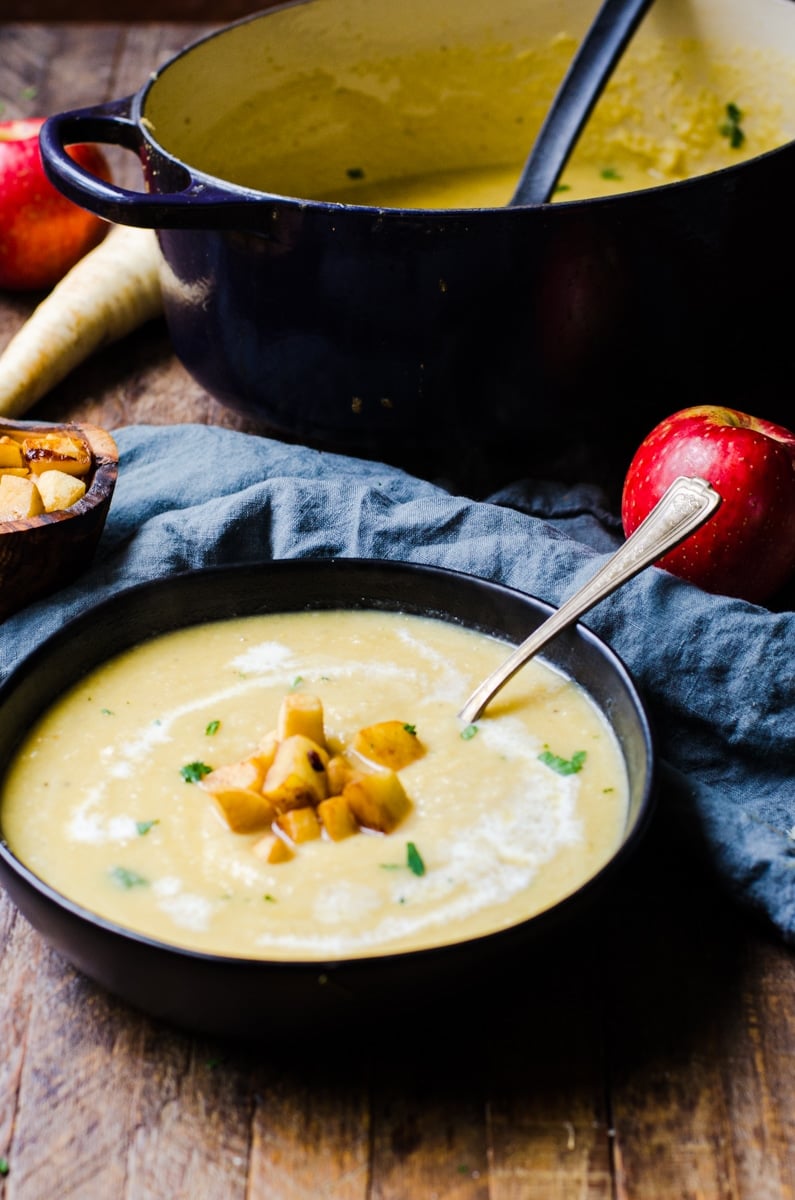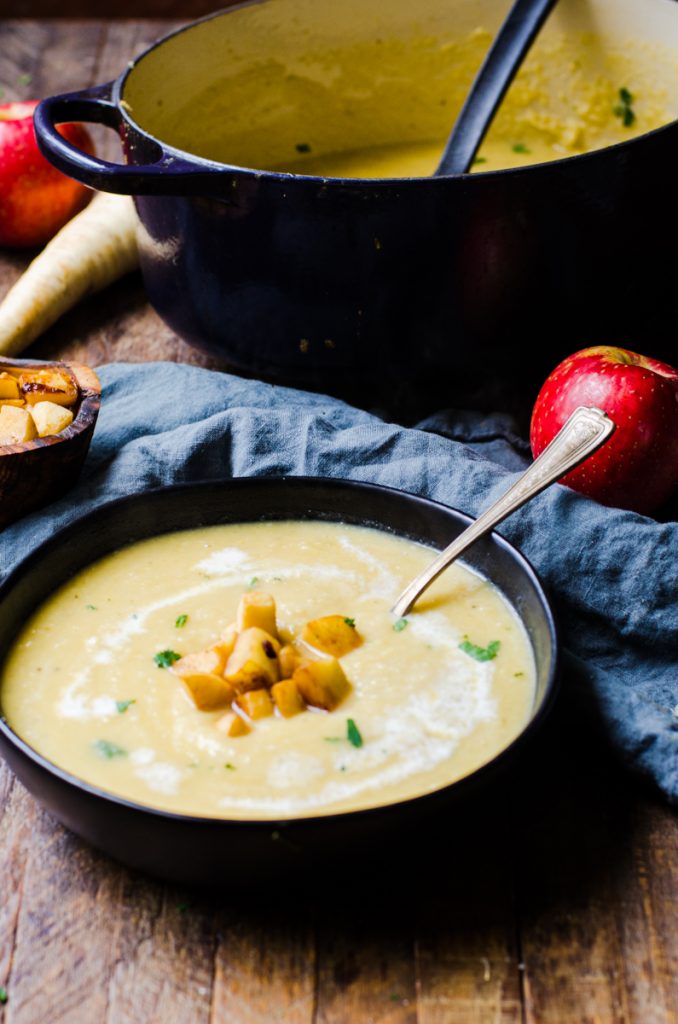 Professional Recipe Tips from a Chef
For a lighter creamy parsnip soup, replace the vegetable stock with cups of water. This lets the natural flavor of the parsnips shine through in a totally different way.
When cooking parsnips, some people recommend removing the core. This isn't necessary for this recipe because the semi-woody center gets boiled in the vegetable stock and gets puréed in. If your parsnips are old however, this might be ideal to prevent bitterness.
For an even deeper caramelized flavor, try roasting the parsnips first.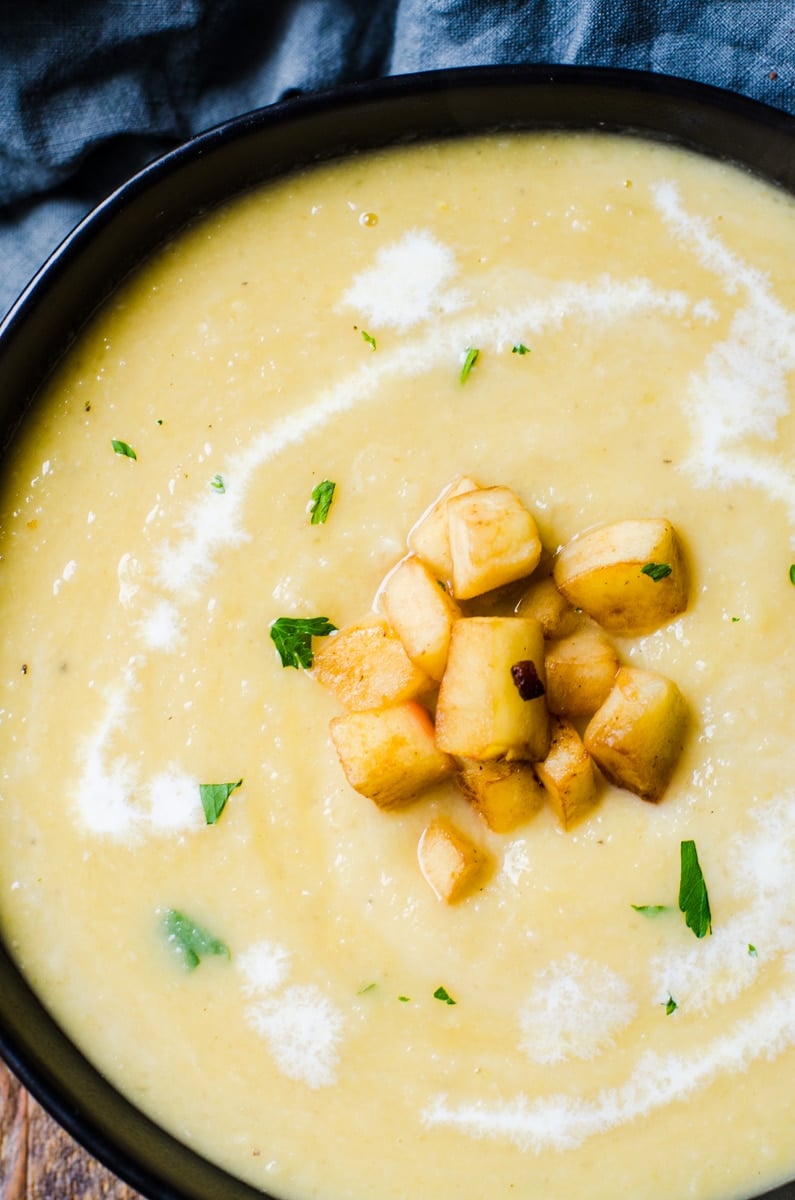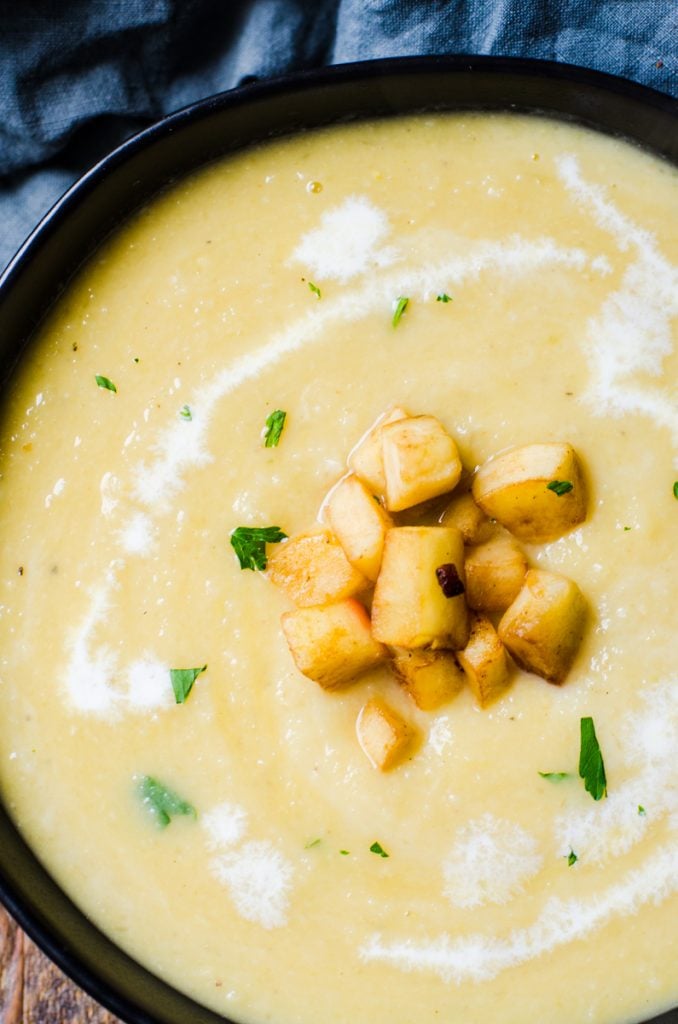 Creamy Parsnip Soup Recipe
I highly recommend using an immersion blender for this creamy parsnip soup. It's so much easier than transferring hot soup to a blender and trying to let it breathe enough that the lid doesn't explode off of it while blending.
For some other amazing autumn recipes, I recommend:
---
Make grocery shopping simpler with this printable grocery list for creamy parsnip soup recipe. Everything is listed in standard grocery store amounts. If no size is specified, even the smallest package provides more than enough.
Happy Cooking! 🙂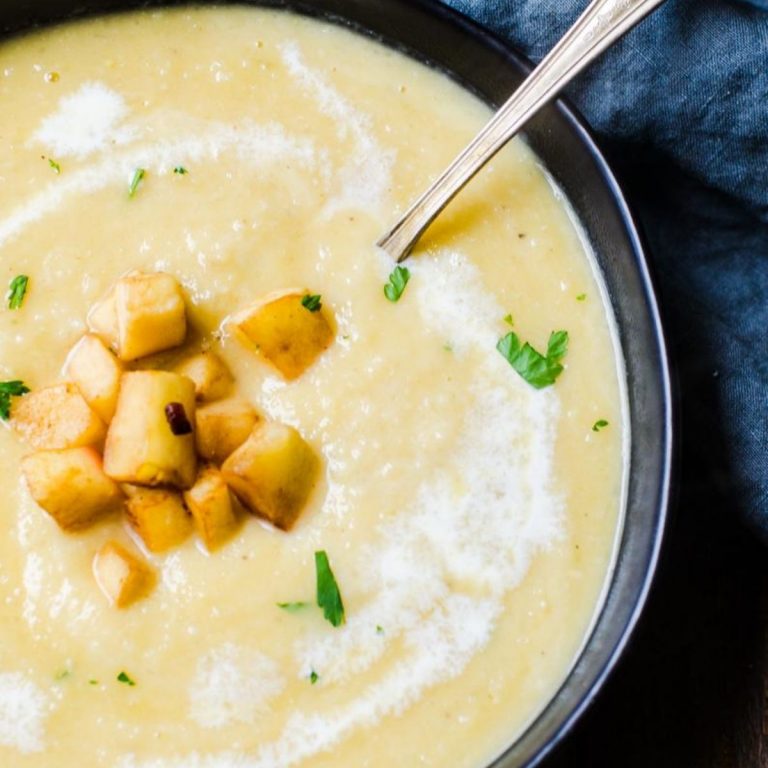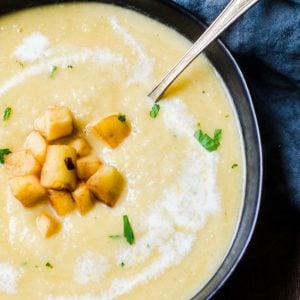 Creamy Parsnip and Fennel Soup
This creamy parsnip soup is smooth with chunks of bacon fat sautéed apples in it for texture.
Pin it for later?
Ingredients
1

Tablespoon

olive oil

,

or bacon fat

4

garlic cloves

2

pounds

parsnips

,

peeled and diced

½

head of fennel

,

sliced

1

leek

4

cups

vegetable stock

¼

cup

heavy cream

1

Tablespoon

bacon fat or oil

3

red apples

1

pinch

nutmeg

salt and pepper

,

to taste
Instructions
In the bottom of a heavy pot over medium heat, add in the oil and garlic and cook until the garlic is lightly browned. Add in the sliced leeks and fennel and cook until they begin to turn translucent. About five minutes.

Add in the parsnips and cook until they begin to caramelize on the side. Pour in the vegetable stock and bring to a boil. Reduce to a simmer and cook until the parsnips are soft.

Meanwhile in a small sauté pan, heat the bacon fat over medium heat. Add in the peeled and diced apples and cook until they are caramelized on the outside but still have a bit of crunchy al dente texture. Stir in the pinch of nutmeg and set aside.

Blend the soup with the heavy cream and season with salt and pepper. If the soup is too thin, continue to let it simmer until it reaches the desired thickness. If it is too thick, add a bit of extra vegetable stock or water. Serve with a bowlful of the soup topped with apples.
Notes
This soup can be made up to three days in advance.  Just keep the apples separate so they don't lose their crunchy texture from sitting in the soup.
For a fun variation, add cooked bacon pieces with apples for extra texture and flavor.
Nutrition
Serving:
1
serving
|
Calories:
197
kcal
|
Carbohydrates:
35
g
|
Protein:
2
g
|
Fat:
7
g
|
Saturated Fat:
3
g
|
Cholesterol:
12
mg
|
Sodium:
498
mg
|
Potassium:
590
mg
|
Fiber:
8
g
|
Sugar:
14
g
|
Vitamin A:
602
IU
|
Vitamin C:
26
mg
|
Calcium:
66
mg
|
Iron:
1
mg
Tell me how much you love this recipe
and show off how you made it!