This delicious baked brie with fig jam is a perfect warm and gooey appetizer recipe that is great for any occasion!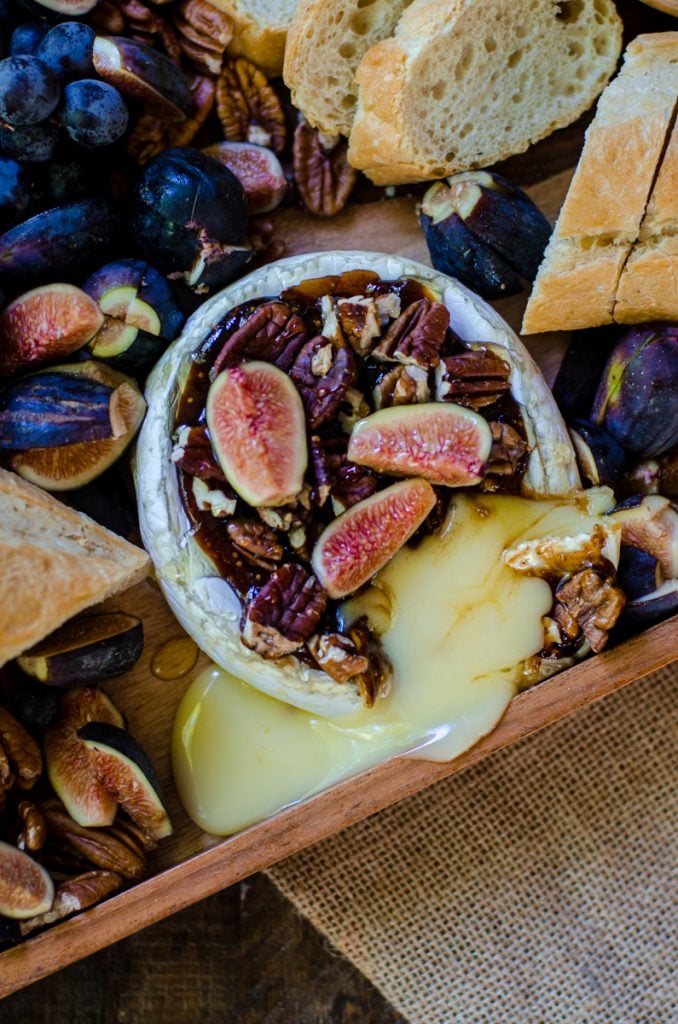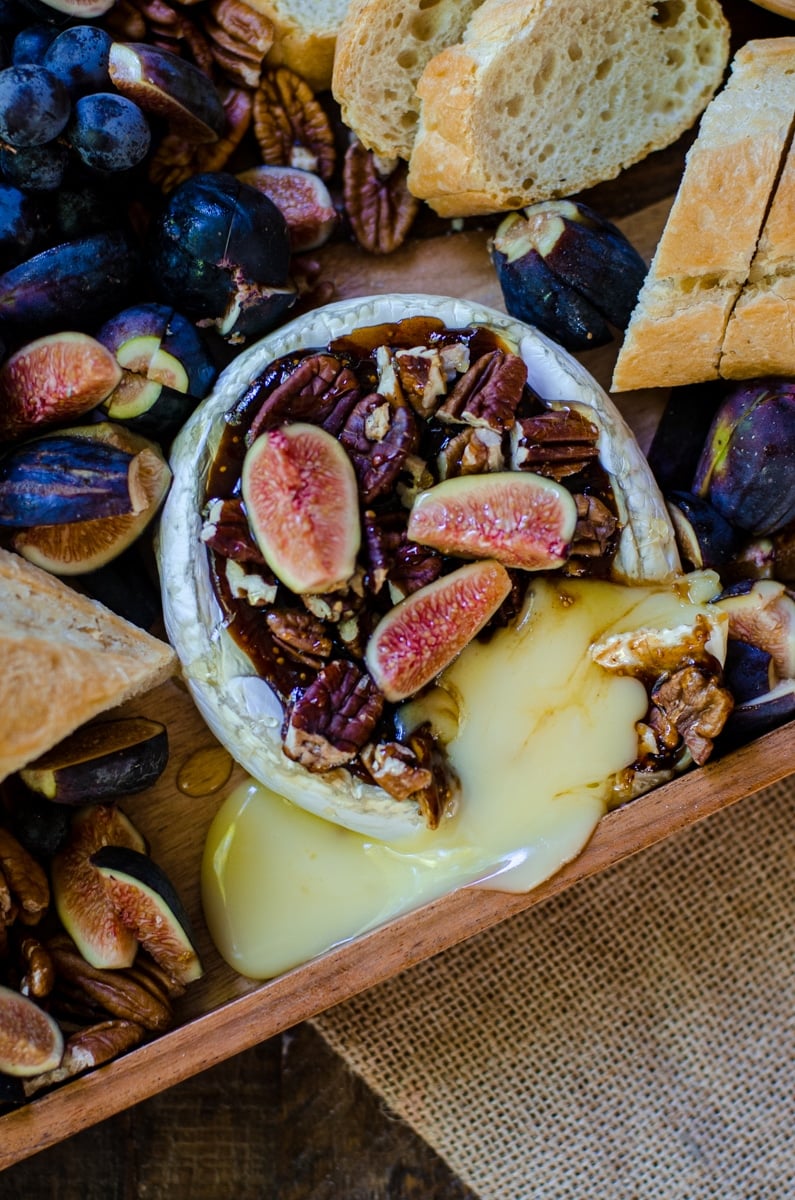 Do I Take The Rind Off?
Brie rind is completely edible and half of what makes this baked brie appetizer so fantastic. It adds a lot of flavor.
The thing you'll notice about the rind is that it doesn't completely melt. This is good because it prevents the brie from bursting during baking. However, it doesn't impact the texture of the jam topped brie because the rind blends in with the other textures.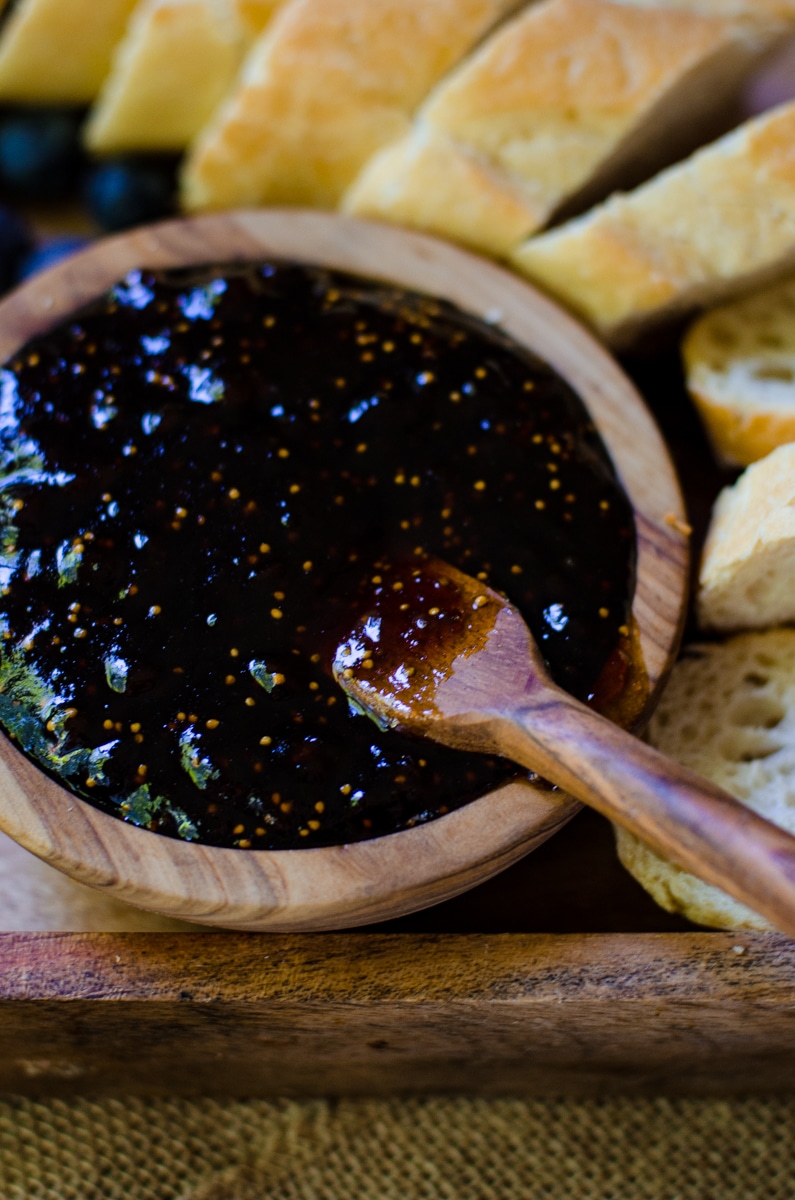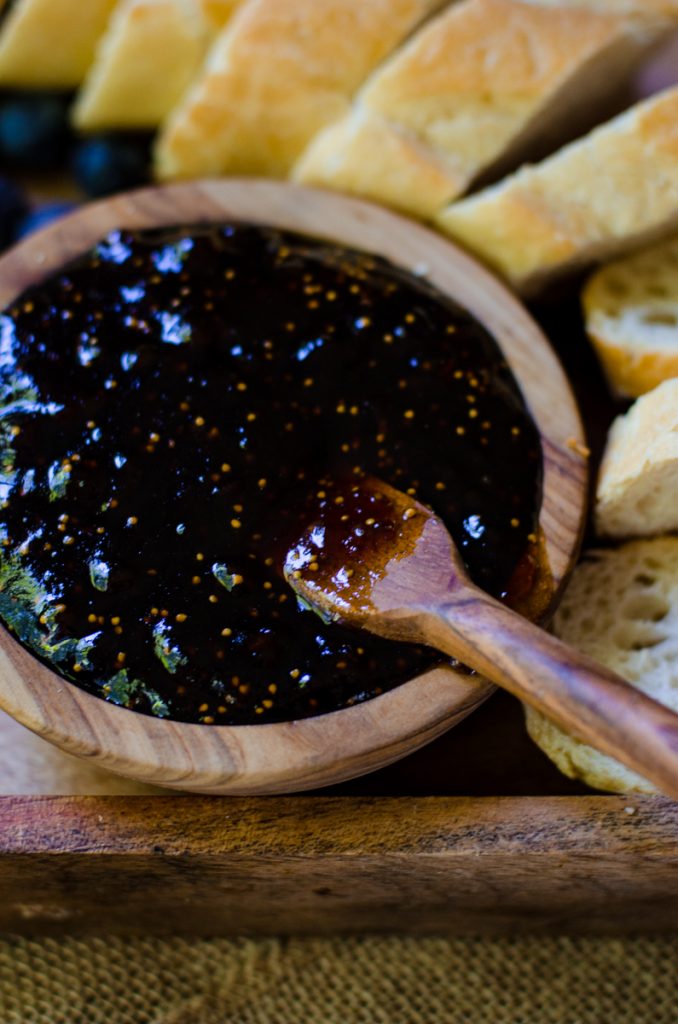 What Jam Goes With Brie?
For this recipe, I baked brie recipe I used fig jam because that matches the autumnal season. I also have a lot of fresh figs on hand to add onto the cheese board so it was a natural accompaniment.
Fig jam is a bit harder to find in stores than other jams, so look more towards the specialty flavors. It may even be labeled as something like fig paste or fig butter.
You can also make your own fig jam out of fresh or dried figs if you like.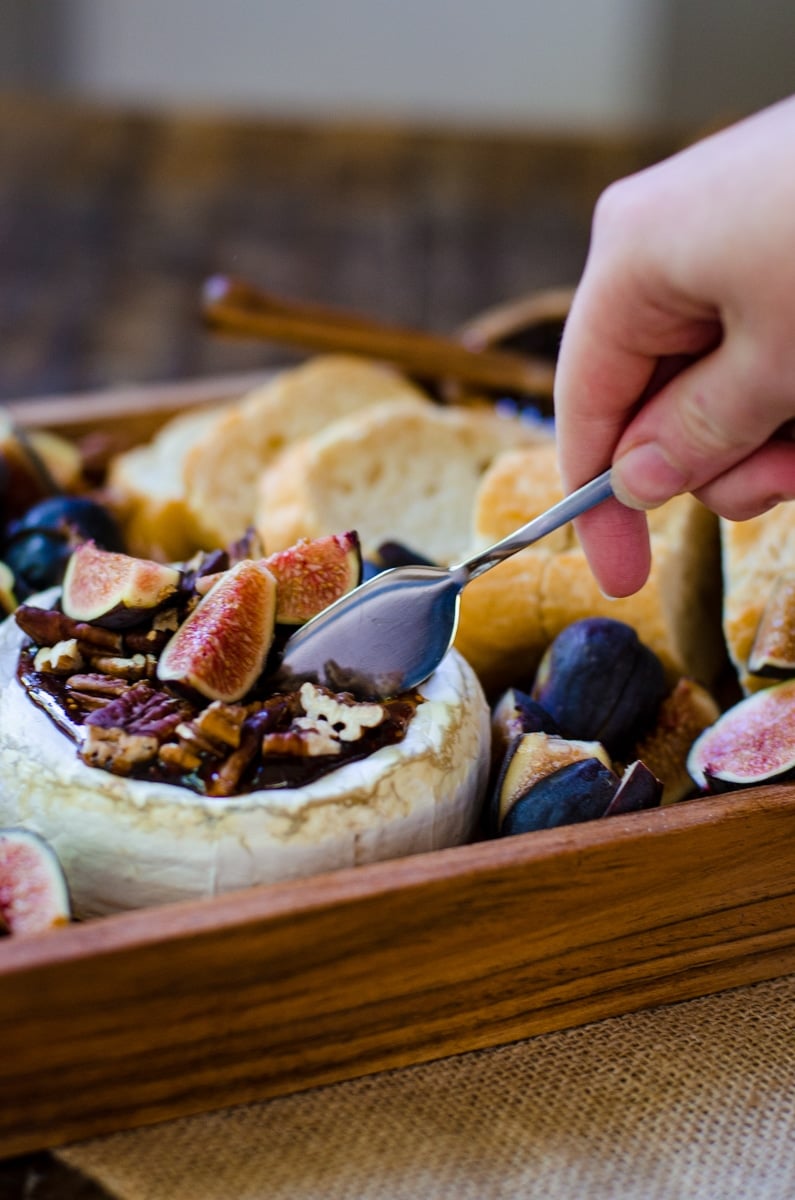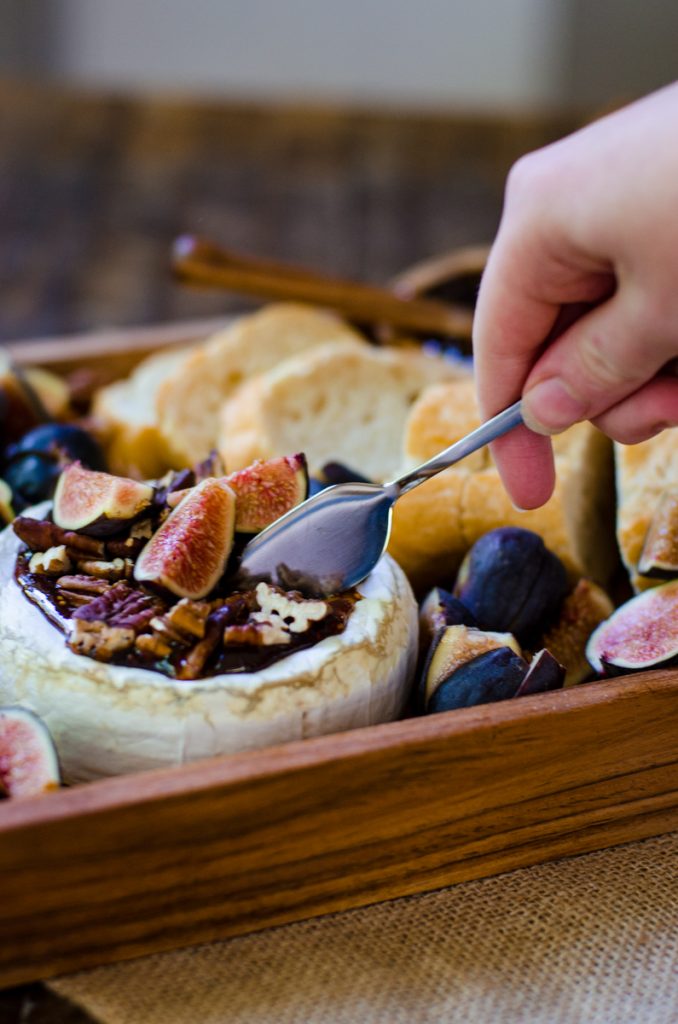 Do You Cover It When Baking?
For this recipe, no you don't need to cover the baked brie with fig jam. Unless you want wrapped brie in puff pastry. This doesn't change the recipe at all except to add in one step: wrapping the brie and the egg wash.
Personally, I don't find it necessary because the baked brie is amazing as is.
If you want to follow the recipe as is, place the wheel of brie on a parchment paper lined baking sheet. The parchment paper only needs to be slightly larger than the wheel of brie. It is there to help move the jiggly, warm and gooey baked brie with fig jam.
Additionally you can use a cast iron pan because it is slightly more appropriately sized than a baking sheet. But I like the freedom having the space to not accidentally touch the hot sides of the cast iron pan during transfer.
Next, load up as much fig jam and chopped pecans as you feel like. Then, place the brie into a 400°F preheated oven and bake for 20 minutes or until the center is jiggly. Don't shake it too hard or it can start to ooze.
Depending on the size of your wheel of brie you may need slightly longer baking time. However, even an 8 ounce wheel needs the bare minimum 20 minutes to get really gooey.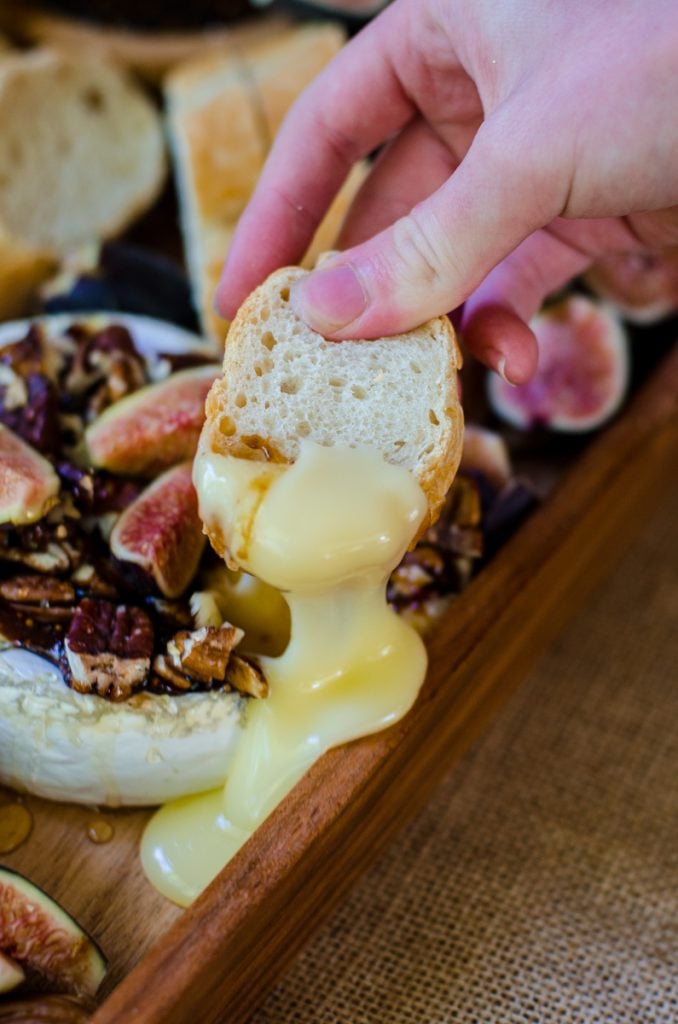 What To Serve with Baked Brie
Part of the reason this easy appetizer is so fantastic is because it works well with many thing around your kitchen or pantry. It's a bit like a cheese board that way.
I love serving this baked brie with fig jam with:
freshly sliced baguette
grapes
fresh figs
crostini
tart apple slices
Prosciutto
fresh sliced pears
Top Recipe Tips
Crumple up the parchment paper just a bit before putting the wheel of brie on it. This helps the edges curl out so it catches any accidental spillage and also makes it easier to pick up off the pan.
Organize your cheese board or serving area before baking the brie. Once hot it gets really jiggly, so you don't have a lot of opportunity to shift things around to find the right place for it.
Even though this warm and gooey brie cheese oozes out of the rind, still serve it with a cheese knife. This is useful for those who are nervous about dipping and helps get any toppings like the pecans on their bread slices.
If you use the puff pastry, spread the jam on the inside of the dough as well as the top of the wheel of brie. This gives just a little more opportunity for jammy flavor.
I love a really good imported creamy brie cheese, however the wheels of brie cheese aren't always available outside of the holiday season.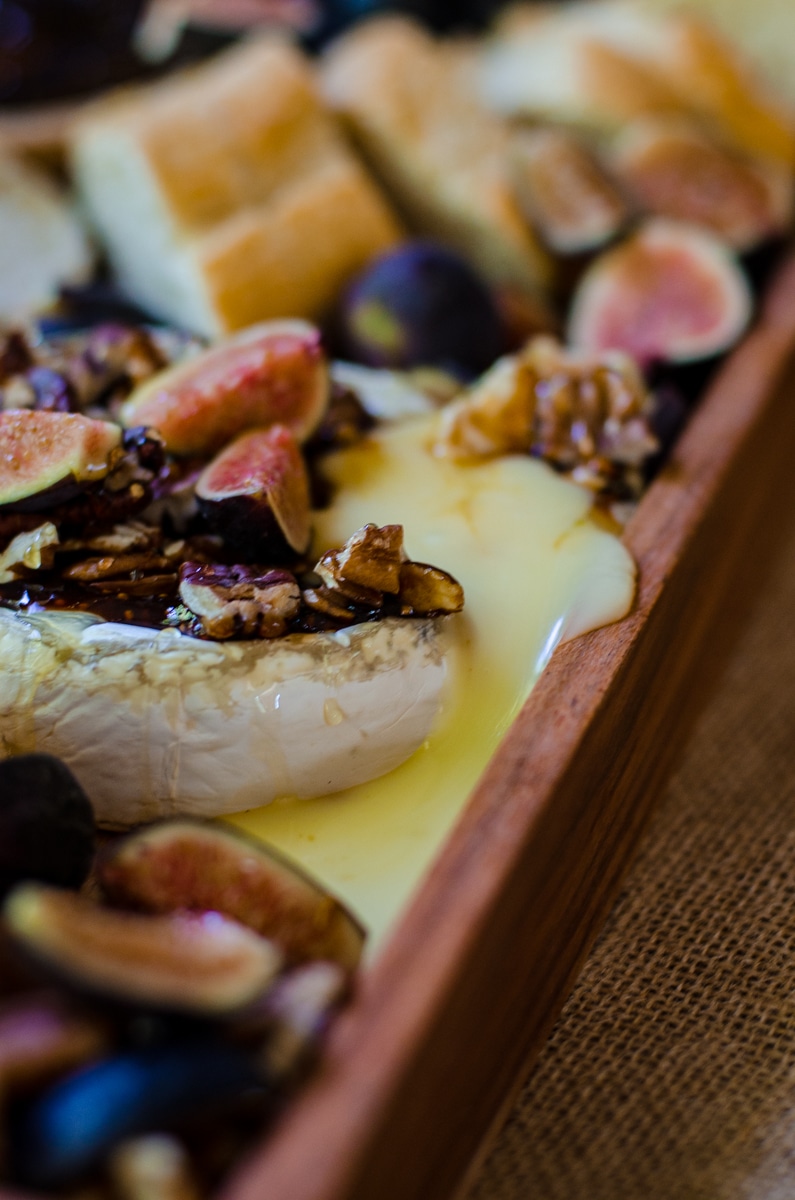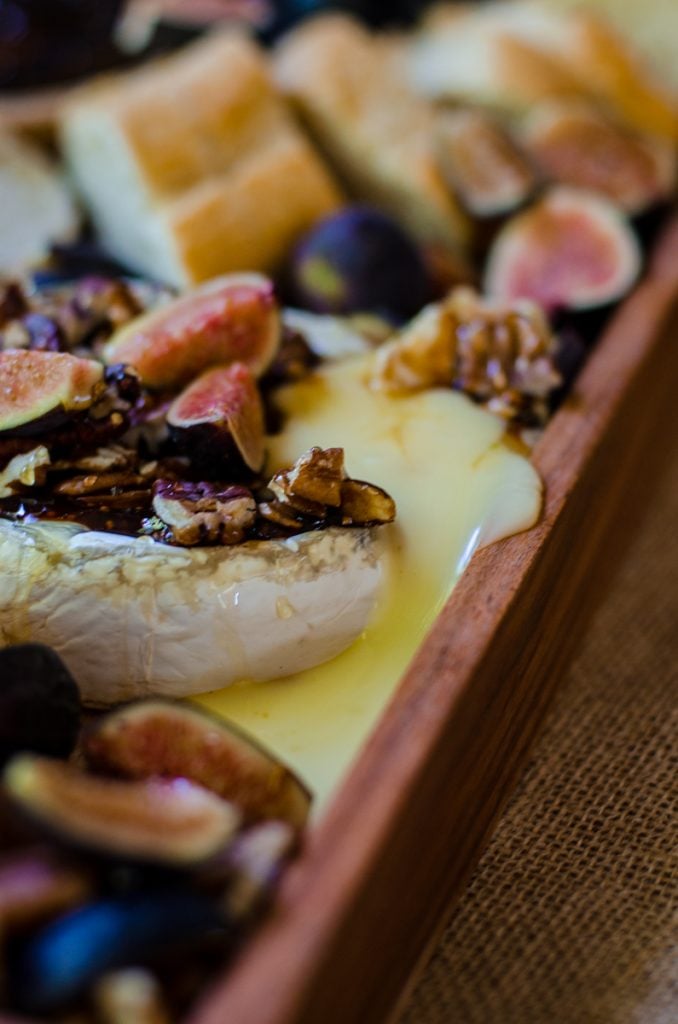 Baked Brie with Fig Jam Recipe
I love this baked brie with jam recipe because it makes a great gluten free holiday appetizer. It's also elegant enough to be used at a bridal shower, baby shower, or just because you're craving it.
---
Make grocery shopping simpler with a printable grocery list for this baked brie with fig jam recipe. The list is in standard grocery store amounts. If no size is specified, even the smallest package provides more than enough.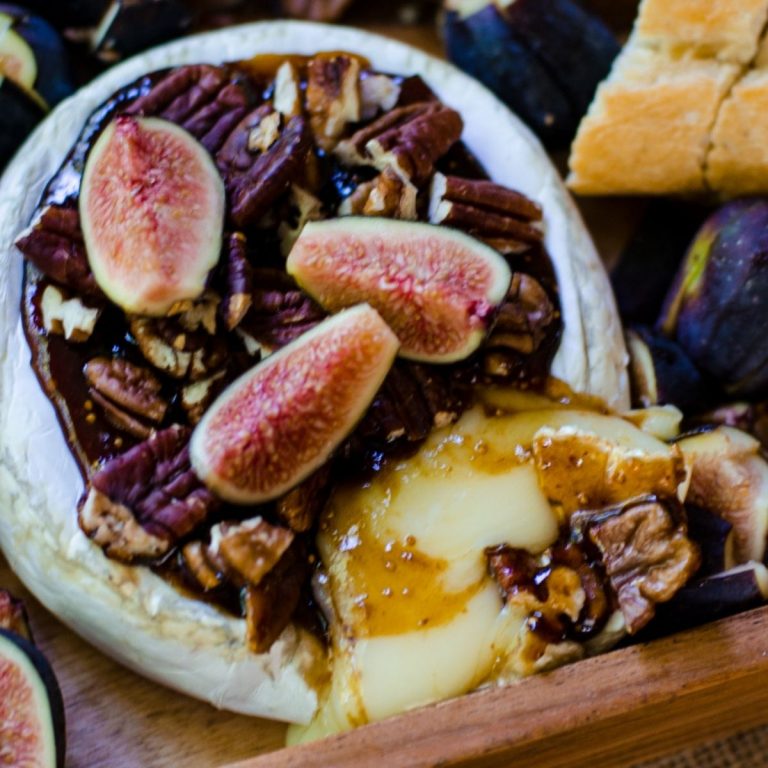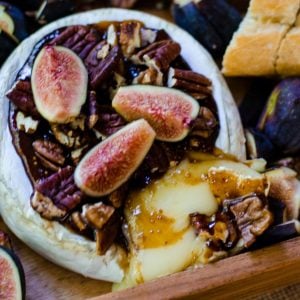 Baked Brie with Jam
This delicious baked brie with fig jam uses the best flavors of autumn. Serve it with out jams for different seasons.
Pin it for later?
Ingredients
8

ounces

brie cheese wheel

2

Tablespoons

fig jam

¼

cup

chopped pecans

balsamic glaze,

optional

honey

,

optional
Instructions
Preheat the oven to 350°F. Place a piece of parchment paper on a small baking sheet.

Unwrap the brie cheese and place it on the baking sheet. Slather the top with the fig jam and pile high the pecans. Bake for 20 minutes or until the center is jiggly.

Remove from the oven and transfer to a cheese board. Allow to cool for 1-2 minutes, drizzle with honey or balsamic glaze and cut into. Serve with fresh bread for dipping.
Notes
By adding the pecans before baking it gives them a chance to toast and get better flavor.
Nutrition
Serving:
1
serving
|
Calories:
128
kcal
|
Carbohydrates:
3
g
|
Protein:
6
g
|
Fat:
10
g
|
Saturated Fat:
5
g
|
Cholesterol:
28
mg
|
Sodium:
179
mg
|
Potassium:
57
mg
|
Fiber:
1
g
|
Sugar:
2
g
|
Vitamin A:
168
IU
|
Vitamin C:
1
mg
|
Calcium:
55
mg
|
Iron:
1
mg
Tell me how much you love this recipe
and show off how you made it!