It's the season for root veggies, and parsnips are great for adding to your Thanksgiving menu. With only four ingredients, this easy roasted parsnip recipe is a great way to introduce yourself to parsnips.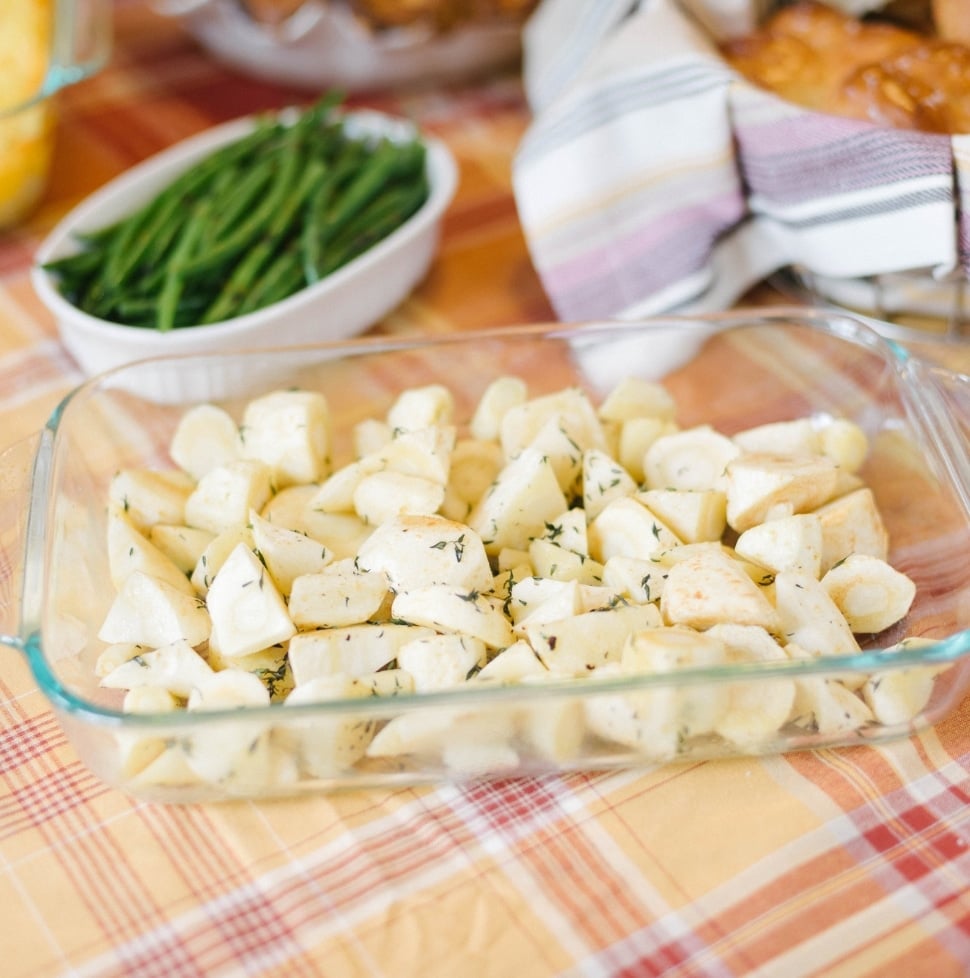 Keeping with the general theme of easy and simple side dishes for Thanksgiving, I'm bringing you today's recipe for easy roasted parsnips with thyme. If you're new to cooking parsnip recipes, this is a great one to start with. It allows you to get used to a new ingredient and flavor without working too hard. The reward is the final, gloriously roasted root veggies in all their glory!
What Are Parsnips? When Are They In Season?
Parsnips (pastinaca sativa) are a biennial plant that is in season during fall and winter. They've become pretty widely available in the grocery store during their season ( I usually find them by the bag near the carrots, or by the individual carrots, celery, etc… in the baskets for a single one.) Desired for their fantastic flavor and health benefits, parsnips are an excellent way to get extra root veggies into your Thanksgiving menu.
In shape, parsnips look a lot like a white carrot, only they tend to be narrower at the tip in comparison to the root end. While they may look like carrots, their flavor is very different and unique. If you haven't had one before, I recommend trying them both raw and cooked to get the feel for how versatile they can be. Cooking them completely changes their flavor profile from slightly spicy, almost like horseradish, when they are raw to a sweet and earthy flavor when roasted.
Tips For Making Parsnip Recipes
Due to how simple this parsnip recipe is, there aren't many culinary skills to master. The important ones to check out, however, would be:
Difference Between Baking and Roasting.

You may be surprised to learn that most people call baking roasting, when in fact there is a distinct difference between the two (and this recipe is

technically

baking). Find out what it is so you can roast parsnips correctly.

How To Buy & Store Fresh Herbs.

Fresh thyme is one of the woodier and easier to keep fresh herbs. Find out what to look for at the store when you're buying it, and how to keep it fresh once you get it home.
How To Cut Parsnips
Parsnips are a fantastic root vegetable that are full of sweet and earthy flavor. In a lot of ways, parsnips and carrots are extremely similar, however, when it comes to cutting them there is one major difference. Carrots are usually pretty similar in girth from root to tip. Parsnips, however, go from very thin at the tip to very large at the root, and it feels like it's a very abrupt change. This inconsistency in size often makes it hard to figure out how to cut them well.
If you're buying your parsnips individually, you get a bit more opportunity to be picky about the shape. If you're buying them by the bag though, you have to carefully peek through the plastic to find the best ones.
Once you're home and you've removed the parsnip peels, you are ready to cut them. My favorite way is to use the oblique cut. It sounds and looks fancy, but really just creates a uniform size for roasting. The trick to an oblique cut is to always keep your knife at the same bias angle. As long as you do that, no matter how thick the parsnip gets, the cut will remain the same for cooking.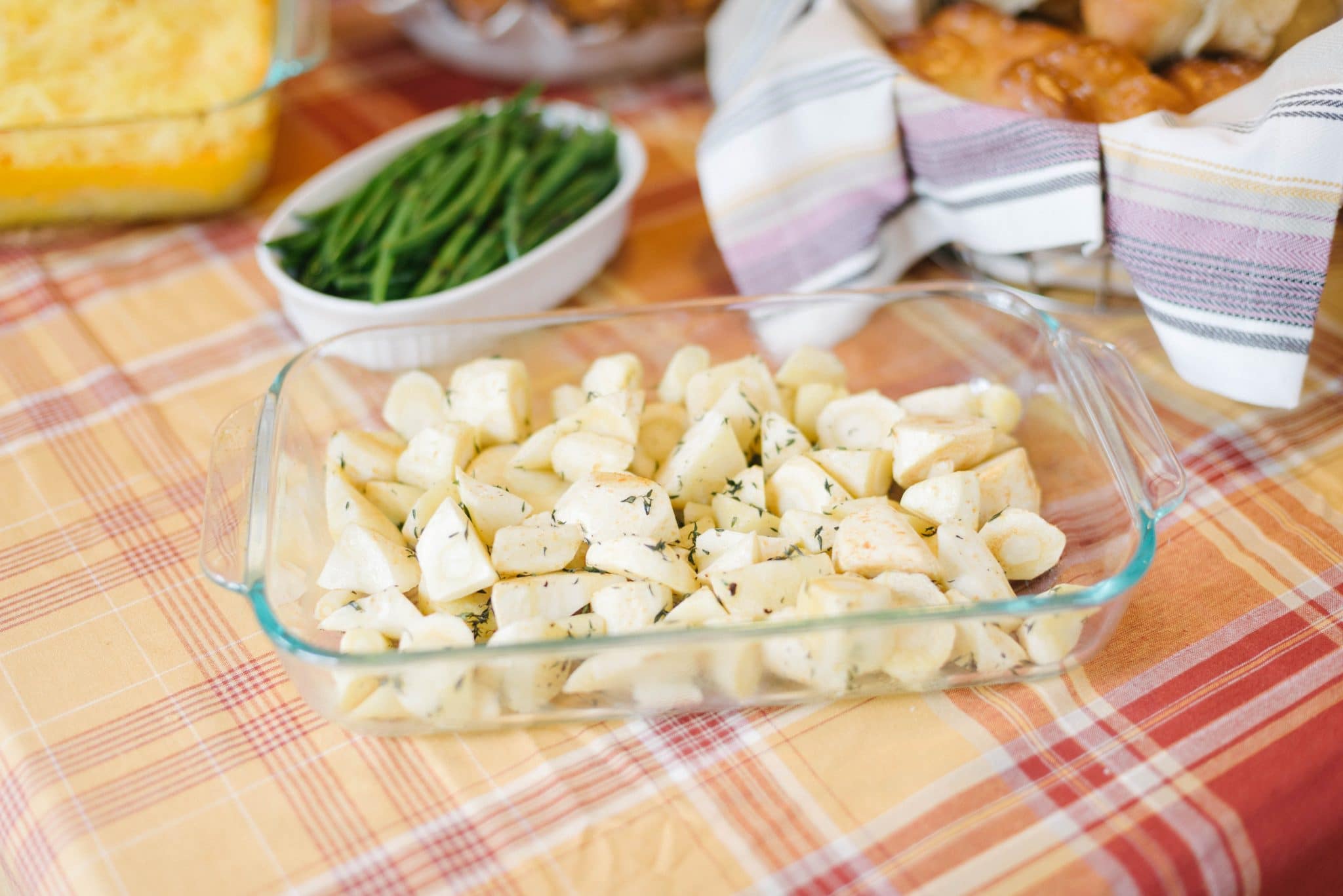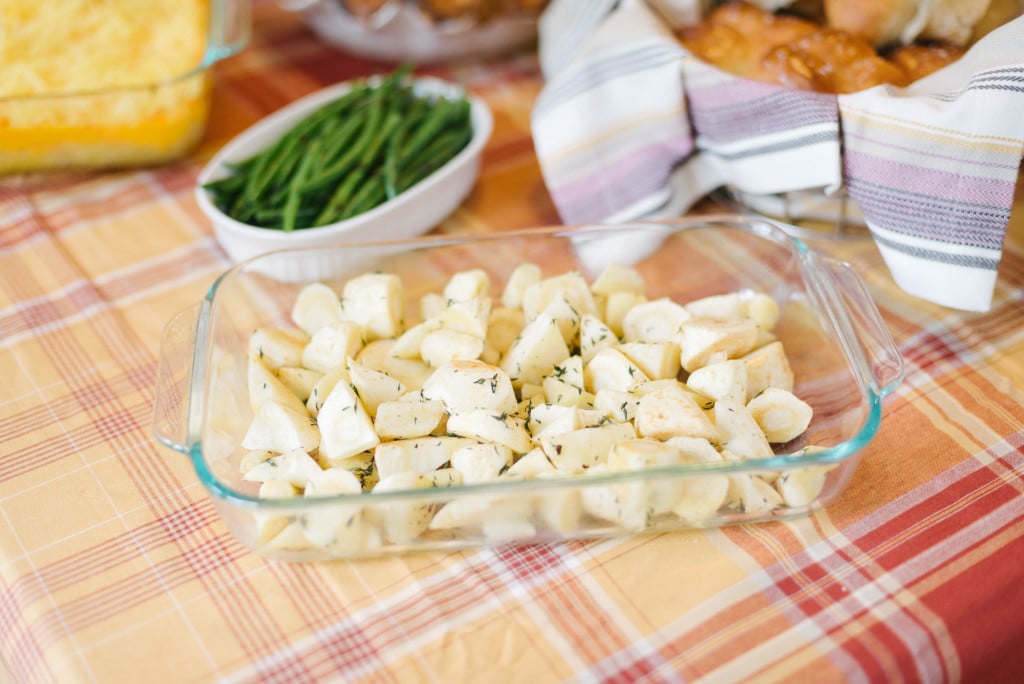 How To Prepare This Parsnip Recipe Ahead
As far as easy Thanksgiving recipes go, this simple vegetable side is a busy cook's dream. If you would like to prepare it ahead of your feast, you can save yourself some time in the kitchen during the festivities preparation. However, because this recipe is so easy, you won't save yourself time by cooking it ahead, only preparing it. Just cut the parsnips, toss them in the oil with the fresh thyme and put them in an airtight container. This can stay in the fridge up to two days, and when you are ready to cook, just pull them out and let them come to room temperature before roasting (about one hour). Then roast according to the instructions.
If you truly want to cook these off ahead, you can reheat them in the microwave before serving. Just make sure to stir them often to ensure you reheat them all.
Once cooked, this parsnip recipe will stay fresh in your fridge up to five days.
What To Eat With These Roasted Parsnips
When in season, parsnip recipes like this one make for a fantastic and crowd pleasing side dish. This one especially so because of how easy it is to make. It's always a family favorite at Christmas or Thanksgiving and a great way to get some more root vegetables to the table.
If you're looking to make some parsnips for Christmas, or you've noticed that your Thanksgiving menu has become a bit starch heavy, here are some other of my most popular Thanksgiving/Holiday recipes that go well with these parsnips.
Holiday Side Dishes:
Roasted Parsnips with Thyme
Parsnip recipes like this are a great way to incorporate more root veggies into your cooking. This particular recipe is easy to scale up or down for a crowd and is done in under an hour, so not only are you getting the health benefits and more root veggies into your Thanksgiving menu, but you're also about to become the savior of the quick dinner side dish!
---
Use this grocery list to help simplify shopping. Everything is listed in standard grocery store amounts. If no size is specified, even the smallest package will provide more than enough.
Happy Cooking! 🙂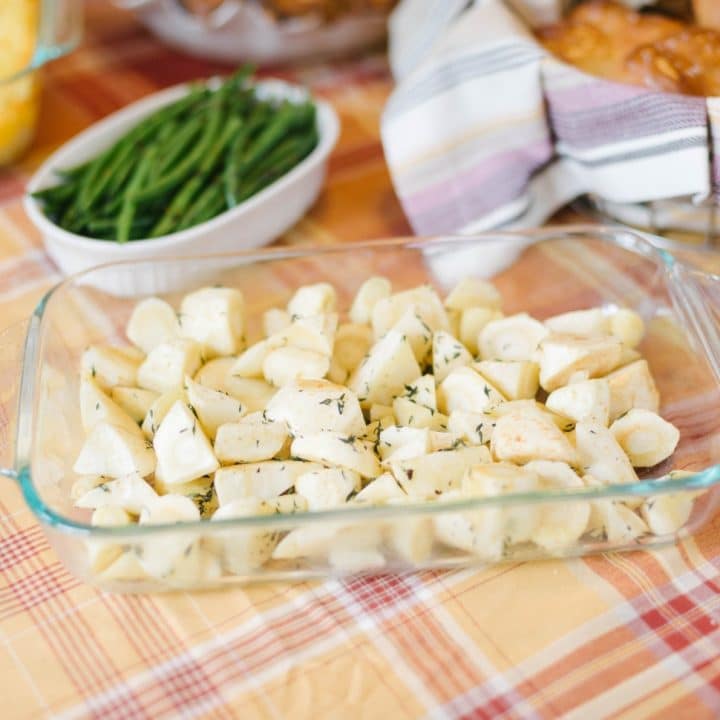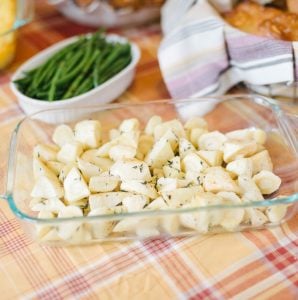 Easy Roasted Parsnips With Thyme
It's the season for root veggies, and parsnips are great for adding to your Christmas or Thanksgiving menu. With only four ingredients, this recipe is root vegetable minimalism at its finest.
Pin it for later?
Ingredients
2

pounds

parsnips

,

peeled and cut into 1 inch pieces

1

Tablespoon

olive oil

2

Tablespoons

maple syrup

1

Tablespoon

fresh thyme

,

minced

salt & pepper

,

to taste.
Instructions
Cook
In a large bowl, toss the peeled and cut parsnips with the thyme, oil, maple syrup, salt, and pepper.

Spread them in a single layer on a sheet pan lined with a silicone mat or parchment paper, trying to prevent overlap and touching as much as possible.

Place sheet pan in the oven and roast for

30 Minutes

. Check the parsnips to see if they are done. If they are not, flip them around and roast for an additional

10 Minutes

, or until done. Serve.
Nutrition
Serving:
1
serving
|
Calories:
101
kcal
|
Carbohydrates:
20
g
|
Protein:
1
g
|
Fat:
2
g
|
Sodium:
11
mg
|
Potassium:
430
mg
|
Fiber:
5
g
|
Sugar:
5
g
|
Vitamin A:
40
IU
|
Vitamin C:
20.7
mg
|
Calcium:
44
mg
|
Iron:
0.8
mg
Tell me how much you love this recipe
and show off how you made it!