Try this recipe for easy roasted parsnips with thyme. They have only 4 ingredients are are easy to prepare ahead for a feast and cooked in under one hour!
Guess what?!?!  You can now Follow my blog with Bloglovin!!  Go check it out! Now, on to recipes!
Keeping with the general theme of simple sides for Thanksgiving, I'm bringing you today's recipe for easy roasted parsnips with thyme.
This recipe is super easy folks. . . I mean, ridiculously easy.  Not mention, you can prep it ahead and throw it in the oven for the final 30 minutes before the feast and, Voila! Deliciousness!
If you've never had a parsnip before, this is a great recipe to start with.  You get to experience the sweet yet spicy kick of the parsnip,while the thyme give it a well-rounded woodsy vibe so you're not too overwhelmed by something so new.
Skills & Techniques
The only skill or technique to really focus on with today's roasted parsnips with thyme is knowing what is the difference between baking & roasting.  Ten points to the person who can figure out how and why I fibbed in the title of this post!  Also, since there really isn't a lot of fun stuff to brush up on, I'll throw in a little tip of the trade.
Tip Of The Trade:  Especially as Thanksgiving nears, you want to preserve as much of your time as humanly possible.  Make the time go faster by using a two-way peeler.  The best two way peelers for saving time have the handle to the side so you can peel away from you and towards you (although, always be careful pulling anything sharp towards you).  "How do you save time with a two-way peeler, Mackenzie?", you ask.  Let me explain – when you peel, you normally you use two strokes – one that peels and the one where you lift your hand to go do the next peeling stroke.  A two-way peeler lets you stroke both directions so you can actually turn that movement into a peeling stroke and save yourself some time – which is perfect for peeling these easy roasted parsnips with thyme.
Make-Ahead Thanksgiving
If you would like to make these roasted parsnips with thyme for this year's Thanksgiving feast, you absolutely can!
Prepare Ahead.  If you would like to make this recipe ahead, all you have to do is peel your parsnips, toss them in the olive oil, thyme, and seasoning and place them in your baking dish.  You can cover it and refrigerate it up to 3 days.  When you are ready to reheat, just uncover them and put them in the oven at 375°F for 30 minutes or until cooked through but still al dente.
Make Ahead.  If you would like to have these completely cooked off before you feast so you can just reheat them, I recommend cooking them as per the recipe, covering them and keeping them refrigerated for up to 2 days.  When you are ready to cook them, pull them out of the fridge and let them sit on the counter for about 1 hour to come to room temperature.  Reheat, leaving the cover on (make sure it is oven-safe) for 15-20 minutes on 350°F until they are heated through.
If you have to choose one or the other, I would recommend preparing them ahead so you don't end up with accidentally overcooked parsnips.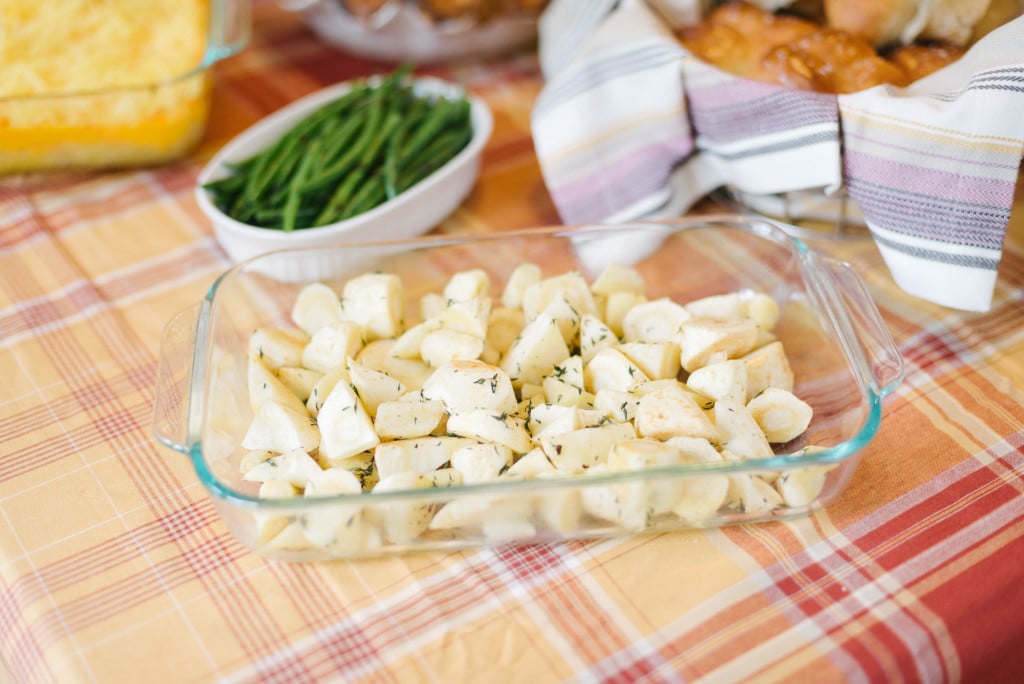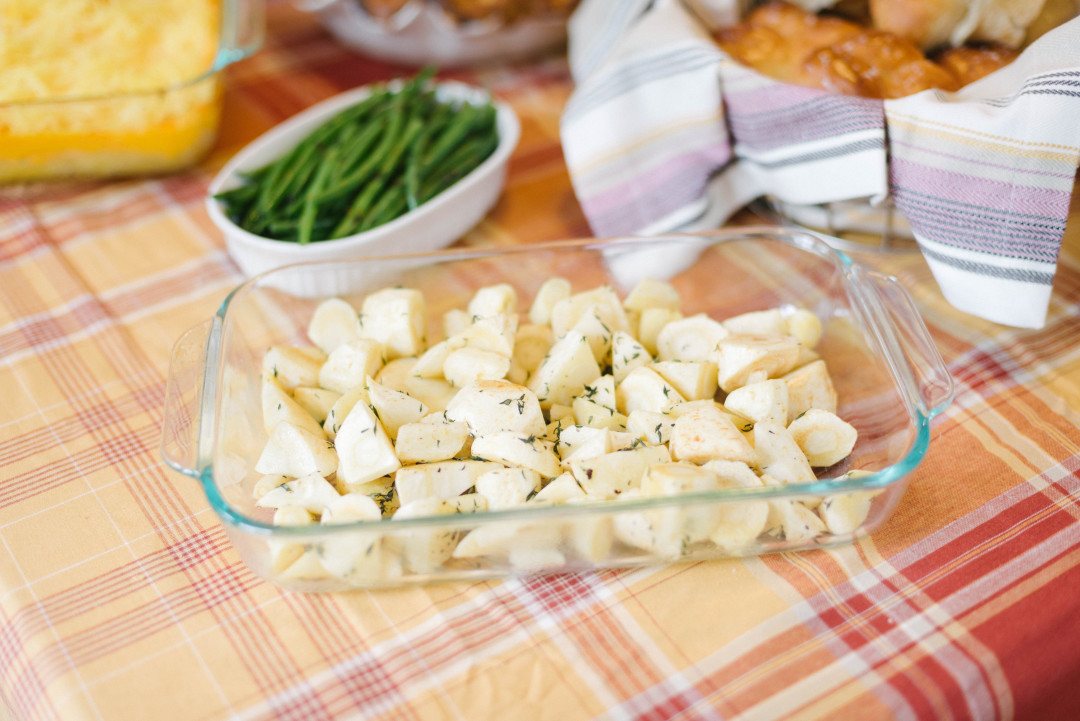 Roasted Parsnips with Thyme
Parsnips are one of my favorite autumn/winter vegetables.  Their flavor is wildly unique, they are super tasty, and are relatively easy for a newbie to cook.  While they may look like carrots, their flavor is very different.  If you haven't had one before, I recommend trying the parsnip both raw and cooked, to get the feel for how versatile they can be.  The way cooking them changes their flavor profile is amazing!  When they are raw, they have a slight spice to them, almost like horseradish, but when they are cooked they are sweet and earthy.  Neat, right?
---
Get your free printable grocery list for this Easy Parsnips with Thyme recipe HERE.
---
Pretty much what I'm saying is that parsnips are amazing and I'm excited for you to try them.  If you take advantage of the printable grocery list, know that all of the amounts are listed in easy-t0-find grocery store amounts.  If not specific amount is given, that means you can buy whichever sized package suits your fancy and you'll still have plenty left afterwards.
Happy Cooking! 🙂
Easy Roasted Parsnips With Thyme
Try this recipe for easy roasted parsnips with thyme. They have only 4 ingredients are are easy to prepare ahead for a feast and cooked in under one hour!
Ingredients
2

lbs

parsnips

, peeled and cut into 1 inch pieces

1

tbsp

olive oil

1

tbsp

fresh thyme

, minced

salt & pepper

, to taste.
Instructions
Preheat
Preheat oven to 400°F
Cook
In a large bowl, toss the peeled and cut parsnips with the olive oil and thyme.

Spread them out on a parchment paper or silicone mat lined sheet pan in a single layer, trying to prevent overlap and touching as much as possible.

Place sheet pan in the oven and roast for 30 Minutes. Check the parsnips to see if they are done. If they are not, flip them around and roast for an additional 10 Minutes, or until done.