These Brown Butter & Pumpkin Seed Scones are a perfect treat to welcome in Autumn. Whether you eat them for breakfast or for dessert, these scones are perfectly crumbly with just a hint of nutmeg!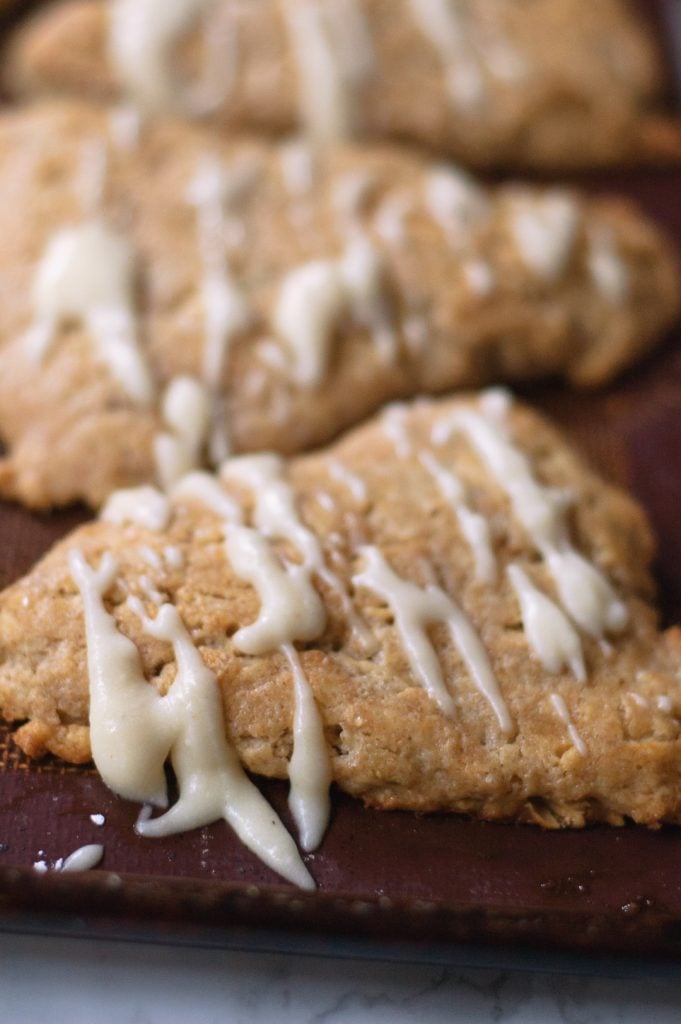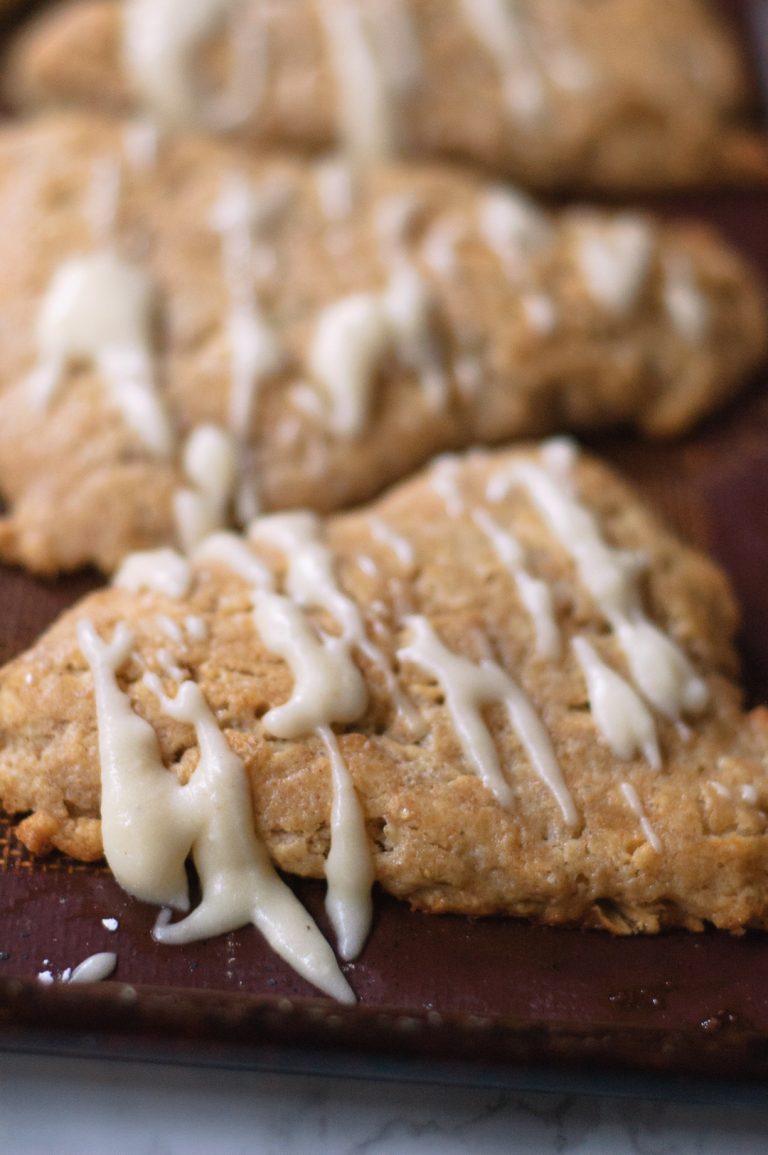 I'm not ready for Christmas (or even Halloween) decorations to be in stores, but autumn's arrival has me teeming with thrill. Autumn in the Pacific Northwest is a glorious thing, and it is so good to be back! Every sensation is heightened and more enjoyable here. The smell of the rain is fresher. The crunch of the leaves underfoot is so much more satisfying. The taste of the seasonal produce more rich and delightful. After 6 long years of missing out on this season (although Pittsburgh did provide some similar feelings) I am so glad to finally be back to enjoy it. While everyone else is busting out their PSL's, I thought I'd give you a different way to use pumpkin to welcome autumn.
This Brown Butter & Pumpkin Seed Scones recipe is also the first recipe I am contributing to the #BreadBakers collaborative. This group gets together a bunch of food bloggers to create a recipe around a common theme. This month's host is Kylee from kyleecooks.com, and her chosen theme is pumpkin/pumpkin spice! Make sure to scroll past my recipe to see the other awesome contributions based on Kylee's theme!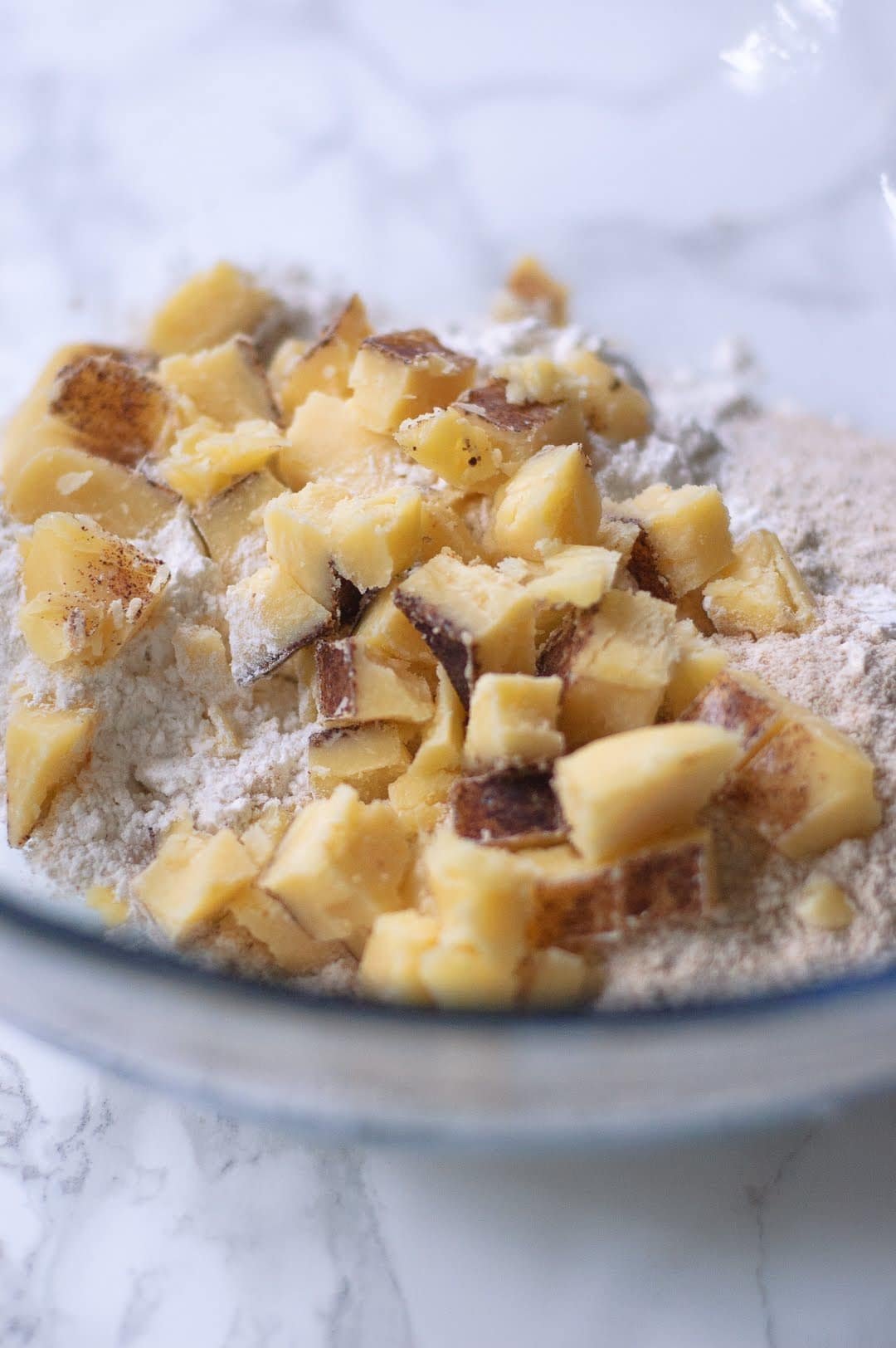 Skills & Techniques
To really own these Brown Butter & Pumpkin Seed Scones and make them to light and crumbly perfection, here are some skills & techniques I recommend brushing up on!
All About Flour. This recipe uses both whole wheat and cake flour - find out why!
The Biscuit Method. This is the baking method used to mix the fat into the flour. Learn how to master it for scones that will make you sound like Agnes from Despicable Me "It's so fluffy I'm gonna die!!!!!".
How to Buy & Store Pumpkins. If you would like to be super awesome and get your seeds straight from the source, this will help you pick out the right pumpkin for the job.
How To Roast Pumpkin Seeds. This not only tells you how to roast them, but also explains what a pepita is.
Tips for Using Silicone Baking Mats. While not the only way these scones can be made, they are my preferred method.
How To Bake. Everything you could want to know on the baking cooking method.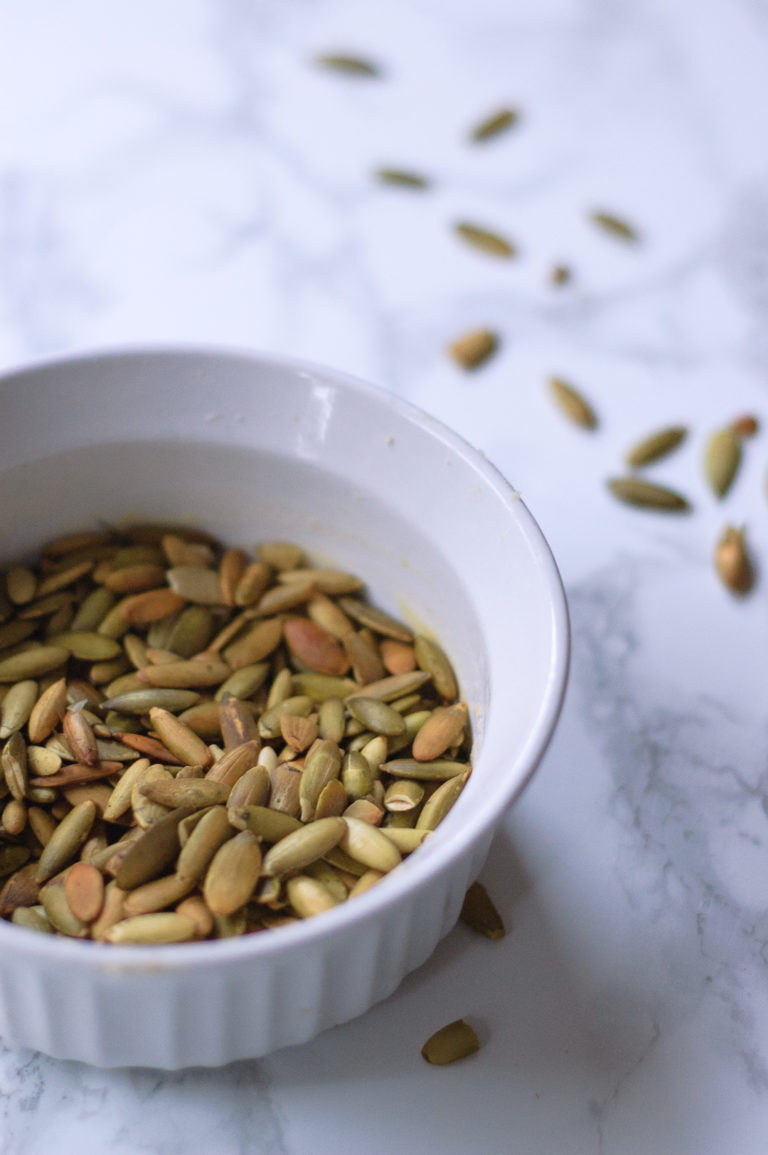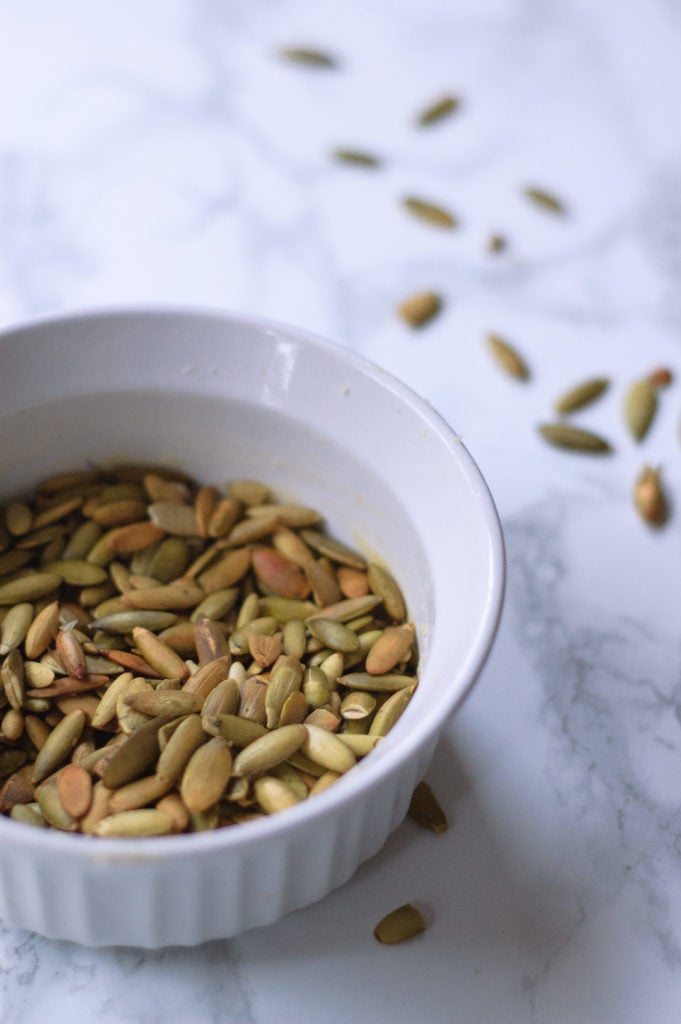 Leftovers?
These Brown Butter & Pumpkin Seed Scones are best consumed while still warm, but if you happen to have some leftover they will stay fresh in an airtight container for about 3 days. Make sure your scones are completely cooled before storing them to prevent any unnecessary condensation. If you have leftover brown butter glaze, you can keep it stored in an airtight container at room temperature for 2 days.
If you would like to reheat your Brown Butter & Pumpkin Seed Scones, I recommend:
Preheat the oven to 200°F
Place your leftover scones on a parchment or silicone mat lined sheet pan and place in the oven for 5 minutes, or until warmed throughout.
Remove from the oven and serve right away.
A little tip for you. Store your scones in a single layer so you don't lose the delicious brown butter glaze to the scone that was stacked on top of it! That glaze is heavenly, and I would hate for your leftovers experience to be anything but other-worldly. 🙂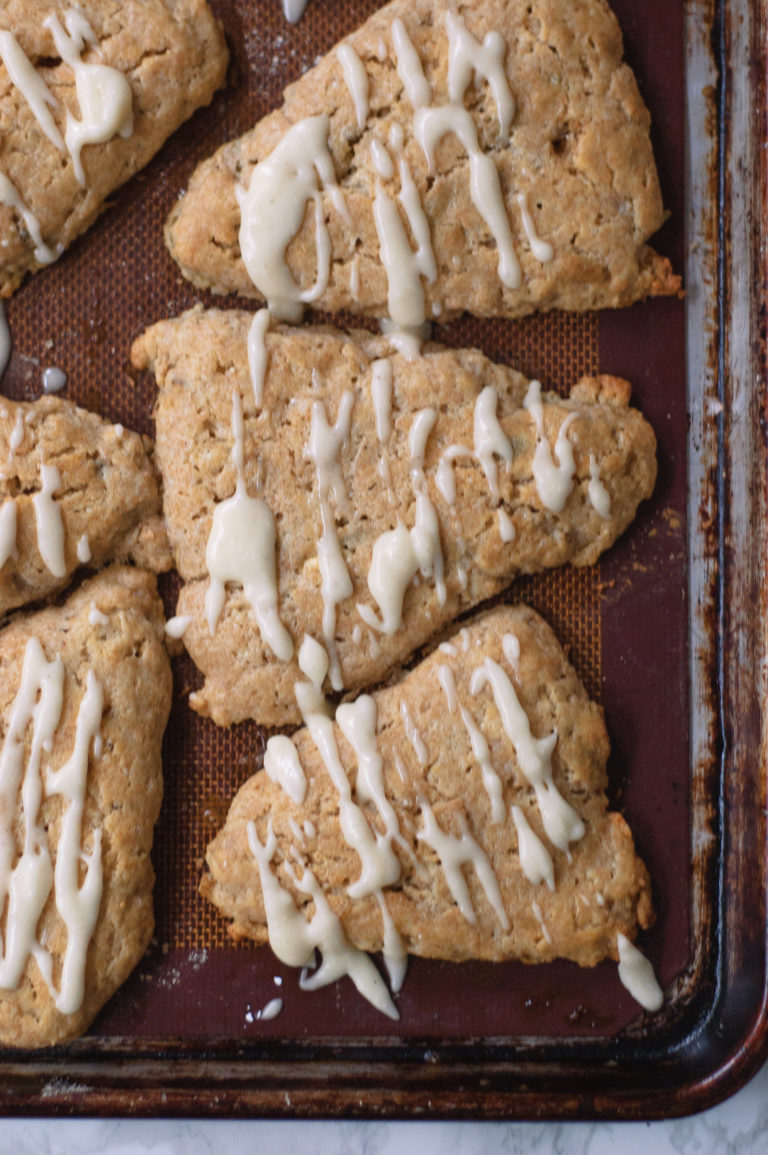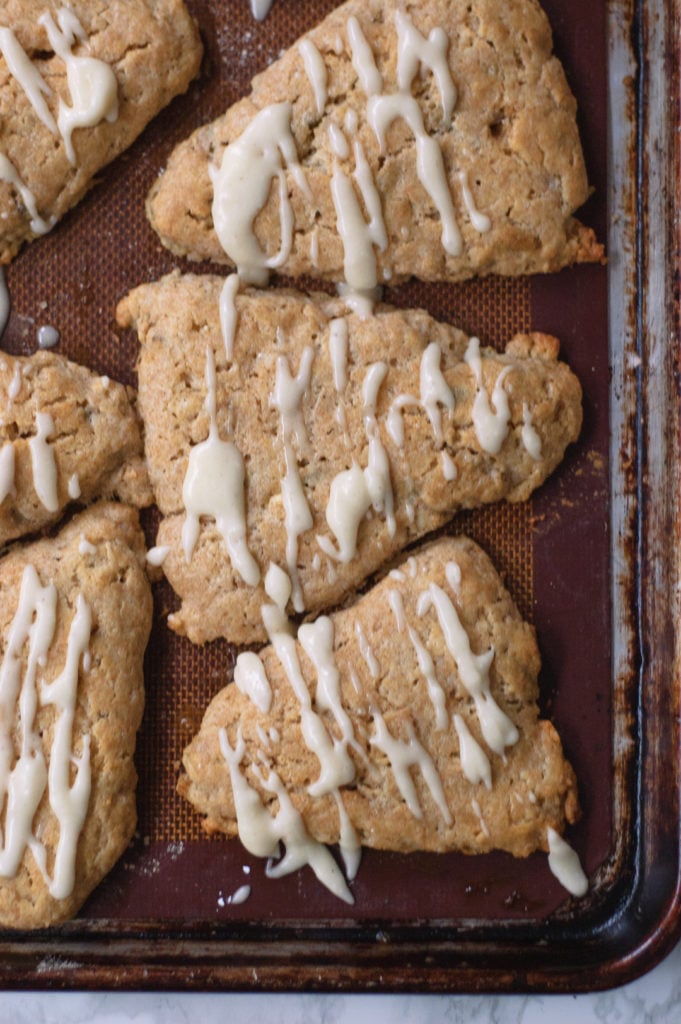 Brown Butter & Pumpkin Seed Scones
One of my favorite things about this recipe is that it can be either sweet or savory. The whole wheat flour and toasted pumpkin seeds lends itself to those who don't want to be overwhelmed with sugar first thing. Or you can choose to drizzle on some of the brown butter glaze for a delicious sweet treat. If you do decide to opt out of the glaze, I recommend going a little heavier on the sugar in the raw than the recipe call for. This will help balance out the flavors just a little bit better.
Also, while I'm thinking about it, it is totally your call on whether or not you use whole pumpkin seeds or pepitas. Either will work well for the recipe. I went with the pepitas because those are more common to find in the grocery store so this Brown Butter & Pumpkin Seed Scones recipe can be enjoyed year round.
---
Get your free printable grocery list for this Brown Butter & Pumpkin Seed Scones recipe HERE.
---
This grocery list has everything you'll need to make these Brown Butter & Pumpkin Seed Scones. Each ingredient is listed in easy to find amounts that will help make grocery shopping as simple as possible. If no specific amount is listed that means you can purchase the smallest package available and still have leftovers.
Happy Cooking! 🙂
#BreadBakers
I want to say a super huge thank you to Kylee from kyleecooks.com for hosting this month's #BreadBakers collection. #BreadBakers is a group of bread loving bakers who get together once a month to bake bread with a common ingredient or theme. Follow our Pinterest board right here. Updated links are also available on this home page. We take turns hosting each month and choosing the theme/ingredient. If you are a food blogger and would like to join us, just send Stacy an email with your blog URL to foodlustpeoplelove@gmail.com.
Pumpkin/Pumpkin Spice Recipes
Here's the list of all the recipes and the lovely bloggers who participated in this month's theme of Pumpkin/Pumpkin Spice!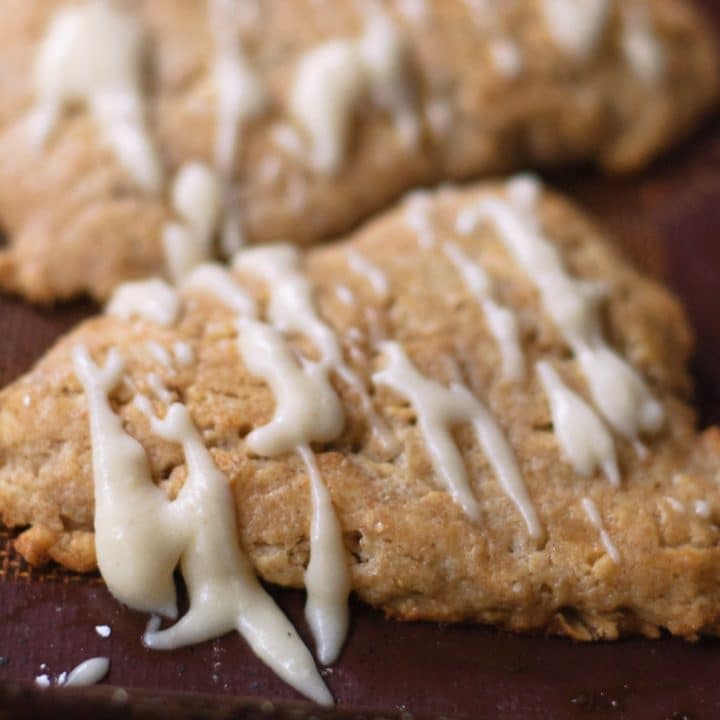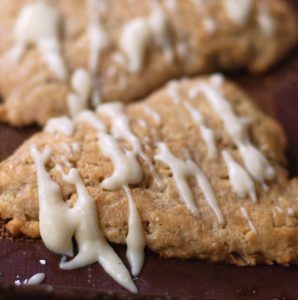 Brown Butter & Pumpkin Seed Scones | #BreadBakers
These Brown Butter & Pumpkin Seeds Scones are rich, warm, and inviting. Eaten with or without the brown butter glaze, these scones are a delightful way start a perfect autumn day!
Pin it for later?
Ingredients
Brown Butter
12

tablespoon

(1.5 sticks) unsalted butter
Scone Dough
¾

cup

pumpkin seeds,

(aka pepitas)

1 ½

cups

whole wheat flour

,

, spooned and leveled

1

cups

cake flour

,

, spooned and leveled

3

tablespoon

sugar

2

tablespoon

baking powder

1

teaspoon

salt

1

tablespoon

nutmeg

2

cups

heavy cream
Cream Wash
2

tablespoon

heavy cream

2

tablespoon

sugar in the raw
Brown Butter Glaze
3

tablespoon

(½ stick) unsalted butter

1

cup

powdered sugar

¾

teaspoon

pure vanilla extract

1

pinch salt

milk or cream as needed to reach desired consistency
Instructions
Brown Butter
In a heavy bottomed sauté pan over low heat, melt the butter until it stops popping and splattering and the milk solids have turned a deep brown. About

10 Minutes

. Place the brown butter into a heat safe container. Cover and refrigerate for at least 4 hours. Overnight is best.
Preheat
Preheat the oven to 425°F
Brown Butter & Pumpkin Seed Scones
In a bowl, mix together the whole wheat flour, cake flour, sugar, baking powder, salt, and nutmeg.

Remove the brown butter from the refrigerator and turn it out onto a cutting board. Cut it into small pieces and put them into the bowl of dry ingredients. Use a fork or pastry cutter to break the butter into small pieces no larger than a pea. (See Note). Place in the refrigerator and let chill for

15 Minutes

.

While the dough chills, place your pumpkin seeds in a dry sauté pan over medium low heat. Stirring occasionally, cook until the pumpkin seeds until they begin to resemble autumn leaves - green, but with some yellow and brown mixed in. About

5 Minutes

. Remove from the heat and let cool.

Remove the dough from the fridge and stir in the cooled pumpkin seeds. Make a well in the center of the dough and pour in the cream. Use a rubber spatula to turn the dry ingredients into the cream until everything is combined.

Place the dough on a board or counter that has been dusted with a little flour and shape it into a disc about ¾" - 1" thick. Cut the dough into 8 equal pieces and place them about an inch apart on a sheet pan lined with parchment paper or a silicone mat.
Wash & Bake
Brush the heavy cream over the top (and sides if you can) of each scone then sprinkle the sugar in the raw on top.

Bake for [/timer]

20 Minutes

or until the scones are lightly browned with no visible raw spots. They should feel a bit spongy to the touch. Remove and let cool.
Brown Butter Glaze & Serve
While your scones bake, melt your 3 Tablespoons of butter over low heat until it has stopped popping and splattering and the milk solids have browned. About

10 Minutes

. Pour your brown butter into a heat safe bowl and let cool for

5 Minutes

.

Stir the vanilla extract, salt, and powdered sugar into the brown butter until smooth. Use milk or cream (a teaspoon at a time) to thin out your glaze to your desired consistency.

Drizzle each scone with your desired amount of glaze and serve.
Notes
To spoon and level your flour, use a spoon to drop your flour into your measuring cup. Be careful not to shake your measuring cup or the flour may compact. Once your measuring cup is filled to slightly overfull, use the back of a butter knife to level off the flour.
Due to the lack of water in the brown butter, you may find it is not as easy to smash it with your fingers when cutting the butter into the flour. I use a fork and the side of the bowl to smash my initially, then find I can use my fingers after that.
Nutrition
Serving:
1
scone
|
Calories:
723
kcal
|
Fat:
49.1
g
Tell me how much you love this recipe
and show off how you made it!