Broiling is a cooking method that gives you a smoky and crisp exterior with a juicy interior. Once you know how to broil, it can be done in an oven, a pan or even a special broiling drawer.
This post was originally published on July 18th, 2015. It has been updated with new information for your benefit.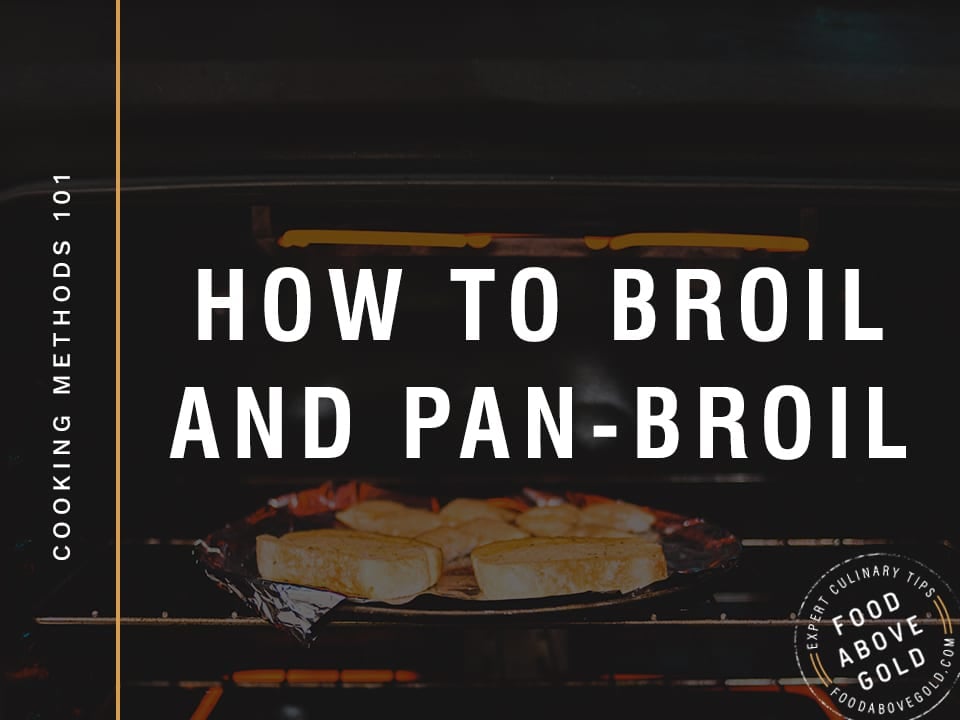 Broiling is an under-utilized cooking method at home. In restaurants, it is extremely helpful because it cooks quickly. However, at home most of us see the broil option and wonder when the last time we used it.
What Is Broiling?
The entire goal of broiling is to control browning. Too much and you can overpower the flavor of your food. Too little, and it may be bland or not have enough flavor to contribute to the sauce.
Broiling is a dry-heat cooking method that uses high heat from above, usually from a broiler. (Who would have guessed?!) Since the food is placed close to the heating element, this is a quick method that is reserved for delicate cuts of meat and fish, or for getting a caramelized exterior that traps the juices inside.
Similar to grilling, broiling imparts a lot of its flavor by cooking the fat. This is what gives it that smoky flavor. If you are using a lean cut of meat, you can help this along by brushing it lightly with oil .
Important NOTE: Keep in mind though, that oil near a heat source is a fire hazard, especially if there is too much of it or it has a low smoke point (like olive oil)! Make sure you have proper fire safety tools nearby and use great caution, just in case. Also, maybe open a window.

Where Do I Put My Oven Rack For Broiling?
When broiling, the heating element is turned up high, which creates a temperature of around 550°F. The speed you cook is then controlled by how close you place your food to the heat source. (Unless you have a fancy broiler that has a vari-broil option.) So, many recipes that call for broiling in the oven will tell you where to place the rack; often in the upper third of the oven.
When choosing where to put the rack in the oven, it is important to consider how large your food is and how long it needs to cook. If you were to put a large item close to the heat source, the outside will burn before the inside reaches the correct internal temperature. If you put it in the bottom of the oven, the inside may become dry before the outside caramelizes. (Or only the top is cooked and the bottom is soggy!)

How To Broil Effectively
To broil, you want to follow a very specific cooking process. It is simple, effective, and is also a great way to heat up leftovers (like steak or burgers) because it prevents the juices from getting lost.
Line a baking sheet or broiling pan with aluminum foil that is lightly brushed with oil. This prevents the food from sticking to the foil. (Also, don't use parchment paper because it can burn that close to the intense direct heat.
Move the rack into the correct placement in the oven for what you are cooking. Remember, the closer it is to the heating element the foods, the faster the outsider will brown. Try to keep the top of the food at least 3 inches from the heat.
Set the temperature. Older ovens usually just have a "high" or "low" setting, but more modern ones have something called "vari-broil". This lets you choose a temperature setting between 1-5 usually. This mostly just controls the speed at which your food broils. Let your oven heat for about 5 minutes before cooking.
Place the food on the baking sheet and broil until the outside of the cooked food is golden brown. Flip once halfway through to keep the cooking and browning even.
As a strange recommendation, close your eyes and look away when you open the oven door. This allows the hot air, smoke, or steam to escape without giving you a steam facial. This is also especially important if you are wearing mascara as the intense high heat can melt your eyelashes together temporarily.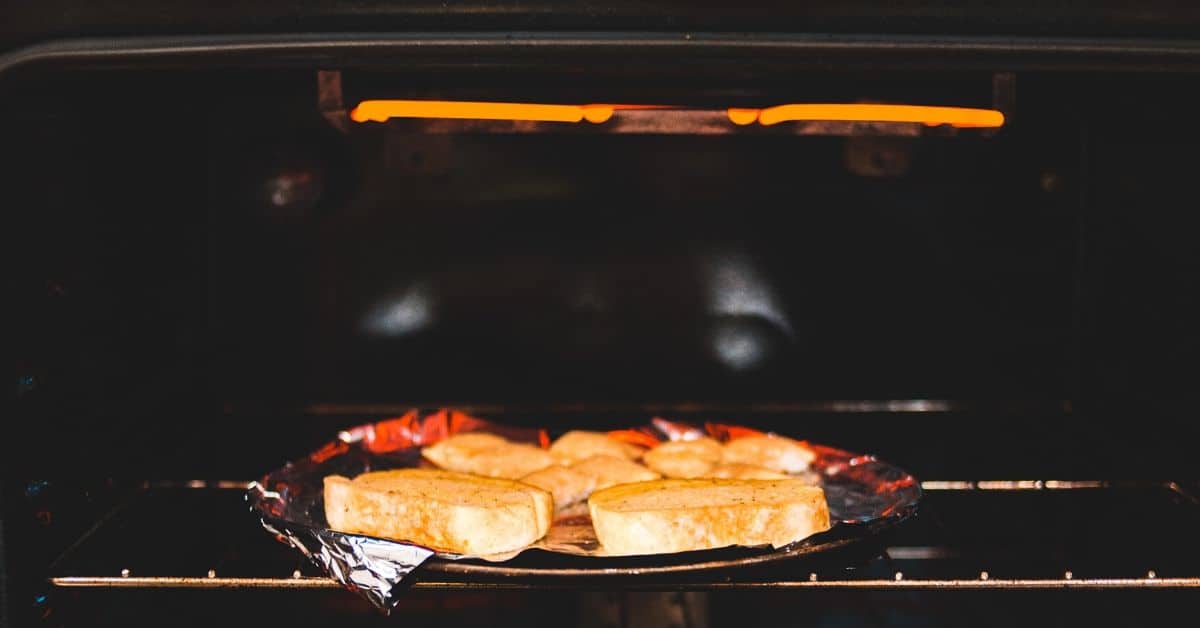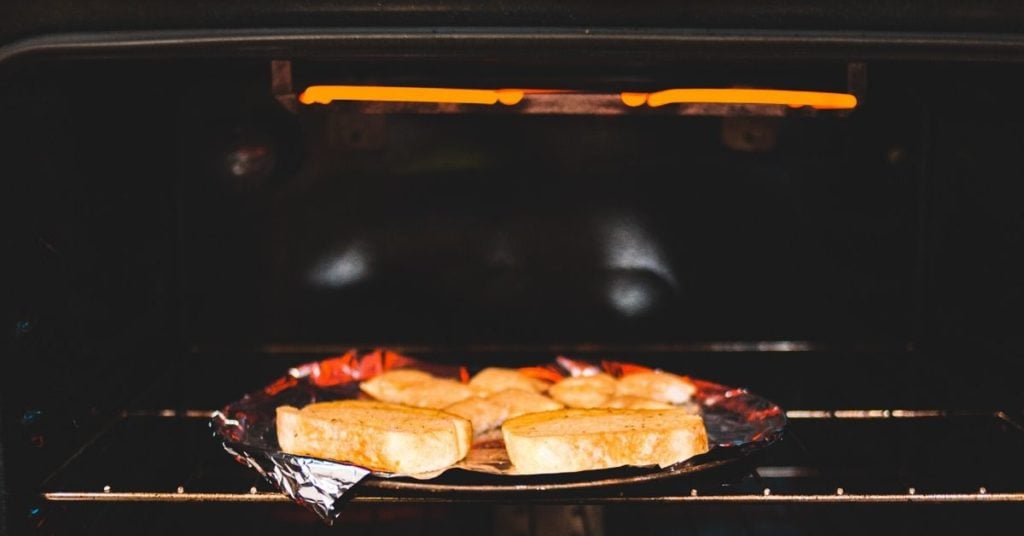 How To Broil In The Bottom Of the Oven
Believe it or not, that drawer in the bottom of older ovens is most likely a broiler, not a storage place for pots and pans. You can follow the same procedure as broiling in more modern ovens, just make sure to remove the broiler pan and line it with aluminum foil before cooking.
Keep in mind though, that with a broiler like this, super thick cuts of meat are best cooked other ways. The oven's broiler only allows for foods to sit on the bottom instead of using a rack, so you have about eight inches of space to cook within. However, these broilers are great for browning a bread crumb crust on a casserole.

What Is Pan-Broiling?
Pan broiling is a dry-heat method that uses heat from below to achieve browning in a pan. If you're wondering how is this different from pan-frying, the answer lies in how you manage the released juices since they sit near the heat source.
In order to pan-broil correctly, you must regularly drain off or remove fat and juices that released from the food you are making. You don't want to cover the pan either because that will just put collected steam into the pan and add liquid.
Usually, pan-broiling is reserved for very thin cuts that you want to get a lovely browned crust without overcooking the inside. By pan-broiling them, you have a little more control (primarily since you can see exactly what is going on) over your food, making it easier to judge doneness.

Recipes That Using The Broiling Cooking Method
For some delicious broiled recipes, I recommend trying my favorites below.
Thanks so much for stopping by!
Happy Cooking! 🙂