This crunchy, light, and colorful carrot salad is wonderful in every season. It makes a perfect dinnertime side dish or super easy lunch.
Note: This recipe was updated with new content on January 14, 2019.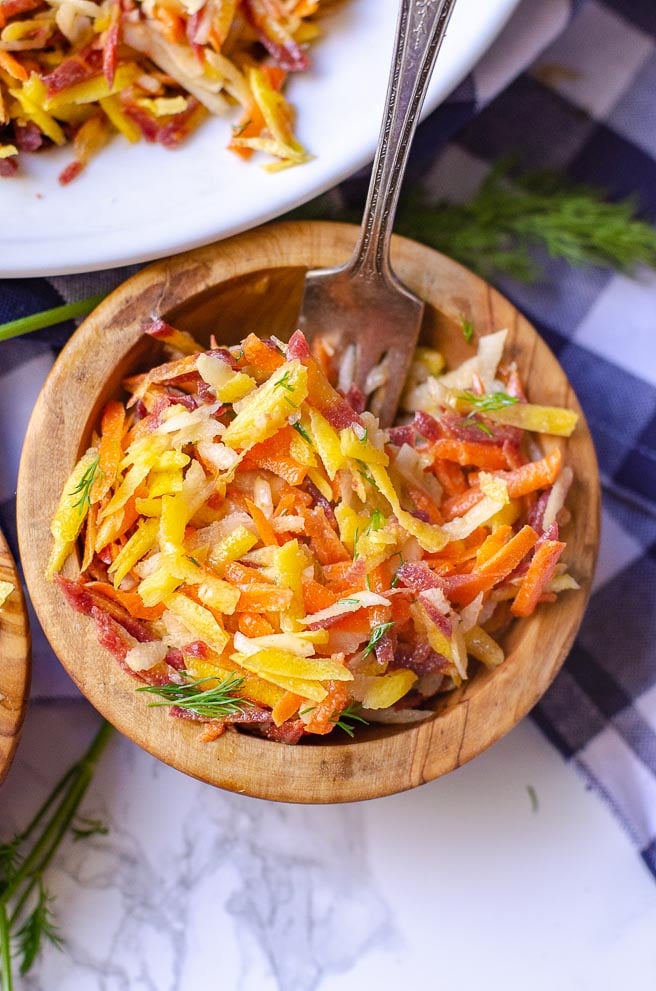 My favorite thing about this carrot salad is how pretty it is. Those rainbow carrots are really given the opportunity to shine. Plus, the fennel flavor isn't too strong. So it is an excellent way to usher in the beginning flavors of spring, or enjoy in the winter.
How To Prepare Carrot Salad
The important thing when preparing this carrot salad is to grate the carrots on the largest grater setting. If you use the smaller setting, the texture will feel a bit mushy. If you have narrow carrots, small chunks may fleck off or fly away as you are grating. Don't stress it though, the further up the carrot you get, the easier it will become to grate.
You can also use a food processor, mandolin, or KitchenAid attachment to help grate the raw carrots.
Tips For How To Make Carrot Salad Perfectly
As long as you have a sharp grater at hand, this carrot salad recipe is easy. There are so many wonderful ways you can improve upon it though. These tips will help you make this carrot salad even better.
Make A Perfect Vinaigrette.

This carrot salad recipe uses a dijon-dill vinaigrette. This article explains emulsification and the process of making a perfect vinaigrette.

How To Buy & Store Fresh Herbs

. Dill is a hearty herb while it is growing, but is very fragile once picked. Find out how to pick it out and keep it fresh.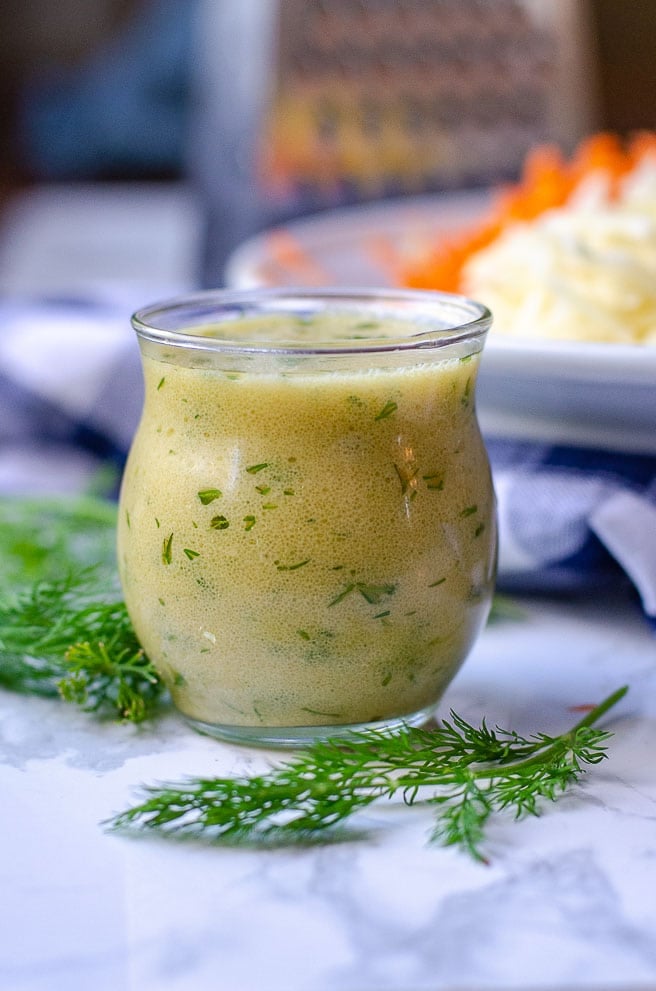 Can Carrot Salad Be Made Ahead?
Since neither carrots or fennel have an exceptionally high amount of water, this carrot salad recipe is easy to make ahead. For the best results, store the vinaigrette and salad separately until serving time. This will let you recover the vinaigrette if it separates before it is time to eat.
The only thing to consider with this carrot salad is that the color in the rainbow carrots may bleed. While not a big deal, it could potentially discolor the white carrots or fennel.
Delaying dressing the salad with the vinaigrette will help with this also. The lack of fluid to push around or trap the bleeding color will help keep your salad looking fresh.
If kept in the refrigerator, this carrot salad recipe can be made up to three days ahead.
How To Store Carrot Salad Leftovers
Both the carrot salad and the vinaigrette will stay fresh in the refrigerator for up to three days. After that the carrots begin to lose their crunch and the dill will wilt. Store them in an airtight container for best results.
Since this salad has such a large amount of dijon in it, this salad dressing should stay emulsified better than others. However, you should still expect to see some separation overnight. If this happens you can shake it in the container for a few minutes until it is reincorporated. You can also mix two tablespoons of the vinaigrette with extra dijon mustard and whisk the vinaigrette into the fresh mustard. It will be like you're making the vinaigrette all over again, but it will be better combined.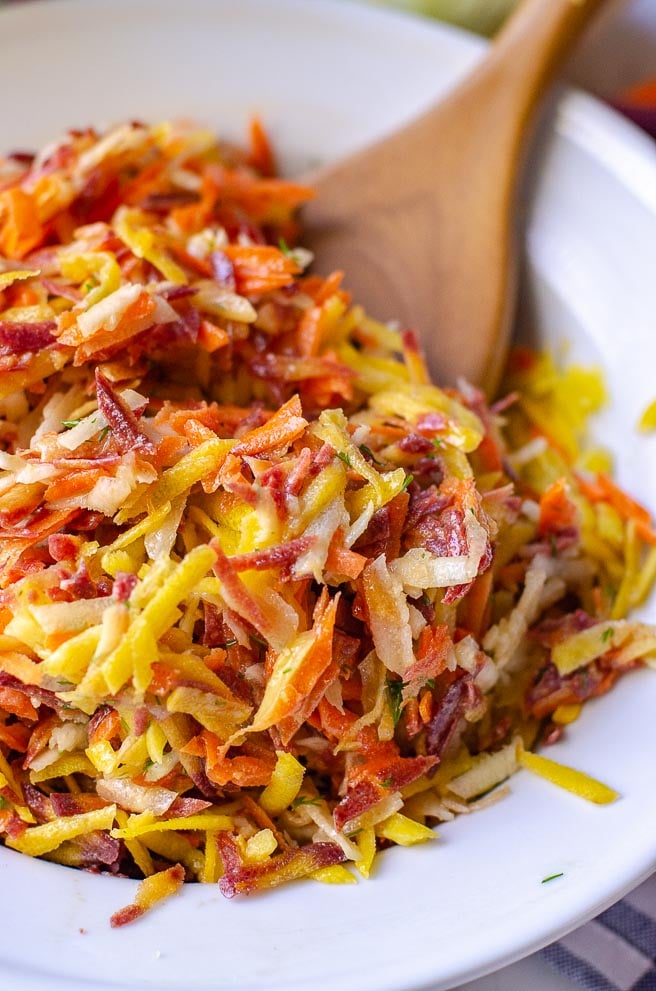 Rainbow Carrot Salad Recipe
Carrots are so good in any season that this carrot salad recipe works for any number of events. I've taken it as a side dish to a potluck Christmas. It is also great for cookouts because it is delicious served cold or at room temperature. Plus, it doesn't wilt if it is warm outside. Since carrots and fennel both come into season in autumn, this is also a terrific side dish for Thanksgiving.
As I talked about in my 12 tips for a killer salad, any salad is made better by having varying textures. It's part of why the carrot salad with raisins became so popular. If you want to add some varying texture, I recommend segmented orange slices or some slivered almonds.
---
Want some other great salad recipes? Here are some I recommend:
Happy Cooking! 🙂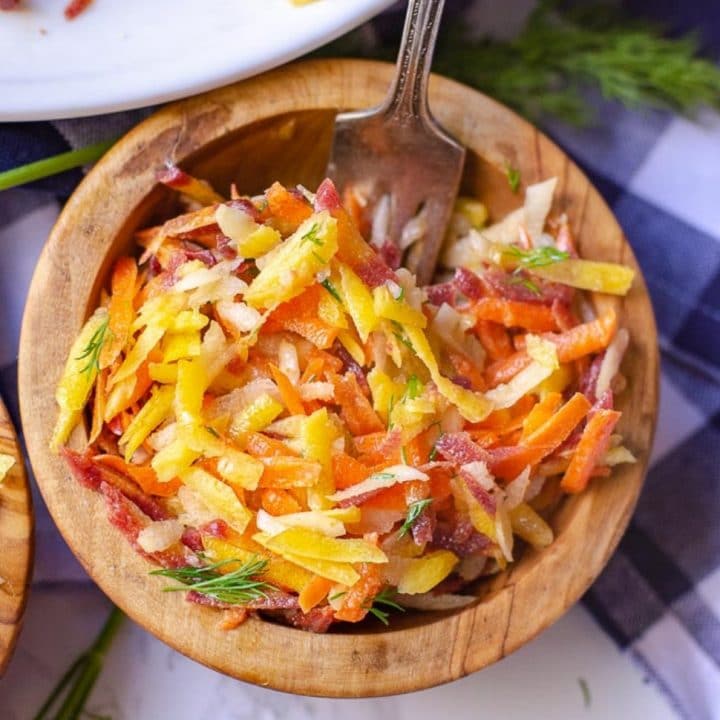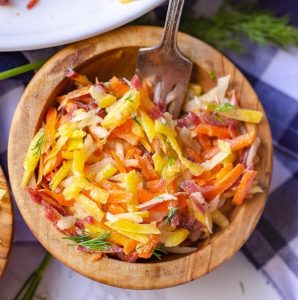 Rainbow Carrot Salad with Fennel
The beautiful color and fantastic crunch of this rainbow carrot salad makes it a stunning side dish at any meal or cookout.
Pin it for later?
Ingredients
Rainbow Carrot Salad
4

pounds

rainbow carrots

,

peeled and ends cut off

2

heads of fennel

,

fronds and stems removed
Dijon-Dill Vinaigrette
2

Tablespoon

white wine vinegar

1

Tablespoon

dijon mustard

1

clove

garlic

,

pressed or minced

½

cup

oil of choice

¼

cup

minced fresh dill

salt and pepper

,

to taste
Instructions
Rainbow Carrot Salad
Using the largest grater setting, carefully grate the carrots and fennel into a large bowl. Set aside.
Dijon-Dill Vinaigrette
In a small bowl, combine the white wine vinegar, dijon mustard, and garlic.

While whisking vigorously, slowly pour your oil of choice in a thin and steady stream into your vinegar mixture.

Once the vinaigrette is emulsified and complete mixed, use a fork to gently stir in the dil. Season with salt and pepper.

Toss the vinaigrette with the grated carrots and fennel. Serve.
Notes
If you choose to use storebought shredded carrots, you may notice that the salad is a bit drier than fresh carrots. 

Adding extra salad dressing won't fix it, it will just make the carrot salad feel greasy.
Nutrition
Serving:
1
serving
|
Calories:
188
kcal
|
Carbohydrates:
15
g
|
Protein:
1
g
|
Fat:
14
g
|
Saturated Fat:
1
g
|
Sodium:
132
mg
|
Potassium:
626
mg
|
Fiber:
5
g
|
Sugar:
5
g
|
Vitamin A:
19250
IU
|
Vitamin C:
16.3
mg
|
Calcium:
72
mg
|
Iron:
1
mg
Tell me how much you love this recipe
and show off how you made it!