Use this beer cheese dip recipe as a complement to soft pretzels, sausages, or with tortilla chips. This game day favorite is super easy with just and can be as smoky as you want.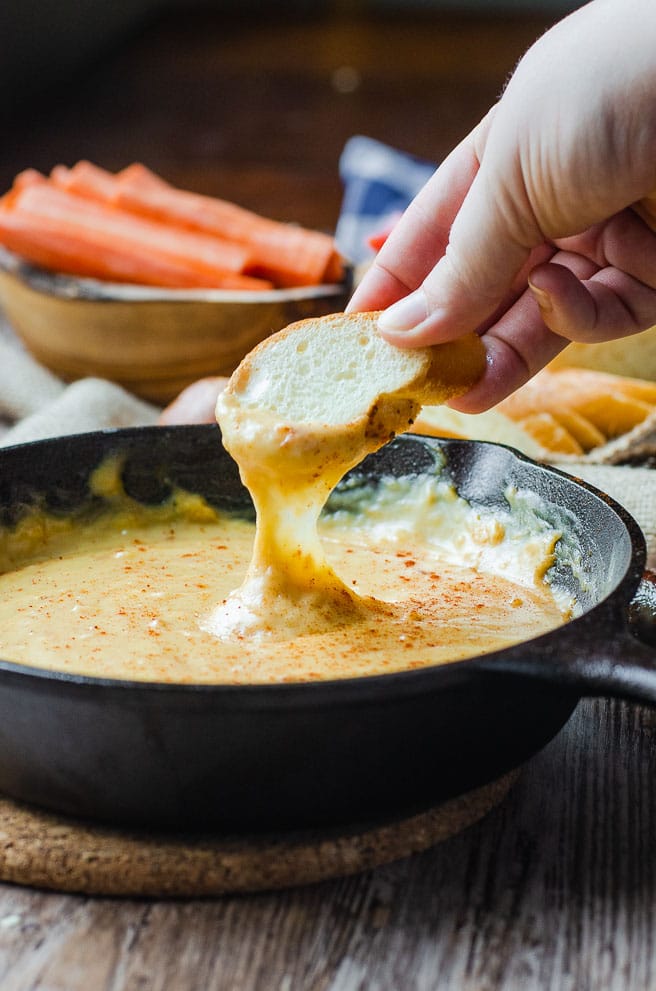 Beer cheese dip is the ultimate game day appetizer. Made with extra sharp white cheddar cheese, garlic, and your favorite beer, the combination is a super bowl hit. Most people serve it with pretzels, but for today's recipe, I'm using some delicious seared sausage slices. Don't worry though, you can always put some additional soft pretzel bites on the side for a more traditional dip.
What Is Beer Cheese Dip?
Beer cheese dip is, at its core, a thickened cheddar cheese sauce. It is made with shredded cheddar cheese, your favorite beer, and can be served either cold or hot. (Cold is often referred to as "pub-style" and used as a spread/dip.)
Whether you use this recipe or another, make sure to follow the instructions about liquid amounts. If you add too much, it quickly becomes beer cheese soup
What Kind of Beer For Beer Cheese Dip?
When you choose the beer for this beer cheese dip recipe, the important thing is to choose one you like. If you're not a fan of deep and malty beers, don't choose a stout. If you hate hoppy beers, avoid IPA's. The beer you choose greatly affects the flavor, so choose according to you (or your guest's) tastes.
If you're not a beer drinker, or you're just not sure where to start, I recommend an amber or a red. (A "red" is a type of beer. I didn't forget to finish the sentence.) Both of these tend to be middle-of-the-road in flavor, with a balance of both hops and malts.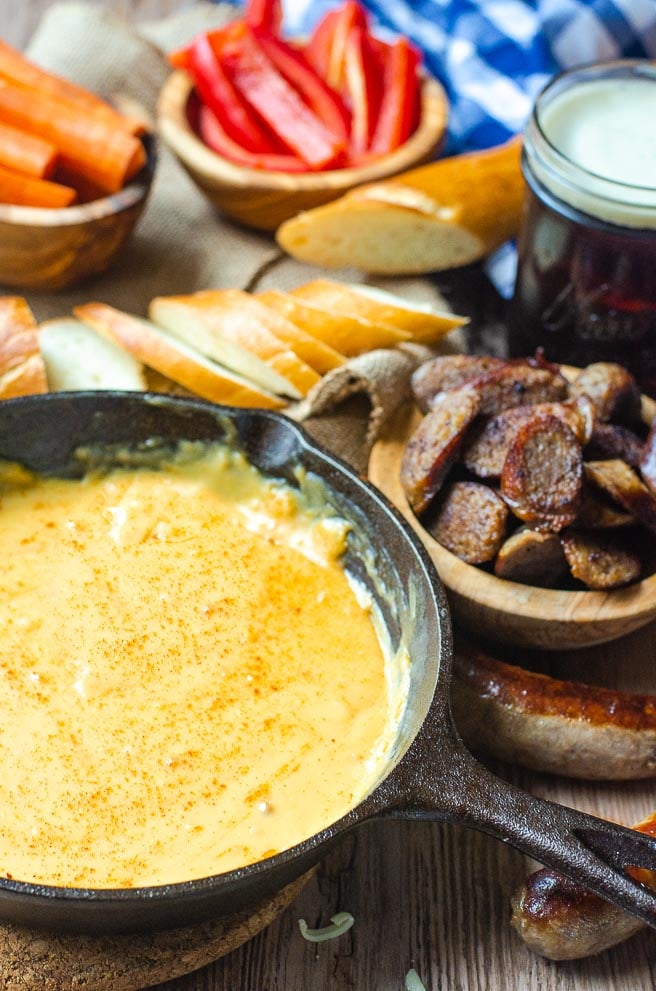 Can Beer Cheese Dip Be Made Ahead?
If you are serving your dip cold, making it ahead is easy. In fact, I recommend it. It gives the beer flavor time to truly impart itself so it shines.
If you're serving the dip hot, you can make it ahead, but there will be a few things to watch for. Primarily in the reheating. When you reheat the beer cheese dip, you want it to reheat as evenly as possible. The best way to do this is to use a low heat so it doesn't scorch to the side of the pot. Also, as the dip chills in the refrigerator, it will turn into a blob. Cut the cheddar cheese mass into uniform sized pieces before melting. This helps keep the outside from burning before the middle heats through.
What Goes With Beer Cheese Dip
For this beer cheese dip recipe, there are many things you can choose to dip into it. Some great dipping items include:
Homemade pretzels

Tortilla Chips (I find the tri-colored ones for an extra beautiful presentation).

Crudité vegetables

Green apple slices

Seared sausage bites

Pretzel rods

Potato chips

Baguette slices

Crackers

Bacon chips

Jalapeno poppers
Tips For Making The Best Beer Cheese Dip
If you want a beer cheese dip that is out of this world, I recommend brushing up on these culinary techniques. You'll be so glad you did.
How To Get Crisp Crudité Veggies. This method is called "blanching and shocking" and gives you crisp, but slightly cooked vegetables for dipping. Additionally, it locks in the bright color of the veggies so they are vibrant.
Buy and Store Apples. If you choose to use apple slices, check out this post for tips on buying the right kind of apples for this dip recipe.
How To Make A Roux. This is how the beer cheese dip is thickened. If you incorporate the liquid incorrectly, it can leave the dip clumpy.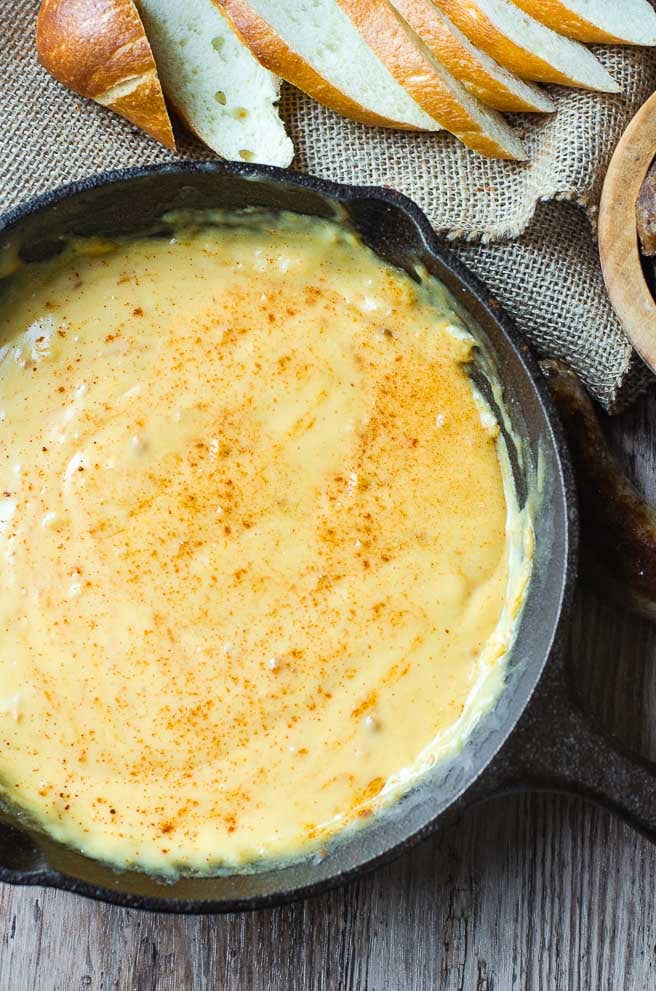 Happy National Cheese Lovers Day
This post is a collaboration celebrating National Cheese Lovers Day. If you want to check out some of the other cheesy delicious recipes, look below.
Chicken Madeira by House of Nash Eats
Gooey, Gorgeous Raclette from Culinary Adventures with Camilla
Easy Italian Sausage Pasta Bake from Cooking For My Soul
Extra Cheesy Garlic Bread from Karen's Kitchen Stories
Slow Cooker Creamy Mac and Cheese with Bacon from Cheese Curd in Paradise
Baked Parmesan Cheddar Crisps from Blogghetti
Smoky Beer Cheese Dip with White Cheddar from Food Above Gold
Layered Chili Mac and Cheese from Palatable Pastime
Cheese Danish from Kate's Recipe Box
Macaroni and Cheese Pierogi from The Spiffy Cookie
Waffled Pizza Bites from Jolene's Recipe Journal
Pizza Grilled Cheese from A Day in the Life on the Farm
Sweet Gherkin Pimento Cheese Spread from Faith, Hope, Love, & Luck Survive Despite a Whiskered Accomplice
Easy Cheese Sauce from The Gingered Whisk
Creamy Homemade White Cheddar Mac n Cheese from Jonesin' for Taste
Adjaruli Khachapuri (Georgian Cheese Bread) from Caroline's Cooking
Cheese Charcuterie and Pickled Onions from Our Good Life
White Cheddar Beer Cheese Dip Recipe
Don't skip the step of simmering the beer and roux (the butter and flour mixture.) This helps remove the taste of the flour and gives your beer cheese dip a much better flavor. It's only five minutes.
---
Want a free printable grocery list for this beer cheese dip recipe? Get it HERE.
---
Use this grocery list to help simplify shopping. Everything is listed in standard grocery store amounts. If no size is specified, even the smallest package will provide more than enough.
Happy Cooking! 🙂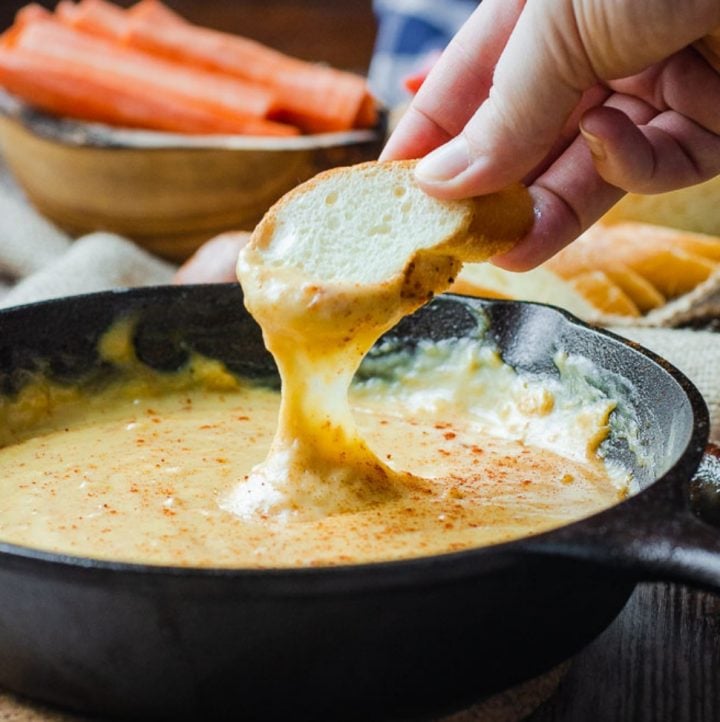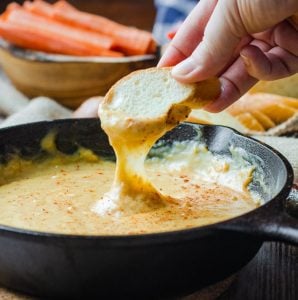 Smoky Beer Cheese Dip with White Cheddar
The smoky flavor of this white cheddar beer cheese dip can be as light or as strong as you want. Dip some fresh veggies, bread, chips, or sausages into this dip for a great game day appetizer.
Pin it for later?
Ingredients
2

Tablespoons

butter

4

cloves

garlic

,

minced

2

Tablespoons

flour

1

cup

beer

1

teaspoon

dijon mustard

2

cups

grated extra sharp white cheddar cheese

2

cups

grated sharp cheddar cheese

1

teaspoon

smoked paprika
Instructions
In a 6 inch cast iron pan over medium heat, melt the butter. Add in the minced garlic and cook until translucent. Stir in the flour and let cook for one minute.

Reduce the heat and slowly stir in the beer and mustard. Simmer for [/timer]

5 minutes

and stir in the cheese until melted. Add in the smoked paprika and serve.
Notes
For a stronger smoky flavor, trade out the regular cheddar cheese for a smoked cheddar cheese.  
Since most shredded cheese from the store has an anti-caking ingredient added, your beer cheese dip will have a better texture if you freshly grate the cheese.
Nutrition
Serving:
1
serving
|
Calories:
183
kcal
|
Carbohydrates:
2
g
|
Protein:
9
g
|
Fat:
14
g
|
Saturated Fat:
9
g
|
Cholesterol:
44
mg
|
Sodium:
256
mg
|
Potassium:
50
mg
|
Vitamin A:
520
IU
|
Vitamin C:
0.3
mg
|
Calcium:
273
mg
|
Iron:
0.4
mg
Tell me how much you love this recipe
and show off how you made it!