Pumpkin week is a sponsored event that includes gifts to me from the participating brands. All thoughts and opinions are my own, but I think you'll enjoy this pumpkin shakshuka recipe as much as I do. Thank you for supporting the brands that make Food Above Gold happen.
With only a few ingredients, this pumpkin shakshuka recipe is loaded with autumnal flavor. Serve it on potatoes or with crusty bread for a delicious breakfast.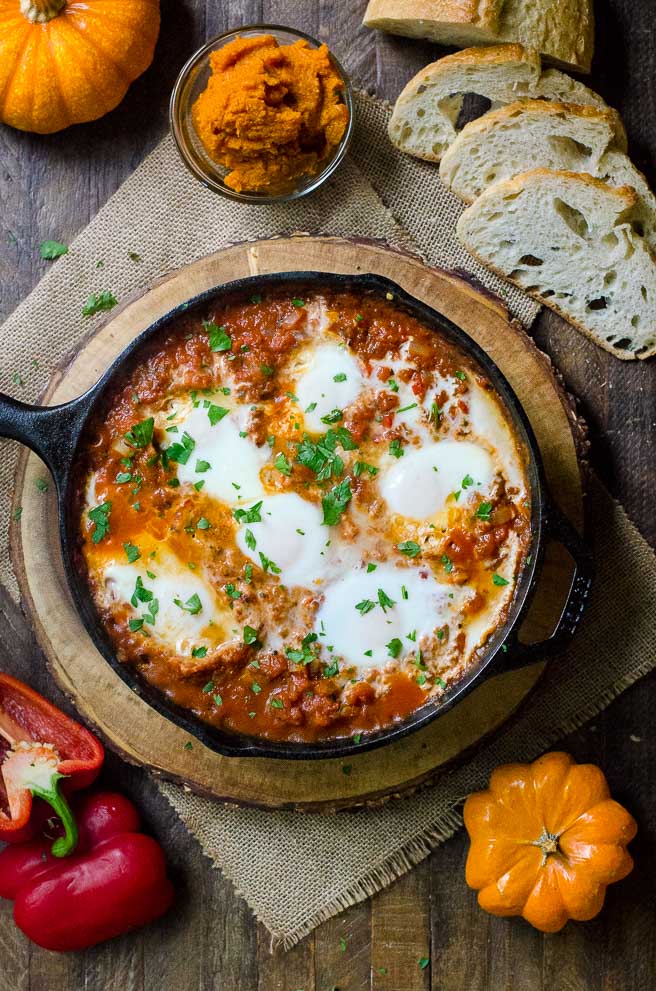 Fall is in the air, and we are celebrating our love of pumpkin with #PumpkinWeek hosted by Terri from Love and Confections and Christie from A Kitchen Hoor's Adventures. All week-long 34 bloggers will be sharing 140+ fantastic recipes for all your Autumn celebrations, including breakfasts, baked goods, savory pumpkin recipes, desserts, and drinks. Thank you sponsors for providing the prize packages. Don't forget to enter the giveaway below!
This pumpkin shakshuka recipe is a great way to use an opened can of pumpkin puree. This gluten-free savory breakfast is extremely flavorful and done in about 20 minutes. You'll love this recipe with its autumnal twist and look forward to making it over and over every year.
Where is Shakshuka From?
There are many different styles of shakshuka (also spelled shakshouka), so depending on the recipe, it varies. There are debates of it deriving from Yemen, Morocco, Tunisia, Israel and many more.
At first, during the Ottoman Empire, shakshuka was served with meat. Throughout the years though, a meatless version served with eggs became more common.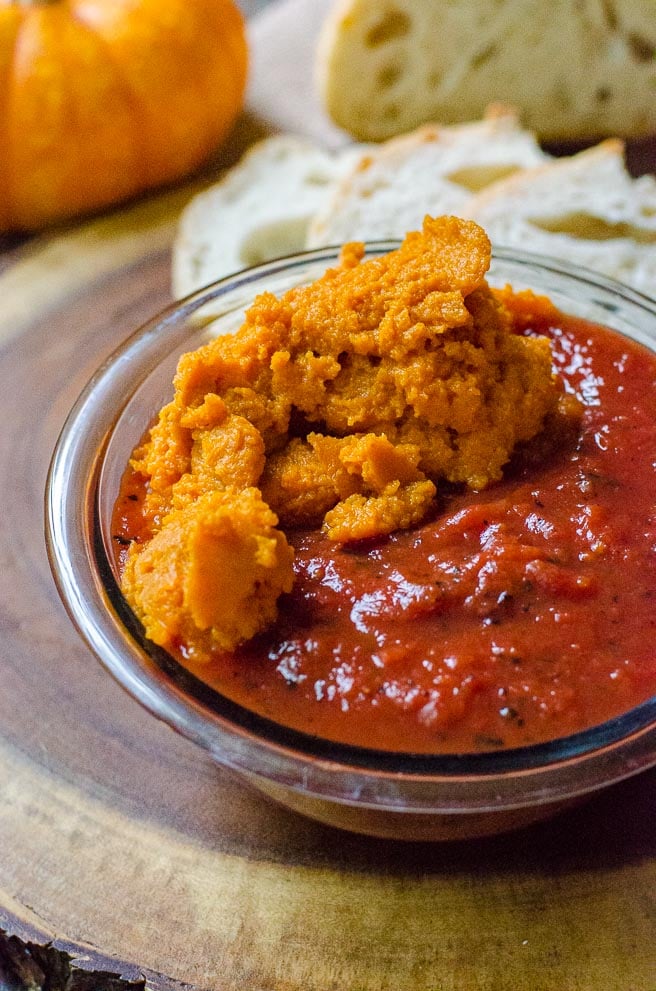 What Is Shakshuka Made Of?
In its original Arabic, shakshuka translates to mean "a cohesive mixture". It is made of poached eggs in a slightly spicy tomato stew. (Some call it a tomato sauce.) While this may not sound appetizing for an American breakfast, it is a staple in North African cuisine.
Depending on the style you make, the spice vary. The most common ones however are cumin, paprika, cayenne pepper and/or nutmeg. For this shakshuka recipe, I've chosen to use smoked paprika. It accentuates the pumpkin nicely, and matches the fire roasted tomatoes even more.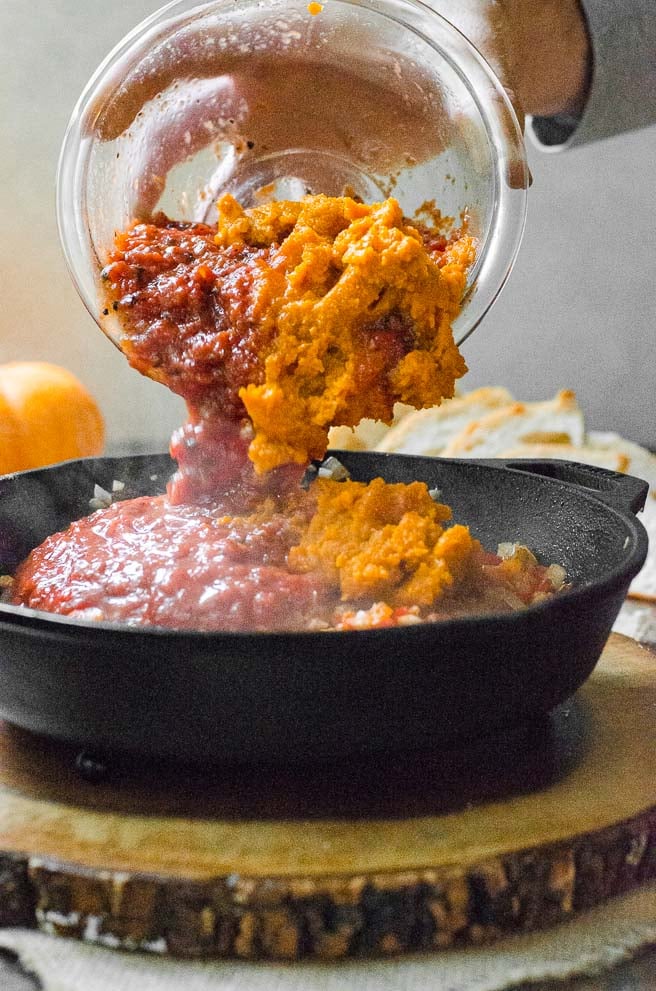 How To Poach The Eggs For This Shakshuka Recipe
Most commonly, eggs are poached by submerging them in water. So the idea of poaching them in this tomato mixture may not completely live up to your expectations.
There are two definitions to poaching eggs however. One is to cook an unshelled egg in or over boiling water. The other is to cook the egg in a small amount of liquid. The latter is the one we're using for this shakshuka recipe.
In order to poach the eggs however, you need to create heat all around them. If you don't, the egg whites take forever to cook, usually resulting in a scorched tomato stew. After the eggs are cracked into the stew, season with salt and pepper and quickly cover the pan with a lid. Depending on how high the heat is, the eggs will poach in the tomato mixture in just a few minutes. For more information on what poaching is, check out my in-depth article on the cooking method here.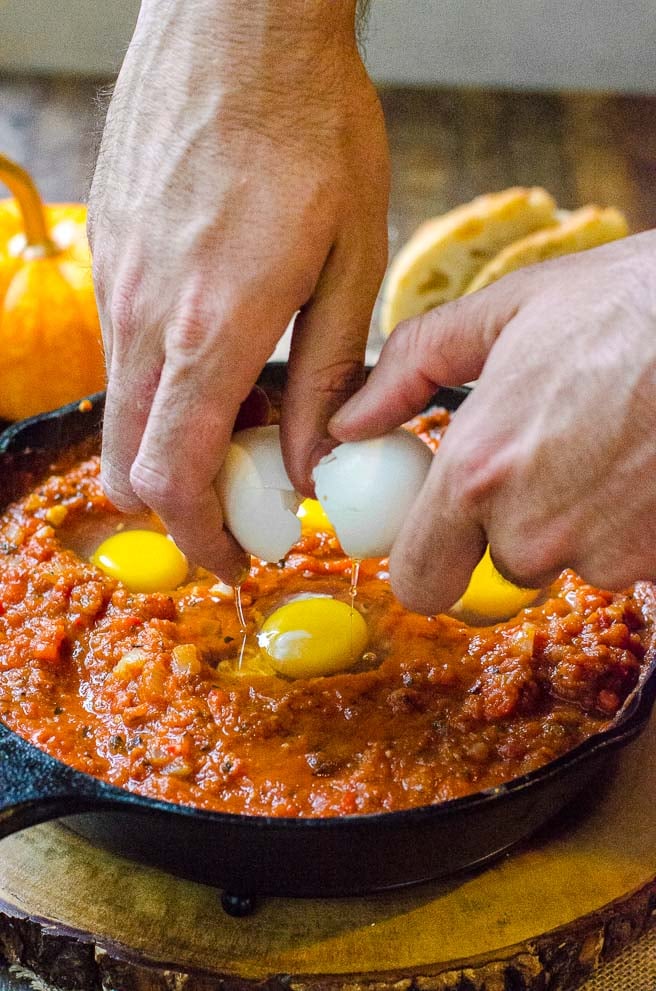 Do I Have To Use A Cast Iron Skillet?
As is the custom, most shakshuka recipes are served in cast iron or a tagine (like you would find in Morocco). Since most people don't own a tagine though, cast iron is the easiest go-to.
This sometimes makes people nervous because there can be a chemical reaction between cast iron and tomatoes. Especially if they are exposed to each other for long periods of time. In addition, the acid from tomatoes can strip some of the seasoning that cast iron needs.
I like using a cast iron because it distributes temperature evenly. This helps make sure the eggs all poach at the same rate. Nobody wants chewy, tough eggs on one side and whites that aren't cooked on the other.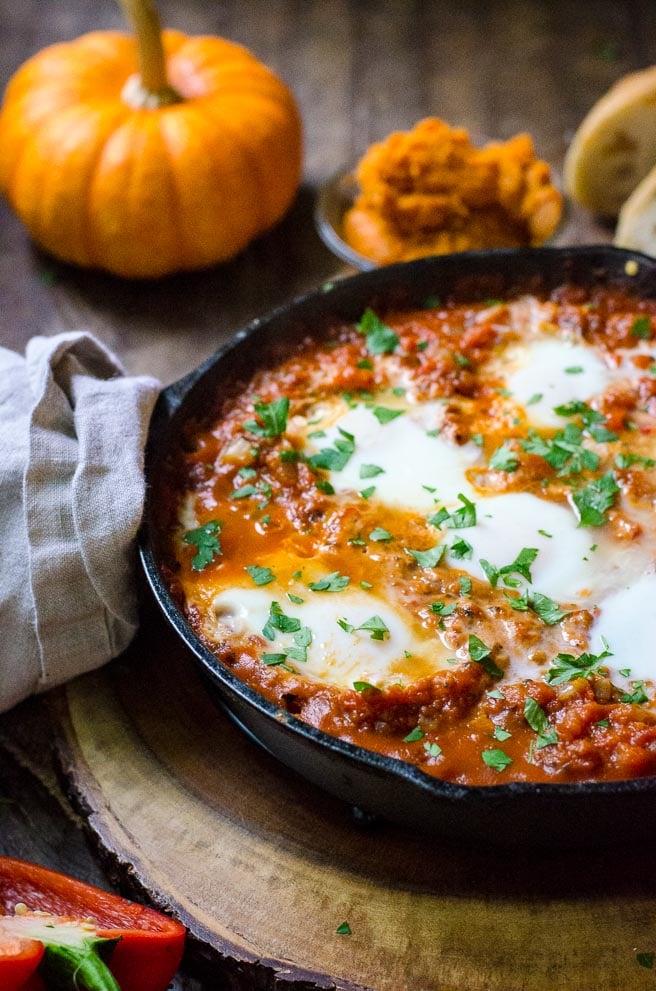 #PumpkinWeek
Enjoy these #PumpkinWeek recipes from our bloggers:
Pumpkin Drinks:
Boozy Pumpkin Party Punch from The Crumby Kitchen
Easy Pumpkin Smoothie from Red Cottage Chronicles
Pumpkin Fizzy from Cindy's Recipes and Writings
Pumpkin Pie Milkshake from Cheese Curd In Paradise

Pumpkin Breakfasts & Baked Goods:
Pumpkin Cinnamon Rolls from Jen Around the World
Pumpkin Donut Cake from Kelly Lynns Sweets and Treats
Pumpkin Pecan Monkey Bread from Love & Confections
Pumpkin Shakshuka from Food Above Gold

Savory Pumpkin Recipes:
Pumpkin Gnocchi from Palatable Pastime
Vegan Savory Stuffed Mini Pumpkins from The Baking Fairy

Pumpkin Desserts:
Pumpkin Cake Rolls with Maple Buttercream Filling from Sweet Beginnings
Pumpkin Pie Macaron from A Kitchen Hoor's Adventures
Pumpkin Spice Sheet Cake from Daily Dish Recipes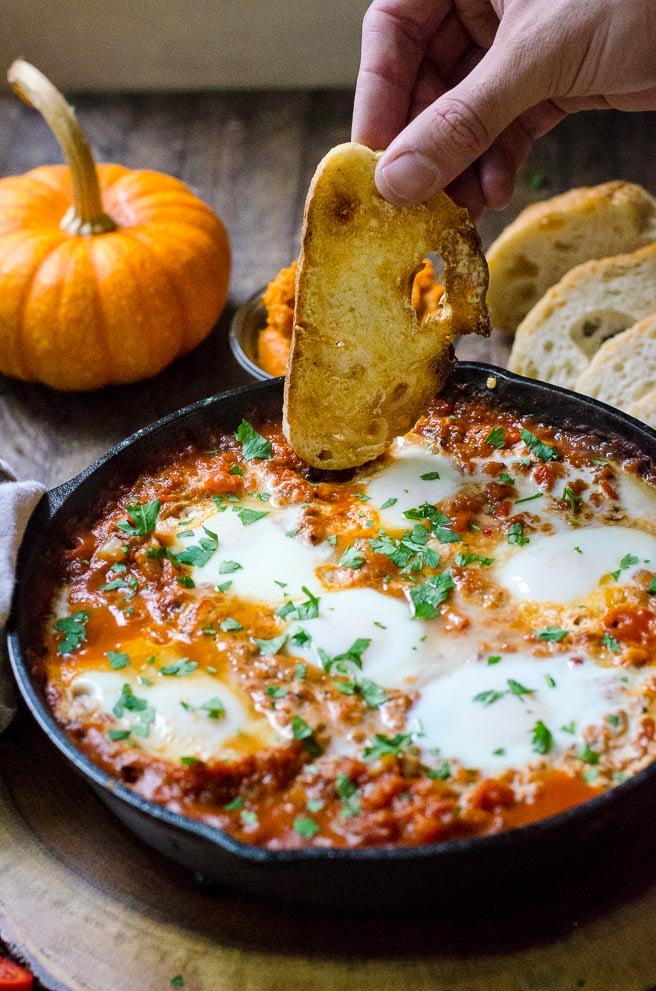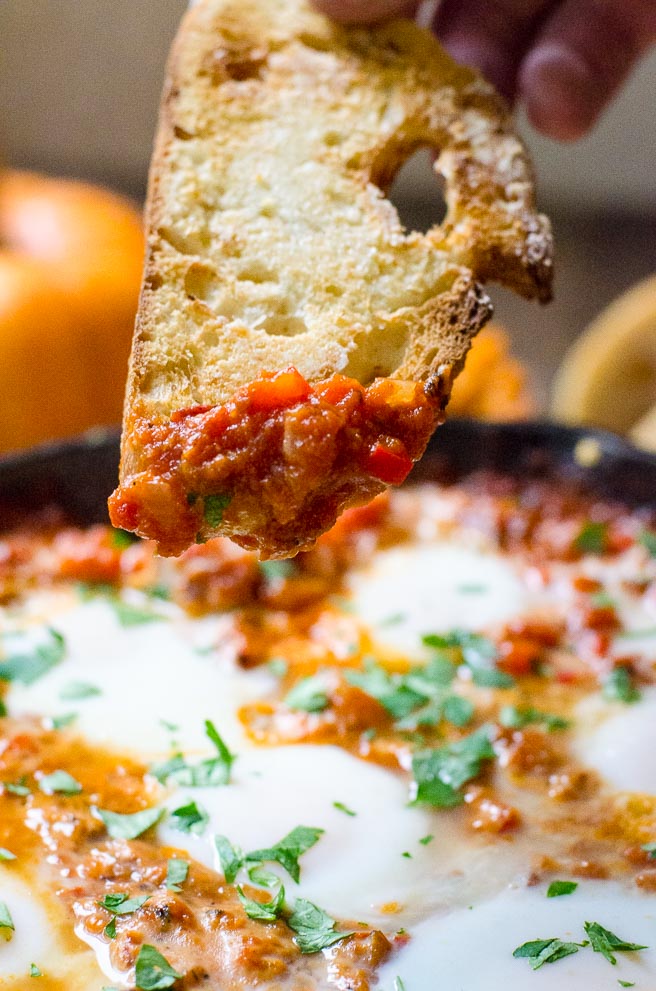 What To Serve with this Shakshuka Recipe
Pretty much any starch that you can use as vessel to get the shakshuka from your plate to your mouth works. It is intended to be eaten without silverware, so a very crusty bread or warm pita is ideal.
If you want to be modern try serving this shakshuka recipe with:
Roasted potatoes
White beans
Roasted chickpeas
Wilted greens
Roasted root vegetables
Fried hash browns
Shredded chicken
Caramelized eggplant
Tips To Make This Shakshuka Recipe Even Better
Use homemade pumpkin puree for better flavor. If you want to make this shakshuka recipe completely from scratch, try making your own homemade pumpkin puree. It is surprisingly easy to make and easy to freeze so you have it all year long. Plus, the flavor is sweeter and enhances this dish nicely.
Use aluminum foil if you don't have a lid. If you don't have a lid that will cover your cast iron (not many of us do), use aluminum foil. It will create a decent enough seal for making the poached eggs.
Freshly ground spices are stronger. Splurge for a $15 spice grinder and grind the cumin for better flavor.
The smoky flavors are optional. This shakshuka recipe is unqiue because it uses smoked paprika and fire roasted tomatoes. This flavor profile is phenomenal paired with the pumpkin, but it is completely optional. If you want a more traditional flavor, use standard tomatoes and paprika.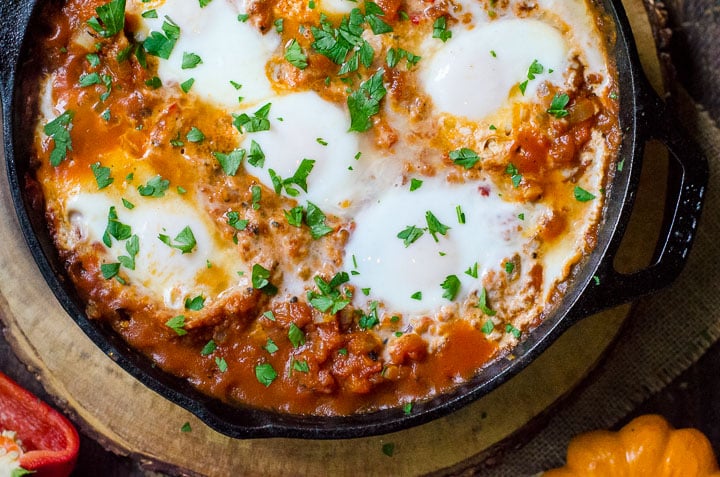 Pumpkin Shakshuka Recipe
Don't let the pumpkin in this shakshuka recipe scare you off. It doesn't lose any of its traditional, prominent flavor. The pumpkin does sweeten the recipe a bit, so the fire roasted tomatoes compensate for that.
This does make a thicker shakshuka than most recipes, getting a heartier stew consistency. You can thin it out with a bit of vegetable stock if you want.
---
Want a free printable grocery list for this pumpkin shakshuka recipe?  Get it here. Everything is listed in standard grocery store amounts. If no size is specified, even the smallest package will provide more than enough.
Happy Cooking! 🙂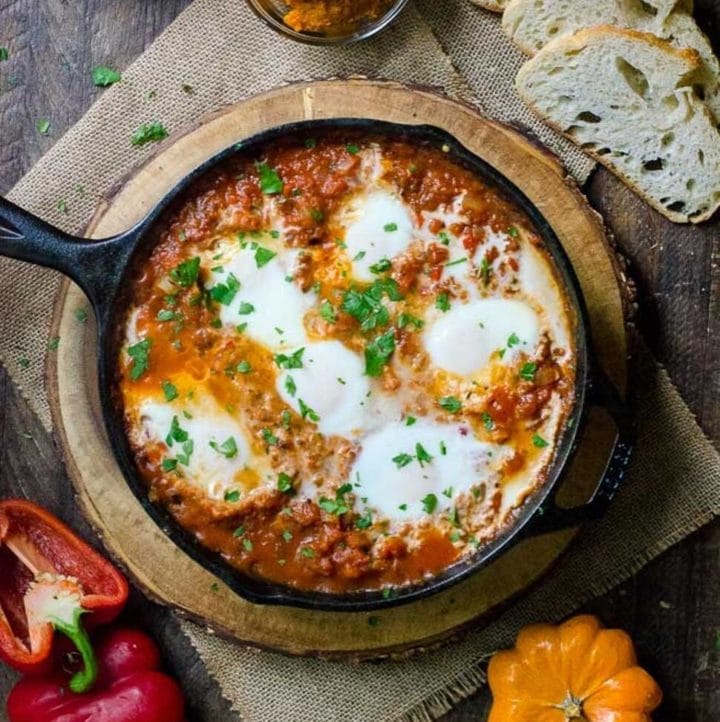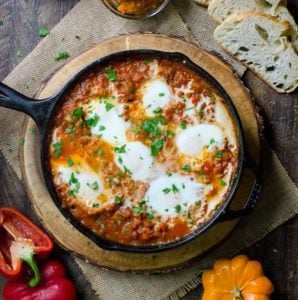 Pumpkin Shakshuka (Baked Eggs in Tomato Stew)
This autumnal twist on a savory breakfast is a delicious way to enjoy pumpkin.
Pin it for later?
Ingredients
1

Tablespoon

olive oil

1

small yellow onion

,

diced small

4

garlic cloves

,

minced

1

red bell pepper

,

veins removed and chopped small

1

cup

pumpkin puree

28

ounces

fire roasted tomatoes

½

teaspoon

crushed red pepper flakes

,

(optional)

1

teaspoon

smoked paprika

1

teaspoon

ground cumin

salt and pepper

,

to taste

6

large eggs

fresh parsley

,

for garnish
Instructions
Heat the olive oil in a cast iron skillet over medium heat.  Add the onion and saute until translucent. About

2 minutes

.  

Add in the garlic and bell peppers and cook until they begin to brown.  Stir in the pumpkin puree, roasted tomatoes, and spices until combined. Simmer for

2-3 minute

s and season with salt and pepper to taste.

Create six shallow wells in the tomato mixture and crack an egg into each.  Cover with a lid and cook until the whites are set but the yolks are still runny. About

8 minutes

.  

Garnish with fresh parsley and spoon onto a crusty garlic toast for a filling and savory breakfast.
Notes
Shakshuka is often topped with feta cheese.  This may not taste right with the smoky flavors of this recipe, but can be used if desired.
Nutrition
Serving:
1
serving
|
Calories:
147
kcal
|
Carbohydrates:
14
g
|
Protein:
8
g
|
Fat:
7
g
|
Saturated Fat:
2
g
|
Cholesterol:
164
mg
|
Sodium:
274
mg
|
Potassium:
235
mg
|
Fiber:
3
g
|
Sugar:
6
g
|
Vitamin A:
7956
IU
|
Vitamin C:
31
mg
|
Calcium:
86
mg
|
Iron:
3
mg
Tell me how much you love this recipe
and show off how you made it!