These delicious blueberry zucchini muffins make you excited to eat breakfast. With both fruits and veggies in them, you get the best of the in season produce.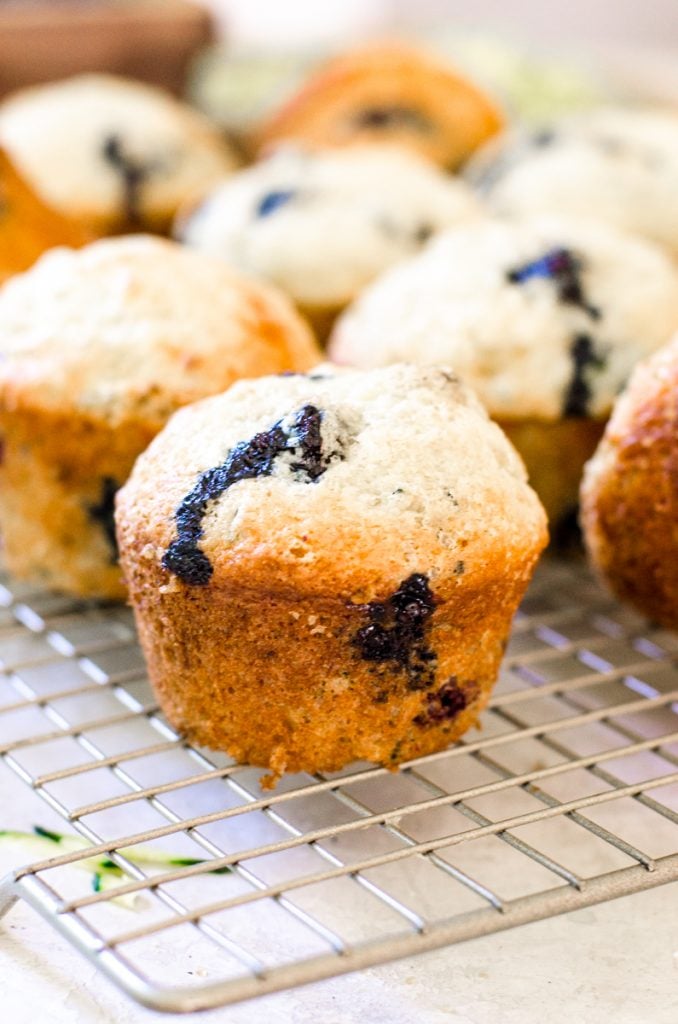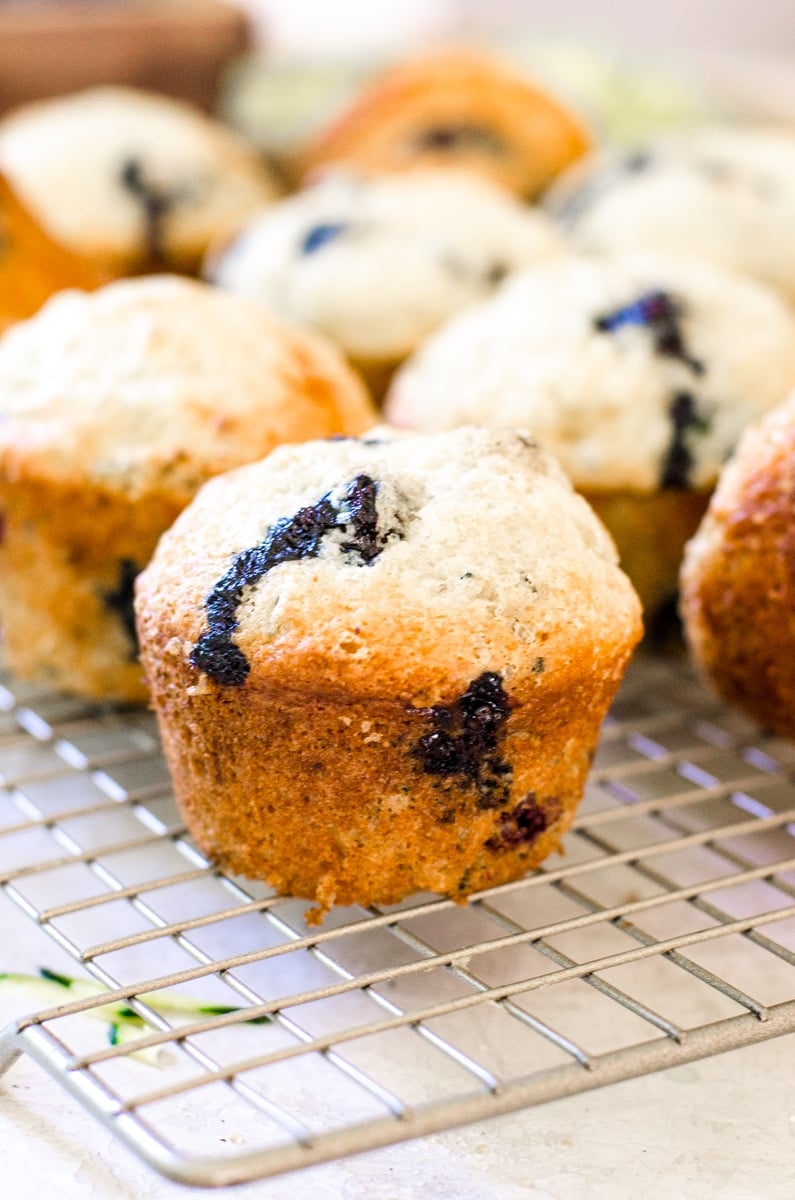 If you're tired of the same old blueberry muffins, then this recipe is for you. Made with a bakery style muffin mix, it has fresh zucchini and blueberries added to it for moisture and flavor.
Why Do My Blueberries Sink?
If your blueberries or zucchini sink to the bottom of the batter it is because they are too wet. This can happen because the fruit is damp, or because it doesn't have texture to suspend it against the batter.
You know when you are breading chicken, you create a layer of flour first to help hold on the egg? The same is true for making blueberry zucchini muffins.
After you put together the dry mixture stir together one to two tablespoons of it with the blueberries. This will work as the binder to help prevent sinking. It also helps prevent the blueberries from bleeding into the muffin.
Afterwards, stir the zucchini directly into the dry mixture to give it a similar coating. The zucchini needs to go into the dry mixture because it it makes the flour gooey with only a small amount.
Then, after mixing the dry and wet ingredients, fold the floured blueberries in right before putting them into the muffin tins.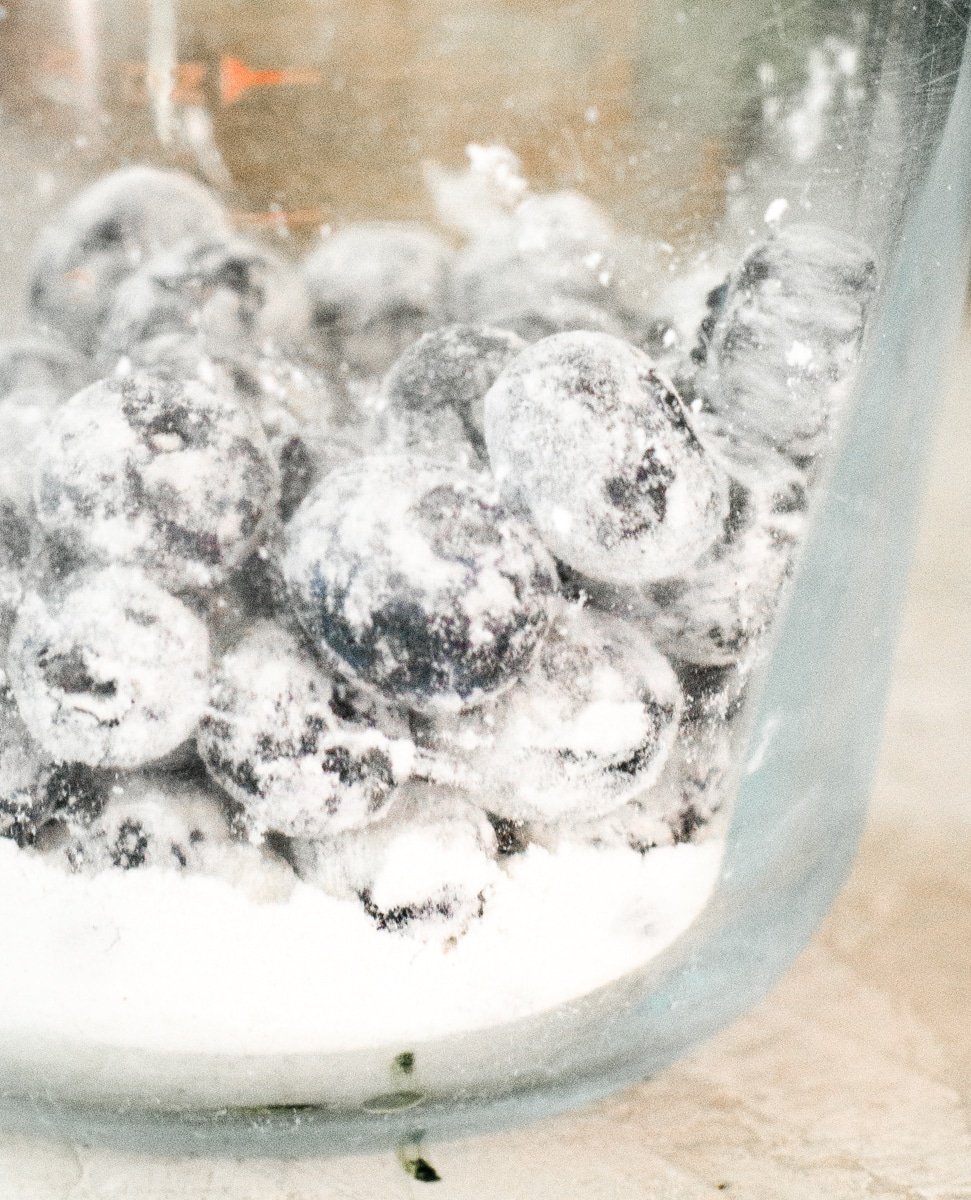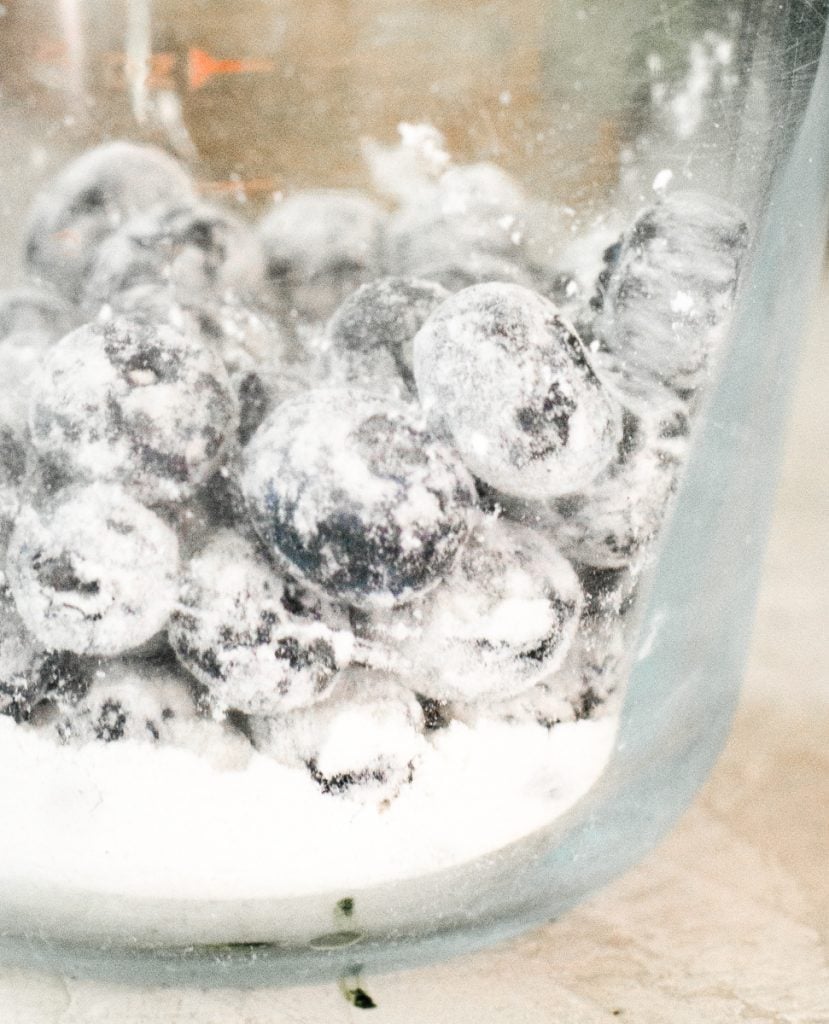 Can I Use Frozen or Dried Blueberries?
Yes, you can use either frozen or dried blueberries. Nothing changes with the dried blueberries except that they don't take up as much space in the muffin.
If you choose frozen blueberries you can thaw them first or cook frozen. No matter which method you go with it will change the baking time, usually needing more. It also gives more risk of discoloration in you muffins, making them a purplish color.
How Long Do They Last?
When stored at room temperature, blueberry zucchini muffins should stay fresh for 1-2 days. I like to store them in an airtight container that has a paper towel in it. The paper towel helps prevent extra moisture from making the blueberry muffins soggy on top.
How To Prepare the Zucchini
For this recipe, you'll need roughly one medium zucchini to equal one cup. I know "medium" is relative, but as long as it as least 8 ounces you should have enough.
When making blueberry zucchini muffins, you shouldn't peel the zucchini. As tempting as it may be. The extra texture and color that comes from the skin is part of what makes these muffins delicious.
I personally like to do an even mixture of thick and thin shreds of the zucchini. This helps create extra texture and impacts the moisture content of the baked goods.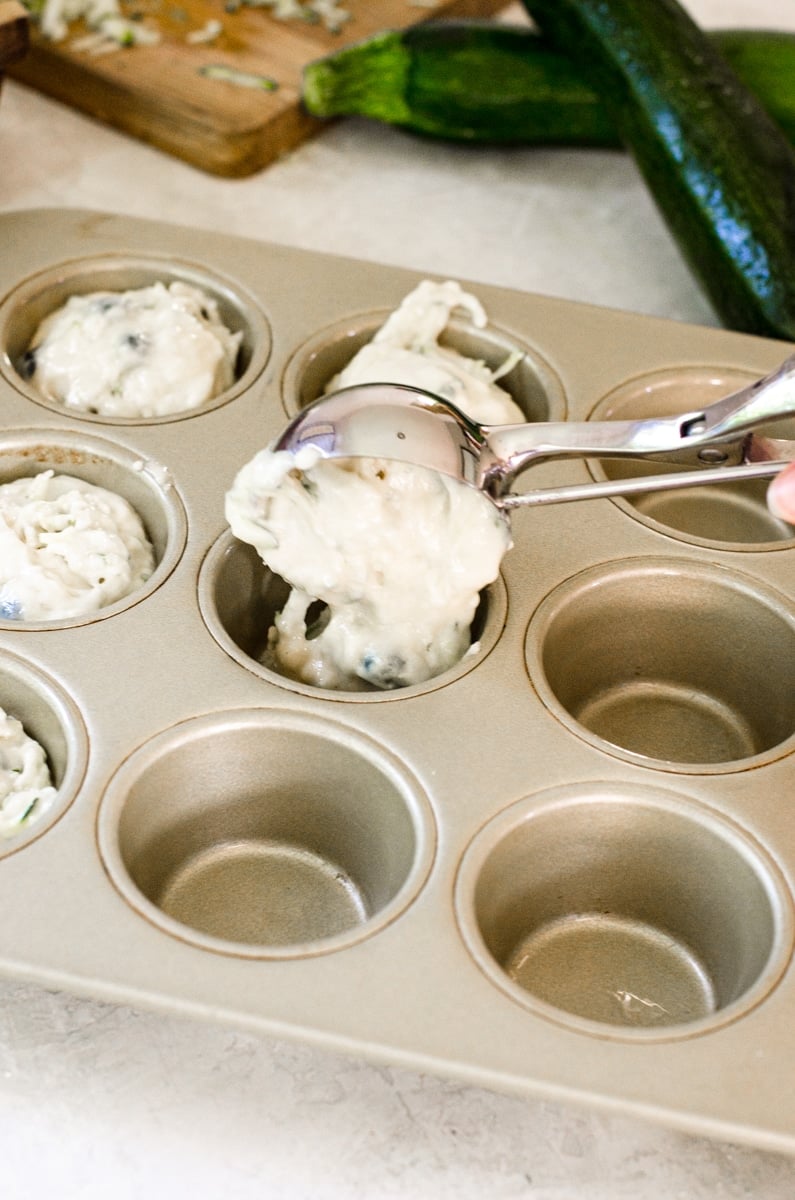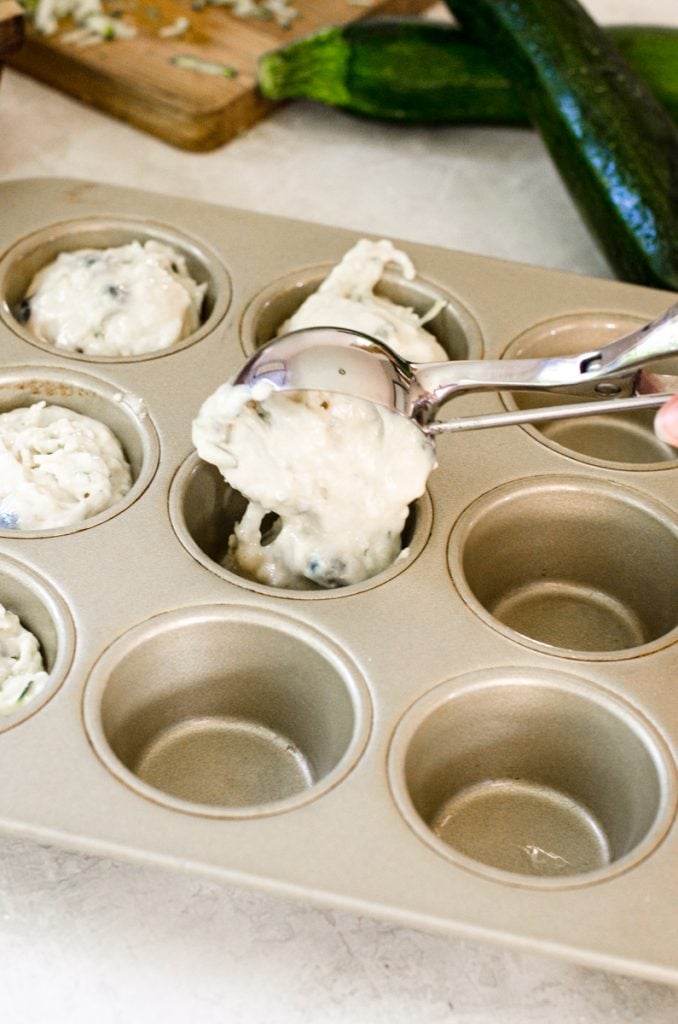 What If I Don't Have Buttermilk?
If you don't have buttermilk you have two choices. You can either make a faux buttermilk, or use lemon zest, juice, and alternative liquid.
To make buttermilk mix one cup of milk with the juice of one lemon or a 2 tablespoons of vinegar. Then let it sit for about five minutes to curdle.
If you don't feel up for it, you can use an alternative liquid like whole or almond milk. If you choose to use milk of some form, make sure to also include lemon zest and juice from one lemon.
The important thing is that your liquid include some type of acid. This is what creates the reaction with the baking soda and powder to make the blueberry zucchini muffins fluffy.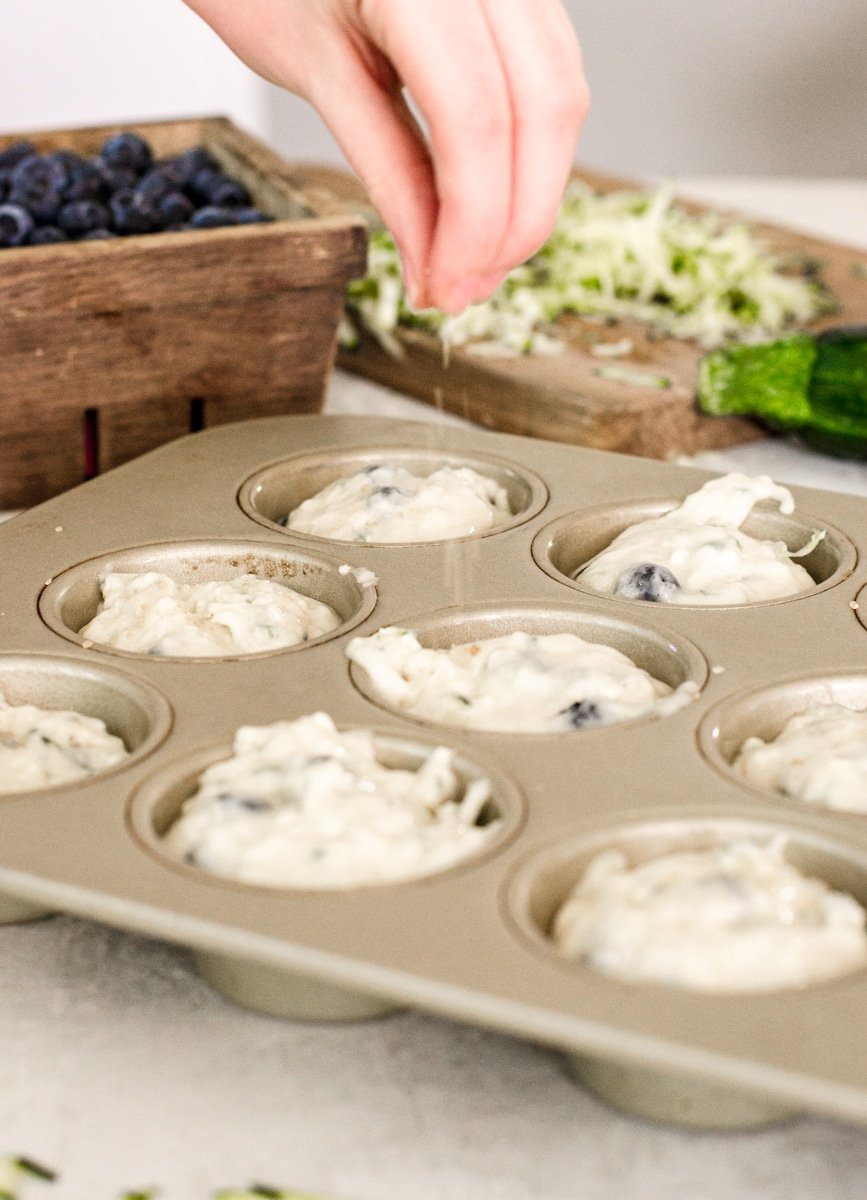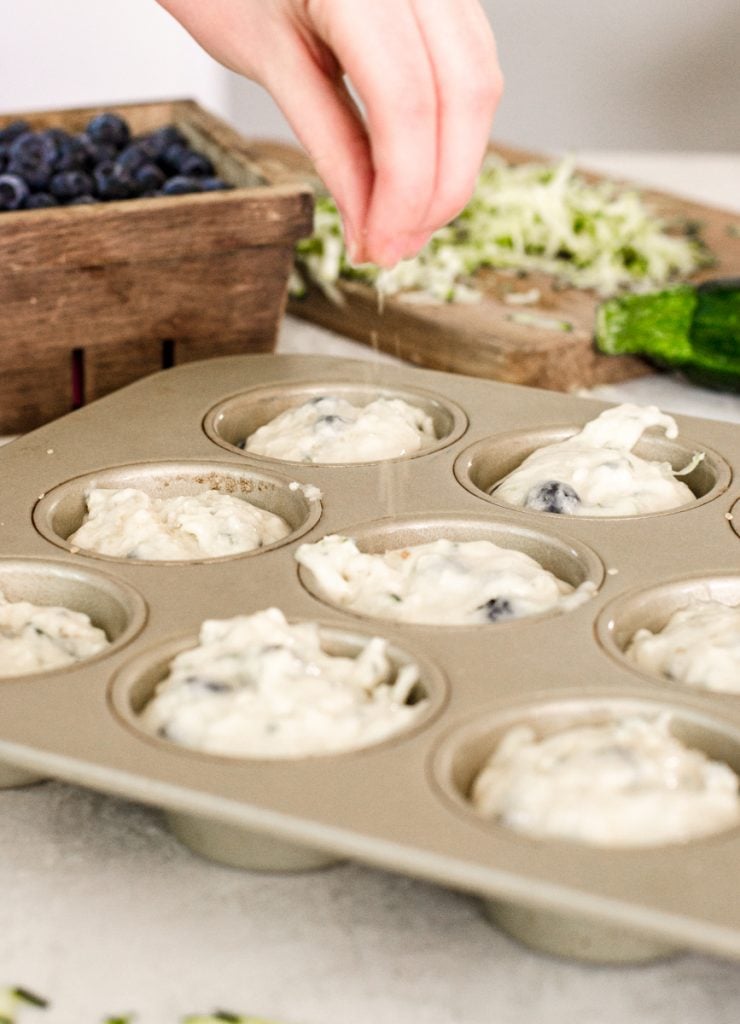 How To Make These Light and Fluffy
To start with, make sure that the ingredients are all at room temperature. This includes the eggs and buttermilk.
Having room temperature ingredients allows for a smoother batter that is better at trapping air. This leads to light and fluffy muffins.
A second thing is that you should spoon and level the flour for the muffins.
When we scoop flour with a measuring cup it compacts down in and makes the muffins heavy. By using a spoon to drop the flour into the measuring cup, you get lighter and fluffier blueberry zucchini muffins.
Also keep in mind that if you trade all purpose for whole wheat flour the muffins will become more dense. Try using half of each for better success.
Lastly, the way these blueberry zucchini muffins are baked impacts how light and fluffy they are.
Many recipes have you preheat the oven to 350 degrees and bake at that temperature the whole time. This recipe instead starts at a high temperature and then lowers it.
What is the point of this? The high temperature activates the acid and baking powder and soda so it creates large air bubbles quickly. Plus, it helps get a beautiful crusty exterior.
Lowering the temperature helps the batter cook in a way that prevents overcooking so the blueberry zucchini muffins stay moist.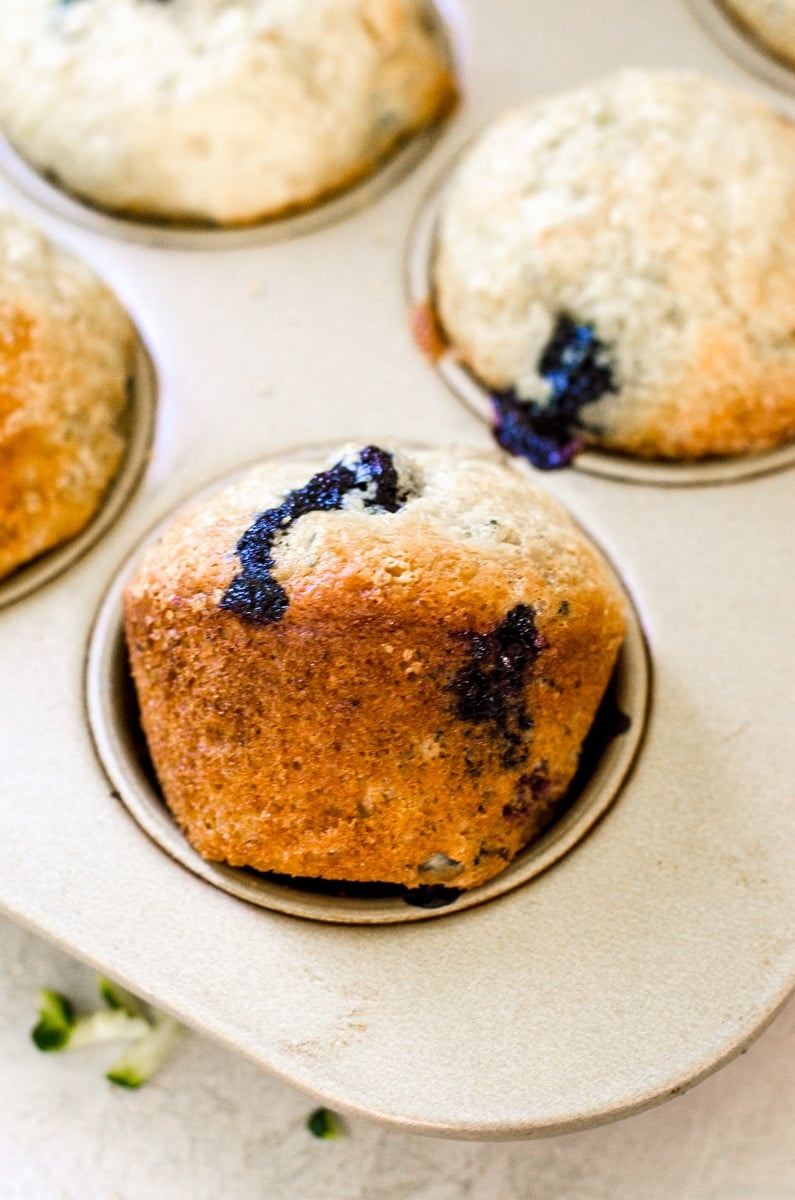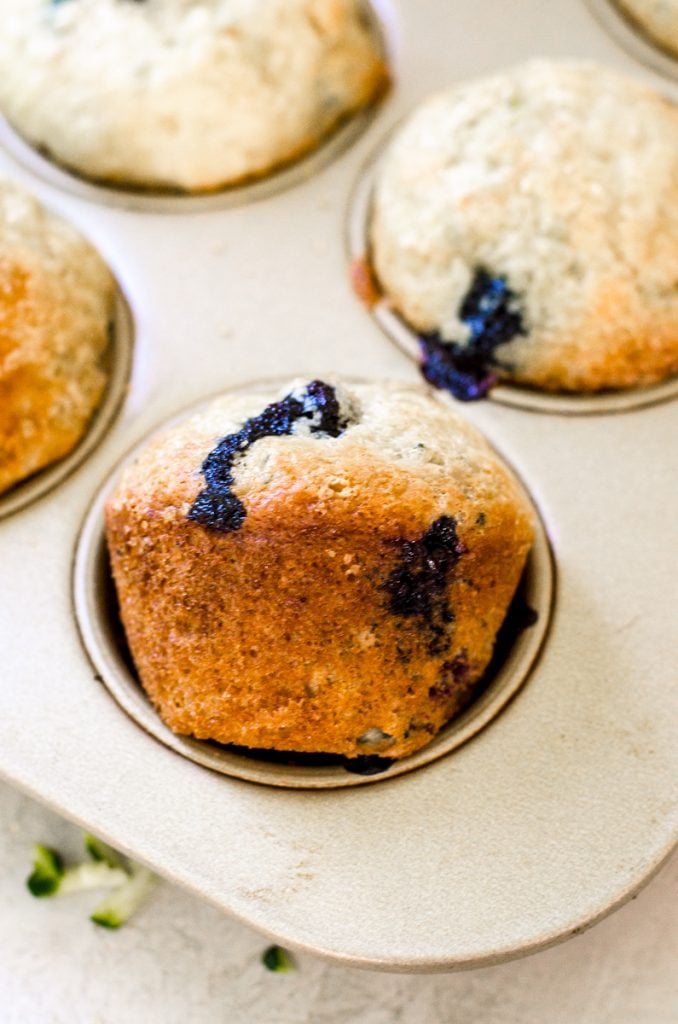 Top Recipe Tips
If you want to make these blueberry zucchini muffins gluten free, use almond or coconut flour. The gluten free flour muffins aren't quite as fluffy, but still equally tasty.
Even though it is tempting, DO NOT open the oven door. The temperature change that comes from lowering the temperature is part of what makes these blueberry zucchini muffins moist and delicious. As soon as that air is let out of the oven, the chemistry changes and they become dry.
Use a standard cupcake dropper to fill the muffin tins. (It equals about ¼ cup if you don't have one.) It will fill each muffin cup almost to the top. This is important if you want the bakery style of muffins that heaps at the top.
Cook the muffins until a toothpick inserted into the center comes out clean. If it comes out with blueberry juice you may have just stabbed some fruit. Flip the toothpick over and try a different muffin.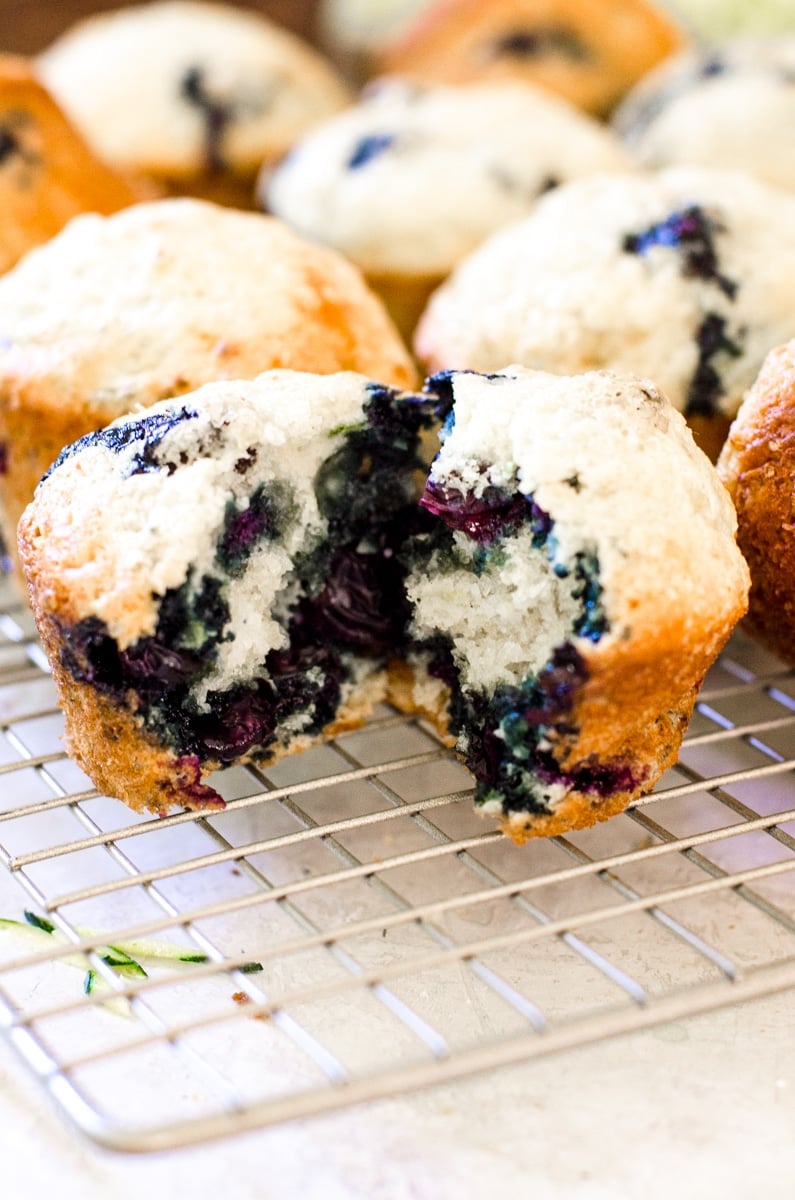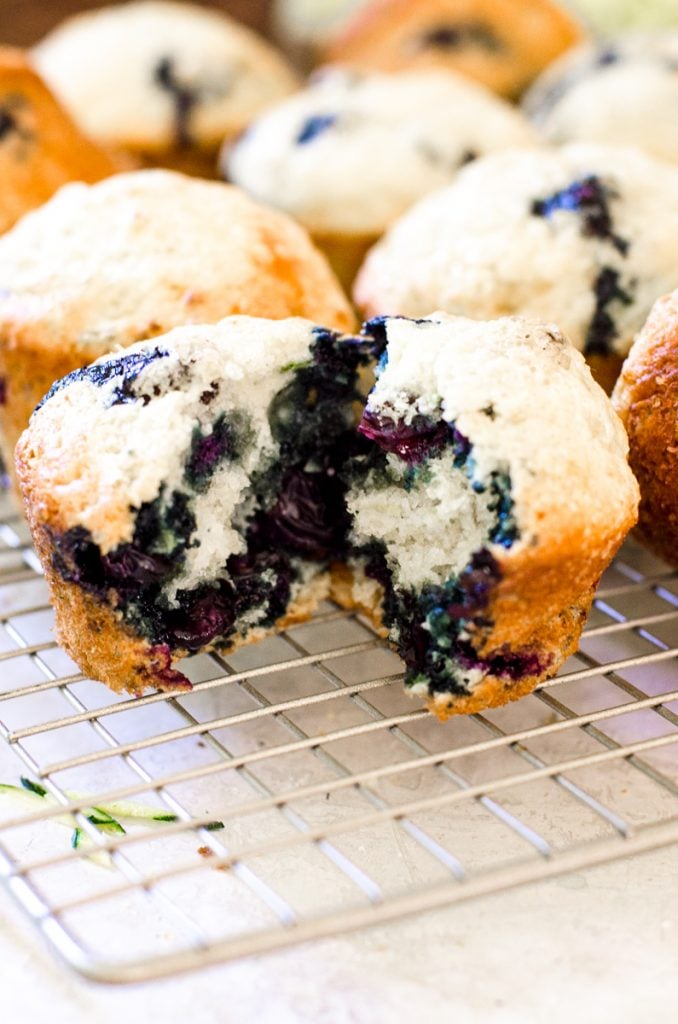 Blueberry Zucchini Muffin Recipe
These blueberry zucchini muffins will be your new favorite way to get in extra veggies. The flavor is mild enough that most picky eaters won't notice the zucchini hiding in there.
For more breakfast or brunch recipes, see some of my favorites below.
---
Thanks so much for stopping by!
Happy Cooking! 🙂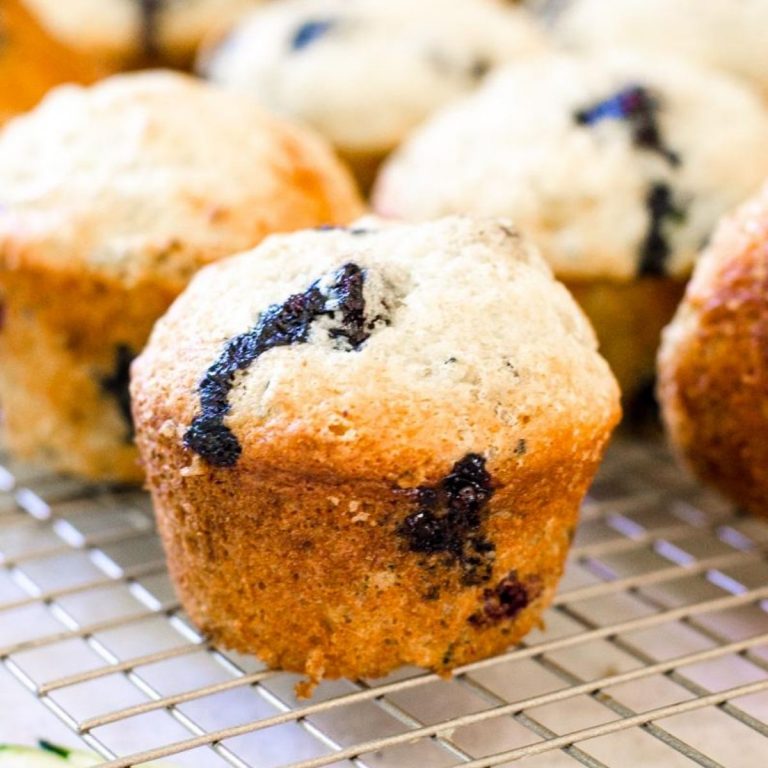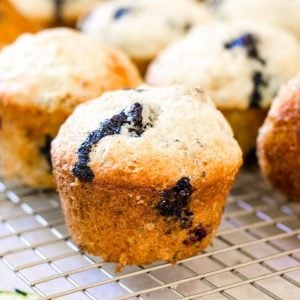 Light and Fluffy Blueberry Zucchini Muffins
These perfectly fluffy blueberry zucchini muffins are light and perfect for a breakfast with both fruits and veggies.
Pin it for later?
Ingredients
2 ½

cup

all purpose flour

,

spooned and leveled

1

Tablespoon

baking powder

1

teaspoon

baking soda

½

teaspoon

salt

1

cup

granulated sugar

2

large eggs

,

room temperature

1

cup

buttermilk

,

room temperature

1

Tablespoon

vanilla extract

1

cup

blueberries

1

cup

grated zucchini

2

Tablespoons

sugar in the raw
Instructions
Preheat the oven to 425°F. Line the muffin tray with paper liners or grease the inside and tops of the tins with a neutral cooking oil.

In a large bowl, whisk together the flour, baking powder, baking soda, salt, sugar, and grated zucchini.

In a small bowl toss the blueberries with 1-2 tablespoons of the flour mixture. Set aside.

Whisk together the eggs, buttermilk, and vanilla extract. Slowly fold into the dry ingredients until JUST combined. Then fold in the blueberries.

Divide the batter equally into the 12 muffin tins and sprinkle on the sugar in the raw. Bake in the preheated oven for 5 minutes, then reduce the heat to 375°F and cook another 13-15 minutes or until a toothpick inserted in the center comes out clean. Let cool 10-15 minutes before eating.
Nutrition
Serving:
1
serving
|
Calories:
203
kcal
|
Carbohydrates:
42
g
|
Protein:
4
g
|
Fat:
2
g
|
Saturated Fat:
1
g
|
Cholesterol:
29
mg
|
Sodium:
222
mg
|
Potassium:
202
mg
|
Fiber:
1
g
|
Sugar:
21
g
|
Vitamin A:
100
IU
|
Vitamin C:
3
mg
|
Calcium:
76
mg
|
Iron:
1
mg
Tell me how much you love this recipe
and show off how you made it!