Skip the chalkiness of protein powder and go for a high-protein granola recipe that uses quinoa and ingredients from the pantry! It makes perfect ready-to-eat clusters in under 45 minutes!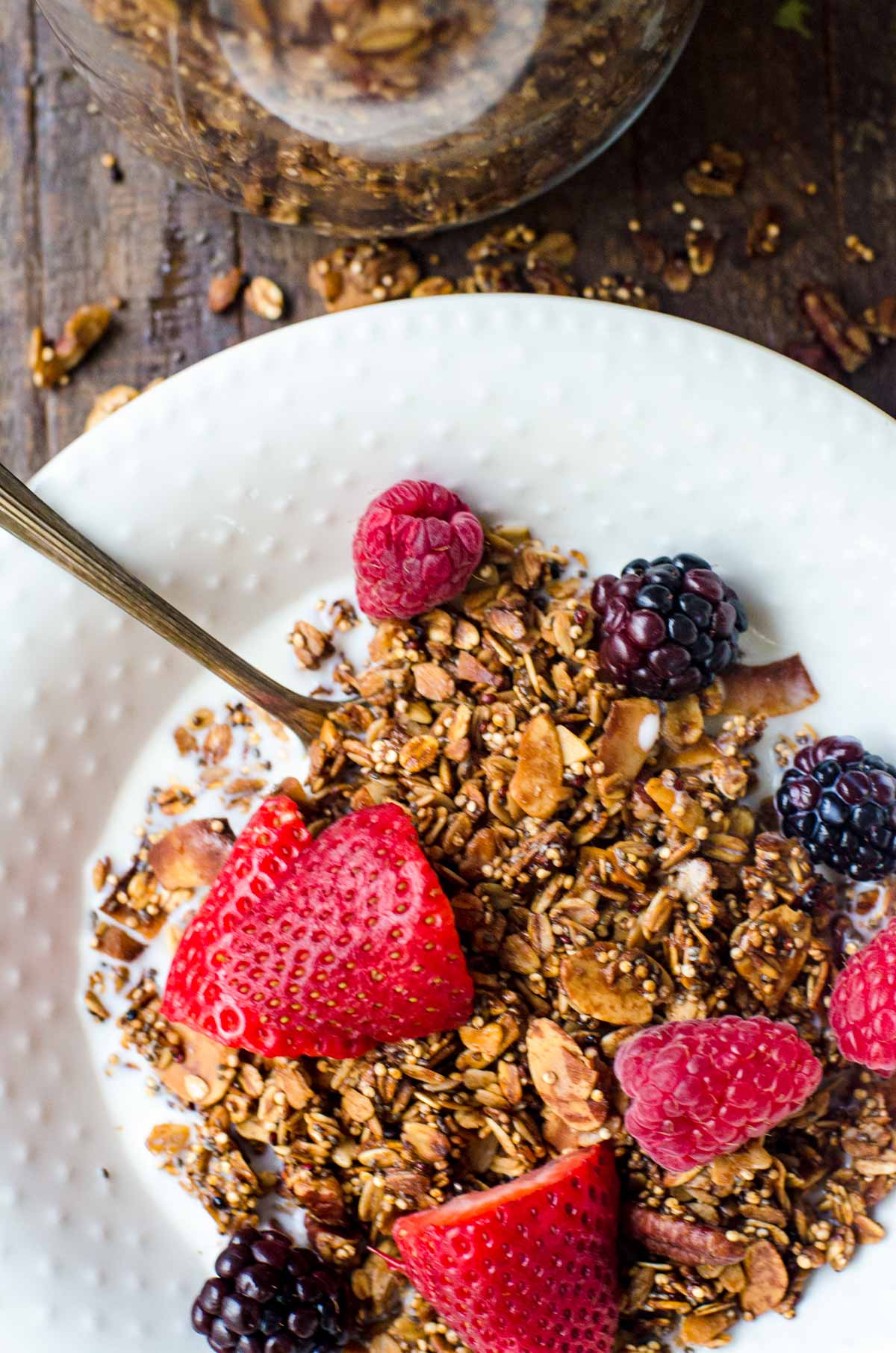 Why This Recipe Works
Unlike recipes that use powder to increase the protein count, this homemade granola recipe uses a secret ingredient: popped quinoa. These light and airy popped seeds provide a unique nutty flavor profile and a little extra crunch.
But it doesn't stop there! There is additional protein from other nuts and seeds, plus flaxseed meal instead of eggs. This not only keeps it gluten-free, but it is dairy-free and vegan as well!
All of this together means that one simple serving of this high protein quinoa granola gives you almost 20% of the recommended protein for the day.
What's In This Recipe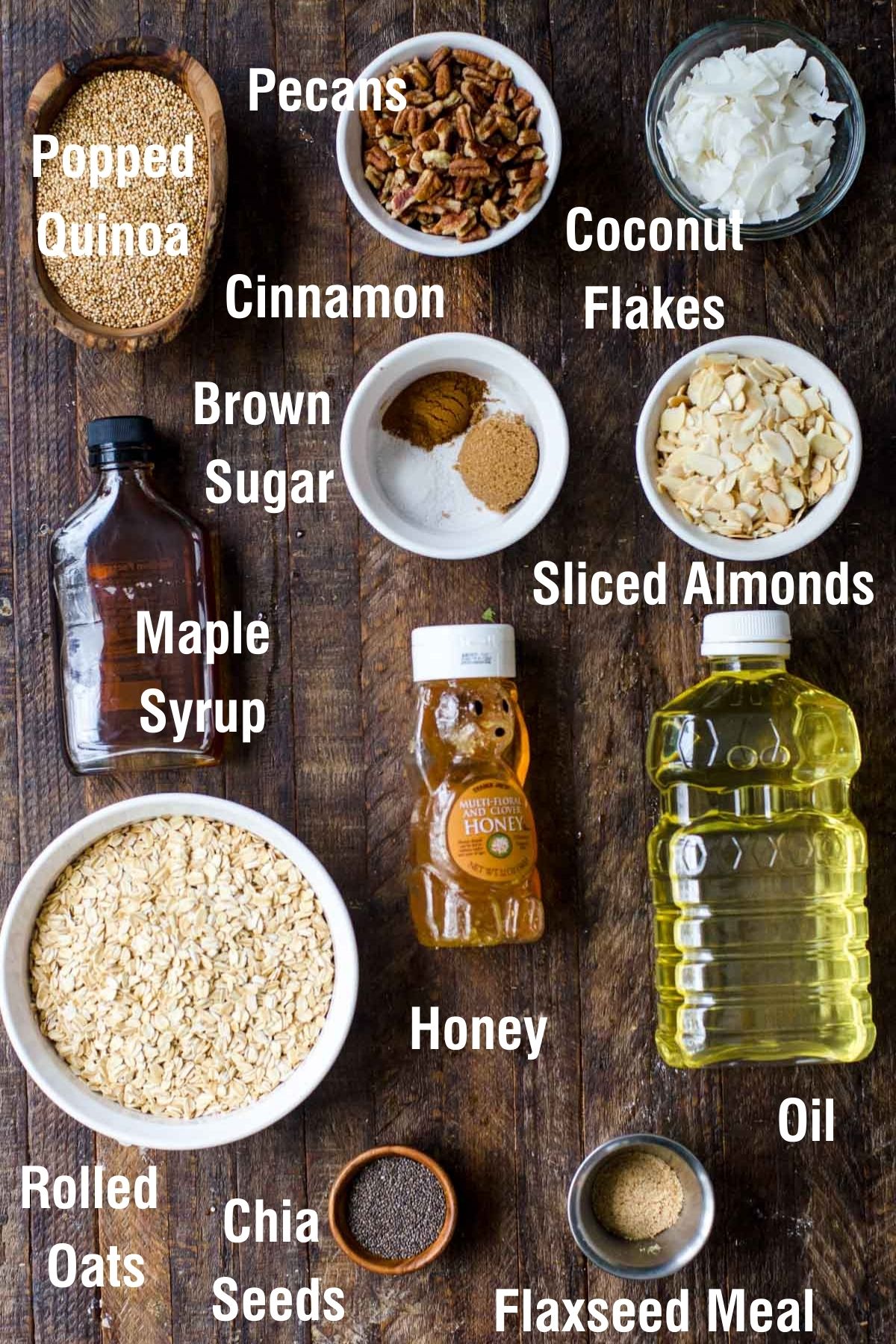 For this super high protein granola recipe you need:
Rolled oats. For the best crunch, get the ones that are old-fashioned and NOT quick cook.
Sweeteners. I prefer a balance of maple syrup and honey because it keeps the granola from tasting too strongly of one. Plus, I add in just a little brown sugar for a deeper caramelization.
Coagulant. This is what helps bind together the quinoa granola and make it clump. In order to keep this dairy-free, I use flaxseed meal and oil. These thicken up and work just like an egg white.
Fat. I prefer a flavor-neutral oil like canola or avocado oil, but coconut oil or any other type works fine.
Nuts and seeds. This recipe uses chopped pecans, sliced almonds, coconut flakes, and chia seeds. The nuts and seeds help boost the protein even higher plus add a delightful crunch.
SECRET INGREDIENT! This is what makes the granola so protein-packed: popped quinoa. You can pop your own quinoa at home, or get store-bought. (It's often called puffed quinoa.)
How To Make This Recipe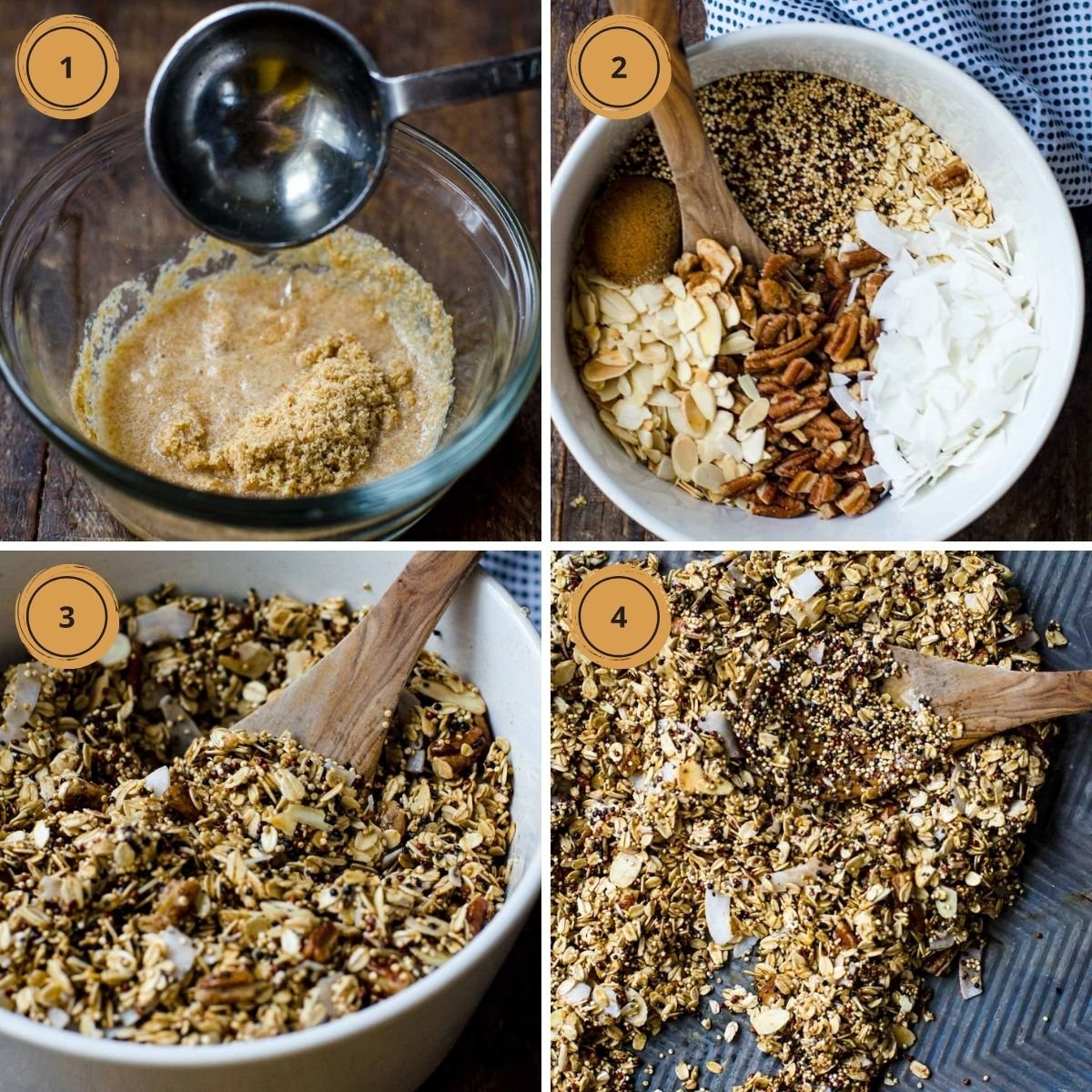 ---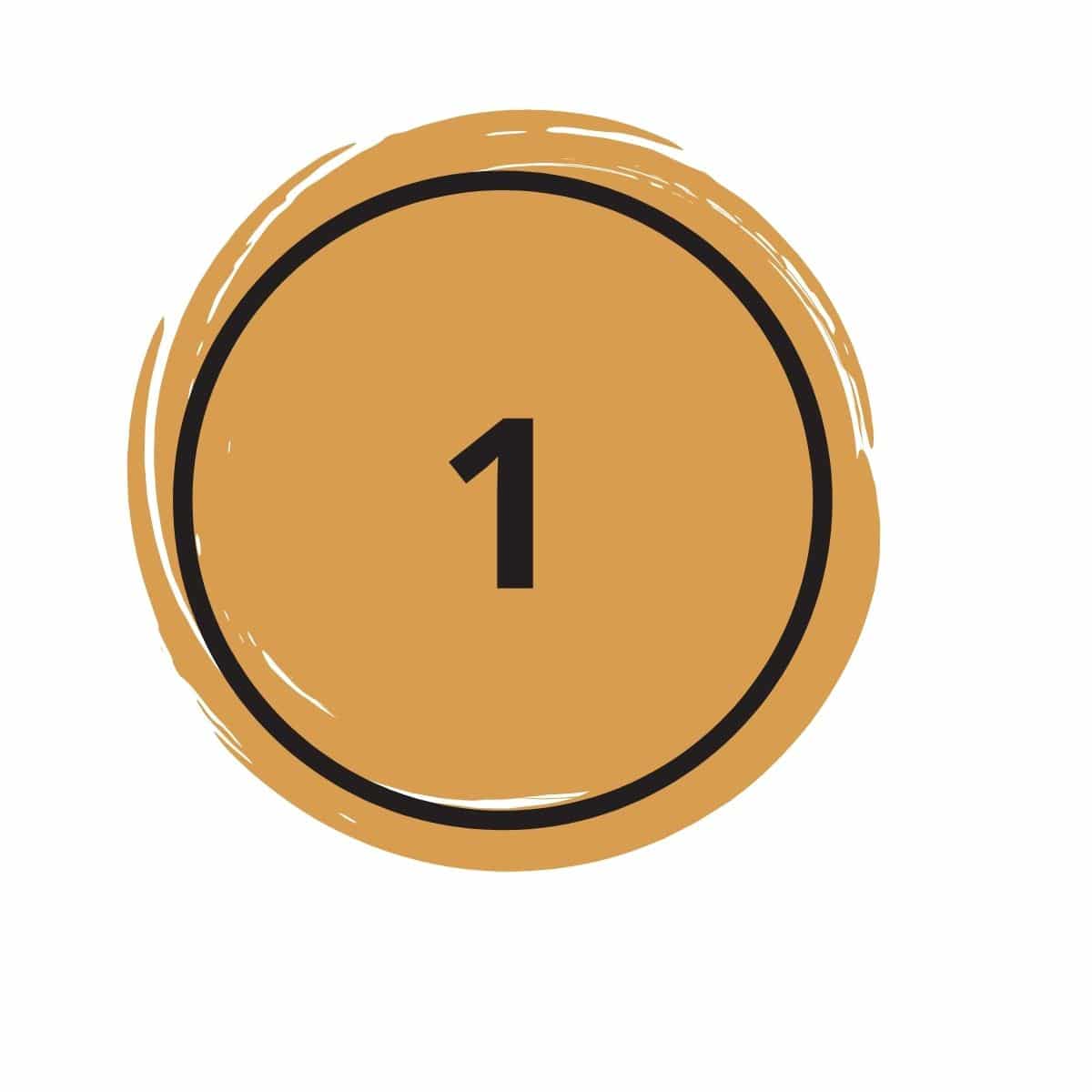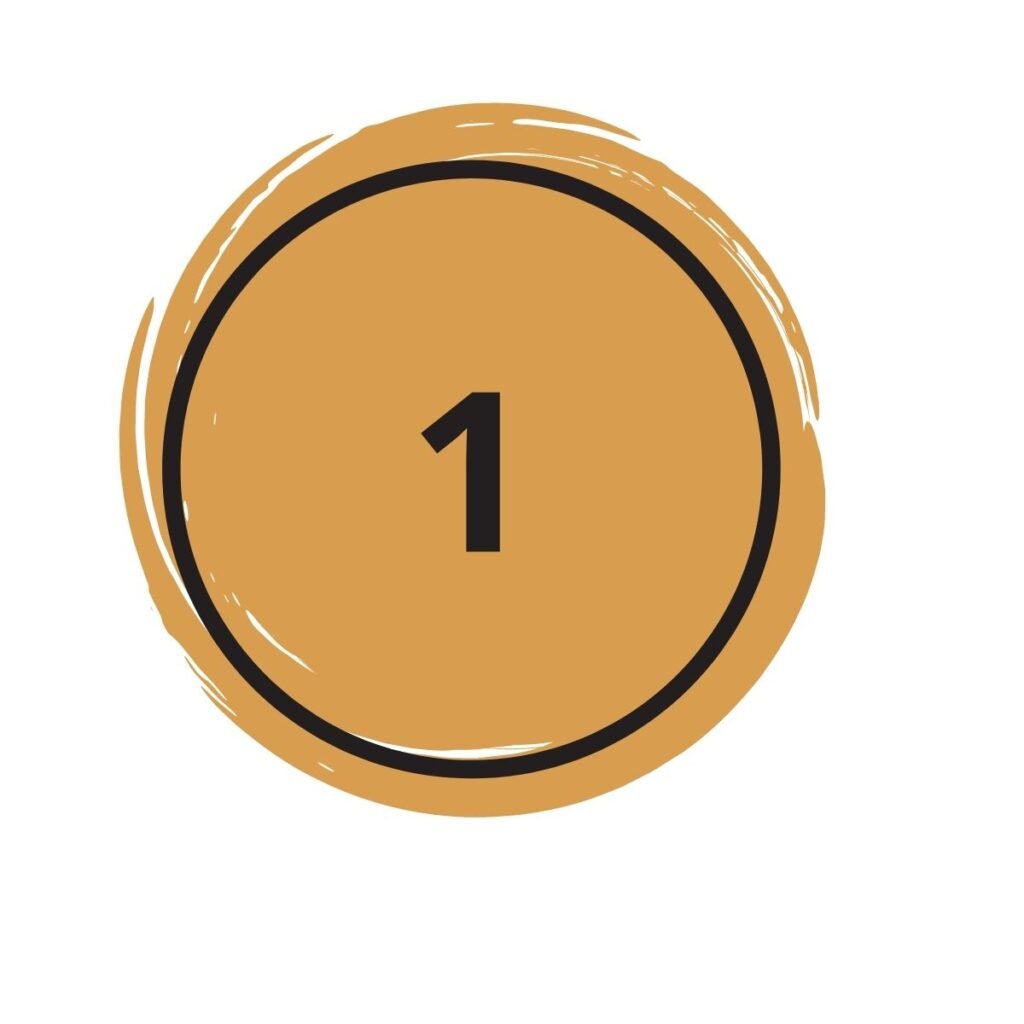 Preheat the oven to 325°F
In a small bowl combine the flaxseed meal and water. Let it sit for five minutes or until thick and gummy.
---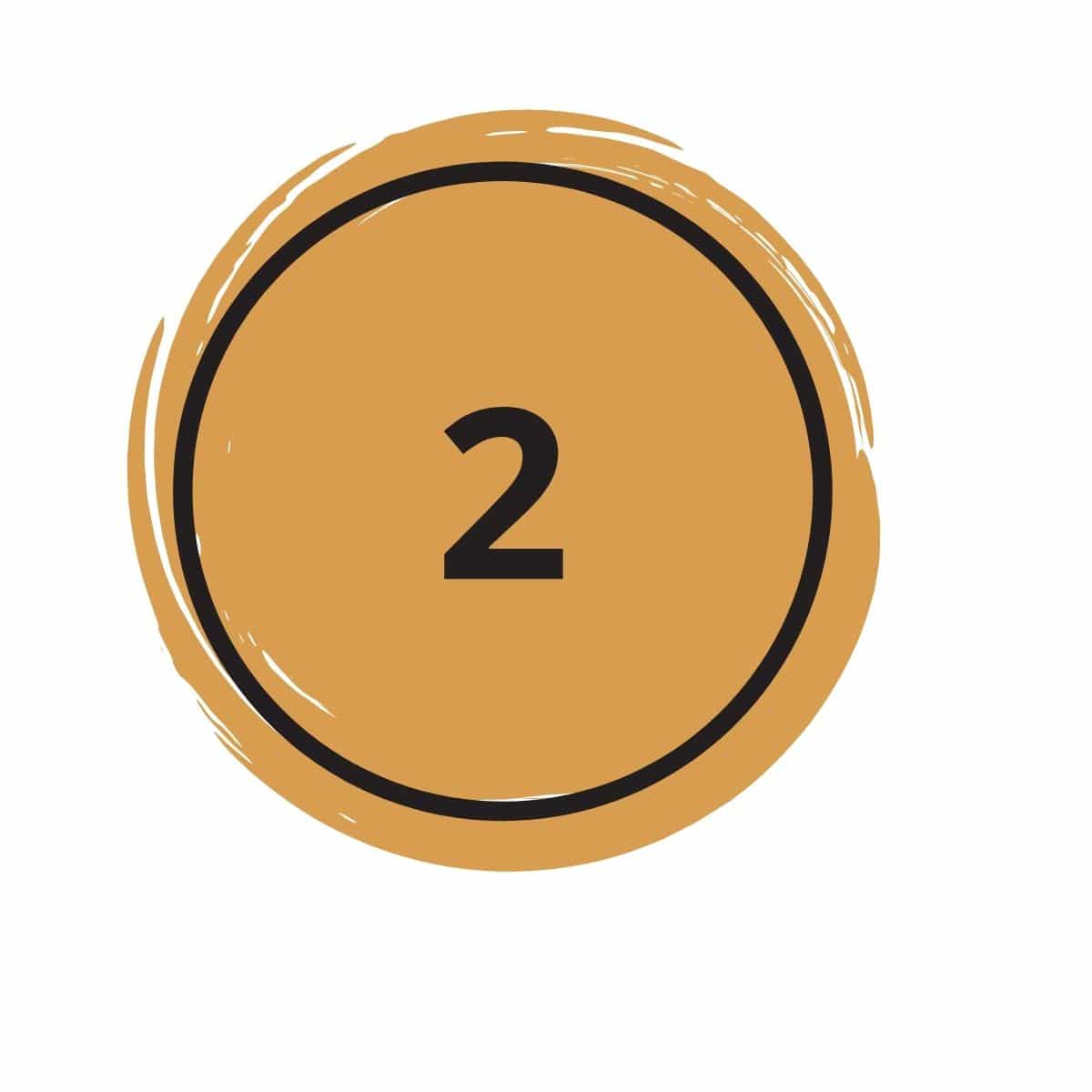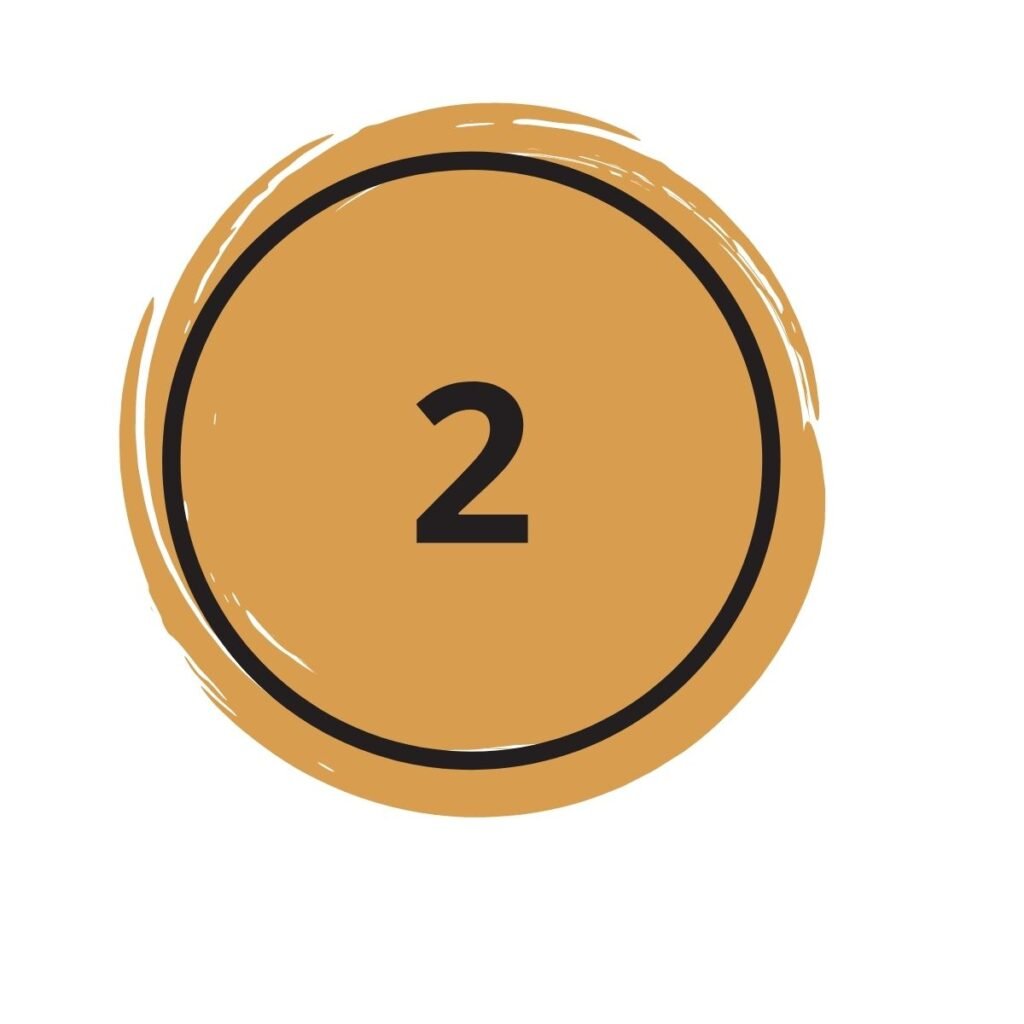 Combine the dry ingredients in a large bowl. (Oats, nuts, seeds, coconut, brown sugar, salt, popped quinoa, and dried fruit). Then set aside.
Stir together the liquid ingredients in a separate bowl. (Honey, maple syrup, oil, and flaxseed.). Add it to the dry ingredients and stir until well coated.
---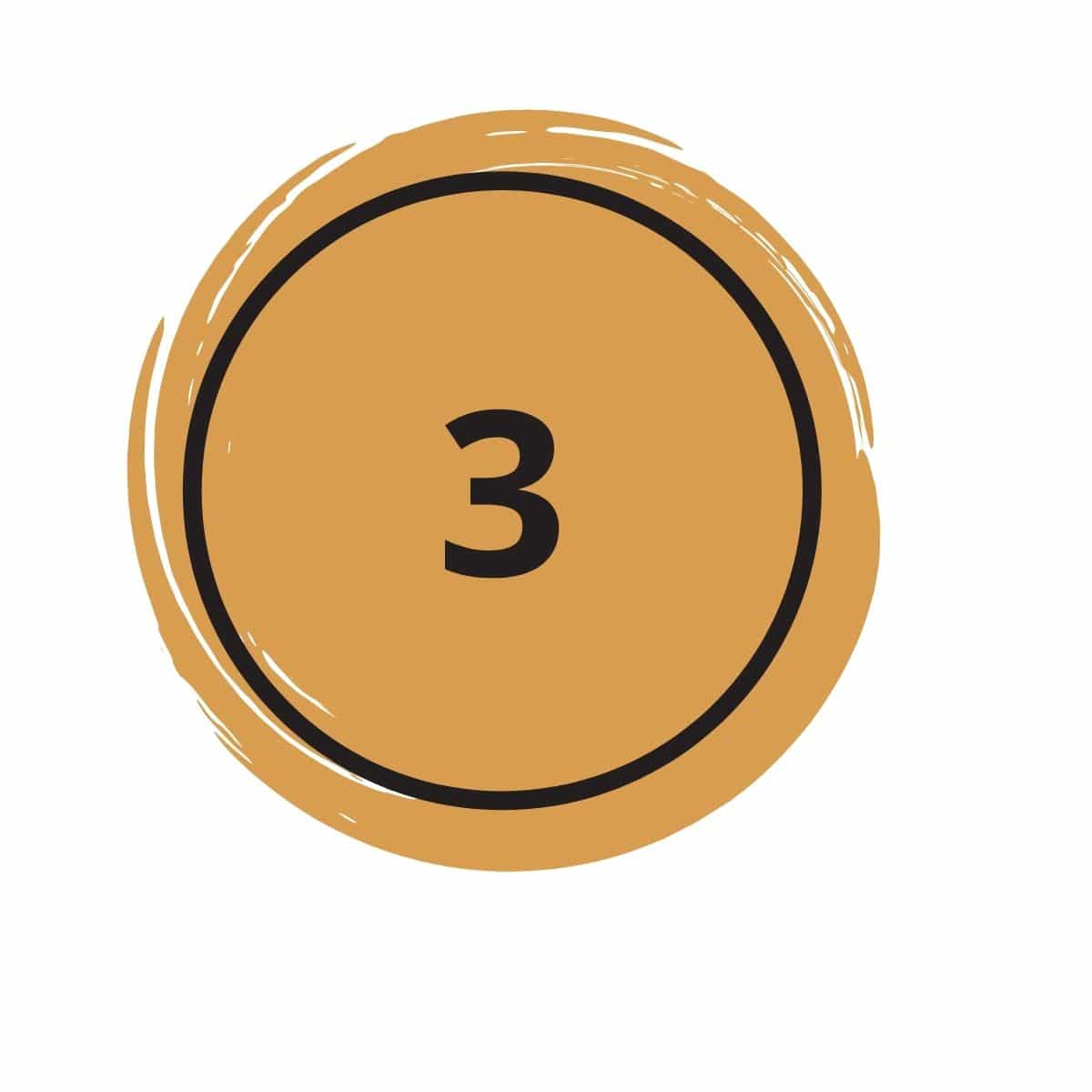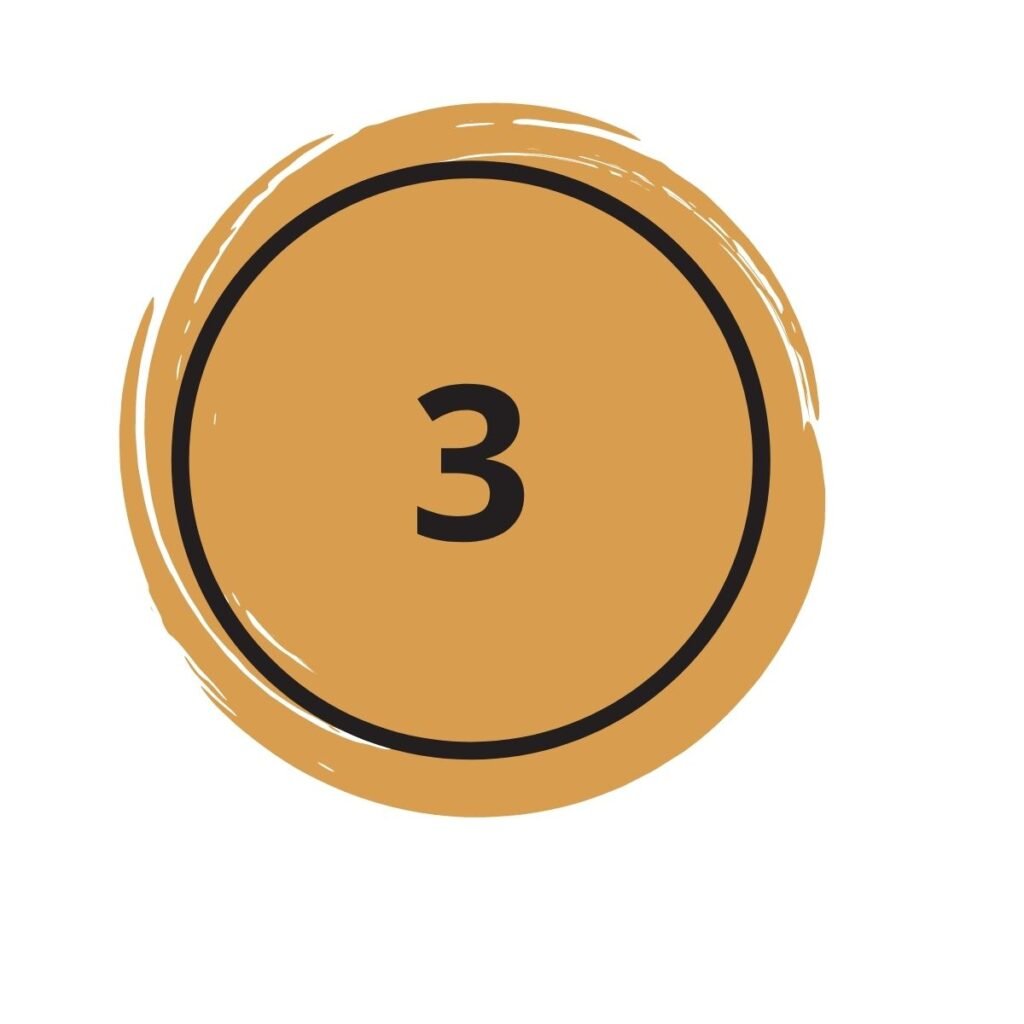 Spread the mixture out on a baking sheet and use a spoon or the bottom of a mixing cup to press it down firmly.
Bake for 20 minutes, rotate the pan and bake for 15 minutes more. Remove it from the oven and let it cool completely.
---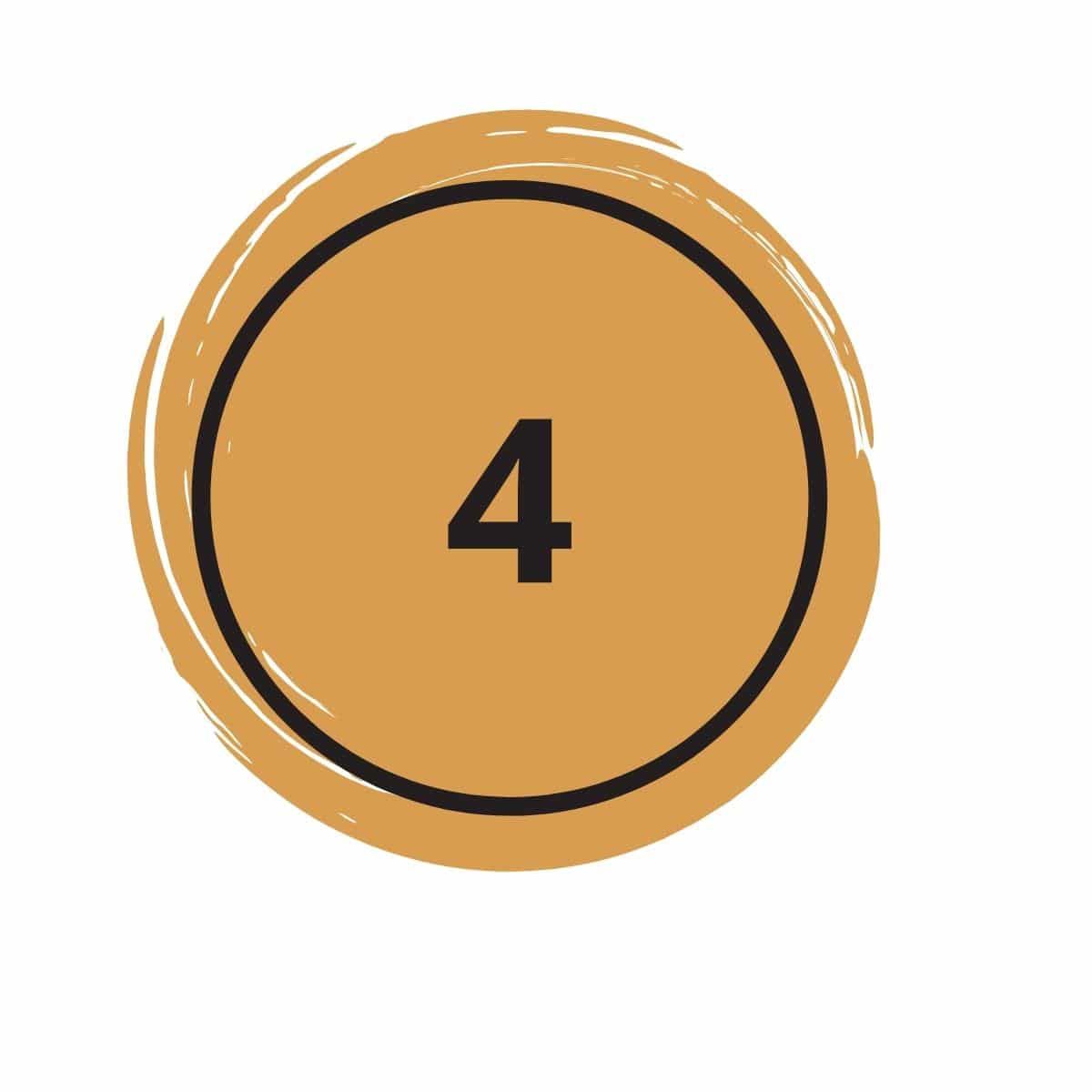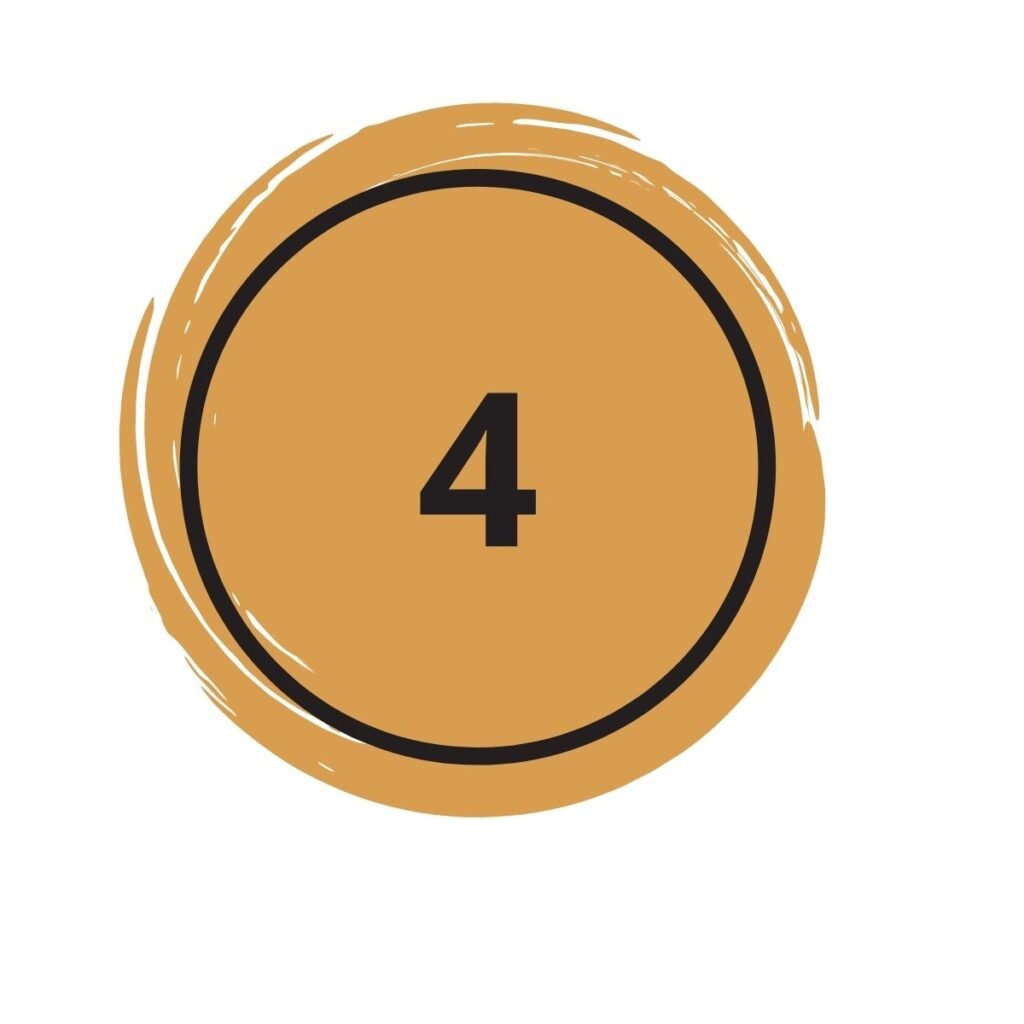 Once the high protein granola is room temperature throughout, use a wooden spoon to scoop it up. It will break into clusters as you remove it from the pan.
Serve the quinoa granola with greek yogurt, milk, or use it for a snack.
Expert Tips
Everyone's tastes vary. If this recipe is too sweet for you, halve the maple syrup and honey. It creates quinoa granola that is more savory and lets the saltiness shine.
As you're mixing the dry ingredients, the seeds and popped quinoa may sink to the bottom. Once the wet ingredients are added, the seeds will incorporate evenly.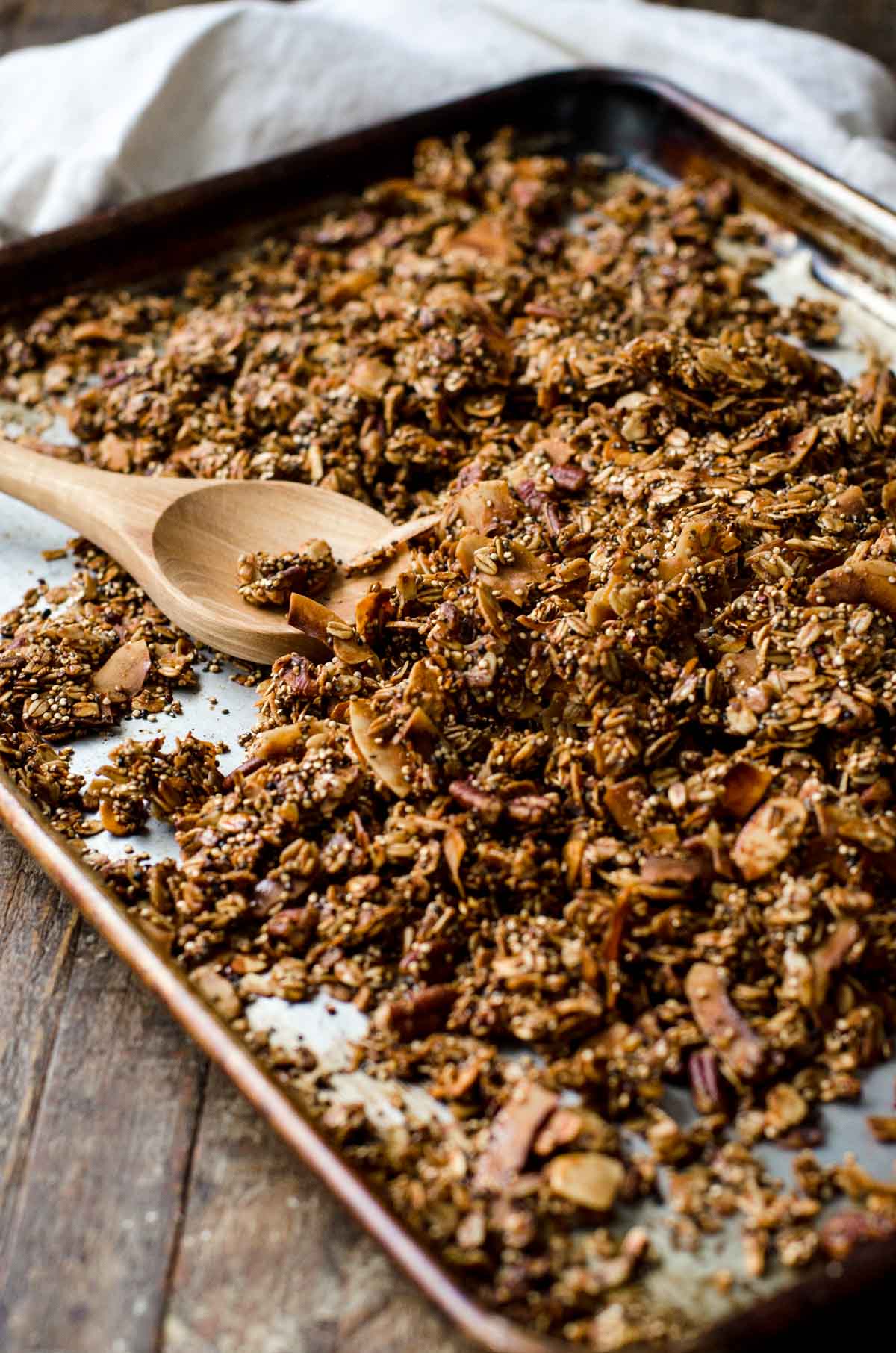 FAQ's
How much protein is in granola?
Most store bought granolas offer around 3 grams of protein. This high-protein quinoa granola offers 10 grams per serving.
How do I get my granola to stick together?
Granola clumps together in a combination of ways. As the sugar cooks it becomes hard, holding together the items around it. (Like hard candy.). In addition, egg whites (or in this case flaxseed meal) serves as a binder as well. Finally, you need to be patient and let the granola cool completely so everything can harden.
Why is my homemade granola not crunchy?
If the oven temperature is too high, it causes the ingredients to burn on the outside before the inside finishes cooking. It needs to dry out in order to get crunchy, so rotate the pan halfway through cooking and make sure the layer of granola isn't too thick.
How long does homemade granola last?
If kept in a cool, dark place, homemade granola lasts for up to two weeks in an airtight container. I don't recommend putting it in the refrigerator because the amount of humidity in there can make the granola soggy.
What oil do you use for granola?
I prefer using a flavor neutral oil like canola or avocado because it doesn't distract from the granola. However, coconut oil and extra virgin olive oil both bring unique profiles to the granola that will spice up the standard recipe.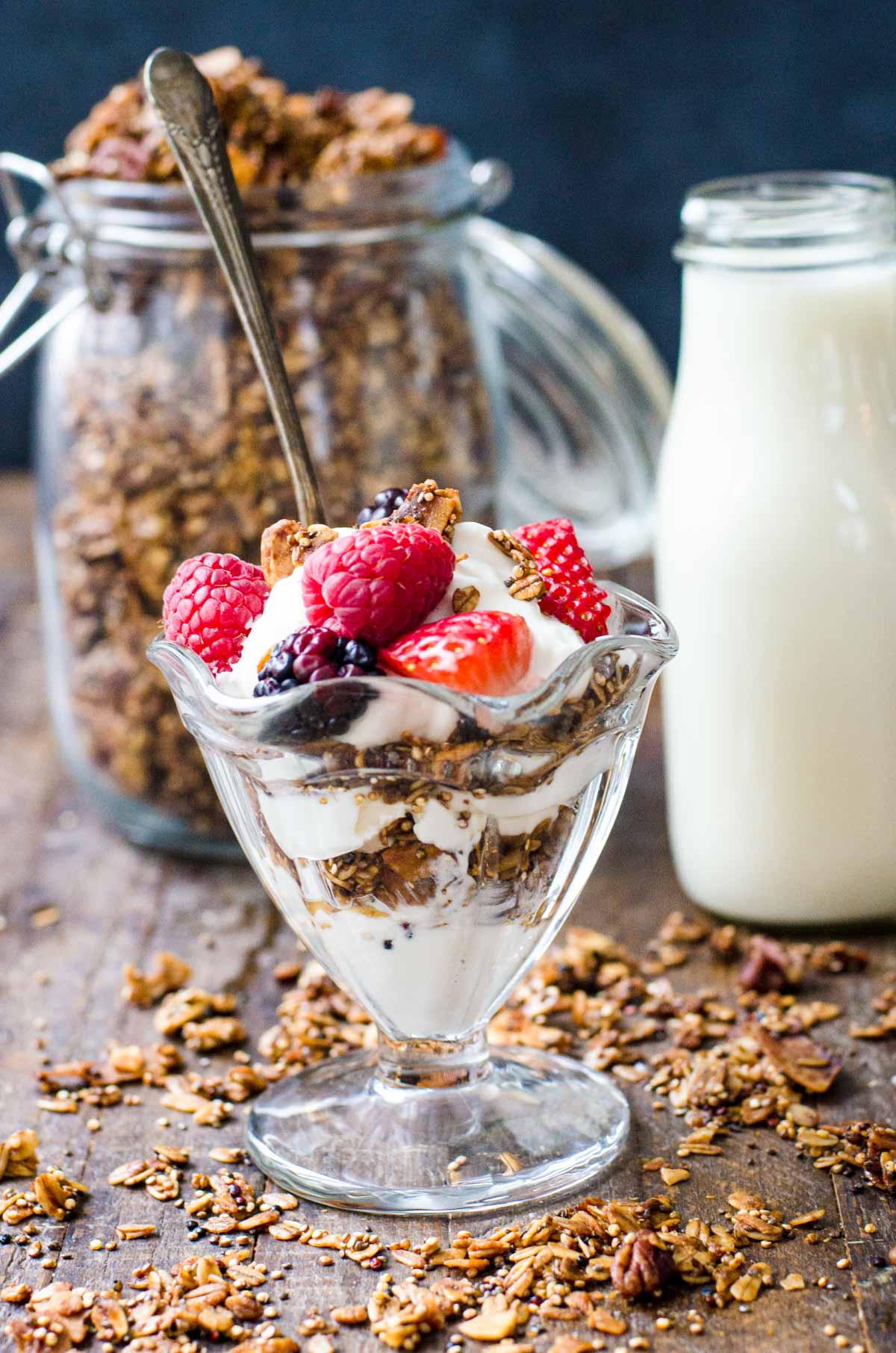 Related Recipes
If you're looking for more yummy breakfast options, I recommend: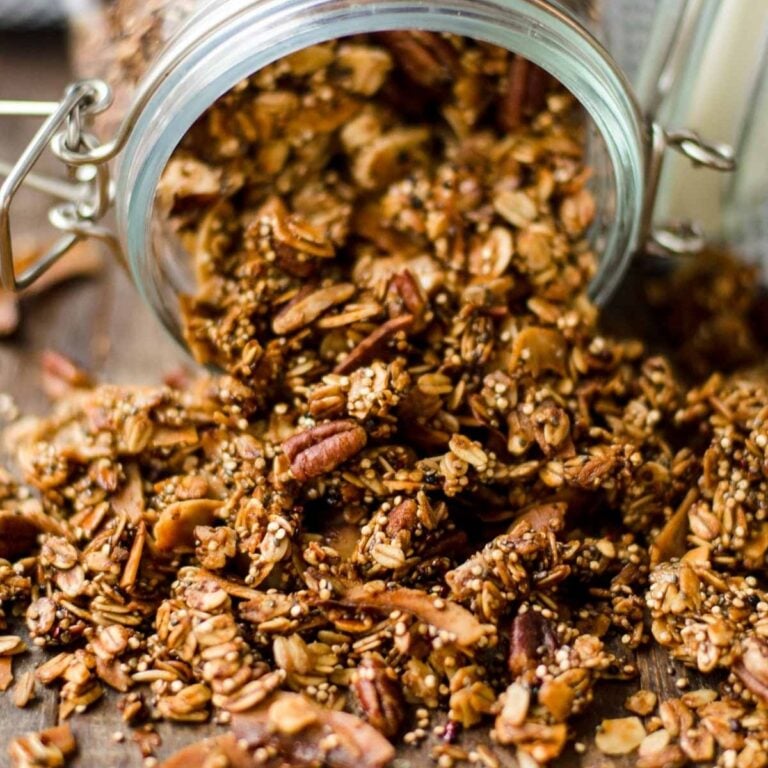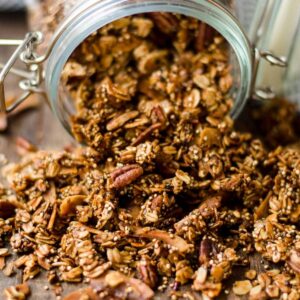 High Protein Quinoa Granola
This simple recipe gives you everything you need to start the day in a healthy way.
Pin it for later?
Ingredients
2

cups

old fashioned oats

1 ½

cups

popped quinoa

,

(aka puffed quinoa)

¾

cup

chopped pecans

½

cup

sliced almonds

⅔

cup

coconut flakes

2

Tablespoons

chia seeds

½

teaspoon

cinnamon

1

Tablespoon

brown sugar

2

Tablespoons

flaxseed meal

1

teaspoon

salt

5

Tablespoons

water

½

cup

honey

½

cup

maple syrup

½

cup

oil
Instructions
Preheat the oven to 325°F

In a small bowl, stir together the flaxseed meal and water. Let sit for 2-3 minutes, or until thick and gelatinous.

In a large bowl, combine the oats, nuts, seeds, coconut, salt, cinnamon, brown sugar and popped quinoa.

Mix together the maple syrup, honey, mixed flaxseed meal and oil. Stir it into the the dry ingredients until well coated.

Spread the granola mixture evenly on baking sheet. Use the back of a wooden spoon to press it down, trying to keep the layer as thin as possible.

Bake for 20 minutes. Rotate and bake for another 15 minutes. Remove and let cool completely to room temperature. Scrape the high protein granola off the baking sheet with a spoon and transfer to an airtight container.
Nutrition
Serving:
1
serving
|
Calories:
507
kcal
|
Carbohydrates:
59
g
|
Protein:
9
g
|
Fat:
28
g
|
Saturated Fat:
5
g
|
Trans Fat:
1
g
|
Sodium:
241
mg
|
Potassium:
380
mg
|
Fiber:
8
g
|
Sugar:
26
g
|
Vitamin A:
11
IU
|
Vitamin C:
1
mg
|
Calcium:
93
mg
|
Iron:
3
mg
Tell me how much you love this recipe
and show off how you made it!