This great spinach egg bake is a protein packed way to eat any meal. Made of a hearty filling, it makes a grain free breakfast recipe.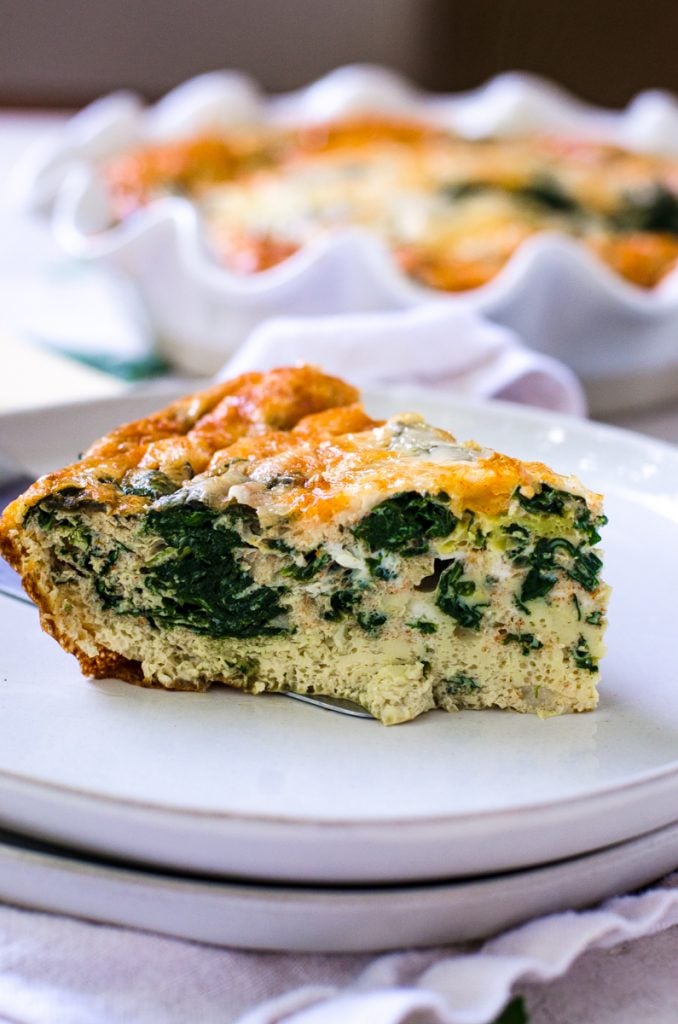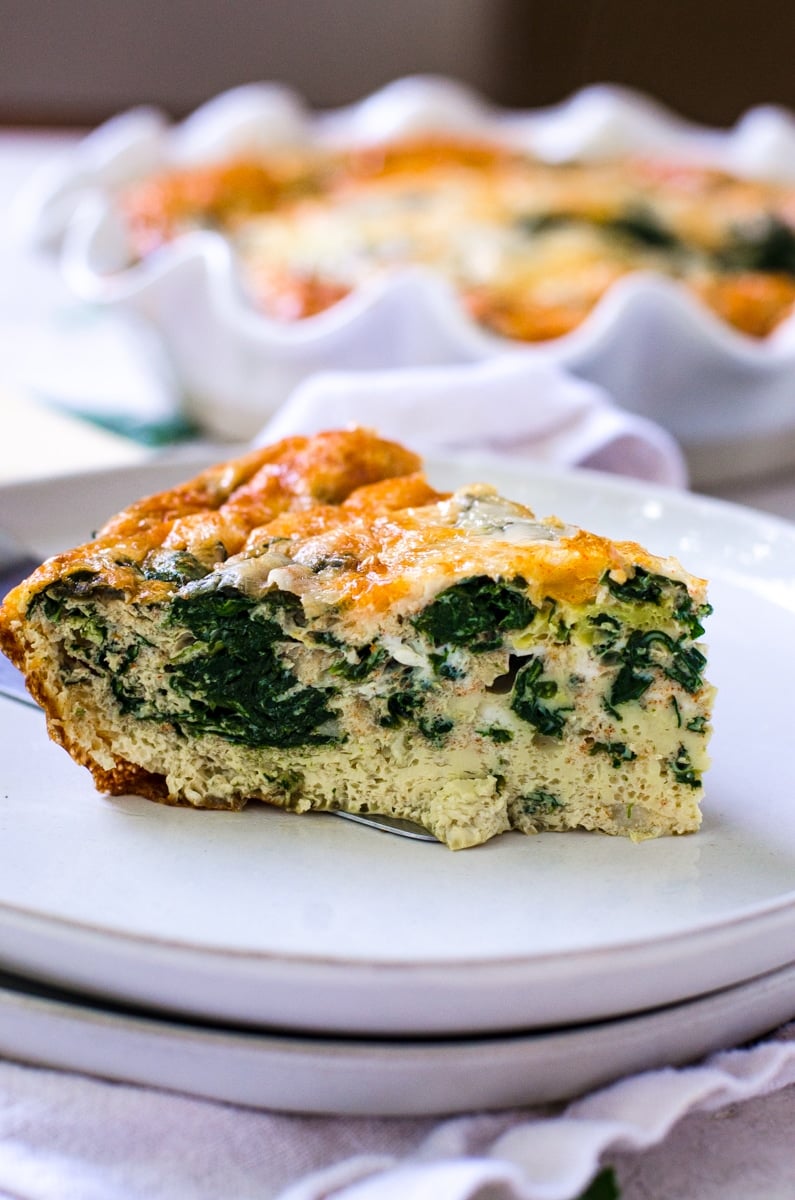 Egg bake is similar to quiche except that it doesn't have a crust. This is a great way to use up a lot of eggs in a hearty and delicious meal. Serve it with a side of garlic toast
Instead of using cheddar cheese, this spinach egg bake focuses on fresh parmesan. The flavor is more subtle, but reminiscent of a quality bechamel sauce for the filling.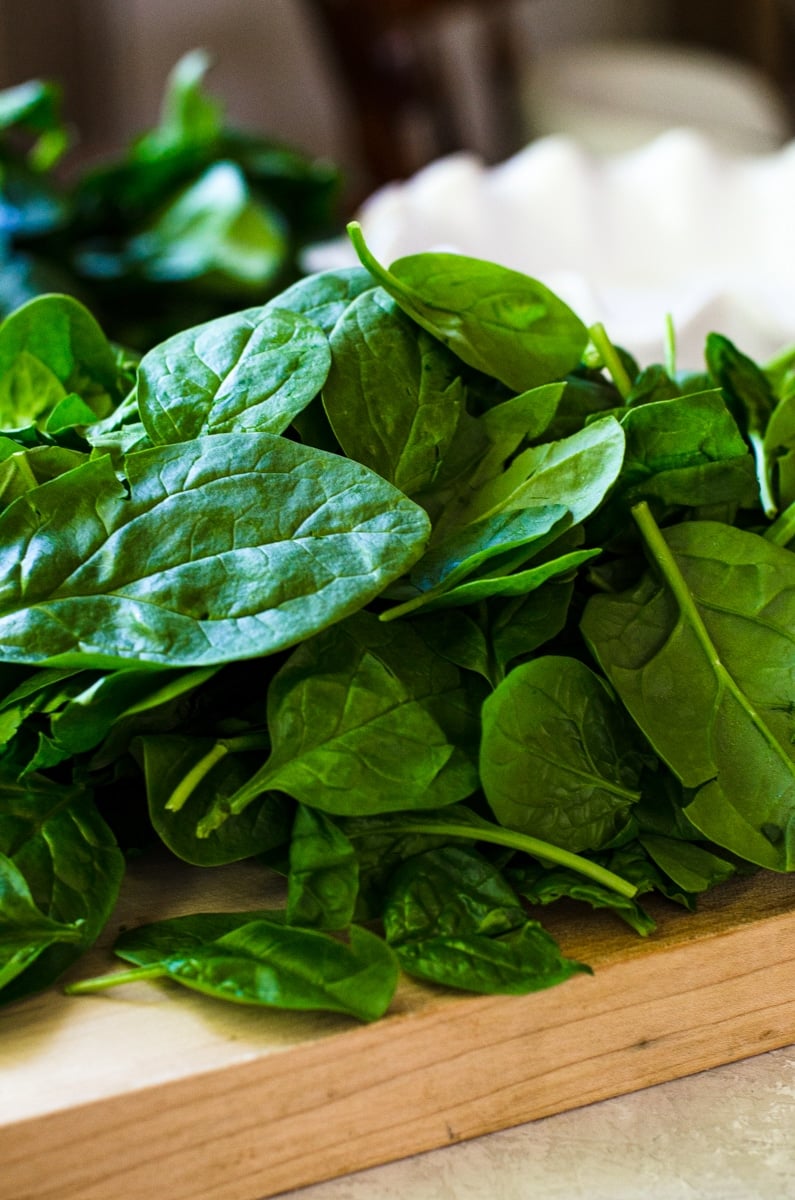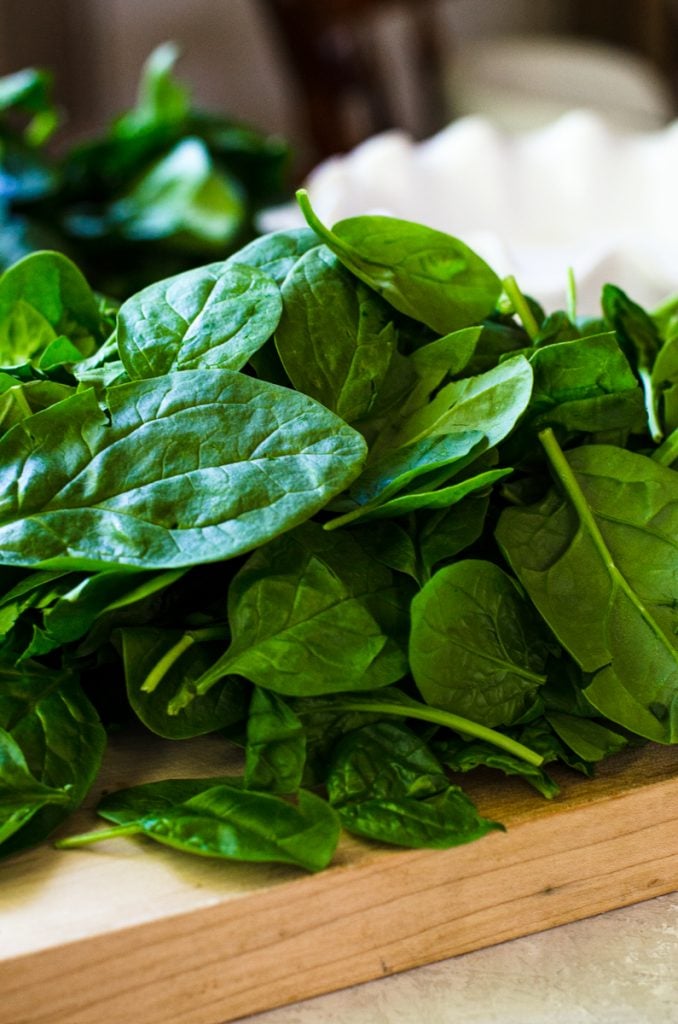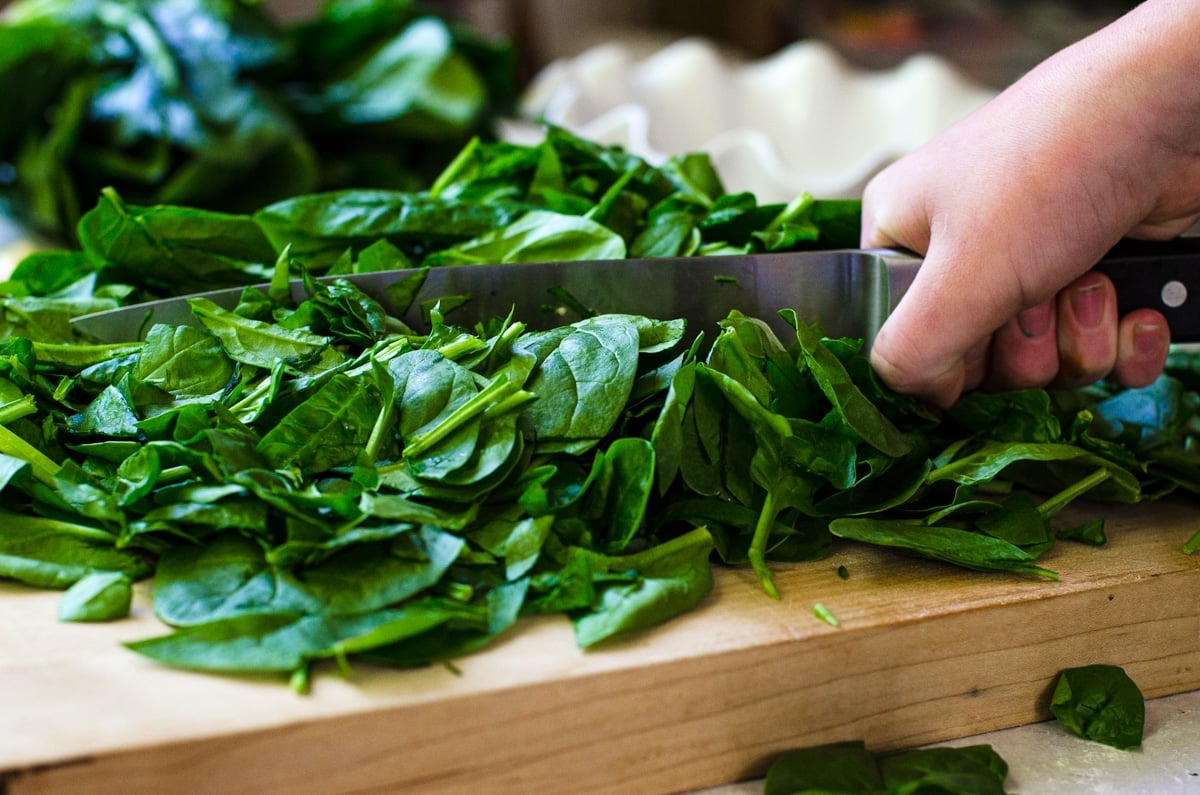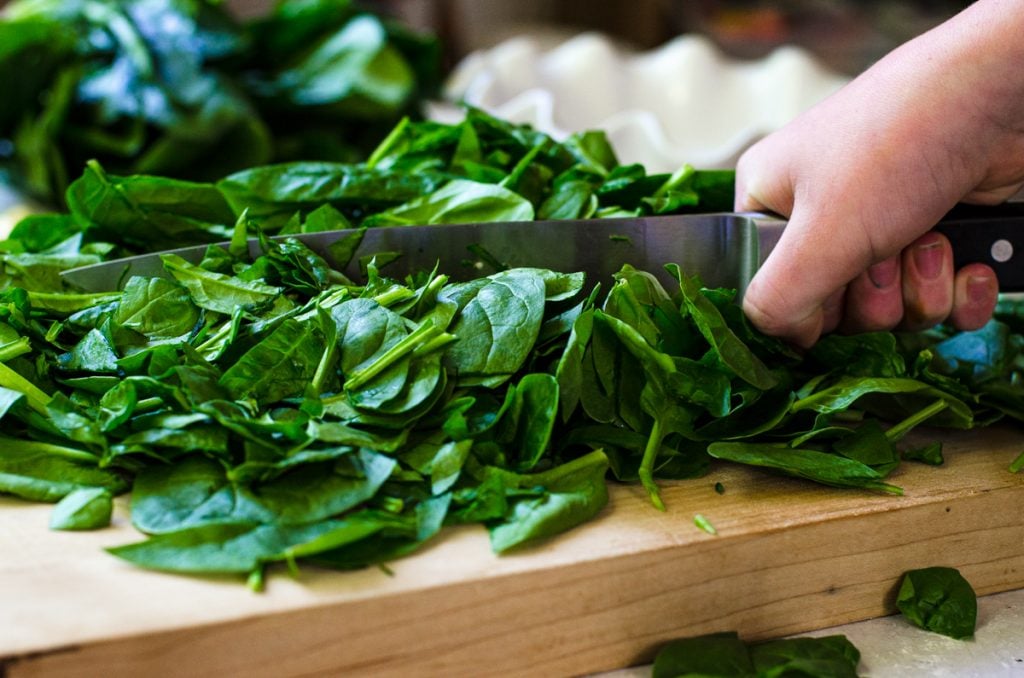 How Long Does Egg Bake Last?
You can serve this spinach egg bake hot out of the oven for a quick dinner, or you can refrigerate it up to five days. This makes this spinach egg bake the ultimate meal. It works well for breakfast, lunch, or dinner.
The important thing to know is that once you refrigerate egg bake, you shouldn't reheat it in the microwave. This is a surefire way to make it rubbery and tough.
If you need to reheat it, place a piece in an oven safe dish and preheat the oven to 375° and cook for ten minutes, or until heated through.
Why Is It Rubbery?
Spinach egg bake gets rubbery when the eggs or overcooked or there is too much moisture out of the spinach.
To cook the spinach correctly, start by roughly chopping the spinach so the smaller pieces wilt more evenly. (This also makes it easier to cut the egg bake later.)
Once done, sauté the garlic in a pinch of oil in a large skillet over medium high heat. Once it starts to turn light brown, add the spinach. Cook and stir the spinach until it is wilted and just starting to stick to the bottom of the pan.
Once the water is cooked out, transfer the spinach to the bottom of a baking dish greased with oil or cooking spray.
Can I Use Frozen Spinach?
Yes you can, but frozen spinach has a stronger more bitter flavor to it. It doesn't take that much longer to use fresh spinach, but it does add a little higher cost to the recipe.
If you choose to use frozen spinach make sure to thaw it out completely. Then, place the spinach in a mesh bag or cheesecloth and squeeze out the excess moisture. Leaving this water in the spinach will make the egg bake take longer to cook and make it rubbery.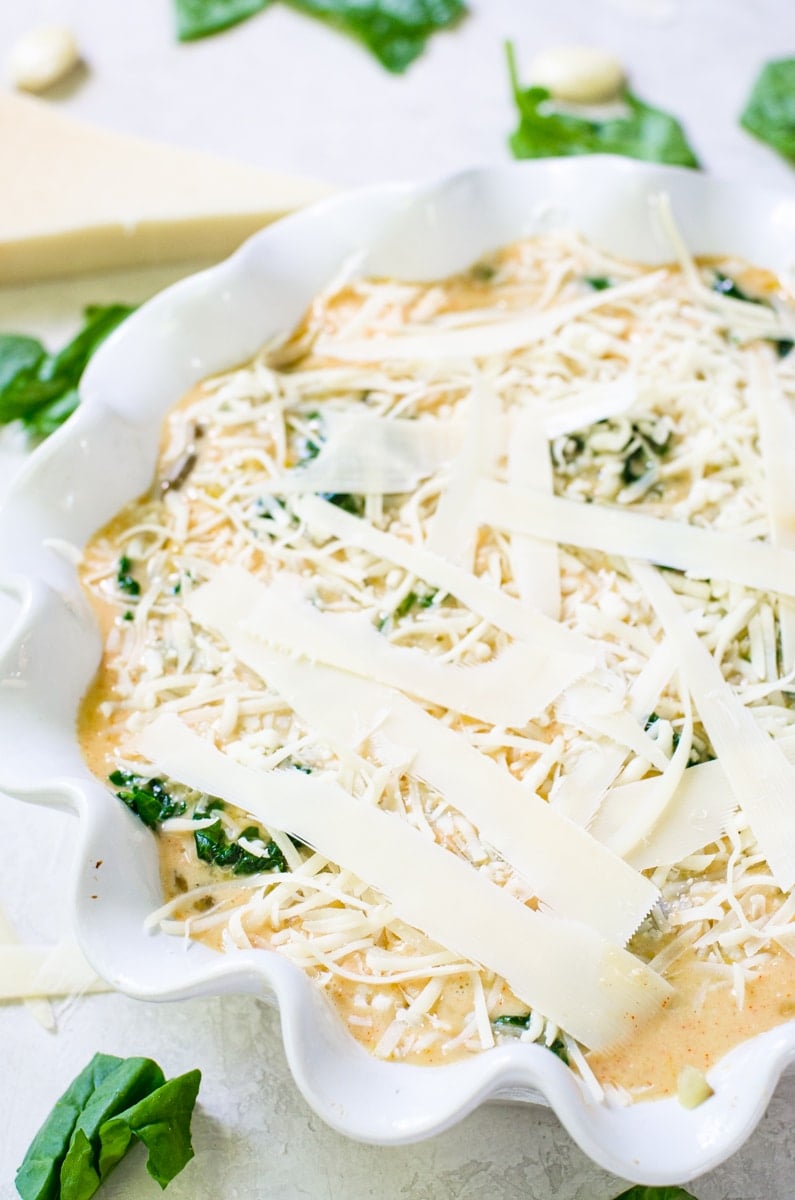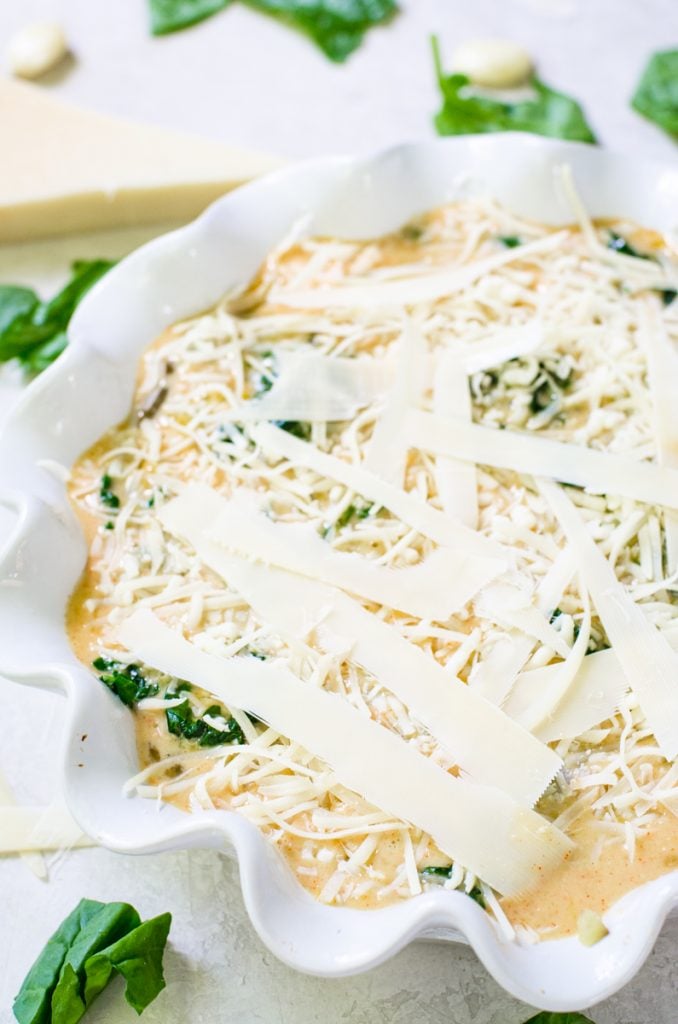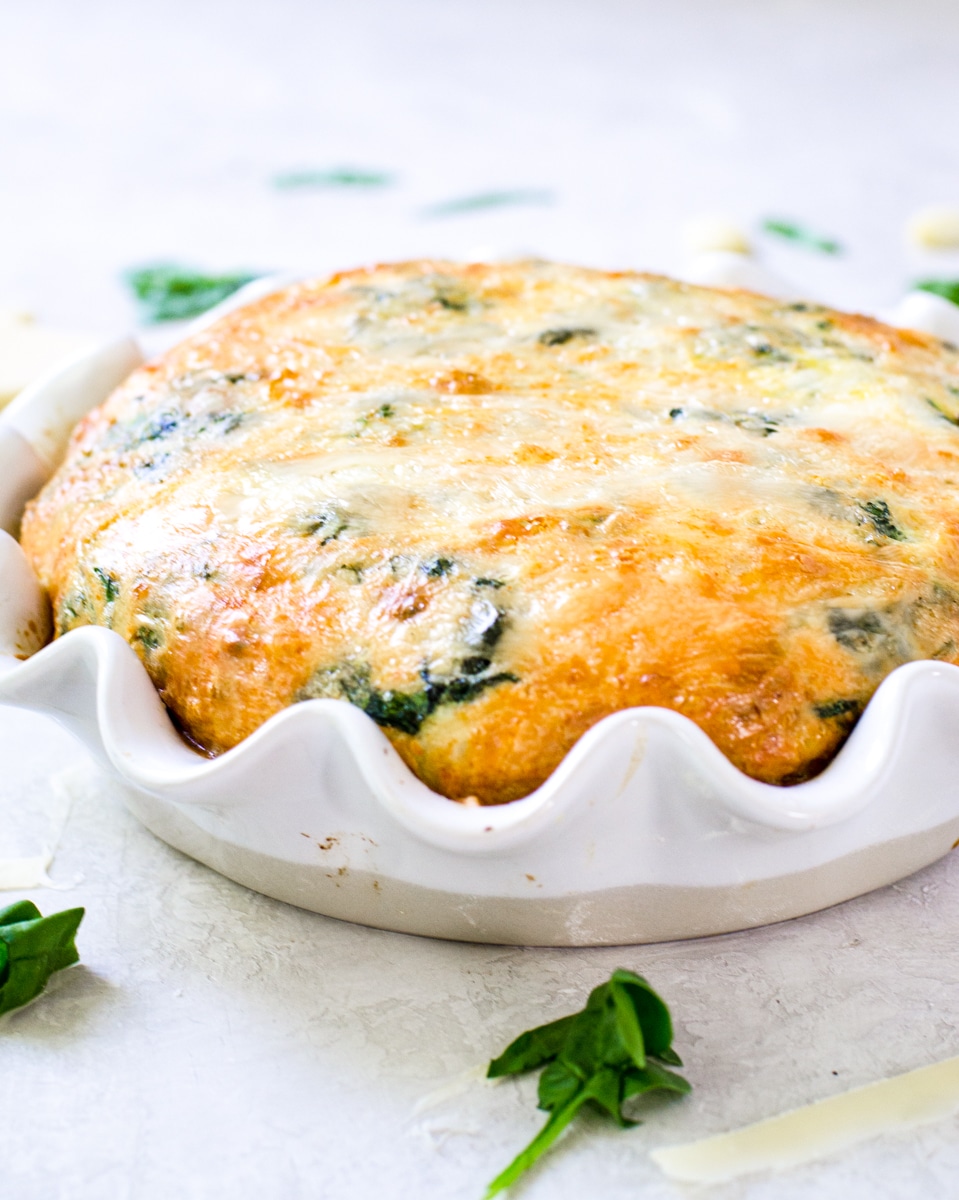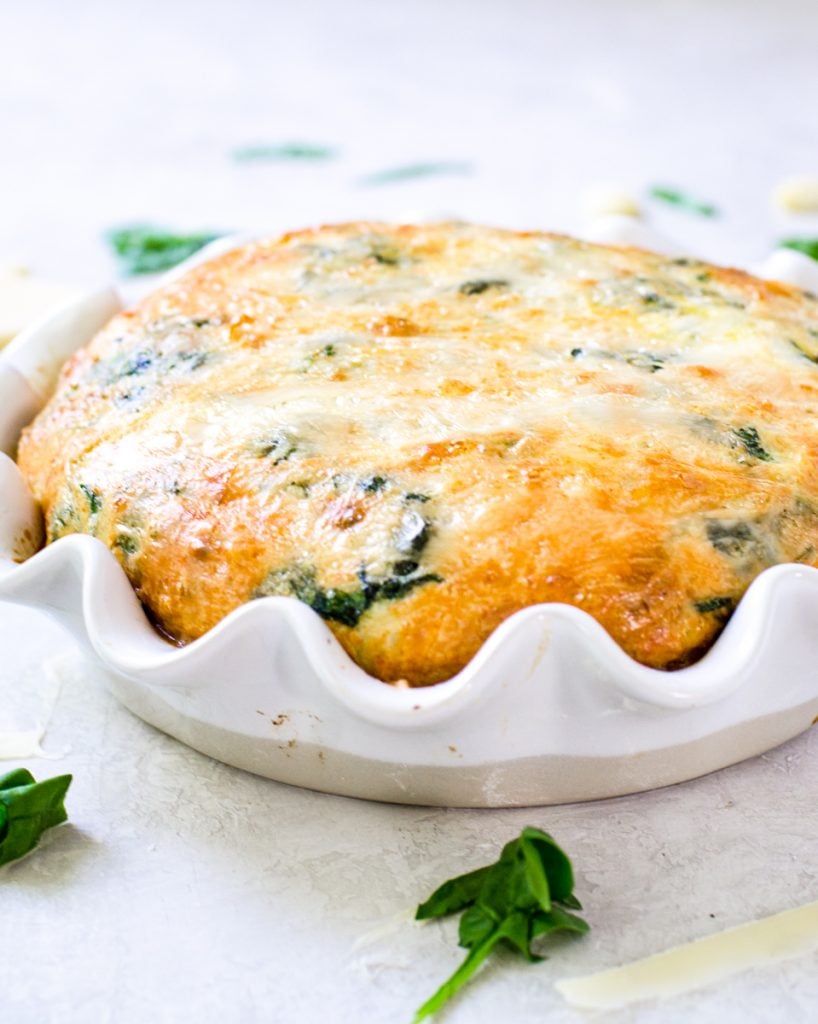 How Do You Know When It's Done?
Once you pour the egg and spinach mixture into the greased pie dish, it bakes in a preheated oven at 375 degrees. It takes about 45 minutes to get to an internal temperature of 160°F.
This is necessary to kill off any potential salmonella.
If you don't have a thermometer, you can tell that the spinach egg casserole is done when the center is set and no longer jiggly. It will also puff up and look rounded like a pie. Once cooled a little, the center will settle back down.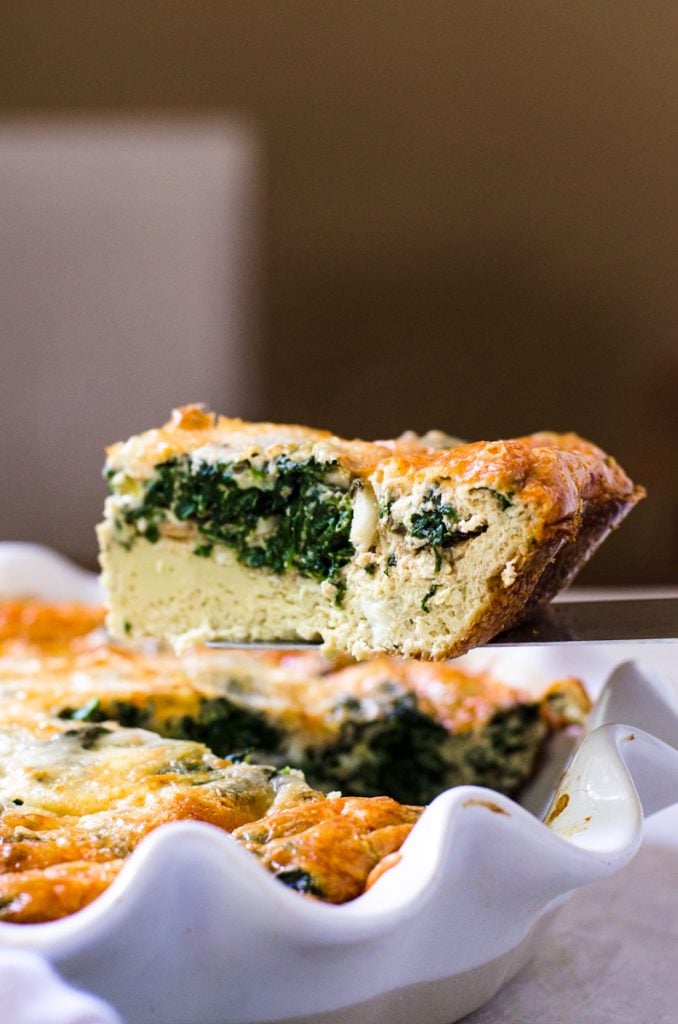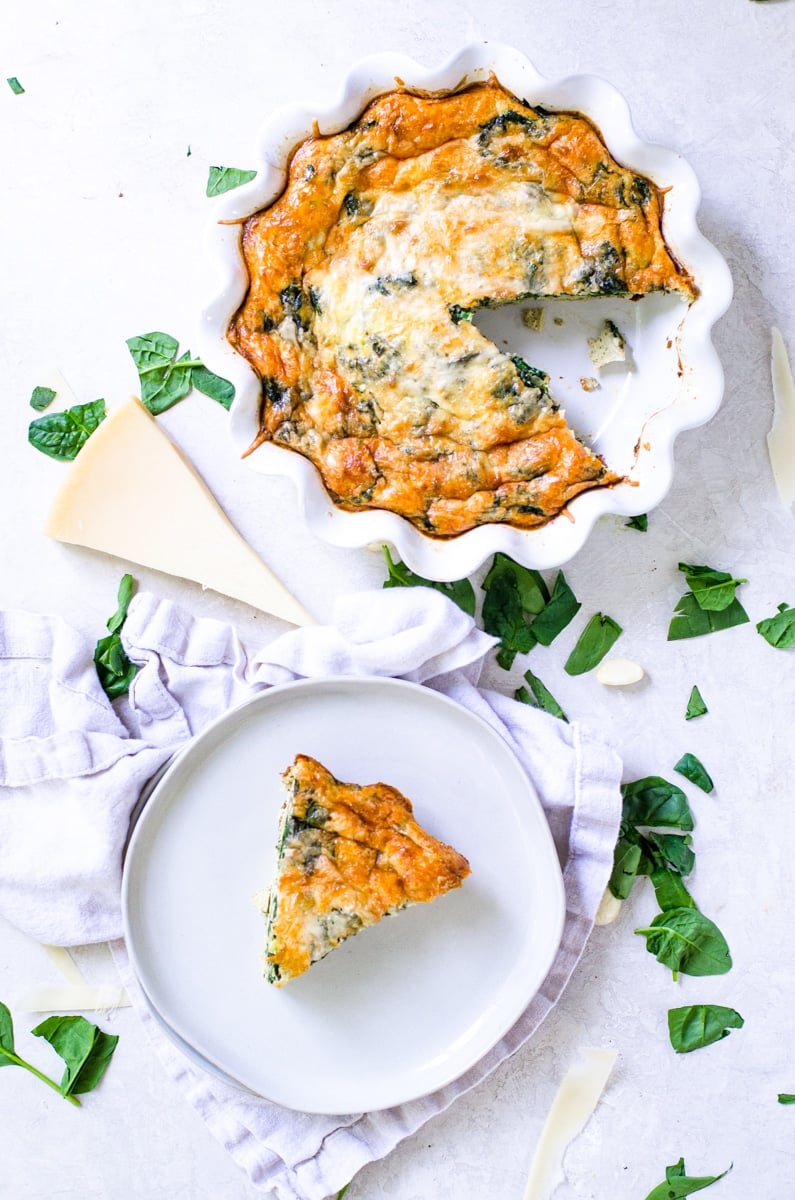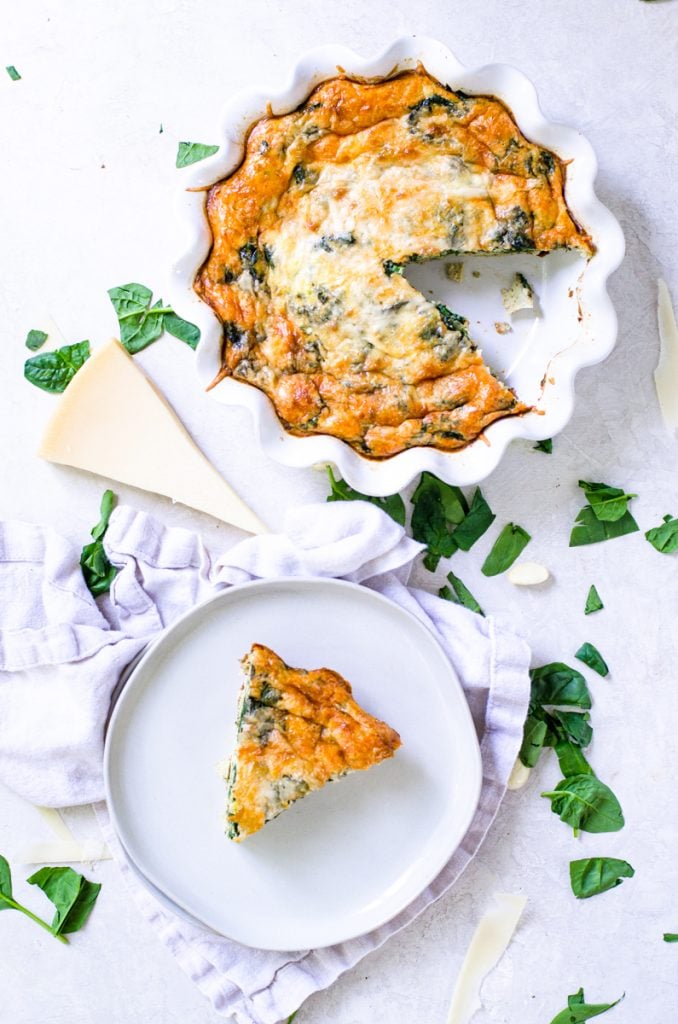 Top Recipe Tips
Work in layers for the spinach egg bake. Start with a layer of the spinach, then top it with the egg mixture, the finally finish with the cheese.
To make the egg mixture, whisk the eggs in a large bowl until the egg whites are broken up and not in large chunks.
Focus on the salt and pepper with the egg mixture. It's hard to get the ratio just right for everyone, so I've gone light with my measurements. Keep in mind that the cheese will add additional salt.
You can use pre-shredded parmesan cheese, but I recommend using a peeler and peeling it off a wedge. You may have to organize it to cover the entire top, but it gives a better crust I think.
When done, the top of the spinach egg bake will be puffy and rounded. After it cools for about ten minutes this will settle.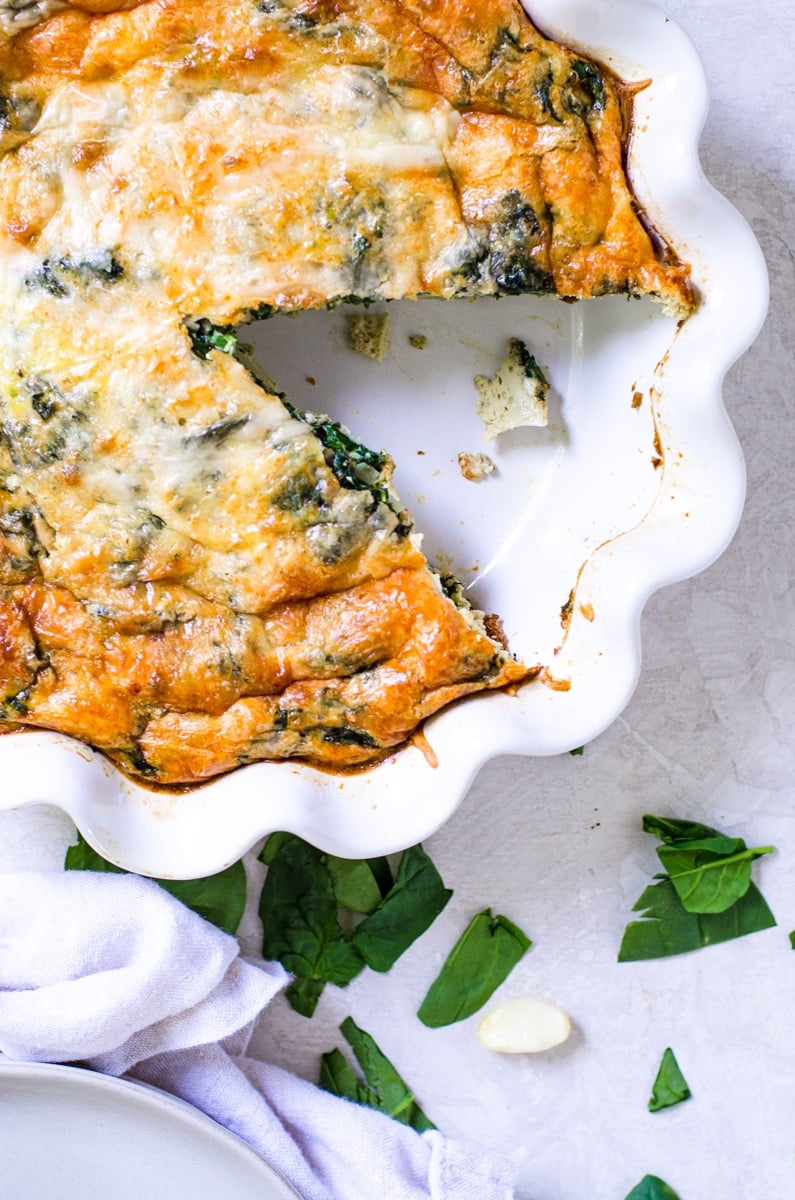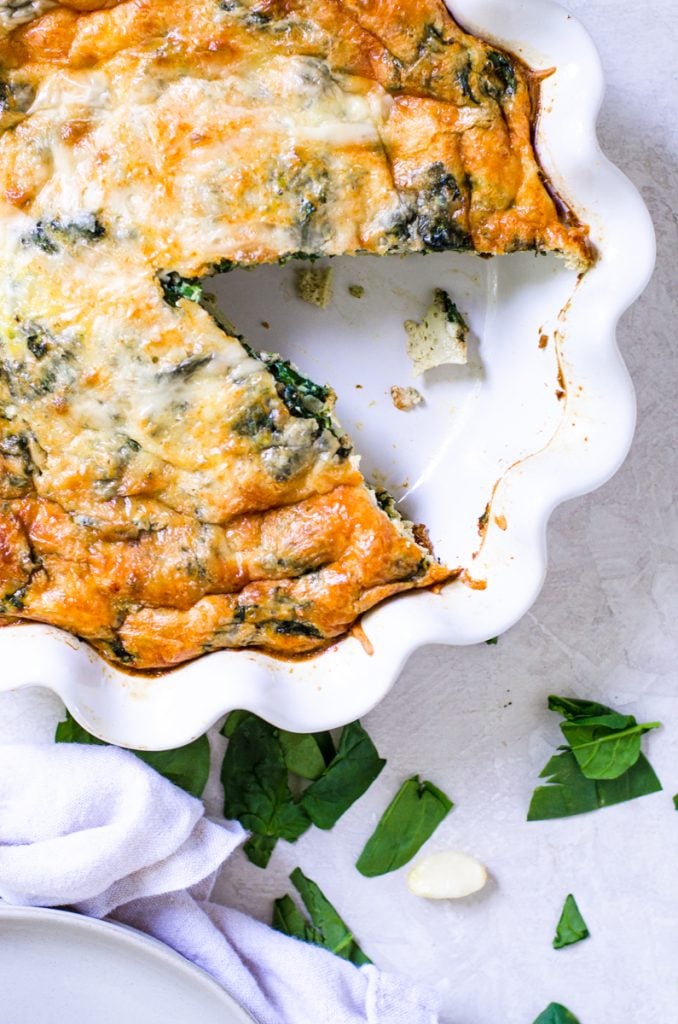 Spinach Egg Bake Recipe
The flavor profile of this spinach egg bake is like a classic cream sauce. I know the nutmeg seems a bit strange, but trust me, it complements the flavors so well.
Want to try some other breakfast recipes? I recommend:
---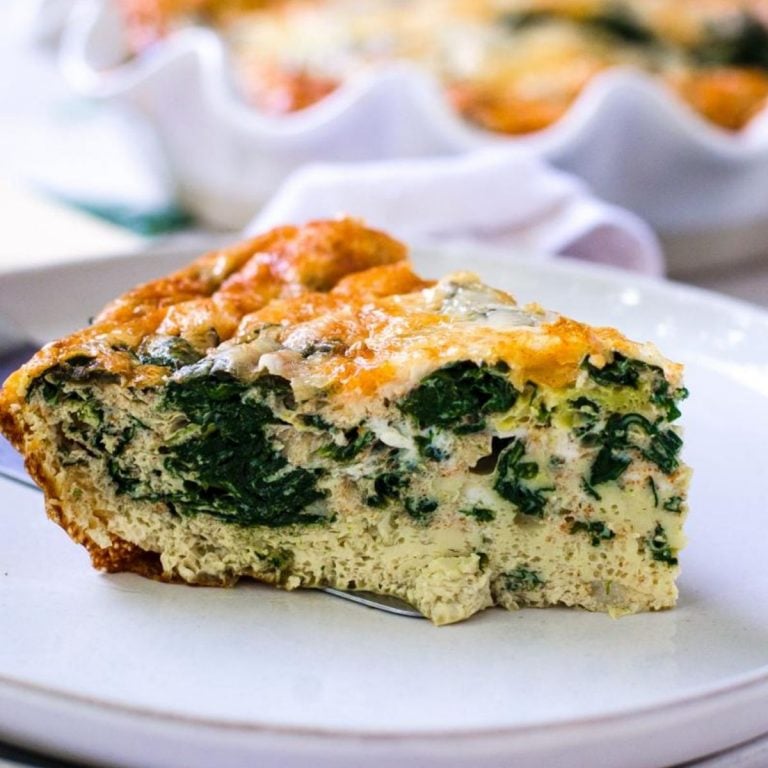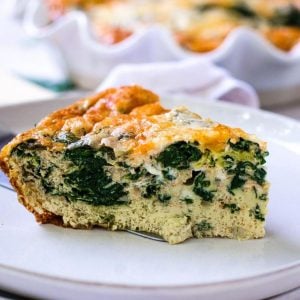 Cheesy Spinach Egg Bake
This simple spinach egg bake is a great way to get in veggies first thing in the morning.
Pin it for later?
Ingredients
16

ounces

baby spinach

,

roughly chopped

3

garlic cloves

½

teaspoon

neutral cooking oil

12

large eggs

¼

cup

half and half

2

teaspoons

dijon mustard

1

teaspoon

paprika

,

(optional)

½

teaspoon

nutmeg

1

cup

parmesan cheese

¾

teaspoon

salt

½

teaspoon

pepper
Instructions
Preheat oven to 350°F. Grease a pie dish with neutral cooking oil and set aside.

In a saute pan over medium heat, cook the garlic in the oil until just browned. Working in batches, stir in the spinach and cook until it just starts to stick to the bottom of the pan. Transfer to the greased pie dish.

In a large bowl whisk together the eggs, dijon mustard, nutmeg, salt, pepper, and paprika until the eggs are scrambled. Pour the mixture over the spinach in the pie dish and top with freshly shaved parmesan cheese.

Bake for 45 minutes or until the eggs are set in the center. Let the spinach egg bake cool for at least 10 minutes before cutting into it.
Nutrition
Serving:
1
serving
|
Calories:
172
kcal
|
Carbohydrates:
4
g
|
Protein:
15
g
|
Fat:
11
g
|
Saturated Fat:
5
g
|
Cholesterol:
257
mg
|
Sodium:
574
mg
|
Potassium:
433
mg
|
Fiber:
1
g
|
Sugar:
1
g
|
Vitamin A:
5817
IU
|
Vitamin C:
17
mg
|
Calcium:
251
mg
|
Iron:
3
mg
Tell me how much you love this recipe
and show off how you made it!