Salsa verde is a flavorful and acidic vibrant green salsa used in Mexican cooking. It can be served as an appetizer with tortilla chips or cooked with meat for tacos.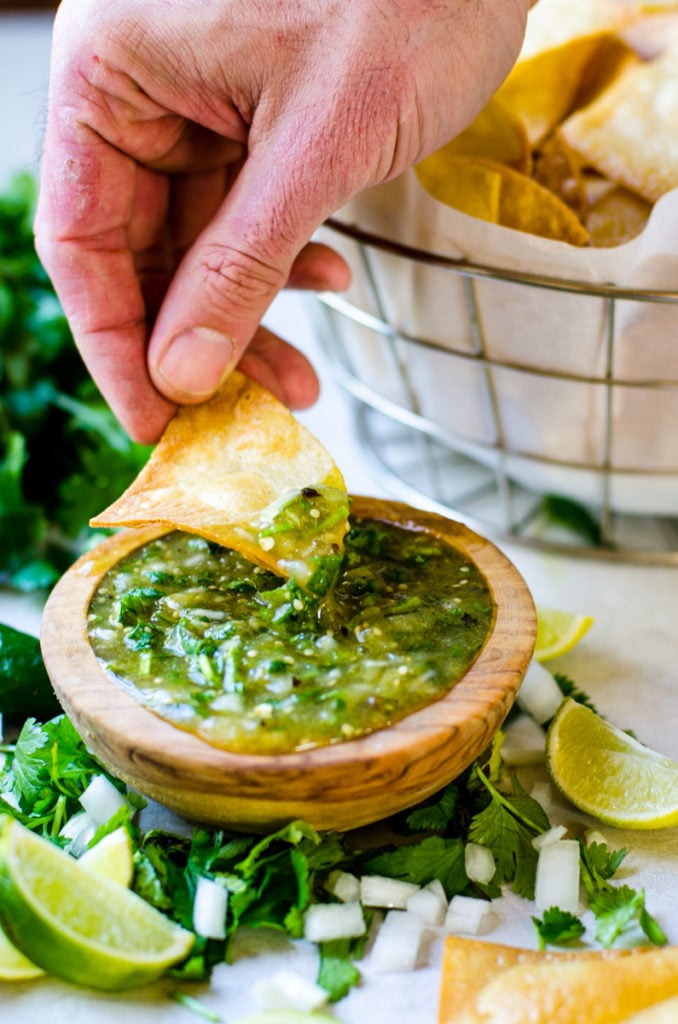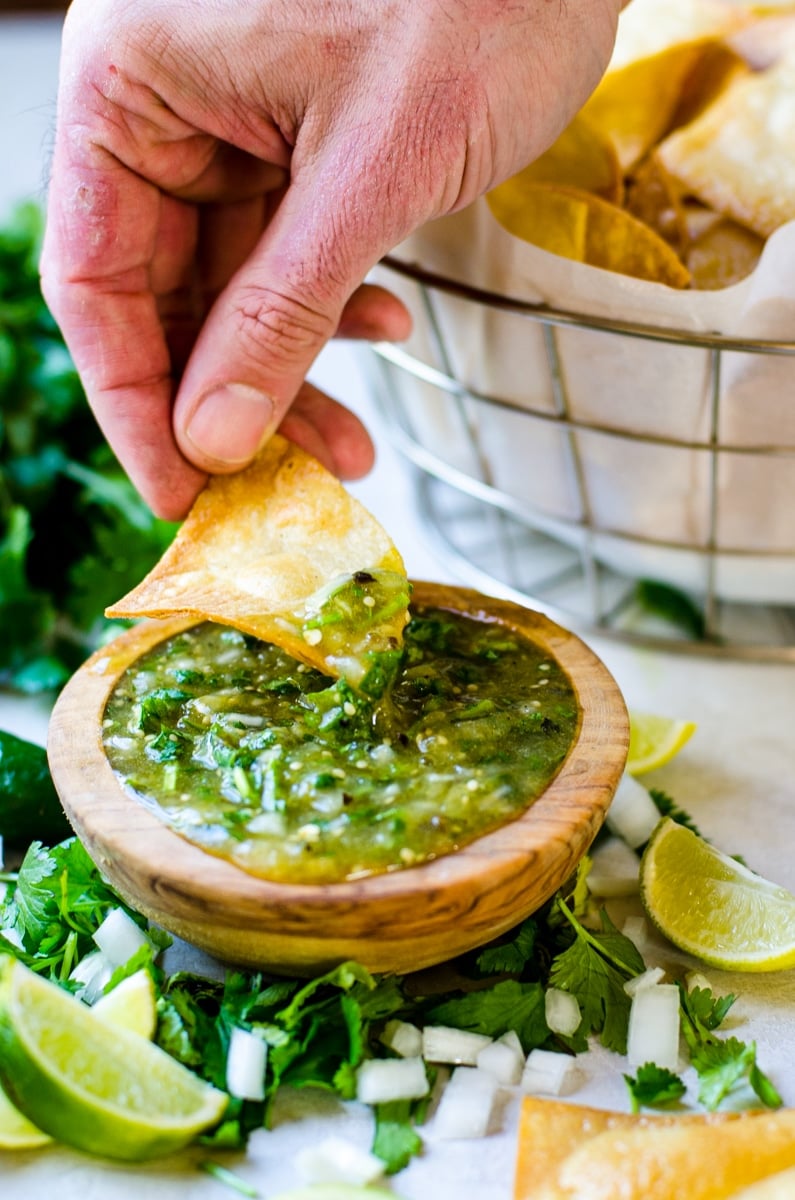 Homemade salsa is simple to make and has a much brighter and fresher flavor than store bought. Made with roasted tomatillos and peppers, salsa verde is flavored with fresh lime juice, garlic cloves, white onion and cilantro. It can be be used in a range of meals, as a snack, or even frozen up to six months.
How Is Salsa Verde Different?
The primary difference between red salsa and salsa verde is that one is made with tomatoes and the other tomatillos. Tomatillo salsas are also distinguished by their bright green color.
Some people confuse green tomatoes (unripe tomatoes) with tomatillos, but the flavor is quite different. Tomatillos have a tart and tangy flavor to them, while green tomatoes are hard, unripe, and lacking flavor.
How To Remove Tomatillo Husks
The outside of a tomatillo is distinguished by a greenish paper-like husk that surrounds the fruit. Near the stem end, the husk adheres to the tomatillo with a sticky, waxy substance. The riper the tomatillo is, the smaller the amount of this waxy glue is between the fruit and the husk.
If the tomatillo husks are dry you can remove them by grabbing at the base and lifting it towards the stem. Then when you have a handful, you can twist the husk off, removing the stem with it. If there are small amounts left glued to the tomatillo you can set them aside for now.
Once the largest sections of husk are removed, you can remove the sticky wax by rubbing it away in water. You can do this in a bowl, or under some slow running water, whatever you prefer. It is just important that once the husk is removed that you completely dry the tomatillo before roasting.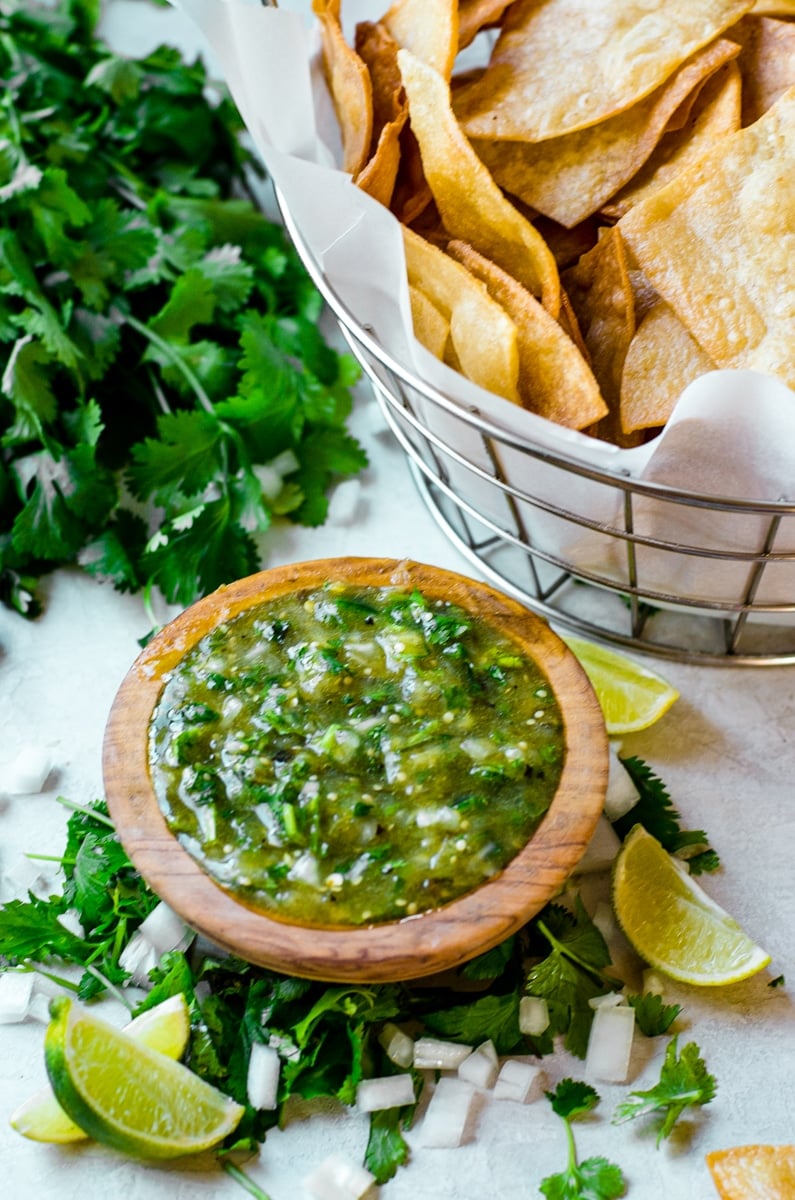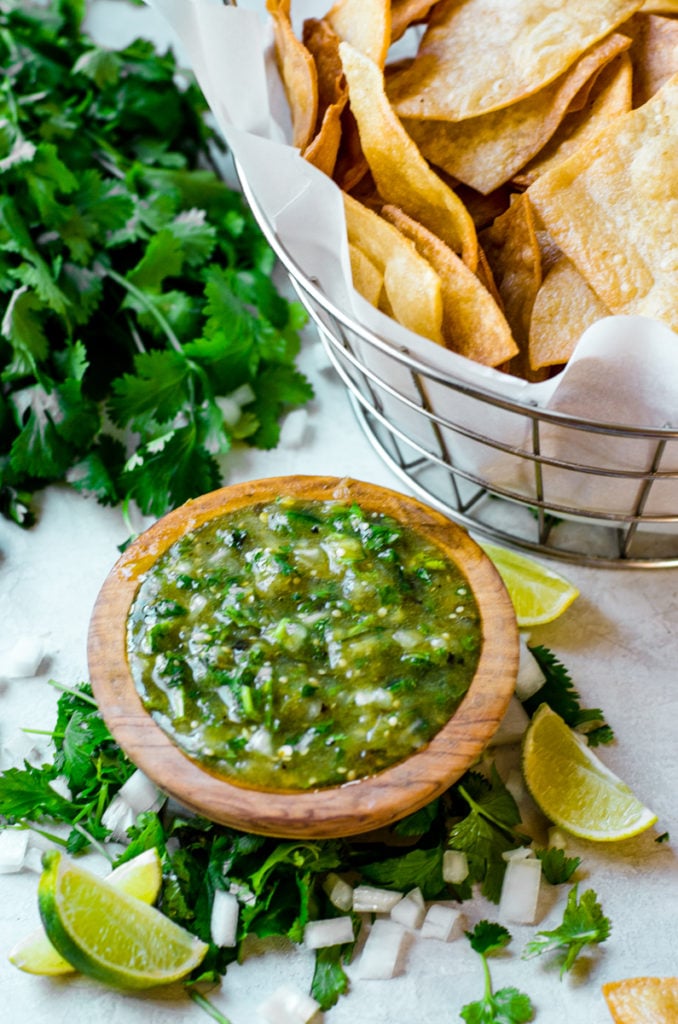 How To Roast Tomatillos
Tomatillos can be eaten raw when they are ripe, so they don't require roasting to make salsa verde. However, roasting the tomatillos gives it a richer flavor and tones down some of the acidity.
There are three ways to roast tomatillos. One is under the broiler, one is in a hot pan, and the other is over an open flame. To keep things simple for this salsa verde recipe, I'm only going over how to use the broiler.
To roast tomatillos in the oven:
Set the rack 4-6 inches from the top of the oven and preheat the broiler. Line a baking sheet with aluminum foil.
Remove the husks from the tomatillos, rinse and completely pat the tomatillos dry. Place the on the baking sheet and broil for 5-8 minutes. They should develop small blisters and darkened skin.
Flip the tomatillos to the other side and broil for another 3-5 minutes. They should be soft and bursting at the seams, but not falling apart.
Remove from the oven and let cool before making salsa.
Roasting tomatillos over a flame (fire-roasted) or in a dry pan achieves much of the same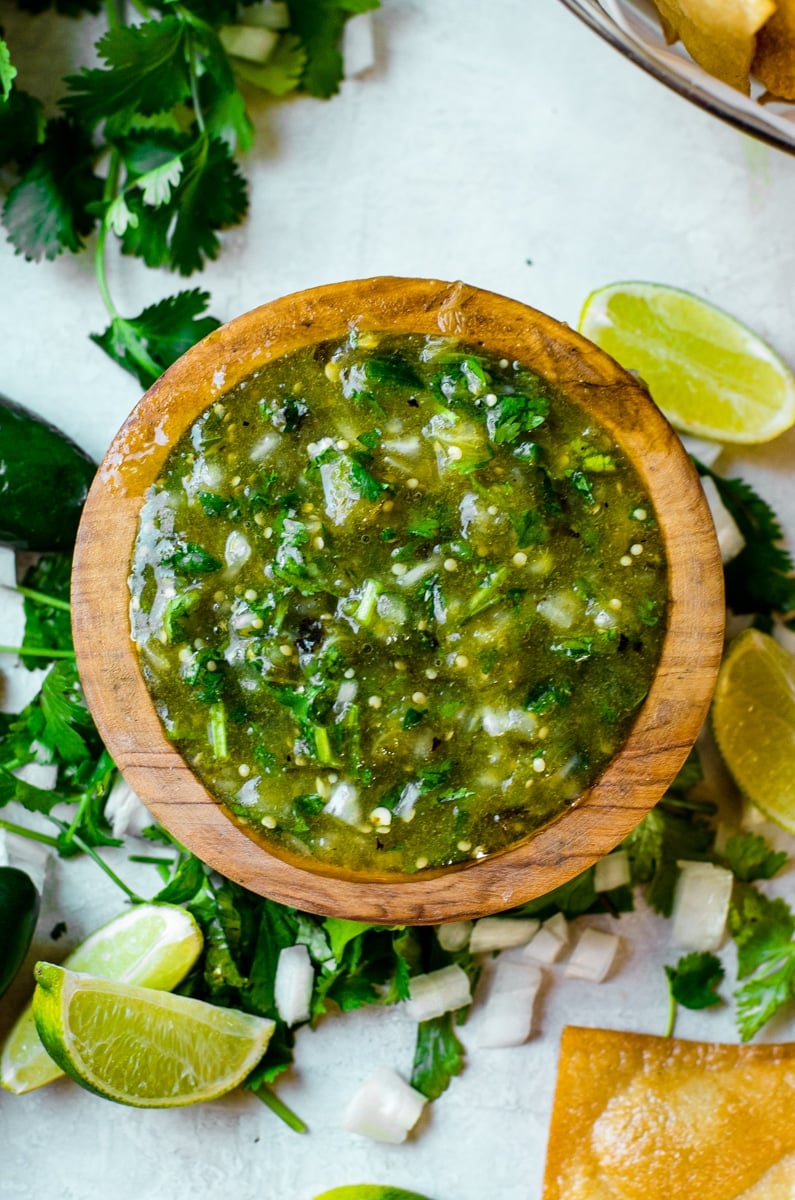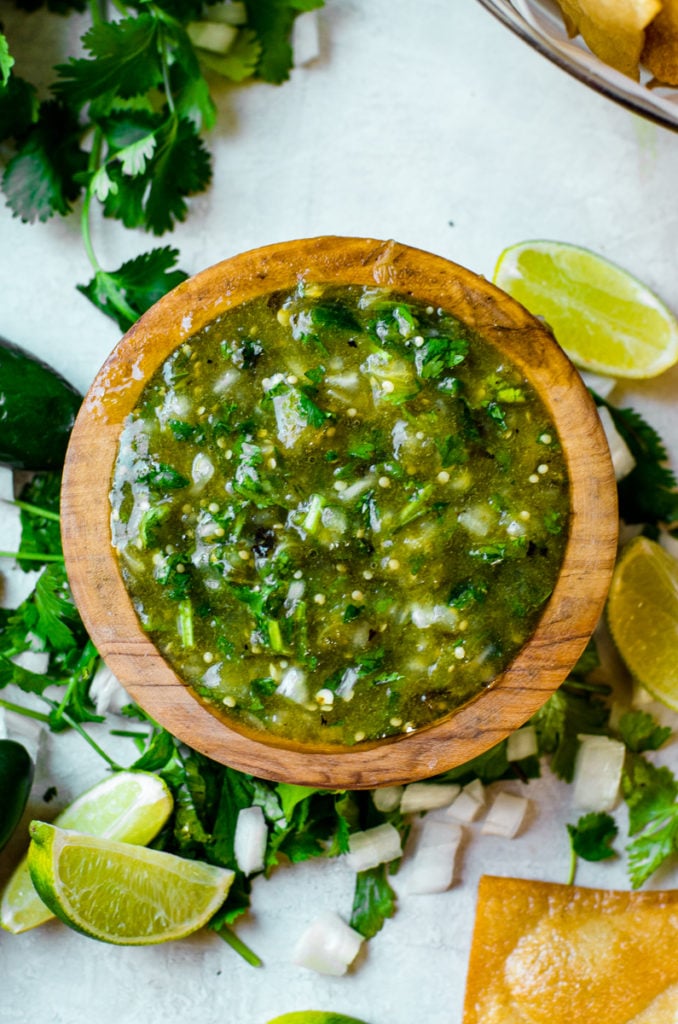 Can I Use Raw Tomatillos?
Absolutely! Raw tomatillos make a salsa verde that is even more acidic and vibrant in flavor. They are a bit firmer when raw so you may need a little water or vegetable stock to thin it out.
The Best Salsa-Making Tips
For a chunkier salsa don't add the bursted juices on the pan from broiling the tomatillos. This will keep it from getting too thin. You can also only pulse it slightly to keep the chunks larger.
If you want the onions, garlic, and fresh cilantro to be smooth, purée them with a little bit of the tomatillo. Once smooth, pulse in the rest of the tomatillos until you reach the right consistency.
For a less spicy salsa, you can use a serrano pepper instead of jalapeno, or remove the seeds from the jalapeno.
To turn this into a verde sauce for chicken enchiladas, add the ingredients with one cup of vegetable or chicken stock. Simmer until the onions are soft then purée it until completely smooth.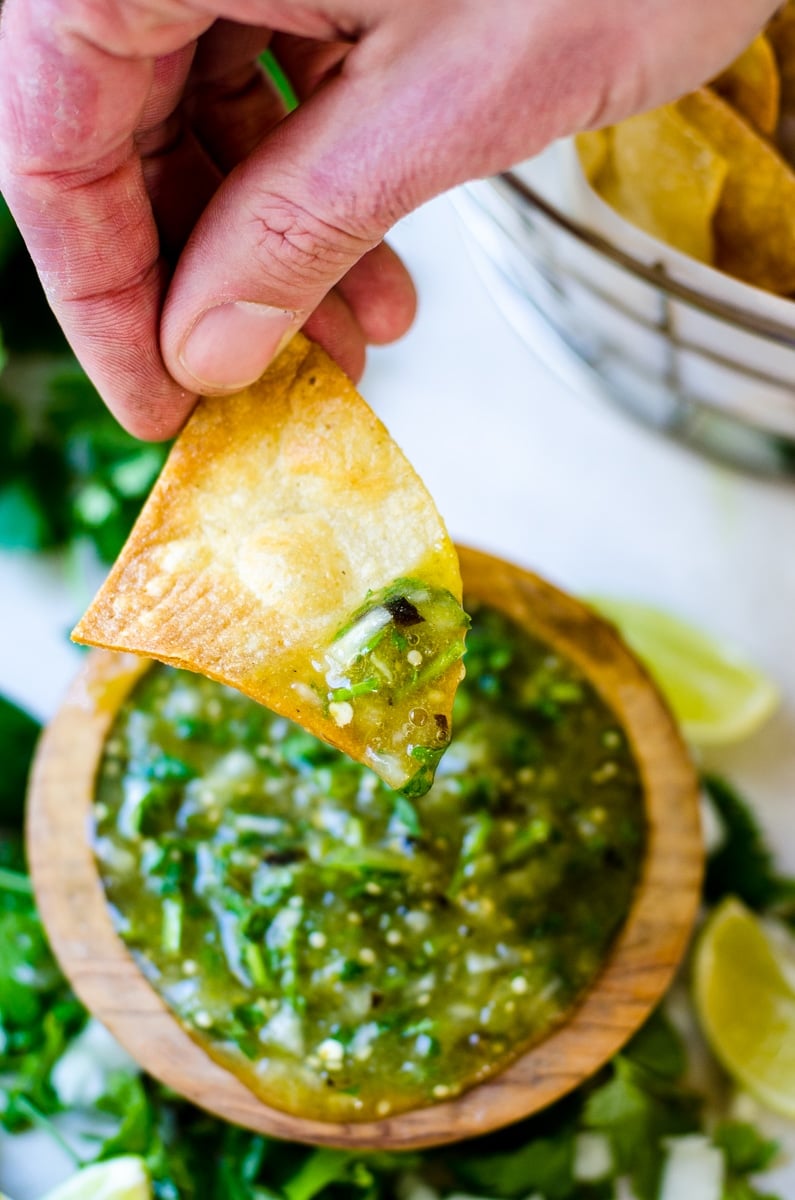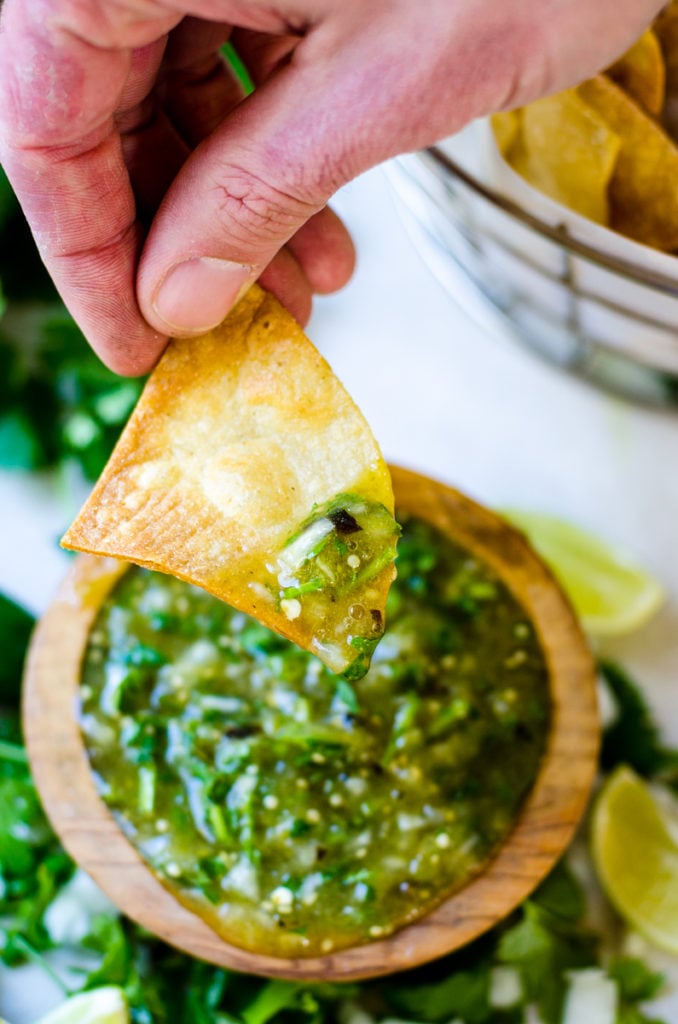 Mexican Salsa Verde Recipe
Once you have your salsa verde made, you can use it for a myriad of meals. I love to serve it with homemade tortilla chips as a snack. (Or leftover tortilla chips and carne asada to make a favorite Mexican food breakfast: chilaquiles.)
Use this printable list to make grocery shopping for salsa verde easier. Everything is listed in standard grocery store amounts. If no size is specified, even the smallest package will provide more than enough.
Happy Cooking! 🙂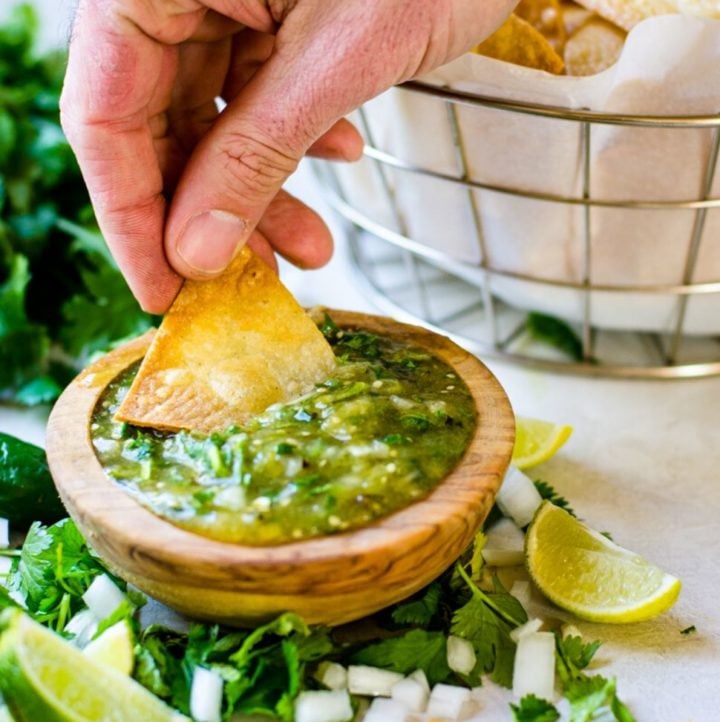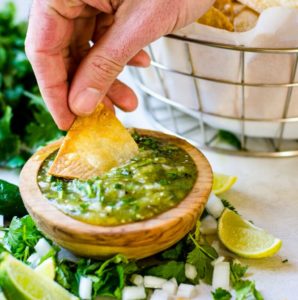 How To Make Salsa Verde (Tomatillo Salsa)
This bright green homemade salsa is vibrant and slightly spicy. Use it on chicken enchiladas, with tortilla chips, or with your favorite mexican food.
Pin it for later?
Ingredients
1

pound

tomatillos

⅓

cup

fresh cilantro

4

garlic cloves

⅓

cup

white onion

1-2

jalapenos
Instructions
Preheat the broiler to high and set the rack about 6-8 inches away from the heat. Line a baking sheet with aluminum foil and set the tomatillos on, trying to keep them from touching.

Broil for 5-8 minutes* or until the outside of the tomatillos are browned and blistered. Carefully remove the baking sheet and flip the tomatillos over. Broil for another 3-5* minutes or until the they begin to burst. (see tip 1.). Remove and let cool completely.

In a blender or food processor, add the garlic cloves, white onion, fresh lime juice, tomatillos and peppers*. (see tip 2) Pulse until the salsa reaches the consistency you like, either smooth or chunky. Lightly pulse in the fresh cilantro, season with salt and pepper and refrigerate until ready to use.* (see tip 3.)
Notes
The amount of time that the tomatillos roast will vary depending on their size and how low the rack is.
For a less spicy salsa verde, remove the seeds from the jalapenos or use a serrano pepper instead.
This salsa will stay good in your refrigerator for up to a week.  As it chills, it may congeal a bit and get thick.  You can dilute it with some extra lime juice or simply let it come to room temperature before serving.  
Nutrition
Serving:
1
serving
|
Calories:
47
kcal
|
Carbohydrates:
9
g
|
Protein:
1
g
|
Fat:
1
g
|
Saturated Fat:
1
g
|
Sodium:
3
mg
|
Potassium:
335
mg
|
Fiber:
3
g
|
Sugar:
5
g
|
Vitamin A:
257
IU
|
Vitamin C:
20
mg
|
Calcium:
16
mg
|
Iron:
1
mg
Tell me how much you love this recipe
and show off how you made it!