Carne asada meat is great for making tacos, serving on nachos, dishing up in chilaquiles, or just enjoying by itself. No matter how you plan to use it, this recipe gives you the most flavorful steak possible.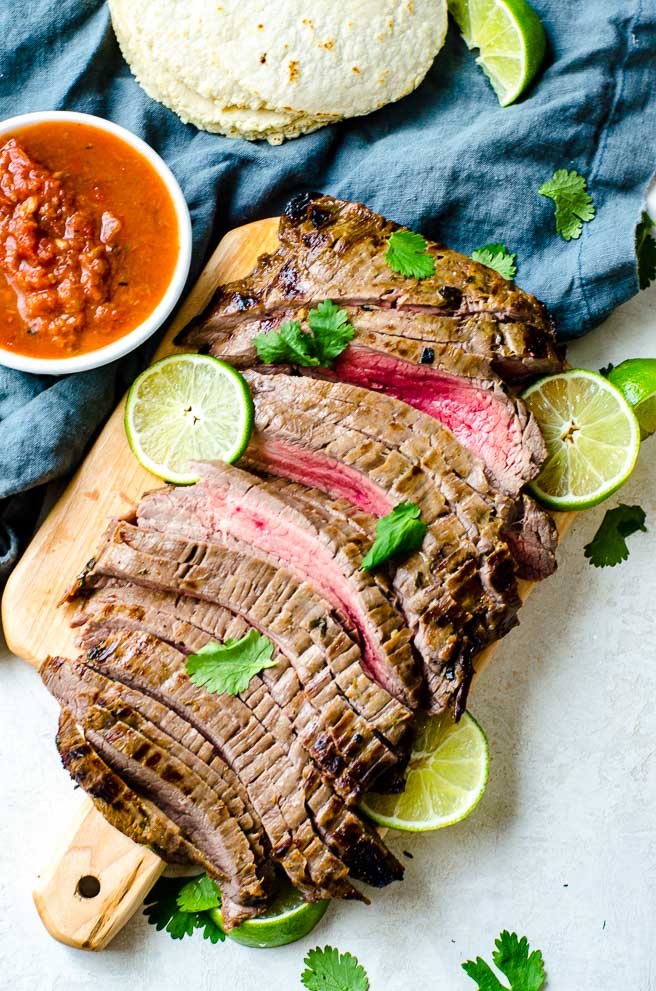 The recipe for carne asada meat is surprisingly simple, but the method for getting it perfectly tender and moist isn't as straightforward. Follow all of my professional cooking tips to get the very best carne asada you've ever had!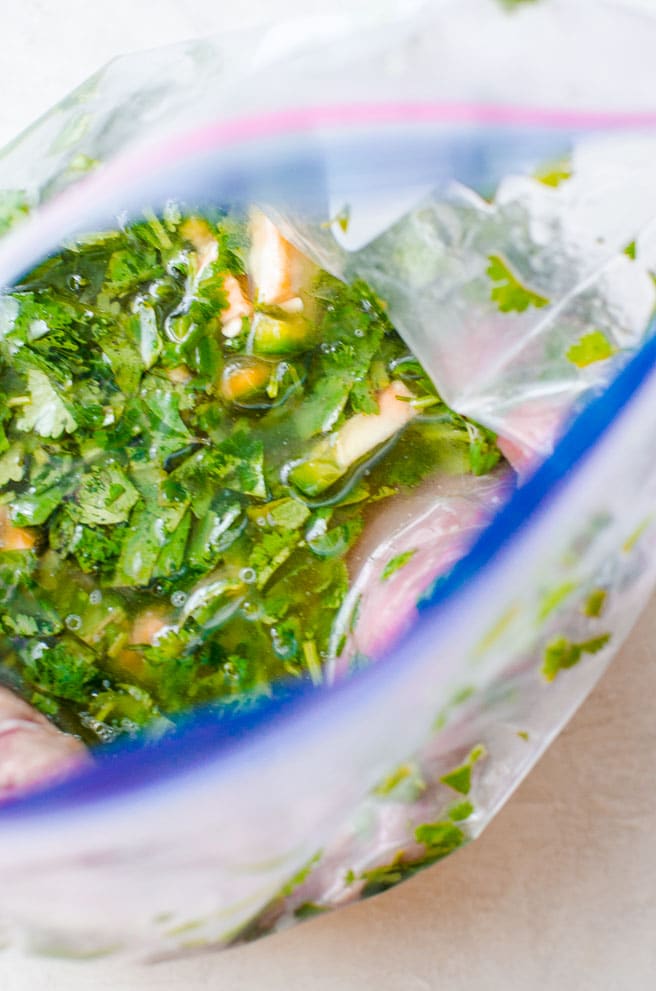 What Cut Of Meat Is Carne Asada?
The most important thing to know about carne asada is that it is steak. However, the next most important thing is that it doesn't need to be a super expensive and tender cut, just flavorful.
Since carne asada is marinated for a long period of time, the acid tenderizes the meat. This means the most fitting cuts will come from the flank or plate of the cow. It will be less fatty, but still pack a lot of flavor.
The cuts of meat that are best for carne asada meat are :
skirt steak
flank steak
tri tip roast (if the others aren't available)
When choosing between skirt steak or flank steak, keep in mind the thickness. Skirt steak is thinner, will absorb the marinade faster, and cook quicker than flank steak. The flank steak however will give you more of a "meaty" taste and give a better appearance. Flank steak does also tend to run on a higher price point, averaging $1 - $2 more per pound than skirt steak.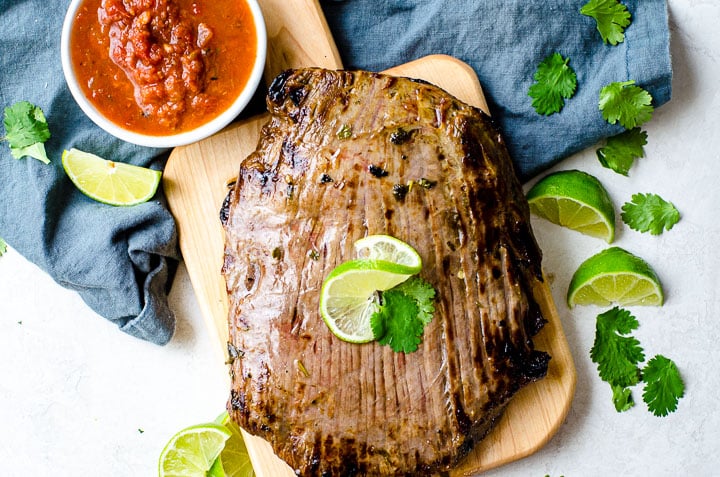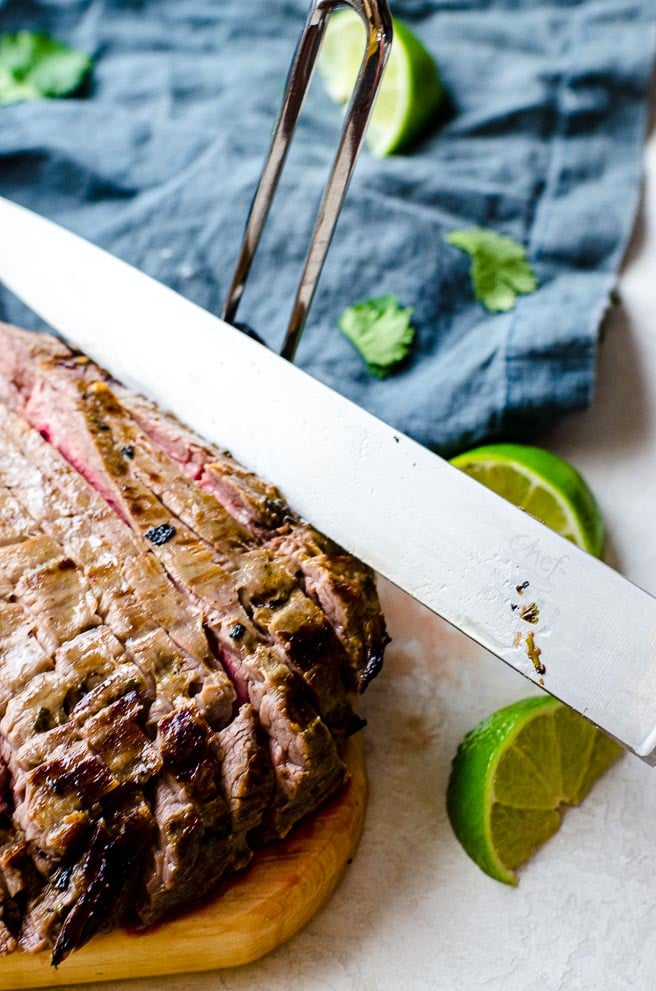 What Does Carne Asada Taste Like?
There should be a pattern of flavor from a perfectly cooked piece of carne asada. It should taste first and foremost of quality beef, followed by a light charbroiled taste, and ending with the marinade. This is why the cut of beef you choose is important.
To get the smoky, charred flavor, the carne asada is cooked on a grill or under the broiler. If you aren't comfortable with your broiler and want to still get that grilled meat flavor indoors, you can choose a grill pan as well.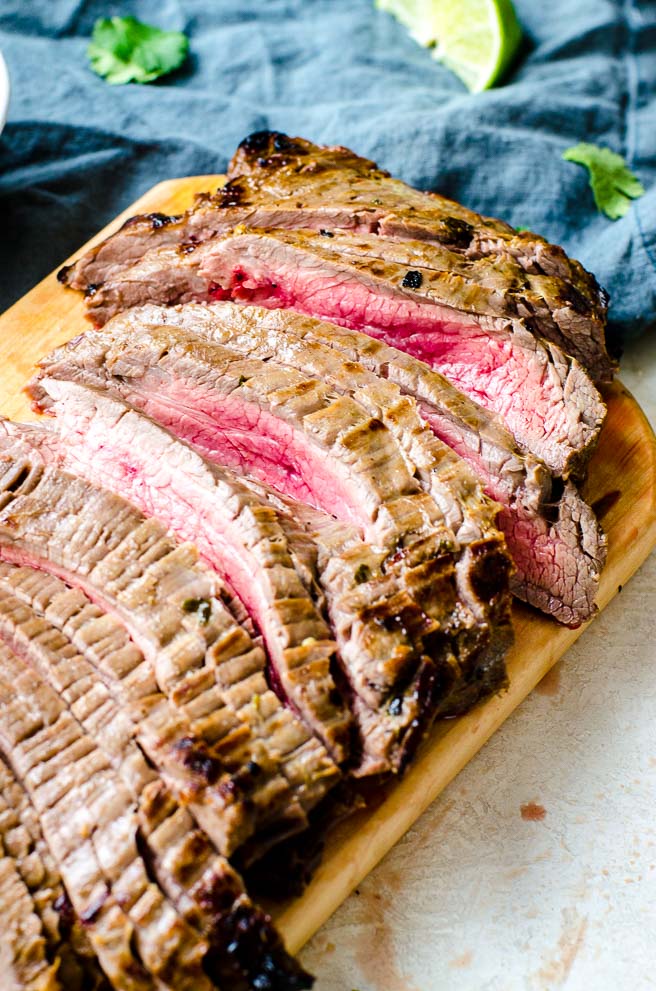 How To Make The Marinade
Carne asada changes from being "just steak" into the juicy and mouth-watering meat we love because of the marinade. The marinade is what make carne asada, carne asada. The marinade includes:
Lime juice
Orange juice
Crushed garlic
Cilantro
Jalapeno
Neutral oil (not olive oil because it changes the flavor.)
The marinade for this recipe is made of a lot of traditional Mexican flavors. The amount you use each of them in impacts how the marinade tenderizes the meat, so if you make an alterations, try to keep the acid and fat ratios the same.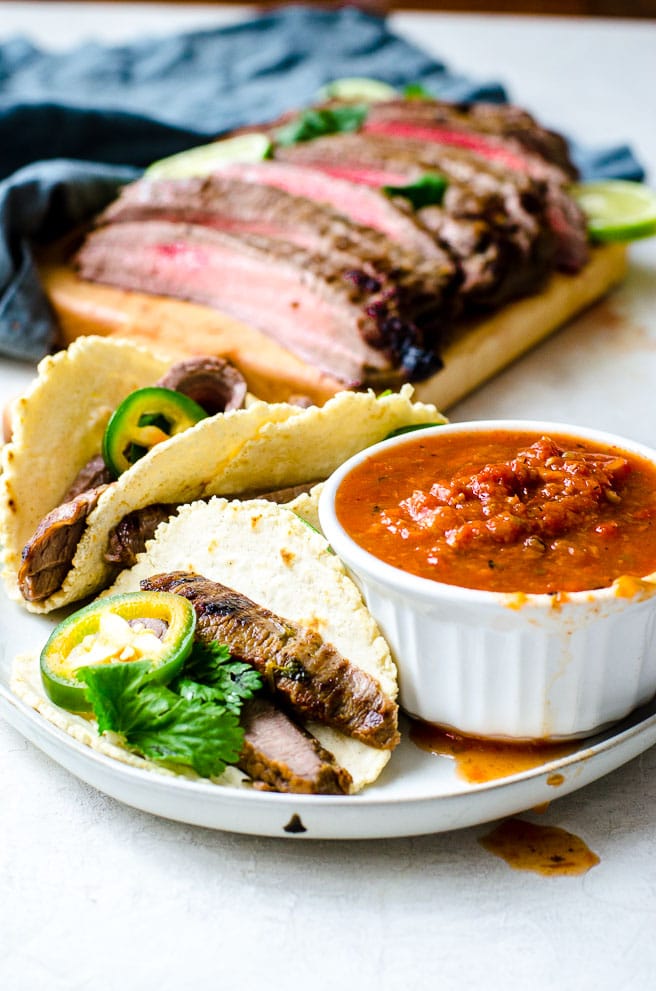 My Best Pro Recipe Tips For Moist and Tender Meat
Cook the steak to no more than medium rare. This is where the broiler is particularly helpful. It quickly cooks and chars the outside while keeping the inside moist and tender. For more information on how to use the broiler correctly, check out my in-depth post on proper broiling.
Over-marinating the steak can make it tough. It's easy to just throw steak in the marinade and call it a day, but you actually don't want to leave it in there too long or it will have the opposite effect. If the steak is fully submerged in the marinade, try not to exceed 24 hours for marinating.
Thinly slicing the steak the wrong way will make it chewy. Not to overcomplicate things here, but you want to make sure to cut the steak AGAINST the grain for tender carne asada. To do this, look for the direction the lines in the meat are naturally running. Cut on a diagonal line over these lines for success.
High heat gives you the best char. No matter whether you choose the broiler, a grill pan, or an outdoor grill, the higher the heat, the better. Aim for around 500°F. This is easy enough to gauge on an outdoor grill, and a broiler setting of "high" is around 550°. However, this can be a bit tricky with a grill pan, so make sure to open a window and/or use a hood vent to keep the house from getting smoky.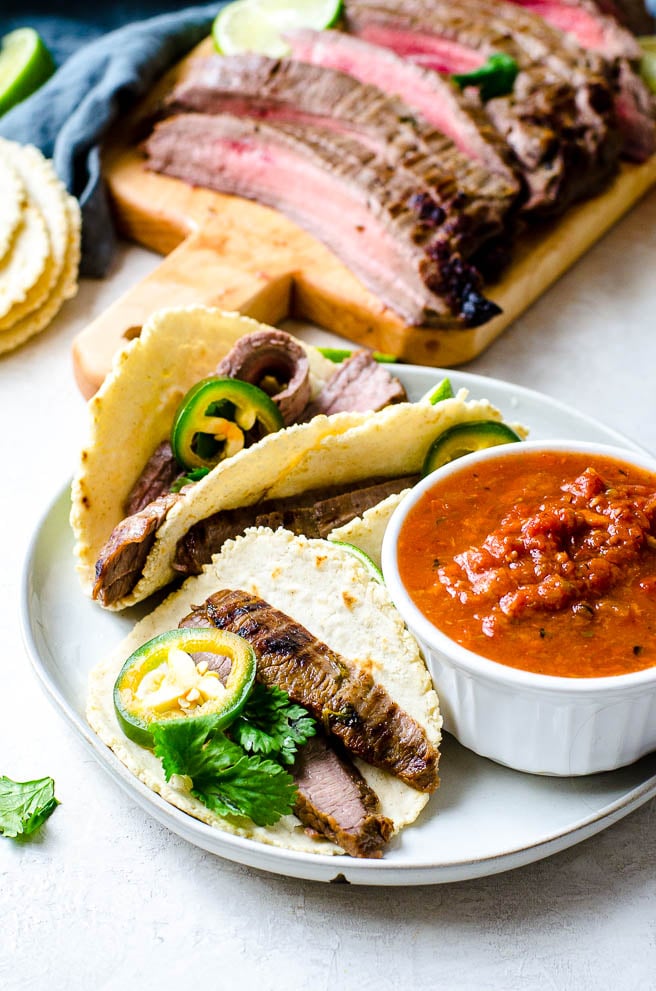 Exceptionally Flavorful Carne Asada Recipe
Keep in mind that the cooking times for this carne asada recipe are estimates. It will vary greatly depending on the thickness of your steak and the temperature around it. For the best success use a meat thermometer.
EXTREMELY IMPORTANT NOTE! Not all meat thermometers are designed to be exposed to high temperatures like what you want for this carne asada recipe. Double and triple check your meat thermometer's specifications to make sure yours won't melt or explode during cooking.
If you're worried about this, just take the temperature after removing it from the oven. If you follow this recipe, it should give you between about medium rare for flank steak and medium for skirt steak.
---
Want a printable grocery list for this carne asada recipe?
Everything is listed in standard grocery store amounts. If no size is specified, even the smallest package will provide more than enough.
Happy Cooking! 🙂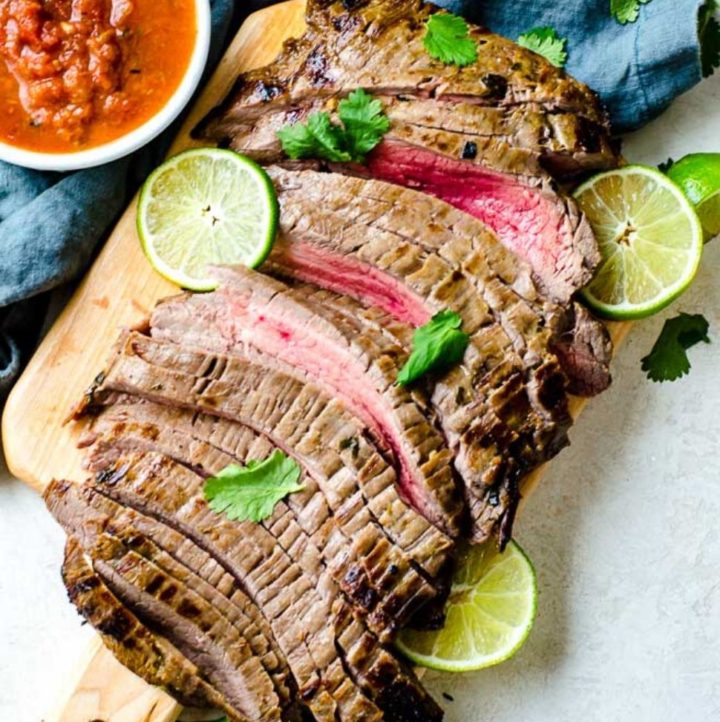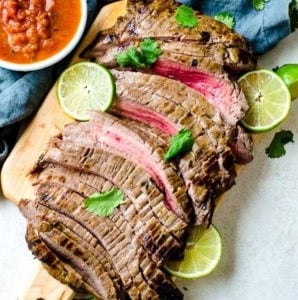 Exceptionally Flavorful Carne Asada Meat
Get a perfect char on your steak for a exceptionally flavorful carne asada meat. Use it in tacos, on fries, or in a burrito bowl!
Pin it for later?
Ingredients
2

pounds

skirt steak or flank steak

½

cup

orange juice

,

about 5 large oranges

3

limes

juiced

1

bunch

cilantro

,

roughly chopped

6

garlic cloves

,

smashed

2

jalapenos

,

chopped

½

cup

neutral oil

salt and pepper

,

to taste
Instructions
Combine all the ingredients (except salt and pepper) in a bowl or plastic bag that is large enough to submerge the steak.  Add in the steak and marinate for at least 12 hours.

Line a baking sheet with aluminum foil. Spread 1-2 tablespoons of the marinade on the foil. Remove the steak from the marinade, season it with salt and black pepper and place it on the baking sheet.

Heat the broiler to high, place the rack in the upper third of the oven, and cook for 5-6 minutes per side, or until the meat reaches an internal temperature of 130°F - 135°F.  Let it rest for at least 10 minutes before cutting.

Transfer the carne asada to a cutting board and thinly slice it against the grain.  Serve it on warm tortillas with pico de gallo, fresh cilantro and an extra squeeze of lime juice.  Or make carne asada fries.
Notes
Salt slows down a marinades effectiveness, so only use it to season the steak right before broiling.
To cut the carne asada meat thinly, hold your knife at a 45° angle.  This helps keep the knife from wiggling when you cut.
Since the marinade has oil in it, you can use it under the steak to prevent it sticking to the foil.
Nutrition
Serving:
1
serving
|
Calories:
284
kcal
|
Carbohydrates:
3
g
|
Protein:
25
g
|
Fat:
19
g
|
Saturated Fat:
13
g
|
Cholesterol:
68
mg
|
Sodium:
61
mg
|
Potassium:
441
mg
|
Fiber:
1
g
|
Sugar:
1
g
|
Vitamin A:
136
IU
|
Vitamin C:
13
mg
|
Calcium:
30
mg
|
Iron:
2
mg
Tell me how much you love this recipe
and show off how you made it!