The french martini is a classic recipe that uses vodka, Chambord, and pineapple juice. This refreshing cocktail is delightfully fancy as well as delicious.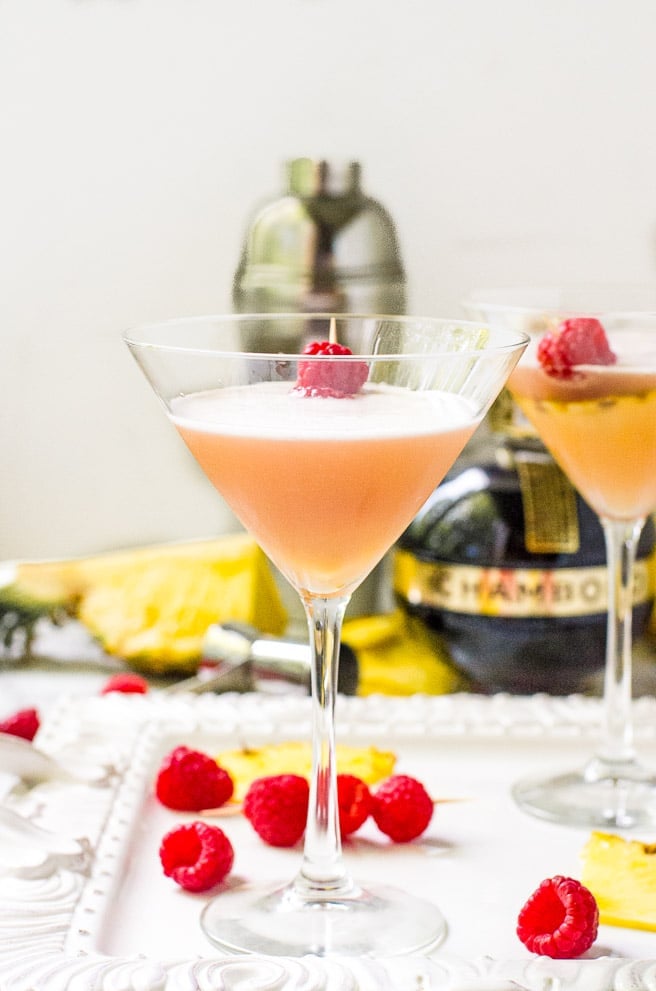 Martinis often evoke a classy feeling of sitting around a high end bar waiting for James Bond. This beautiful french martini recipe has the same sophisticated feeling with a sweeter flavor profile. Enjoy national martini day in style with this easy recipe that is bright and fresh for this summer holiday.
What Is A French Martini?
The french martini is a simple recipe, made with high quality vodka, chambord liqueur, and pineapple juice.
Unlike traditional martinis, this one is fruit focused, and there are many variations. For example, some use creme de cassis (black currant liqueur) for a less sweet drink. Meanwhile, others get seasonal, exchanging the pineapple juice for cranberry in fall.
This martini recipe is the classic version, and not to be confused with a french 75, which is a champagne martini.
Why Is It Called A French Martini?
The french martini got its name because it is supposed to made with Chambord, a raspberry liqueur from France. If you want to increase how French this recipe is, you can use French vodka as well. I recommend Ciroc, Jean Marc XO, or Vodka Mariette.
Choosing The Best Vodka
Even though this french martini recipe has flavorful fruit juice in it, it is still considered a strong drink. It's part of why it is in the martini family. As a result, you should choose a high end vodka as an accompaniment.
Since any nuanced flavors in the vodka will be smothered by the pineapple juice and chambord, the vodka you choose should be about mouth feel. I recommend going with a vodka that is silky in texture, like Absolut. It will make your french martini almost creamy.
This martini, while not intended to be sipped over a long period of time, shouldn't have a lot of heat. Some lower quality or clean finishing vodkas may give off a burn at the end that doesn't need to be there. Choose your favorite smooth vodka and you'll be drinking this cocktail in style.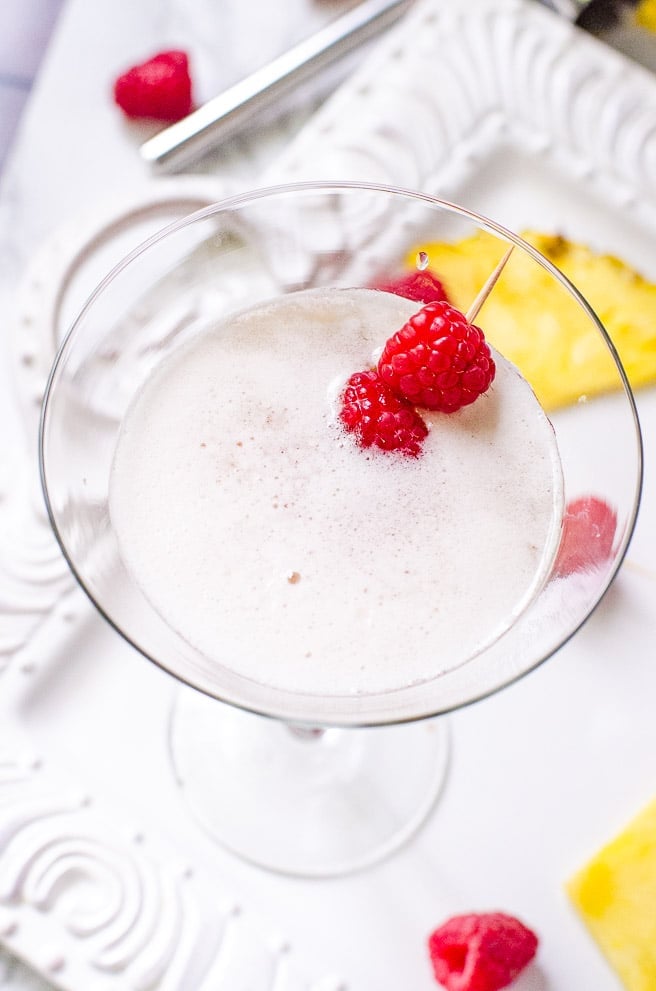 Is It Shaken Or Stirred?
There are so many arguments over whether a martini should be shaken or stirred. So, keep in mind that the way you should make your french martini recipe is however you like it. But with this specific recipe, I recommend shaking.
During the few seconds of vigorous shaking, the ice chills the drink more thoroughly. It also incorporates tiny air bubbles to get that beautiful foamy layer on the top.
If you were to stir the french martini instead, the ice wouldn't get as much opportunity to dilute the liquor. While that may be a selling point at times, it could end up making the drink too strong. This also means that is tastes too sweet because the fruit juice isn't balanced correctly.
For the best results, shake this french martini recipe for 5-6 seconds and serve in a chilled glass.
How To Decorate a French Martini
Adding garnish to a cocktail is all about personal flair.
There is no traditional garnish to the french martini, so you have a lot of creative freedom to make it how you like. For this one, I treated it like a standard martini, and used a cocktail pick served in the glass. There are so many other options though. You may like to decorate your french martini with:
A triangle of cut pineapple on the rim
Fresh raspberries and a twist of lemon on a cocktail pick
Lemon peel inside of the glass
A thin slice of orange floating in the drink
A large slice or wedge of caramelized pineapple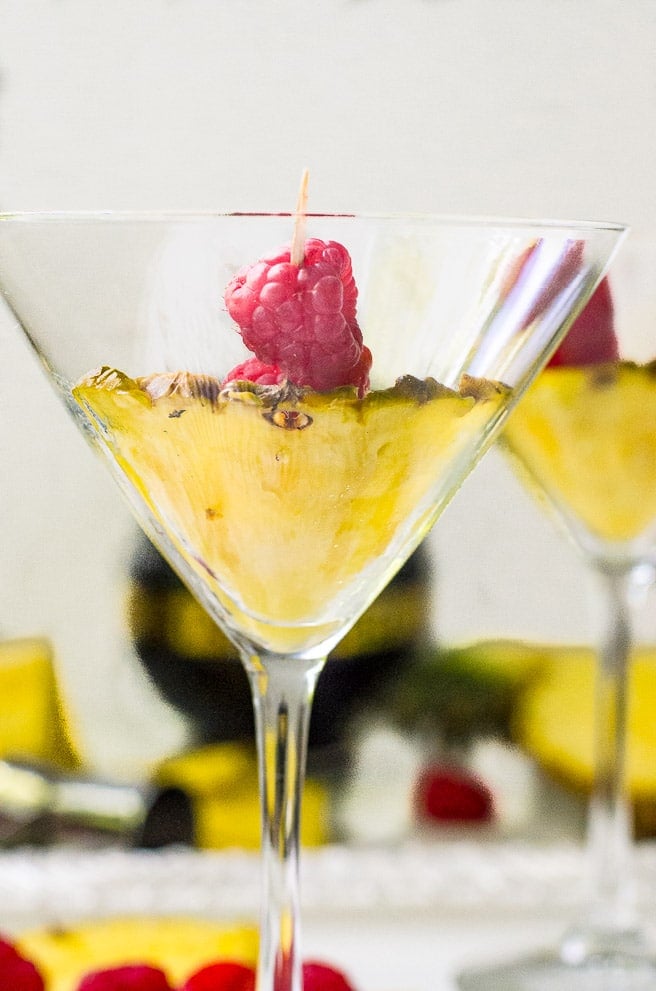 Can I Use Raspberry Vodka Instead of Chambord?
Recently, as flavored vodkas have become more common, they've become a substitute for liqueurs. If you have some raspberry vodka lying around, by all means use it. It will pump up the raspberry flavor without adding sweetness. However, I discourage using it as a substitute for Chambord.
Chambord (pronounced: sham-boar) is a black raspberry liqueur that has a complex set of flavors. While it focuses on the raspberries, it is also made with citrus peel, cognac, spices, blackberries and Madagascar vanilla. Raspberry vodka won't bring you that intricate of a flavor profile.
I know that Chambord is a pricey liqueur, and one that you may not use very often. But trust me, it's worth it for the quality of french martini you get. Just make sure you use it because Chambord also has an expiration date. Check your bottle for details.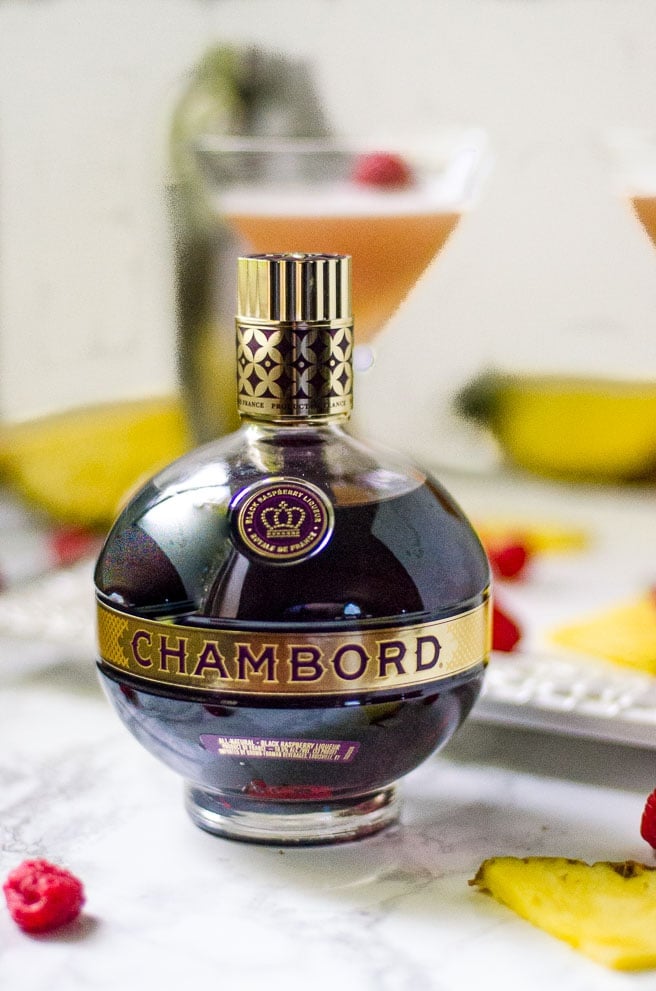 Professional Tips For Making It Even Better
The best tasting french martini is made with fresh pineapple juice. If you don't have a juicer lying around, don't fret. It is super simple to make pineapple juice at home with just a blender or food processor.
If you garnish your french martini with fresh raspberries, then make sure you know what to look for at the store. Nobody likes biting into a tart, under ripened raspberry.
During the summer, citrus is out of season. This means you may end up with lemons, limes, or oranges that aren't super juicy. It also means that they often have really thick piths that can taste bitter. If you choose to use it as a garnish, make sure you know how to find the juiciest citrus.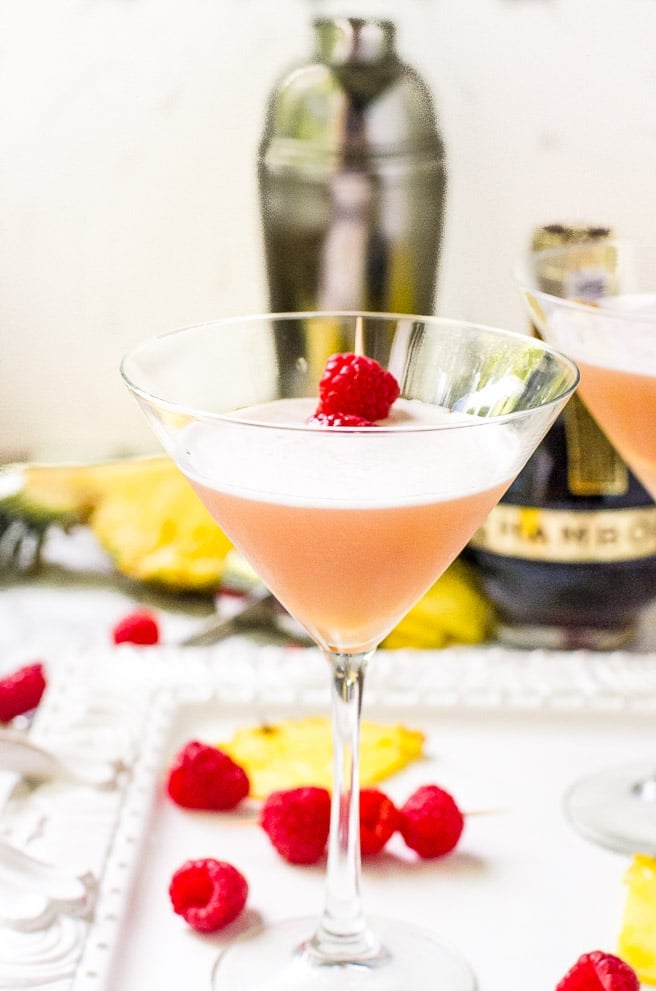 One Secret Ingredient of a Marvelous Cocktail
You'll notice that my recipe adds in an ingredient that is often missed in cocktail making: salt. For the same reason that most baked goods have a pinch added to them, salt helps the flavors of this french martini recipe pop. Don't worry though, it doesn't mean your drink is going to be salty.
You want to add just the tiniest of pinch of a small grain sea salt to round out the flavors of this french martini. It will dissolve during shaking and help your tongue sense and taste the sour and sweet flavors even more. If ever there was an ingredient to elevate your cocktail making, this is it.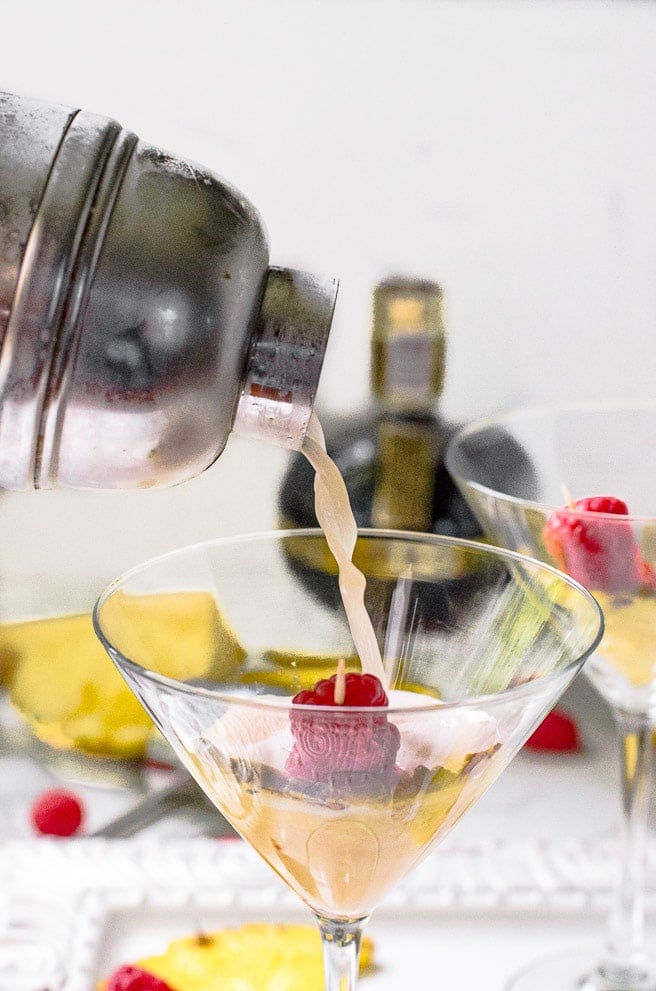 How To Make a Perfect French Martini
Believe it or not, the type of ice you use impacts your cocktail. When making this french martini recipe, I recommend filling the cocktail shaker around half full with ice cubes. However, if you don't have traditional cubes, you will want to go with less. Too much ice dilutes the cocktail too much.
If your ice is a smaller nugget or gourmet shape, or is long with tapered edges, aim for around ⅓ full. I do urge you to avoid any crushed ice because it almost always dissolves during shaking and waters down the drink.
Use this printable grocery list to make grocery shopping for this French Martini recipe even easier! Everything is listed in standard grocery store amounts. If no size is specified, even the smallest package will provide more than enough.
Thanks so much for stopping by!
Happy Cooking! 🙂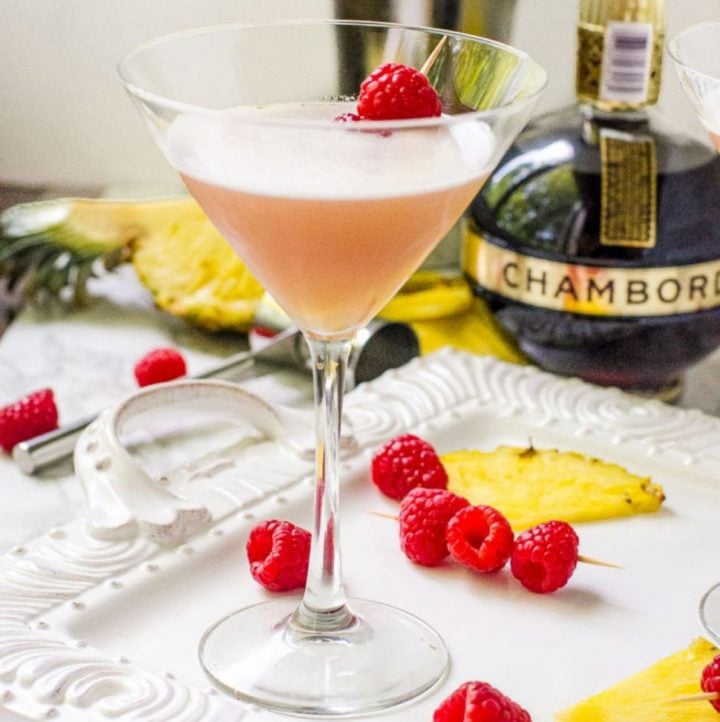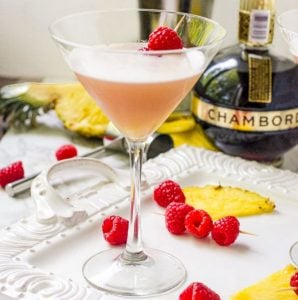 The Perfect French Martini
This french martini recipe is bright, refreshing, and easy to sip despite being a strong drink.
Pin it for later?
Ingredients
4

ounces

premium vodka

3

ounces

fresh pineapple juice

1

ounce

Chambord liqueur

small pinch of fine grain sea salt

ice
Instructions
Fill a cocktail shaker with ice until ⅓ - ½ full.

Pour in the vodka, fresh pineapple juice, Chambord to the cocktail shaker, sprinkle in the salt and shake vigorously for about five seconds.

Pour the french martini into a chilled martini glass and serve with garnish.
Notes
For the best success, make sure you use a FINE GRAIN sea salt.  If your grain is too large, it won't dissolve into the martini quickly enough.
Nutrition
Serving:
1
cocktail
|
Calories:
197
kcal
|
Carbohydrates:
10
g
|
Protein:
1
g
|
Fat:
1
g
|
Saturated Fat:
1
g
|
Sodium:
3
mg
|
Potassium:
55
mg
|
Sugar:
9
g
|
Vitamin C:
4.3
mg
|
Calcium:
6
mg
|
Iron:
0.1
mg
Tell me how much you love this recipe
and show off how you made it!