Bring some color to the table! Introduce a new vegetable and try this recipe for roasted cinnamon beets! Only 3 ingredients and a perfect autumnal side!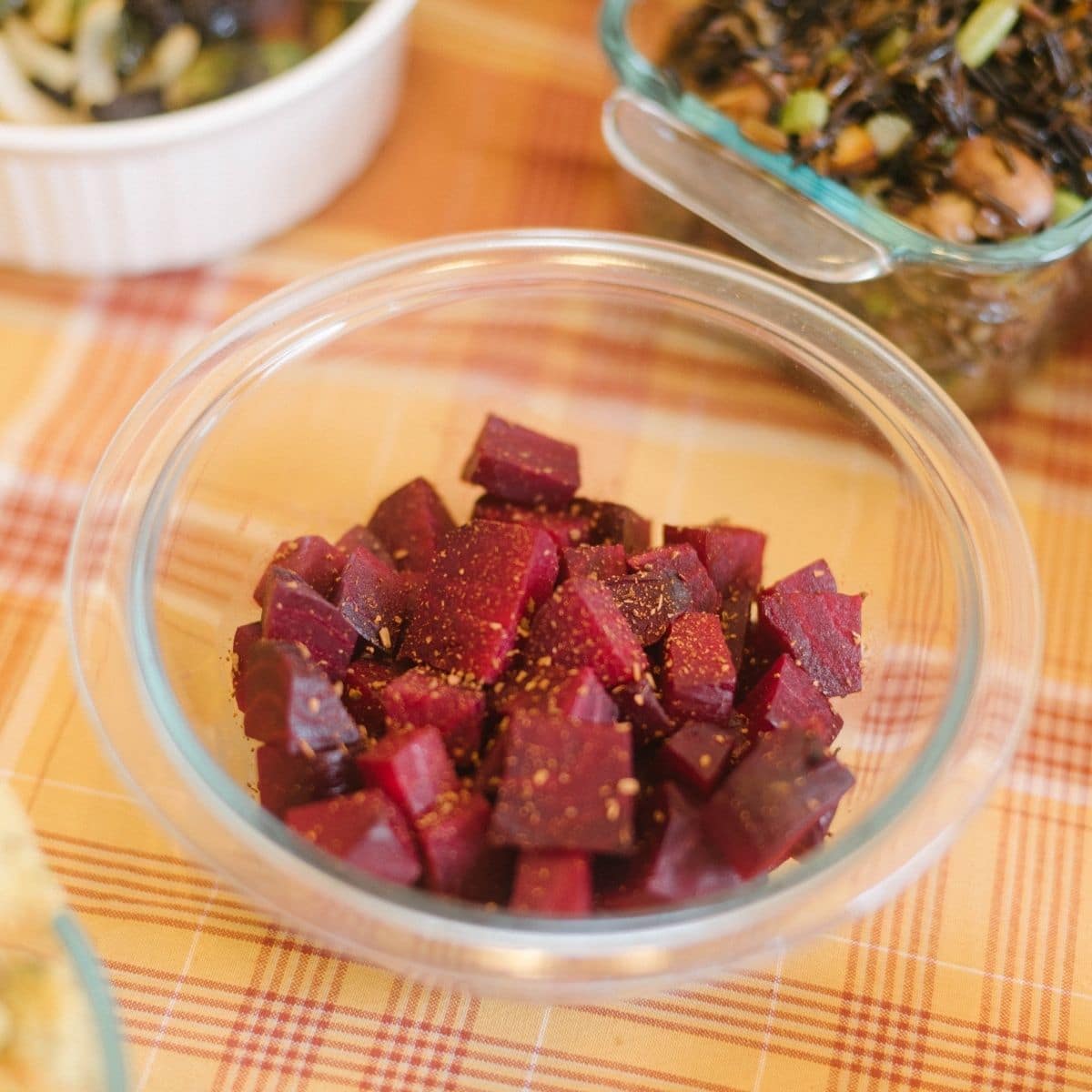 As if I hadn't already made you uncomfortable enough with the Orange & Tarragon Green Beans recipe earlier this week, now I'm giving you beets.
I know beets aren't the sexiest vegetable out there. Nobody I know would describe them as luscious, glamorous, or breath-taking - but you could describe them as dirty - because to a lot of people beets taste like dirt (or in culinary term - it's "earthy").
To help counteract that problem, I am giving you this roasted cinnamon beets recipe. The cinnamon helps balance that "dirt" flavor and this is such an easy to make recipe that takes only 45 minutes and just 3 ingredients!
Skills & Techniques
This roasted cinnamon beets recipe is so simple, that the only thing to brush up on is what is the difference between baking and roasting? If you've taken the time to read that post (and continue to read this one) you'll discover how I've lead you on with the title of this recipe - do you know what it is?
Make-Ahead Thanksgiving
If you want to make these roasted cinnamon beets for Thanksgiving this year, you can certainly make it ahead! This one is hard to prepare ahead of the day, so it's either one extreme or the other for these roasted cinnamon beets.
Make Ahead. If you want to make Thanksgiving slightly easier on yourself, make these earlier in the week by roasting, peeling, and dicing your beets. Toss them in 1 teaspoon of olive oil and put them into an oven safe dish. Cover them with a lid and refrigerate until you are ready to use them. Thirty minutes before your meal, pull them out of the fridge and reheat them at 375°F or until they are heated all the way through. Toss them with the freshly ground cinnamon and serve.
If you're looking for more information about how to make Thanksgiving easier on yourself this year, keep reading!
How To Pull Off A Flawless Thanksgiving Free Email Course
If you're looking to learn new ways to make prepping and cooking your Thanksgiving feast simpler this year, then look no further. For 5 days, you'll receive one information-packed email in your inbox, plus we'll be doing a live Q&A at the end of the week, Periscopes on different tips, tricks, and hacks, and there will even be a giveaway (or two) where you can win some goodies to help your Thanksgiving be even more excellent! Don't miss out, this course starts next Monday.
Roasted Cinnamon Beets
The great thing about cooking beets like this is that it is wildly simple and quick. Make sure to give your beets enough time to completely cool down before you begin to handle them for peeling. The more cooked through that the beets are the easier they become to peel. If you find that you are having a hard time getting it started, cut off the root end and try from there. If it still is pretty hard to rub away the peel, the beets may need to cook longer.
Want to make these beets even more beautiful? Try roasting golden beets as well for a beautiful golden harvest hue that is sure to make everyone ooh and ahh - although I do still recommend keeping the regular purple beets because they bring a lot of color to the Thanksgiving spread. Whichever ones you choose, make sure to wear gloves when you cook them so your hands don't get stained while you're peeling them!
---
Get your free printable grocery list for this Roasted Cinnamon Beets recipe HERE.
---
This printable grocery list has everything laid out in easy-to-find grocery store amounts. If no amount is specifically listed, that means that you can buy the smallest package available for another day.
Happy Cooking! 🙂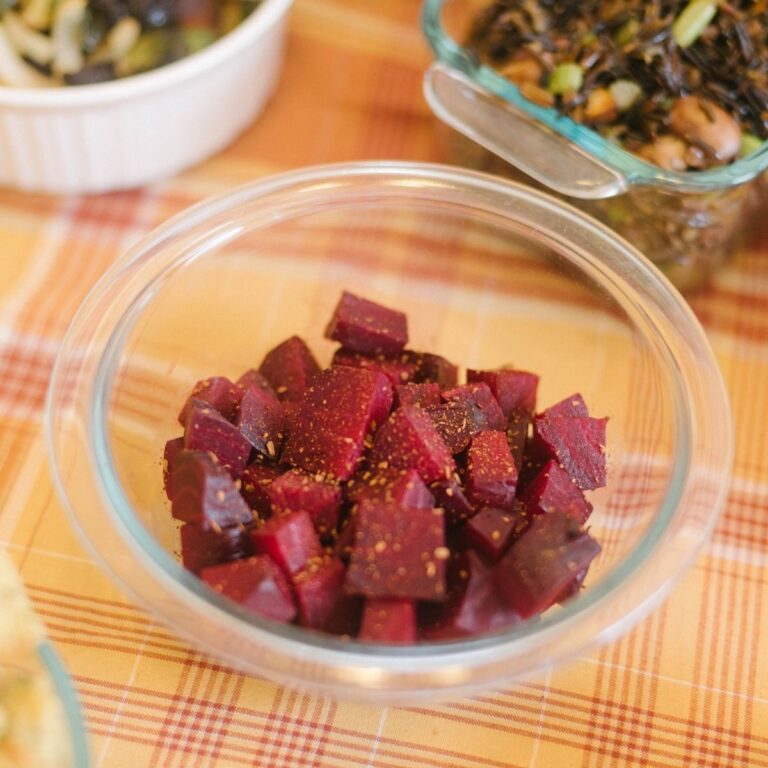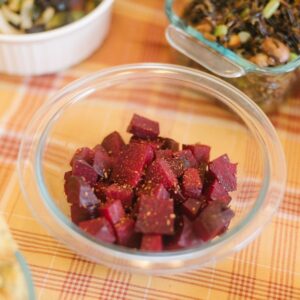 Roasted Cinnamon Beets
If you are new to eating/cooking beets then this recipe for cinnamon beets is for you. It is easy to make, has only 3 ingredients, and the cinnamon helps to mask the naturally earthy flavor of the beets.
Pin it for later?
Ingredients
1

tablespoon

olive oil

,

+ more as needed

1

lb

beets

1

cup

water

1

cinnamon stick OR

1

tablespoon

ground cinnamon

salt & pepper

,

, to taste
Instructions
Preheat
Preheat the oven to 450°F
Roast
Rub the beets with olive oil until they are lightly coated. Place them in a baking dish only large enough for each of the beets to sit on the bottom and pour in the water so at least ¼" of water is in the bottom of the roasting dish. Cover the dish with aluminum foil or an oven-safe lid.

Bake for

45 Minutes

or until the beets can be easily pierced with a toothpick. Cook time will vary based on size.
Peel
Remove the beets from the oven and let them cool for

15 Minutes

, or until they are comfortable enough to hold in your hand.

Use your hands to rub away the peel of the beet. You may need to use a paring knife for some tough spots. If it does not easily peel away, it may need to bake longer.

Once the beets are peeled, cut them into 1 inch pieces.
Saute
In a sauté pan over medium heat, heat the tablespoon of olive oil.

Sauté the beets for

3 Minutes

, or until they are hot throughout. This process shouldn't take very long because they should mostly still be hot inside from the oven.

Using a fine grater (a zester is perfect), or a mortar and pestle, grind or grate the cinnamon stick. Sprinkle the cinnamon on the beets until there is a light coating and serve.
Notes
Freshly ground cinnamon will be much stronger than the store-bought alternative. You do not have to use the entire ground cinnamon stick, add only as much as you would like.
Nutrition
Serving:
1
g
|
Calories:
56
kcal
|
Fat:
2.5
g
Tell me how much you love this recipe
and show off how you made it!