Oven roasted chestnuts are easy to make and give you a buttery and slightly sweet snack that is good on its own or in recipes. Learn how to roast chestnuts in the oven for a holiday season treat.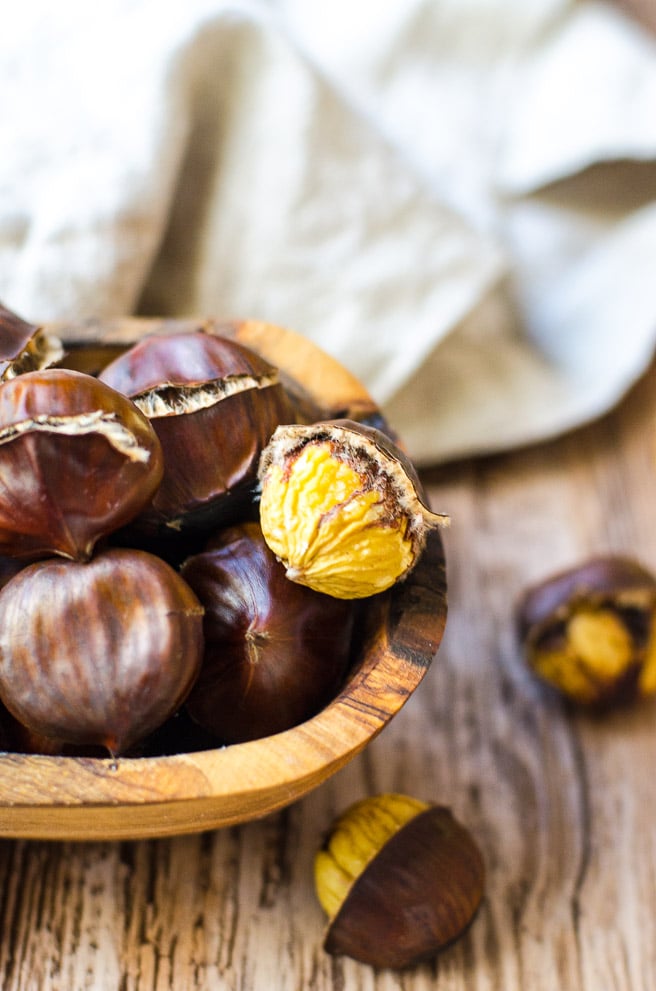 Chestnuts are a quintessential flavor of the holiday season. They taste buttery and slightly sweet and are a great snack on their own. They also can be used in a myriad of recipes ranging from stuffings to desserts.
This method of roasting chestnuts in the oven is easy to do and produces a soft and moist nut that is ready to eat!

Do Chestnuts Go Bad?
Unlike many types of produce at the store, it can be difficult to tell if chestnuts are fresh. Since they are a starchy nut, instead of an oily one, they are prone to molding. However, you can't usually see the mold on the hard outer shell.
When you score the nut you may get lucky enough to spot the bluish green mold, but you probably won't until you are peeling them. This is more likely to happen with nuts that are old, or have traveled a long way to get to the store. The longer they've been off the tree, the greater chance of going bad.
Store your chestnuts in the refrigerator to keep them fresh. Keep an eye out for any that come with cracks in the shell, as these are likely to be rotten.

What's The Best Way To Roast Chestnuts?
It really depends on how quickly you want the chestnuts done. The two primary options are to roast them in the oven or over an open fire. Neither is better than the other, it's more about what's available to you.

I've you've ever had warm chestnuts from a street vendor, you know that it has a slightly sweet and smoky flavor to it. It even smells just a little spicy, like nutmeg. You can get this same result at home by roasting them over a fire with a special chestnut pan. It only takes about 5-6 minutes to cook
If you don't have a chestnut pan, the job can be done just as easily in the oven on baking pan. They just take a little bit longer and don't get the same smoky, slightly sweet flavor.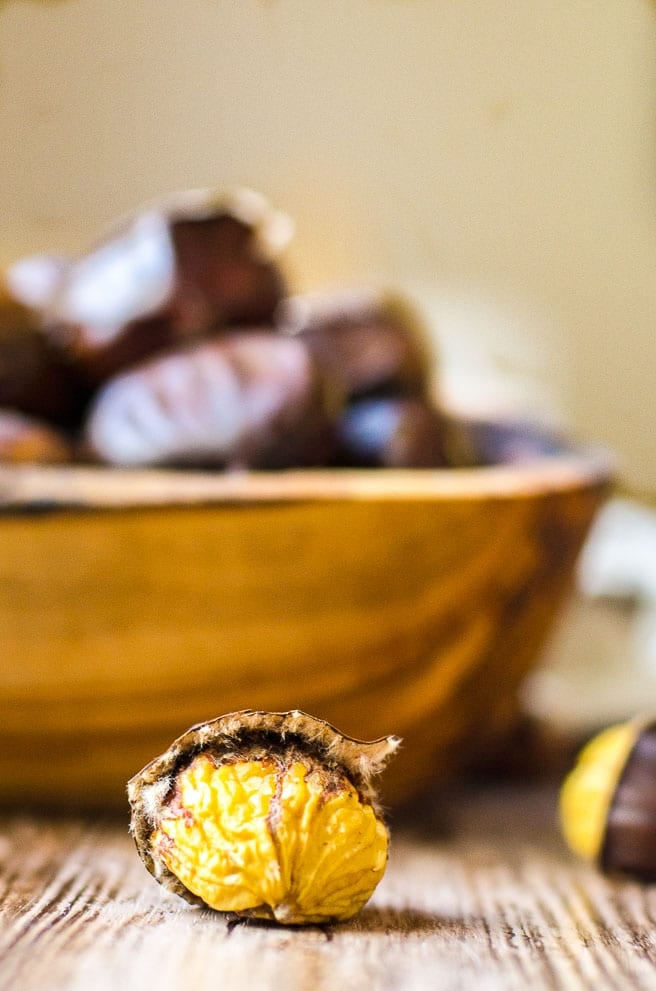 How To Score A Chestnut
One of the hardest parts of roasting chestnuts is scoring the outer shell. A small investment in a chestnut knife will give you better success because it is curved to adjust to the shape of the nut. This allows you to get deeper into the shell as well as wrap around the side of each chestnut so it is easier to peel. Plus as a bonus, it helps pick out any pieces of the inner shell that may have grown into the ridges of the nut.
Please, please, please, whatever you do, don't use a serrated knife. They are intended for sawing into foods, and chestnuts need to be scored with a smooth, deep movement. Sawing with a serrated knife just makes it more likely that the shelled chestnuts will slip out from under you. This also means greater risk of injury to you.
If you don't have a chestnut knife (a tourné knife works as well), use a super sharp paring knife to carefully cut into the nut on a cutting board.

Tips for Roasting Chestnuts
The shell must be cut before roasting. If the shell isn't cut, it will cause the chestnuts to explode from the trapped steam. Plus, this makes them easier to peel.
Steam makes peeling easier. Soaking the scored chestnuts helps them absorb water between the shell and the nut. This creates extra steam between the nut and outer shell and separates the two for easier peeling. Bonus, it also helps keep the nuts moist.
There are two layers of shell. There is the hard outer shell, as well as a fuzzy, thin inner shell. This inner shell can grow into the ridges of the chestnut and be difficult to remove, especially if the chestnut is dry or old. Use the tip of a sharp knife to help remove difficult spot.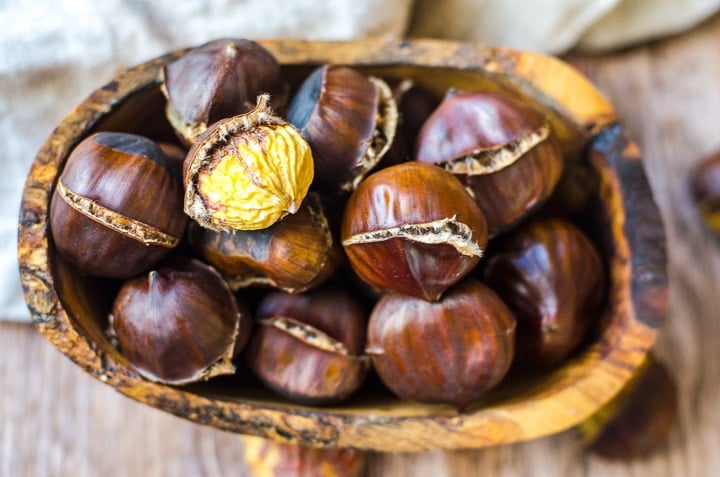 How To Roast Chestnuts In The Oven
If you want to branch beyond using these oven roasted chestnuts as a snack, here are some great recipes to try!
Sheet Pan Chestnut Pilaf Stuffed Chicken Breasts
Chestnut and Herb Stuffed Roasted Turkey
Happy Cooking! 🙂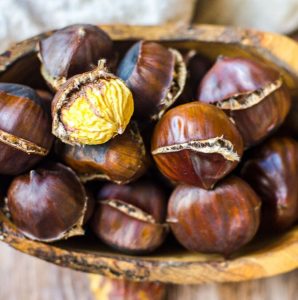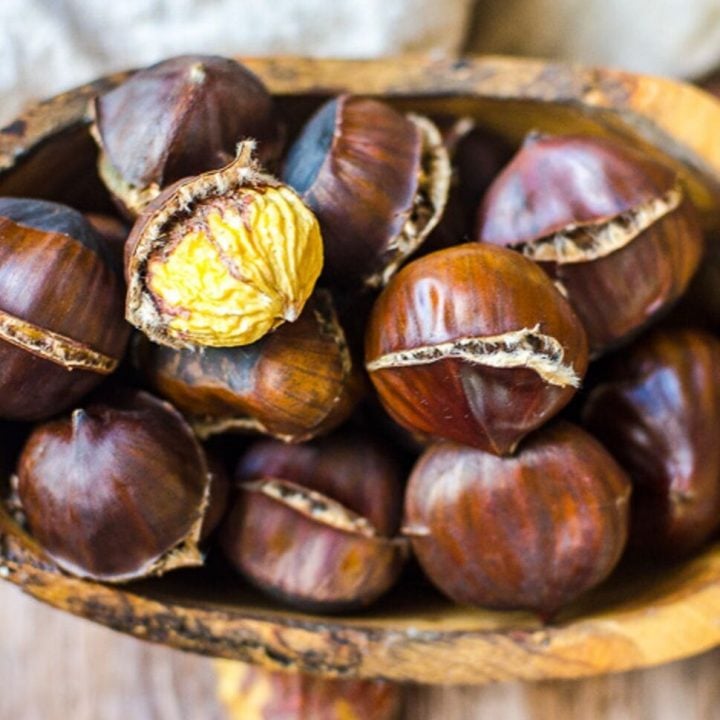 Oven Roasted Chestnuts
The work is worth the reward with these oven roasted chestnuts. They are slightly sweet, moist, and perfect on their own or in another recipe.
Pin it for later?
Ingredients
1

pound

chestnuts

water

,

as needed
Instructions
Preheat the oven to 400°F.

Use a sharp knife to carefully cut an "X" or a line on the chestnut's flat side.  Be careful, because they like to slide out from under you while you're cutting. Use safety gloves if needed.

Soak the scored chestnuts in a bowl of water.  You can use boiling water if you like, but the hottest water your tap offers works well enough.  Let them soak for about

30 minutes

, or until air bubbles stop escaping from the score marks.

Transfer the wet chestnuts to a rimmed baking sheet or roasting pan in a single layer. Roast for

30 minutes

or until the corners of the scored "X" have curled up.

Remove the chestnuts from the oven and work quickly to peel away the skins.  There are two different layers to deal with, the hard one, and a softer fuzzy one. Serve or use in a recipe.
Notes
If the chestnuts become too cool for peeling, place them back in the oven for around 3 minutes then try again.
Nutrition
Serving:
1
serving
|
Calories:
222
kcal
|
Carbohydrates:
50
g
|
Protein:
2
g
|
Fat:
1
g
|
Saturated Fat:
1
g
|
Sodium:
2
mg
|
Potassium:
549
mg
|
Vitamin A:
29
IU
|
Vitamin C:
46
mg
|
Calcium:
22
mg
|
Iron:
1
mg
Tell me how much you love this recipe
and show off how you made it!