This sous vide salmon recipe is sponsored by Fissler. All opinions are my own, but this recipe is delicious, and I think you'll love it as much as I do. Thank you for supporting the brands that keep Food Above Gold working.
No more fussing about overcooking your salmon with the sous vide function on the Fissler Souspreme Multi Pot. Use it for a hands-off, perfectly moist and flaky salmon that everyone loves.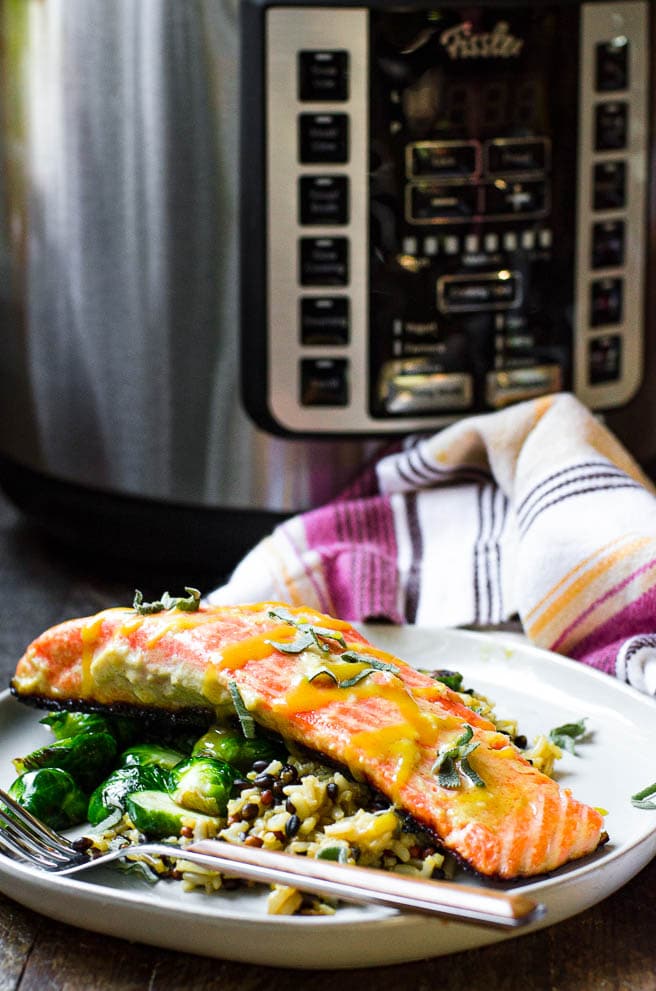 As Thanksgiving approaches, I begin thinking about how to use my limited kitchen space to make everything I need. Often, this results in choosing an alternative meat for my feast, like this sous vide salmon recipe. It has all the same comforting autumnal flavors, but with significantly less hassle thanks to the Fissler Souspreme Multi Pot.
What Is Sous Vide Cooking?
Sous vide cooking uses a vacuum sealed bag submerged in a constant temperature water bath to heat up the food. The temperature is controlled using a special tool; which in this case is the integrated sous vide function on the Fissler Souspreme Multi Pot.
All you have to do is select the temperature and time you want to cook at, lock on the lid and allow the water to heat up. Once it gets to your desired temperature the Souspreme Multi Pot beeps at you to let you know to submerge the salmon fillets. After the lid is locked back on, all you have to do is wait.
The sous vide method is a great way to control the cooking of proteins (although it isn't restricted to those) because you don't have to worry about overcooking them as much. This makes it especially great for using at dinner parties, Thanksgiving, or other times where you may need to free up space in the kitchen, or just reduce your stress.
As an added bonus, even with the heating up time for the water, this sous vide salmon recipe is done in an hour. Not a bad way to make dinner, I say.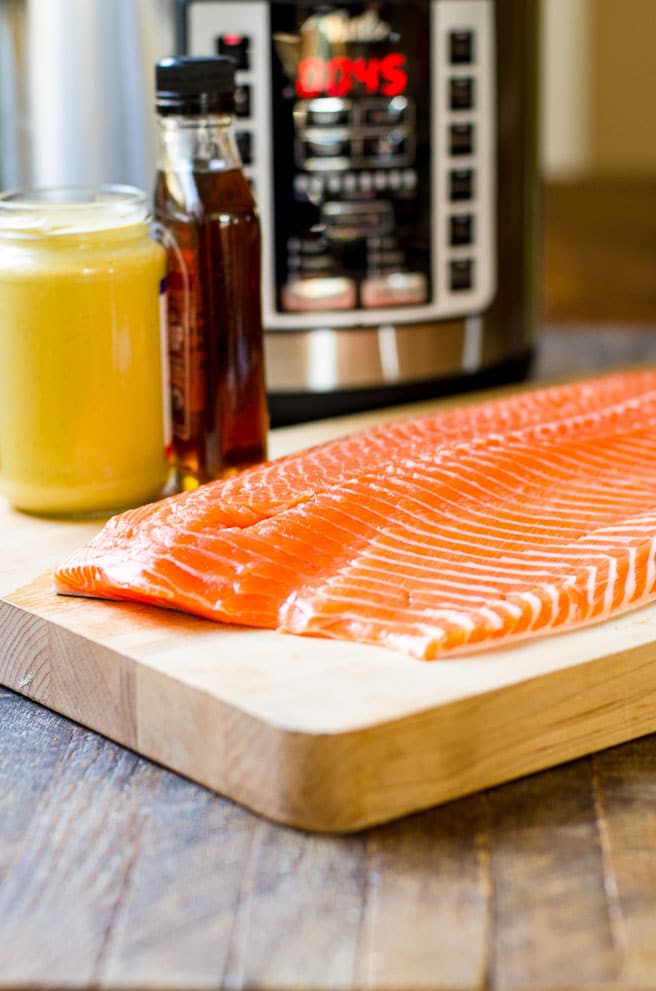 Why Should I Cook Salmon Using The Sous Vide Method?
While this seems like a strange cooking method for preparing salmon, it provides a lot of control over the speed the fillets are cooked, giving you a perfectly moist and tender fish.
Salmon is notorious for how finicky it is to cook just right. The sweet spot for getting it cooked through enough for everyone, but not mushy or rubbery can be difficult. When you take into consideration that salmon tends to be a pricier protein source, you definitely don't want to botch it.
Enter the sous vide function of the Souspreme Multi Pot. This precision cooker gives you control you wouldn't otherwise have, allowing you to focus on things besides the fish.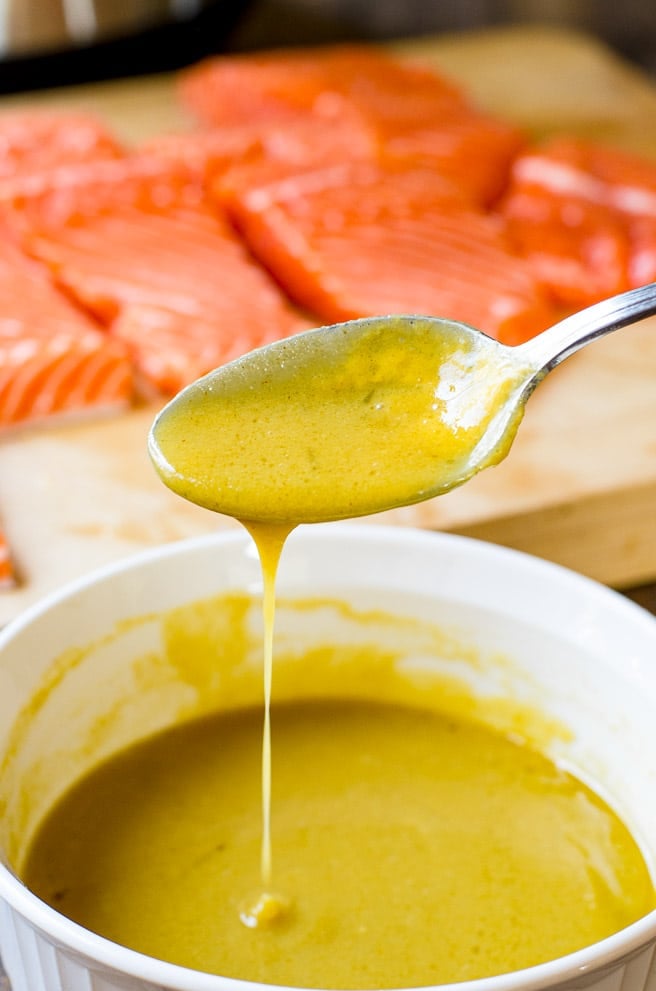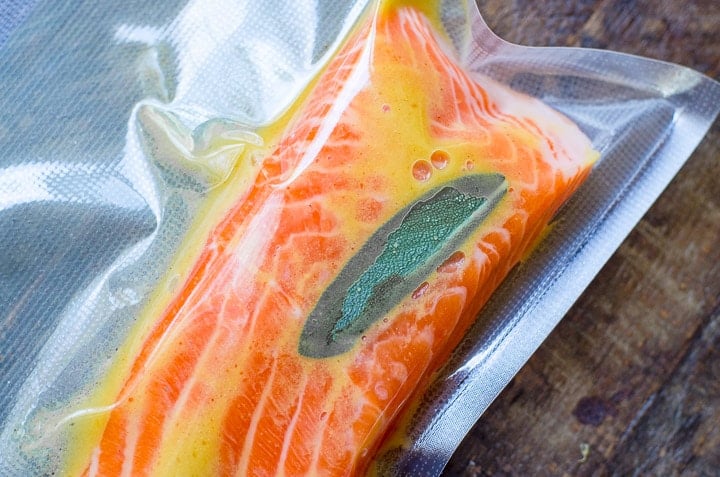 Why Is The Souspreme Multi Pot Different?
Fissler is a brand I have loved for over a decade, and trust completely. In fact, it is the ONLY brand of pressure cooker I ever buy or recommend, so when the Souspreme Multi Pot came out, I knew it was the right fit for me. I know that with Fissler's attention to detail that the pressure seal system and instant pressure release is made with the utmost safety and usability in mind. And there are multiple safety locks built in.
I also love that the Souspreme Multi Pot is designed to be both a useful kitchen gadget and a foodie appliance, letting you experiment with any one of 18 different one-touch programs ranging from pressure cooking, to yogurt, to sous vide.
The sous vide function is what really drew my eye. I'm not a big fan of single purpose kitchen items, so having the integrated sous vide function is a huge draw. Plus, the easy to clean dishwasher safe stainless steel inner pot makes cleanup a breeze.
Christmas is coming up and this makes an amazing gift. Pick one up for yourself by going to Fissler's website and start making delicious sous vide recipes like this maple dijon salmon.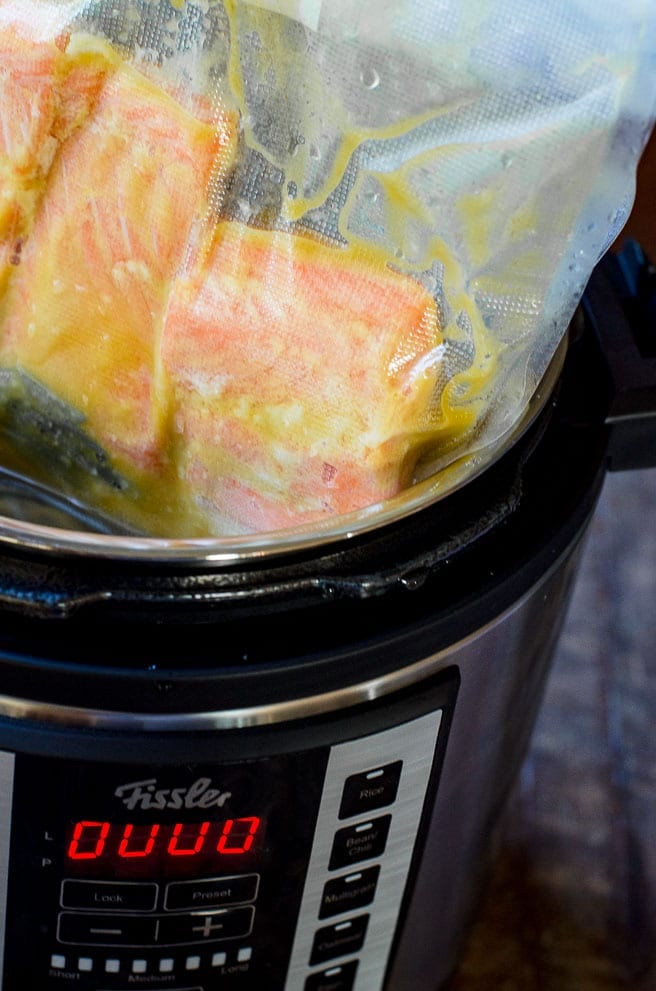 How Long Does the Salmon Cook?
To hit the generally appreciated consistency of salmon, where it isn't too raw but still tender and flaky, it takes about 30-45 minutes depending on what variety of salmon you choose.
For a thinner cut, like sockeye, which is consistent in thickness from side to side, it should only take 30 minutes to achieve a nice medium rare - medium.
For a thicker cut, like steelhead, which gets up to two-plus inches deep in the thickest part, it could take up to an hour.
This sous vide salmon recipe assumes you'll be using a slightly thicker cut and meets in the middle at 45 minutes.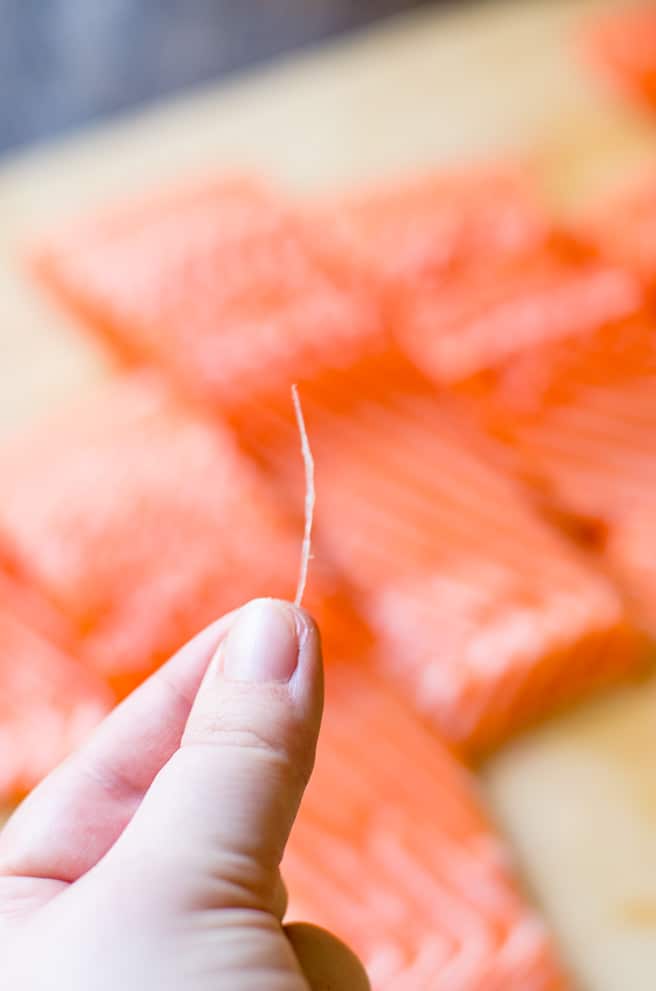 Pro Tips For Making Sous Vide Salmon
Double check for pin bones. Pin bones are small bones that run close to the center of the salmon fillets. Usually, the butcher removes them for you, but almost always one or two gets missed. Run your fingers along this area to check for any small bones that were missed (see picture above). Don't forget to get my chef hack for finding hidden pin bones.
Save some of the maple dijon sauce. When you sous vide, you really only need two or three tablespoons of olive oil or sauce in the bag. As a result, this recipe makes a little extra for drizzling over the salmon before serving.
Get the most flavor out of the fresh sage by clapping it. Before dropping the sage into the bag, clap the leaves in your palm a few times to help release the flavor. This allows it to permeate the salmon better, providing a more well rounded taste.
DO NOT use sous vide bags, only vacuum sealed. There are some sous vide bags that don't require a vacuum sealer, just a pump. However, they can let water in through a small hole in the top if submerged completely. Since the Souspreme Multi Pot needs the lid on for the integrated sous vide function to work, only the vacuum sealed bags will work.
Pan sear the salmon for crispy skin. If you want crispy skin, heat two tablespoons of olive oil in a pan and gently transfer the salmon, skinned side down. Once the skin is cooked to your liking, remove the salmon with a fish spatula, transfer it to a plate, drizzle with extra sauce and serve.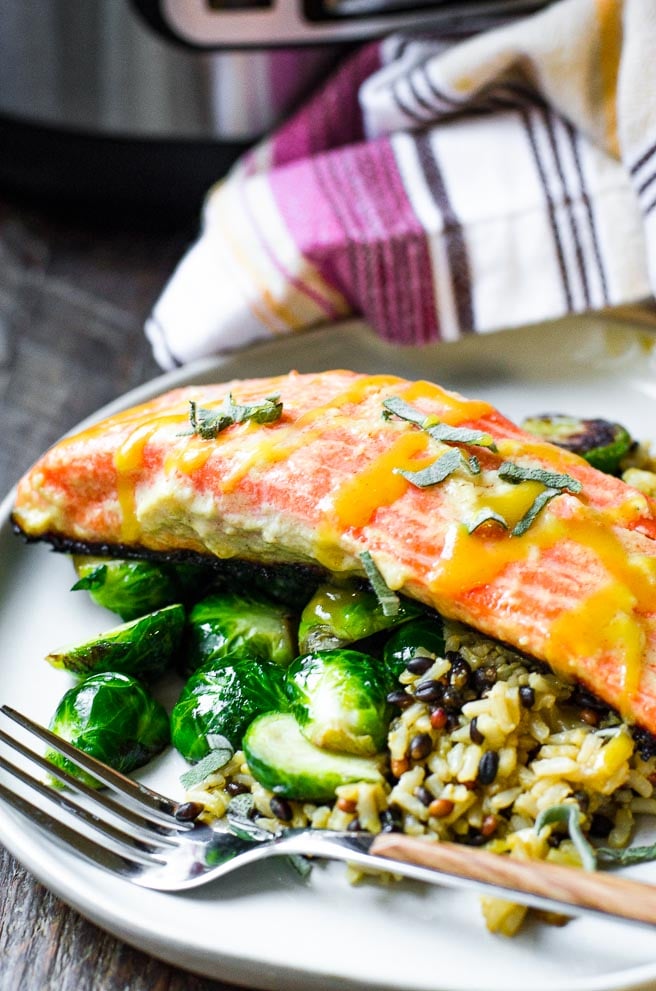 Maple Dijon Sous Vide Salmon Recipe
If you haven't ventured into sous vide cooking before, you're going to love it. The hands-off method makes it great way to make dinner. Not to mention, it's just plain fun. If you would like to make this recipe a bit more festive for a Thanksgiving dinner alternative, try substituting half of the maple syrup with a strong cranberry juice.

---
Simplify shopping with this printable grocery list for sous vide salmon. Everything is listed in standard grocery store amounts. If no size is specified, even the smallest package will provide more than enough.
Thanks so much for stopping by!
Happy Cooking! 🙂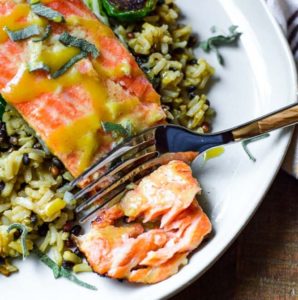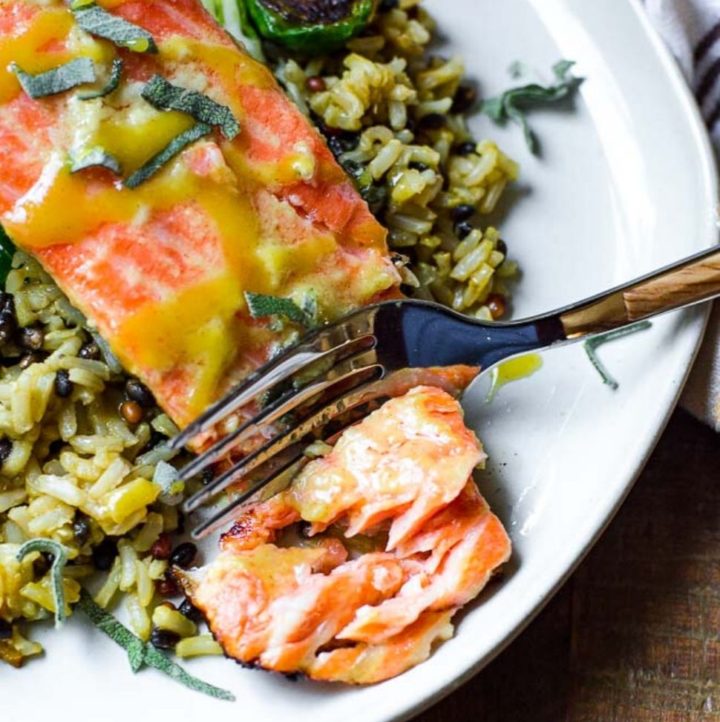 Maple Dijon Sous Vide Salmon
Get perfectly moist, tender and flaky maple dijon salmon using the Fissler Souspreme Multi Pot sous vide function!
Pin it for later?
Ingredients
4

salmon fillets

,

about 6 ounces each

⅓

cup

bourbon barrel aged pure maple syrup

⅓

cup

dijon mustard

⅓

cup

olive oil

15-20

fresh sage leaves

,

plus extra for garnish
Instructions
Mix together the maple syrup, dijon mustard, and olive oil.  Set aside. Fill the removable insert with 4 quarts of water.

Pat dry the salmon with paper towels, salt and pepper both sides, and place the fillets and two to three tablespoons of the maple dijon sauce per fillet into a plastic bag. Add in 4-5 sage leaves per fillet and vacuum seal it shut.

Press the Sous Vide button and preheat to 122°F, set the cook time for 45 minutes and close the lid with the pressure valve to "release".   When the multi pot beeps, remove the lid, submerge the salmon and place the lid back on until it locks, keeping the pressure valve on "release". Let cook.

Once the sous vide is done, remove the bags from the water and very carefully remove the fillets from the packaging.  The salmon is delicate so be cautious with how much you move it. Transfer to plate, drizzle with extra sauce and serve garnished with fresh sage.
Notes
To keep work minimal, put the extra maple dijon serving sauce into a bonus vacuum sealed pouch to heat up in the sous vide.  That way your sauce isn't cold when you serve your salmon. Add one or two extra minutes to your sous vide cooking time to allow for the time it takes to open and close the lid for cooking.
Nutrition
Serving:
1
serving
|
Calories:
600
kcal
|
Carbohydrates:
19
g
|
Protein:
1
g
|
Fat:
19
g
|
Saturated Fat:
3
g
|
Cholesterol:
1
mg
|
Sodium:
239
mg
|
Potassium:
89
mg
|
Fiber:
1
g
|
Sugar:
16
g
|
Vitamin A:
15
IU
|
Vitamin C:
1
mg
|
Calcium:
41
mg
|
Iron:
1
mg
Tell me how much you love this recipe
and show off how you made it!