Store bought tortillas don't live up to the authentic flavor of real, homemade corn tortillas. This simple recipe only requires four ingredients and 30 minutes for the best tasting tortillas you've ever had.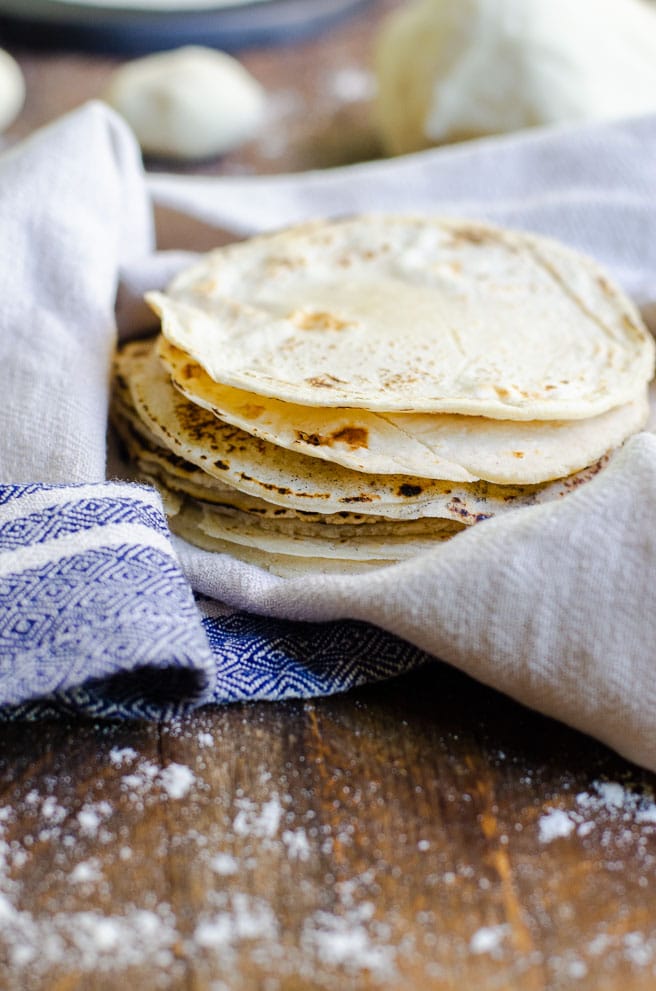 There is nothing like a fresh, pliable, springy corn tortilla. The flavor of the store bought ones just doesn't hold up to an authentic one, am I right?
I don't know about you, but real corn tortillas makes me choose one restaurant over another. It also makes me drive out of the way to buy them at the store.
This doesn't have to be you when you can get the same authentic and genuine quality at home. This recipe is so quick and easy and when done correctly, these homemade corn tortillas don't fall apart! (Another win over the store bought varieties!).
Extra bonus, they make wonderful homemade tortilla chips!
What Is Masa Harina?
Masa harina (commonly just referred to as "masa") is a finely ground corn flour. It is made by soaking corn in calcium hydroxide to make dough. This masa dough gets ground and dehydrated before getting used in many traditional Mexican dishes.
Masa has a unique flavor that you'll instantly identify as familiar when you taste it. However, since the flavor and texture of masa is so unique, it is difficult to substitute with other ingredients. For example, standard cornmeal won't become pliable and soft the same way masa does.
Don't worry though, masa harina is easily found in most grocery stores. Check the baking aisle near the flours and you'll likely find a big bag hiding out. If your store doesn't stock the large bags, check in the specialty flours.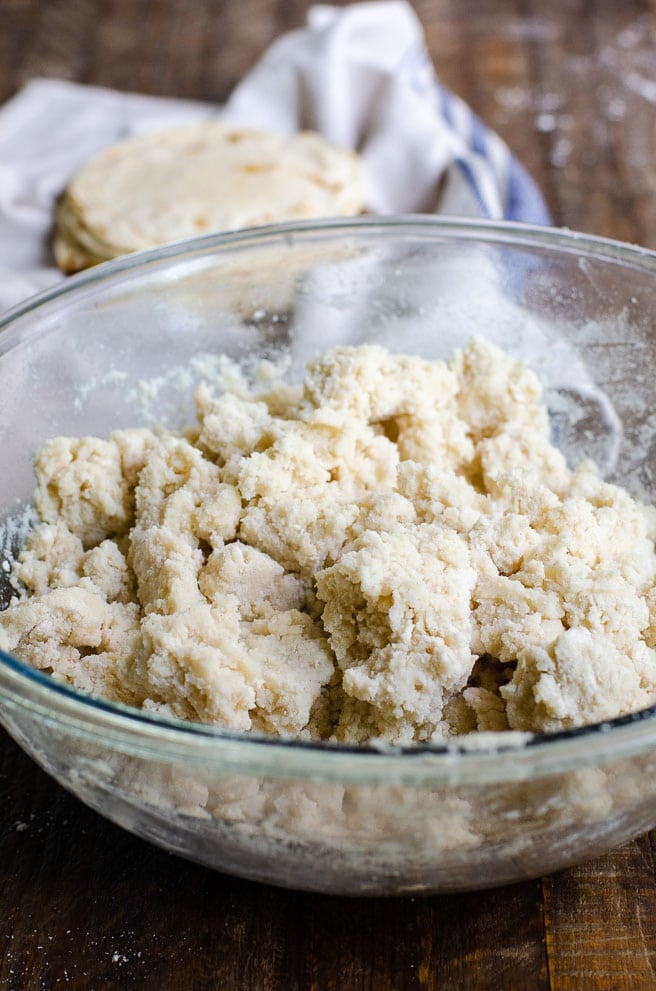 How To Make Tortilla Dough
When making tortilla dough, start by heating the water, salt, and lard in a pot over medium high heat. Once it until it comes to a boil pour the mixture into a mixing bowl of masa harina.
Because of the hot water it takes a bit for the dough to be cool enough to touch. Use a fork or spoon to mix the ingredients and roll the masa dough into balls once cool enough. The dough should stick to your hands just a little bit.
Move them onto parchment paper or wax paper and keep them covered with a towel dampened with warm water. This keeps them from drying out. Add more water to the dampened towel as needed to keep them moist.
How Long Do Homemade Corn Tortillas Last?
Just like with any dough-based recipe, homemade corn tortillas are prone to go stale. And very quickly. However, as long as the tortillas are kept hydrated, they should stay fresh for one to two days.
The best way to keep homemade corn tortillas fresh is to loosely wrap them in paper towels while cooking. The steam from the cooked tortillas soaks into the paper towel just enough to provide extra hydration. Once your tortillas are done and slightly cooled, wrap them (and the paper towels) tightly in aluminum foil.
Stored like this, homemade corn tortillas should last up to 24 hours. To prolong their shelf-life, put the bundle into an airtight container or plastic bag. This will give you an extra day or two.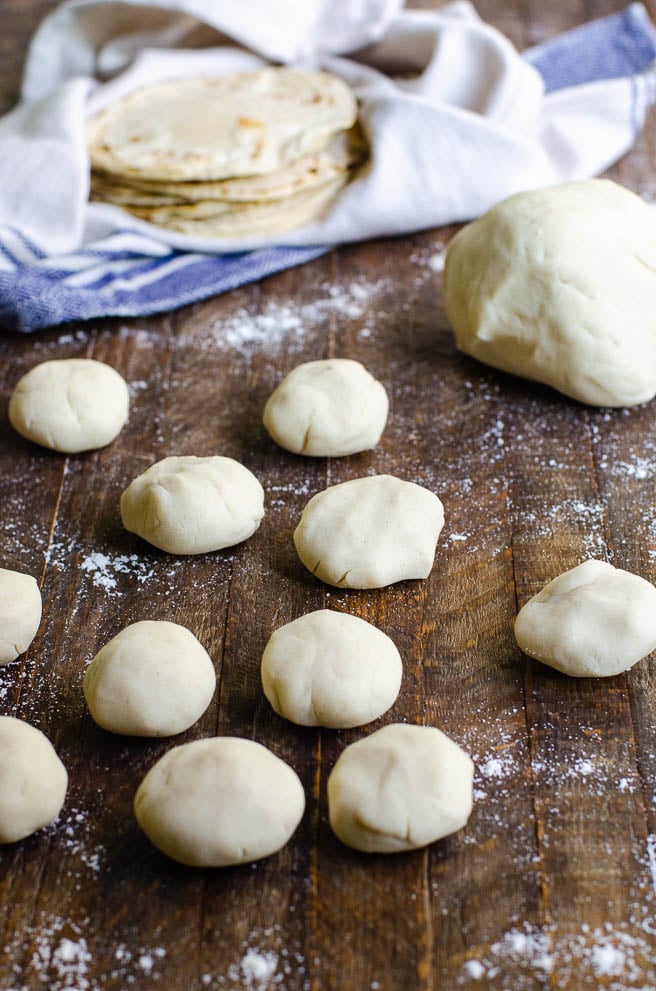 Do Homemade Tortillas Need To Be Refrigerated?
With this tortilla recipe, they don't need to be refrigerated as long as they are used promptly. All of the ingredients are shelf-stable and can stay room temperature, so the concern is with masa harina going rancid.
Just like with any other flour, masa harina has a natural oils in it that can spoil. Once the moisture of the dough is added, it can speed up that timeline. If you plan on using your corn tortillas within a day or two they should be fine at room temperature. However, if you're storing leftovers and not sure when you'll use them next, refrigeration is ideal.
Why Did My Homemade Tortillas Crack or Fall Apart?
This is the number one frustration with corn tortillas and why a lot of people gravitate to flour tortillas instead.
The main reason corn tortillas crack is that they aren't warm enough.
You know how restaurants always serve fresh tortillas in a special container or wrapped in aluminum foil? That isn't just so they can give that "fresh from the kitchen" allure. It's also so the tortillas hold together and don't fall apart.
Since corn tortillas are gluten-free naturally, they are held together primarily with a small amount of fat. In this case, lard. If the tortillas are dry or too cold, the lard can't bind together the tortilla and causes it to break.
For that essential pliable, slightly springy texture make sure your tortillas are completely warmed.
How To Heat Up Tortillas So They Don't Fall Apart
The best way to serve homemade corn tortillas is straight from the cast iron skillet. Toast each one until it has brown spots, then place it into a tortilla warmer or kitchen towel. Keep it covered.
This will keeps them both warm and flexible. The added heat from layering them in the towel should make up for anything lost when opening and closing it.
If you need to reheat your fresh tortillas, the best way is in aluminum foil. Here is the key detail though - do it in small bundles. No more than 5-7 per pack. This will make sure that the tortillas in the middle get as warm as the ones on the outside.
The best way to heat fresh corn tortillas:
Preheat the oven to 250°F.

Place five to seven homemade corn tortillas in the middle of a large sheet of aluminum foil. Close the foil around the tortillas to form a tight bundle.

Place the tortilla bundles in the oven and heat them up for 10-15 minutes, or until warmed throughout.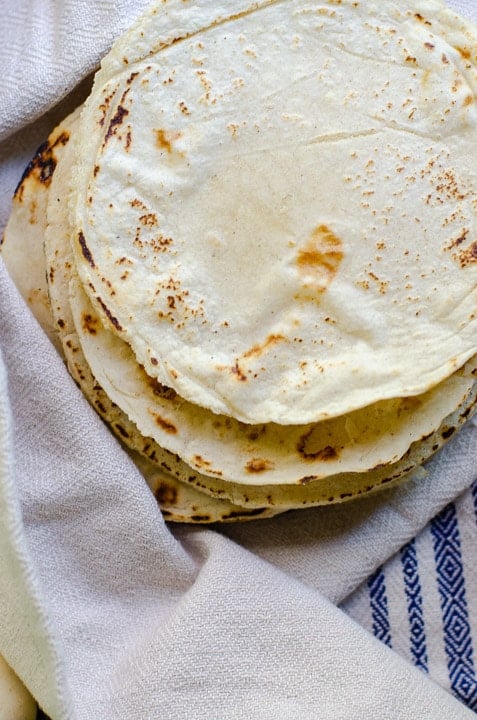 How To Get Even Better Homemade Corn Tortillas
To press the tortillas, use a cast iron tortilla press. It is a worthwhile and affordable investment. It's a great way to get uniform and consistent tortillas that you don't have to worry about being too thick.
If you don't have a press, layer the dough between two pieces of parchment paper and use a rolling pin. Try to get your tortillas about 5-6" across.
If you have a press, but no parchment paper, you can use two pieces of a plastic freezer bag. Spray it with nonstick spray or a little oil between each use.
Happy Cinco De Mayo!
This recipe is part of a joint effort with other bloggers to celebrate Cinco de Mayo. If you're ready to eat all the Mexican food you can, try any or all of the recipes below!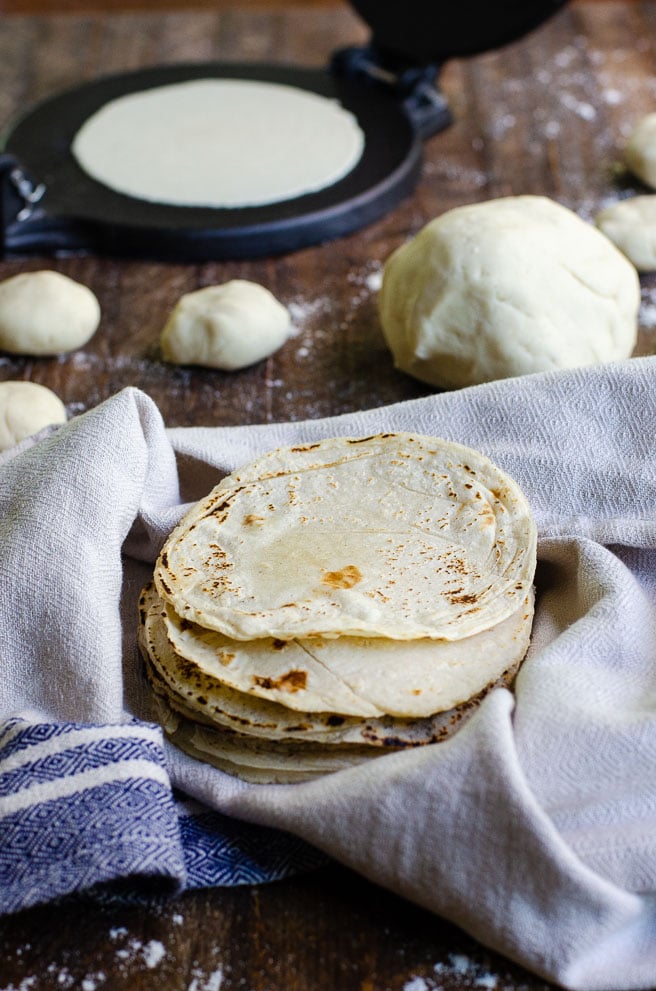 Homemade Corn Tortillas Recipe
The big thing to remember is to use a DRY pan when cooking the tortillas. I recommend using a large cast iron pan because it evenly distributes heat and cooks the tortillas better. However, any pan will work.
As a reminder, make sure that your pan is super clean. Pans often tend to create smoke at high temperatures if all of the residue hasn't been cleaned off of them. So either prepare a step stool to reach your smoke alarm, or be meticulous with your inspection.
---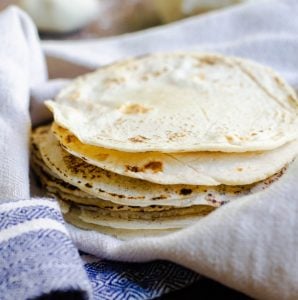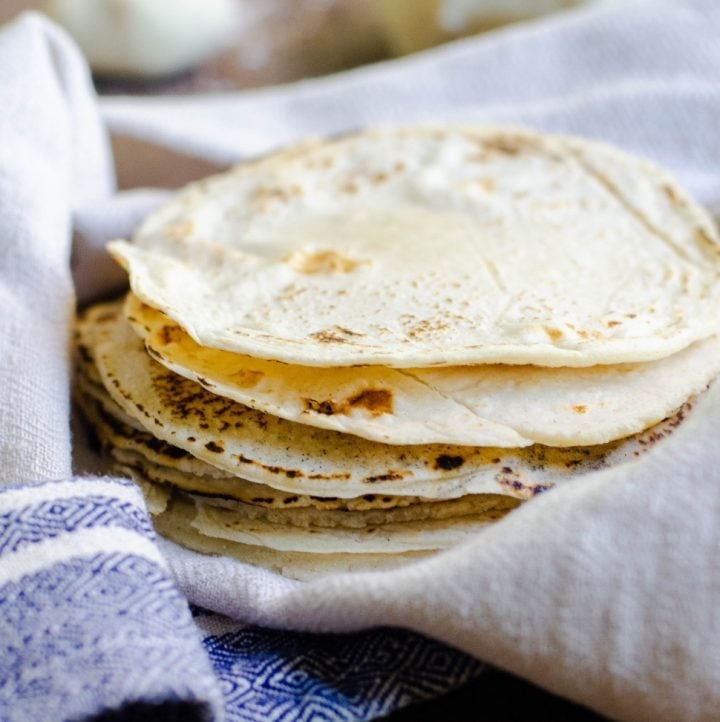 Homemade Corn Tortillas
Enjoy tacos, enchiladas, or quesadillas at home with these fresh homemade corn tortillas.
Pin it for later?
Ingredients
1 ½

cups

masa harina

1 ½

teaspoons

salt

2

teaspoons

lard

1 ¼

cups

water
Instructions
Place the masa harina in a medium bowl.

In a small pot, bring the salt, lard, and water to a boil. Pour the hot water mixture into the masa harina and stir with a fork until well combined. It should look like lumpy instant mashed potatoes.

Once the mixture is cool enough to touch, lightly knead it until a ball forms. Use small handfuls to blot any remaining dough from the sides of the bowl. (Like getting gum off your fingers.)

Turn the dough out onto a very lightly floured surface and knead until smooth. About

5 minutes

.

Break into twelve uniformly sized balls of dough, about one inch in diameter. (Or 1.5 ounces by weight). Place the balls between two pieces of parchment paper (or wax paper) and use a rolling pin to make a 4-6" tortilla.

In a large skillet over medium high heat, cook the tortillas one at a time until brown spots start to form. About 45 seconds. Flip and repeat until all the tortillas are cooked.
Notes
Keep the cooked tortillas warm in a kitchen towel while cooking the others.  This prevents them from breaking apart when you're eating.
Nutrition
Serving:
1
tortilla
|
Calories:
52
kcal
|
Carbohydrates:
10
g
|
Protein:
1
g
|
Sodium:
292
mg
|
Potassium:
37
mg
|
Vitamin A:
70
IU
|
Vitamin C:
0.3
mg
|
Calcium:
21
mg
|
Iron:
1.1
mg
Tell me how much you love this recipe
and show off how you made it!