A tortilla press is an affordable and worthwhile investment that streamlines making homemade tortillas. Find out how to use it correctly (and for more than just tortillas!).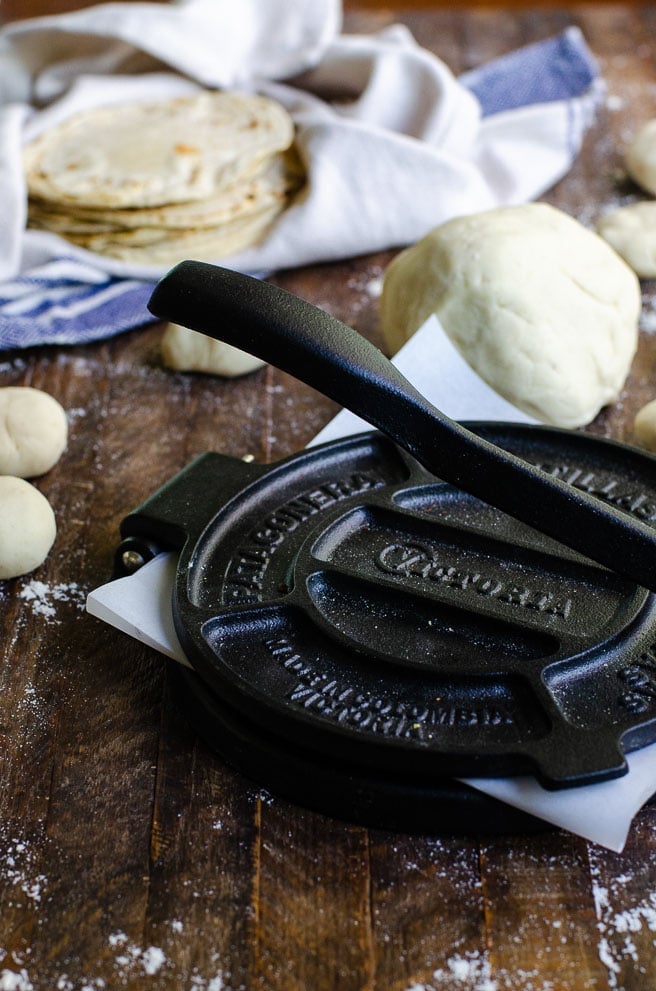 How Does A Tortilla Press Work?
A tortilla press is a simple kitchen tool that uses leverage to press a ball of dough into a tortilla. As an alternative to a rolling pin, this method is much quicker, makes less mess, and produces tortillas that are uniform.
While using a tortilla press does make your homemade tortillas look more store bought, it also makes them easier to cook. Since the press gives the tortilla a uniform thickness, it will cook more evenly. This also makes it less likely to crack or fall apart.
Choosing The Right Press For You
There are two types of presses to choose from. One is a manual hand crank, and the other is electric.
Most electric tortilla presses cook the tortilla dough as well and flatten. However, while this does remove a step (and potentially saves your house from getting smoky), they are much bulkier to store.
Alternatively, you can opt for a manual tortilla press.
They are easy to use, simple enough to store, and barely need any upkeep. You can usually find an option between wooden or cast iron. Many people choose the wooden because you don't have to season it like a cast iron tortilla press. However, if a protective layer is used when making your tortillas, the amount of care between the two is almost identical.
Personally, I have a cast iron tortilla press. A little bit of moisture gets onto the press as I'm making the tortillas (you can see it in the photos). I wipe it down with a dry towel after use and lightly season it with a neutral cooking oil before storing it. I have yet to see a speck of rust.
A thing to note: manual presses are almost exclusively about eight inches in size. This makes perfect homemade corn tortillas, however, it's not great if you want to make a burrito.
How To Use A Tortilla Press
In order to keep the dough from sticking to your tortilla press, you need to create a protective layer. This can be done by using parchment paper or waxed paper. To get the right size protective layer, cut a piece large enough to be folded in half on the opened press. This is much easier to manage than two pieces, which can move around while you're working.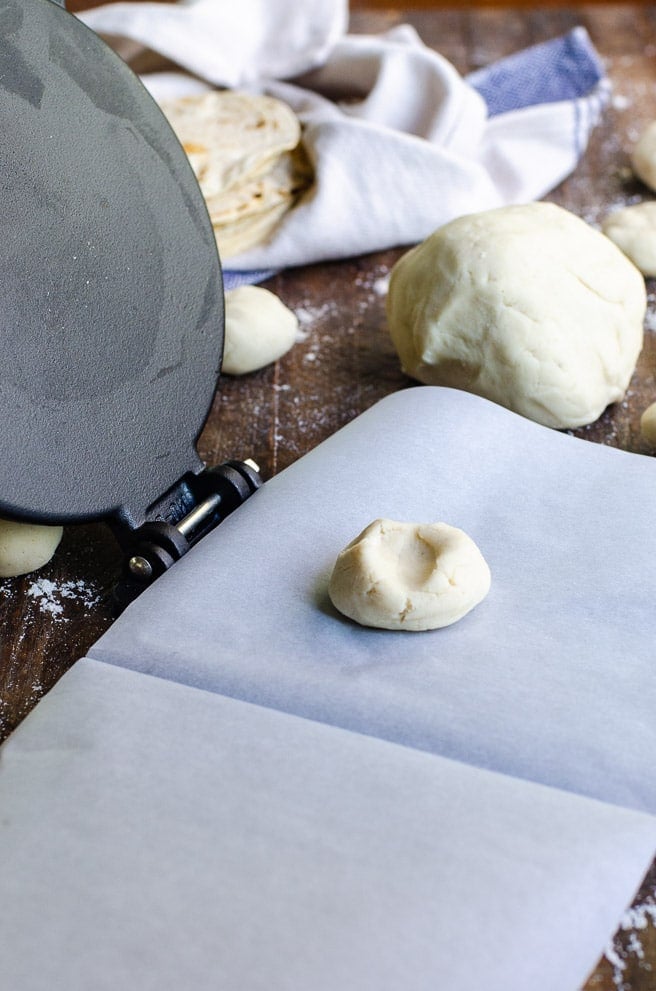 Once your protective layer is in place, put a golf ball sized piece of dough into the center of the press. Use your thumb to create an indentation in the middle of the dough. This helps push the dough out so that the center is not thicker than the edges. Place the top of the press down, and fold the lever over to flatten the tortilla. Once the tortilla is pressed, unfold one side of the protective layer and turn out the tortilla into your hand. Proceed to cook as desired.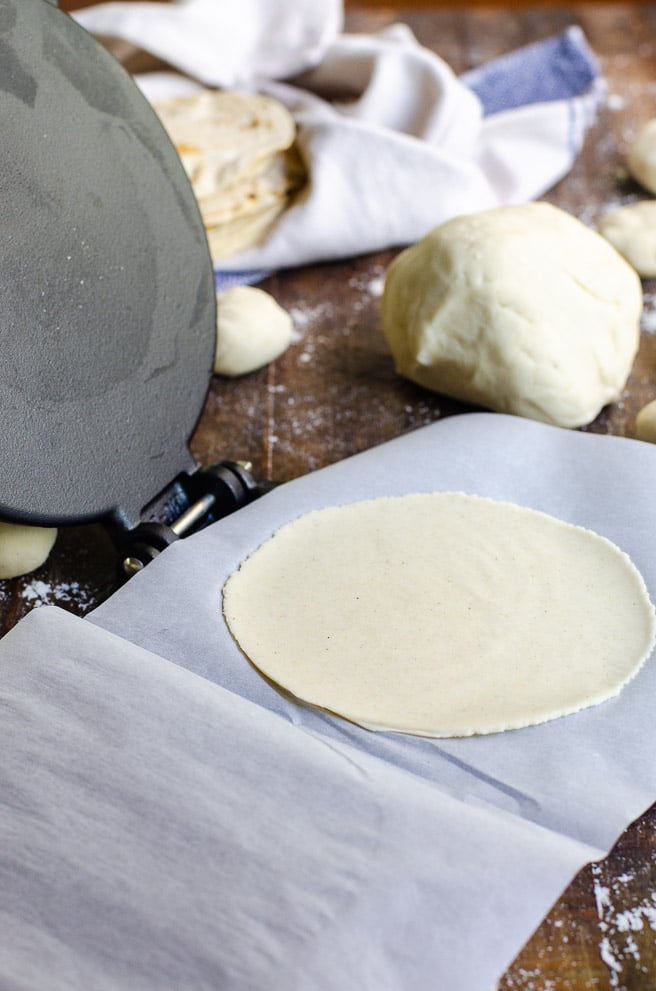 Other Ways To Use Your Press
If you're worried that your tortilla press isn't used enough, remember that it works for anything that needs flattened. It's helpful for making pita bread, individual pizzas, homemade dumplings, and so much more.
Also, once you've made your corn or flour tortillas, you can fry them and make homemade tortilla chips. You can't go wrong with more tortilla chips in life!
Here are some recipes I recommend using your press for!