These simple puff pastry croutons use prepared puff pastry sheets from the store. Use them in soups, salads, or anywhere you would normal croutons.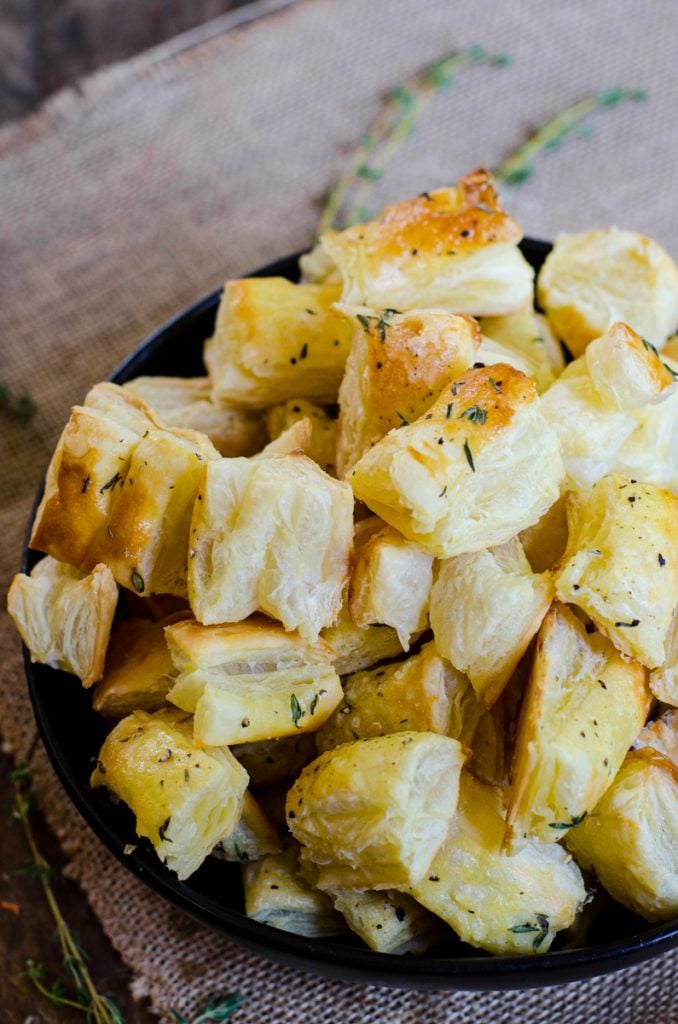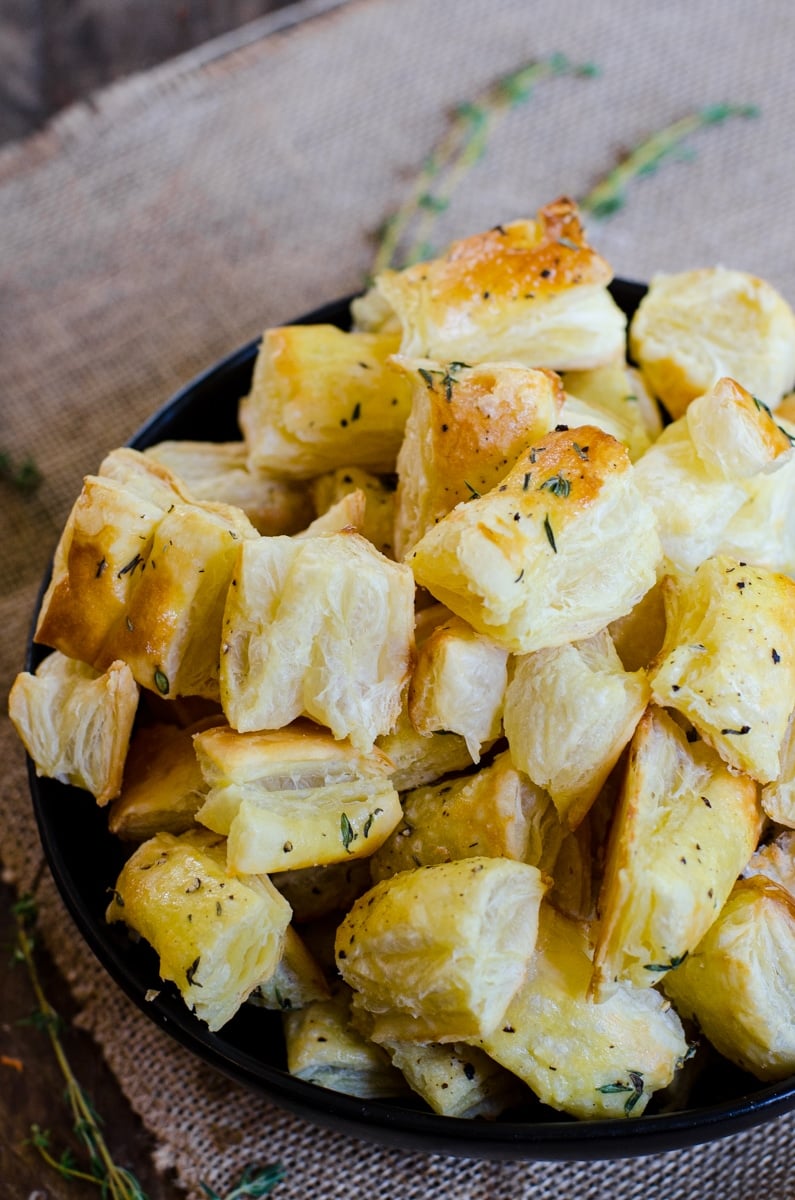 What Is Puff Pastry?
Puff pastry is a light and flaky dough that is made by folding layers repeatedly dozens of times. This process creates individual layers that puff up and become airy during baking.
The process of making puff pastry is usually time consuming, so you can make your own for authenticity or use store bought.
The store bought is extremely simple to use. Keep in the freezer until about 30-40 minutes before use. Then thaw it on the countertop at room temperature.
I recommend closer to the 30 minute mark so it doesn't thaw out too much during assembly.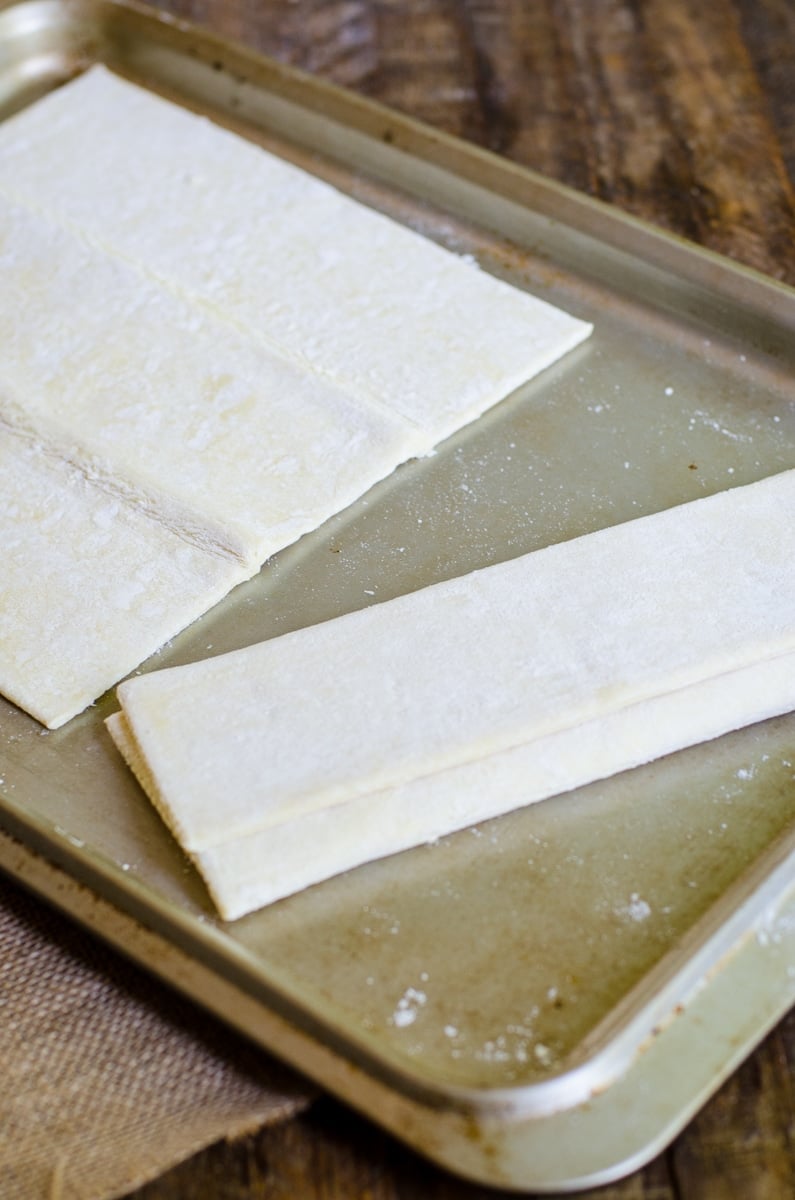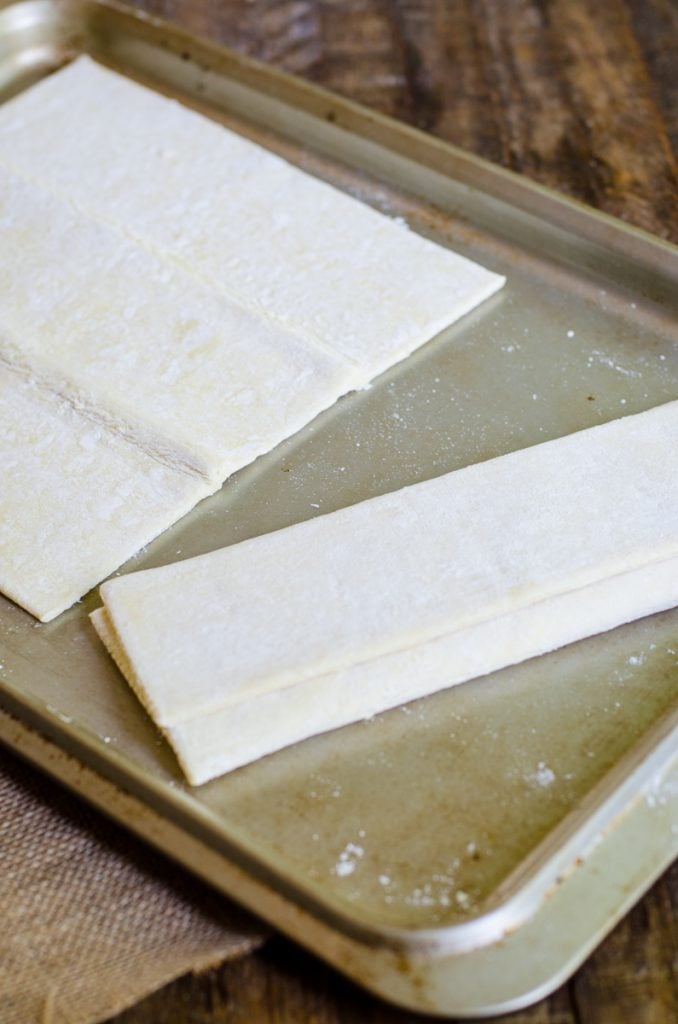 How To Make The Croutons
Begin by thawing out the puff pastry at room temperature for thirty minutes. This makes the dough manageable and should unfold without breaking. Transfer it to a baking sheet.
Next, brush the tops of the puff pastry croutons with melted butter or egg yolks*. I personally prefer egg yolks because they are usually cold and don't warm the puff pastry as you brush it. Add any seasonings you desire: salt, pepper, chili flake, fresh herbs etc...
Cut the dough down the folded lines, and then each third in half again. Cut the opposite direction until the croutons are 1-inch squares.
Try to separate each of the croutons just to make sure that they cut completely through. They'll cook well enough even if they are touching, but if not cut all the way through and connected, they may not rise correctly.
Next, transfer to an oven preheated to 400°F and bake for 15 minutes or until the puff pastry croutons are golden brown on the edges and fluffy.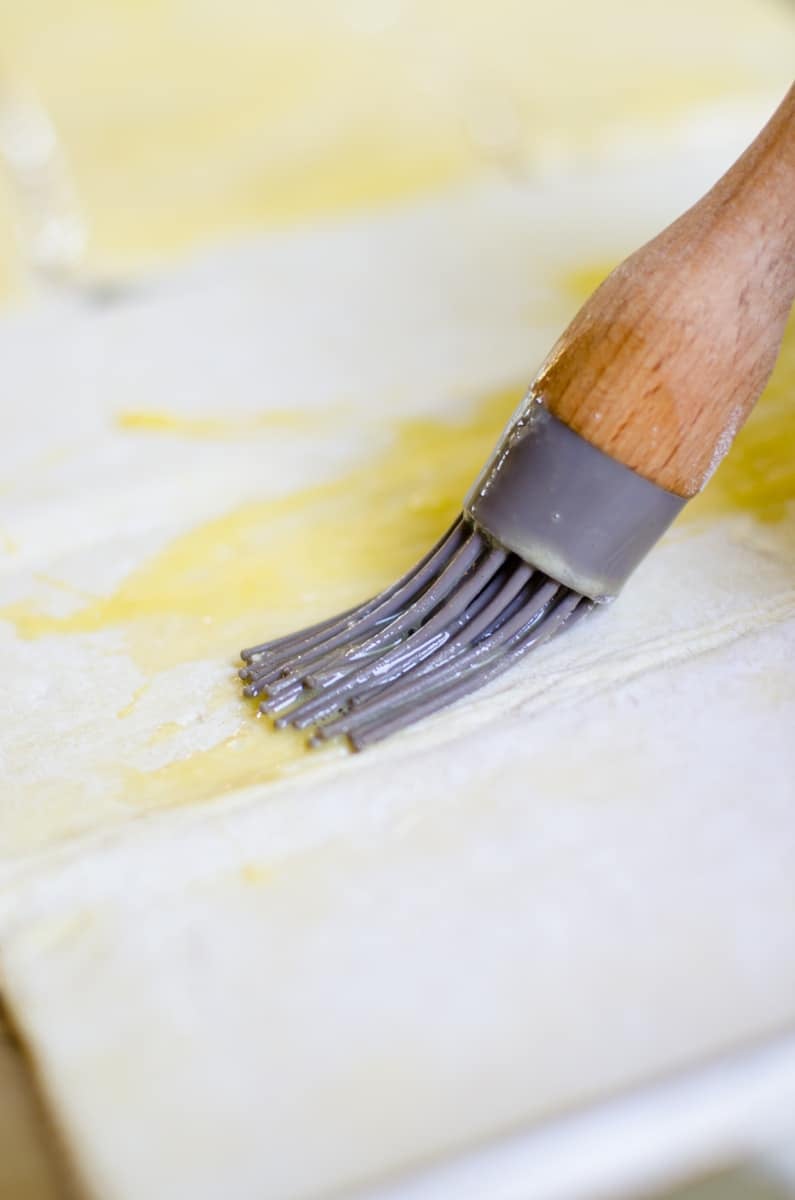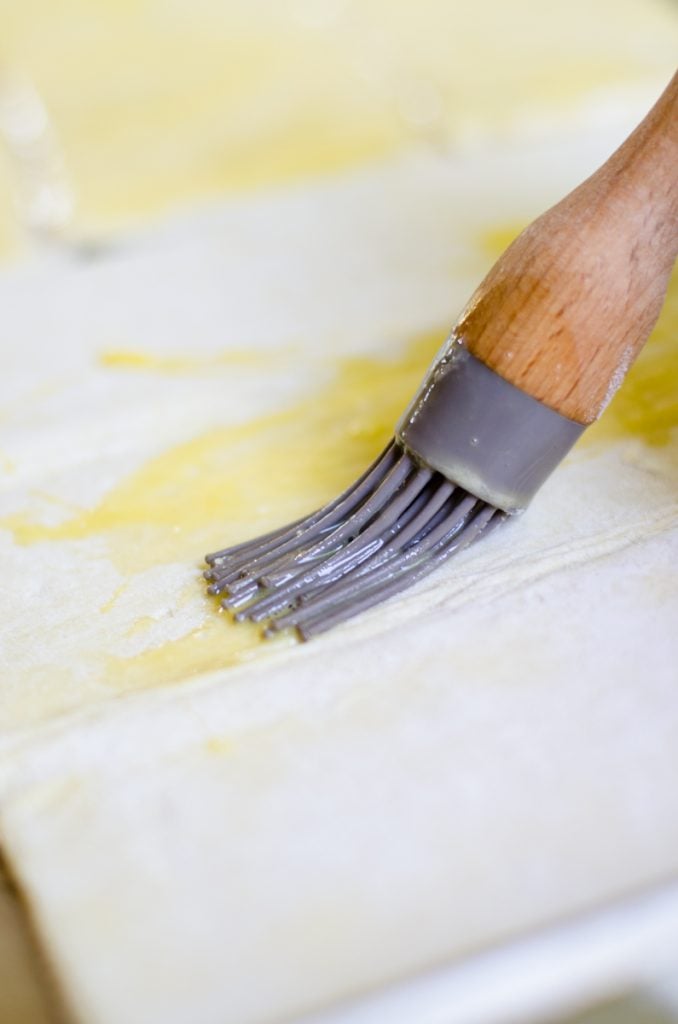 How To Use The Croutons
These puff pastry croutons are versatile and useful in place of croutons They make wonderful additions to salads and soups, but also a great snack. In fact, this recipe tastes similar to pizza due to the fresh thyme on it.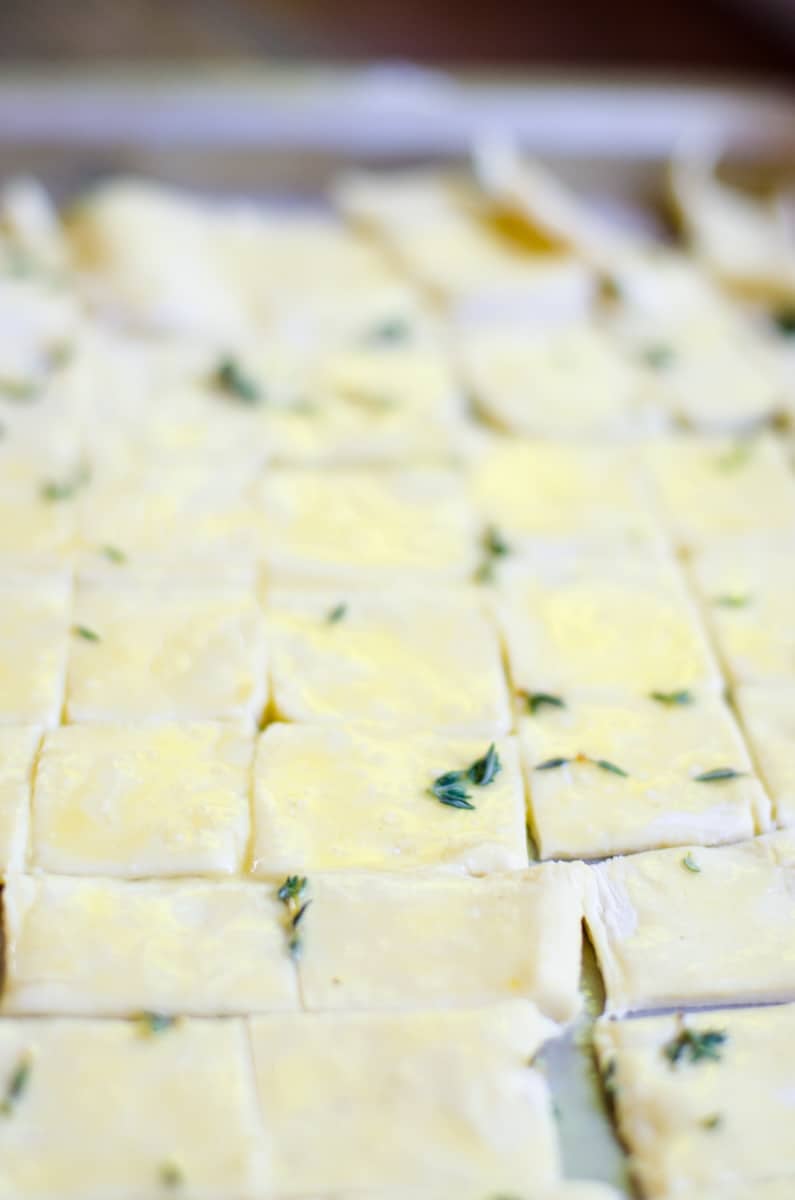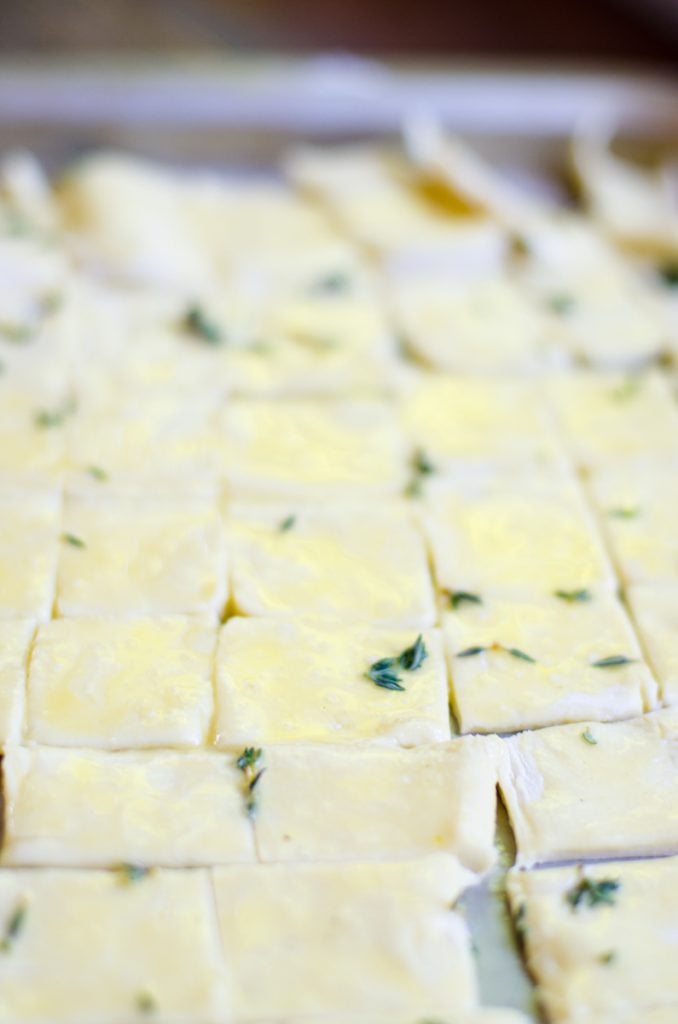 Top Recipe Tips
*Stick with egg yolks instead of whole egg for the wash. The whites of eggs sometimes don't scramble enough. This results in seepage through the cuts of the in the puff pastry dough. This results in massive sticking to the pan.
If you're worried about the dough adhering to the pan, use parchment paper. This isn't necessary but can be helpful. The fat in the dough is naturally nonstick if the dough isn't too wet.
Use cookie punches to make these into fun shapes. To make room for all of them on the sheet pan though, only use one puff pastry sheet per pan.
Use a beautiful large-flake salt for seasoning these croutons. Not only is it beautiful, but the strong pop of flavor accents the croutons admirably.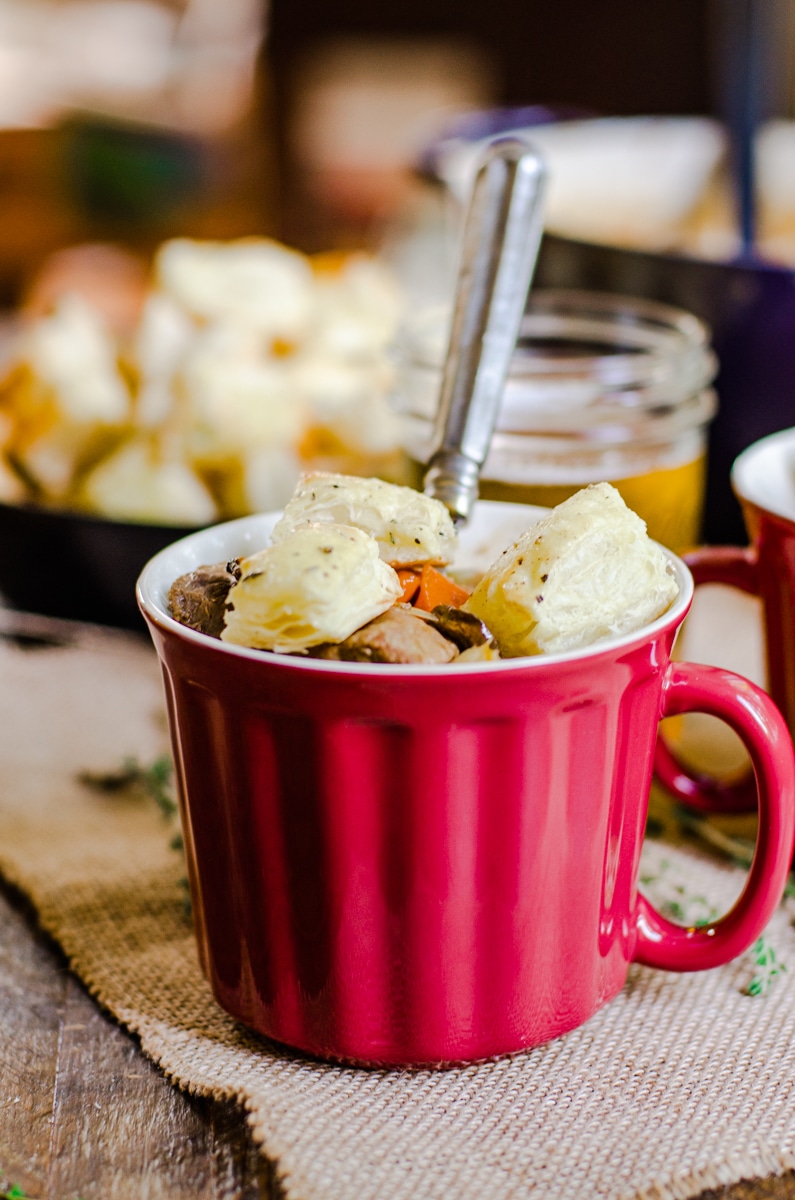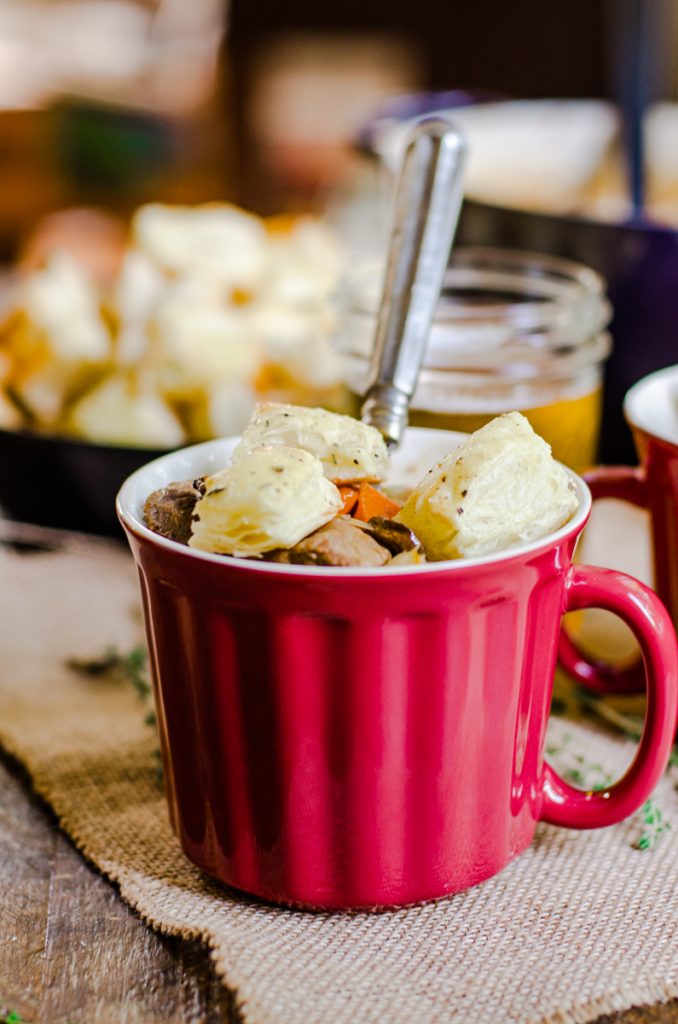 Puff Pastry Croutons Recipe
Puff pastry is in the frozen foods aisle of your local grocery store, usually near the pie crusts. If you can, find an all-butter version for the highest quality and best flavor. I recommend: Dufour or Trader Joe's puff pastry for this very reason.
---
Make grocery shopping simpler with this printable grocery list for this puff pastry crouton recipe. Everything is in standard grocery store amounts. If no size is specified, even the smallest package provides more than enough.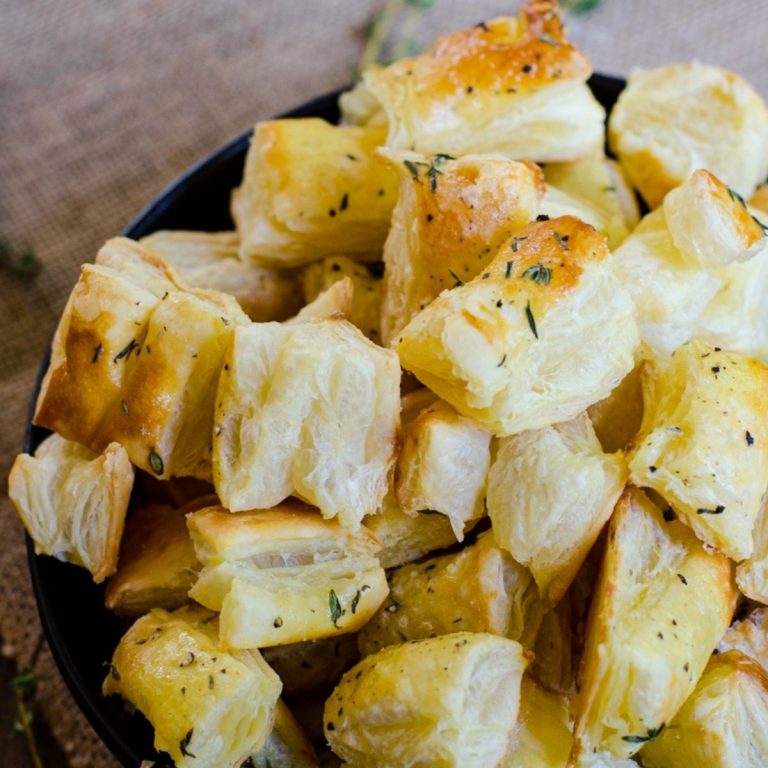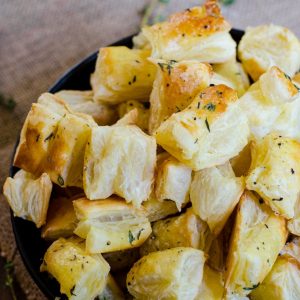 Flaky Puff Pastry Croutons
These simple croutons are a light and flaky way to get crunch to salads, soups, and more.
Pin it for later?
Ingredients
2

sheets of puff pastry dough

,

thawed out for 30 minutes

1

egg yolk

2

Tablespoons

fresh thyme

,

or other herbs

large flake sea salt and freshly ground pepper

,

to taste
Instructions
Preheat the oven to 400°F. Set the puff pastry on the counter to thaw for thirty minutes.

Carefully unfold the puff pastry sheets and transfer them to a baking sheet. Brush them with the egg yolk then sprinkle them with the thyme, salt, and pepper.

Use a butter knife to carefully cut the pieces into 1-inch squares, making sure to get all the way through the dough. Bake for 15 minutes or until they are puffed up and edges are golden brown.
Notes
Store these puff pastry croutons in an airtight container at room temperature for no more than 2 days.
Nutrition
Serving:
1
serving
|
Calories:
173
kcal
|
Carbohydrates:
14
g
|
Protein:
2
g
|
Fat:
12
g
|
Saturated Fat:
3
g
|
Cholesterol:
12
mg
|
Sodium:
77
mg
|
Potassium:
24
mg
|
Fiber:
1
g
|
Sugar:
1
g
|
Vitamin A:
58
IU
|
Vitamin C:
1
mg
|
Calcium:
8
mg
|
Iron:
1
mg
Tell me how much you love this recipe
and show off how you made it!