This melt in your mouth whole roasted chicken is so flavorful and easy to make. The blueberry and pinot noir sauce has a subtly sweet undertone that tastes like summer.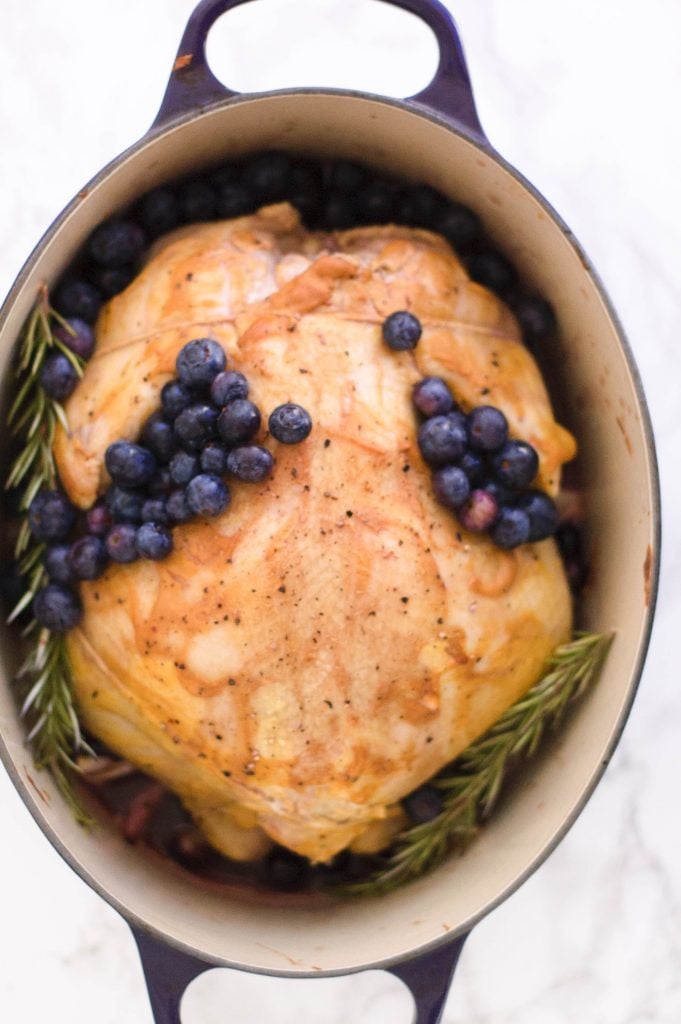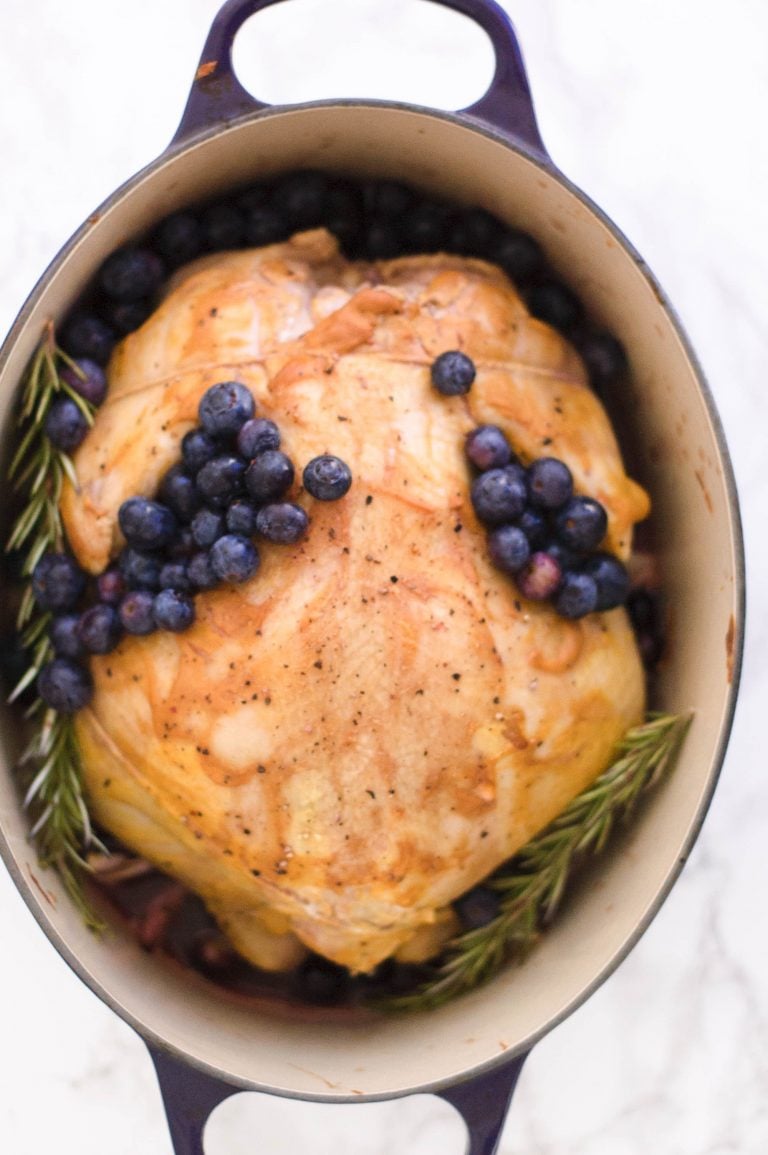 There is just something about a whole roasted chicken that makes me feel like the picture of domestic achievement. I'm not exactly sure what it is, but when I make one, I feel like I have succeeded massively at life. Even more so when I step back and think about how simple it was to make!
This whole roasted chicken is no exception. It takes an hour and a half to bake, and the liquid at the end gets blended into a sauce! It's a perfect busy day meal that tastes gourmet.
How Do You Know When A Roast Chicken Is Done?
The most certain way to know a whole roasted chicken is done is with a meat thermometer. Place it in the fleshy area between the breast and leg joint. It should read 165°F.
One of the biggest complaints with roasted chicken is that it gets too dry. To combat that, remove the chicken at 160°F. Let it sit in the pan for 15 minutes to rest. As it does, it will finish cooking as well as let the juices settle into the meat.
If you don't already have a reliable meat thermometer, I highly recommend getting one that is an oven probe. These let you monitor the temperature as it cooks without opening and closing the door repeatedly.
You can get ones that have a cord that runs out of the oven to a temperature reader on the counter. Or, there are ones that connect to smartphones. Your phone will send you notifications when your meat reaches the correct temperature.
Which Side Of The Chicken Is The Breast Side?
To get the best whole roasted chicken, you want to roast the chicken breast side up. This isn't because it makes it more juicy, but because it gives you the crispiest skin over the breast meat.
Once you rub the chicken with mustard and olive oil, stuffed the cavity with the onions and rosemary sprigs it is ready to be put in the pan. To find the breast side, look for the side with the wing tips pointing up and out. (Please do as I say, not as I do. My photos are taken with the chicken upside down.)
Once you've found the breast side, you are ready to truss the chicken, season it with salt and pepper, and continue to the next step for crispy skin.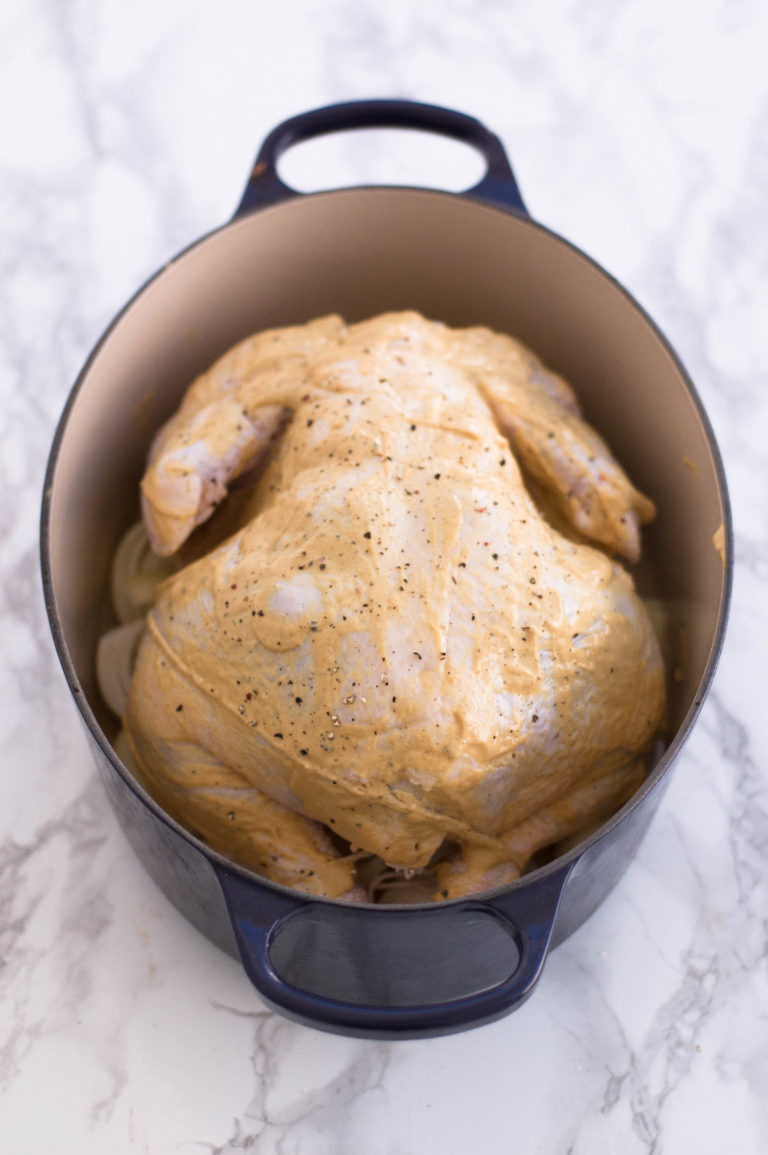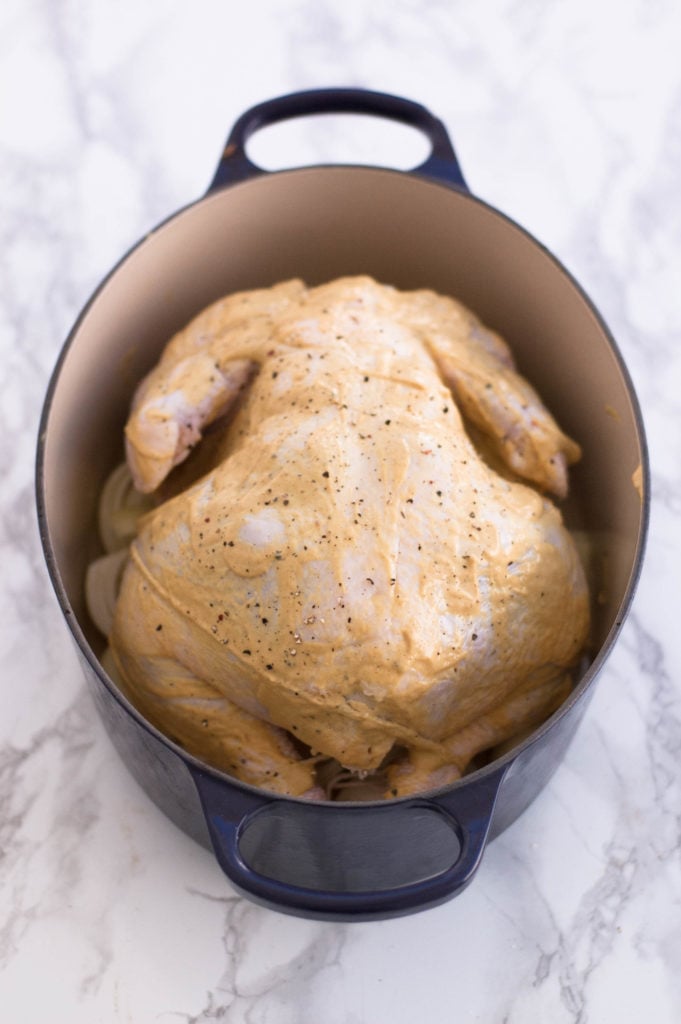 How To Get Crispy Skin
The best way to get super crispy skin on a whole roasted chicken is maximized air exposure. This means elevating the chicken and roasting it uncovered.
If you're making your roasted chicken in an oval dutch oven like this one, it can be hard to find a roasting rack that fits inside. There are some available on Amazon or at some cookware stores, but finding one that fits your dutch oven just right can be hard. Thankfully, since you're roasting the chicken skin side up, you don't need to have maximum air exposure around the spine of the chicken.
If you can't find a rack that works, you can use one or two Pyrex oven safe bowls. Place them upside down into the bottom of the pan and set them side by side if needed. After that, you can just place your whole chicken on top of those.
One thing to note though. If you let your roasting bowls sit in the dutch oven for too long, the will suction all the juices into the bowls and make it harder to remove them. Since you're making a sauce out of the juices, this isn't a super big deal for this recipe, but good to know for roasting other chickens.
Blueberry Week
Thank you to Ellen from Family Around the Table and Christie from A Kitchen Hoor's Adventures for hosting #BlueberryWeek. More than 20 top notch bloggers are sharing a variety of blueberry recipes from breakfast to dessert. Follow #BlueberryWeek on social media so you don't miss one delicious recipe.
Breakfast
Drinks & Appetizers
Dinner
Dessert
How To Make The Best Whole Roasted Chicken
Before you start making this whole roasted chicken recipe, here are some tips to help you succeed. They will help you rock out this recipe like the champion you are!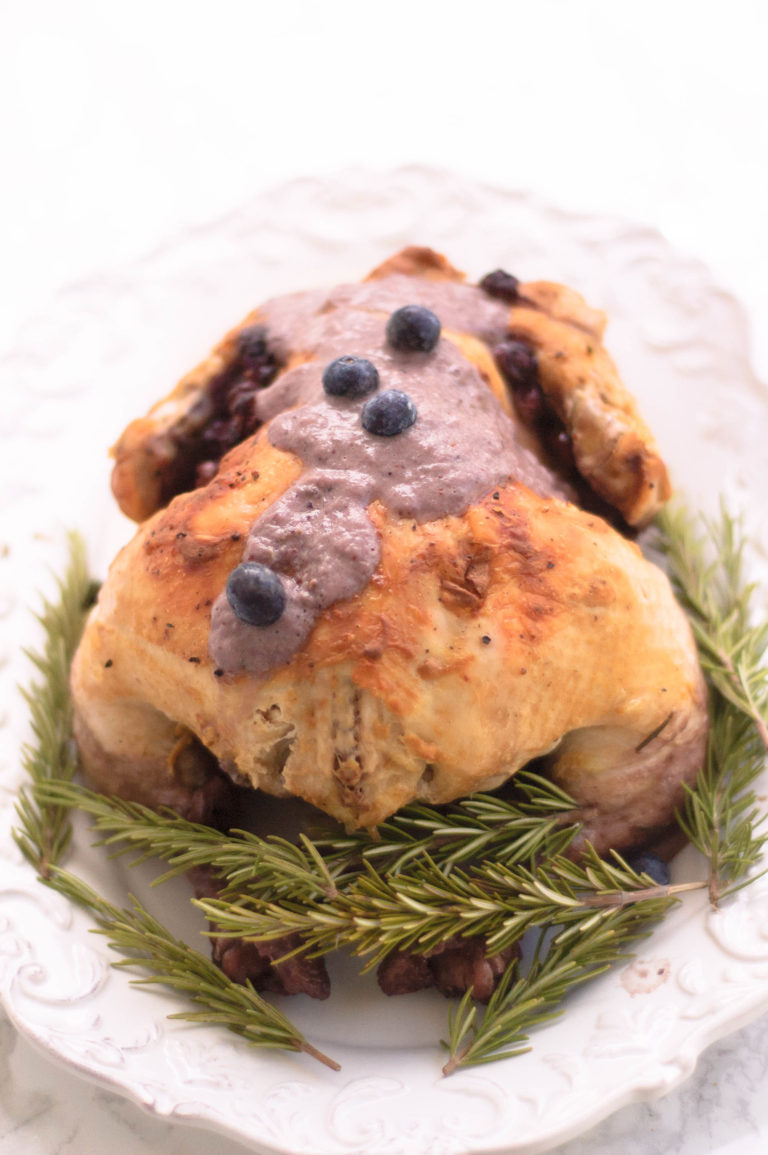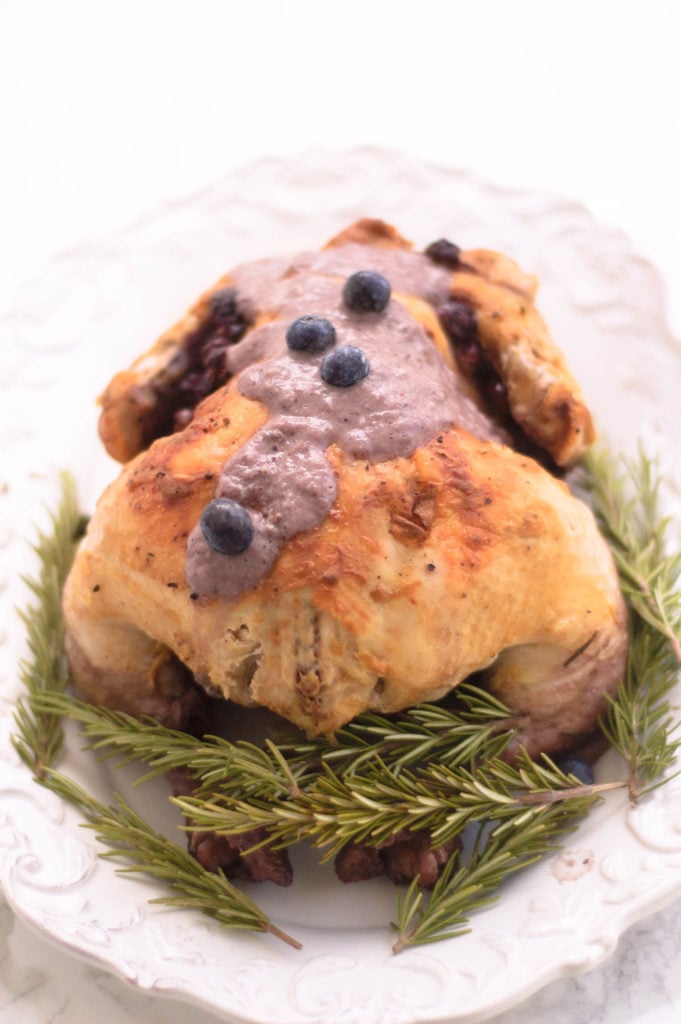 Blueberry & Pinot Noir Roasted Chicken
I'm really excited for you to try this recipe for Blueberry & Pinot Noir Roasted Chicken. The blueberry adds a subtle sweetness and undertone to the pinot noir that always makes me think of visits to Maine and summertime.
Since the chicken leaves behind all those delicious pan juices, and gravy is a bit heavy during the summer, you can blend together all of the liquid to make a sauce. I recommend using an immersion blender if you have one because you don't have to deal with transferring hot liquid. If you don't, a standard blender or food processor will work fine. Just make sure to leave a vent open to let out the steam as you puree.
---
Thanks so much for stopping by!
Happy Cooking! 🙂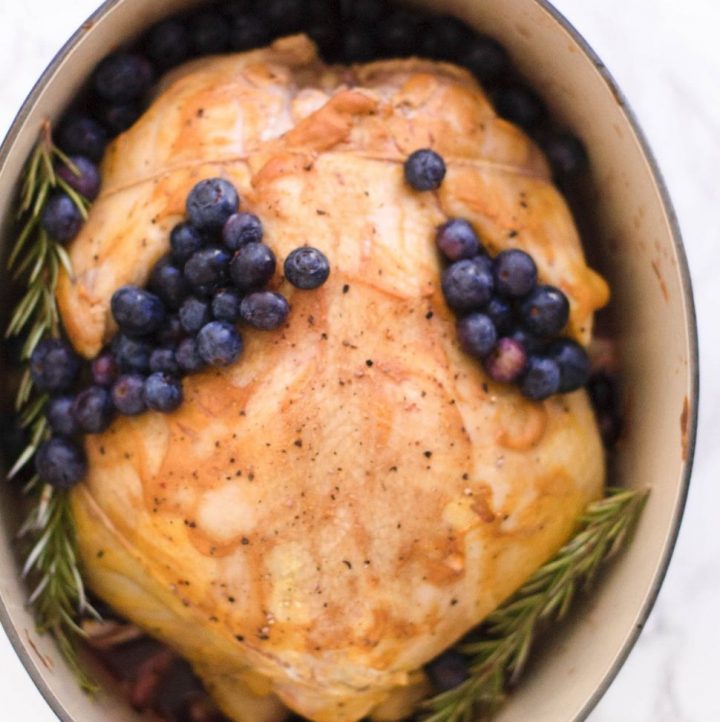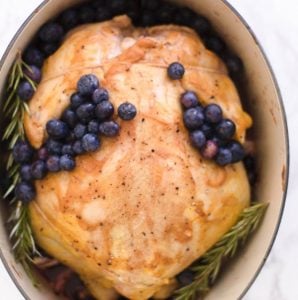 Blueberry & Pinot Noir Roasted Chicken
This blueberry and pinot noir whole roasted chicken is a delicious way to make a gourmet meal without a lot of effort. The sweet and tangy flavors make it great for entertaining or a simple dinner.
Pin it for later?
Ingredients
Roasted Chicken
1

whole chicken

,

about 3 pounds

2

Tablespoons

olive oil

2

Tablespoons

dijon mustard

salt & pepper

,

to taste

4

garlic cloves

,

peeled and smashed with the side of a knife

1

small yellow onion

,

peeled and cut into quarters

2

sprigs of fresh rosemary
Sauce
½

cup

pinot noir

6

oz

blueberries

2

rosemary sprigs
Instructions
Preheat
Preheat the oven to 450°F
Prepare Chicken
Remove any neck or giblets from inside the cavity.  Rinse the chicken, even the cavity, and pat dry with a paper towel.

Place two fresh rosemary sprigs, the garlic cloves, and half an onion inside of the cavity and generously season the chicken with salt and pepper. Stir together the olive oil and dijon mustard and coat the chicken with it.  Truss with kitchen twine making sure to tuck the wings so they don't burn.

Create elevation on the bottom of the roasting pan with either a rack or some oven safe bowls (See Note).

Place the chicken in the preheated oven and cook for

50 minutes

. Drop the temperature to 400°F.

Pour the Pinot Noir and blueberries into bottom of the dutch oven with the pan juices.  Continue roasting for another

45 minutes

, or until the internal temperature of the chicken in the thickest part of the thigh (without touching the bone) reads 165°F.

Remove the chicken from the oven and let it rest for

15 minutes

.

Remove the sprigs of rosemary from the liquid and blend the liquid until smooth.

Carve the chicken and serve with a generous serving of sauce. Garnish with additional blueberries if desired.
Notes
For tips on how to elevate your chicken in the pan, see the section on "How To Get Crispy Skin".
Nutrition
Serving:
1
serving
|
Calories:
271
kcal
|
Carbohydrates:
6
g
|
Protein:
18
g
|
Fat:
18
g
|
Saturated Fat:
5
g
|
Cholesterol:
71
mg
|
Sodium:
110
mg
|
Potassium:
228
mg
|
Fiber:
1
g
|
Sugar:
3
g
|
Vitamin A:
160
IU
|
Vitamin C:
5
mg
|
Calcium:
20
mg
|
Iron:
1
mg
Tell me how much you love this recipe
and show off how you made it!