Blueberry buttermilk pancakes are the best way to enjoy the season! This simple blueberry pancake recipe is light and fluffy and will be gone before you know it!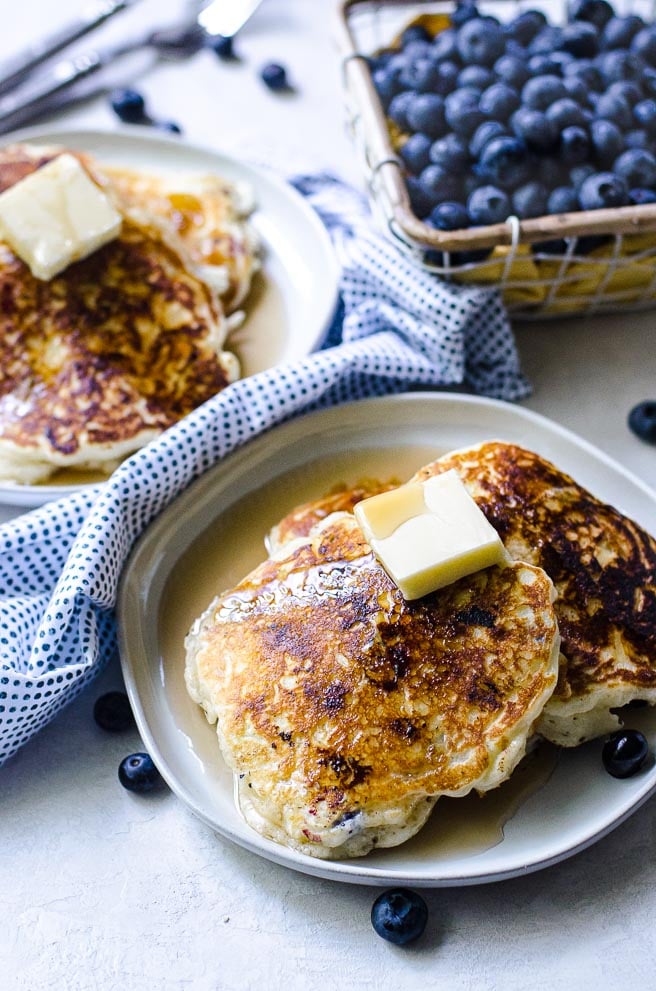 All berries taste a little bit better with some acid to accent their natural sweetness. Usually, this is done in the form of citrus, like lemon. However, for this recipe, we are using the classic pancake ingredient: buttermilk. This makes for bright and flavorful fluffy pancakes that are always a crowd pleaser.
Will These Blueberry Buttermilk Pancakes Work With Frozen Blueberries?
Fresh blueberries are preferable for this blueberry pancake recipe, but if frozen blueberries are what you have laying around, you can absolutely use them. Frozen blueberries hold their shape really well and don't become as mushy as other berries when thawed. This makes them a great fruit to use for pancakes.
The caveat, however, is that it is best to thaw them. Once you have, pat them dry before making these blueberry buttermilk pancakes. The thawing process releases a lot of excess liquid that will make your pancakes soggy.
To thaw frozen blueberries, empty the package into a colander and run them under constantly running cold water. Stir them occasionally and they will be done thawing in about five to ten minutes.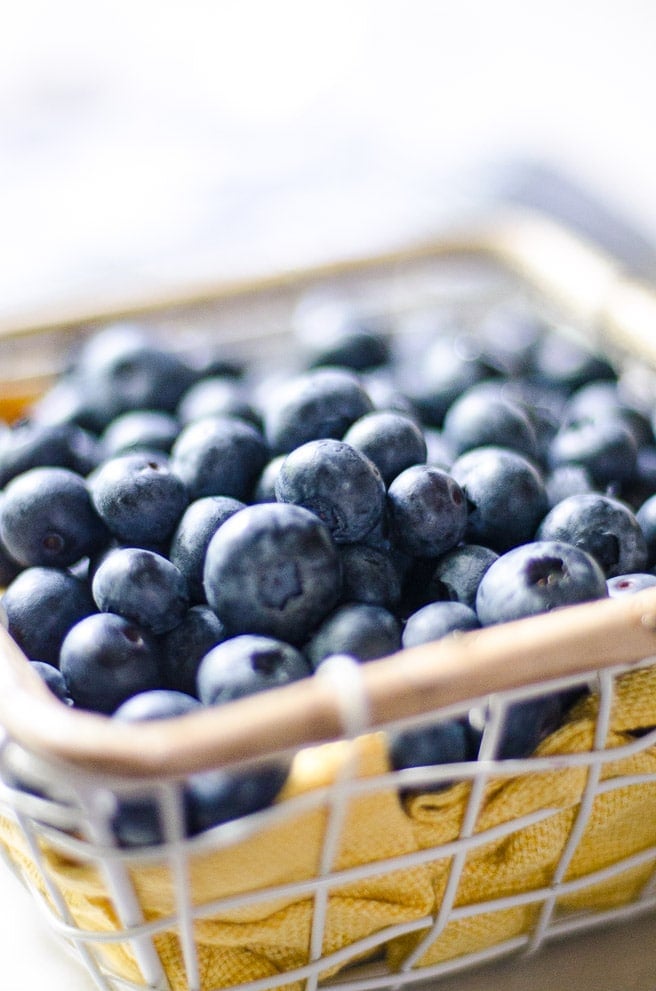 What If I Don't Have Buttermilk?
If you don't have buttermilk in your fridge, but you want to make this recipe, you can use a quick hack. Simply measure out the amount of milk needed (whole milk is best) and add 1-2 tablespoons of acid. Lemon juice is best, but white wine vinegar works in a pinch as well. Let it sit for about five minutes and it will slightly curdle the milk.
Should I Cut Up My Blueberries?
This is a hot subject for many people. If your blueberries vary in size a lot, you can cut the large ones in half. This helps keep the cooking uniform and ensure that all the blueberries get hot. However, this is difficult to do with previously frozen blueberries because they get a bit squishy after thawing.
If you don't want to go through the hassle of cutting them, this blueberry pancake recipe works well with them whole. Just try to pick out any extra large ones before you begin.
How To Make The Best Blueberry Buttermilk Pancakes
Use these recipe tips to take this blueberry pancake recipe to the next level. Some may seem easy or obvious, but there is always something new to learn.
Blueberry Week
This blueberry buttermilk pancake recipe is brought to you as part of collaboration with other bloggers. This entire week is focused on fresh blueberries and all the wonderful recipes we can make with them. Come back every day this week for a new recipe from me and each of the participants. See todays recipes below.
Blueberry Week Recipes Breakfast
Drinks & Appetizers
Dinner
Dessert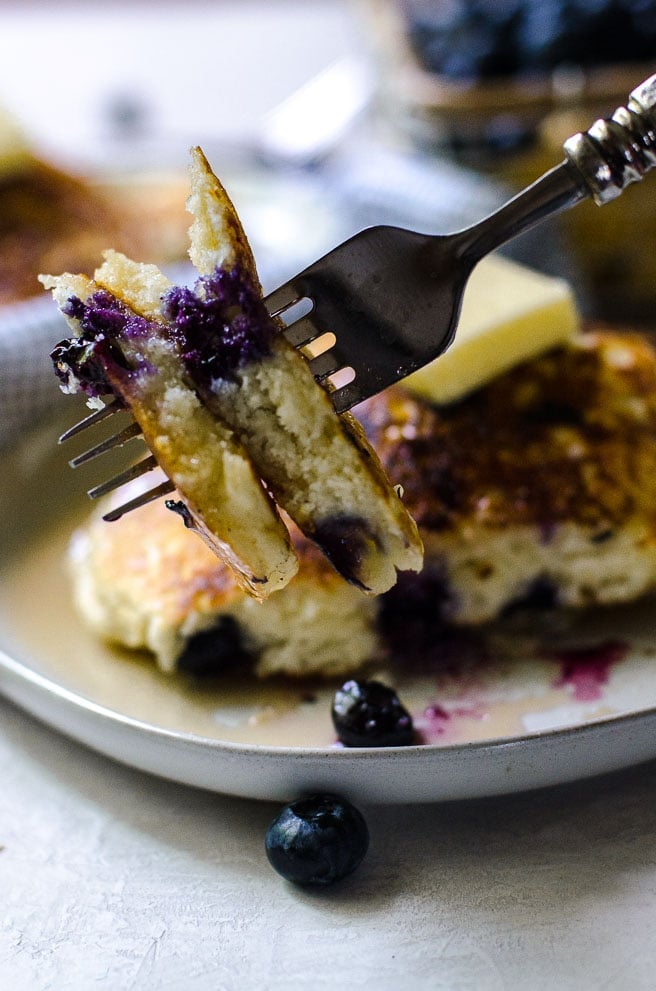 Blueberry Buttermilk Pancakes Recipe
The trick to cooking pancakes that are bursting with blueberries is to sprinkle them into the batter AFTER it is on the griddle. Since the bulk of the cooking is done on the first side, the blueberries are unlikely to burn after flipping. Just push the slightly down into the pancake batter so it can begin to envelop the berries.
---
Want a printable grocery list for this easy blueberry buttermilk pancake recipe? Everything is listed in standard grocery store amounts. If no size is specified, even the smallest package will provide more than enough.
Thanks so much for stopping by!
Happy Cooking! 🙂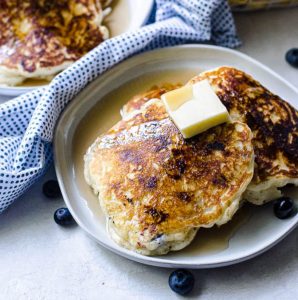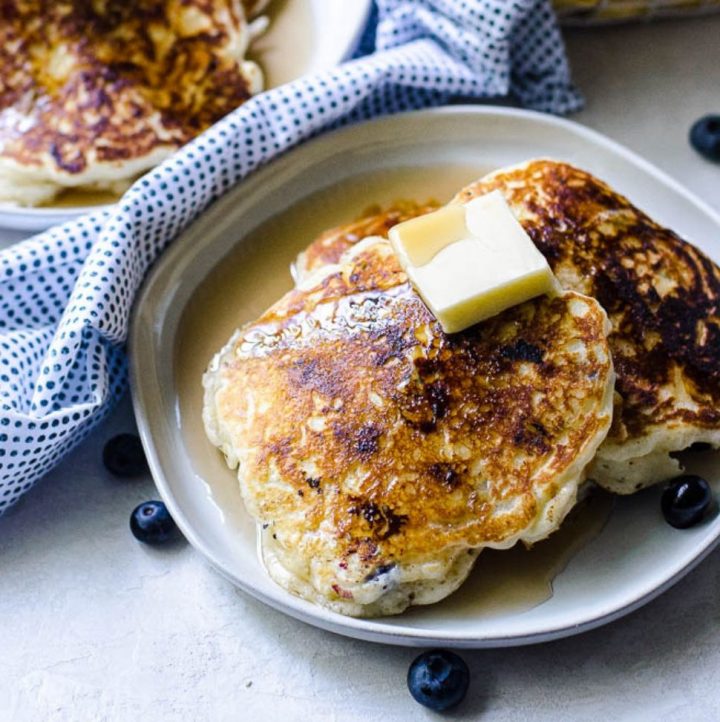 Blueberry Buttermilk Pancakes
This simple blueberry pancakes recipe is tender and fluffy while bursting with fresh blueberries.
Pin it for later?
Ingredients
2 ½

cups

flour

3

Tablespoons

baking powder

1

teaspoon

salt

2

eggs

2 ½

cups

buttermilk

8

Tablespoons

butter

1

pound

blueberries
Instructions
 In a large bowl, sift together the flour, sugar, baking powder, baking soda and salt.

In a different bowl, whisk together buttermilk, eggs, melted butter, and vanilla.

Make a well in the center of the dry ingredients, and pour the wet ingredients in.  Use a whisk to stir everything together, being careful to not over mix.  

Heat the griddle over medium-low heat and brush it with additional melted butter.  Pour ⅓ cup of pancake batter onto the griddle and sprinkle in the blueberries, pushing them into the pancake slightly.

Cook about three minutes, or until the bubbles in the batter begin to pop and the pancake holds shape. 

Flip and cook the other side until the pancake is cooked throughout and golden brown on both sides.  Transfer to a baking sheet to keep warm*, brush the griddle with additional melted butter, and repeat until all the pancake batter is used.

Serve with jam, maple syrup, creme fraiche, powdered sugar, and/or additional blueberries.
Nutrition
Serving:
1
pancake
|
Calories:
171
kcal
|
Carbohydrates:
22
g
|
Protein:
4
g
|
Fat:
8
g
|
Saturated Fat:
5
g
|
Cholesterol:
40
mg
|
Sodium:
245
mg
|
Potassium:
328
mg
|
Fiber:
1
g
|
Sugar:
5
g
|
Vitamin A:
280
IU
|
Vitamin C:
2.7
mg
|
Calcium:
150
mg
|
Iron:
1.3
mg
Tell me how much you love this recipe
and show off how you made it!