Make your own homemade blueberry syrup in just a few minutes. Amplify the flavor with some Bourbon to get a syrup that is perfect from breakfast to dessert!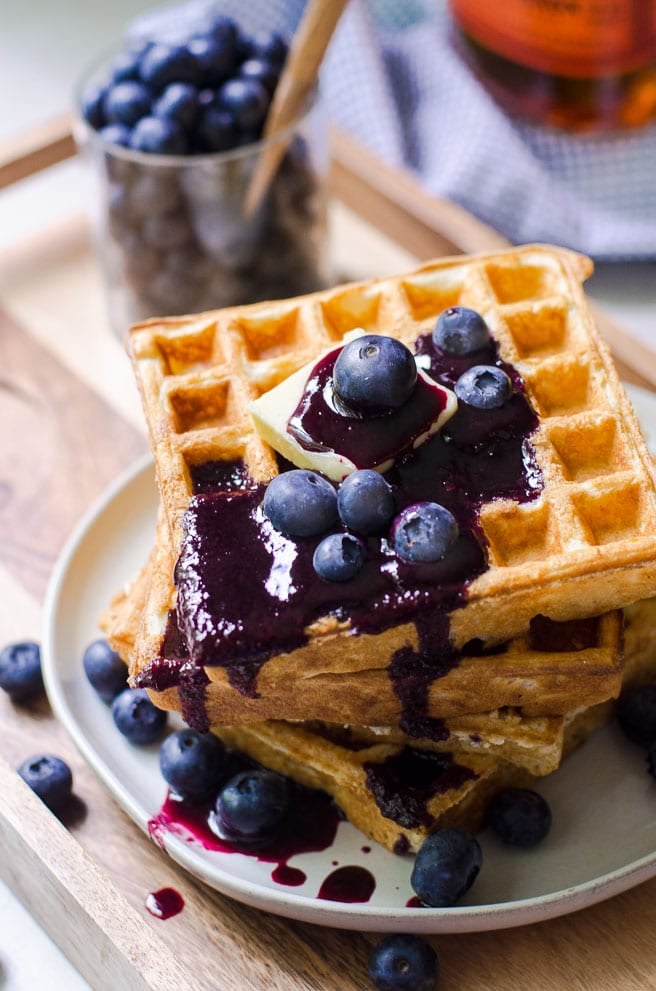 Homemade anything usually beats store bought, but this blueberry syrup is unlike anything the store sells. Made with fresh blueberries, water, lemon, and optional Bourbon, this syrup is quickly finished and lasts up to a year.
Can I Use Frozen Blueberries?
Yes, you totally can. In fact, you can take them straight from the freezer to the pan.
However, if you thaw them, it is crucial that you use the juice that they let out. If you don't, your syrup won't have enough substance once the berries are strained out. If you use them straight from frozen, the liquid will release like normal.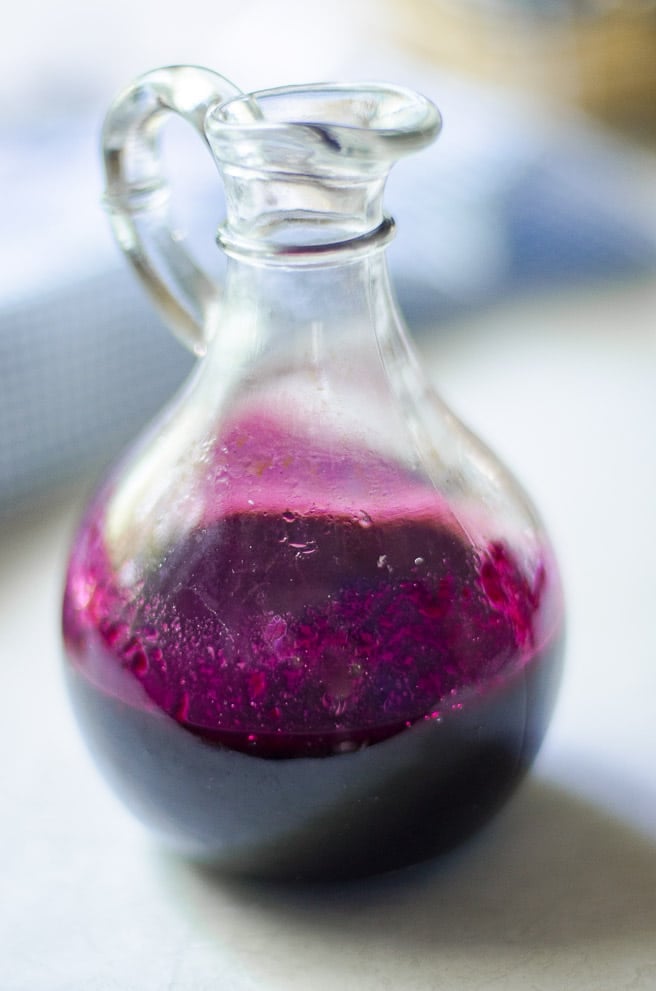 Does Blueberry Syrup Need Refrigerated?
As a rule, all fruit based syrups should be refrigerated. Even though the flesh, which is the most prone to going bad, is strained out, the juice can as well if left at room temperature. As long as you keep this blueberry syrup refrigerated, it should stay fresh in an airtight container for up to 12 months.
Ways to Use Blueberry Syrup with Bourbon
While it may seem unorthodox to enjoy Bourbon with breakfast, this blueberry syrup works well with almost anything you would use maple syrup.
Some of my favorite ways to use this blueberry syrup are:
On Pancakes and waffles

Poured on Vanilla Ice Cream

Mixed into Cocktails

A Sauce for Cheesecake

As a base for soda

Brushed over sponge cake
Is This Blueberry Syrup a Simple Syrup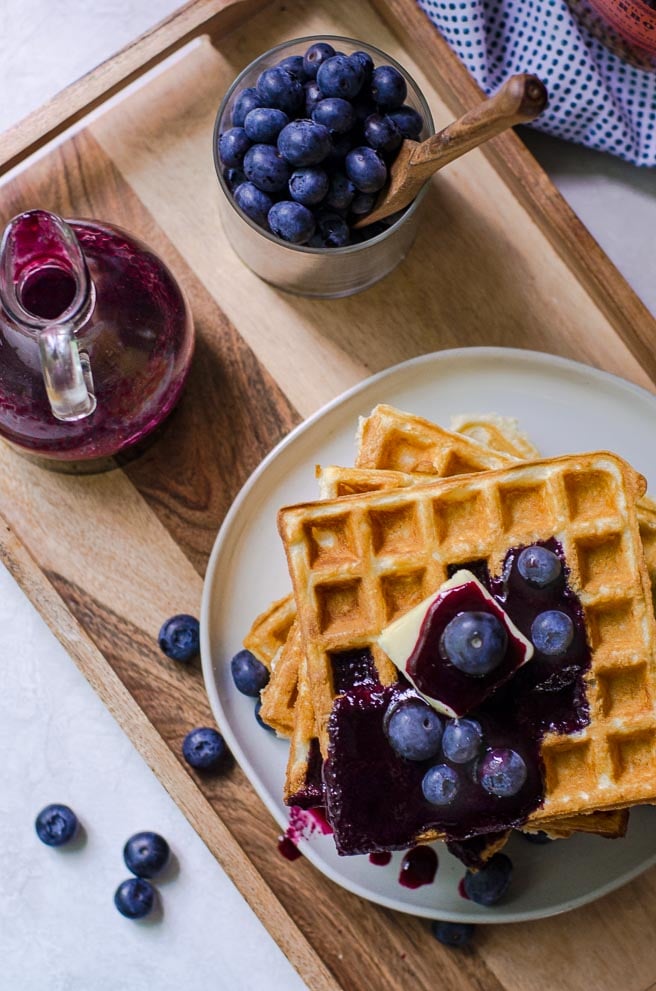 Fruit syrups and simple syrup vary in many ways. For a simple syrup, there is an equal part of sugar to liquid, while a fruit syrup has significantly less. If you're making an infused simple syrup, the fruit is only there to give a hint of its flavor. This kind of syrup however is fruit forward and focuses on that flavor.
Additionally, simple syrups are not often reduced by simmering. This blueberry syrup spends some time on the stovetop to give it thickness and body. For more information on how to make a simple syrup, check out this detailed post.
Blueberry Week
This yummy blueberry syrup recipe is kicking off a celebration week of the beloved fruit. A bunch of other bloggers and myself are posting new recipes all week with the common theme of blueberries. Come back every day and check out what new goodies are in store.
Blueberry Week Recipes
Breakfast
Drinks and Appetizers
Sauces and Spreads
Dinner
Dessert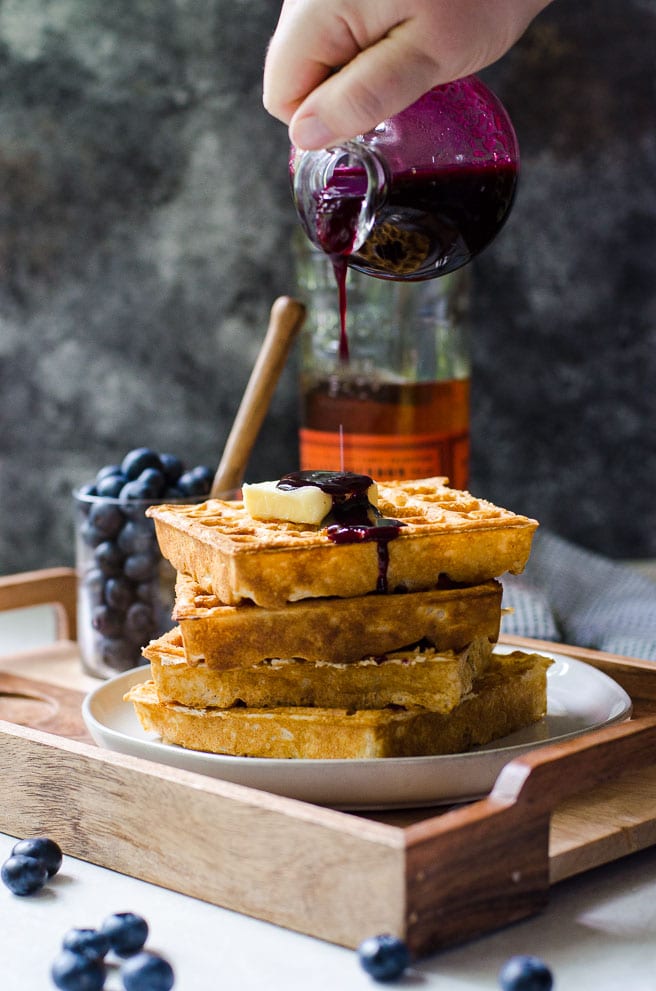 Homemade Blueberry Syrup Recipe
The bourbon in this blueberry syrup is completely optional. If you choose to use it, it may seem like a lot to add to the pan, but it will be reduced by half before adding in the syrup. Don't worry, the bourbon just adds some flavor and depth, but won't get you tipsy.
If you really want to mix it up, try adding a little bit of fresh herbs or black pepper to amplify the flavor.
---
Want a printable grocery list for this blueberry syrup recipe? Get it here. Everything is listed in standard grocery store amounts. If no size is specified, even the smallest package will provide more than enough.
Thanks so much for stopping by!
Happy Cooking! 🙂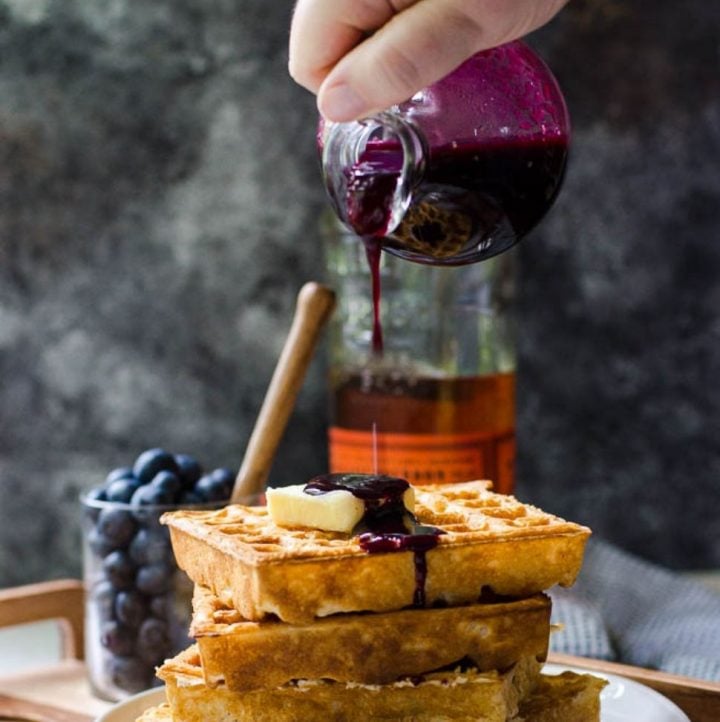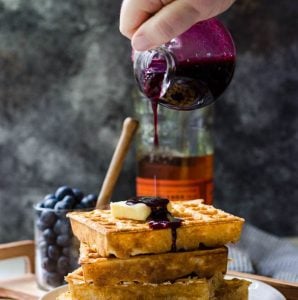 Blueberry Syrup with (Optional) Bourbon
Made with a few simple ingredients, this blueberry syrup is given some oomph with a little Bourbon.
Pin it for later?
Ingredients
4

cups

blueberries

2

cups

water

½

cup

sugar

1

lemon

,

peel removed in thin strips with a sharp knife*

2

shots

Bourbon
Instructions
Put the blueberries in the bottom of a sauce pot and lightly smash them with a potato masher or muddler until juicy.

Add in the water and sugar and bring to a boil over high heat. Reduce to a simmer and cook for 15 minutes.

Strain out the solids and set the syrup aside. Return the pot to the heat, and add in the Bourbon once the pot is hot. Reduce the Bourbon by half.

Pour back in the blueberry syrup mix, add in the lemon and simmer for an additional 10 minutes or until the syrup is thick enough. Strain a second time.

Store in the refrigerator for up to 12 months.
Notes
*Use the tip of your knife to carefully shave off the strips of lemon peel.  Try to avoid getting any pith (the white part) as possible.
Nutrition
Serving:
1
tablespoon
|
Calories:
30
kcal
|
Carbohydrates:
6
g
|
Protein:
1
g
|
Fat:
1
g
|
Saturated Fat:
1
g
|
Sodium:
1
mg
|
Potassium:
19
mg
|
Fiber:
1
g
|
Sugar:
5
g
|
Vitamin A:
10
IU
|
Vitamin C:
3.5
mg
|
Calcium:
2
mg
|
Iron:
0.1
mg
Tell me how much you love this recipe
and show off how you made it!